This post may contain affiliate sales links. Please see my full disclosure policy for details
Easy Valentine's Day Cookie recipe. Tell someone you love them with these Conversation Heart Sugar Cookies. These buttery sugar cookies are filled with little pops of sweetness with crushed candy conversation hearts and sprinkles.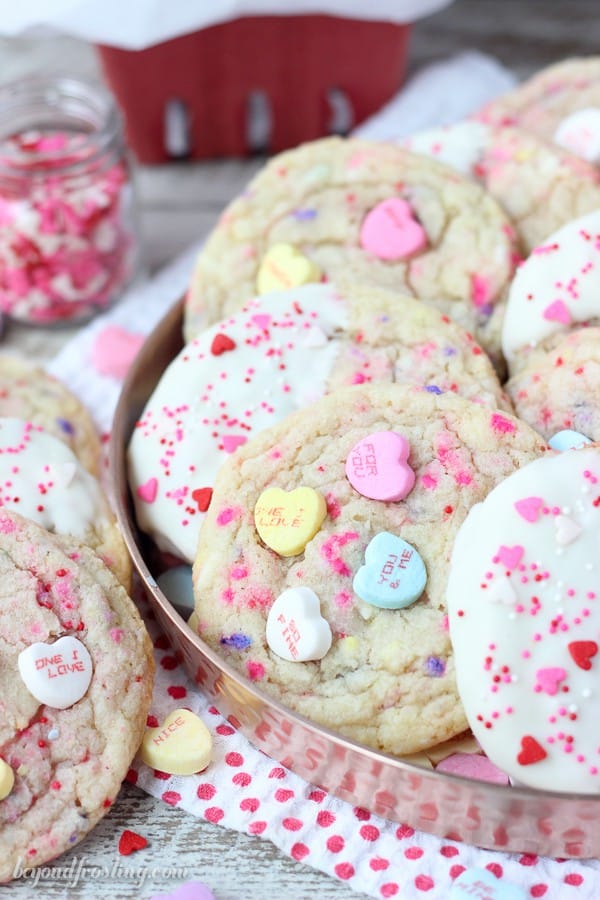 What is your favorite way to show someone you care? I love to surprise someone with something unexpected whether it's a box of treats or a silly gift that makes them laugh, but either way I try to put a lot of thought into what I am sending.
So when Valentine's day rolls around, I get particularly sappy and try to find the best cards to give. Valentine's day happens to be the same week we celebrate a birthday in my household so I have to make it extra special! You know what's special? These Conversation Heart Sugar Cookies.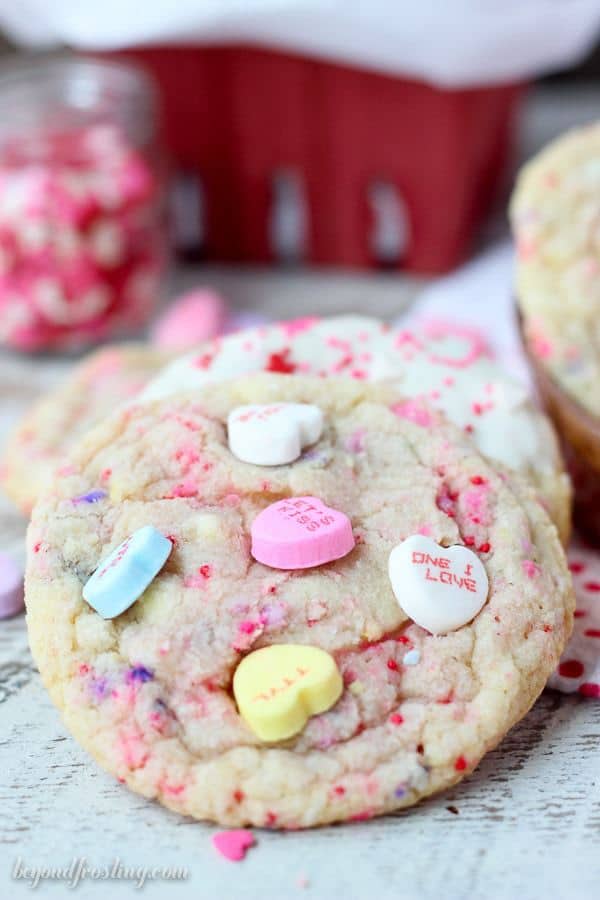 I have to tell you that I am not a huge fan of conversation hearts on their own, but when you add them to these cookies it's just perfect.
While I love my Valentines Day Cut out Sugar Cookies, sometimes I don't have enough time to do all the work! Thankfully this easy sugar cookie recipe comes together in just a few minutes, and I only have to make sure I plan enough time to let the dough rest in the refrigerator prior to baking.
I have had these cookies in my mind for quite some time now, because I just love some of the saying they are writing on the conversation hearts these days. Yeah, I am the one shopping for Valentine's day candy at Target 2 days after Christmas and I've been eating Cadbury Mini Eggs for at least a month now.
When you crush the conversation hearts and mix them into the dough (with a little bit of sprinkles of course) they make these cookies extra colorful! They are also a tad on the sweet side because of the added sugar.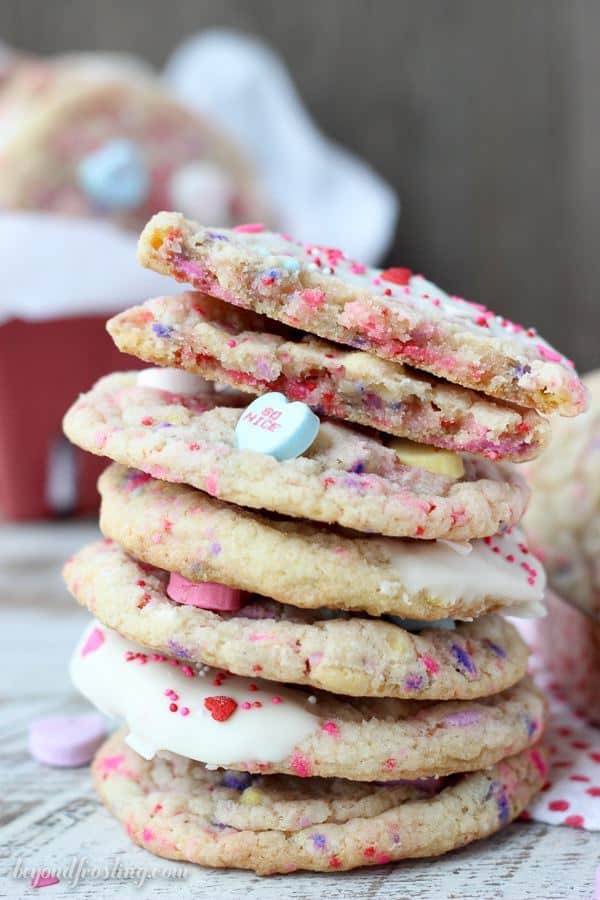 Working with conversation hearts
I recommend using a food processor to crush the hearts because they were too hard for me to use a rolling pin, and I found the pieces weren't getting small enough. I didn't want anyone biting into these cookies and hurting a tooth!
I decided to place a few of the conversation hearts on the top of the cookies while they were still warm. Literally right when they came out of the oven and they were still soft and gooey. Be sure to really press them into the cookies so they don't fall out later on.
These cookies do freeze very well, so I almost always have frozen cookies on hand. This cookie recipe uses my master soft and chewy cookie dough which is also very versatile, and I have over a dozen variations of this cookie recipe on my site.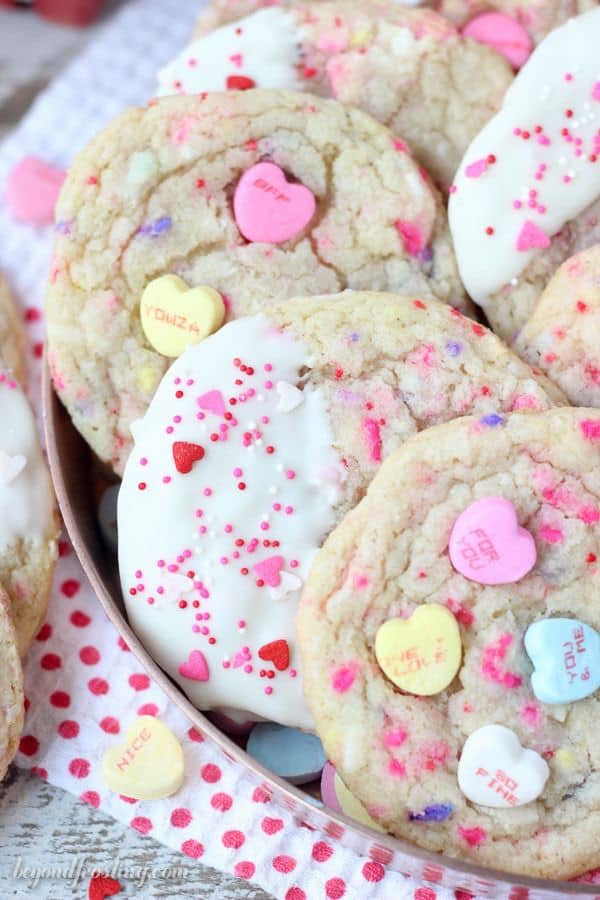 Dipping in chocolate
You could also skip the hearts on top and dip them in white chocolate and garnish with more sprinkles!
I mean they are already pretty enough, but I think the white chocolate helps balance out some of the sweetness in the actual cookie. I like to use a white chocolate that is made for candy making like Ghirardelli Melting Wafers or almond bark. Both melt down nicely and harden quickly.
When dipping your cookies, be sure to tap them on the side of the bowl or gently wipe excess chocolate from the bottom for a more clean finished look.
It's helpful if you have a baking sheet lined with a silicone baking mat or parchment paper to place the cookies on. I don't like to use a wire rack, because the chocolate will harden in the criss cross shape of the rack or possible stick to the rack.
If conversation hearts aren't your thing, maybe try some Valentine's day Soft N Chewy MnM cookies or even some Strawberry Pop Tart Cookies.
Follow Beyond Frosting:
Facebook | Twitter | Pinterest | Instagram |
If you love no-bake recipes, be sure to check out my cookbook, No-Bake Treats!
Print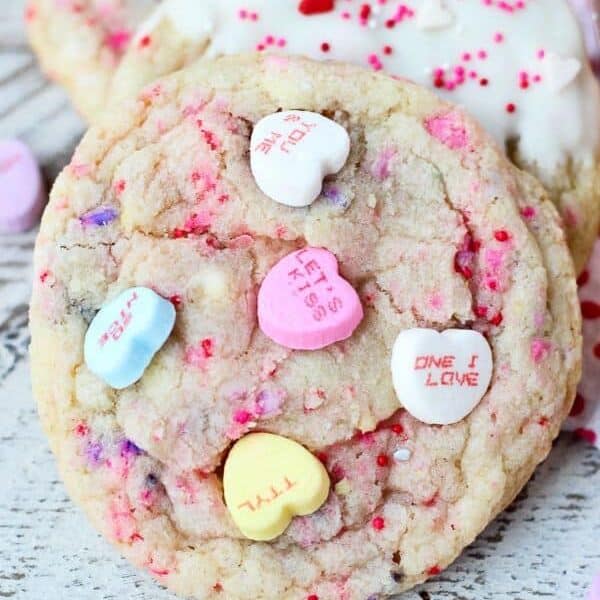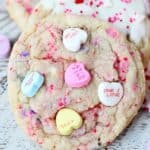 Conversation Heart Sugar Cookies
Author:

Prep Time:

90 minutes (includes chilling time)

Cook Time:

10 minutes

Total Time:

1 hour 40 minutes

Yield:

24 large cookies
Description
Easy Valentine's Day Cookie recipe. Tell someone you love them with these Conversation Heart Sugar Cookies. These buttery sugar cookies are filled with little pops of sweetness with crushed candy conversation hearts and sprinkles.
Ingredients
¾ cup

conversation heart candies

1 cup

(

226g

) unsalted butter, softened

2 cups

(

380g

) granulated sugar

2

large eggs

1 teaspoon

(5ml) pure vanilla extract

3 cups

(

420g

) all-purpose flour

½ teaspoon

(

2g

) baking soda

½ teaspoon

(

2g

) cream of tarter

¼ teaspoon

(

1.2g

) salt

¼ cup

sprinkles

12 ounces

white chocolate (candy dipping chocolate preferred)
Additional sprinkles for garnish
Instructions
Crush the conversation heart cookies in a food processor until they are crumbly.
Soften the butter in the microwave for 10-12 seconds. Combine the butter with the sugar and beat on medium speed until well creamed together.
Add the eggs and vanilla extract. Mix until it's well combined.
In a separate bowl, combine flour, baking soda and cream of tartar. Slowly add into batter and beat on medium low speed until well combined and dough starts to form. Add the crusted candies and sprinkles.
Use a large cookie scoop and scoop cookie dough onto a parchment paper lined baking sheet. Refrigerate the dough for a minimum of 1 hour.
Preheat the oven to 350° F. Place the dough about 2 inches apart on a baking sheet lined with parchment paper or a silicone baking mat, and let sit at room temperature for 10 minutes prior to baking.
Bake at 350° F 10-12 minutes. Allow cookie to cool on the baking sheet for several minutes and then transfer to a wire rack to cool completely.
Optional: Right when the cookies come out of the oven, place a couple of conversation hearts directly into the warm cookies.
Optional: To coat with white chocolate, break the chocolate up into smaller pieces and microwave it at 50% power for 30 seconds at a time. Stir the chocolate after each 30 seconds so that it doesn't burn. Then dip your cooled cookie in the chocolate and tap off the excess chocolate on the side of the bowl. Garnish with sprinkles. Set these on a piece of parchment paper to cool.
Notes
If you'd like to dip these in chocolate, I recommend using something like Ghirardelli candy melts or Almond bark and they melt down nice and smooth and are very firm
If you only have white chocolate chips, then add a little bit of vegetable oil to the melted chocolate to make it thinner, but also that will help it harden quicker. Use about 2-3 teaspoons per 1/4 cup
If you find the cookies are spreading too thin, take a spoon or knife and press the edges of the cookies back towards the centers, but this has to be done right when they come out of the oven.
Do not skip the chill time, otherwise your cookies with be very flat
Disclaimer: nutritional facts are estimated and does not include any additional candy, sprinkles or chocolate. If needed, final nutritional information should be calculated based off the actual ingredients you use.
Category:

Cookies

Method:

Baked

Cuisine:

American
Keywords: Valentines Day Sugar Cookies, Valentines day cookies, Easy sugar cookie, Sugar Cookie Recipe