This post may contain affiliate sales links. Please see my full disclosure policy for details
These easy Valentine's Day Sugar Cookies can be decorated with vanilla buttercream or marbled icing. I used my favorite soft & chewy sugar cookie recipe as the base for these beautiful treats!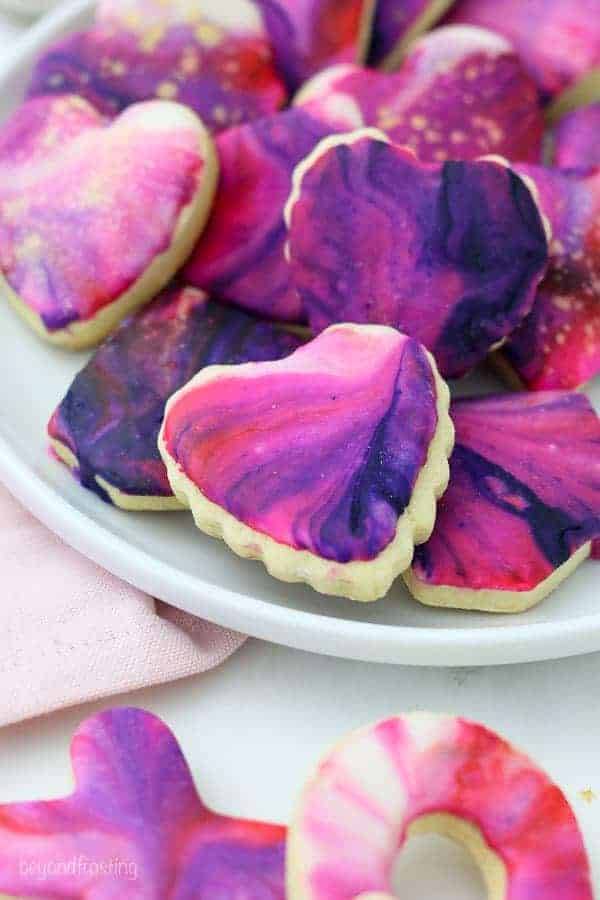 I love making homemade treats for Valentine's day, and even though I am partial to chocolate covered strawberries, there's still plenty of room for sugar cookies. My husband on the other hand always requests chocolate cake, which I will gladly make at anytime.
These soft and chewy sugar cookies are not overly sweet. They are nice and thick and hold their shape perfectly. The dough is very easy to work with and only requires 30 minutes of chill time.
I'm not the best cookie decorator, so I tend to stick with simple, approachable designs. This time around I made two types of sugar cookies, one decorated with my easy vanilla frosting and another decorated with marble icing.
If you're not much for cookie decorating, you need to try the marble icing, it's SUPER easy and I share all the details about how make the icing and tips for decorating with it.
My sugar cookie recipe is a really basic and easy recipe. The dough just needs a little time in the refrigerator before you roll it out. We're talking maybe 30 minutes of chill time so not much!
Working with the dough: I recommend making 2-3 flattened discs of dough, no larger than a softball. This allows you to work in small batches, which is easier to roll out, and it prevents your dough from getting too soft.
Rolling out the dough: I like a good thick sugar cookie, and because these are soft, you don't have to worry about them being dry! I roll out my dough at least 1/4-inch thick. This also helps the hold the shape and prevent the edges from burning.
Baking the cookies: Bake only one tray at a time, and use a silicone baking mat or parchment paper on the cookie sheet. Bake them on the middle rack of the oven.
When to pull them from the oven: Cook only until the bottom and edges are a light golden brown, then pull from the oven. They will finish baking as they cool on the cookie sheet.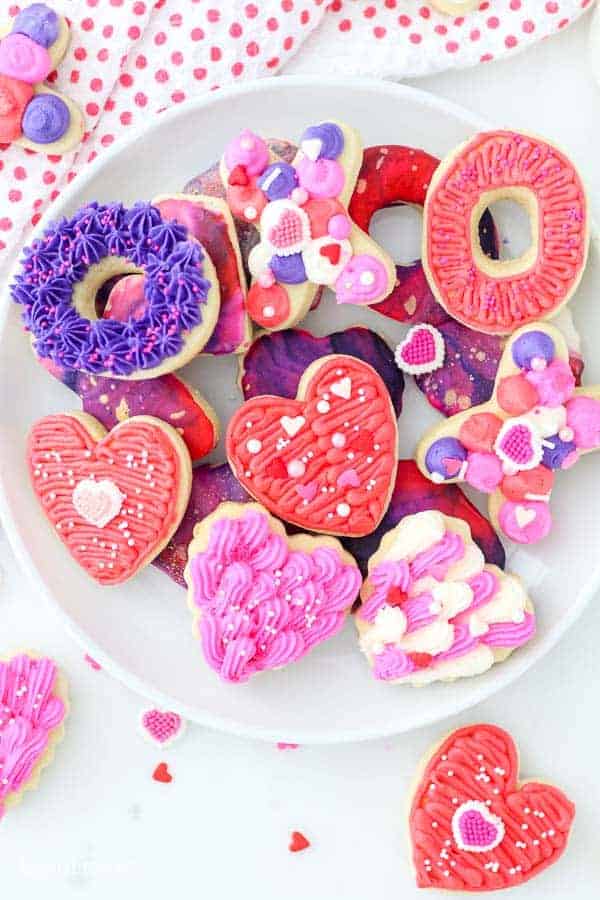 My secret to making my buttercream recipe is to start with cold butter. It allows you to control the stability of your frosting. I whip the butter for several minutes at various stages in the process which makes a very light and airy frosting that is easy for decorating.
I only used 3 different piping tips to decorate these cookies. Using these tips with a variety of color, you can create these easy designs on your cookies.
When picking your color palette, 2-3 colors plus white is my favorite. If you have a set of couplers, you can easily change your tips between colors. If you're not sure what I am talking about, you can read through all my tips for How to Use a Piping Bag.
Don't forget to have some of your favorite sprinkles on hand to add the final touch.
Whether you decide to decorate these Valentines Day Sugar Cookies with vanilla buttercream or with marble icing, I know you will LOVE the final results.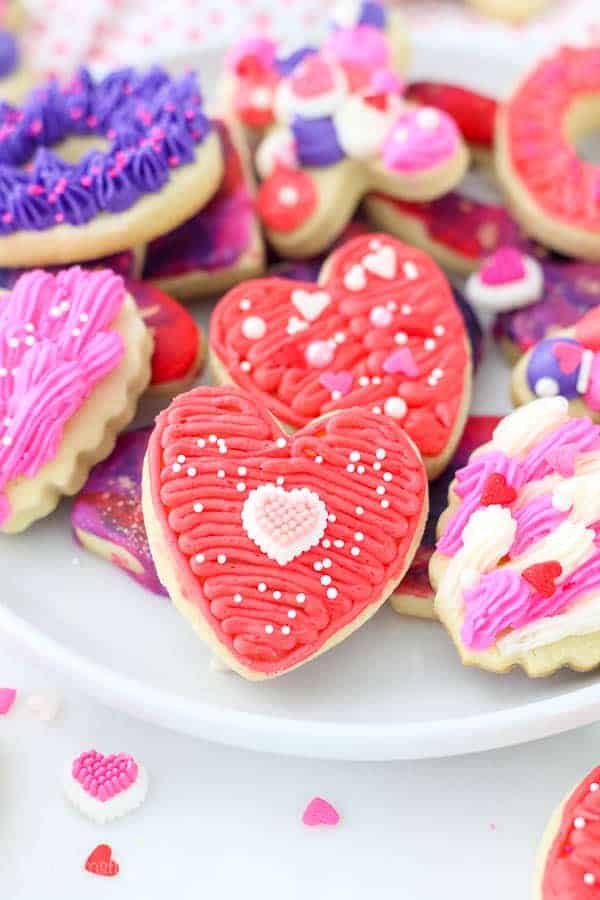 As soon as I dipped my first cookies into the icing, I fell in love with this easy decorating technique.
These marble sugar cookies are not just for Valentine's Day either. This is a great technique that you can use for themed birthday parties, baby showers and just about any holidays. And let's face it, it's waaaaay faster than decorating with buttercream.
The vanilla icing is a very simple recipe, it similar to a glaze you'd use for a bundt cake. I did some Goggling before I started, I saw a combination of recipes including ones that use meringue powder or corn syrup and some recipe that used neither.
I chose to use corn syrup thinking I'd get a little shine or glassy appearance on the icing and it also help to thicken the icing. It wasn't quite as shiny as I'd like but it's still so pretty. The corn syrup also makes it a little bit thicker.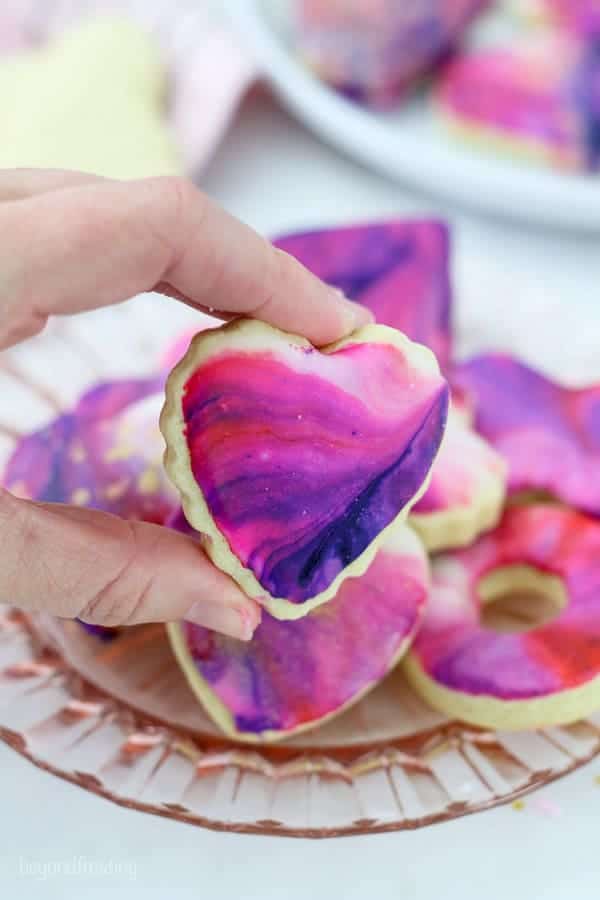 How to make icing for sugar cookies
Sift the powder sugar in order to avoid lumps in your icing as it dries
Combine the powdered sugar with the milk and whisk until it's well combined.
If you think it's too thick, slowly add additional milk. You want it to be drippy but not runny. Then whisk in the corn syrup.
If you think you frosting is too runny, add more powdered sugar, ¼ cup at a time.
Add your favorite extract if desired. Vanilla or almond extract are perfect flavors.
If you would like more detail, check out my post all about decorating sugar cookies with icing.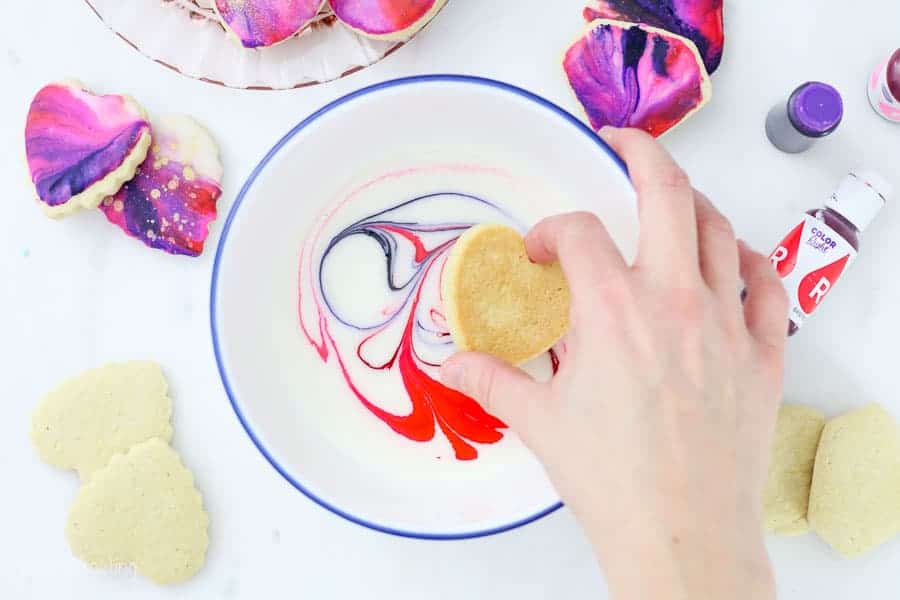 Making a Marble Design with Cookie Icing
When it's time to add color, you'll want to be sure and use gel colors such as Wilton or Amerigel. These are thicker and more concentrated than traditional food coloring.
Amerigel offers lots of individual colors, so you can get super specific whereas Wilton's Color Right Color System is 8 basic colors that you can mix together to create over 50 different shades. You can purchase them at craft stores, cake supply stores or online.
The icinig does dry completely, meaning you'll be able to stack these cookies once they are fully dry. It can take anywhere from a couple hours to overnight depending on how thick your icing is. Let these dry completely on a cookie sheet.
You should know that the color of the frosting will be less saturated as it dries. It really is the prettiest when you first lift it out of the icing or even after it has slightly dried.
Tips for the Best Marble Cookies
Wear some food-safe gloves if you have them. These can be a little messy and the gel colors will easily stain (fingers, clothes, counter tops) unless you wash it off right away. It's best to place your bowl over some parchment paper or paper towels to catch the extra drip.
Prepare a cookie sheet: Be prepared with your cookie sheet covered in parchment paper or a silicone baking mat to place your finished cookie on to dry.
Save some of the white icing to the side, allowing you the ability to add some white back in to your swirl. The best-looking cookie have some white in the icing. After you dip and dip and dip, your icing will start to lose some white on the surface.
Add gel colors in small amounts: Use only very small amounts of the gel color and gently swirl with a toothpick.
Using a tall rimmed plate may give you more surface area to work with as opposed to a bowl
When dipping your cookies, allow some of the icing to drip back into your bowl before you flip it over, otherwise it just runs all over the sides of the cookie.
You can change the direction of marble by tilting your cookie and you pull it up from the icing
adding sHimmer to your decorated sugar cookies
I love the shimmer effect on the marble icing. I tried a couple different ways of doing this.
Sprinkling the dry shimmer on both wet and dry frosting
Paint splatter effect using a wet paint brush and wet shimmer
Painting pearl dust on finished cookies
The method I like most is sprinkling the dry shimmer on dry frosting. I think it looks the best.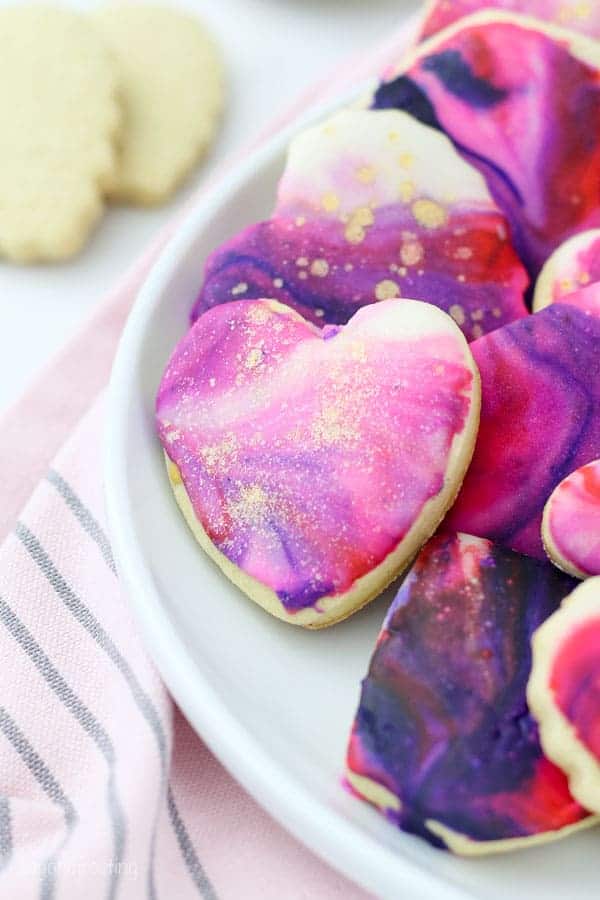 Sprinkle the shimmer:To sprinkle the dry shimmer (pearl dust) powder, you can do this by sprinkling it directly over the cookies (while wearing gloves) or using a dry paint brush and shaking it over the cookies
Paint splatter effect: If you prefer the look of the paint splatter, then I recommend waiting on the frosting has settled a bit, a little less wet on top but not fully dry. Wet shimmer on wet icing will cause the splatters to spread. In order to do this, mix the shimmer with clear vodka or a clear extract such as almond, vanilla or lemon. Combine them in a small bowl and then tap the wet paintbrush over the cookies.
Painting the pearl dust: The last option is to paint the pearl dust after the cookies have dried. Mix the pearl dust with a clear extract as discussed above and paint it over the dried icing. I didn't love this effect because I feel like it really altered the marbled icing.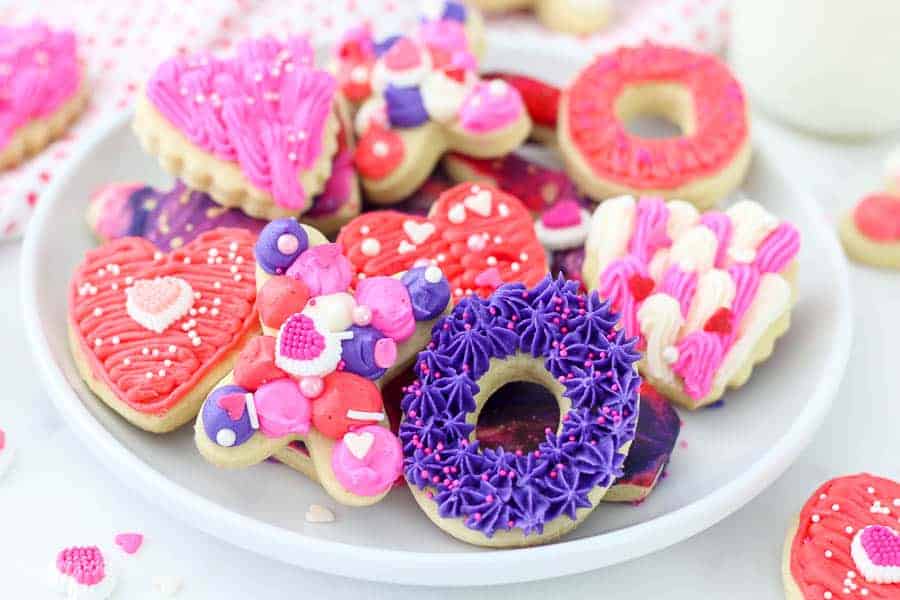 If you're looking to make these Valentine's Day Sugar Cookies, be sure to prepare them at least 24 hours in advance. You can break the process up by preparing and freezing your cookie dough or freezing your baked cookies. It's definitely possible to bake and decorate in the same evening, just give yourself a few hours!
More Valentines Day Desserts
Follow Beyond Frosting:
Facebook | Twitter | Pinterest | Instagram
Print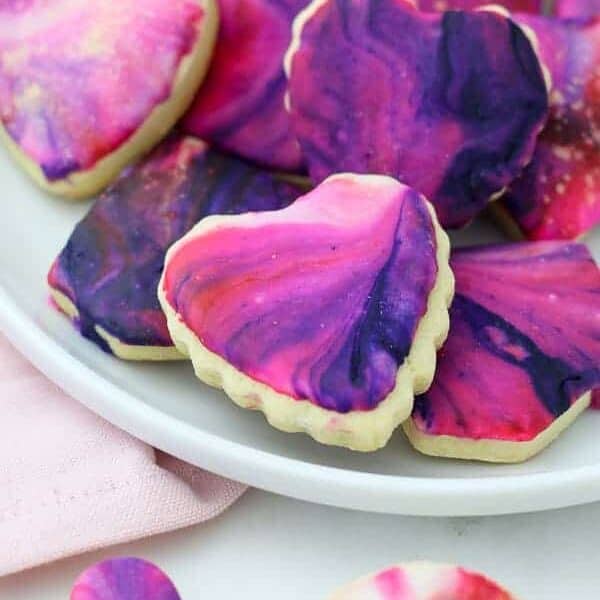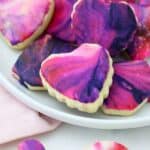 Author:

Prep Time:

60 minutes

Cook Time:

9 minutes

Total Time:

1 hour 9 minutes

Yield:

18-24 large cookies
Description
These adorable Valentine's Day Sugar Cookies are decorated with vanilla buttercream and also vanilla icing. The vanilla icing is a swirled marble sugar cookie also known as a galaxy theme. These sugar cookies are a classic roll out cookie, it's soft baked and not overly sweet cookie.
Ingredients
For the cookies
1/2 cup

unsalted butter

1/2 cup

granulated sugar (

95g

)

1/2 tsp

baking soda

2 tablespoons

milk

1/2 teaspoon

vanilla extract

1

large egg, beaten
Pinch of salt

2

1/2 cups all-purpose flour (

350 g

)
For the buttercream
1 1/2 cups

(

3

sticks) unsalted butter, cold.

5 cups

powdered sugar

2 1/2 teaspoons

vanilla extract (clear is best if you're coloring the frosting)

2 tablespoons

heavy whipping cream
For the marble icing
2 cups

powdered sugar, sifted

3 tablespoons

milk

1 tablespoon

corn syrup
Gel icing colors
Instructions
For the cookies:
Beat the butter and sugar on medium high speed until the sugar is dissolved and creamy.
In a small glass dish, dissolve the baking soda in the milk.
Add baking soda/milk, vanilla and egg to the butter. Beat until all ingredients are well incorporated.
Slowly add the salt and the flour ½ cup at a time and mix until a stiff dough forms.
Form 3 softball size balls of dough. Wrap tightly in plastic wrap then chill in the freezer for at least 15 minutes or in the refrigerator for at least 30 minutes or up to 2 days.
Pre-heat oven to 350°F.
Remove the dough from the fridge and sit at room temperature for 10 minutes. Roll the dough out on a well-floured surface about ¼" thick. Use a cookie cutter to cut the shapes and transfer to a lined baking sheet. Use parchment paper or a baking mat to help prefer browning on the bottom of the cookie.
Bake at 350° for 8-12 minutes. Allow to cool for 5 minutes before transferring to a wire rack to cool completely.
For the buttercream:
Cut the butter into pieces. Using the paddle attachment, whip butter for 5-7 minutes, scraping down the bowl occasionally. Beat until butter look light in color.
Add 2 cups of powdered sugar and mix on low speed until incorporated into butter then add 2 tsp of vanilla extract and mix to combine. Beat for about 60 seconds.
Next, add an additional 2 cups of powdered sugar and beat on low speed until sugar is incorporated. Increase speed to medium-high and beat for 3 minutes.
Add last 1 cup powdered sugar along with 2 tbsp heavy whipping cream and 1/2 tsp vanilla extract . Beat on low until ingredients start to mix together. Increase speed to medium-high and beat for another 3-5 minutes to whip additional air into the frosting.
Dye frosting with desired gel colors and divide into your piping bags. Decorate cookies.
For the marble icing:
Combine the sifted powdered sugar and milk in a bowl and whisk until well combined. If needed, add additional milk to thin out the frosting. If too thin, add an additional 1/4 cup powdered sugar. Then Whisk in the corn syrup.
Set aside 1/4 cup of the white icing. Add a small drop of your gel colors to the icing and gently swirl with a toothpick.
Gently dip each cookie into the icing and then tilt the cookie to the side to allow excess icing the drip off. Place on a silicone baking mat or parchment paper and allow to dry completely.
Notes
These are mini cookies, this recipe made approximately 36 cookies. Otherwise it will make 18-24 regular sized cookie depending on your cookie cutter. The cookie recipe can easily be doubled for larger batches
You can decorate with the buttercream OR the icing. It's one or the other, not both
Dough can be refrigerated for 2 days, otherwise I suggest freezing. Remove the dough from the freezer several hours before you intend to use.
How to store cookies: These are best kept in an airtight container, and they will stay fresh for several days. While this buttercream does have a little "crust", I don't recommend stacking more than 1 cookie on top of another, as it will crush the frosting. You can also place a layer of parchment in between.
How to freeze cookies

To make these ahead of time, you have two options. You can freeze the cookies prior to decorating them, or you can freeze them once decorated.
To freeze the cookies, prepare and cool completely. Place in a freeze-safe air tight container for up to one month.
To freeze decorated cookies, place on a cookie sheet in the freezer for 15-30 minutes until the frosting is hard. Transfer to a freezer-safe airtight container and freeze. Thaw on a cookie sheet in a single layer to prevent damaging the frosting.
Category:

Cookies

Method:

Baked

Cuisine:

American
Keywords: Sugar Cookies, Valentine's Day Cookies, Valentine's Day Sugar Cookies, Marbled Sugar Cookies, Buttercream Sugar Cookies