This post may contain affiliate sales links. Please see my full disclosure policy for details
Nom nom nom on these soft and chewy Cookie Monster Cookies! They're made from thick chocolate chip cookies stuffed with two types of chocolate and crunchy cookie pieces, rolled in more cookie crumbs. Perfect for the Cookie Monsters in your life!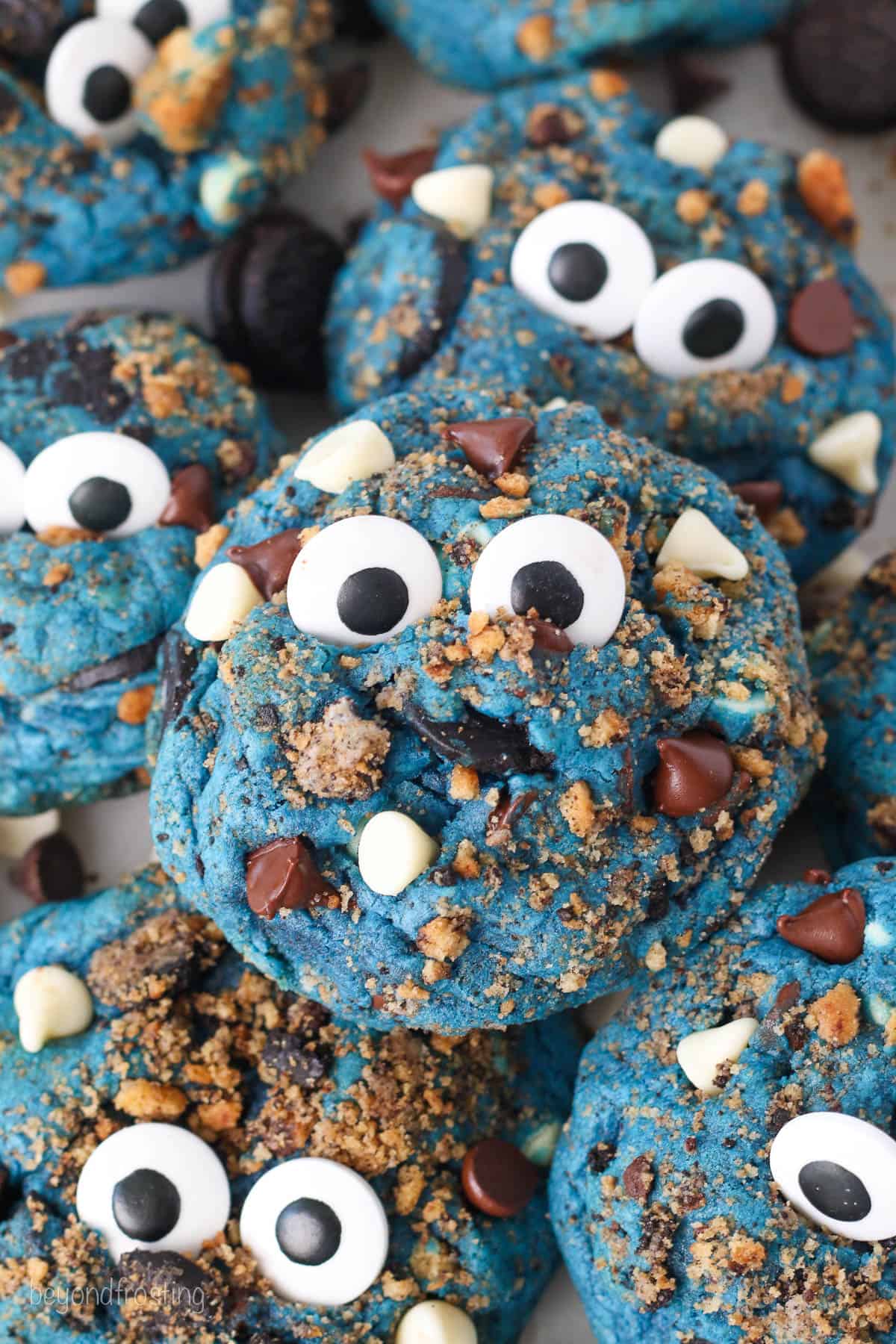 As a baker, the Cookie Monster is pretty much my spirit animal. I've paid tribute with my Cookie Monster birthday cake, which I made for my son's first birthday, and now, I'm sharing these fully-loaded Cookie Monster cookies!
The original Cookie Monster Cookie blew up on TikTok, and there have been LOADS of variations since. You'll find versions with Oreos stuffed inside, and molten chocolate centers, but it all starts with a thick, chewy chocolate chip cookie.
My take on Cookie Monster cookies is soft-baked and stuffed to the max with two types of cookies and plenty of chocolate chips, rolled in cookie crumbs. Just the way the real Cookie Monster would like 'em!
Stuffed with cookies. These Cookie Monster cookies are the Sesame Street character's dream. They're made from soft-baked cookie dough stuffed to the brim with gooey chocolate chips, Oreos, and chocolate chip cookies.
Great to make with kids. Kids and adults go crazy for these blue-hued cookies! But it's especially fun to get the kids involved, and this recipe keeps it simple.
Customizable. Let your inner Cookie Monster be your guide. Fill your soft and chewy cookies with any add-ins you'd like to really make them your own.
Cookie Monster is a character from the children's show, Sesame Street. He's a bright blue, furry friend known for his voracious appetite for – you guessed it – COOKIES!
Cookie Monster is also famous for his phrases, like "Me eat cookie!" and "Om nom nom nom" (said with a mouthful of cookies, naturally). You can see now why we share things in common.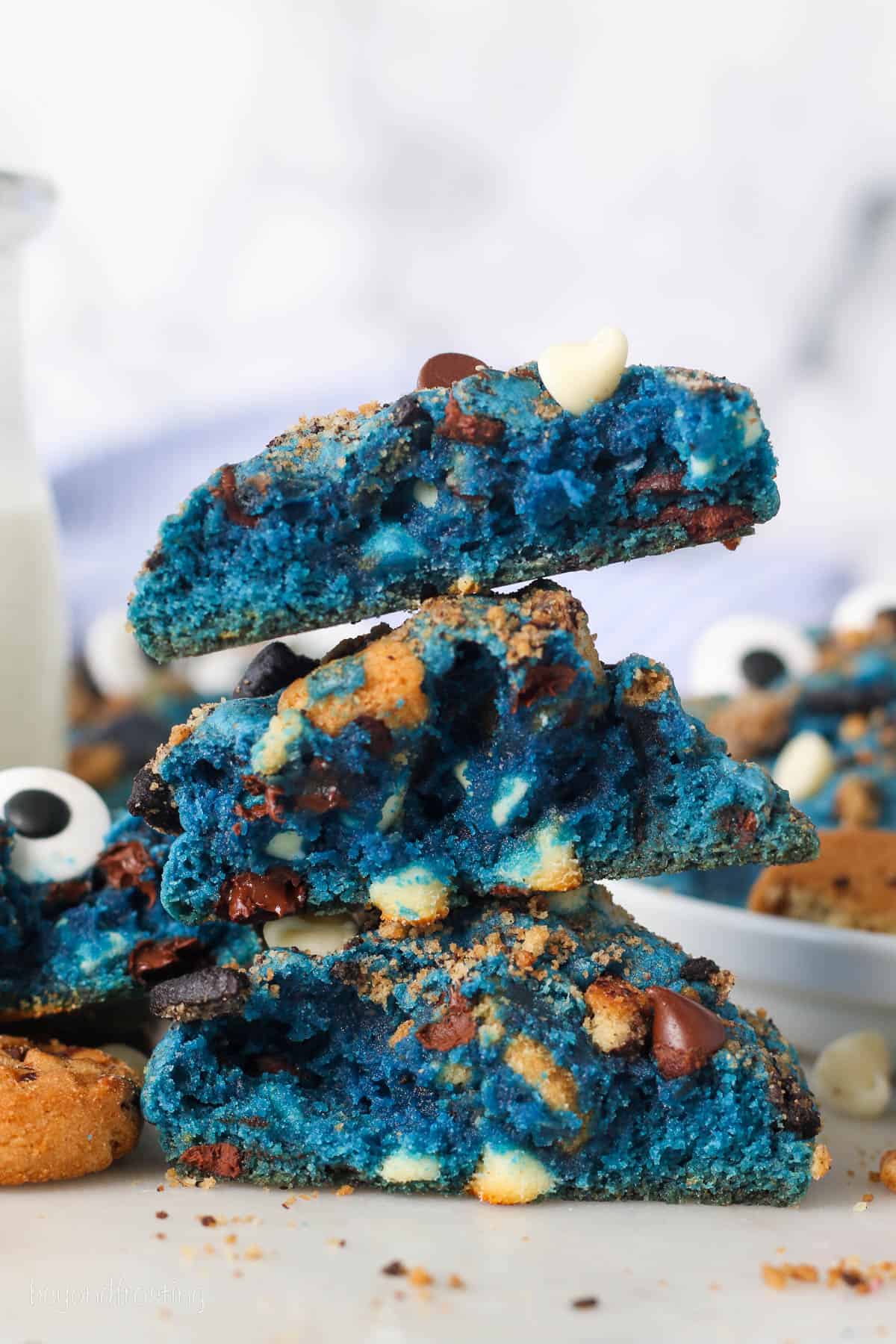 A Few Key Ingredients
This recipe starts with my extra-thick chocolate chip cookies as a base. With a few key ingredients, they're transformed into the most adorable Cookie Monster cookies! Below, I've included some notes on what you'll need. Remember to scroll to the recipe card for the full recipe amounts and details..
Sugar – Chewy chocolate chip cookies call for a combination of white sugar and brown sugar, for extra moisture.
Cornstarch – Cornstarch is a secret ingredient that works some serious magic in cookies. Along with helping to prevent the cookies from spreading too much, adding cornstarch yields thick, soft cookies with maximum chewiness.
Chocolate Chips – My Cookie Monster cookies are choc-full of semi-sweet chocolate chips along with white chocolate chips. You can use any type of chocolate chip that you prefer, though.
Cookie Pieces – I used mini Oreo and Chips Ahoy cookies (the kind that comes in "Snak-Saks" at the grocery store). Minis are great because they're just the right size to incorporate into the dough. Feel free to use full-size cookies and chop them into dime-sized pieces.
Blue Food Coloring – I used a combination of Royal Blue and Light Blue gel food dyes from AmeriColor to achieve the signature Cookie Monster blue. See below.
Candy Eyes – I love adding edible googly eyes for character! I used the larger-than-regular-sized (2cm/0.79-inch in diameter) candy eyes from Wilton to bring my Cookie Monster cookies to life.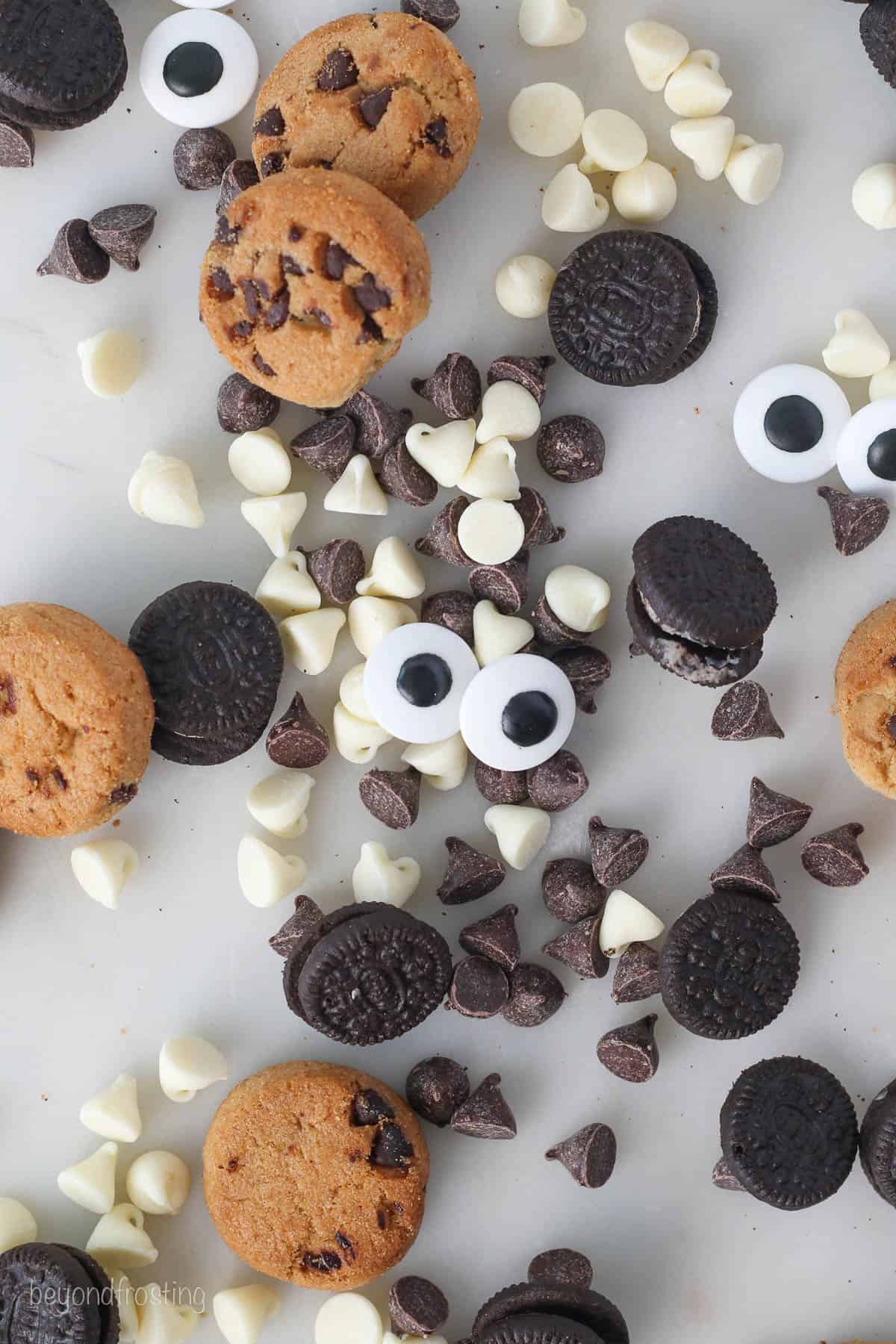 What Kind of Food Coloring Should I Use?
You can use gel colors or liquid food coloring to give these Cookie Monster cookies their blue hue. Gel-based colors, like the kind from AmeriColor (Chef Master is another good option), yield more vibrant colors compared to standard grocery store food coloring. I used a combination of AmeriColor Royal Blue and AmeriColor Sky Blue, and you can also use Electric Blue.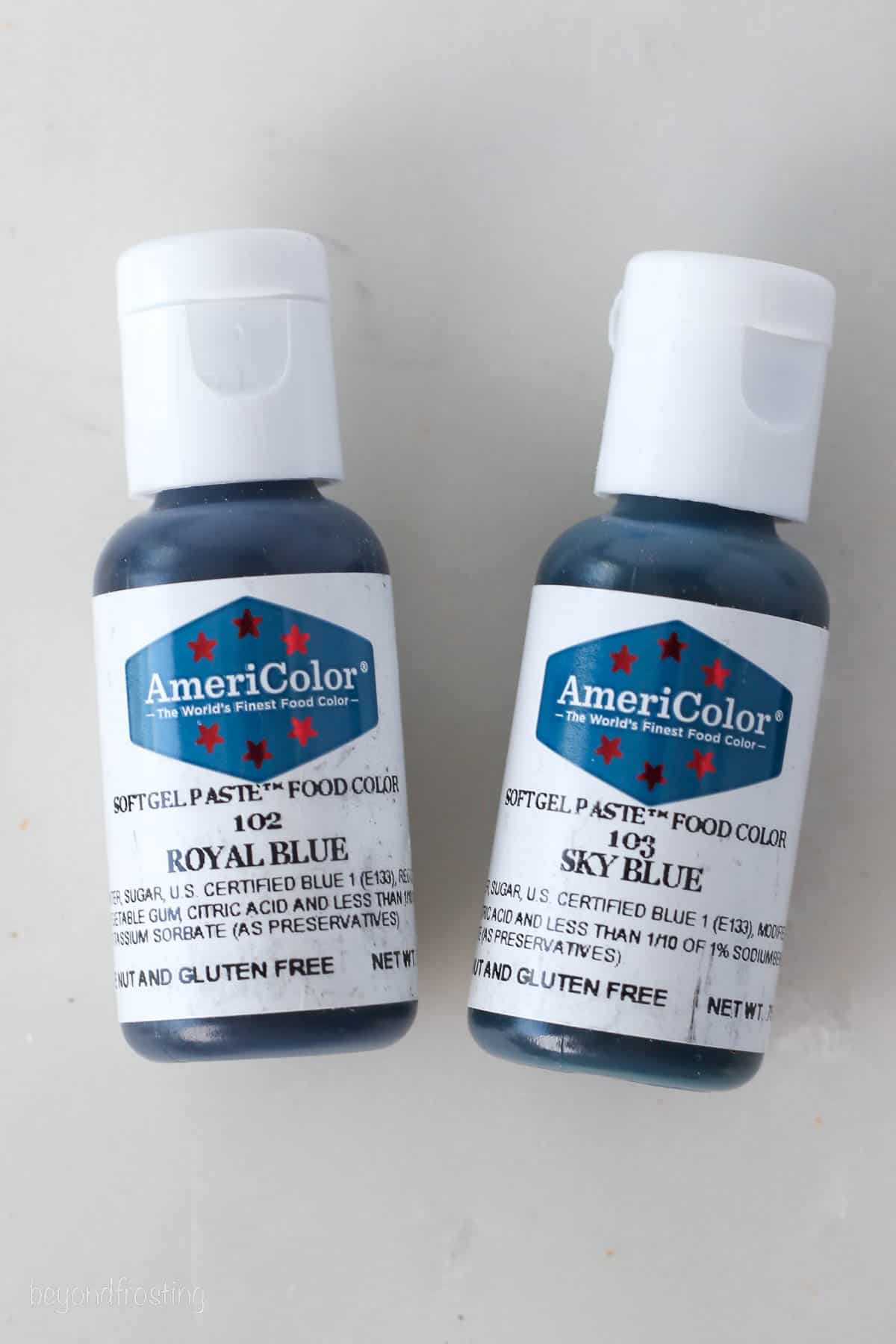 I found that the best combination started with royal blue, lightened with a little light/sky blue. Starting with a darker blue is key, otherwise, the cookies end up looking a little green. Using black to darken the light blue does not work, as the cookies turn out too dark (see photo below).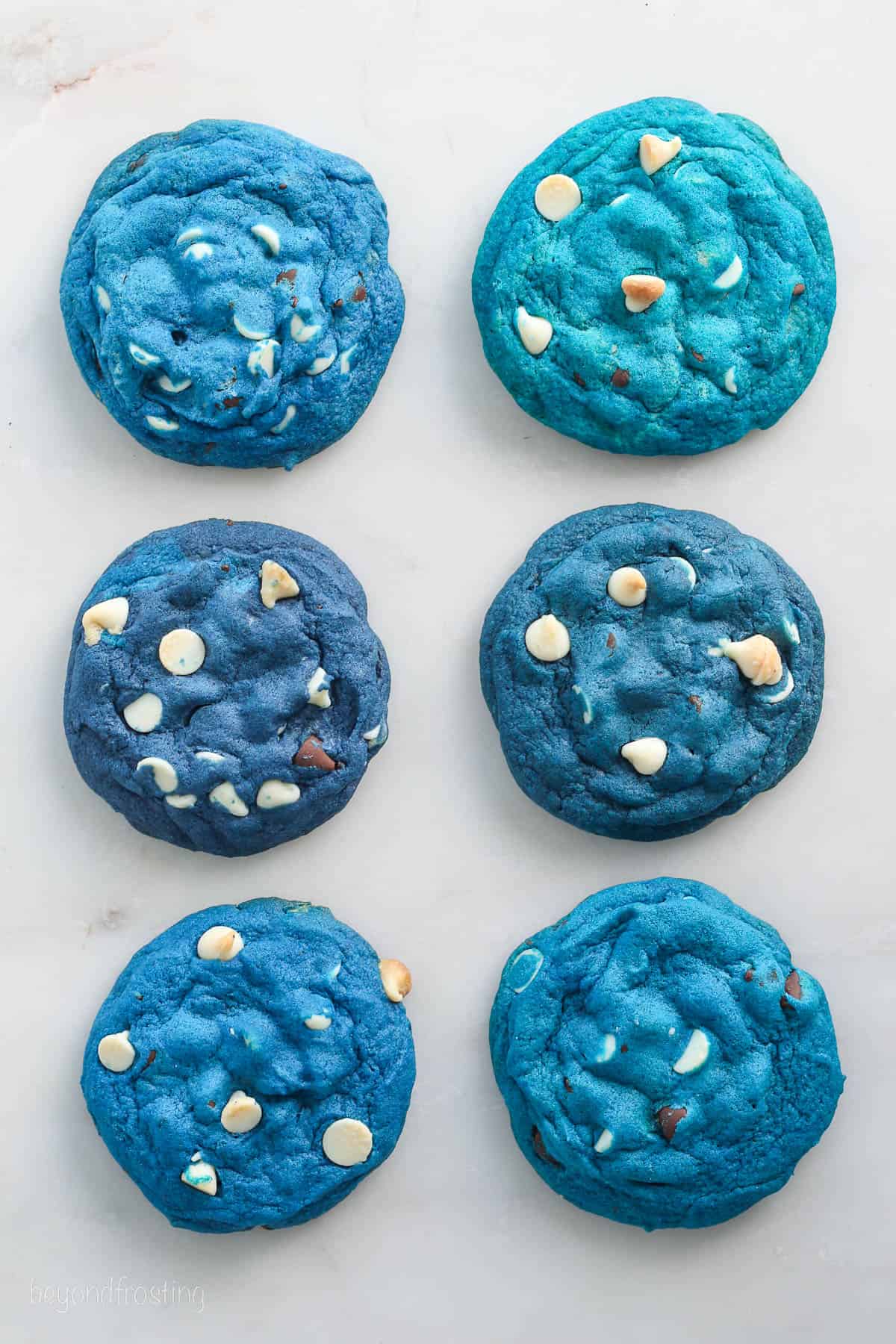 One bite of these ooey-gooey, cookie-stuffed, bright blue Cookie Monster cookies, and you'll want to make them all the time! Luckily, it's super easy to do:
Mix the wet ingredients. Start by creaming together the butter and both sugars, followed by the eggs and vanilla. Once the wet batter is combined, add blue gel coloring. It's about 1 teaspoon of royal blue and a couple drops of sky blue.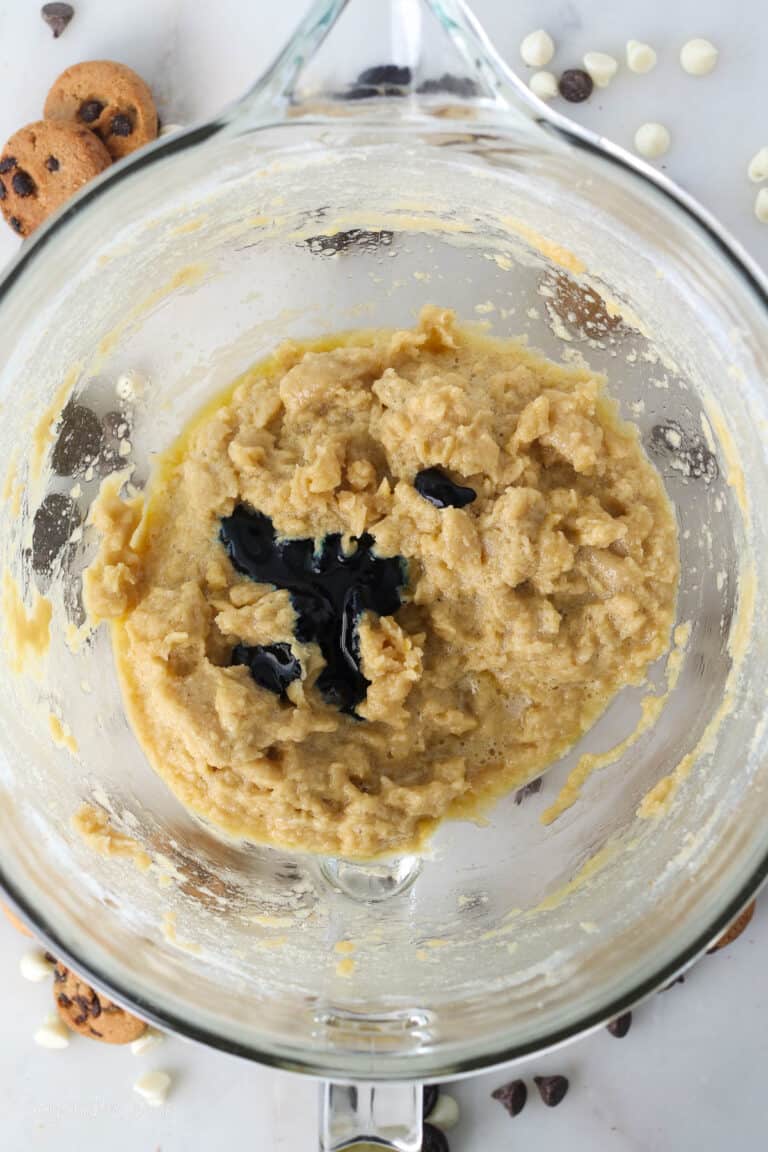 Add the dry ingredients. Next, combine the dry ingredients separately, then add the dry ingredients to the batter, mixing slowly.
Stir in the add-ins. Fold in the chocolate chips, followed by roughly chopped Chips Ahoy minis and whole mini Oreos. I like to do this by hand to avoid the cookies becoming pulverized by the mixer attachment.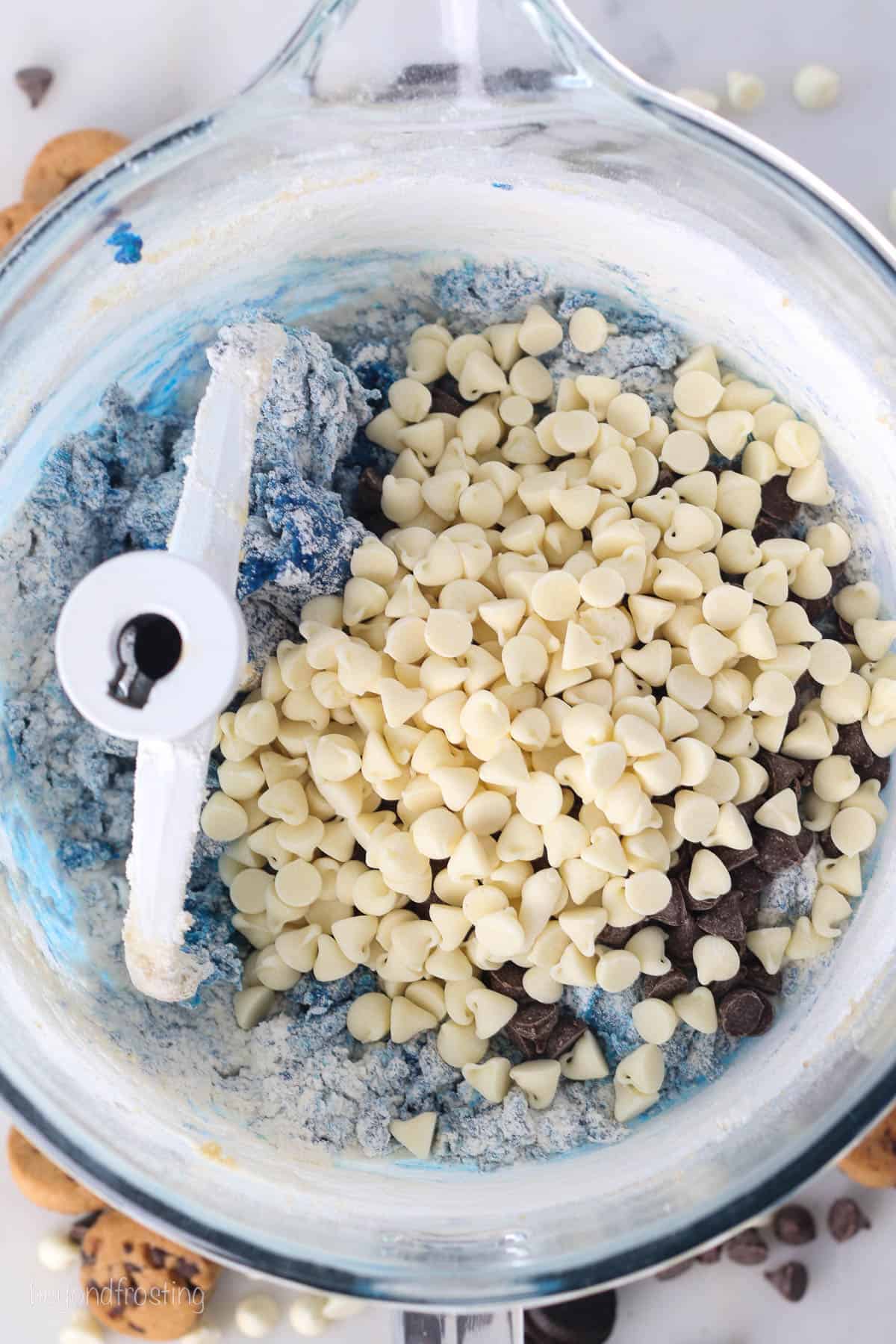 Crush up cookies for the coating. Using a food processor, pulse a combination of Oreos and Chips Ahoy cookies into a fine crumb. A Ziploc bag and a rolling pin also work well (especially if you have little helpers looking to get involved). Pro tip! The smaller/finer the crumb, the easier it is to adhere to the outside of the cookies, so remove any of the larger pieces.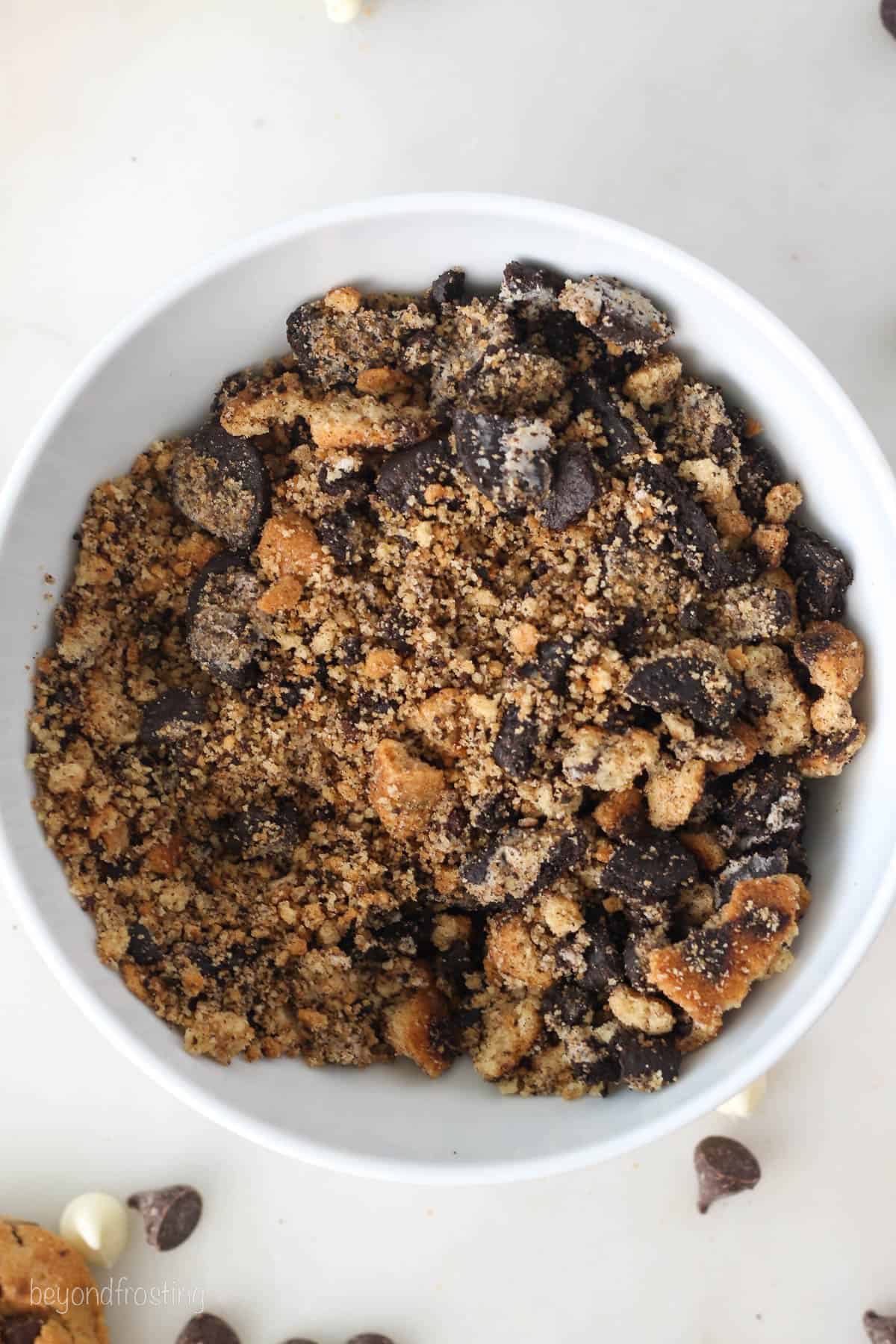 Roll out the cookies. Now, you'll portion your prepared cookie dough into balls, then roll each ball in the crushed cookie crumbs to coat.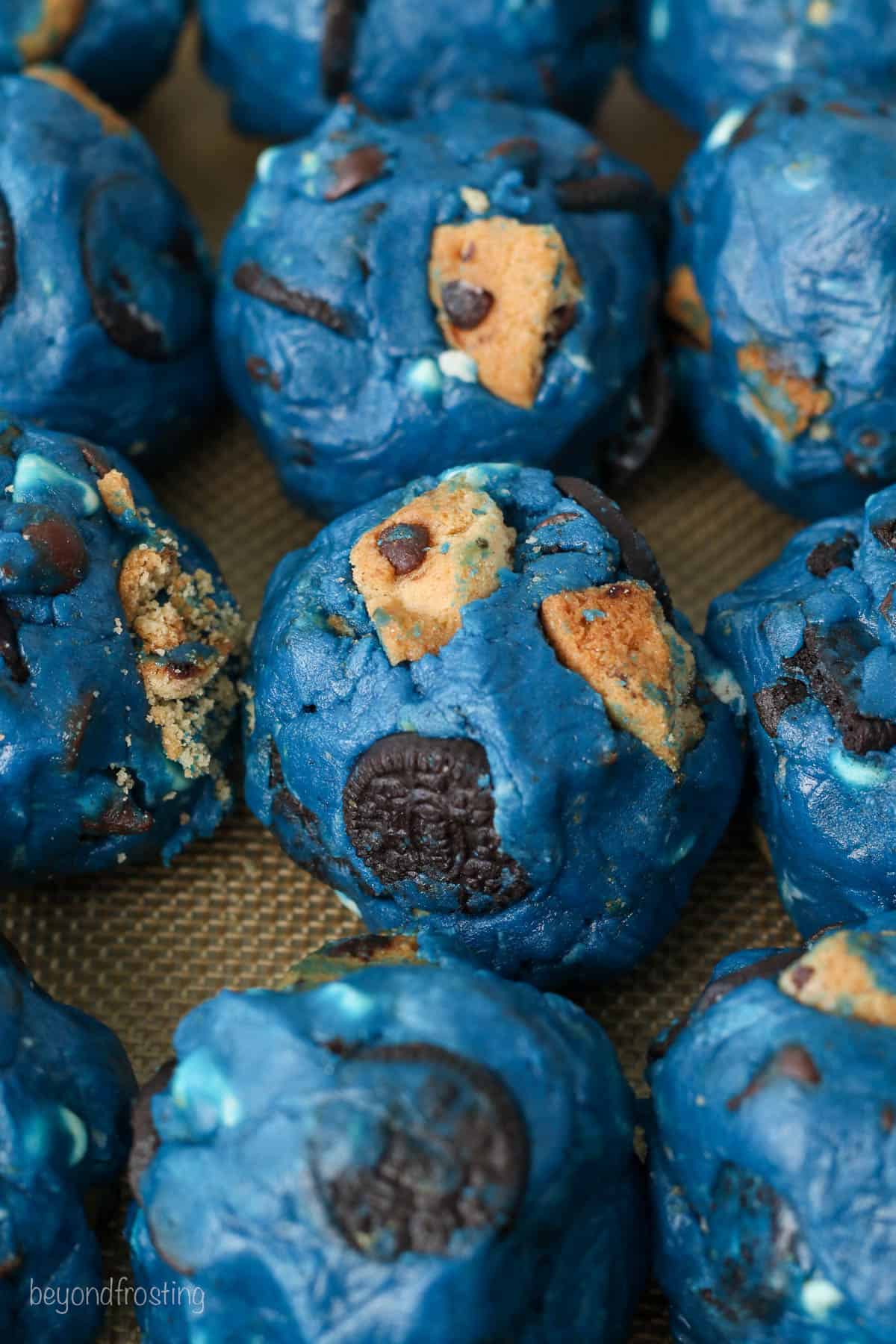 Bake. Arrange your rolled cookie balls onto a lined baking sheet and bake for 12-14 minutes. The trick to perfectly soft cookies is leaving them slightly underbaked in the middle, so take your Cookie Monster cookies out of the oven when they're just set in the centers.
Finish and cool. As soon as the cookies are out of the oven, add the candy eyes and watch your little Monsters come to life. Afterward, leave the cookies to rest on the baking sheet for about 15 minutes before moving them to a wire rack to finish cooling.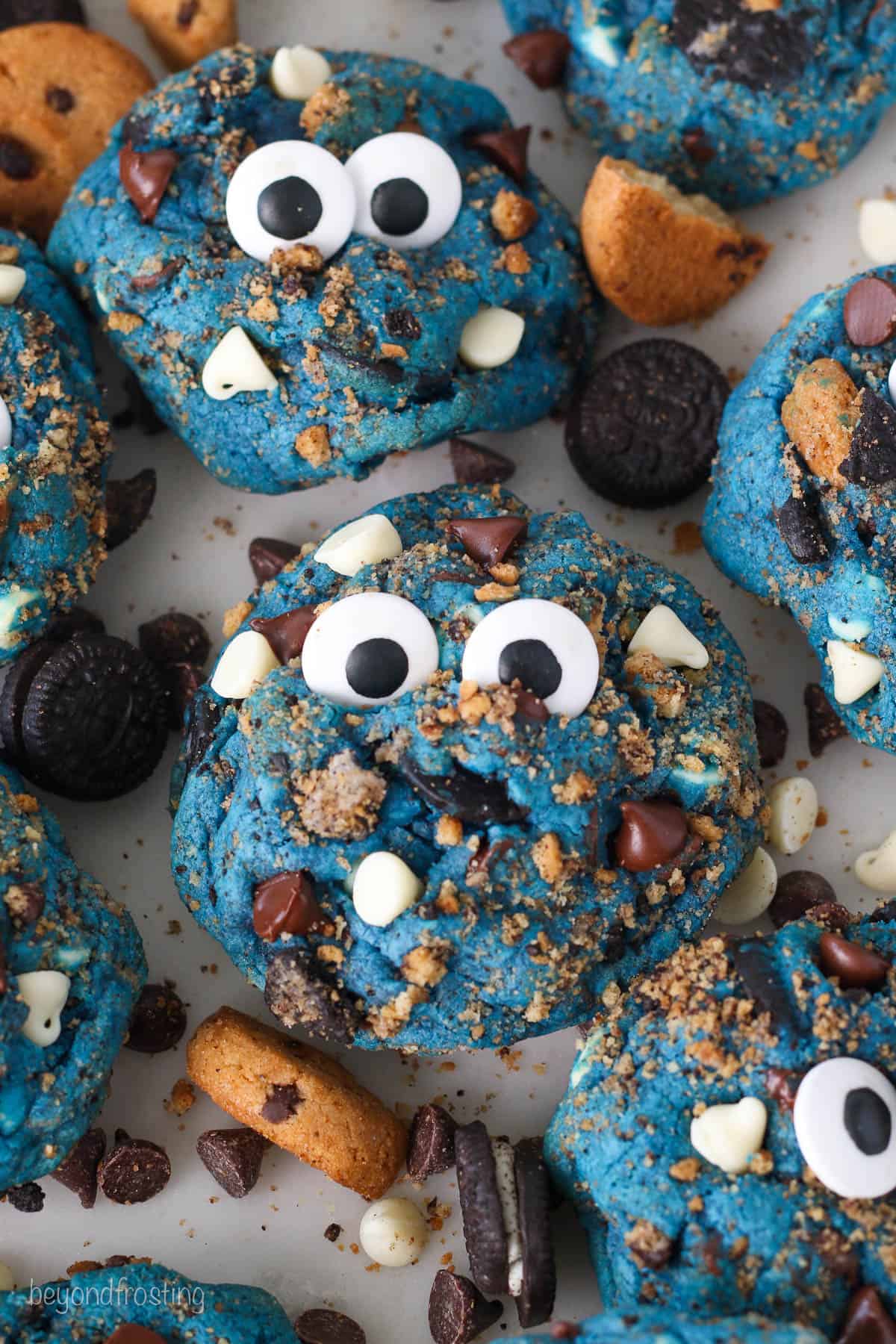 Here are some final tips to ensure your Cookie Monster cookies turn out totally Om-nom-nom-nom-worthy every time:
Don't overbake! Rule #1 for soft, irresistibly chewy chocolate chip Cookie Monster cookies is to leave them slightly underbaked. They shouldn't be loose or glossy but just set in the middle. The cookies will continue to set up on the baking sheet while they cool.
Don't overmix the cookie dough. Fold in your add-ins just as the dough starts to come together, and be careful to not overmix. Overmixing the dough results in tough, dense cookies.
Fold in add-ins by hand. I mentioned it earlier, but gently stirring in your chopped cookies by hand ensures that they don't break apart in the mixer. It also helps to avoid overmixing.
Rolling the dough in cookie crumbs is optional. I've included a photo below for comparison. I just love the effect that cookie crumbs gives these cookie-licious cookies! If you're adding a cookie crumb coating, make sure that the cookies are crushed up finely. Larger pieces will not stick to the dough.
Candy eyes are notorious for falling off the cookies. Your candy eyeballs will need to be pressed into the cookies as soon as they come out of the oven to stand the best chance of staying put. If you plan to transport or stack these cookies, melt a bit of chocolate and dab the back of the eyeballs before adding them to the cookies, to help adhere them in place.
If you'd prefer to make these cookies without food coloring, simply leave out the dye. It doesn't impact the taste of the cookies at all.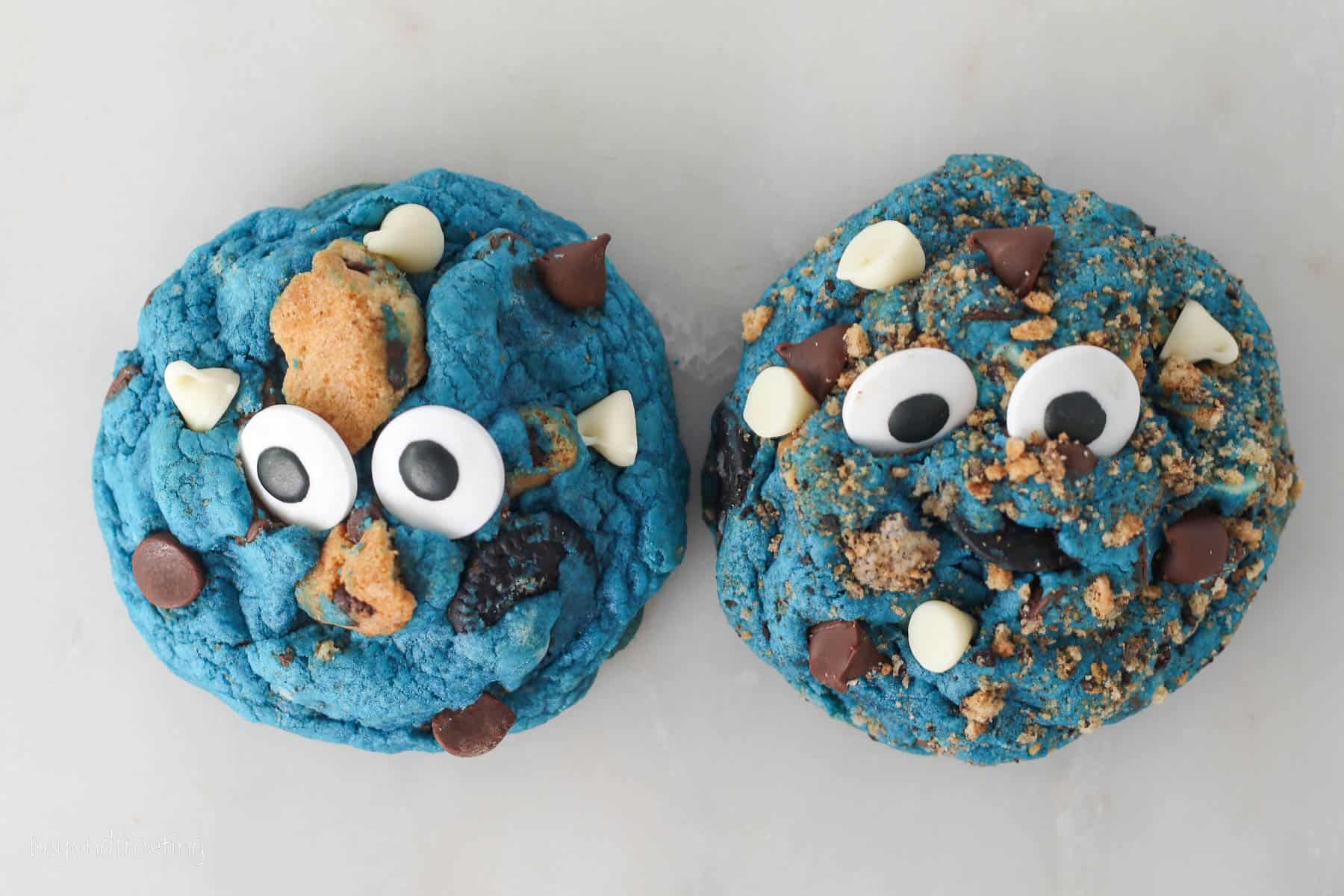 Variation Ideas
These Cookie Monster cookies are such a delight just as they are, served with a tall glass of milk. But don't let that hold you back from getting creative with different tweaks and add-ins! Try these ideas:
TikTok Version – To make these Cookie Monster cookies in the style of the viral TikTok video (linked earlier), add both chocolate chips but leave out the chopped cookies. Portion out the cookie dough, wrap the dough around a piece of chocolate and then bake. The finished cookies will have melty chocolate centers.
Oreo-Stuffed – Make jumbo Cookie Monster cookies stuffed with whole Oreo cookies. Portion heaping tablespoons of dough into the baking sheet, and press a full-sized Oreo into the dough, then add another tablespoon of cookie dough on top, and bake This may impact the baking time, so keep a close eye on the cookies while they're in the oven.
Different Cookies – The real Cookie Monster may be partial to chocolate chip cookies, but this recipe doesn't discriminate. Fill your Cookie Monster cookies with any type of chopped cookie pieces you'd like, either homemade or store-bought.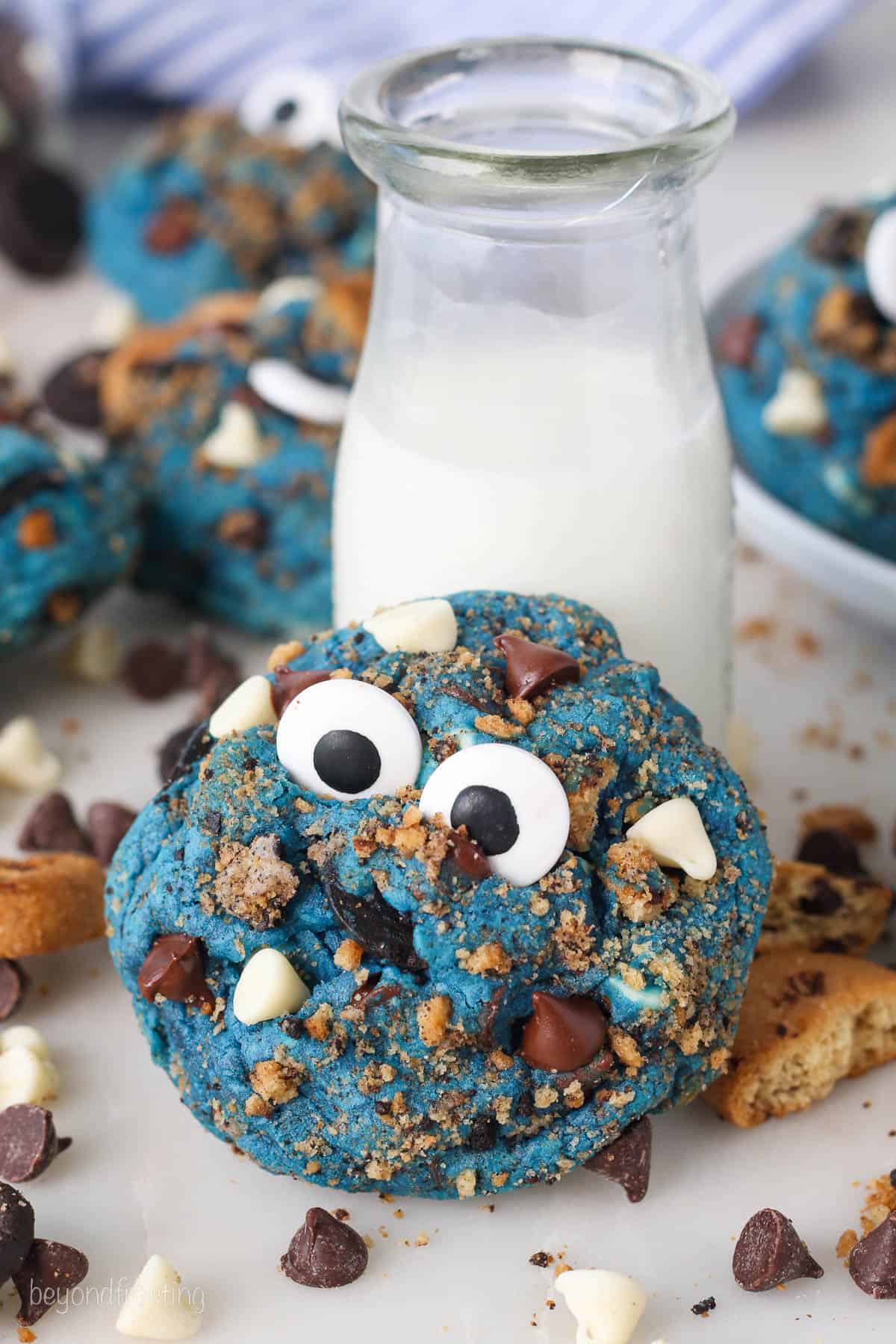 Yes! The Cookie Monster cookie dough can be made up to 2 days in advance and refrigerated, or you can freeze it.
I recommend storing the cookie dough after it's been rolled into balls and before coating the dough in cookie crumbs. Note that this will effect the texture of the chopped cookie pieces, softening them a bit more.
Pre-freeze the dough balls on a baking sheet, and, once solid, transfer them to an airtight container. When you're ready to bake, defrost the dough in the fridge and then bake as directed.
How to Store
To Store: Cookie Monster cookies will stay fresh for up to 4-5 days when stored airtight at room temperature. Alternatively, you can freeze the baked cookies, see below. Store in a single layer to avoid the candy eyes from falling off.
Freezer: These Cookie Monster cookies can be stored frozen for up to 3 months. Make sure to seal them in an airtight container or freezer bag. Defrost frozen cookies at room temperature.
Print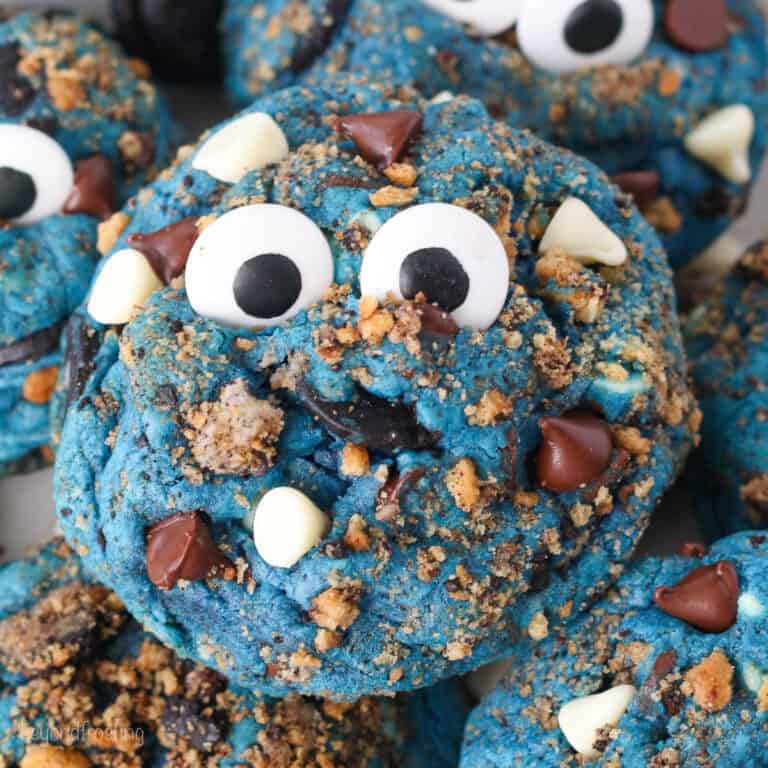 Author:

Prep Time:

30 minutes

Cook Time:

14 minutes

Total Time:

44 minutes

Yield:

30 cookies
Description
Nom nom nom on soft and chewy Cookie Monster cookies! Made from thick chocolate chip cookies stuffed with two types of melty chocolate and crunchy cookie pieces.
Ingredients
1 cup

(

226g

) unsalted butter, at room temperature

1 cup

(

220g

) packed light brown sugar

½ cup

(

95g

) granulated sugar

2

large eggs

1 tablespoon

(15ml) pure vanilla extract

3 1/2 cups

(

420g

) all-purpose flour

2 teaspoons

(

4g

) corn starch

1 teaspoon

(

5g

) salt

1 teaspoon

(

4g

) baking soda

1 cup

semi-sweet chocolate chips

1 cup

white chocolate chips

1

bag (8oz/226g) Oreo mini- Snak-Saks, divided

1

bag (8oz/226g) Chips Ahoy mini- Snak-Saks, divided
Royal Blue gel icing, Light blue gel icing (optional- see notes)
Eyeball candy
Instructions
Preheat the oven to 350°F. Line a baking sheet with parchment paper or a silicone baking sheet. Allow the butter to soften for at least 20 minutes.
Beat the butter with the brown and granulated sugar. Beat on medium speed until well combined, 2-3 minutes until well creamed. Next, add the eggs and vanilla extract and continue beating until well incorporated. Add 1 teaspoon royal blue gel icing and 2 drops of light blue gel icing and beat until incorporated, scrape down the bowl to fully incorporate.
In a separate bowl, combine the remaining dry ingredients. Stir to combine and slowly add the dry ingredients into the dough, mixing on low speed until the dough starts to form. Before the dough thickens, add the chocolate chips, beating until incorporated.
Roughly Chop 15 Chip Ahoy mini cookies into quarters, add to the dough with 1 heaping cup of Mini Oreos (do not chop). Use a spatula to incorporate into the dough or clean hands.
Separately, combine 6 Chips Ahoy Minis with ½ cup mini Oreos and crush into a fine crumb in a Ziploc bag or food processor. Set aside.
Portion out ¼ cup balls of cookie dough (about 3oz each). Roll the dough into a ball and then roll in the crushed cookie crumbs on the top and sides.
Place 3 inches apart on the prepared cookie sheet. Bake for 12-14 minutes. The center of the cookie should be slightly underbaked but not too gooey or shiny on top. Once out of the oven, immediately place the candy eyeballs on top. Allow to cool on the baking sheet for 15 minutes before transferring to a wire rack to cool completely.
Equipment
Notes
Blue gel colors: I used a combination of Americolor Royal Blue and Americolor Sky Blue, you could also use Electric Blue. You can buy them individually but both blue colors are in the starter pack.
Candy Eyes: I used the larger-than-normal-sized eyes (2cm/0.79 inches in diameter).
Full-size cookies can be used if you can't the minis. The minis are great because they're just the right size to incorporate into the dough. I mix them in by hand, so the cookie ends up with larger pieces that aren't pulverized by the mixer. Full-size Oreo and Chips Ahoy cookies will need to be chopped into pieces about the size of a dime or nickel.
Storing and Freezing

Baked cookies: These will stay fresh for up to 4-5 days when stored airtight at room temperature. Store in a single layer to avoid the candy eyes from falling off.
Freezer: These cookies can be stored frozen for up to 3 months. Make sure to seal them in an airtight container or freezer bag. Defrost frozen cookies at room temperature.
Category:

Cookies

Method:

Oven

Cuisine:

American
Keywords: cookie monster cookies, chocolate chip cookies