This post may contain affiliate sales links. Please see my full disclosure policy for details
Super fun Fruity Pebble Sugar Cookies are soft-baked sugar cookies filled with crispy and colorful Fruity Pebbles cereal and dipped in white chocolate.
If you love fun and colorful sugar cookie recipes, these Circus Animal Sugar Cookies and Sprinkle Sugar Cookies are also a must-try!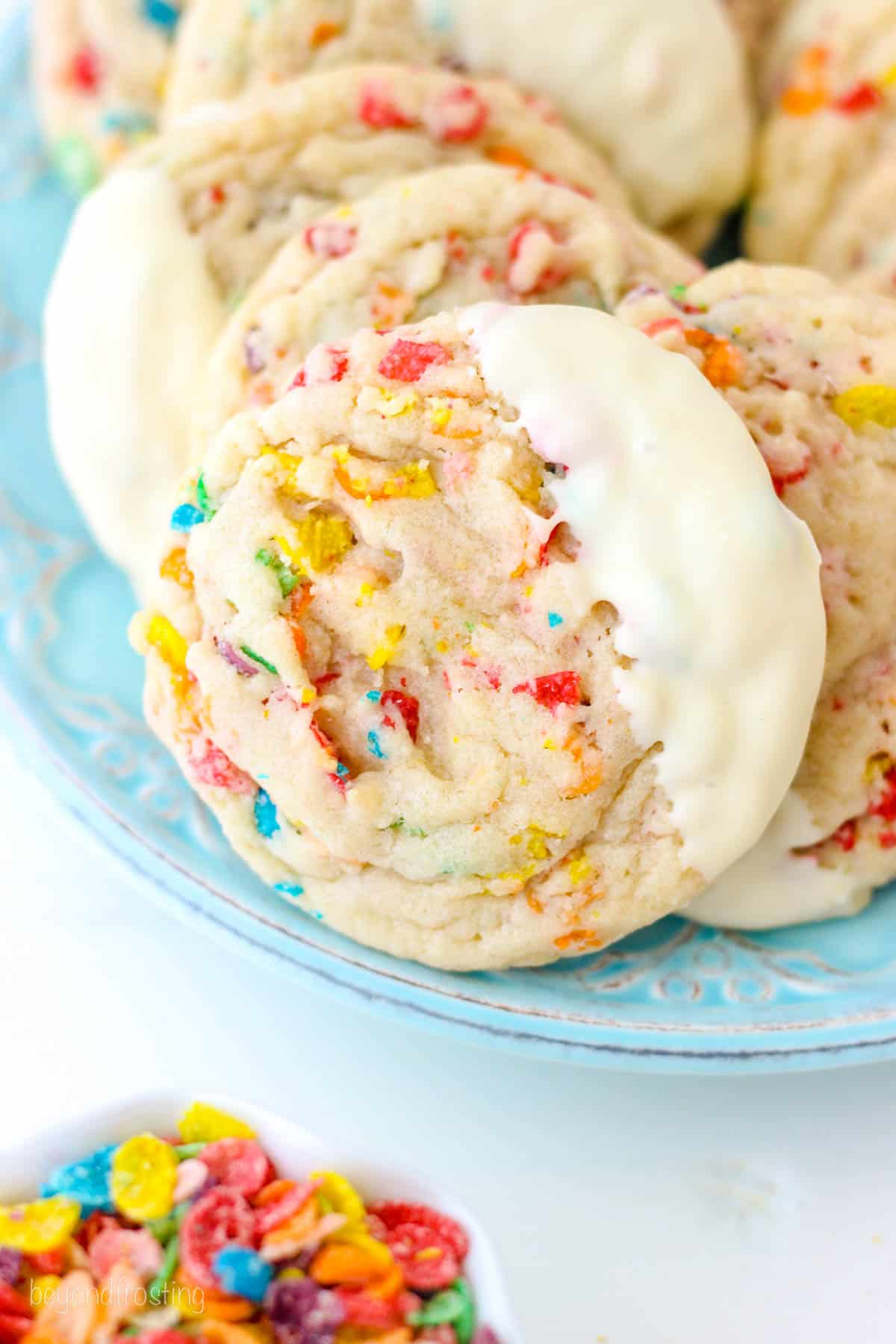 I don't always pick up a box of Fruity Pebbles cereal, but when I am looking for an excuse to do so, I bake with them. First up are these irresistible Fruity Pebble sugar cookies, followed by my Fruity Pebble Cheesecake.
These fun sugar cookies are bursting at the seams with bright and colorful Fruity Pebbles, dipped in white chocolate.
The base for these easy cookies is my favorite Easy Sugar Cookies . It's buttery and soft, with just the right amount of sugary sweetness, and a hint of tanginess thanks to the cream of tartar. Add in those crispy Pebbles, and every bite is filled with satisfying sweet crunch!
What Flavor Is Fruity Pebbles?
Unlike their chocolate-flavored cousins, Cocoa Pebbles, Fruity Pebbles cereal is sweet crispy rice flavored like orange, cherry, and lemon. Mixing Fruity Pebbles into cookie dough probably isn't the first thing that comes to mind when you see them on the shelves, but today we're thinking outside the box! (Pun intended)
Key Ingredients
You need a handful of simple ingredients to make these fun Fruity Pebble sugar cookies. I've summarized the key ingredients below, with the full ingredient amounts available in the recipe card further on.
Vanilla – Make sure to use pure vanilla extract for the most natural flavor. You'll taste the difference!
Cream of Tartar – Cream of tartar brings a hint of snickerdoodle-style tang along with softness and chew to these homemade sugar cookies.
Fruity Pebbles Cereal – I love the subtle crispy crunch and fruity flavor this cereal brings to this cookie recipe. Not to mention the fun colors!
White Chocolate – This is optional, but I love partially dipping my cookies into white chocolate. I recommend using high-quality candy dipping chocolate such as Baker's Brand or Ghirardelli.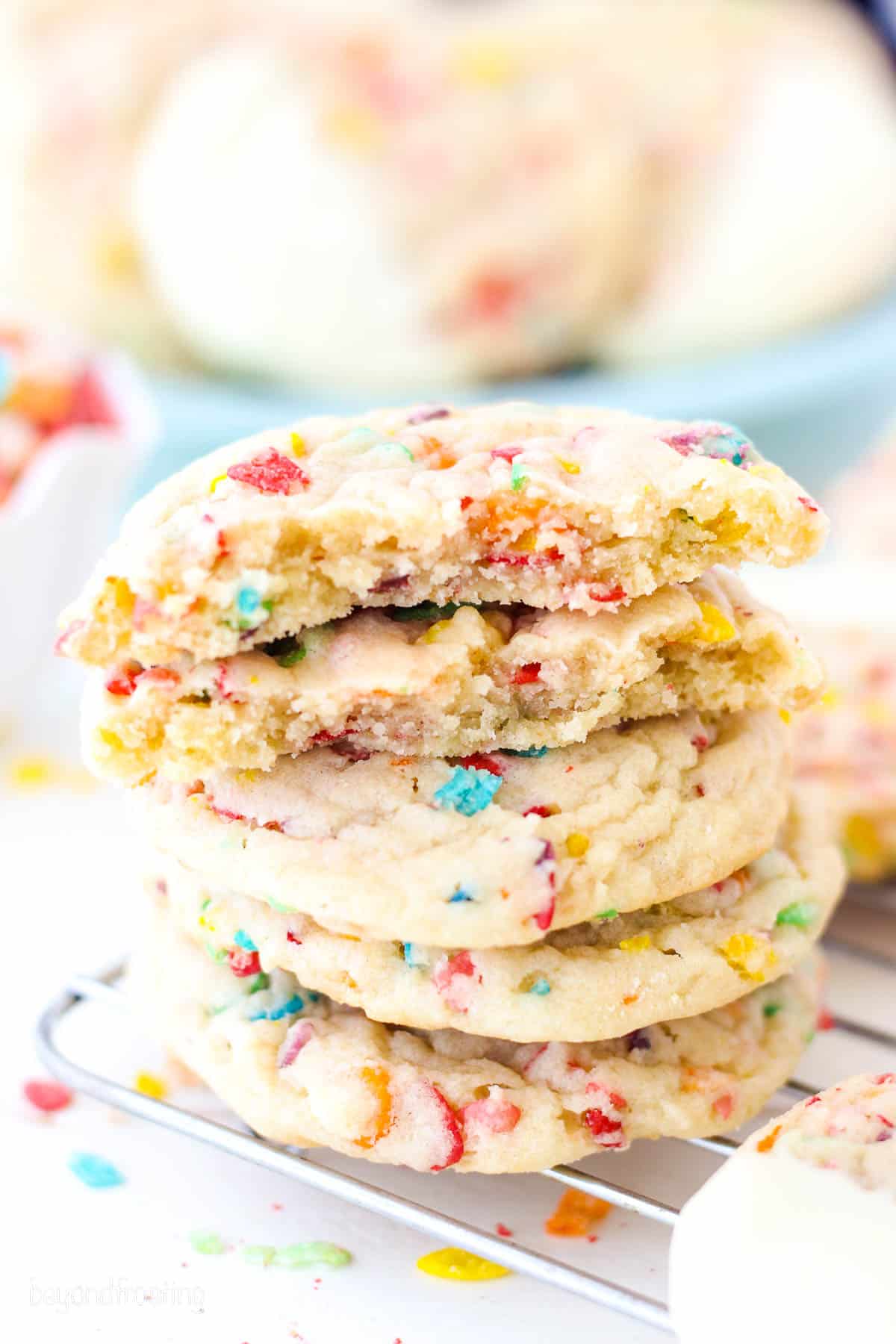 This sugar cookie dough isn't complicated to make, but it does require a bit of chilling time in the fridge. If you bake the dough straight from room temperature, the cookies will flatter. Here's how to make these Fruity Pebble cookies:
Combine the wet ingredients. Beat together the butter and sugar, followed by the egg and vanilla. Mix to combine.
Add the dry ingredients. Next, whisk together the dry ingredients in a separate bowl, and gradually add the dry ingredients to the wet batter to form the dough. Finally, use a spatula to gently fold in the Fruity Pebbles cereal, being careful not to crush them.
Chill. Pop the dough into the fridge to chill for at least 30 minutes, if not longer. You can even leave it in there overnight, see below for make-ahead suggestions.
Bake. After your dough has had enough time to chill, set your oven to preheat to 350ºF. Use a large cookie scoop to portion balls of dough onto a lined baking sheet. Afterward, bake the cookies for 11-13 minutes, then leave the cookies to set on the baking sheet before moving them to a wire rack.
Dip. If you're dipping your cookies in white chocolate, first break up or chop the chocolate into smaller pieces. Warm the chocolate in the microwave in intervals, stirring in between until melted. Lastly, dip half of the cookie into the chocolate, and set it on a piece of parchment paper. Repeat with the rest of the cookies, and once they've set, enjoy!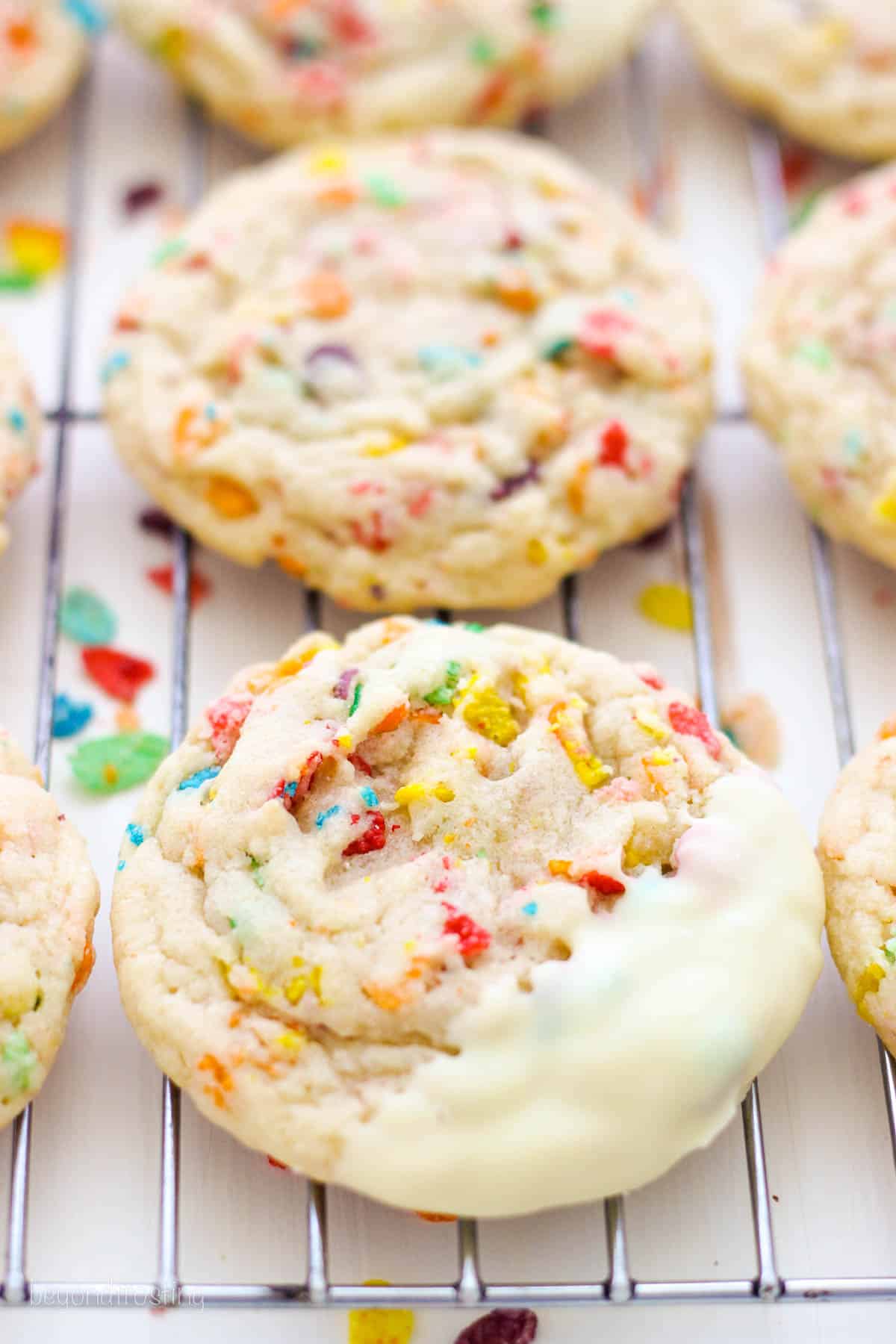 The sugar cookie base for this recipe is one of my favorites, as it's just so easy to work with. Below are some final tips for making the best sugar cookies loaded with Fruity Pebbles:
Use a silicone baking mat to line the baking sheet. I used to line my baking sheets with parchment paper until I switched to silicone mats. Talk about a game-changer! Silicone prevents the bottoms of the cookies from burning and also reduces spreading.
Portion the dough and then chill. The dough gets really firm, so it's best to scoop it while it's soft, then chill.
Use a cookie scoop. This helps makes evenly sized cookies, which allows even baking time. I like larger cookies, but if you'd prefer something something you can use a medium-sized scoop and reduce the baking time by 1-3 minutes.
Try a different cereal. Fruity Pebbles are fun and colorful, but you can really make these sugar cookies with any kind of cereal you'd like. Try chopping up Froot Loops, Frosted Flakes, CocoPuffs, etc to fold into the cookie dough.
Common Questions
Let's answer some Fruity Pebble sugar cookie FAQs:
What's the Secret to Soft Sugar Cookies?
The secret to soft, chewy sugar cookies is leaving them slightly underbaked. I always pull my cookies out of the oven when they're just set in the middle, and then leave them to cool on the baking sheet for a few minutes afterward. Once they've set, the cookies are perfectly moist and soft in the center.
Can I Make the Cookie Dough Ahead?
Absolutely! You can prepare and chill the dough up to 2 days ahead. Store it airtight in the fridge and then portion it as usual, or pre-scoop the cookie dough to chill on the baking sheet and bake it straight from the fridge.
Why is the cereal chewy?
This happens naturally when the cereal comes into contact with the cookie dough. Cereal absorbs moisture and once baked, the cereal can take on a chewy texture.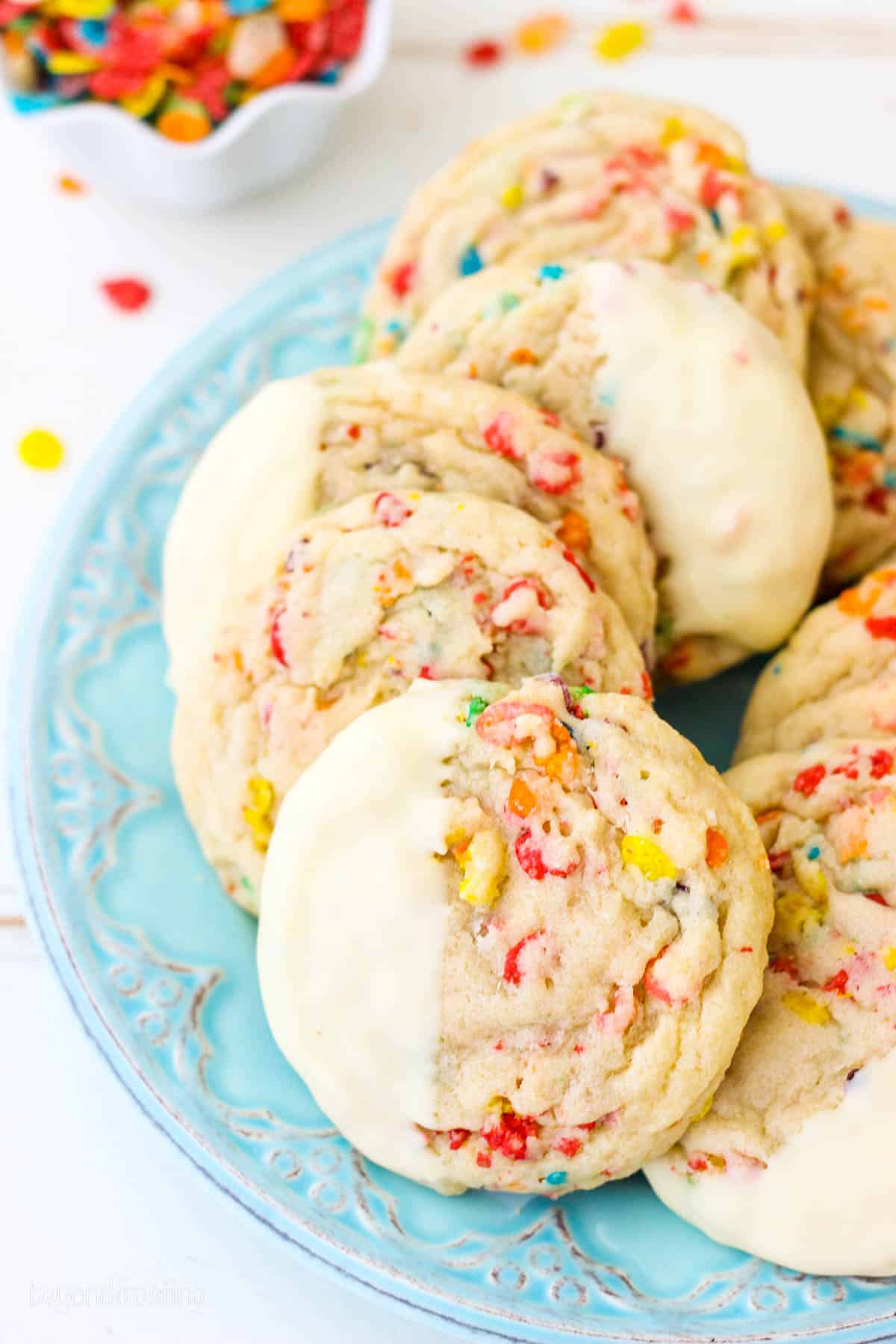 Store your baked Fruity Pebbles cookies airtight at room temperature for up to 4 days. You can also freeze sugar cookies, see below.
Yes! These cookies can be frozen before or after they've been dipped in chocolate. Store the baked sugar cookies in an airtight container or wrap them tightly and keep them frozen for up to 3 months. Defrost the cookies at room temperature before serving.
Print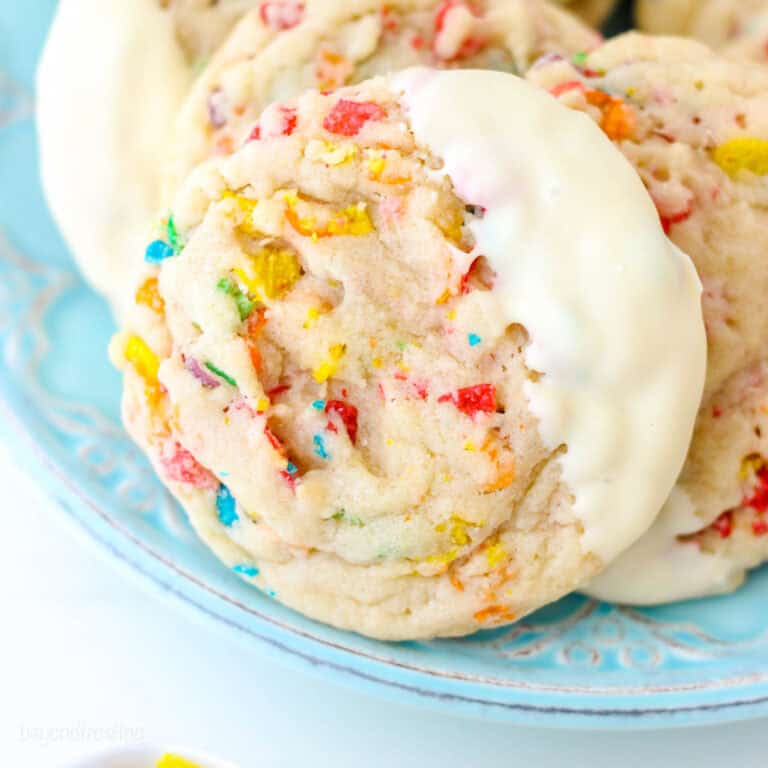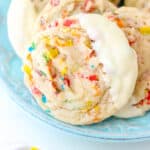 Author:

Prep Time:

45 minutes

Cook Time:

12 minutes

Total Time:

57 minutes

Yield:

20-24 cookies
Description
Super fun Fruity Pebbles Sugar Cookies are soft-baked, chewy sugar cookies filled with colorful Fruity Pebbles cereal and dipped in white chocolate.
Ingredients
1 cup

(

226g

) unsalted butter, softened (see notes)

2 cups

(380

g

) granulated sugar

2

large eggs

1 teaspoon

(5ml) pure vanilla extract

3 cups

(

420g

) all-purpose flour

½ teaspoon

baking soda

½ teaspoon

cream of tartar

½ teaspoon

salt

1 ½ cups

(

54g

) Fruity Pebbles cereal

8 ounces

white chocolate bar
Instructions
Preheat the oven to 350° F. Line a large cookie sheet with parchment paper or a silicone baking mat.
Soften the butter in the microwave for 10-12 seconds. Combine the butter with the sugar and beat on medium speed until well creamed together.
Add the eggs and vanilla extract. Mix into the butter and sugar until the eggs are well beaten.
In a separate bowl, combine the remaining dry ingredients. Slowly add into the dough and beat on medium-low speed until the dough starts to form, then fold in the cereal.
Use a large cookie scoop and portion the dough. Roll each ball of dough in granulated sugar and then place each one about 2 inches apart. Bake at 350° F 10-12 minutes. Allow cookie to cool on the baking sheet for several minutes and then transfer to a wire rack to cool completely
To coat with white chocolate, break the chocolate up into smaller pieces and microwave it at 50% power for 30 seconds at a time. Stir the chocolate after each 30-second interval so that it doesn't burn. Then dip your cooled cookie in the chocolate and tap off the excess chocolate on the side of the bowl. Set these on a piece of parchment paper to cool.
Notes
Butter temperature: Either allow butter to come to room temperature or soften cold butter in the microwave for 10-12 seconds.
Category:

Cookies

Method:

Oven

Cuisine:

American
Keywords: easy sugar cookies, soft sugar cookies, homemade sugar cookies, cereal cookies
More Fun and Easy Sugar Cookie Recipes