This post may contain affiliate sales links. Please see my full disclosure policy for details
This Easy Pasta Salad recipe is perfect for your summer cookouts. Prepare your pasta salad ingredients in advance, toss it together and serve. This is totally customizable and easy to adjust to suite your tastes.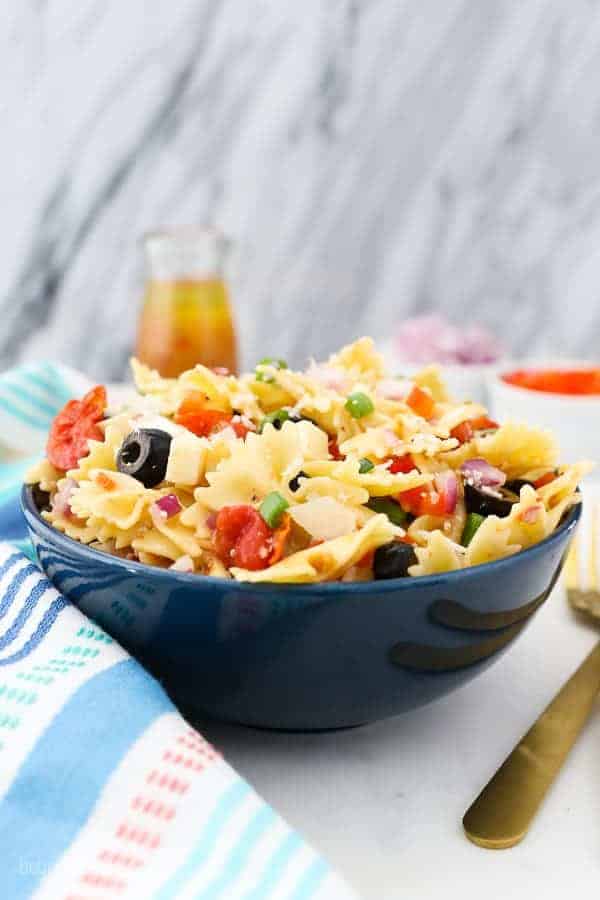 I can't remember the last time I made pasta salad at home, certainly not since I met my husband. He's not a pasta salad eater, so all the leftovers were mine.
I, however, grew up eating lots of summer time pasta salads, and my dad still makes it on the regular. So, I am declaring this "Dad's pasta salad". Sorry Mom, your pasta salad is good to.
Can you think of an easier side dish to bring to a summer BBQ or potluck? Prepare everything in advance, toss it together and serve. Dad's tip is to add the salad dressing last so that nothing gets soggy, and I totally agree.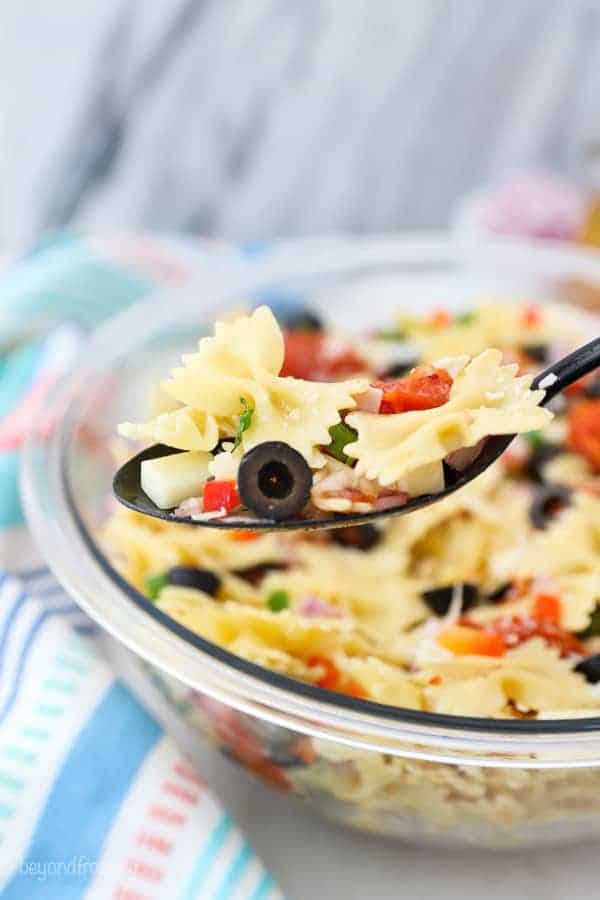 Nothing fancy here, just an Easy Pasta Salad recipe for you to enjoy this summer.
The great thing about this pasta salad is that you can totally customize it to suite your own tastes. I opted to leave out the protein, but below I offer some suggestions of proteins you might like to add.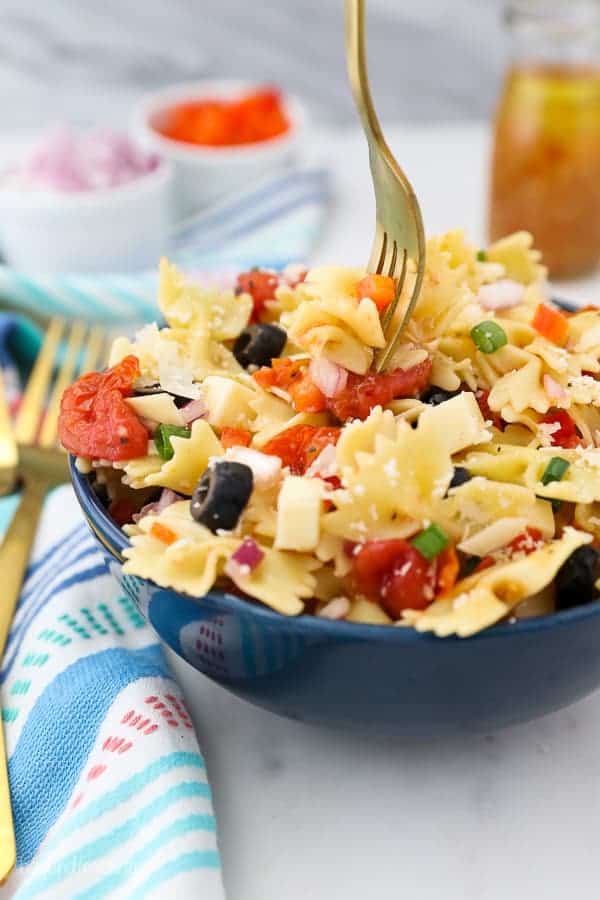 I'll admit that most often bring the desserts to the party, but it's nice to have options, especially if you're the one hosting the party. Quick and easy dishes that you can prepare ahead of time are key. Also, I am obsessed with this quick chopper we got as a wedding gift, and this is the most perfect excuse to use it.
This dish totally brings back memories of warm summer nights eating at the old picnic table in our backyard that had chipped paint and was long overdue for a touch up.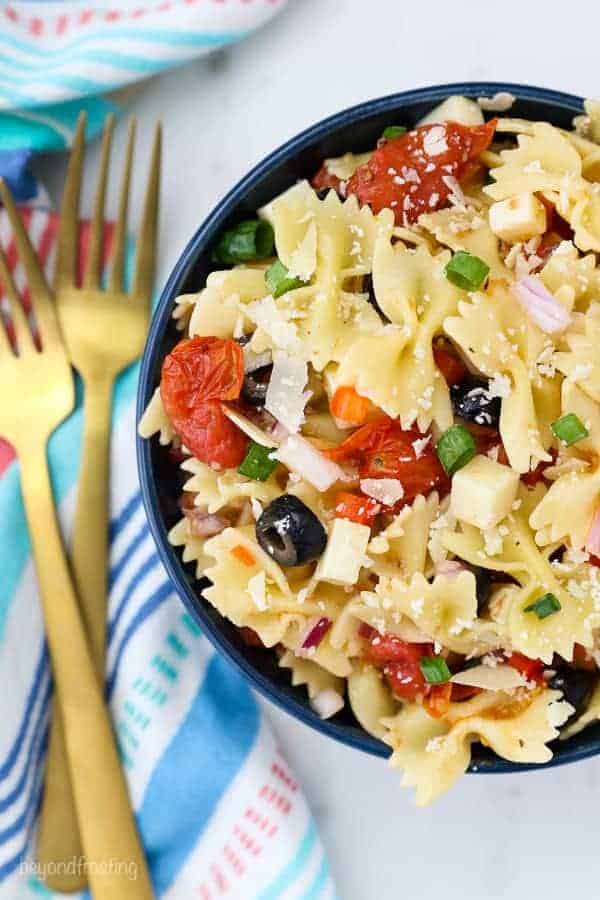 What to add to pasta salad
Pasta- Duh, this is easy, but pick your favorite shape. Bow tie (farfalle), shells, penne or elbow macaroni seem to be the most common. I like big pieces of pasta so I opt for bow tie or penne. Some people like the tri color rotini pasta, but I always picked out the white pasta and left the orange and green in my bowl. Always prepare ahead of time so it cools.
Dressing- Good old Italian dressing, as mentioned above, add last and right before serving, especially if you're not serving it all at once.
Tomatoes- Personally, I don't like raw tomatoes, so I roasted these with Olive oil for 20 minutes at 425°F and then cooled them before adding to the salad. Use a sweeter tomato such as cherry tomatoes.
Red Onion- Great for adding color and texture, red onion is a little sweeter.
Bell pepper- Pick your favorite! I prefer red bell pepper but yellow and green are both good options and add a bit of color as well.
Fresh vegetables- You can certainly add more fresh vegetables like chopped broccoli or cucumber as well.
Olives- You either love them or hate them. For me, pizza and pasta salad are about the only time I eat them. I buy pre-sliced black olives, but you can slice them yourself too.
Cheese- It's all about the cheese for me! A good quality sharp or medium cheddar or monetary jack are my favorites. Mozzarella works well too. Dice it up into small cubes.
Parmesan- Okay, technically also a cheese. Shredded or flakey parmesan is always a good finisher.
Protein- The most common meat I see used in pasta salad is probably chopped pepperoni or ham. Personally, I prefer the pepperoni but I opted to leave it out this time. I would also love it with crumbled bacon.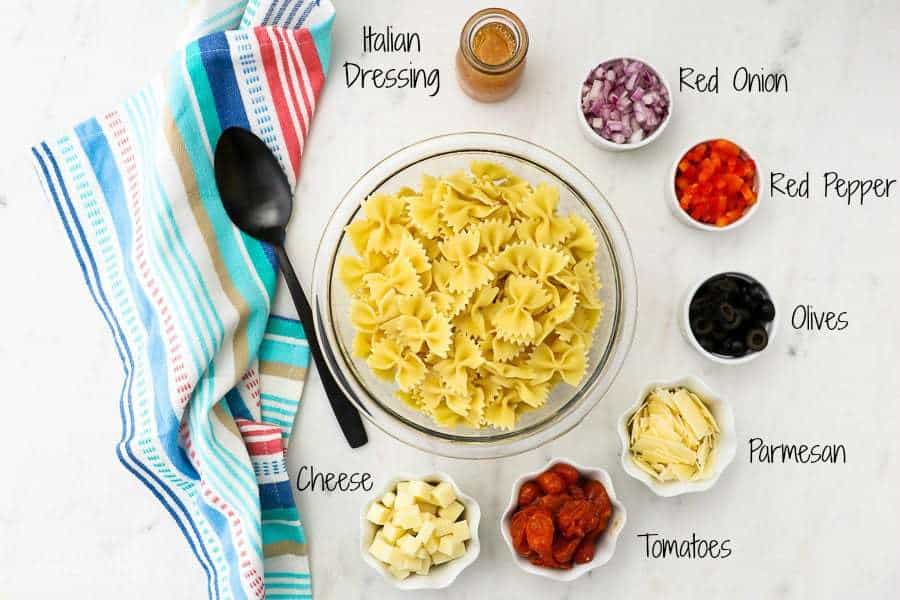 Follow Beyond Frosting:
Facebook | Twitter | Pinterest | Instagram
Print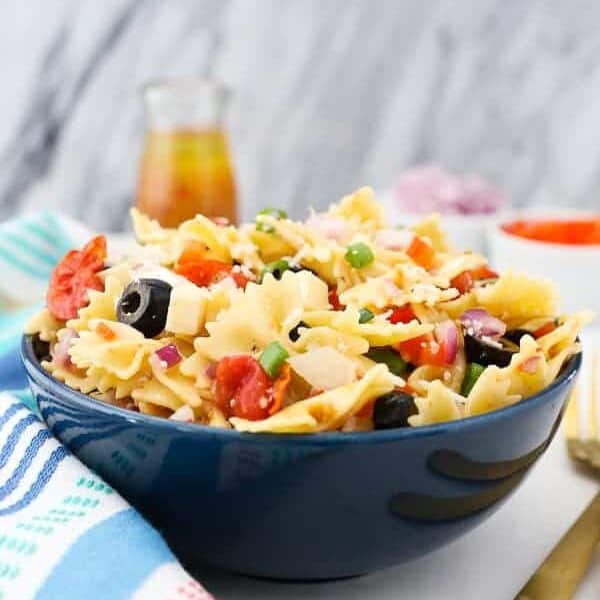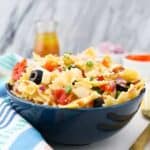 Easy Pasta Salad
Author:

Prep Time:

30 minutes

Cook Time:

20 minutes

Total Time:

50 minutes

Yield:

6 large servings
Description
This Easy Pasta Salad recipe is perfect for your summer cookouts. Prepare your pasta salad ingredients in advance, toss it together and serve. This is totally customizable and easy to adjust to suite your tastes.
Ingredients
1

box pasta of choice, prepared and cooled

1 pint

cherry tomatoes, fresh or roasted

1

red bell pepper (about

½ cup

chopped)

½ cup

chopped red onion

1

can (2.25 oz) sliced black olives

6 ounces

cheese, cubed

1/3 cup

shredded parmesan cheese

1/3

–

½

cup Italian dressing
Green onion for garnish (optional)
Instructions
Prepare a box of pasta according to the instructions on the box. Allow the pasta to cool completely.
To roast the tomatoes, place on a sheet pan lined with parchment paper. Lightly drizzle with olive oil, salt and pepper and roast at 425°F for 20 minutes. Cool completly and strain excess oil.
Dice the pepper and onion into small pieces, set aside.
Cube the cheese into small pieces, set aside.
When ready to serve, combine all the salad ingredients in a large bowl and toss with the parmesan cheese and dressing. Start with 1/3 cup and add additional dressing as needed for taste. Keep refrigerated.
Notes
See blow post for ingredient options and suggestions. Add the dressing last and prior to serving to prevent the pasta salad from getting soggy.