This post may contain affiliate sales links. Please see my full disclosure policy for details
These Homemade Sloppy Joes are loaded with tender ground beef and gooey cheddar for a comforting meal that the whole family can enjoy. Plus, these hearty sandwiches come together in just 30 minutes!
Easy Sloppy Joes
I can't be the only one who dreads the question "what's for dinner?" When all else fails, you need quick, easy, and family-friendly recipes, like these Homemade Sloppy Joes.
There's a reason that Sloppy Joes are a classic childhood staple. Between the hamburger meat, garlic, and brown sugar, these messy sandwiches are loaded with so many sweet and savory flavors that so many kids love. Plus, they're super quick and easy to make, which makes parents love making them.
For these sandwiches, I decided to incorporate cheddar into the hamburger meat. The cheese adds a rich, creaminess to the meat while making this dish even more comforting. I hope that you enjoy them as much as we do!
What is a Sloppy Joe?
While the name might not sound the most appetizing, this sandwich has been a staple American comfort food for decades.
Sloppy Joes are sandwiches consisting of ground beef and some type of tomato-based sauce served on a bun. The sandwiches are called "sloppy" because the ground beef of these sandwiches is not made into a patty like a burger, so they tend to fall apart as you're eating them.
Recipe Ingredients
While Sloppy Joes may seem to require a lot of ingredients, you probably already have most of them in your pantry. Here's everything you'll need to start making this classic comfort food:
Olive Oil
Onion: You can use yellow or white.
Garlic
Green Pepper: You can use any kind of pepper
Smoked Paprika: Adds a warm and smoky flavor.
Brown Sugar
Mustard: Yellow mustard is best.
Ketchup: Any kind of ketchup works.
Hamburger Meat: I recommend using an 80/20 or 90/10.
Buns: Pick your favorite
Cheddar Cheese: For a rich and gooey texture.
Worcestersire Sauce: Adds tanginess to the sauce.
Salt & Pepper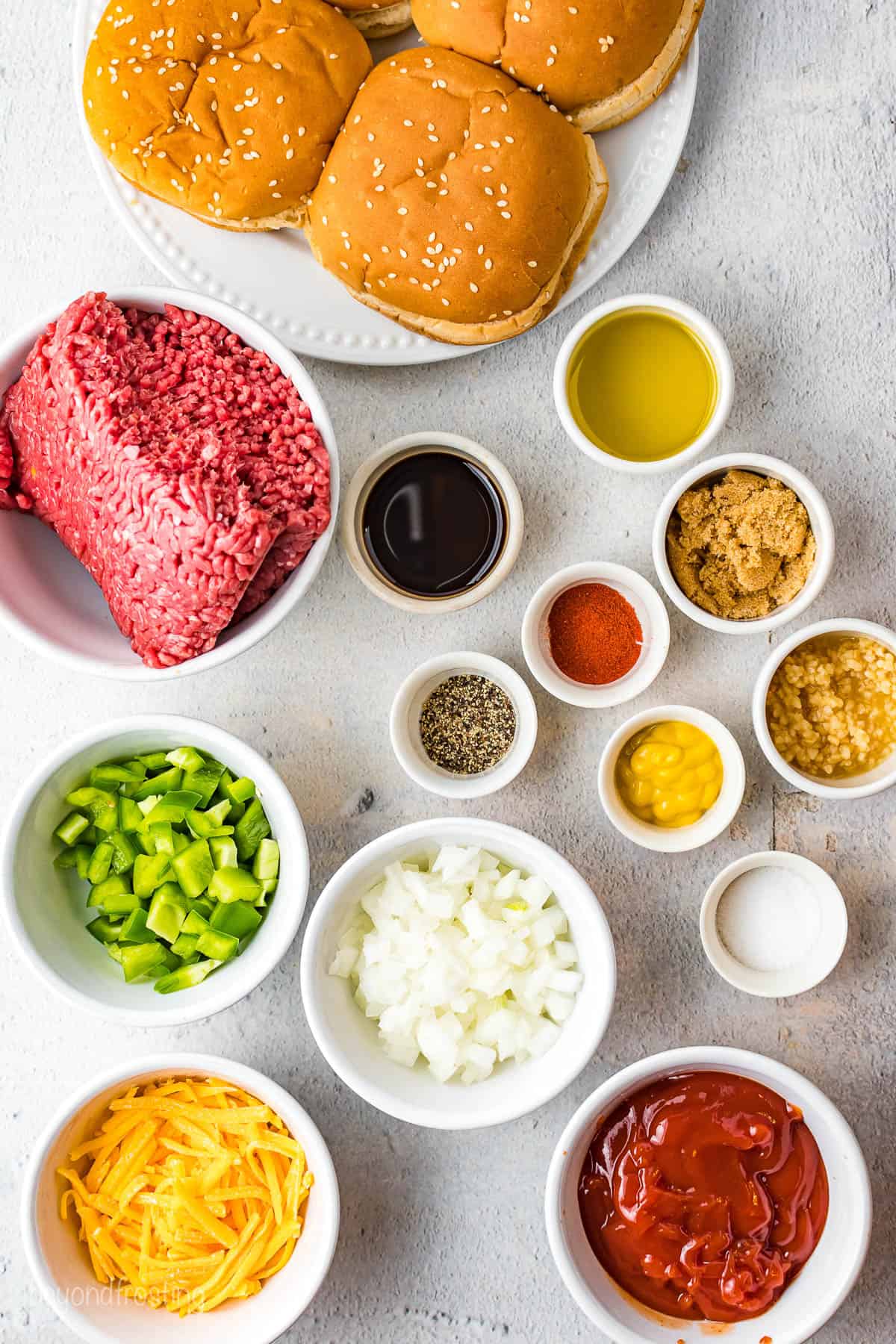 How to Make Sloppy Joes
With three simple steps, these easy sandwiches come together in just a few minutes! Here's how you make them:
Cook the meat and veggies. To start this dish, add olive oil to a large skillet over medium heat. Cook the onion, garlic, for two minutes or until they're fragrant, then add the meat. Once the meat starts to brown, add the green pepper. Continue to cook until no parts of the meat are still pink.
Make and add the sauce. Combine the Worcestershire sauce, brown sugar, ketchup, mustard, paprika, salt, and pepper in a small bowl. Once thoroughly mixed, pour it over the skillet and stir. When everything is combined, add in the cheese and continue to stir.
Serve. Serve immediately after combining the cheese. You can choose whether or not you want to toast the buns. Once you're ready to serve, just scoop some of the meat onto the bread.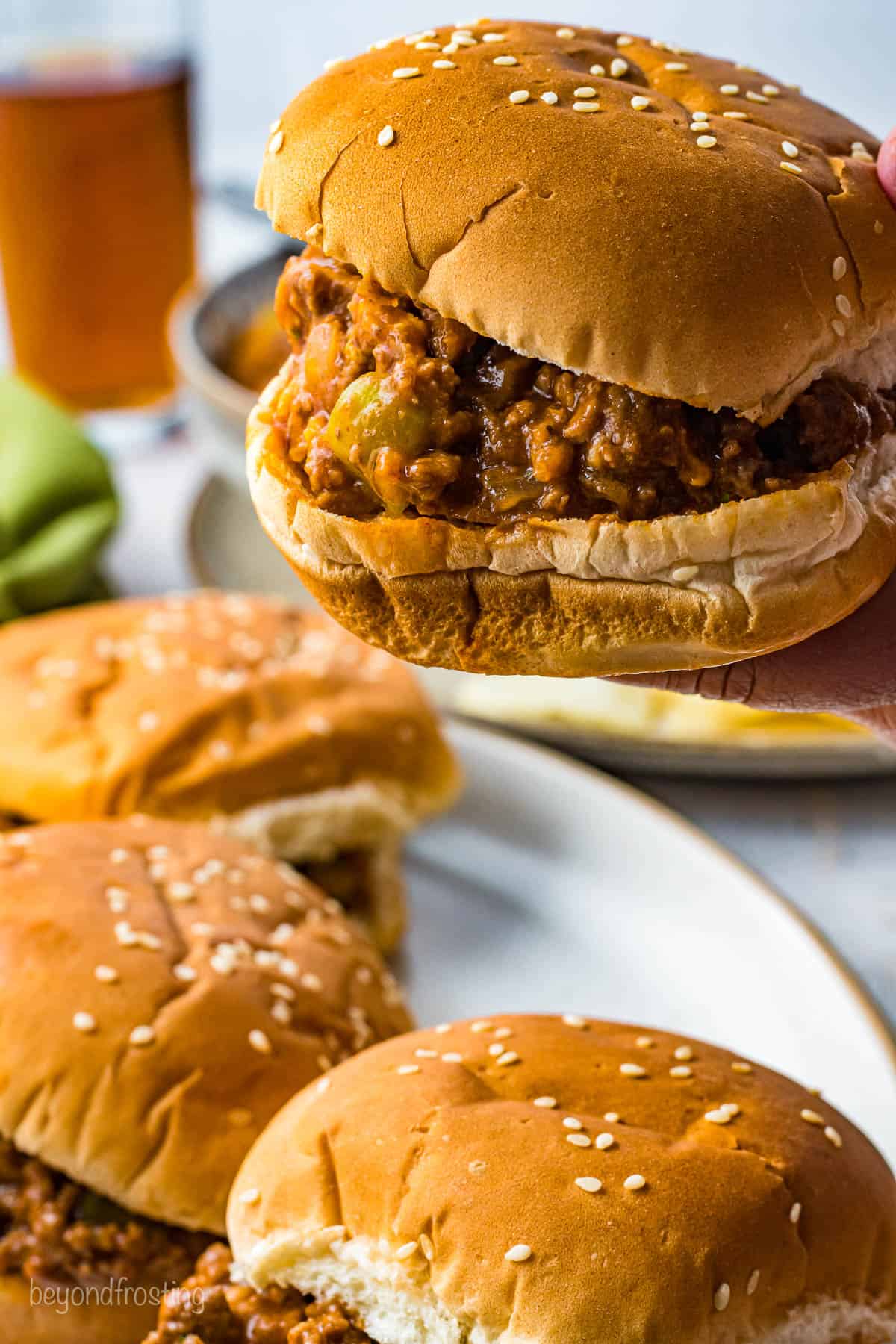 Tips for Success
While Sloppy Joes are pretty simple to make, I do have a few tips for making this recipe:
Make sure to watch the temperature: Veggies (especially garlic) can burn easily, so you'll want to watch them while they're cooking.
Check that the meat is no longer pink: You don't want to serve undercooked meat! When adding the beef to the skillet, make sure to continue cooking it until there is no pink left.
Toast the bread: This is more of a personal preference, but something about toasting the buns makes these sandwiches even more comforting. It's a quick and easy way to elevate this dish.
Add-In Ideas
Similar to burgers, there are many ways to experiment with Sloppy Joes. If you are looking for ways to mix up this more traditional recipe, here are a few things to get you started:
Try adding toppings: Adding pickles, lettuce, cheese, or even avocado can give your sandwich a unique twist.
Change the meat: Feel free to experiment with other types of meat. Whether it's ground pork, chicken, or turkey, substituting the meat can be an interesting way to alter texture and flavor.
Incorporate different ingredients: Try incoporating chile peppers, tomatoes, or different spices to alter the tasteof the meat.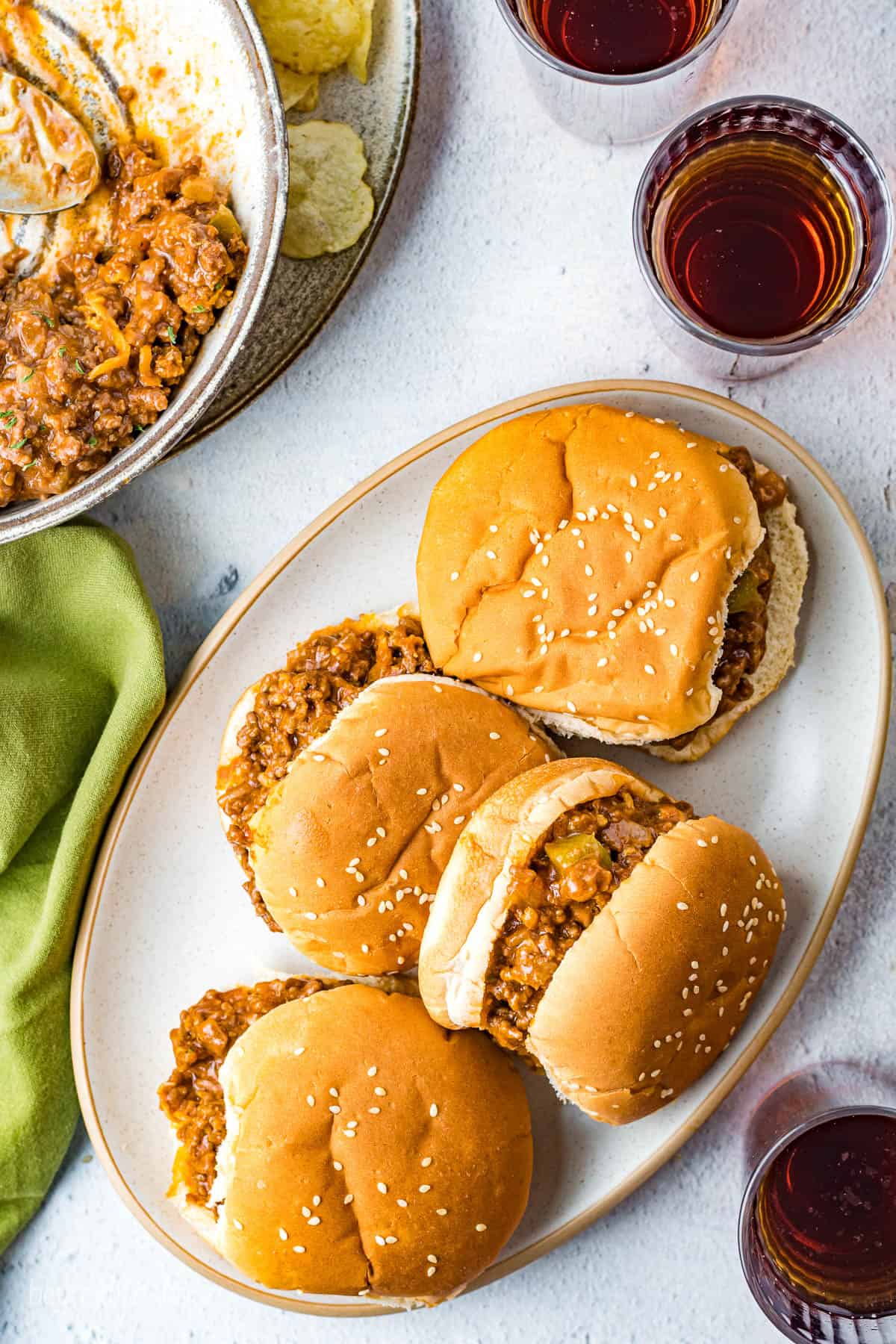 Serving Suggestions
Another reason I love these Sloppy Joes is that they can be served with so many different sides. If you're looking for easy side dishes, chips and fries pair really well. However, if you have the time to make your own, here are a few of my favorite side recipes for this meal:
How to Store and Reheat Leftovers
These sandwiches are also really easy to store. Once the meat has cooled, just place it in an airtight container and refrigerate for up to 5 days.
When you're ready to serve them, I recommend reheating them in the microwave. I usually put them in for 30 to 60-second periods to prevent overcooking.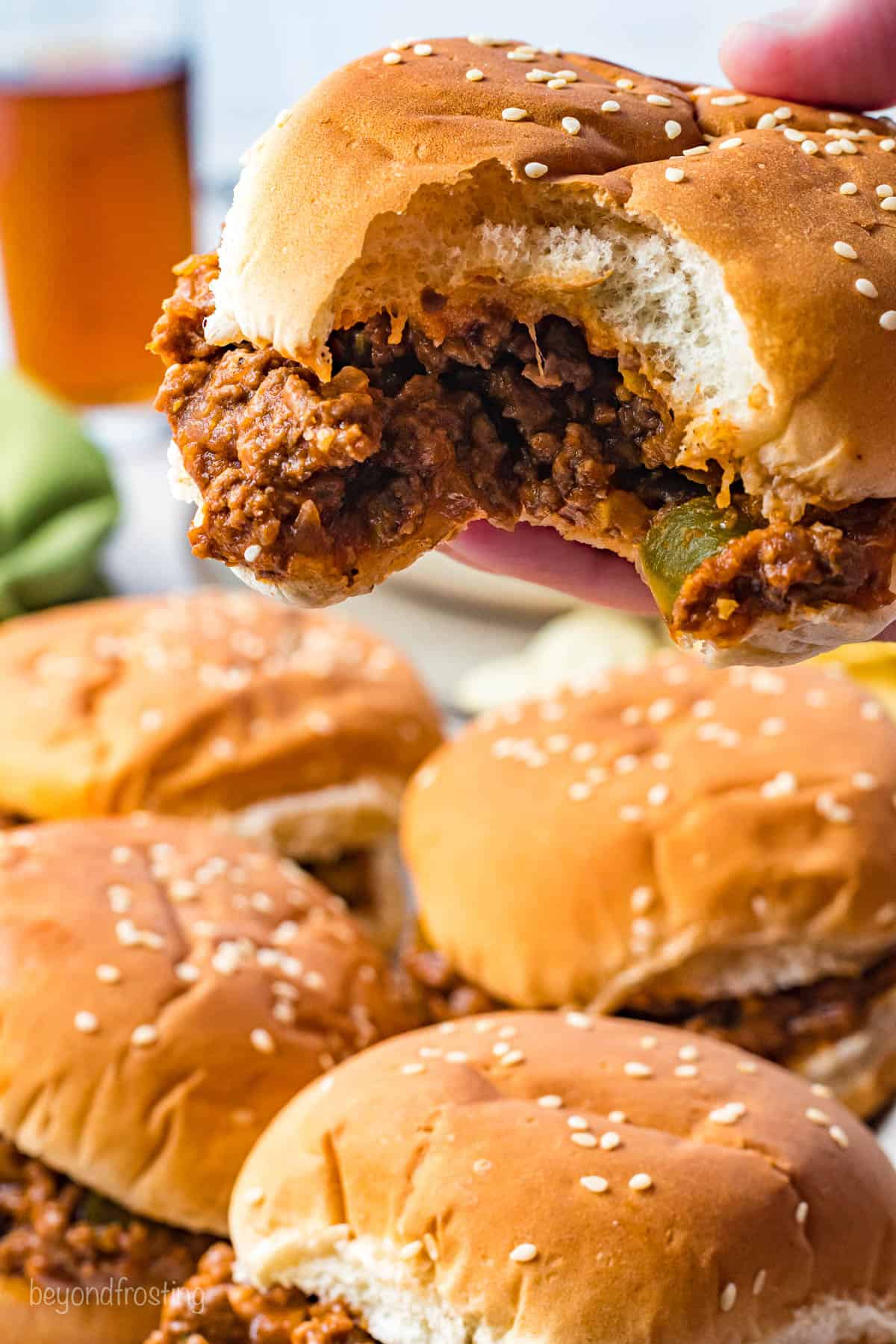 Can I Freeze These?
Yes, you can freeze these Sloppy Joes! To freeze, first allow the meat to cool completely. Then, just place it into a freezer-safe container and freeze for up to 3 months.
When you're ready to serve them, thaw the meat in the fridge overnight before reheating as described above.
More Weeknight Dinner Ideas
If you're looking for more easy weeknight dinners and enjoyed these Sloppy Joes, here are a few more recipes I think you'd like:
Print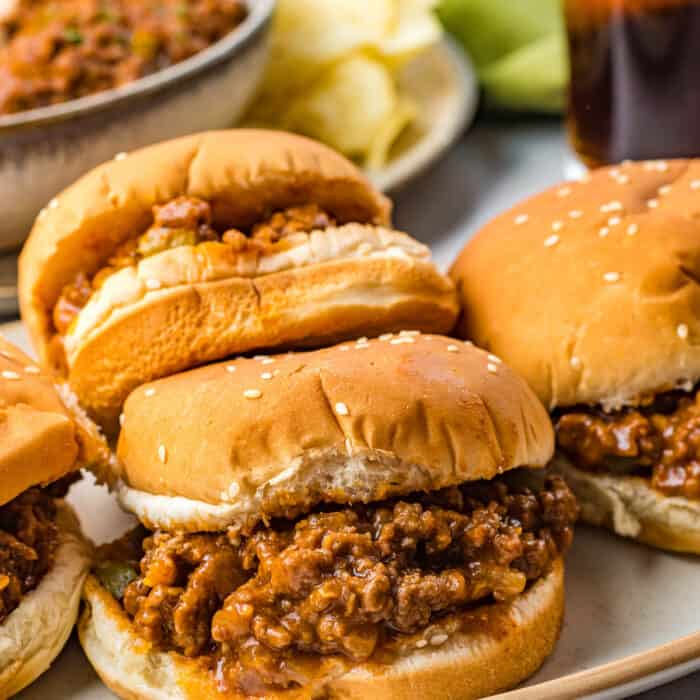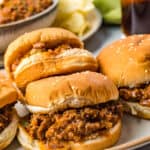 Homemade Sloppy Joes
Author:

Prep Time:

10 minutes

Cook Time:

20 minutes

Total Time:

30 minutes

Yield:

4-6 sandwiches
Description
Homemade Sloppy Joes are loaded with tender ground beef and gooey cheddar for a comforting meal that the whole family can enjoy. Plus, these hearty sandwiches come together in just 30 minutes!
Ingredients
1 tablespoon

olive oil

1 cup

yellow onion, diced

1 tablespoon

minced garlic

½

green pepper, diced

1

pound ground hamburger meat

1 cup

ketchup

2 tablespoons

light brown sugar

1 tablespoon

worcestershire sauce

2 teaspoons

yellow mustard

2 teaspoons

smoked paprika

½ teaspoon

salt

½ teaspoon

pepper

½ cup

shredded cheddar cheese
Hamburger buns
Instructions
In a large skillet, heat the olive oil over medium, heat. Add the onion, garlic, and green pepper and cook for 2 minutes until fragrant. Then add the hamburger and cook until it'sno longer pink.
In a small bowl combine the ketchup, brown sugar, Worcestershire sauce, mustard, salt, pepper and smoked paprika. Pour over the hamburger and stir to combine. Then add the cheese and stir.
Serve immediately. You can toast the hamburger buns or just add the sloppy joes to the bread.
Category:

Dinner

Method:

Cooked

Cuisine:

American
Keywords: how to make sloppy joes, homemade sloppy joes sauce, manwiches