This post may contain affiliate sales links. Please see my full disclosure policy for details
An oatmeal cookie base topped with strawberries and rhubarb and topped with more oatmeal cookie topping — your favorite summer dessert is now a packable treat or back to school snack!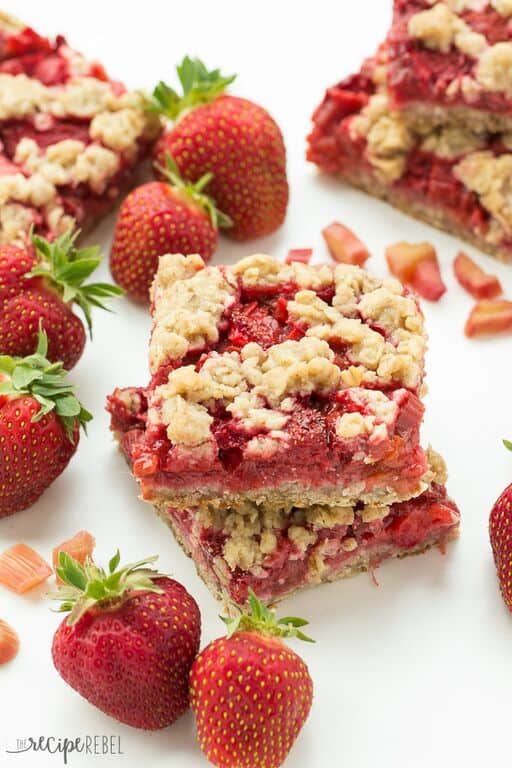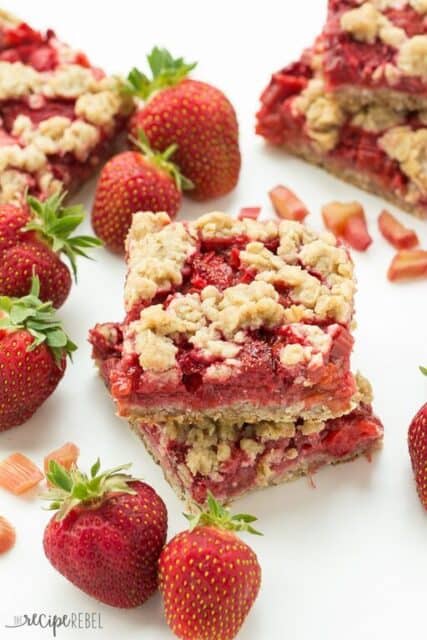 I have another guest post for you guys today! Ashley from the The Recipe Rebel is sharing these gorgeous Strawberry Rhubard Crisp Bars. Ashley's blog caught my eyes time and time again. I would be strolling through Pinterest, pinning these amazing dinner and dessert ideas and it was already leading me back to Ashely. Recently, her summer recipes are knocking my socks off. Thanks for sharing Ashley!
What about you? Are you a crisp lover or a pie lover?
I am a crisp fanatic. I am not reeeally a pie lover, unless it's filled with chocolate or peanut butter or it's on an Oreo crust or it's in ice cream form? Or unless it's only dessert option because when it comes to pie or no dessert you better believe I'm eating pie and loving it. As long as there's ice cream.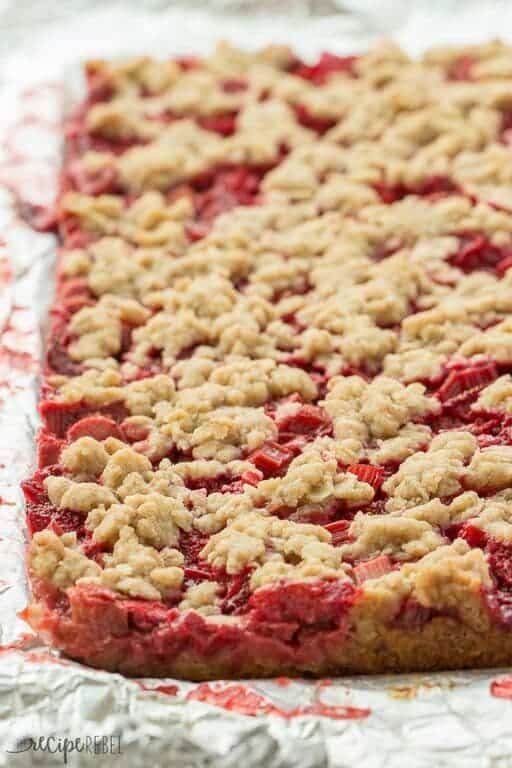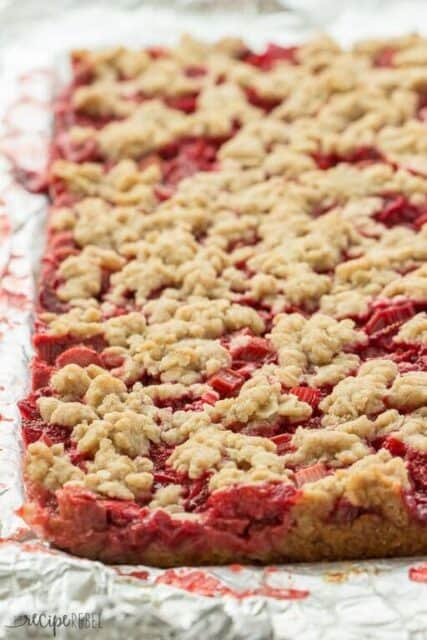 So when Julianne asked if I would bring something over to share, these bars weren't even a thought. I'd hate to think about what might have happened if she'd never asked — you might not have been feasting your eyes upon them right now.
And that would be sad. Because they're amazing.
When I came up with the idea for these bars, I was determined that there would only be one crumb mixture and that would serve as the cookie crust and the crumb topping. I am not into extra work.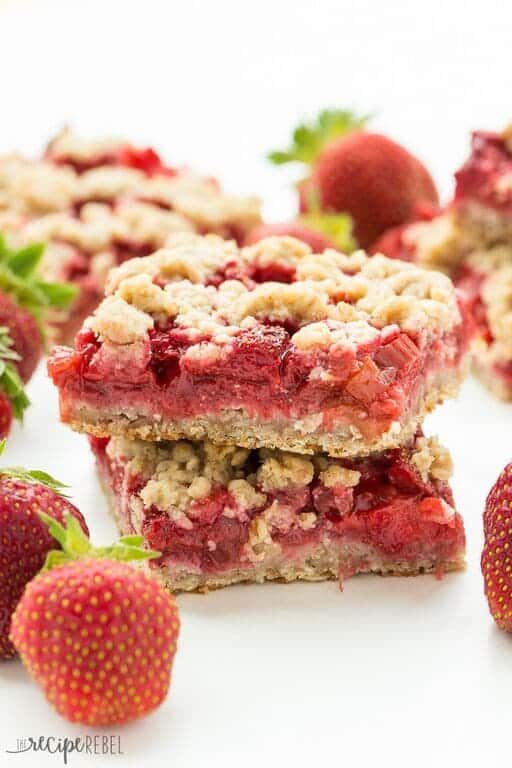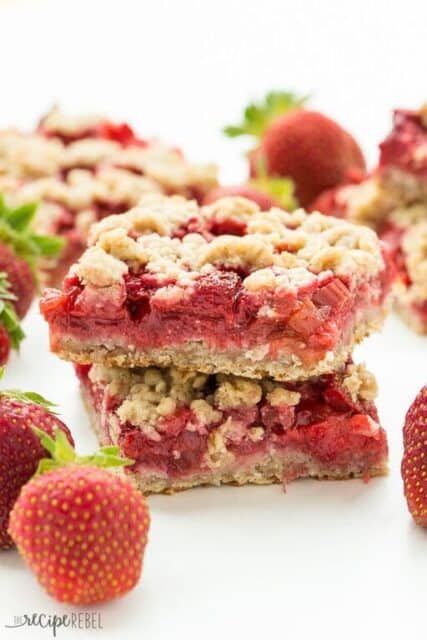 Obviously, I had to use the oatmeal cookie topping from this Berry Cherry Crisp (also amazing). I doubled it and it worked so well! The perfect sturdy base for the fruit and just enough left over to sprinkle over the top and let that gorgeous fruit shine through.
Are you guys rhubarb lovers?
I mean, you're here, so….
But really — there are people out there who don't like rhubarb. I used to be one of them. As a kid, anything even a little bit tart was not dessert. Lemon, lime, rhubarb — I detested them all. Slowly, though, I came around. And now? Totally obsessed.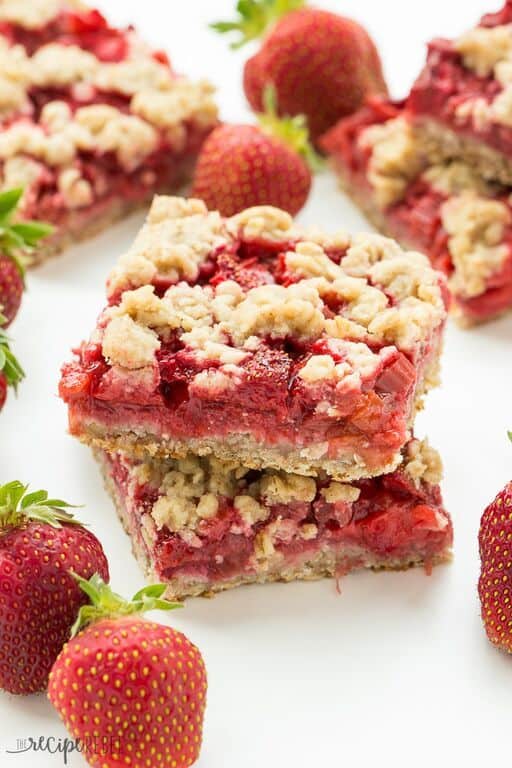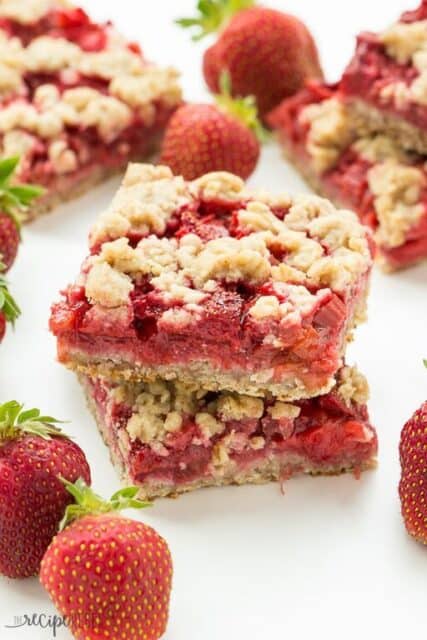 Especially strawberry rhubarb. And with fresh picked strawberries? Perfection!
These are the perfect bar to take you from summer right into back to school — they are incredible cold, straight from the fridge, or warm them up and serve with some vanilla ice cream!
Print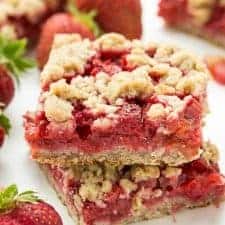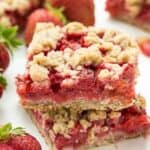 Strawberry Rhubarb Crisp Bars
Ingredients
1 cup

packed brown sugar

2 cups

large oats

1 cup

whole wheat flour (or sub all-purpose)

3/4 cup

cold butter, cut into

½

" pieces

4 cups

fresh, diced strawberries

3 cups

frozen, chopped rhubarb (or sub fresh – see recipe notes*)

1/4 cup

corn starch

¾ cup

granulated sugar
Instructions
Preheat the oven to 350 degrees F and line a 9×13" pan with tin foil or parchment paper, lightly greased. Set aside.
In a large bowl, combine brown sugar, oats and flour until mixed. Add the butter and mix with an electric mixer, a pastry cutter or your hands until combined (dough will have the consistency of cookie dough – it won't be crumbly).
Set aside 1 packed cup of the oatmeal cookie mixture. Press the rest into the bottom of the prepared pan, covering the bottom entirely. Bake bottom crust for 10-20 minutes, until dry and golden.
In the same bowl you used to mix your oats, combine your strawberries, rhubarb, corn starch and sugar. Spread on top of crust and crumble the remaining oat mixture on top – it will not cover the top completely. Press down the oat mixture slightly.
Bake for 45-50 minutes, until filling is thickened and bubbling and crumble is golden.
Cool to room temperature. I highly recommend chilling before cutting – they will set completely and cut more cleanly. Store in the refrigerator.
Notes
I only had frozen rhubarb available. You can easily substitute fresh but it won't release as much liquid as it bakes, so you maybe need to reduce the cornstarch.
**Recipe updated June 2017**