This post may contain affiliate sales links. Please see my full disclosure policy for details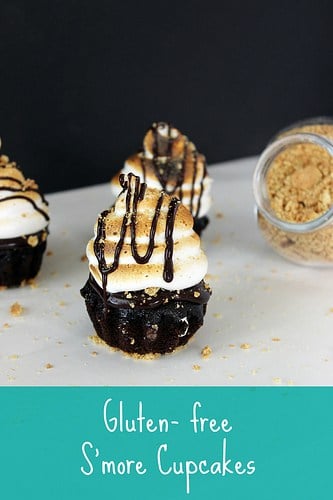 Part of the fun of being a food blogger is trying recipes from my peers. I love experimenting in the kitchen. I have also been inclined to try various baking mixes to see how my favorites compare. On a recent shopping trip to Wholefoods, I found a Gluten-Free Chocolate Cake mix from King Arthur Flour. I must say, that I am in love with this cake mix, it is the fudgiest cake I have ever had. You can purchase their cake mixes online. I used it to make cupcakes instead of a layer cake as shown on the box.
Once my cupcakes cooled, I took a heaping spoon of chocolate and smeared it over the top of each one. Obviously you need an excess amount of chocolate for anything s'mores related. Instead of graham cracker, I used Annie's Gluten-Free Bunnie crackers, they are most compared to Teddy Grahams. I used a food processor to grind them up into smaller pieces.
I have never made marshmallow frosting before (gasp!). So I spent some time looking at ingredients from different recipes to see what I wanted to try. I was never a huge fan of marshmallow fluff when I was a child, so I was looking for something different.
I remembered seeing Lauren's (of Climbing Grier Mountain) Fudge Brownies with marshmallow frosting several weeks ago. The photo of the whisk was so intriguing, I knew I book marked it for a reason. I love whisk shots! Here's one of my own.
I have never heated corn syrup before, so I tried putting it over a pot of simmering water and the dang thing just wouldn't boil. So after 15 minutes, I popped it in the microwave for 20 seconds and it was boiling; lesson learned. I followed Lauren's instructions and crossed my fingers as I took a big spoonful to taste. It was like nothing I have ever tried before. I think my favorite part was that it wasn't overly sweet or overpower the rest of the cupcake. However, it was super sticky!
I thought it was the perfect opportunity for me to use a large circular tip, so I chose the Ateco 808 tip and piled my frosting high. I pulled out my kitchen torch and put it to work. If I was making marshmallow frosting, I was obviously going to do some toasting. This was my favorite part!
I topped the frosting off with some more melted chocolate and sprinkled the last of my crushed bunny grams. I handed the cupcake over to my official taste tester and his response was something like: "this is awesome and I don't even like marshmallow". Woohoo! Success!