This post may contain affiliate sales links. Please see my full disclosure policy for details
Wondering how to zest a lemon? Here are 3 easy ways to zest a lemon, with no special equipment needed! Add to your recipes for a burst of citrus flavor whenever you want.
The Best Ways to Zest a Lemon
Lemon zest is one of my tricks for getting the most vibrant citrus flavor in my recipes and I use it in a ton of my lemon-flavored desserts (like lemon cupcakes and lemon sugar cookie bars). It also makes a great topping on dishes for a final burst of flavor too.
But if you've never zested a lemon before, it might seem a bit difficult or like an unnecessary extra step. I'm here to tell you that it's not! Zesting a lemon can be done in just a few minutes, with no special equipment!
What is Lemon Zest?
Lemon zest is the outside, yellow layer of a lemon. If you need some bright citrus flavor in your dish, zest is the way to get it as it holds many of the citrus oils and a more concentrated flavor than the juice. (So, tip – if you want a strong citrus flavor in your dish, make sure you add some zest and not just juice!)
In addition to lemons, you can zest limes, oranges, and grapefruit.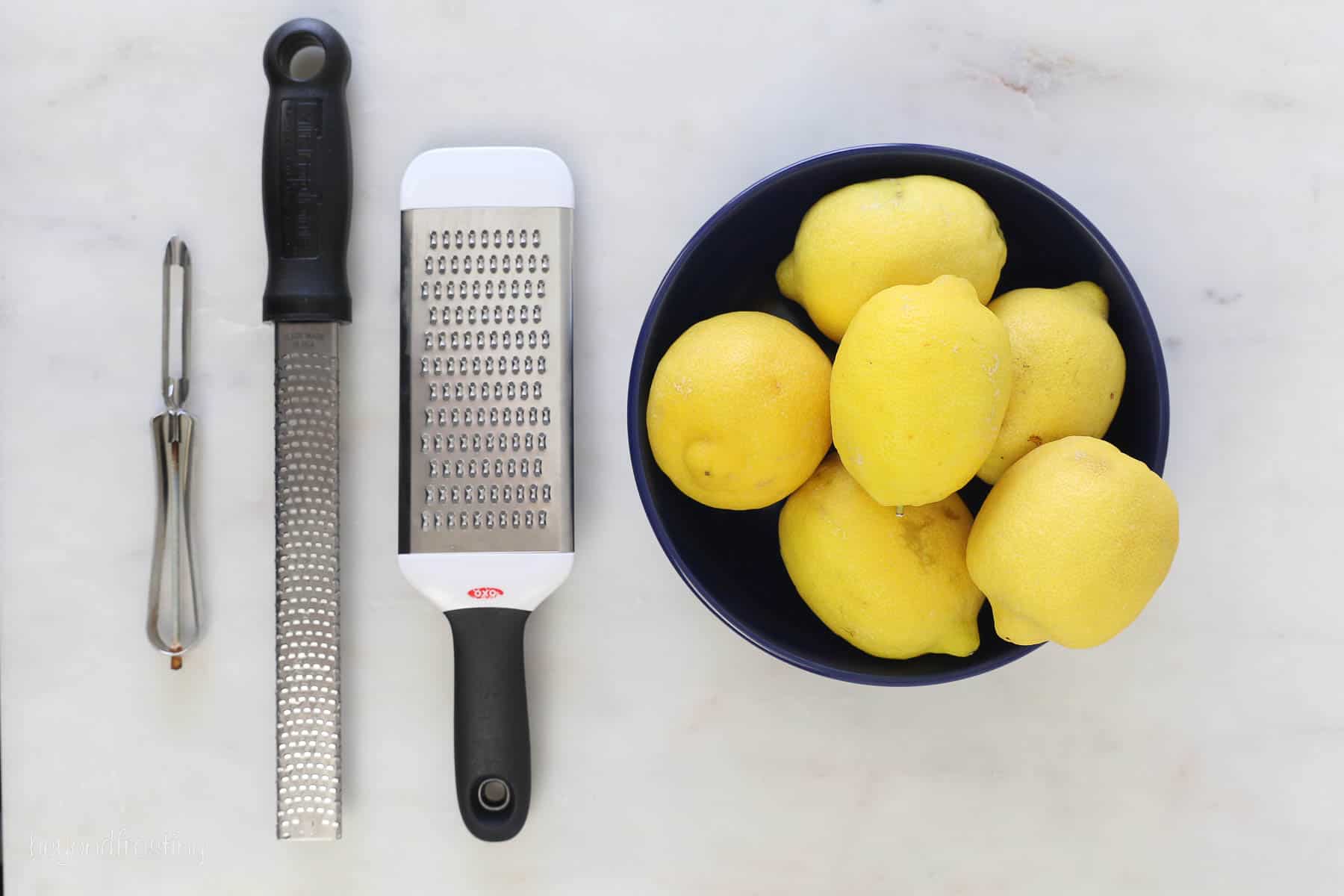 What Tools Do I Need?
Contrary to what you may believe, you don't need any special equipment to zest a lemon! You just need a lemon and one of the following:
A zester (I recommend this microplane one)
A vegetable peeler
A fine cheese grater
A sharp paring knife
How to Zest a Lemon (3 Ways!)
There are 3 easy ways to get lemon zest – with a zester, with a vegetable peeler (or sharp knife) or with a fine cheese grater. Here are the details on each technique. Be sure to wash the fruit first, no matter which way you choose to zest!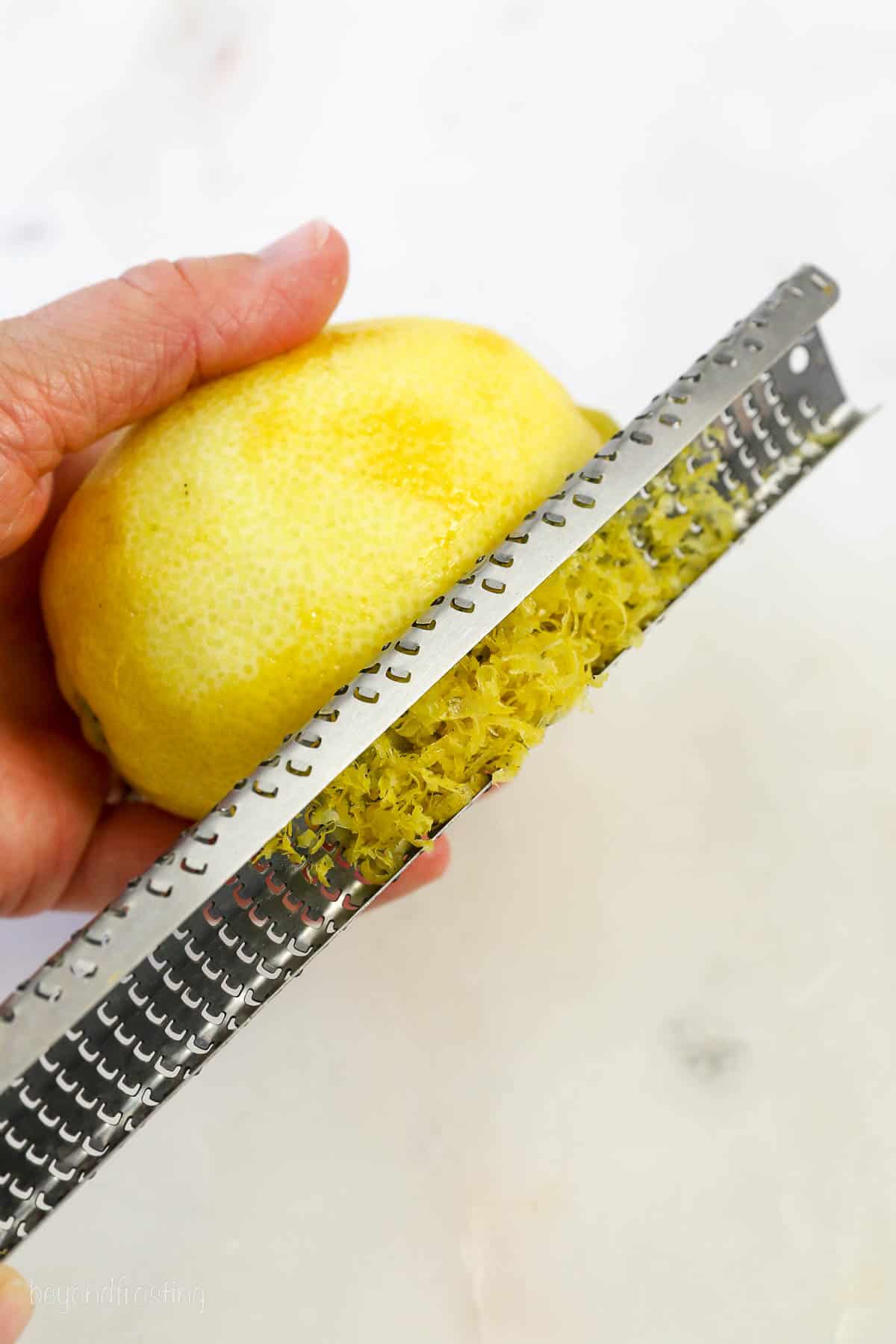 How to Use a Zester
Hold the zester against a flat surface (like the counter) at an angle, with the lemon under it and the curved portion of the zester facing upwards. This allows you to easily collect the lemon zest in the microplane and transfer it to the bowl with your finger or a spoon. This is ideal when you need a measurement like 1 tablespoon of zest.
If you want to zest directly on top of something like on top of a cake or icing, hold the zest so that the lemon is on top and the zest will drop right down.
How to Use a Vegetable Peeler (or Sharp Knife)
Firmly hold the lemon in one hand and then press the peeler (or sharp paring knife) against the side of the lemon to remove a thin layer of the skin.
Finely chop the lemon zest with a very fine knife.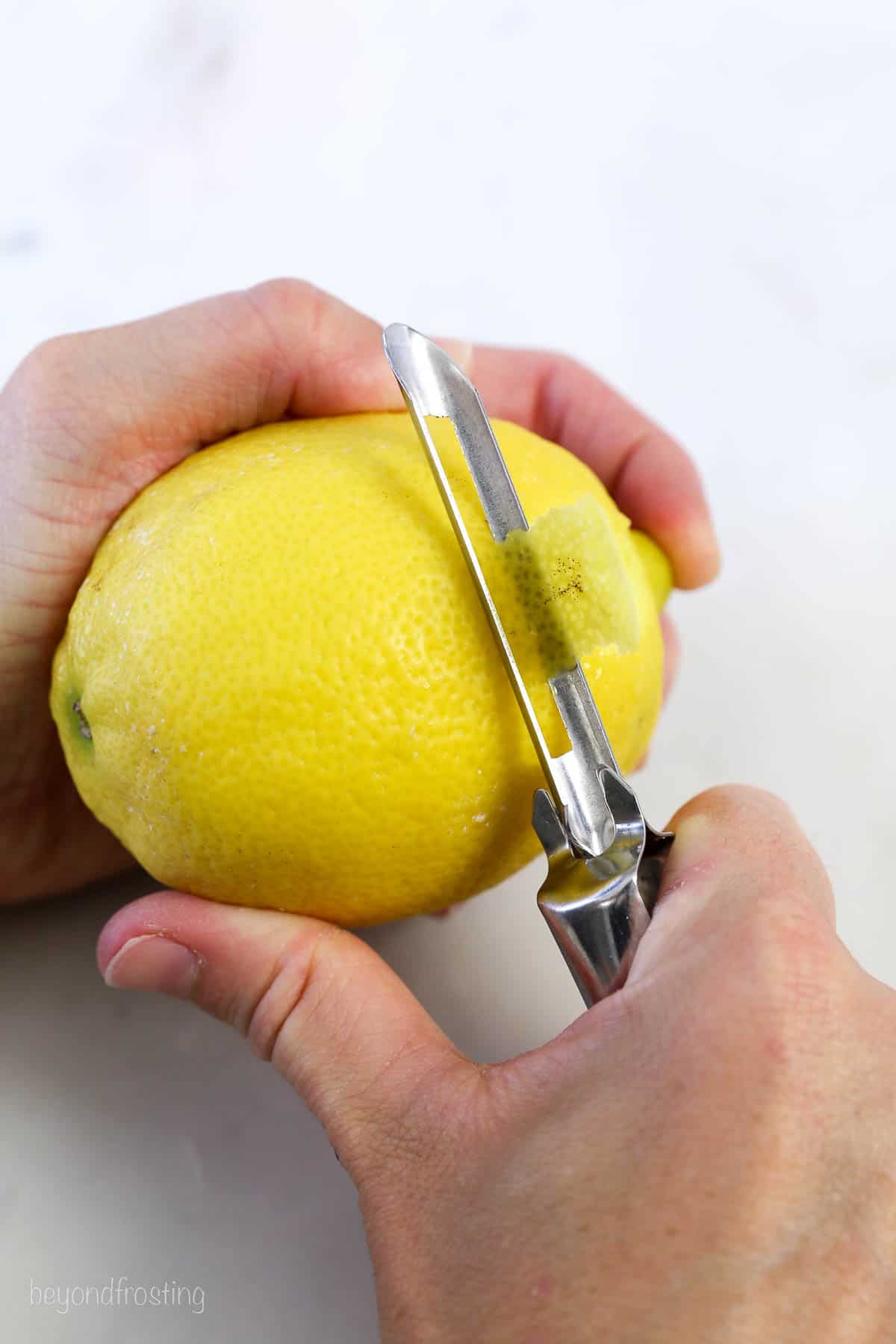 How to Use a Cheese Grater to Zest Lemon
Place the grater over a bowl with the teeth side up.
Gently move the lemon over the teeth to remove the skin.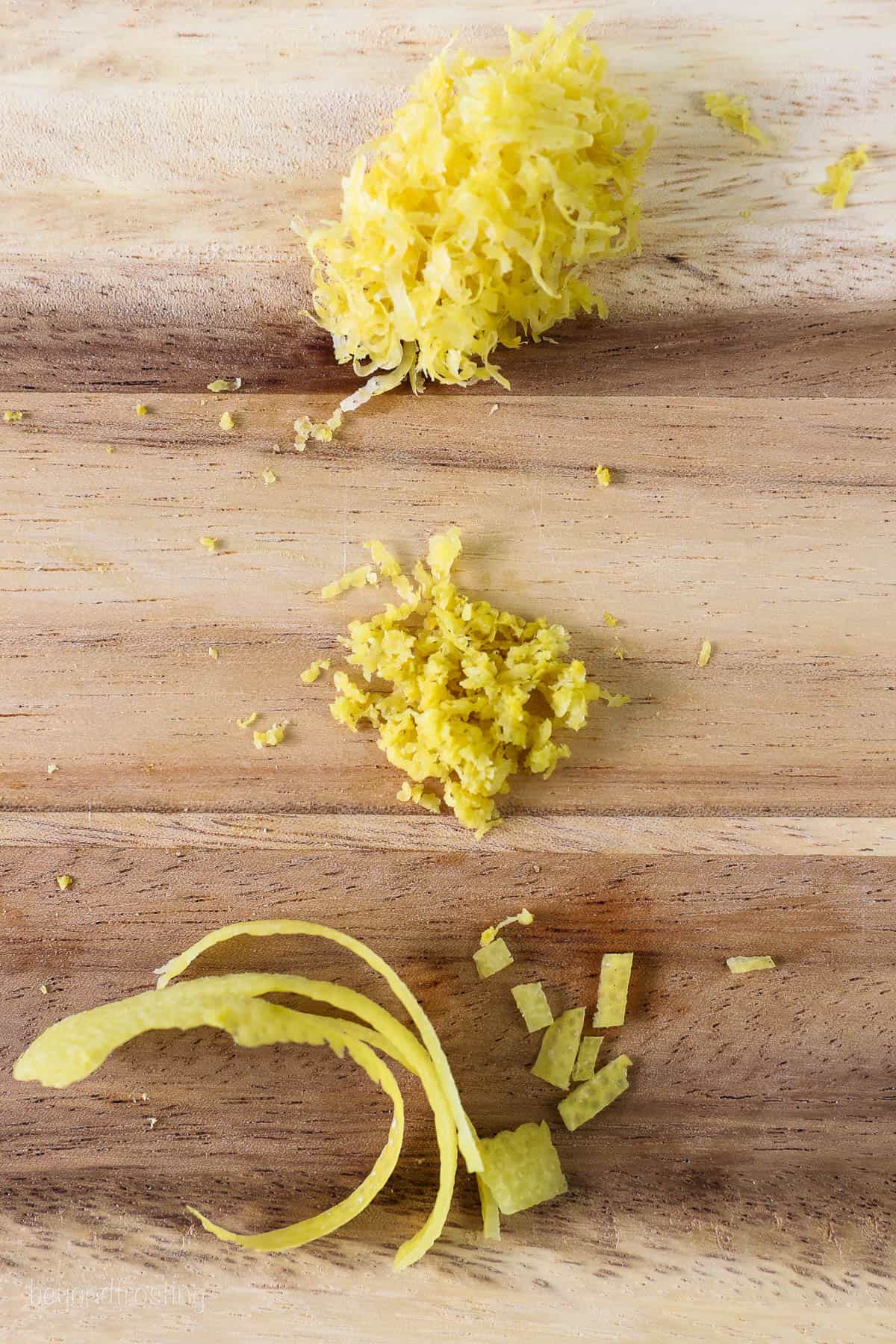 My Preference? A Zester!
If I had to choose, I would say a zester is the best option. It's also my go-to.
Why do I recommend using a zester? It makes the best, flakiest zest! You can see the differences in the zest in the photo above. The cheese grater tends to be much smaller and finer to the point where you don't get as much zest off the lemon and the peeler/knife combo doesn't make the pieces as small.
You can also use a zester for finely grated parmesan or to zest things like whole nutmeg.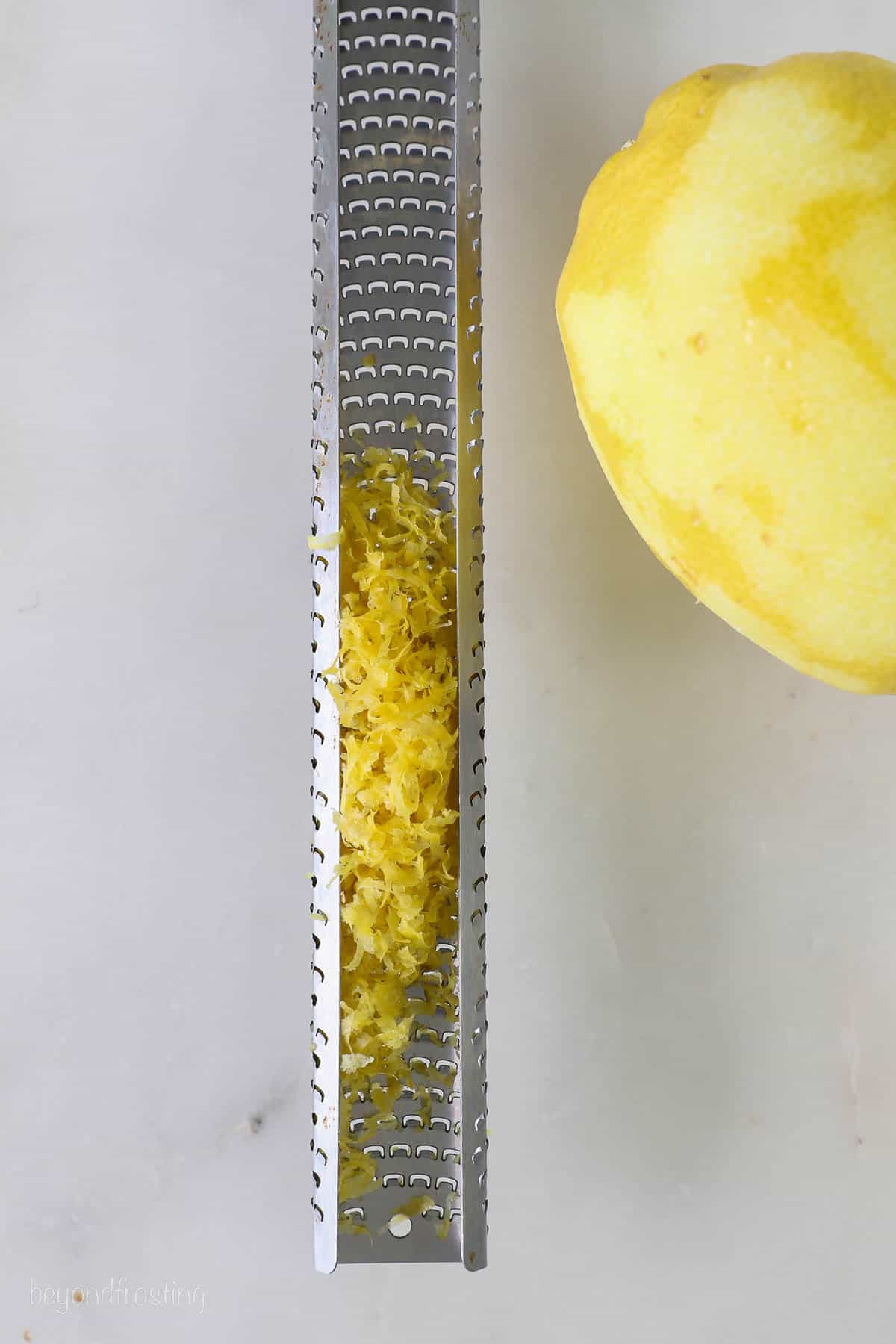 Pro Tip: ONLY Zest the Yellow Part
The most important tip I can give you when it comes to zesting lemons? You want to make sure to only zest the peel of the lemon, which is the yellow part. The white part of the lemon is called the pith and it's very bitter. If you accidentally zest down too far, you will taste the difference – and it's not a very pleasant taste!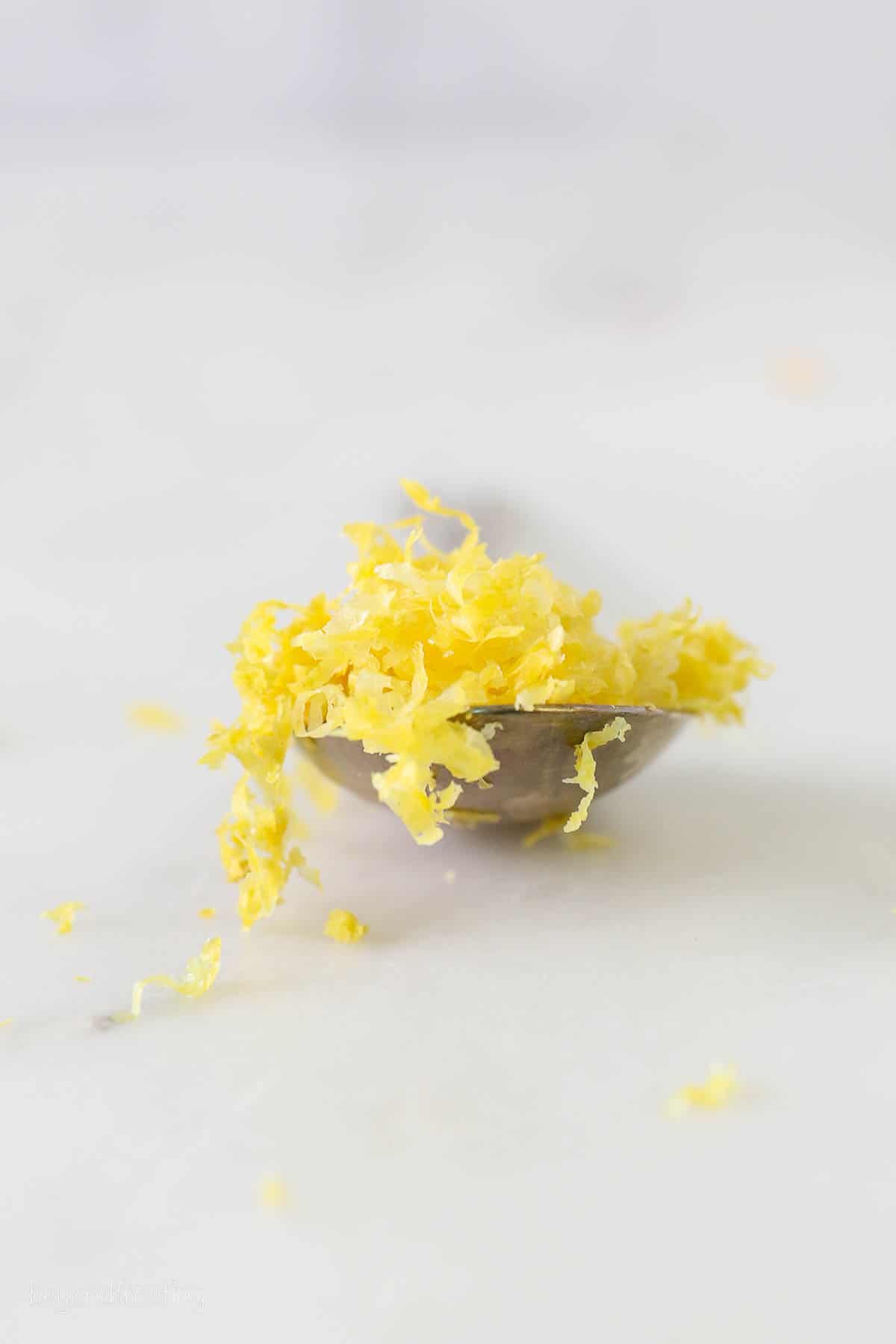 How Much Zest is In 1 Lemon?
How do you know how many lemons you need to zest for a recipe? In general, 1 lemon = 1 tablespoon of zest. You should also be able to get 2 to 3 tablespoons of juice from the lemon. (Yes you can use the same lemon for both. Your life will be easier if you zest it first!)
Can I Use This Technique for Zesting Other Fruits?
Yup! This same technique can be used for pretty much any citrus fruit. Limes, oranges, and grapefruit all result is some tasty zest to add to recipes. Note that limes are easier to zest with a zester as they're so small using a knife can be a bit difficult.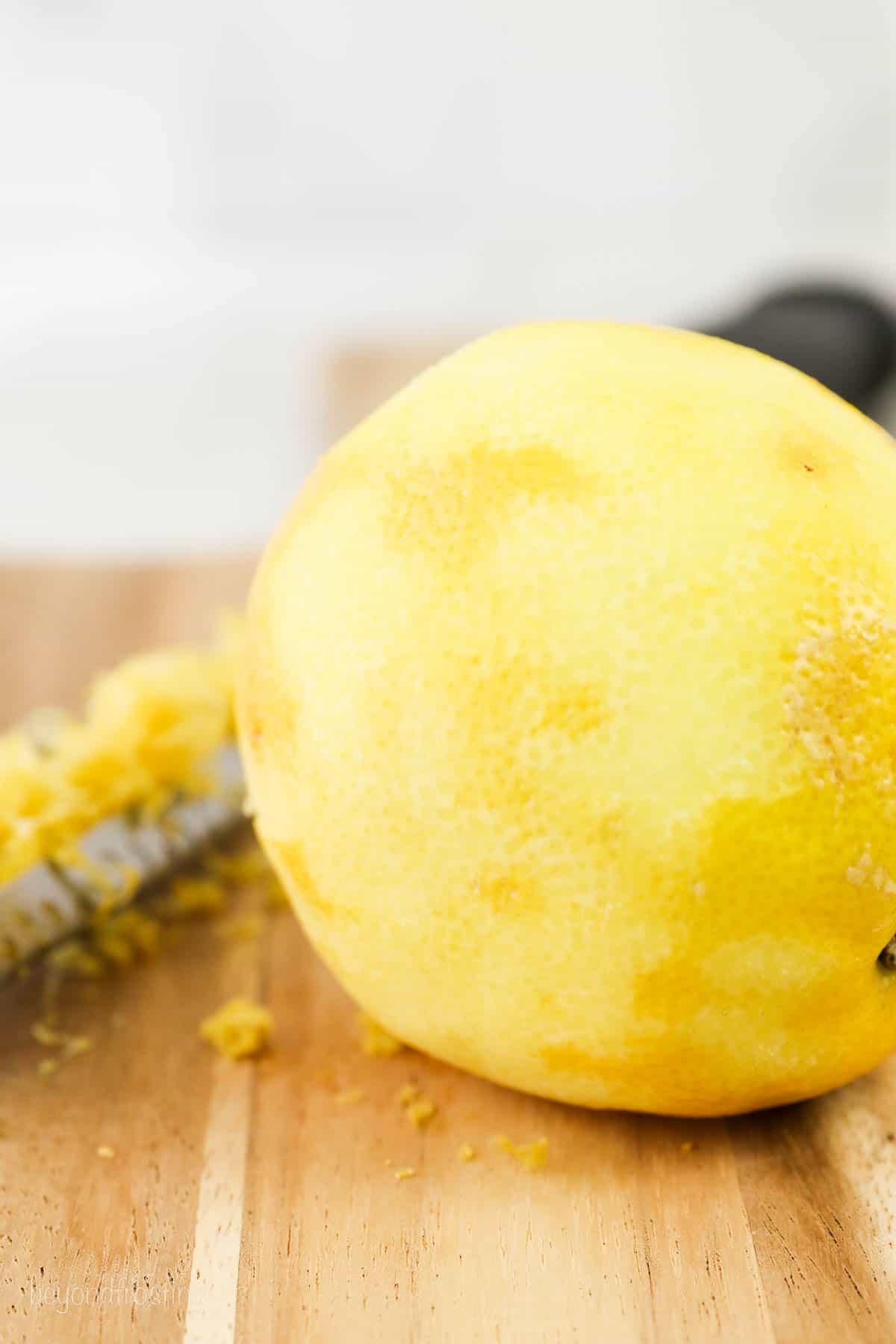 Storage
Plan to zest your lemon right before you need to use it, as lemon zest should be used immediately. Otherwise, it tends to dry out.
If you zest more than you need, you can freeze it in an airtight container for up to 6 months. Note that it won't have quite a potent flavor but it will still give your recipe a burst of citrus.
Ways to Use Lemon Zest