This post may contain affiliate sales links. Please see my full disclosure policy for details
These homemade moist lemon cupcakes are topped with a creamy lemon buttermilk frosting leaving just the right amount of tangy lemon flavor on your tongue. This lemon cupcake recipe can be paired with fruit toppings or filling for the perfect summer time cupcake.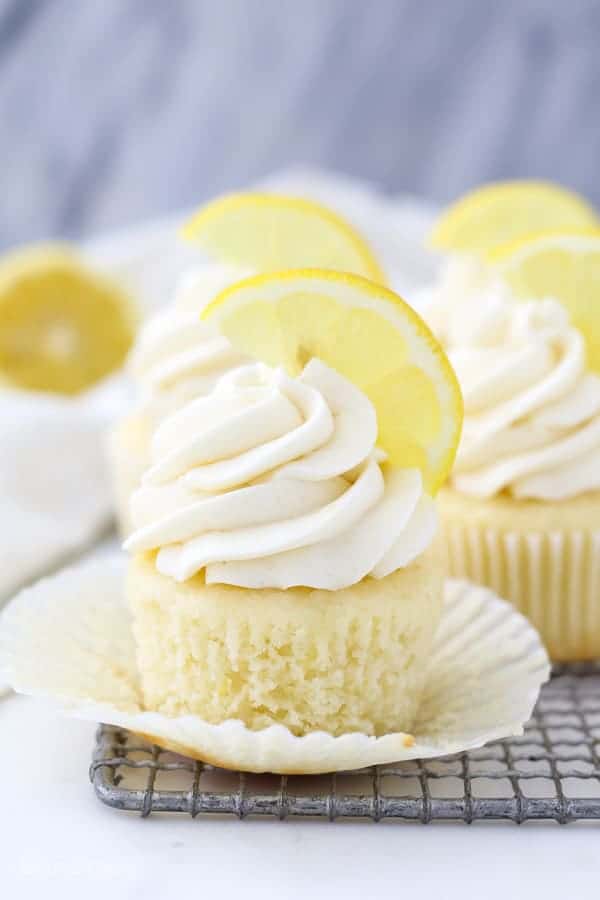 I always surprise myself with the lemon desserts. It isn't my usual go-to dessert but after one bite, I'm hooked.
It took me awhile to find my groove with homemade cupcakes but once I had my base vanilla cake recipe done, it's been so fun to change out the flavors to make variations on the recipe.
That's exactly how these lemon cupcakes came to be.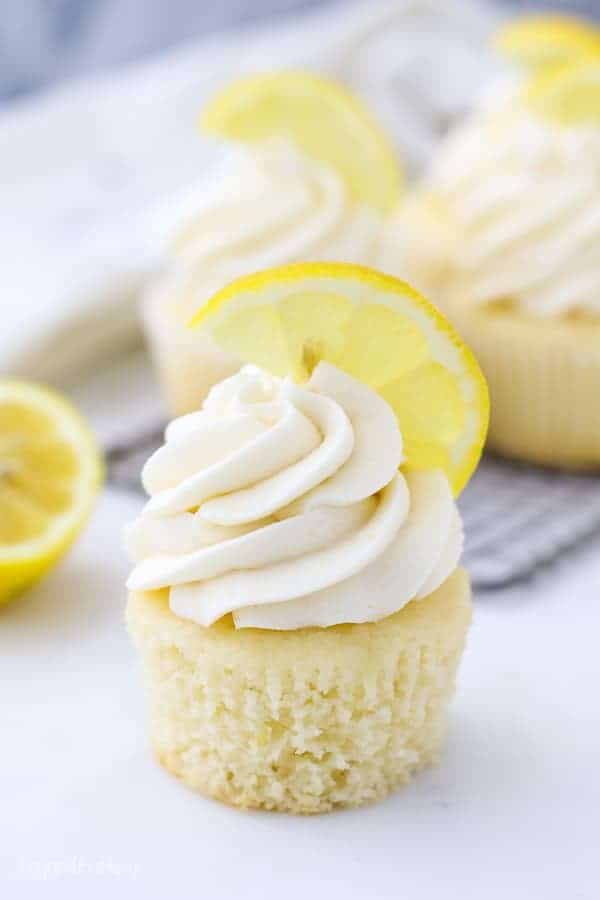 This homemade moist lemon cupcake recipe is spongy and dense but fluffy. These are topped with a creamy lemon buttermilk frosting leaving just the right amount of tangy lemon flavor on your tongue.
For these cupcakes, the flavor is coming from three places. Lemon extract, lemon zest and lemon juice. Plus, instead of using regular milk, the recipe uses buttermilk which adds to the tang in the flavor.
Now if you don't have lemon extract, that's okay, you can use vanilla extract. However, you definitely want to make sure you have a good zester, it makes all the difference.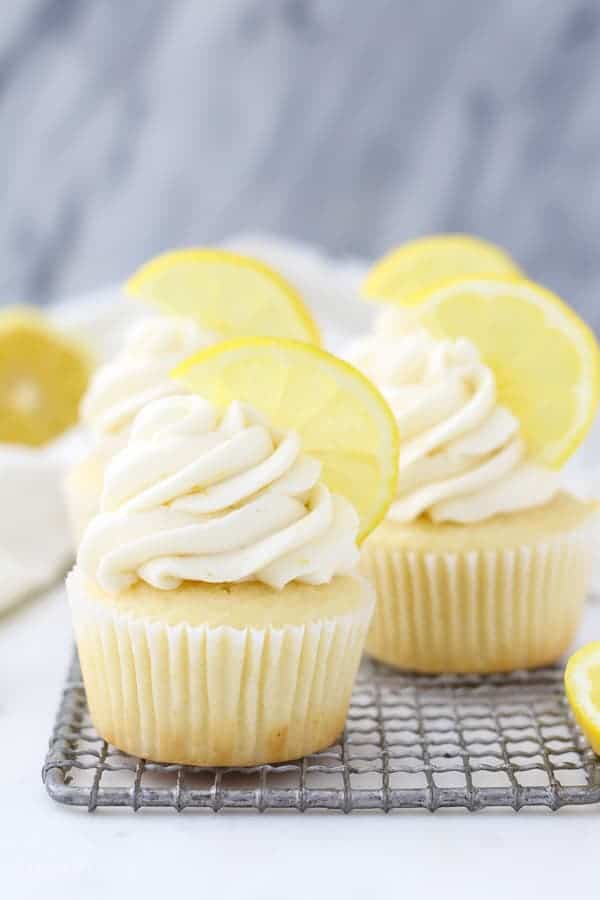 The cupcake recipe is quite simple because it's an oil-based recipe and therefore you don't have to spend time waiting for the butter to soften or creaming it together with the sugar.
You can combine the sugar with some of the wet ingredients and then combine the dry ingredients and mix them together and your cupcakes are ready for the oven 10 minutes later.
Then it's time for the frosting. Almost all my frosting recipes start off with a variation of my perfect vanilla frosting and this lemon buttermilk frosting is no different.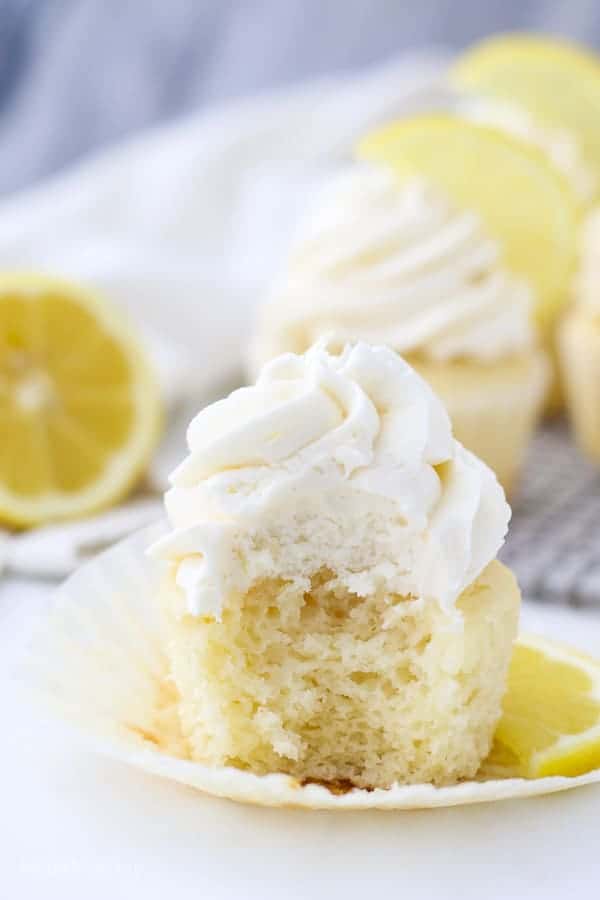 I absolutely love this frosting, I'm thinking I need to make more buttermilk frosting in the future. I usually use heavy whipping cream in my frosting so this time I just substituted some of the heavy cream with buttermilk.
Just as you did with the cupcake, I also used lemon zest and lemon extract in the frosting and I also used a touch of vanilla extract to cut some of the sour flavor.
This frosting is such a nice balance with the lemon cupcakes. You could even top these with some fresh fruit.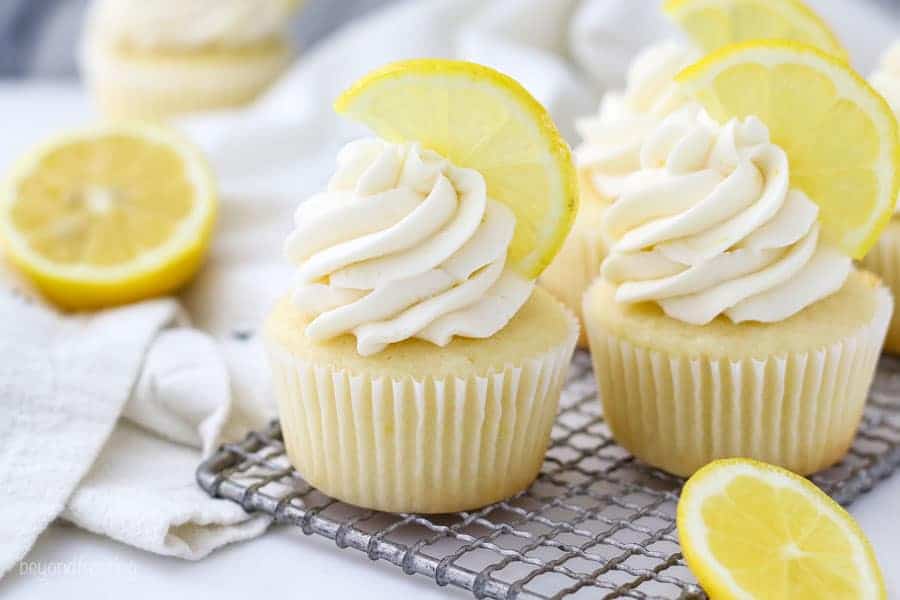 How to make lemon cupcakes
You'll need 4-5 lemons for this recipe, because we're zesting lemons for the cupcake and the frosting. After zesting, we're also going to juice a couple of the lemons for the cupcake batter.
Start by combining the granulated sugar with the eggs, oil, lemon zest and extract.
Once that has been mixed, add the sour cream and mix until well combined.
In a separate bowl, combine the remaining dry ingredients.
Next alternate adding the dry ingredients with the wet ingredients (lemon juice and buttermilk) and beat until everything is well combined. I always recommend giving the bowl a good scrape down.
Fill your cupcake liners 2/3 full. And if you're not sure what the means, check out my tips for baking cupcakes.
Bake these for 14-16 minutes give or take a minute or two. Then set aside your cupcakes to cool.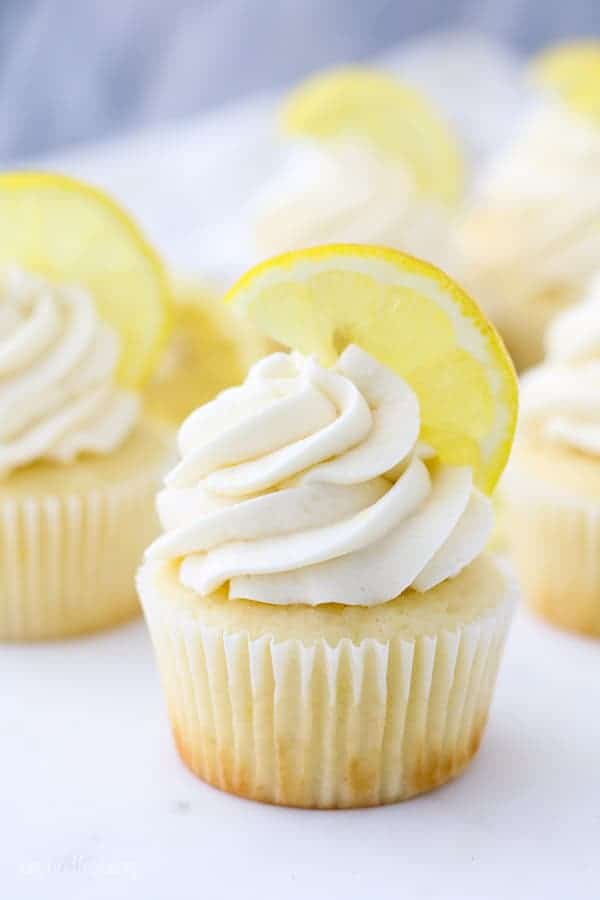 Do I have to use sour cream for this recipe?
The sour cream is used to help keep these nice and moist. If you don't have sour cream, I recommend using a nonfat Greek yogurt. I've also heard mayonnaise can be a good substitute, but I've never tried it.
I also use light sour cream because it's not quite as heavy. However, if you only have regular sour cream, that's okay to use too.
Can I use milk instead of buttermilk?
Yes, you can use regular milk instead of buttermilk. I always have Nonfat milk in my fridge, but any milk will work.
If you don't have buttermilk, you can make it by combining 1 tablespoon of lemon juice or white vinegar with 1 scant cup of milk. Meaning you add the lemon juice first and then fill your measuring cup with the milk until it reaches 1 cup.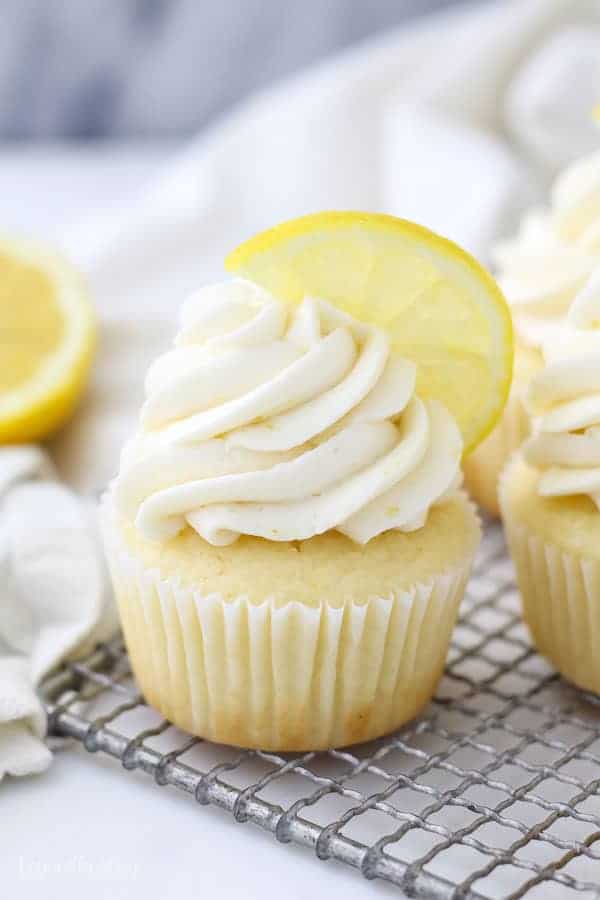 I don't have lemon extract, what else can I use?
You can use vanilla extract, you might consider adding another teaspoon of lemon zest instead.
I don't have a zester, what else can I use?
If you have a fine grater that works, you just don't get quite as good of a zest.
This homemade lemon cupcake recipe can be paired with a fresh fruit topping and if you really love lemon, consider adding a lemon curd filling.
Follow Beyond Frosting:
Facebook | Twitter | Pinterest | Instagram | Bloglovin
If you love no-bake recipes, be sure to check out my cookbook, No-Bake Treats!
>
You might also like: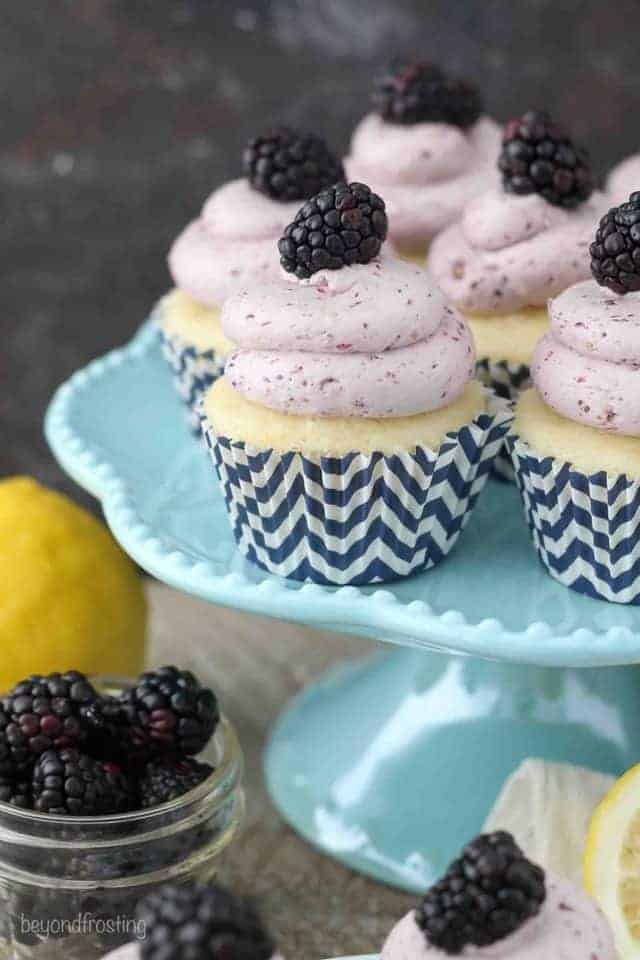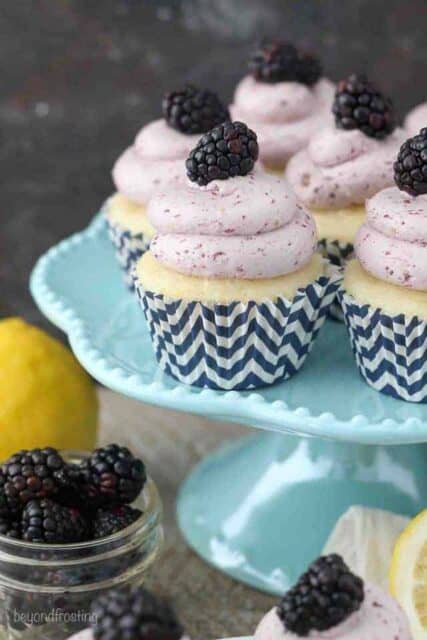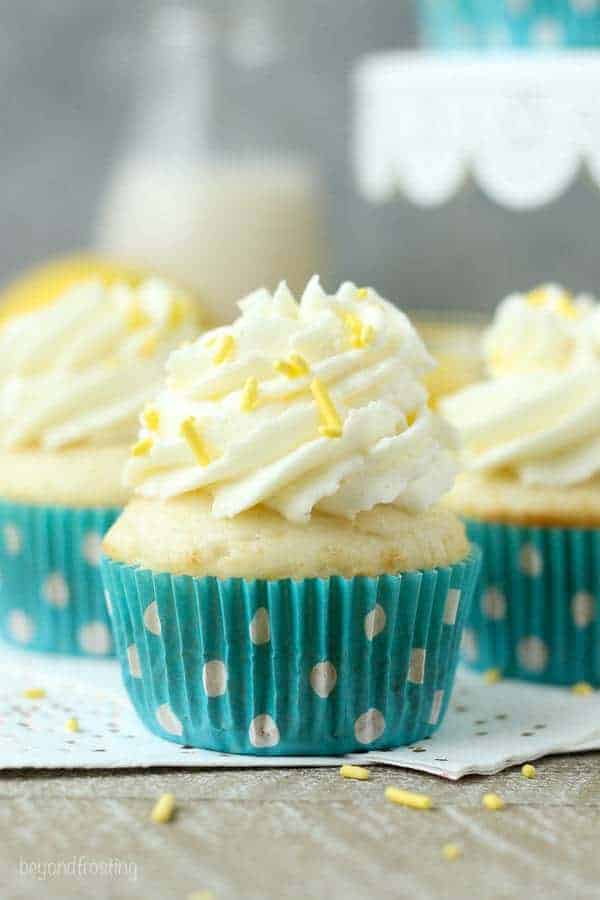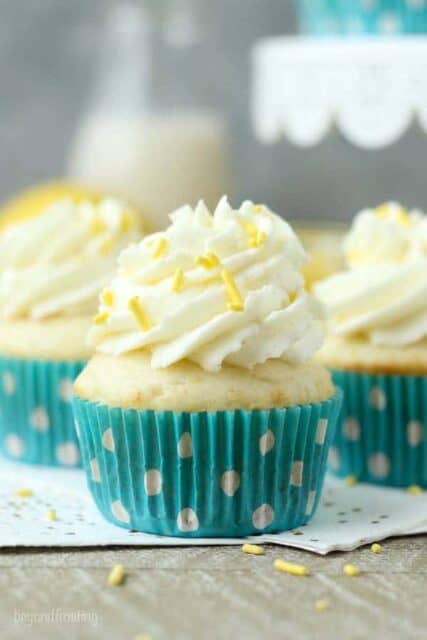 Blueberry Lemon Mascarpone Cake