This post may contain affiliate sales links. Please see my full disclosure policy for details
Homemade Lemon Cupcakes are moist and fluffy and full of sweet lemon flavor. Every bite tastes like sunshine! These cupcakes are the perfect summer dessert, topped with creamy lemon buttercream frosting made with tangy buttermilk.
Love lemon desserts? Try my favorite Lemon Blueberry Cake or this Lemon Coconut Cake, too!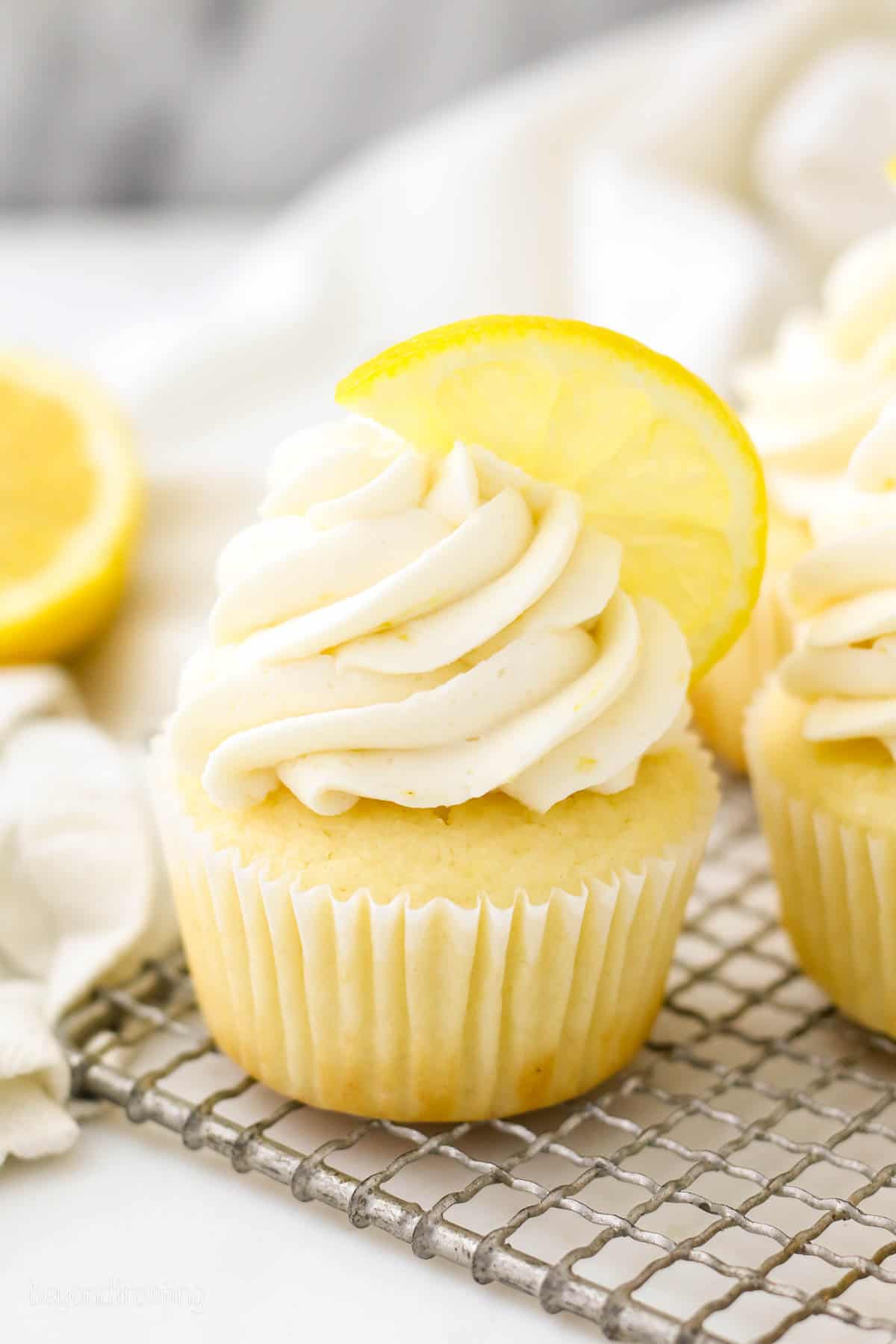 Mouthwatering Homemade Lemon Cupcakes
I'm always blown away by how fresh and delicious these lemon cupcakes are. I don't make lemon desserts too often, but when I do, I'm hooked after the first bite.
I just know you'll be just as obsessed as I am. These easy lemon cupcakes are supremely moist, spongy, rich, yet oh-so-fluffy. I've topped my cupcakes with creamy lemon buttermilk frosting that is to die for. It's the perfect balance of tangy and sweet.
The lemony flavors of these frosted cupcakes just dance on the tastebuds. It's an experience. If there was one way to encapsulate sunshine in a dessert, it's with this bright and cheerful lemon cupcakes recipe!
Key Ingredients
The handful of ingredients that give these lemon cupcakes their flavor includes lemon extract, lemon juice, lemon zest, and buttermilk to enhance the tanginess. Here's a quick overview of these and a few other key ingredients, with the full details available in the recipe card at the very bottom of this post.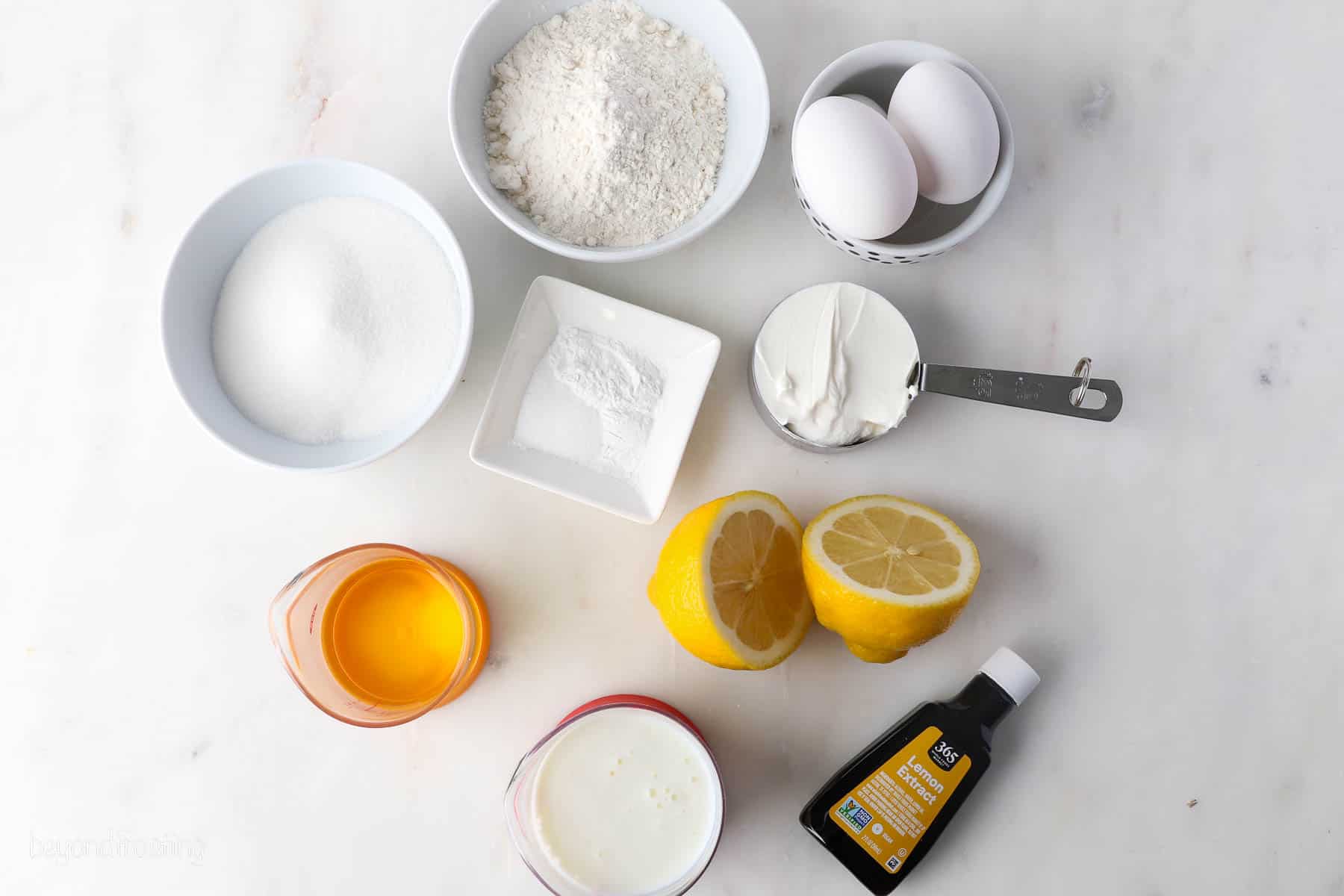 For the Lemon Cupcakes
What If I Don't Have Buttermilk?
If you don't have buttermilk, no problem. You can use my Buttermilk Substitute made from lemon juice (since you'll have plenty of lemons handy!) or vinegar.
All you do is add 1 tablespoon of lemon juice or vinegar to a measuring cup, and pour in enough milk to make 1 cup. After, let the mixture sit and curdle for 5-10 minutes, then give it a stir. That's it! Homemade buttermilk that's just like the real thing.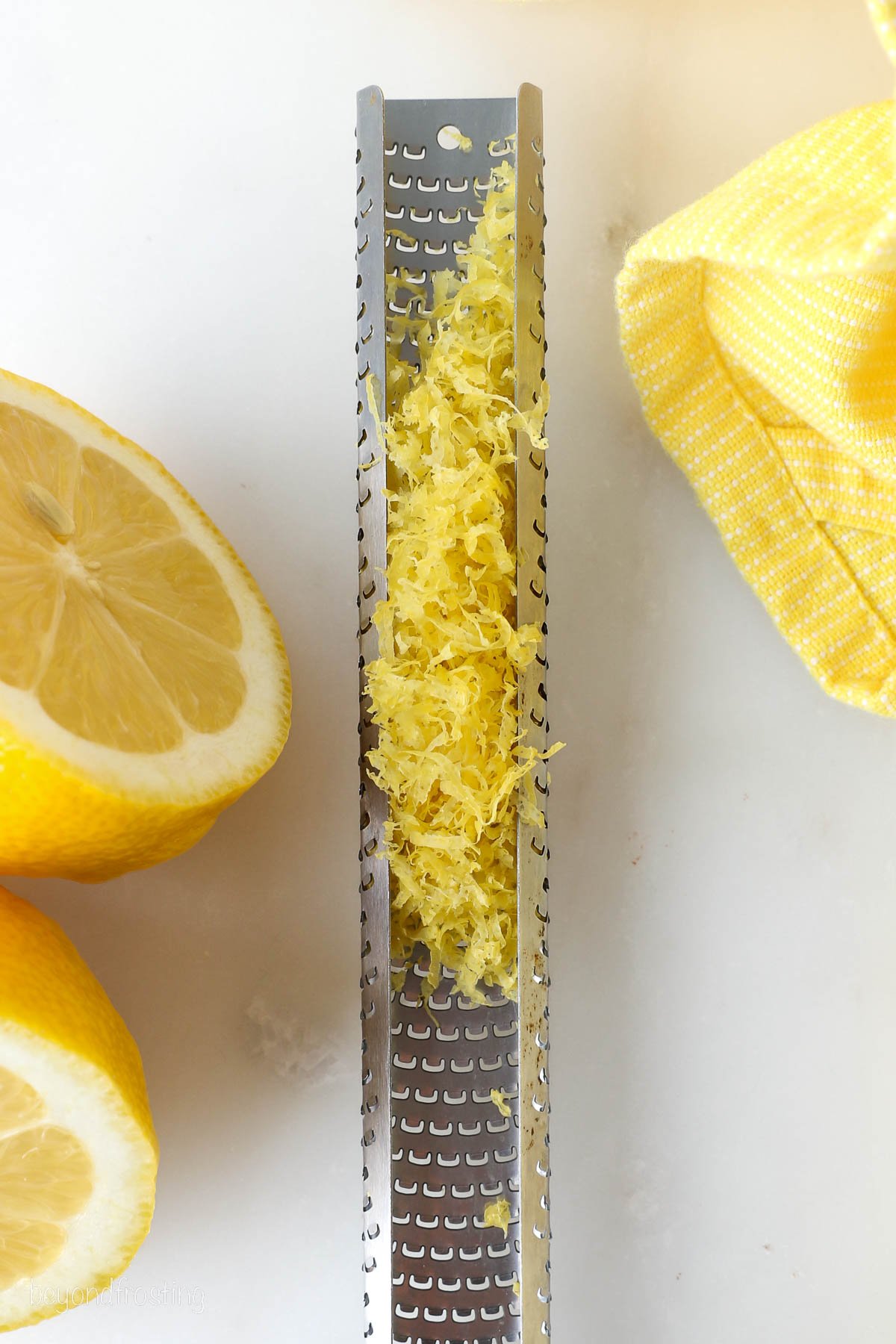 How to Make Lemon Cupcakes
The lemon cupcakes themselves are really simple. Since these are oil-based, there's no need to wait for butter to soften, and no creaming involved. The batter comes together in a snap:
Mix the wet ingredients. First, combine granulated sugar with the eggs, oil, and lemon extract and beat until combined. Mix in the sour cream along with the lemon zest.
Mix the dry ingredients and combine. In a separate bowl, whisk together the dry ingredients. Add the dry ingredients to the wet ingredients, alternating with the buttermilk and lemon juice. Mix on low speed until the flour is combined. Give the batter a good stir with a spatula.
Fill the cupcake liners. Next, you'll divide the batter evenly between your cupcake liners, about ⅔ full. I prefer using a large cookie scoop for this.
Bake. Bake the cupcakes at 350ºF for 15 minutes, or until a toothpick inserted into the middle of a cupcake comes out clean. Allow the cupcakes to cool completely before you frost them.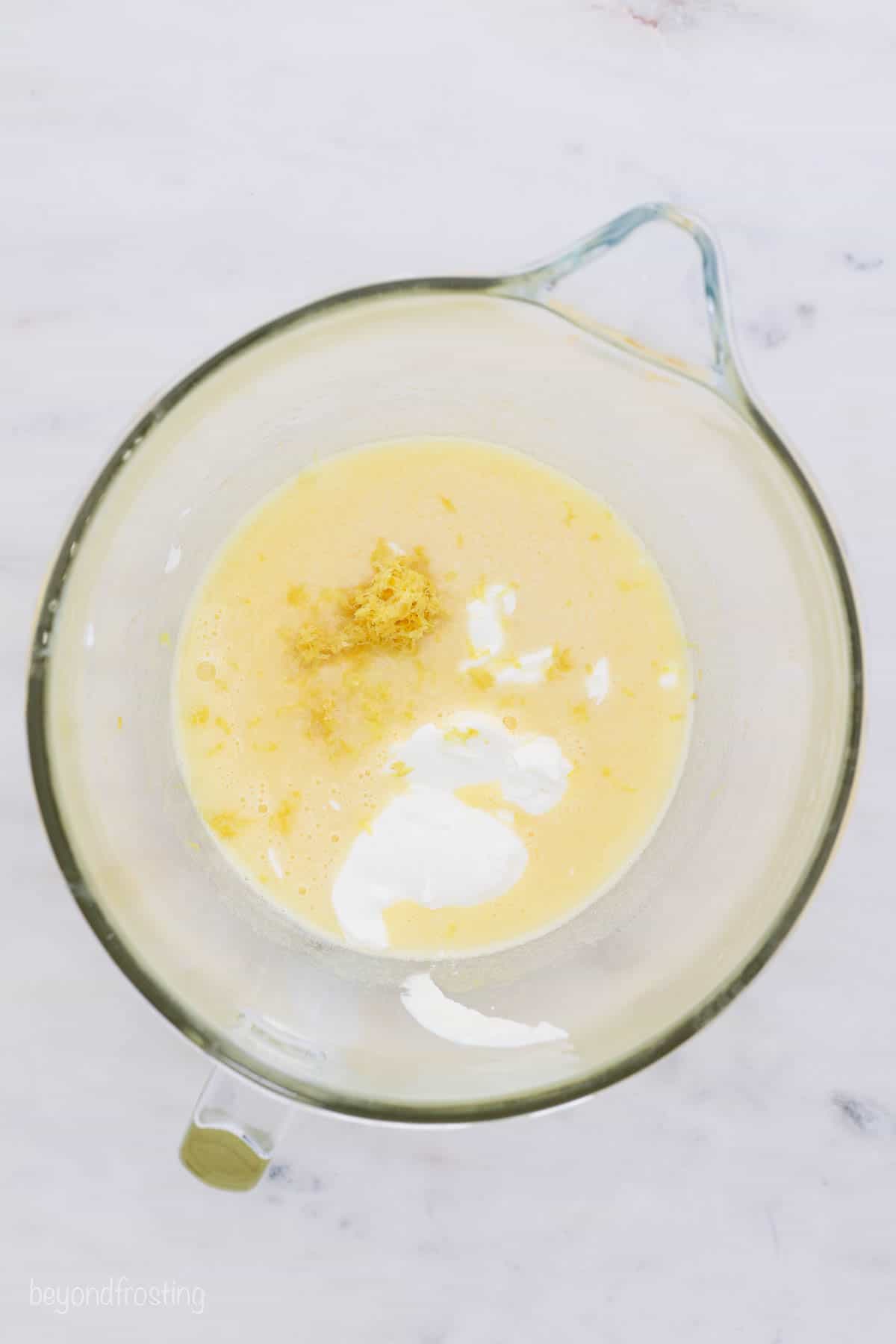 Lemon Buttercream Frosting
I absolutely love this lemon frosting. As in the cupcakes, I use lemon zest, lemon extract, and buttermilk to bring lots of fresh, bright citrus flavor and a bit of tang to the frosting.
If you opted not to buy buttermilk for the cupcakes, I'd recommend replacing it with either lemon juice or milk rather than making the homemade option.
Beat the butter. My recipe calls for cold butter. This is not a mistake! It's my secret to making the perfect frosting consistently. Instead of waiting for the butter to soften, let your mixer do the work. Be sure to follow the instructions and beat the butter for several minutes until it's whipped and fluffy.
Add powdered sugar. Gradually incorporate powdered sugar, lemon extract, and lemon zest, followed by additional powdered sugar and buttermilk. Beat the frosting for about 3 minutes, then add a final cup of powdered sugar, plus the heavy cream.
Whip. Continue to beat the frosting for an additional few minutes, until it's smooth and airy.
When the cupcakes are cool, pipe or spread the frosting generously over their tops. I use a large, open-star piping tip to frost these cupcakes. See below for more easy ways to decorate!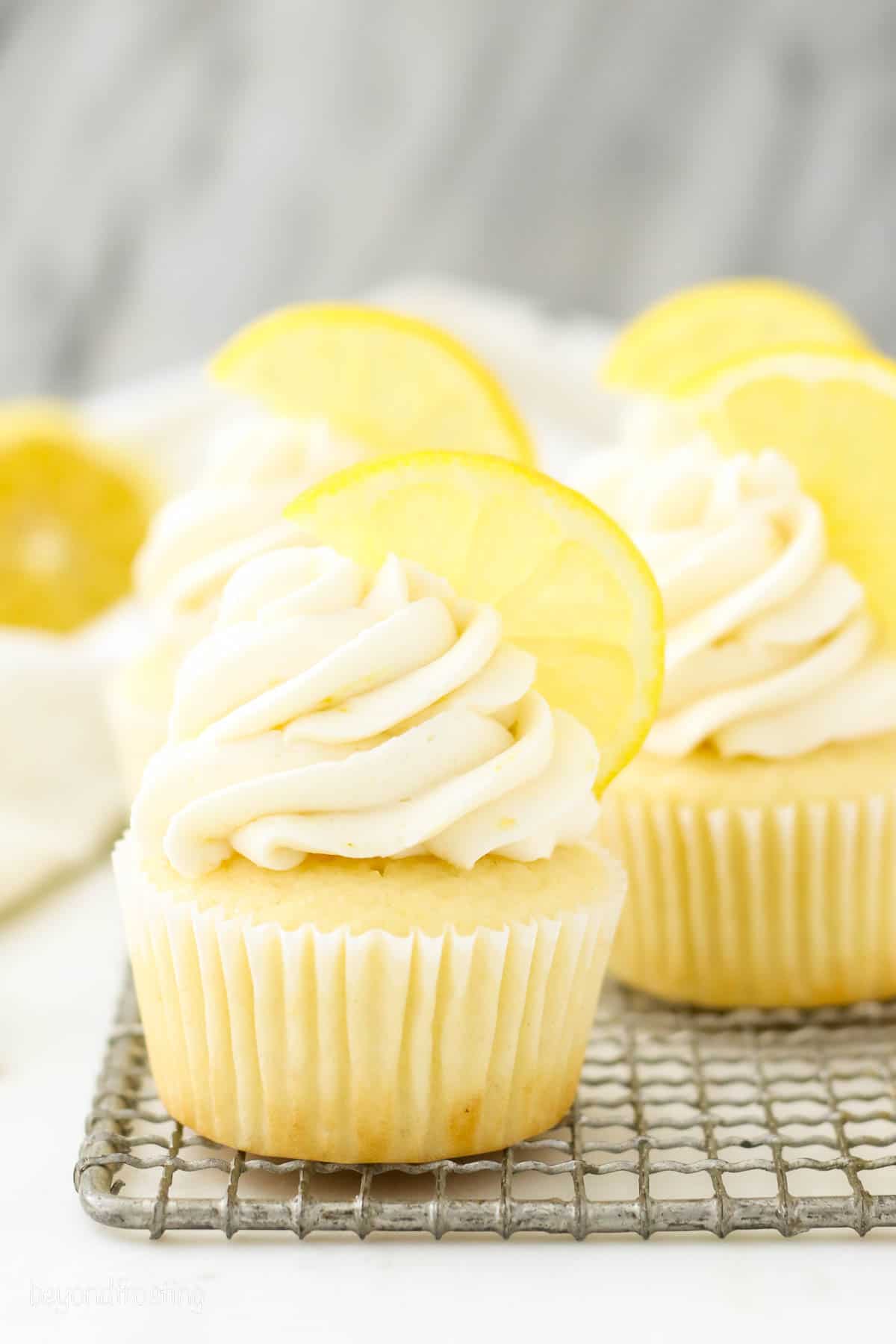 Recipe Notes and Tips
Here are my additional tips for making perfect lemon cupcakes: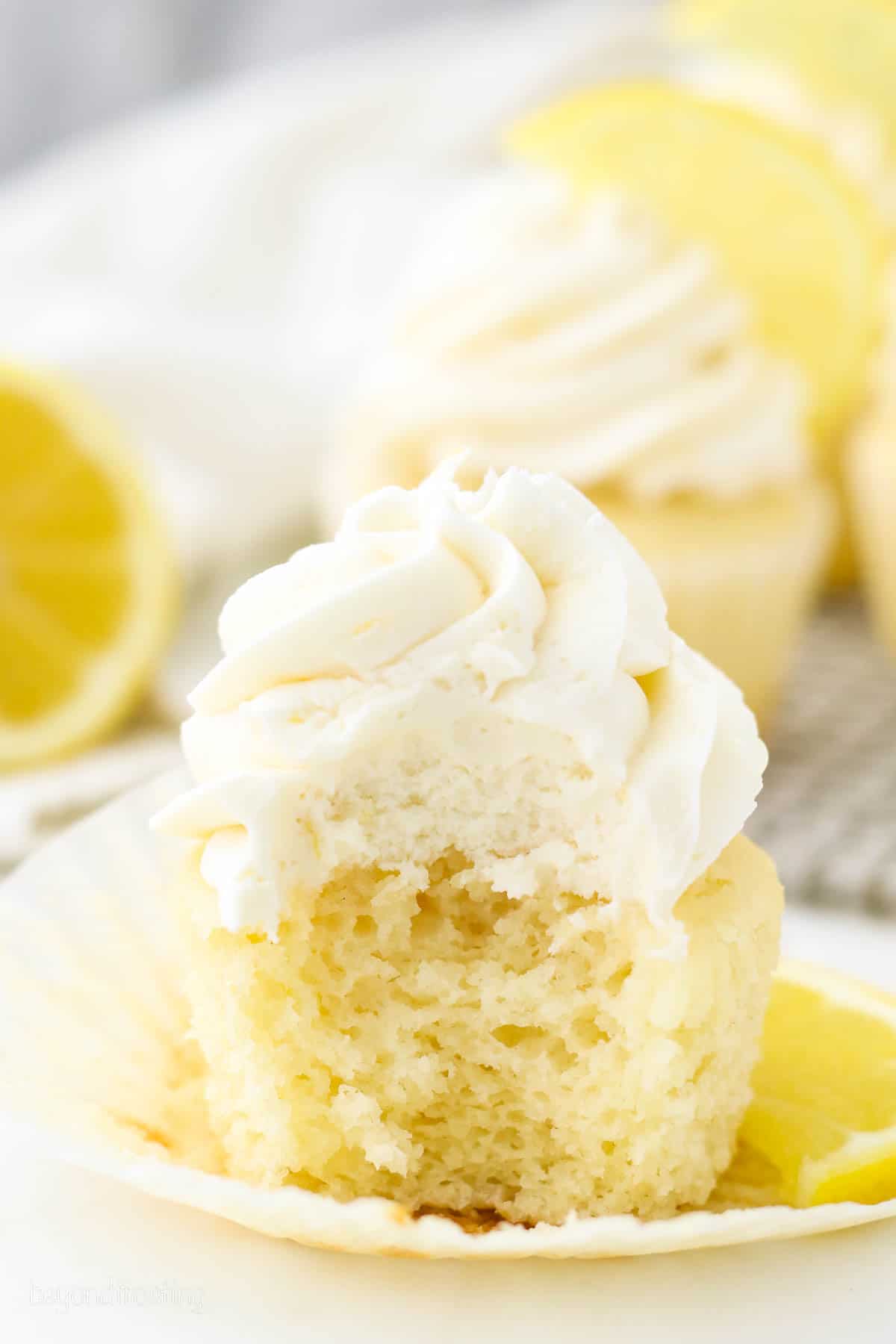 More Ways to Decorate
The lemon buttercream complements the cupcakes beautifully, but you can always change up the flavors and decorations to suit. If you really love lemon, try adding a lemon curd filling. Or, use blueberry preserves to make lemon blueberry cupcakes.
Here are some more easy frosting and cupcake decorating ideas:
Check out my post on How to Decorate Cupcakes with even more helpful techniques and tips!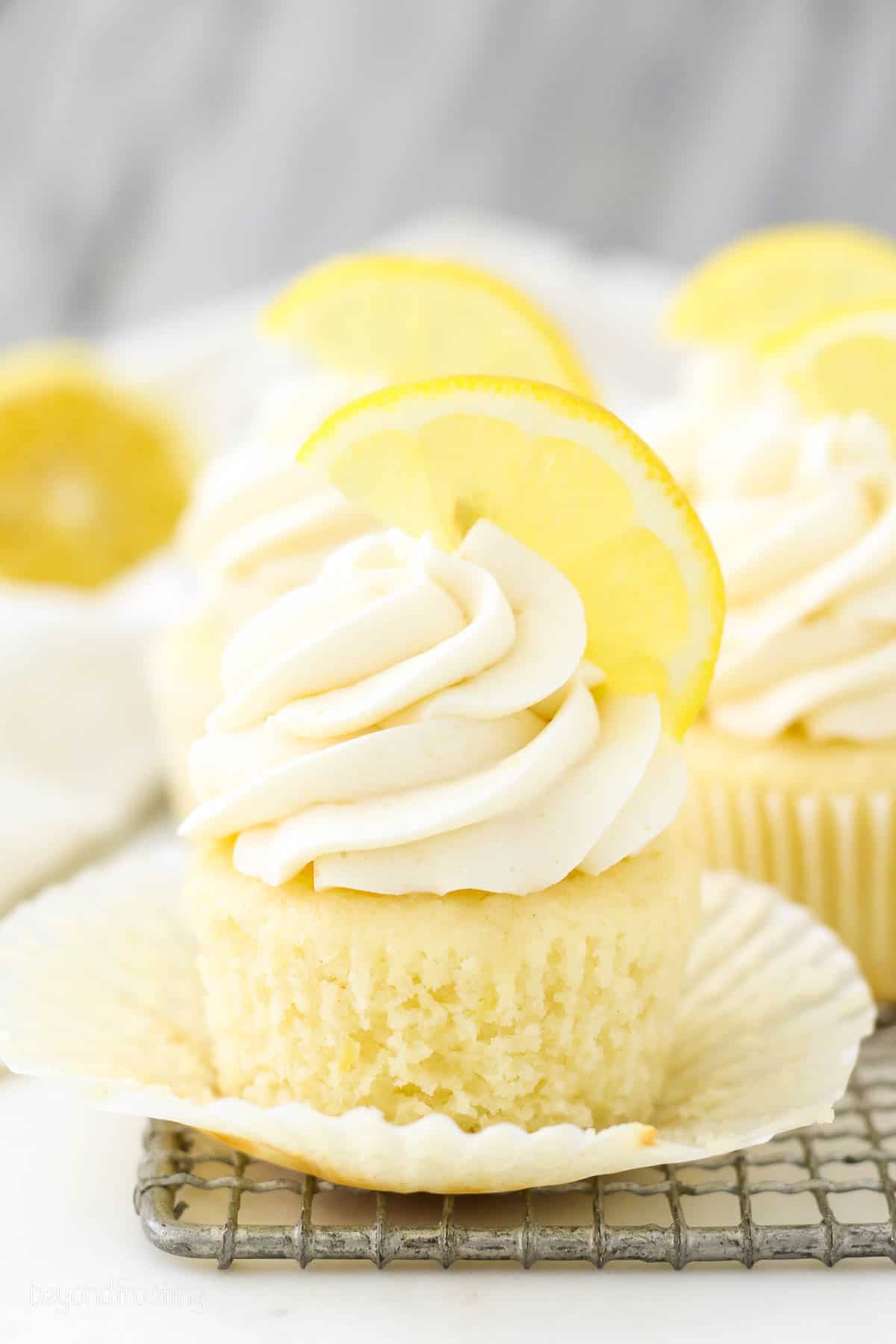 How to Store Frosted Cupcakes
These lemon cupcakes are at their best within the first two days but will keep for longer when properly stored.
Store the frosted lemon cupcakes at room temperature in an airtight container, unless you live in a warm climate. In this case, you should store your frosted cupcakes in the fridge and let them come to room temperature before serving.
Can I Freeze Lemon Cupcakes?
Yes. If you wish to freeze your cupcakes, I recommend doing so before they're frosted. Once the baked cupcakes have cooled, flash-freeze them on a baking sheet and then transfer them to a freezer-safe container to store. Defrost the cupcakes in the fridge, then take them out and frost them before serving.
Print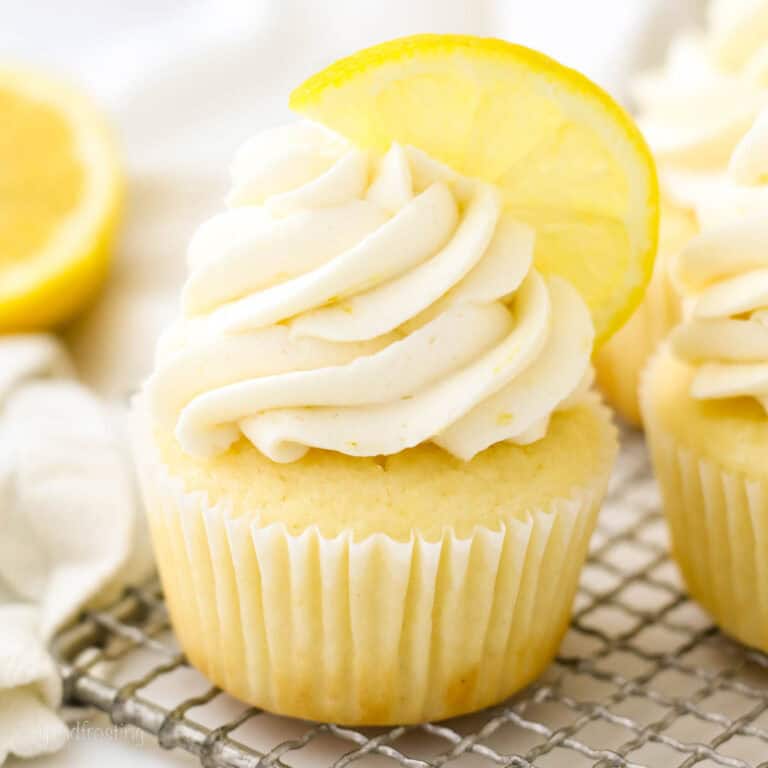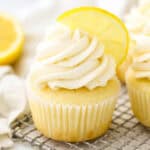 Lemon Cupcakes with Lemon Buttercream
Author:

Prep Time:

20 minutes

Cook Time:

15 minutes

Total Time:

35 minutes

Yield:

26 cupcakes
Description
These easy homemade Lemon Cupcakes are sweet and fluffy, made with tangy buttermilk and then topped with creamy lemon buttercream frosting. It's the perfect lemon dessert filled with zingy flavor!
Ingredients
For the Cupcakes:
2 cups

(

380g

) granulated sugar

1/2 cup

(118ml) vegetable oil

3

large eggs, at room temperature

2

Lemons, zested and juiced

1 teaspoon

(5ml) lemon extract, or pure vanilla extract

1/2 cup

(118ml) sour cream, at room temperature

2 1/2 cups

(

350g

) all-purpose flour

3 teaspoons

(

11.2g

) baking powder

1 teaspoon

(

5g

) salt

1/4 cup

(59ml) lemon juice, (from the zested lemons)

1 cup

(236ml) buttermilk, at room temperature
For the Frosting:
1 1/2 cups

(

339g

) unsalted butter, cold

5 cups

(

650g

) powdered sugar

1

lemon, zested

1 teaspoon

(

5g

) lemon extract

1 tablespoon

(15ml) buttermilk, cold

1 tablespoon

(15ml) heavy whipping cream, cold
Instructions
For the Cupcakes:
Preheat the oven to 350°F. Line a cupcake pan with cupcake liners.
In a large mixing bowl, combine the sugar, vegetable oil, eggs, and lemon extract. Beat on medium speed until the eggs and oil are well incorporated, scrape down the bowl as needed. Next, add the lemon zest and the sour cream and beat until well combined.
Combine the dry ingredients in a separate bowl. Alternate adding half the dry ingredients followed by half of the liquid ingredients (buttermilk and lemon juice) and mix just until the flour starts to incorporate. Use a spatula to scrape down the sides of the bowl and stir the batter from the bottom to the top to ensure it's well mixed.
Using a large cookie scoop, divide the batter evenly, filling each liner 2/3 full. Careful not to overfill. Bake at 350°F for 15-18 minutes. Test the cupcakes for doneness by inserting a toothpick into the center of the cupcake. If the toothpick comes out clean, the cupcakes are done. Cool Completely.
For the Frosting:
Cut the butter into pieces. Using the paddle attachment, whip butter for 5-7 minutes, scraping down the bowl occasionally. Beat until the butter looks light in color.
Add 2 cups of powdered sugar and mix on low speed until incorporated then add the lemon extract and lemon zest and mix to combine, beating at medium0 high speed for about 60 seconds.
Next, add an additional 2 cups of powdered sugar and the buttermilk and beat on low speed until sugar is incorporated. Increase speed to medium-high and beat for another 1-2 minutes.
Add the remaining 1 cup of powdered sugar along with the heavy cream. Beat on low until ingredients start to mix together. Increase speed to medium-high and beat for another 2-3 minutes to whip additional air into the frosting.
Use a large open star tip to frost these cupcakes. Top with a slice of lemon or fresh berries.
Notes
Ingredient Substitutions:
Sour Cream: You can substitute light sour cream for Greek yogurt. You can also use full-fat sour cream if needed.
Buttermilk: To make homemade buttermilk use 1 tablespoon of lemon juice or vinegar and then add enough milk to make 1 cup. Allow to sit for 5-10 minutes and then stir. If you opted not to buy buttermilk for the frosting, swap it for additional lemon juice or heavy cream.
Storing Instructions
Baked cupcakes: If you live in a hot and humid environment then I would suggest that you refrigerate cupcakes that are frosted and allow them to come to room temperature before serving. Otherwise, they can be stored in an air-tight container at room temperature for up to 3 days.
Freezing: If needed, flash-freeze the cupcakes on a baking sheet for 15 minutes, then transfer them to an air-tight, freezer-safe container. Thaw in the refrigerator for several hours then bring to room temperature prior to serving. If possible, it's best to freeze them unfrosted.
Category:

Cupcakes

Method:

Baked

Cuisine:

American
Keywords: lemon buttercream frosting, lemon desserts, homemade cupcakes
More Zesty Lemon Desserts to Try