This post may contain affiliate sales links. Please see my full disclosure policy for details
These Crispy Pan-Fried Lemon Potatoes are the perfect side dish. Crispy on the outside and soft in the middle, these potatoes are loaded with lemon, garlic, and fresh thyme, then finished off with freshly grated parmesan.
Easy Roasted Lemon Potatoes on the Stovetop
So, I'll be completely honest…I've been craving these Crispy Skillet Roasted Lemon Potatoes pretty hard lately. I first had them at Giada's restaurant in the Cromwell in Las Vegas and I've dreamt about them ever since.
These potatoes are soft and fluffy in the middle, crispy on the outside, and loaded with lemon zest, chopped garlic, fresh thyme, and grated parmesan.
Now, potatoes in general are hands down my favorite side dish. And it doesn't matter what kind. Mashed, fried, smashed, roasted, red, white, yellow, I want it all. And these crispy lemon potatoes are another delicious potato side dish to add to the mix.
I love this recipe because I don't have to turn on the oven. These are done right on the stovetop. This is also handy if you are already making dinner in the oven, you don't have to worry about cooking the potatoes at the same time.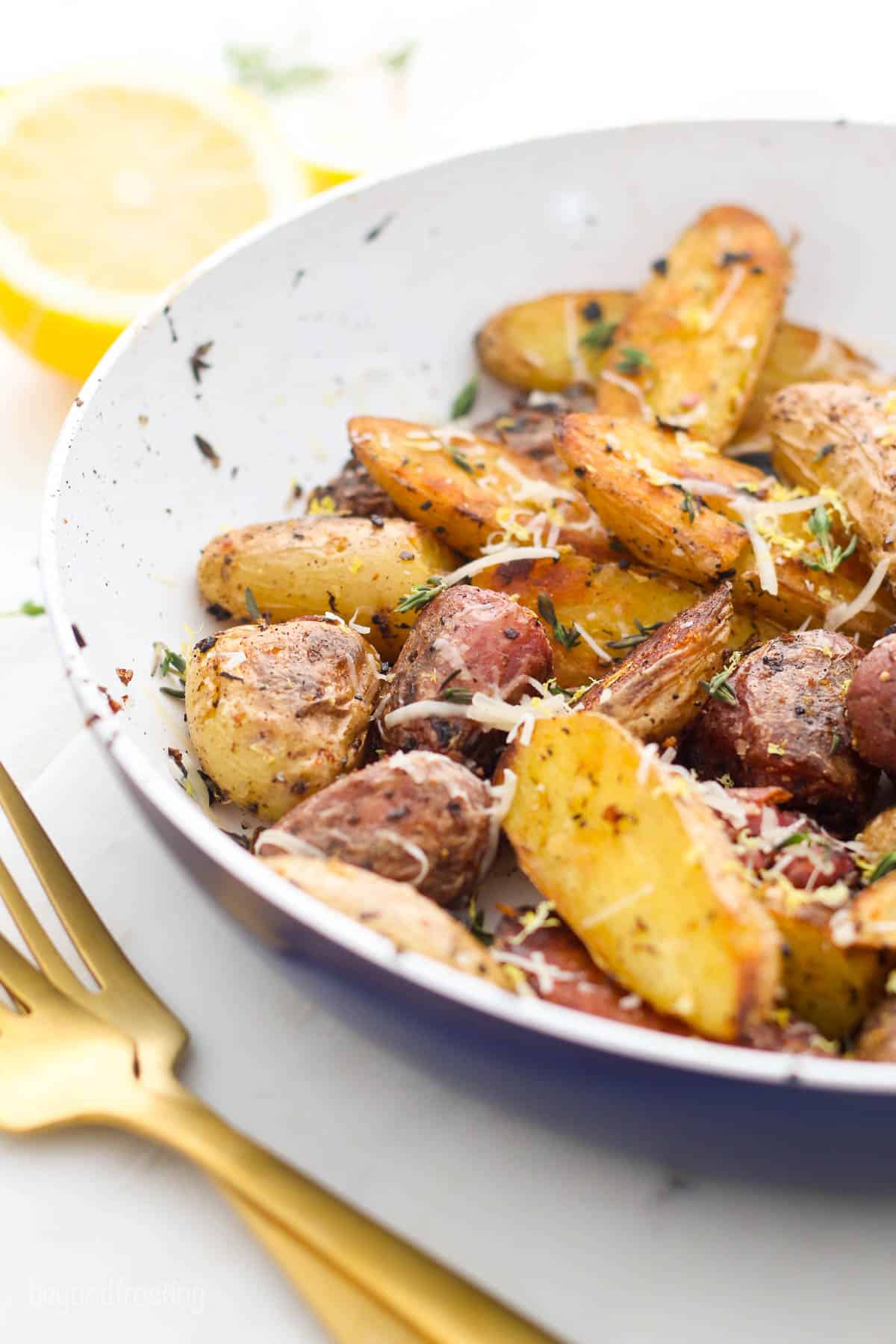 Ingredients You'll Need:
Potatoes – my favorite potato to use are petite fingerling potatoes, but I've also used mini white or red potatoes with great results.
Olive Oil – used to sear the potatoes.
Garlic – freshly chopped garlic is a great way to add another layer of flavor to the potatoes.
Lemon Zest – you can easily zest a lemon using a microplane or cheese grater!
Fresh Thyme- for flavor. If you don't have fresh you can swap in dried thyme
Shredded Parmesan Cheese- get the good stuff!
Salt and Pepper
How to Make Lemon Potatoes
Boil the potatoes: Boil water in a medium saucepan, then add in the whole potatoes. Cook until fork-tender.
Prep for frying: Strain and lightly pay the potatoes dry. Cut the larger potatoes in half. Smaller ones can be left whole.
Sear and season: Heat oil in a large skillet, then add in the potatoes. Season with salt, pepper, and half of the lemon zest, then cook the potatoes for 6-8 minutes, stirring occasionally.
Crisp: Add in the chopped garlic, and thyme, and additional lemon zest and continue to cook for another 5 minutes or until your desired crispiness is reached.
Finish and serve: Sprinkle the potatoes with the parmesan cheese, remove from heat and serve.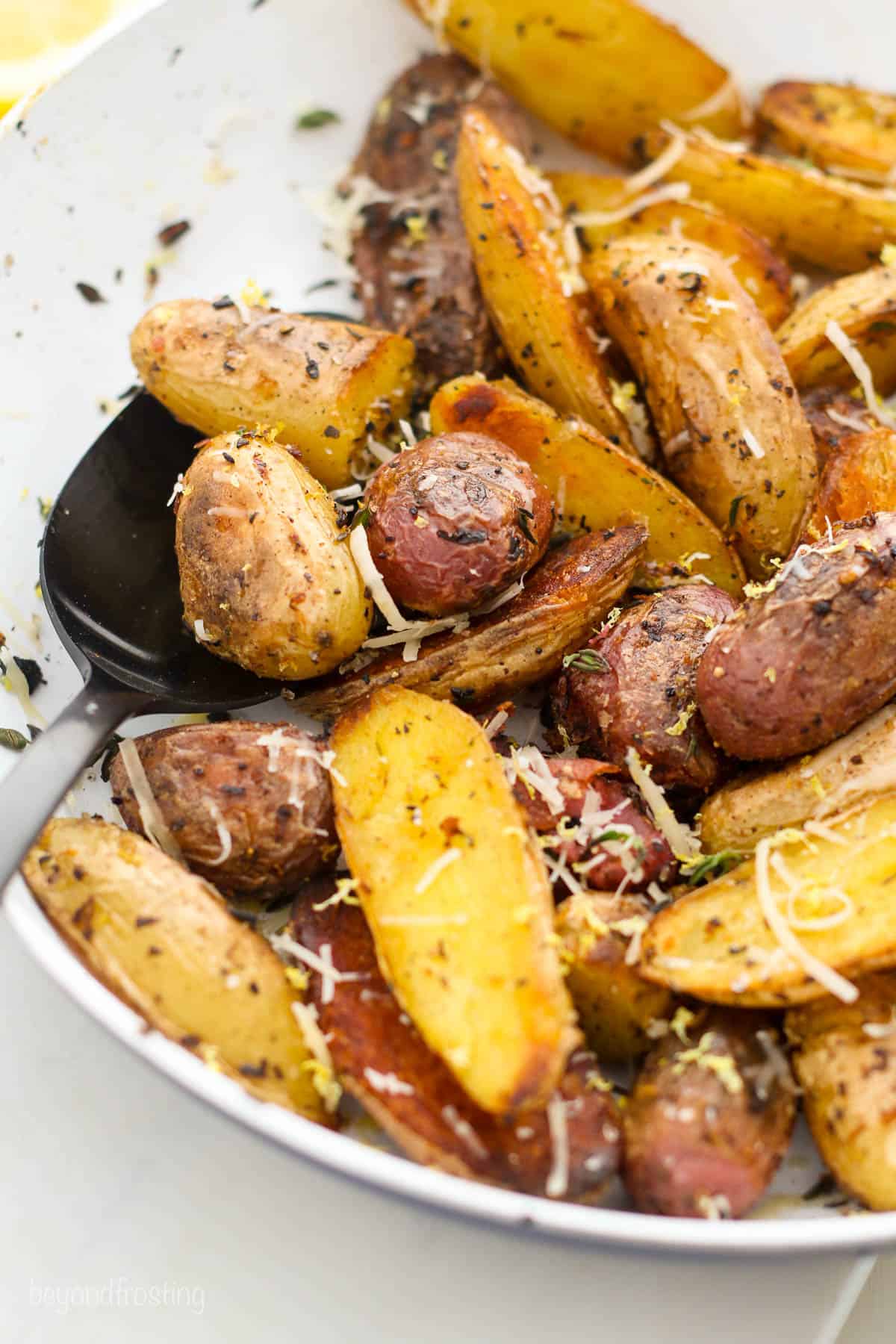 How to Zest a Lemon
No, you don't need to go out and buy any special equipment to yield perfect lemon zest. I absolutely love my Microplane zester but here are a few easy methods for zesting lemons if you don't have one.
Cheese grater. Simply hold the lemon with one hand and move it back and forth over the grate.
Vegetable peeler. Peel off slices of the lemon zest the same way you'd peel a potato. If the pieces of the zest are too big, which they likely will be, use a knife to chop them into smaller pieces.
Sharp knife. A knife is definitely the least ideal way to zest a lemon, but will do in a pinch. Just slice carefully around the outside of the lemon to remove the bright yellow part of the peel. Again, chop into smaller pieces if needed.
Should You Boil Potatoes Before Frying Them?
Yes! Boiling the potatoes first serves a couple of purposes.
First, it cooks them through the center so all you're doing in the skillet is a quick sear to crisp the outsides. Second, the water removes excess starch which creates a lighter, fluffier center and a crispier exterior.
How Do You Keep Roasted Potatoes Crispy?
There are a few things that you can do to make sure that your lemon roasted potatoes are nice and crispy:
Boil them first. Boiling the potatoes before searing them removes excess starch which allows the exterior to get even crispier when they're roasted.
Sear in olive oil. Oil increases the surface temperature of the potatoes so they get that delicious crispy, seared texture.
Sear at medium-high heat. Medium-high creates the perfect temperature for achieving that nice and crispy exterior without burning. If the potatoes are burning, turn down the heat to a lower temperature.
Rotate. While the potatoes are cooking in the skillet, be sure to rotate them so they cook on all sides.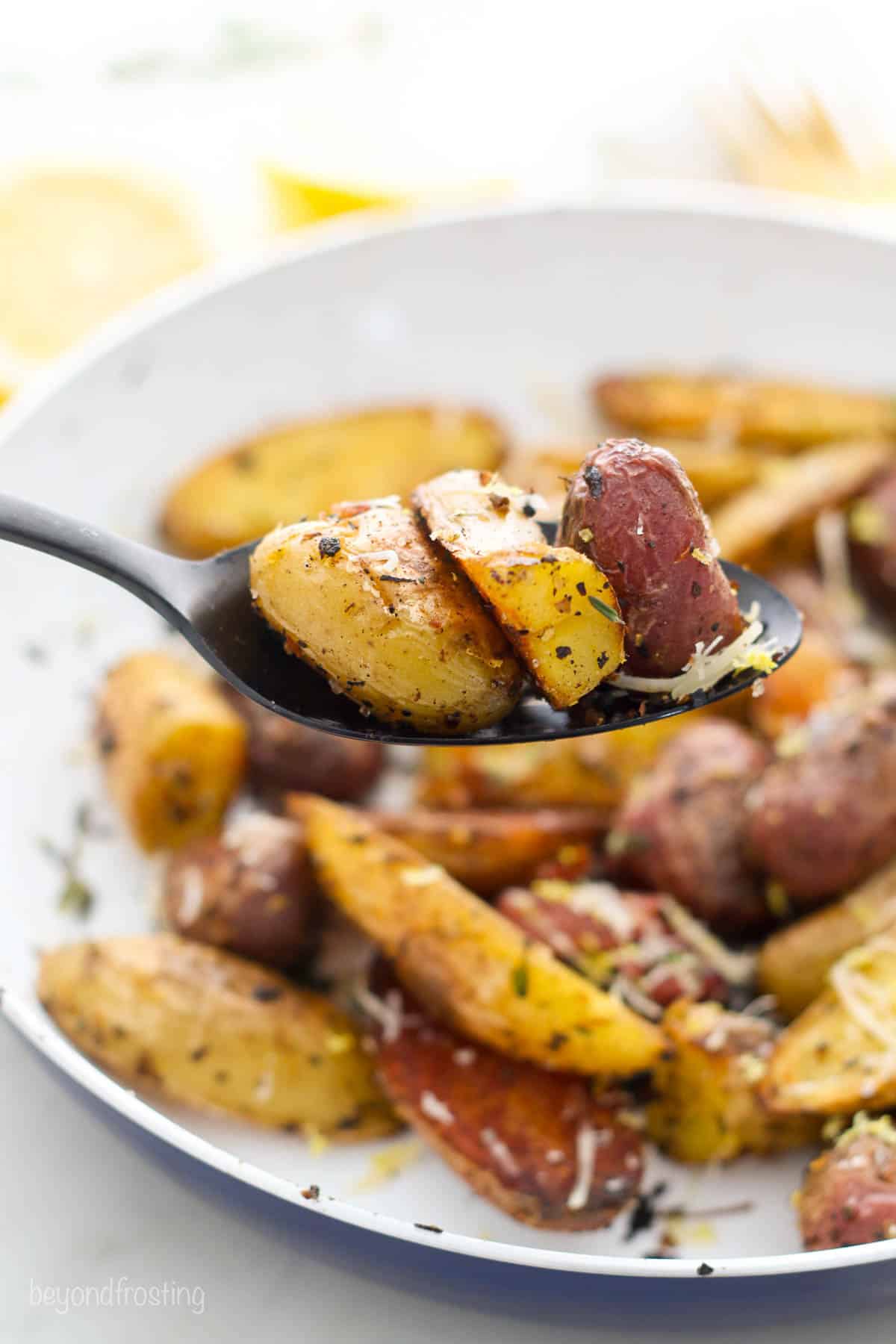 Tips for Perfect Pan-Fried Potatoes
Don't over-cook. Check the potatoes fairly often as they boil so as not to overcook them. Fork-tender will come at different rates depending on the size of potato you're using. Over-cooked potatoes can become gummy and gluey.
Wait to add the garlic. Wait until later in the searing time to add the garlic so it doesn't burn.
Serve immediately. While leftovers will still be good, roasted potatoes are crispiest right away.
Use other seasonings. Feel free to spice the potatoes up even more with cayenne or red pepper flakes or play around with other herbs like basil, rosemary, or dill.
Serving Suggestions
Roasted potatoes are an incredibly versatile side dish that can be served with plenty of main dishes, but also for breakfast too.
Serve them next to Ham and Cheese Sliders, Quinoa Vegetable Salad, Blackberry Balsamic Chicken Wraps, you name it!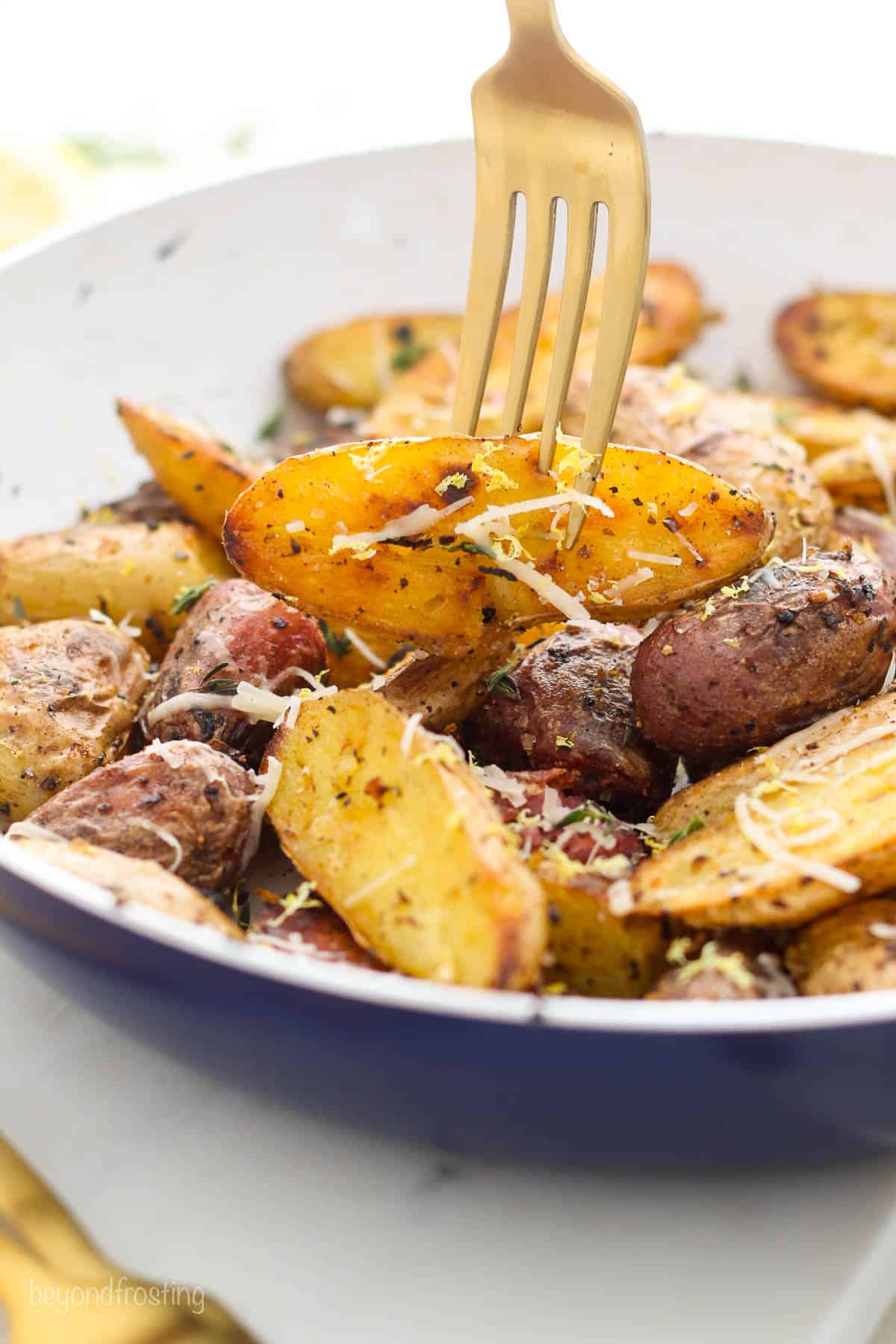 How to Store Leftover Potatoes
Leftovers will last in an airtight container in the fridge for 3 days. To reheat, microwave for 30-45 seconds then warm a skillet on the stovetop. Add a drizzle of oil and refry until crispy.
Frequently Asked Questions
How long to boil potatoes before pan-frying?

This can take 10-15 minutes after the water is boiling depending on how big the potatoes are.
How long does it take to pan-fry potatoes?
This can take 10-15 minutes depending on how crispy you want the potatoes and the temperature of the burner.
What other potatoes can I use for this recipe?
These would be delicious with baby red, golden or mini potato medley.
More Easy Side Dish Recipes
Print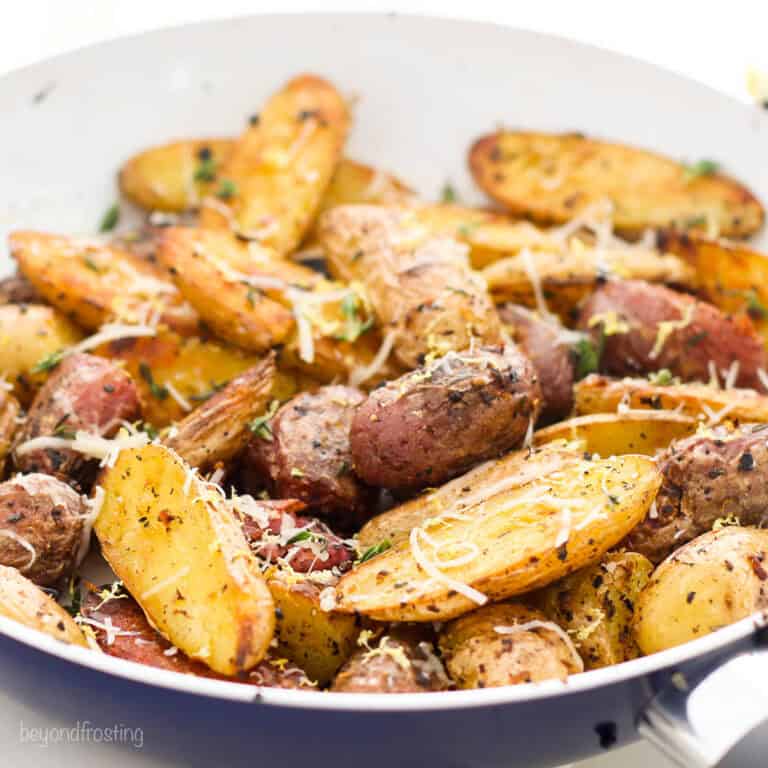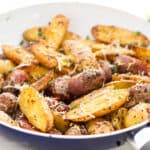 Crispy Pan-Fried Lemon Potatoes
Author:

Prep Time:

15 minutes

Cook Time:

30 minutes

Total Time:

45 minutes

Yield:

4 servings
Description
These crispy skillet roasted Lemon Potatoes are crispy on the outside and soft in the middle. They are loaded with lemon, garlic and fresh thyme, then finished off with some fresh grated parmesan.
Ingredients
3

–

4

cups water

1

–

1.5

pounds petite fingerling potatoes

2

–

3

tablespoons olive oil

2

medium cloves of garlic, chopped

2

medium lemons, zested

1 tablespoon

fresh thyme

3

–

4

tablespoons shredded parmesan cheese
salt and pepper
Instructions
In a medium-sized saucepan, boil 3-4 cups of water over high heat. Once boiling cook the potatoes until fork tender. Smaller potatoes will cook faster than the larger ones, remove the smaller potatoes as needed to prevent from over cooking. Once cooked, strain out the water, pat dry and cut the larger potatoes in half.
In a large skillet, heat 2 tablespoons of olive oil over medium-high heat. Add the potatoes and season with salt and pepper and zest of 1 lemon.
Sear the potatoes for 6-8 minutes or until all sides start to brown and crisp, rotating every 2-3 minutes. Add additional olive oil as needed.
Then add the chopped garlic, remaining lemon zest and thyme. Continue frying for another 5 minutes or so or until the potatoes reach the desired crispiness.
Right before removing from the heat, sprinkle the shredded parmesan. Serve warm.
Notes
Stovetop cooking times may vary depending on gas verse electric stove.
Category:

Side dish

Method:

Stovetop

Cuisine:

American
Keywords: Lemon Potatoes, Pan-Fried Potatoes, Easy Side Dish, Potato recipe