This post may contain affiliate sales links. Please see my full disclosure policy for details
These Lemon Blackberry Cupcakes are moist homemade cupcakes bursting with lemon flavor. These cupcakes are topped with a fresh blackberry Swiss meringue buttercream. These Lemon Blackberry Cupcakes are perfect for summer, baby or wedding showers or any of your party needs.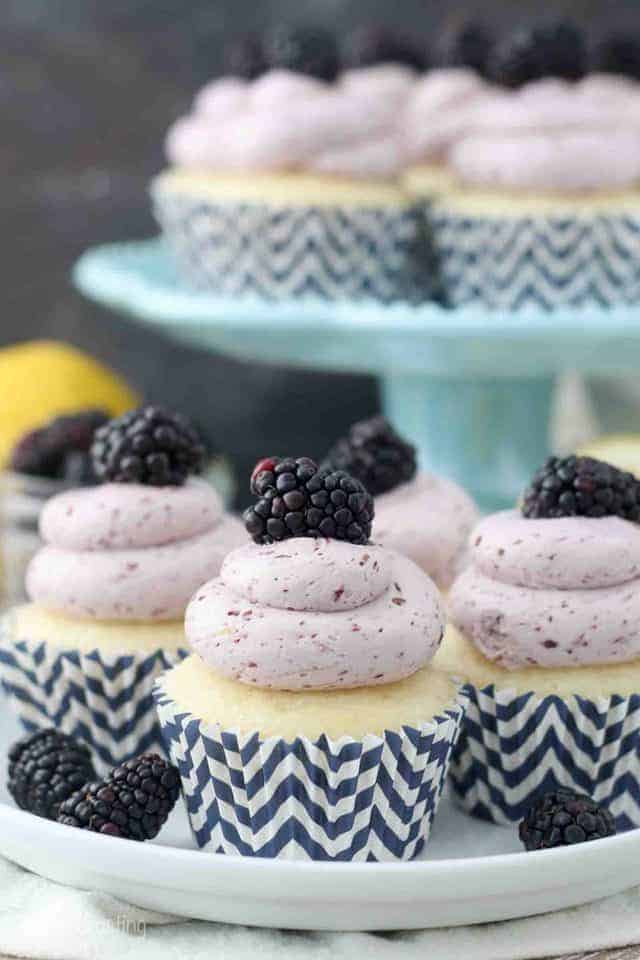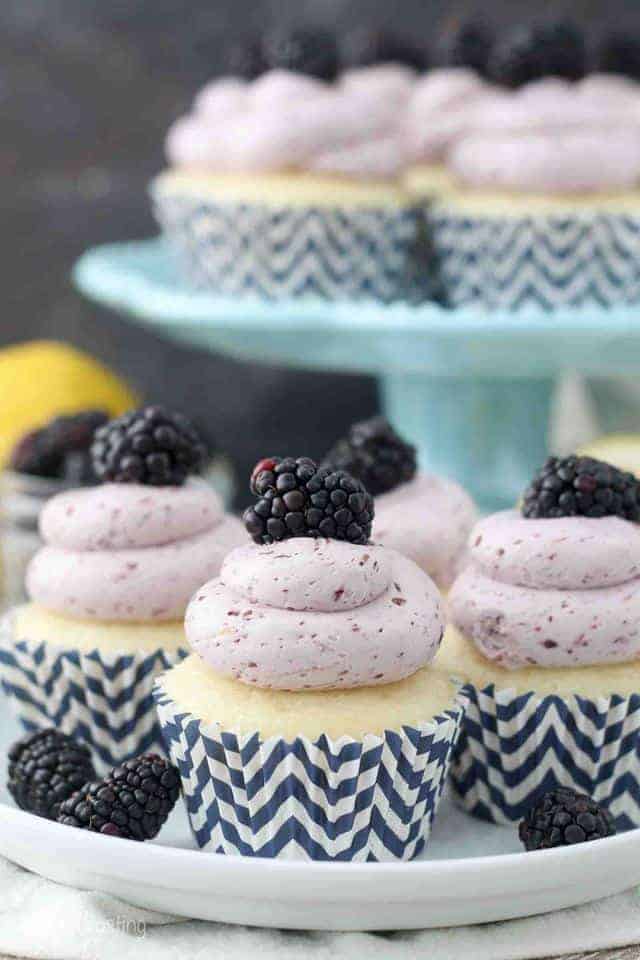 Woohoo! It's May which means it's my birthday month, which means there will be plenty of dessert in store for both you and me! We're kicking it off with Lemon Blackberry Cupcakes. These homemade lemon cupcakes are topped with a blackberry Swiss meringue buttercream. Aren't they so pretty?
Whenever berries go on sale, I stock my refrigerator full and sometimes that results in last minute recipe ideas like these cupcakes.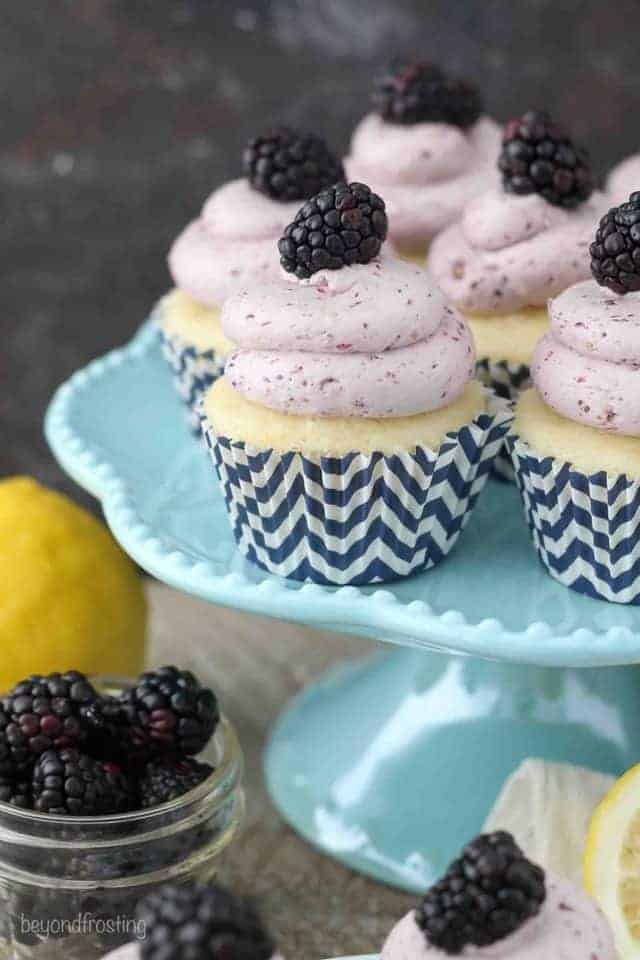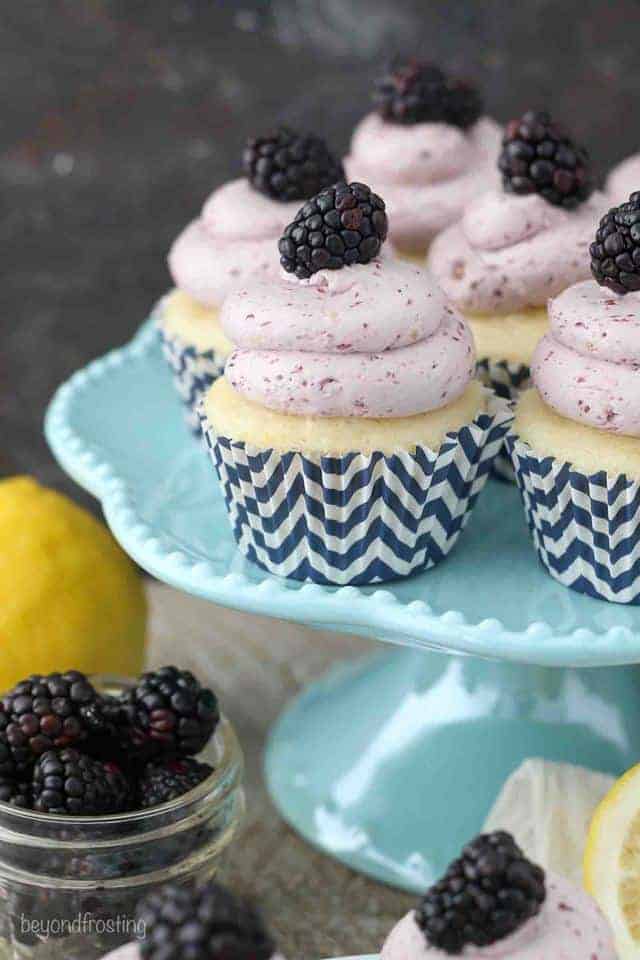 The lemon cupcake is an adaption from my Moist Vanilla Cake recipe. I've made a few substitutes for this recipe. I swapped out the vanilla extract for lemon extract. The lemon extract just helps elevate the lemon flavor you want, because it's difficult to achieve with just lemon juice and lemon zest. If you can't find lemon extract, just use a touch of vanilla extract instead.
Then there's plenty of lemon juice, four tablespoons to be extract. Additionally, I've swapped out the milk with buttermilk to bring out a bit of the lemon flavor just a bit more. If you don't have buttermilk, you can definitely use regular milk. However, I usually make my own buttermilk if I don't have it on hand.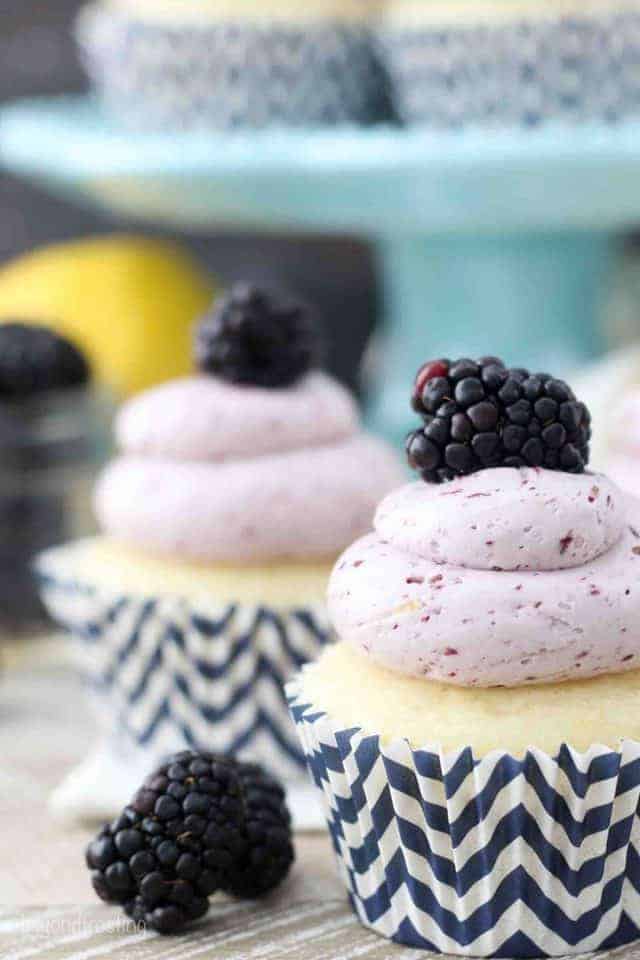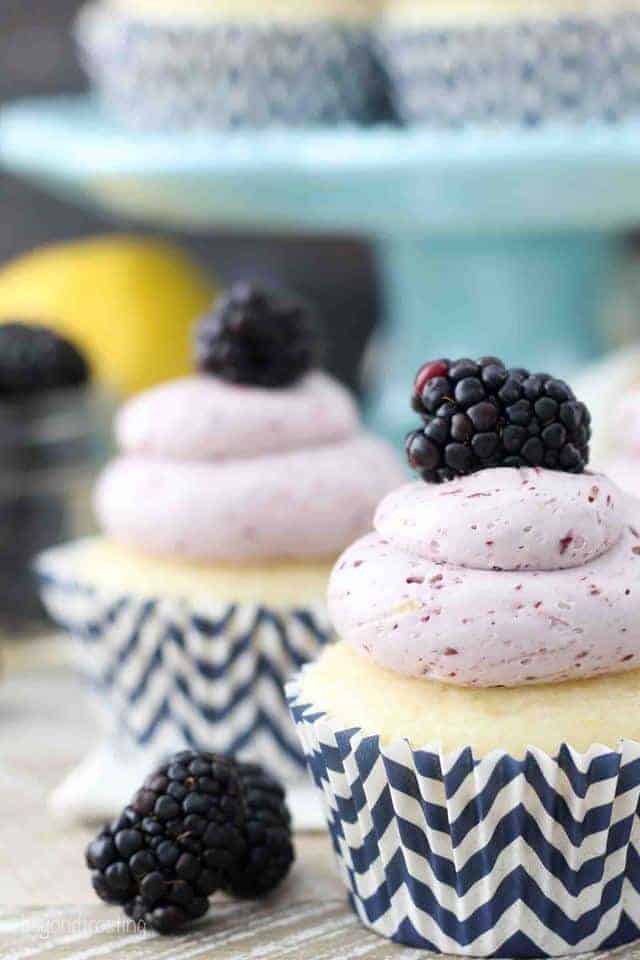 These lemon cupcakes are perfectly moist thanks to the addition of the sour cream. The cupcake itself it a little more on the dense side, similar to a sponge cake. This is just the way I want my cupcakes to be. That way when I take a bite, I know I am eating a homemade cupcake.
Then comes the frosting, a blackberry Swiss meringue buttercream. Swiss meringue buttercream is a light, silky and buttery alternative to traditional buttercream. It is much less sweet, and therefore allows for the true flavors in the cupcake to shine.
Truth be told, Swiss meringue buttercream is actually my favorite frosting to make, but I rarely use it on my blog because I know that some readers will shy away from the recipe simply because it involves cooking egg whites and sugar.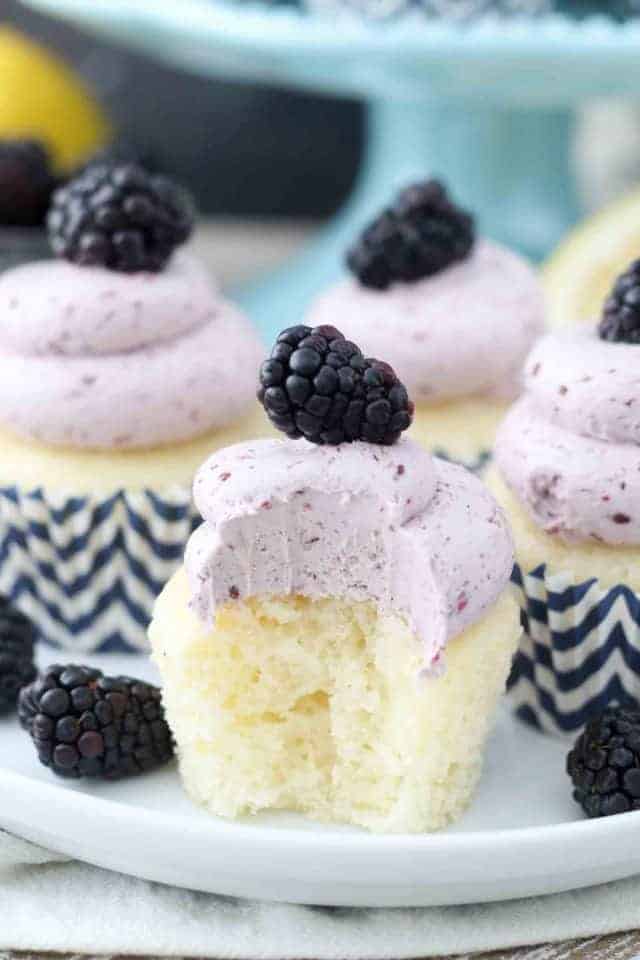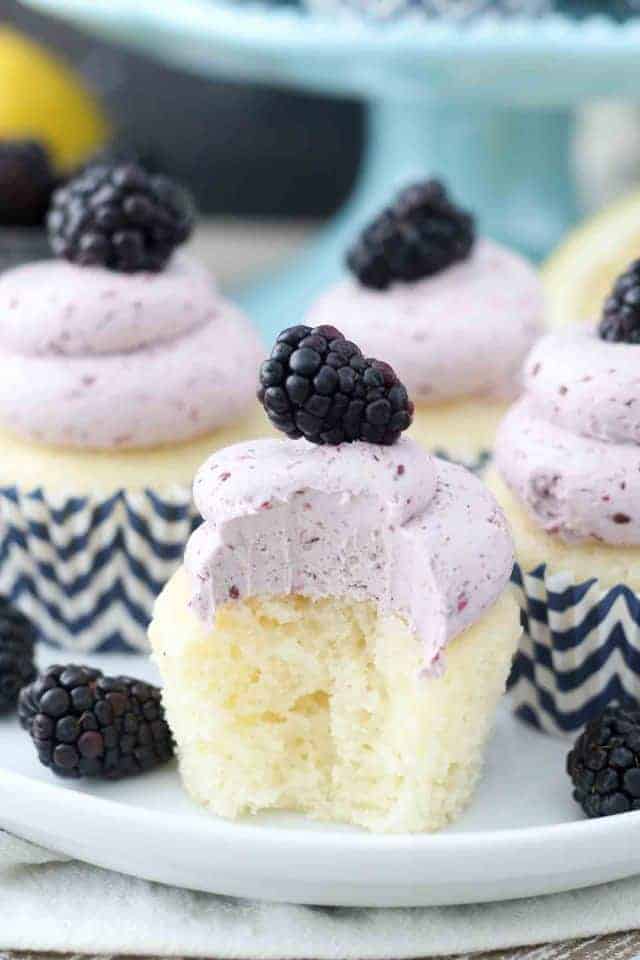 I promise when I tell you that it is SO much easier than you think, you just need the proper tools which includes, a wire whisk, a candy thermometer, a good mixer and some grease-free spatulas. I go into plenty of detail about Swiss meringue buttercream, how to make it and what tools you need. Be sure to give it a good read through before you start.
This buttercream is super easy to pipe because it's very light and airy. Personally, I like to use 18-inch piping bags and some extra-large piping tips. I also love these navy chevon cupcake liners because they are greaseproof, so they don't loose their color when they are baked!
If you don't have blackberries available, raspberries or strawberries would make a great alternative as well! Thanks for helping me kick off my birthday month with my Lemon Blackberry Cupcakes!
Print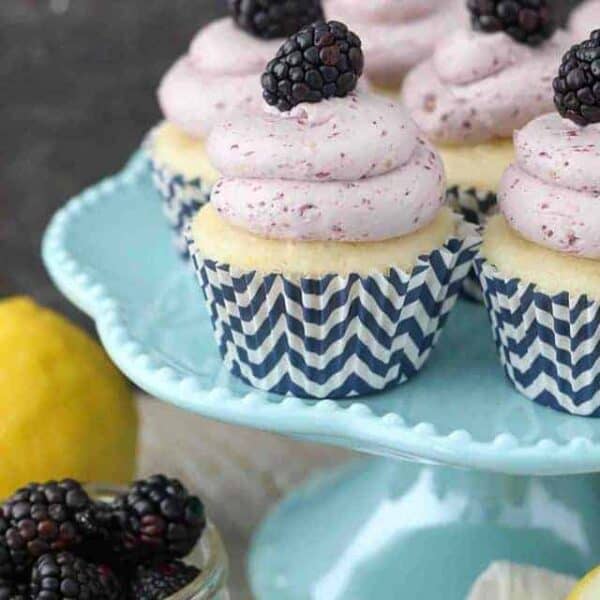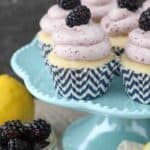 Lemon Blackberry Cupcakes
Author:

Prep Time:

30 min

Cook Time:

15 mins

Total Time:

45 minutes

Yield:

24 cupcakes
Description
These Lemon Blackberry Cupcakes are moist homemade cupcakes bursting with lemon flavor. These cupcakes are topped with a fresh blackberry Swiss meringue buttercream.
Ingredients
For the cupcake:
2 cups

granulated sugar

½ cup

vegetable oil

3

large eggs

2

lemons- zested and juice

1 teaspoon

Lemon (or vanilla) extract

½ cup

light sour cream

2 ½ cups

all-purpose flour

3 teaspoons

baking powder

1 teaspoon

salt

1 cup

buttermilk (or milk)
For the frosting:
1

pound (4 sticks) unsalted butter at room temperature

5

large eggs whites

1 cup

plus 2 tablespoons granulated sugar

6 ounces

blackberries, pureed
Zest

1

lemon
Instructions
For the cupcakes:
Preheat the oven to 350°F. Line a cupcake pan with cupcake liners.
In a large mixing bowl, combine the sugar, vegetable oil, eggs and lemon extract. Beat on medium speed until the eggs and oil are well incorporated and the batter is lighter in color, about 2 minutes. Scrape down the bowl as needed.
Next, zest 2 lemons and then juice the lemons. Add the zest and 4 tablespoons of lemon juice to the batter as well as the sour cream and beat until well combined.
Add half the flour followed by the baking powder and salt and beat on low speed while pouring in half of the buttermilk and mix just until the flour starts to incorporate.
Finally add the remaining flour, mixing on low speed while pouring in the remaining buttermilk and beating until all of the ingredients are well combined.
Use a spatula to scrape down the sides of the bowl and stir the batter from the bottom to the top to ensure it's well mixed.
Using a large cookie scoop, divide the batter evenly, filling each liner 2/3 full. Careful not to overfill.
Bake at 350°F for 14-16 minutes. Test the cupcakes for doneness by inserting a toothpick into the center of the cupcake. If the toothpick comes out clean, the cupcakes are done. Cool Completely.
For the frosting:
Puree the blackberries using a food processor. Optional, strain the blackberry puree through a fine sieve to make a smoother frosting. Set aside.
Set your bowl over top of a pot with water, just enough to cover the bottom of the pot. You do not want the water to boil and touch the bottom of your mixing bowl. Heat the water on medium to medium-low heat.
Combine the sugar and egg whites in your mixing bowl and stir (using your greaseproof spatula) constantly until the mixture reaches 140° F. This is the most important part; you do not want to egg whites to cook. When it reaches 140° F, the sugar should be dissolved in the egg whites. You can test this by placing a drop on your fingertips and rubbing them together. The mixture should be completely smooth.
Place the mixing bowl on your stand mixer. Using the wire whisk attachment, beat the egg whites. Start on low and increase the speed to medium after 2 minutes.
Beat for another 3 minutes on medium. At this point, your frosting should have turned white as the egg whites are whipped and the body of the meringue starts to form.
After 5 minutes, increase the speed to high. You will notice that as you increase the speed, the body of your meringue will also increase. It will start to look glossy as the peaks begin to form. Beat for another 5 minutes.
After you have beat the meringue for a total of about 10 minutes, the bottom of your mixing bowl should be cooled completely. Your SMB should look kind of like whipped cream. Scrape down all sides and bottom of the bowl.
Turn your mixer down to medium-low. Slowly add your butter, about 1 tablespoon at a time, ensuring it is mixed well after each addition. Once you have added all your butter. Mix for another minute and scrape down the sides of the bowl.
Switch to the paddle attachment and continue beating on medium to allow all the air bubbles to escape. In about 2-3 minutes the frosting is smooth.
Lastly, fold in the blackberry puree and lemon zest and stir well to combine. Use a large piping bag fitted with a large open round tip to pipe the cooled cupcakes.
You might also like: