This post may contain affiliate sales links. Please see my full disclosure policy for details
This easy Swiss Meringue Buttercream only needs 4 ingredients! Ideal for piping, this recipe makes a stable, silky meringue frosting that's perfect for decorating cakes and cupcakes.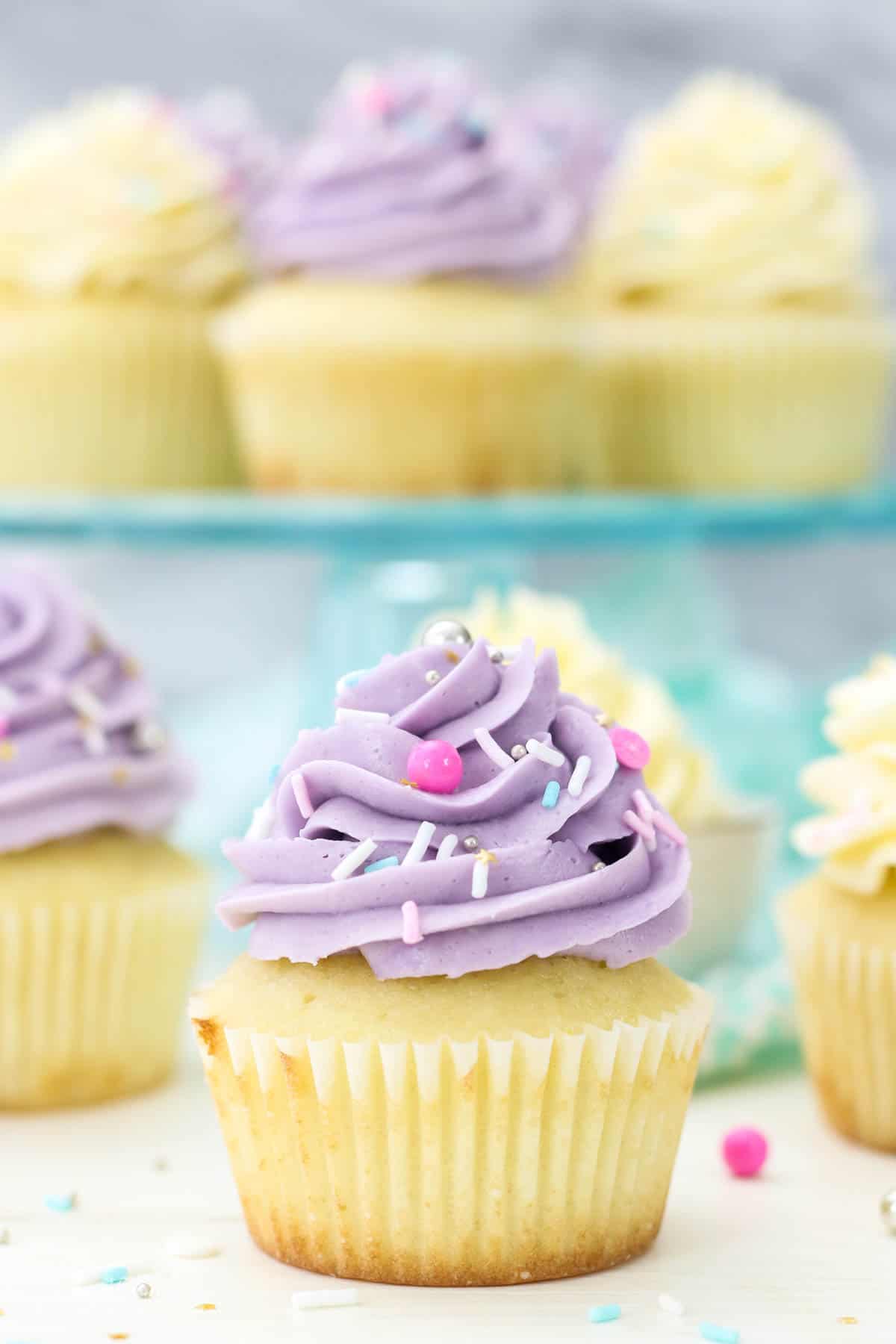 Easy Swiss Meringue Buttercream Frosting
My very love affair with this perfect Swiss meringue buttercream began in the VERY early days of my blog. It quickly became one of my favorite frostings. Naturally, I was eager to create a step-by-step for those who might be making Swiss meringue for the first time!
I've made a lot of variations of this buttercream over the years. The idea of homemade meringue might sound intimidating or time-consuming at first. But I promise you, once you have this basic recipe mastered, it's sure to become one of your favorites, too!
You're definitely going to want to give this silky, velvety Swiss meringue buttercream a try. It's less sweet than traditional American buttercream, made with just 4 ingredients, and its light, airy texture is the BEST for piping onto cakes and cupcakes.
What is Swiss Meringue Buttercream?
Swiss meringue buttercream (SMBC) is a light, silky and buttery alternative to traditional American buttercream frosting. It's made by heating egg whites and whipping them together with sugar and butter until fluffy. This makes Swiss meringue a bit different from Italian meringue, which involves streaming hot sugar syrup into egg whites that have already been whipped to form the frosting.
I much prefer Swiss meringue frosting as there's no hot syrup to fuss with, and heating the eggs removes any risk of salmonella.
What does Swiss meringue buttercream taste like? SMBC contains a higher ratio of butter to sugar than American buttercream, and as a result, the flavor is more buttery and less sweet. Swiss meringue buttercream is easy to pipe and holds its shape well with a delicate, melt-in-your-mouth texture.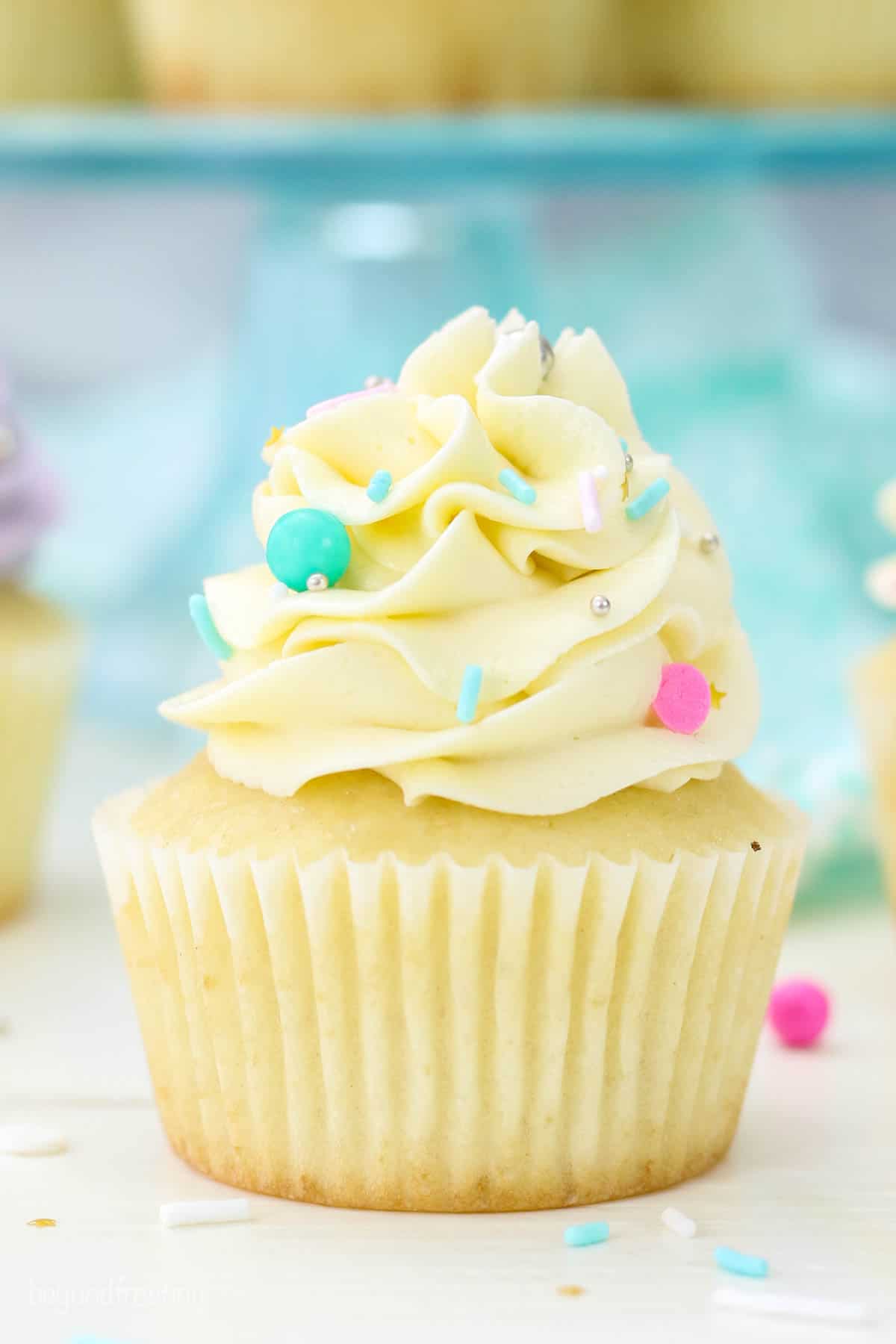 Ingredients Needed
Who's ready to make some fluffy meringue frosting? Here's what you'll need. Be sure to scroll down to the bottom of the post for the full recipe card with specific amounts of each ingredient.
Egg Whites – Essential for meringue frosting! Make sure to let the egg whites sit at room temperature before you start, it's easier to incorporate the sugar.
Sugar – You'll want to use granulated white sugar for a crisp, white meringue.
Butter – Like the egg whites, ensure your butter is at room temperature. I recommend using unsalted butter, as you'll be able to add salt to taste. I've found that salted butter makes this frosting way too salty for my taste.
Vanilla Extract – Traditional Swiss meringue buttercream calls for high-quality vanilla extract. If you'd like to flavor your frosting, you can use another extract if you prefer. See below for my variation ideas.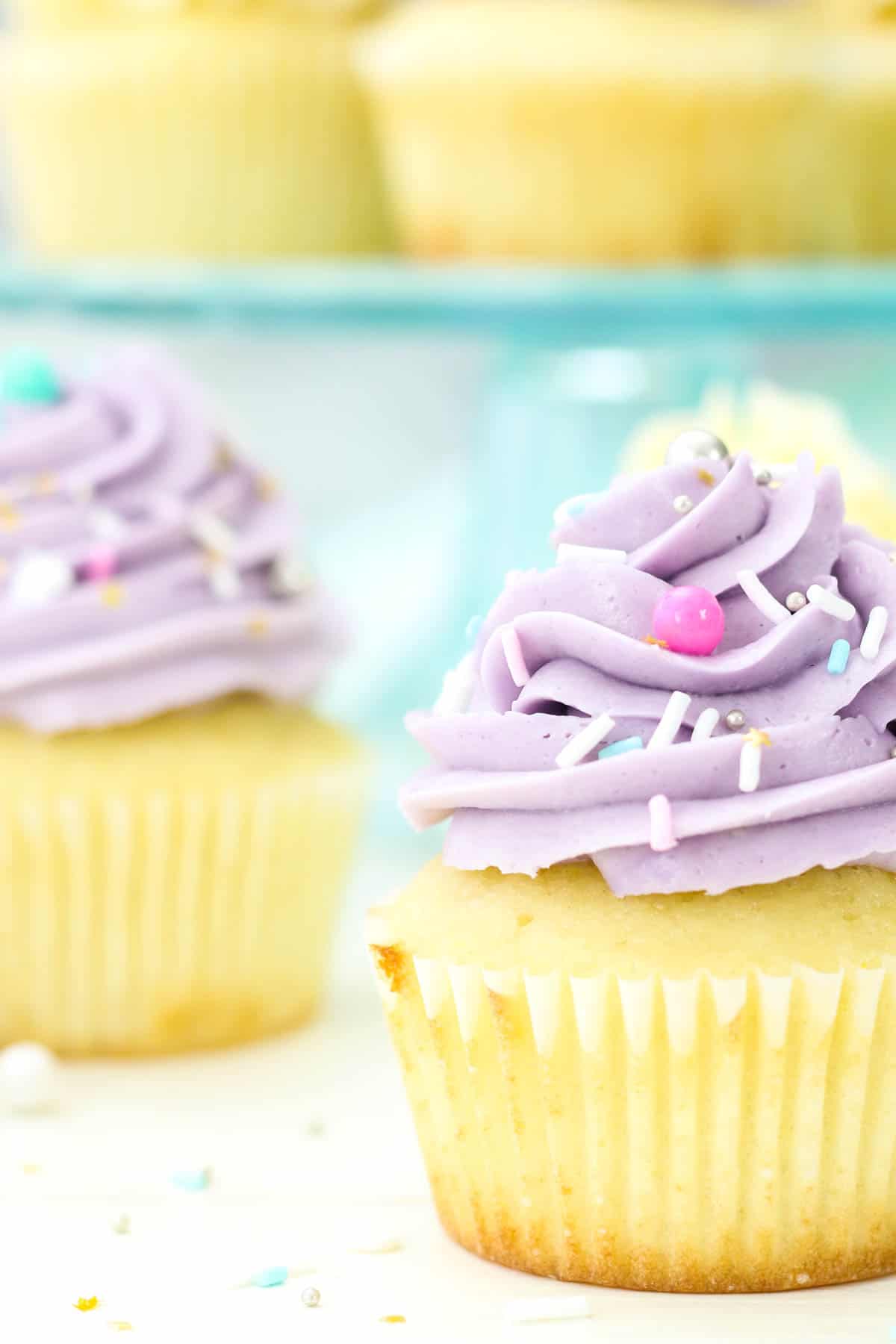 How to Make Perfect Swiss Meringue Buttercream
Let's get down to the step-by-step. Below I've broken down how to make this frosting from start to finish.
Before you begin, it's very important that the tools you're using are free from any residual oil or grease. Oil and meringue do not mix. Give the bowl of your stand mixer and the attachments a good wipe-down with vinegar, to remove any grease. Afterward, you're ready to get started on the frosting:
Dissolve the sugar in egg whites. In your squeaky-clean bowl, combine egg whites with sugar. Heat the egg whites using a double boiler, whisking constantly until the mixture hits about 140ºF on a candy thermometer (not higher than 160ºF). The sugar should be dissolved completely.
Beat the egg whites. Next, you'll move the bowl to your stand mixer and beat the egg whites with the whisk attachment, gradually increasing the speed. As you near the 7-minute mark, you should notice your frosting has turned white and glossy as the meringue begins to take shape. You're nearly there! Continue to beat the mixture on high for another few minutes, until the bowl is cool and the meringue stands in stiff peaks.
Add butter. Now, you'll slow things down and begin adding the butter to the meringue a little at a time. It's OK if your glossy meringue appears to curdle to a more liquid-like consistency at this stage. Don't worry! We aren't finished yet.
Beat again. Once all the butter has been added and mostly incorporated, beat the frosting again, this time with the paddle attachment. After a couple of minutes, you'll notice the curdled frosting will start to stiffen. Just like magic, your Swiss Meringue Buttercream comes together and it's ready to use!
Can I Scale This Frosting Recipe?
Yes! It's easy to scale up or down this Swiss meringue buttercream. For example, you'll need to increase the amount of frosting to make enough frosting for a layer cake.
For an 8" 3-layer cake, use 10 large egg whites, 3 cups of unsalted butter, and 2½ cups of granulated sugar, plus your extract.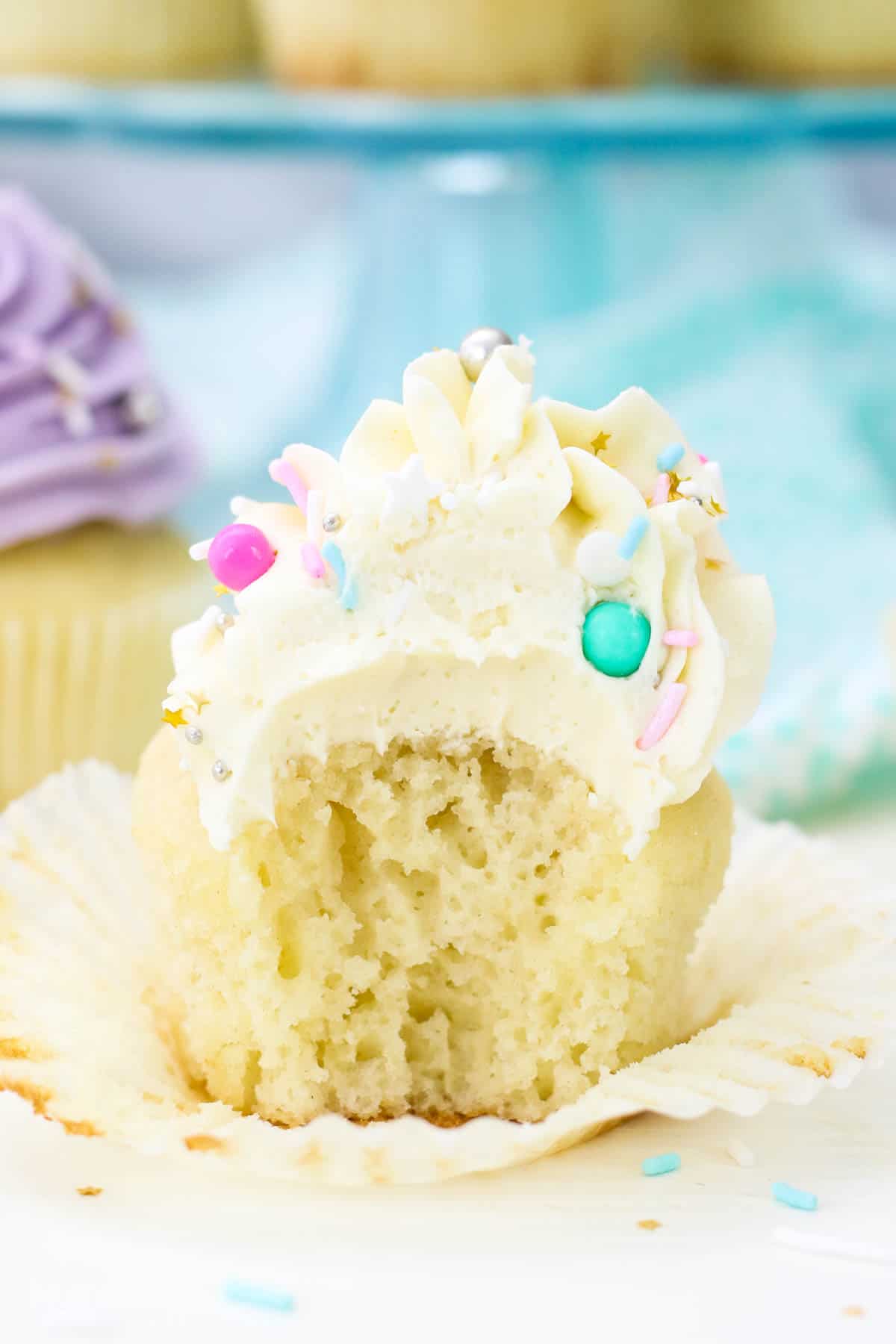 Tips for Success
You'll be amazed by how easy it is to make your own Swiss meringue frosting from scratch. Below are some extra hints and pointers for making the best buttercream frosting:
The tools you're using have to be grease-free, otherwise, the meringue will flop. Where possible, use only metal utensils. Wipe everything down with vinegar (or lemon juice) to remove any leftover grease.
Make sure your butter is at room temperature. If your butter is too cold, it will not mix well and you will end up with clumps of butter in your frosting. Likewise, if the butter is too warm, it can cause the buttercream to separate.
Use a candy thermometer. I bought mine at target for $10 and it has been well worth the investment!
Don't overcook the egg whites. Place the pot for your double boiler over medium heat, and don't pre-boil the water. If the egg whites heat up too fast, they will cook and scramble, and you'll have to start over.
To see if your sugar is fully dissolved, drizzle some of the egg whites on your fingertips and gently rub them together. The mixture should be completely smooth.
Use colorless imitation vanilla extract if you'd prefer your SMB to stay a crisp bright white. You'll find this at most craft stores or specialty cake stores.
To color your buttercream, I recommend using gel colors. Add the color gradually (a little goes a long way) and gently fold it in using the paddle attachment on your mixer, or a spatula. See my post on How to Color Buttercream Frosting for more handy tips and tricks.
Frosting FAQs
My frosting looks curdled or runny. How do I fix it?
The egg whites will lose air and curdle during the process of adding the butter. A good whip usually sorts this out in the final product. It has never happened to me, but I have read that if your frosting is still a bit soupy even after you whip it, you can pop it into the fridge for 20 minutes and then re-whip it.
Does Swiss meringue buttercream hold up in the heat?
Swiss meringue frosting has a high butter content that, combined with airy egg whites, doesn't hold up the best in a hot or humid environment. I'd rather recommend an American buttercream, like my Vanilla Buttercream Frosting Recipe, that isn't quite as delicate.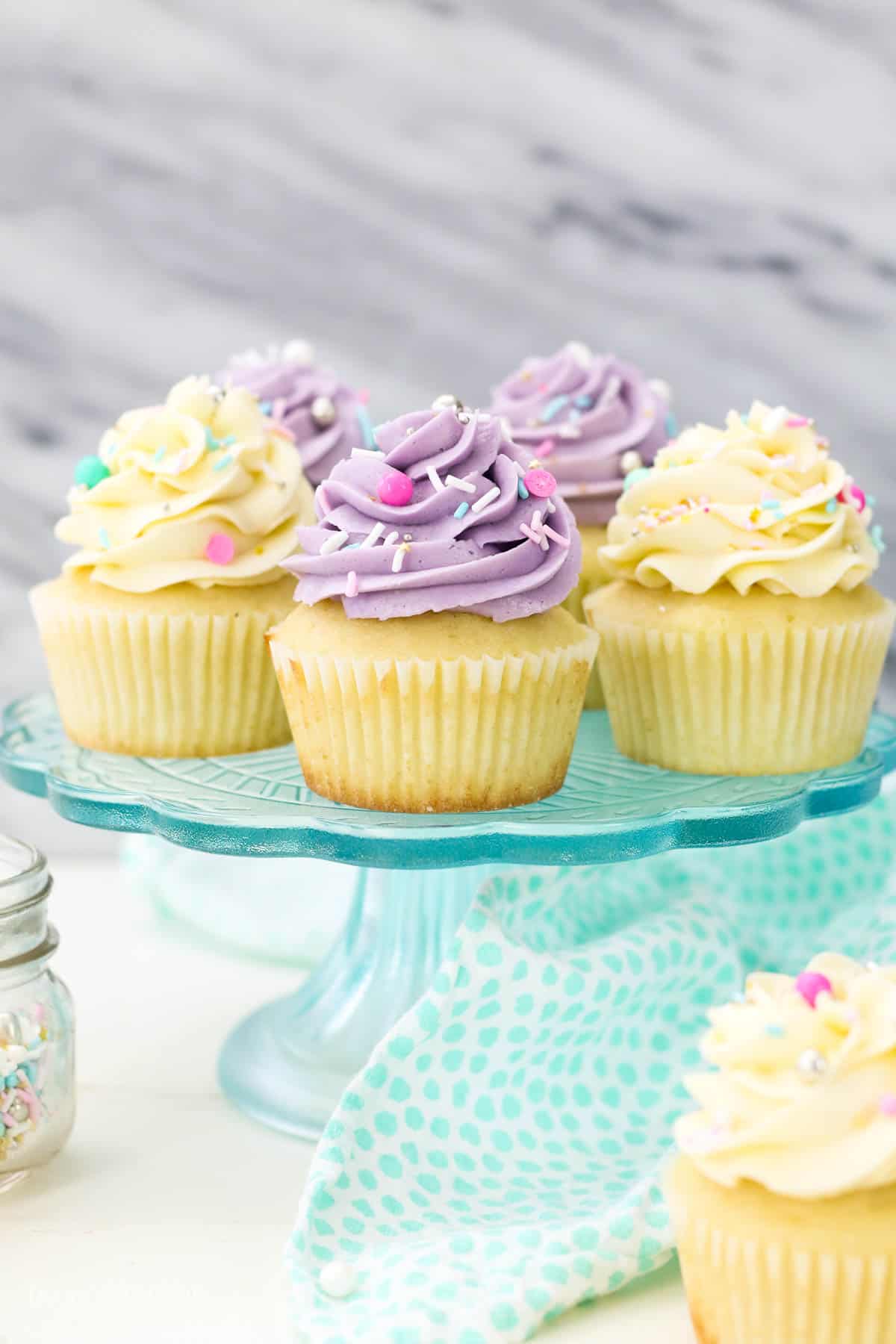 Meringue Frosting Variations
There are many ways you can change up the flavors of this homemade Swiss meringue buttercream for all your favorite cakes and desserts!
The best way to flavor meringue frosting is with high-quality extracts. Use as much as you need to suit your own tastes. Here are some easy buttercream variation ideas:
Ways to Use Buttercream Frosting
Swiss meringue buttercream is much less sweet than traditional frosting, so it lends itself perfectly to recipes where you'd like the true flavors of a cupcake to shine.
Due to the very light and airy texture of this frosting, it's especially ideal for piping! It's great for piping over layer cakes (see above) or cookies, and more. Here are more dessert ideas to decorate with your fluffy Swiss meringue buttercream:
One thing to remember is that meringue does make a softer frosting, so it does tend to "settle" a bit as it sits out. For this reason, frosted desserts are best served right away, or stored as soon as possible. See the next section for details.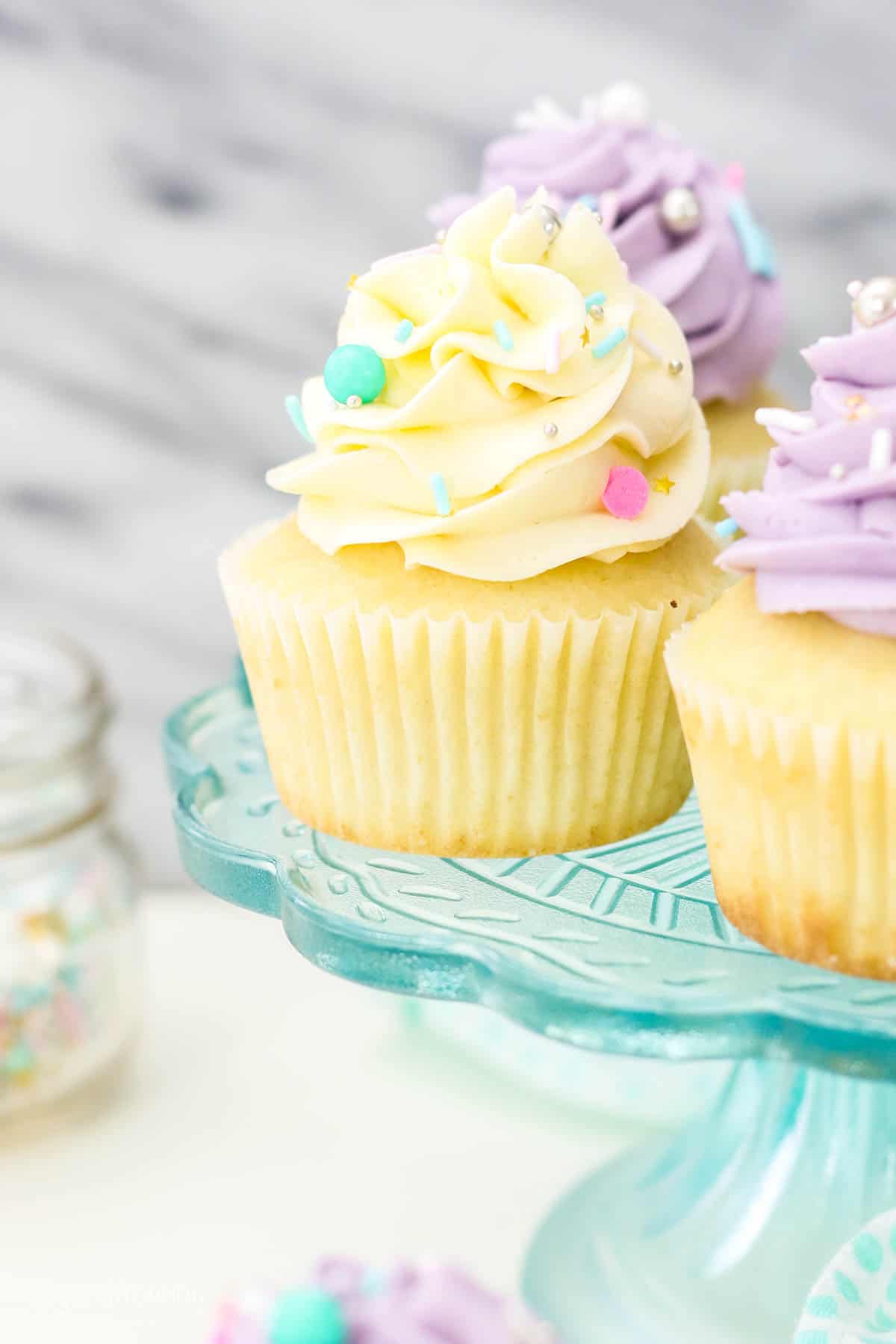 How to Store Swiss Meringue Buttercream
I'll often make and frost my cakes and cupcakes right away, and store the leftover buttercream in an airtight container on the countertop overnight.
Swiss Meringue Buttercream can also be made in advance and kept in the refrigerator for up to 7 days. Due to the high ratio of butter, this frosting does harden when chilled. If you do refrigerate the frosting itself or your frosted cake or cupcakes, they will need time to come back to room temperature before serving.
Once the frosting is back at room temperature, I'd recommend giving it a whip with the paddle attachment of your stand mixer to fluff it up again.
Can I Freeze Buttercream Frosting?
I have not frozen this particular buttercream recipe. However, most Swiss meringue buttercream frostings are fine to freeze for up to 3 months. You'll want to make sure that the frosting defrosts completely, and reaches room temperature before you use it again. Rewhip with the paddle attachment of a stand mixer.
Print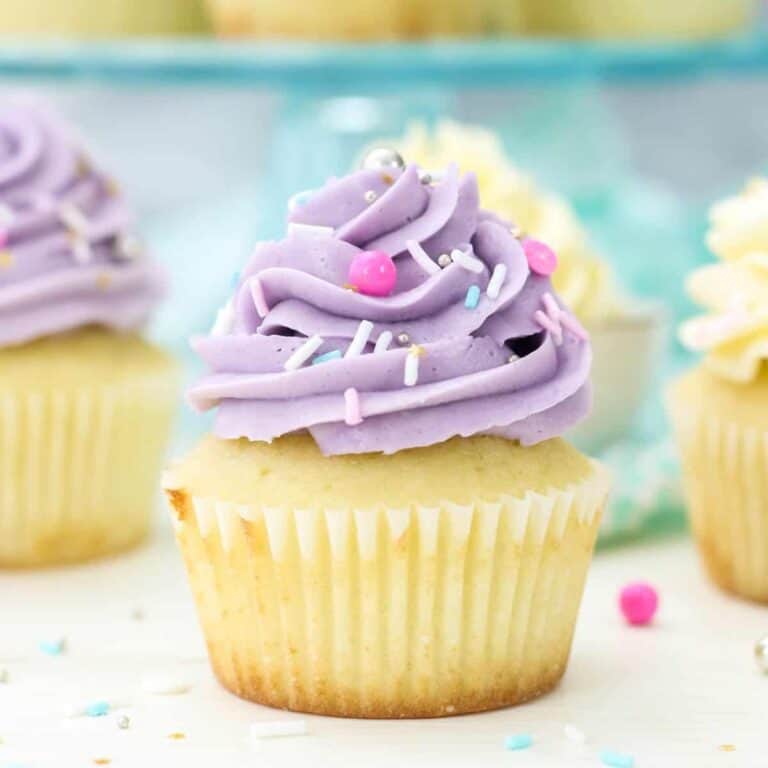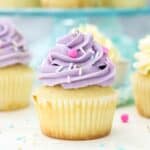 Swiss Meringue Buttercream Recipe
Author:

Prep Time:

30 minutes

Cook Time:

10 minutes

Total Time:

40 minutes

Yield:

5 cups or 24 cupcakes
Description
This easy Swiss Meringue Buttercream recipe makes a silky, elegant frosting perfect for cakes and cupcakes! Made with whipped egg whites, sugar, and butter, this frosting can be flavored with any extract and is ideal for piping.
Ingredients
5

large egg whites at room temperature

1 cup

plus 2 tablespoon granulated sugar

2 cups

unsalted butter at room temperature

1 teaspoon

pure vanilla extract
Instructions
Wipe down the inside of your stainless-steel bowl with vinegar to remove any grease. Combine sugar and egg whites in the bowl with candy thermometer attached.
Set the bowl over top of a pot with 1 ¼ cups water covering the bottom. Place over medium heat.
Stir constantly with a whisk until the mixture reaches 140°-160° The sugar should be dissolved in the egg whites. You can test this by placing a drop on your finger tips and rubbing them together. The mixture should be completely smooth.
Immediately place the mixing bowl on your stand. Using the wire whisk attachment, beat the eggs white on low for 2 minutes than increase to medium high.
Beat for another 5 minutes. At this point, your frosting should have turned white and the body of the meringue starts to form. Increase the mixing speed to high. It will start to look glossy as the peaks begin to form. Beat for another 3-5 minutes until the bottom of your bowl is cool to the touch and your meringue has stiff peaks.
Turn your mixer down to medium-low. Slowly add your butter, 1 tbsp at a time. As you add more butter, the frosting might appear to have curdled and lost its body, that's ok. Scrape down the sides of the bowl.
Switch to the paddle attachment, add the vanilla extract and continue beating on medium-high speed until your frosting start to have stiff peaks. Beat for about 3-5 minutes.
Notes
Original frosting recipe adapted from Martha Stewart.
The utensils have to be grease-free, wipe down your bowls, whisks, and spatulas with vinegar or lemon juice prior to starting
Use a candy thermometer for the most accurate temperature.
Always use unsalted butter! This allows you to control how much salt is in your frosting.
To tint the buttercream, slowly add the color gel and beat with a paddle attachment, or fold it in with a spatula until completely incorporated.
Flavor variations:

This can easily be flavored with any type of extract vanilla bean, peppermint, almond, lemon, etc. Start with ½-1 teaspoon at a time. Lemon, lime, or orange zest is a great way to add a more intense flavor.
See the full tutorial for my chocolate Swiss meringue buttercream for a chocolate variation.
Strawberry or blackberry purees can be added for natural flavoring.
Category:

Frosting

Method:

Stovetop

Cuisine:

American
Keywords: easy buttercream frosting, swiss buttercream, meringue frosting
More Easy Frosting Recipes