This post may contain affiliate sales links. Please see my full disclosure policy for details
Tangy Lemon Raspberry Cake is a moist lemon cake loaded with fresh tangy raspberries. In between each layer of cake is mascarpone whipped cream and a lemon curd. It's the perfect balance are sweetness with the tart raspberries and lemons. This cake is so refreshing, and you'll savor every bite.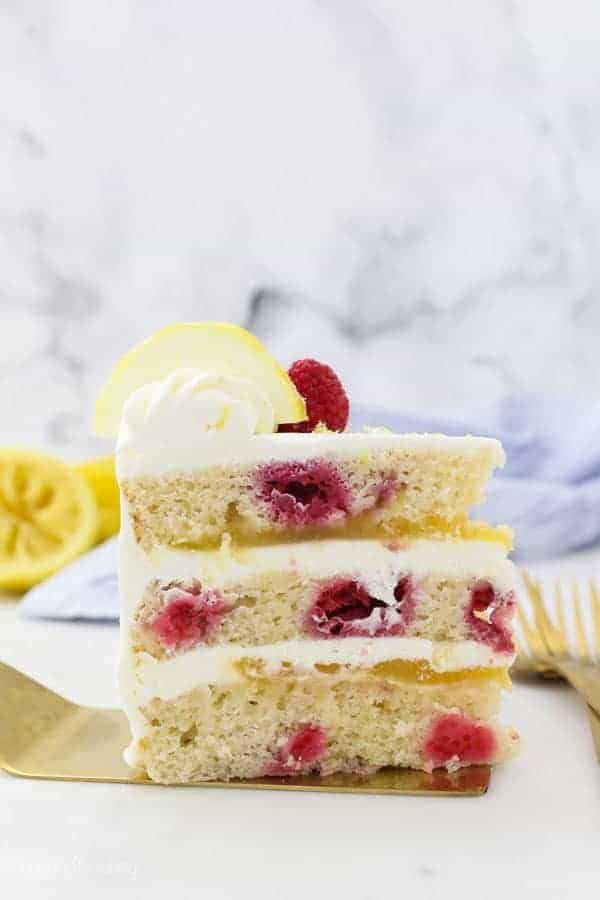 One of my favorite combinations is lemon and fruit. I am not one to wait to wait until summer to enjoy a lemon dessert, especially if there's cake involved.
This Lemon Raspberry Cake is made with my spongy lemon buttermilk cake and it's loaded with fresh raspberries, layers of mascarpone whipped cream and tangy lemon curd.
I've used this same lemon cake recipe to make lemon cupcakes, poke cakes and several other layer cakes. It's makes a really moist cake that's a little bit denser, making it great for stacking.
The lemon flavor in the cake comes from a combination of lemon zest, lemon extract and lemon juice. It complimented with buttermilk. A good zester will go really far. This recipe calls for 2 lemons, zested and juiced. So, zest your lemons first then slice and juice them to get ¼ cup of lemon juice called for in the recipe.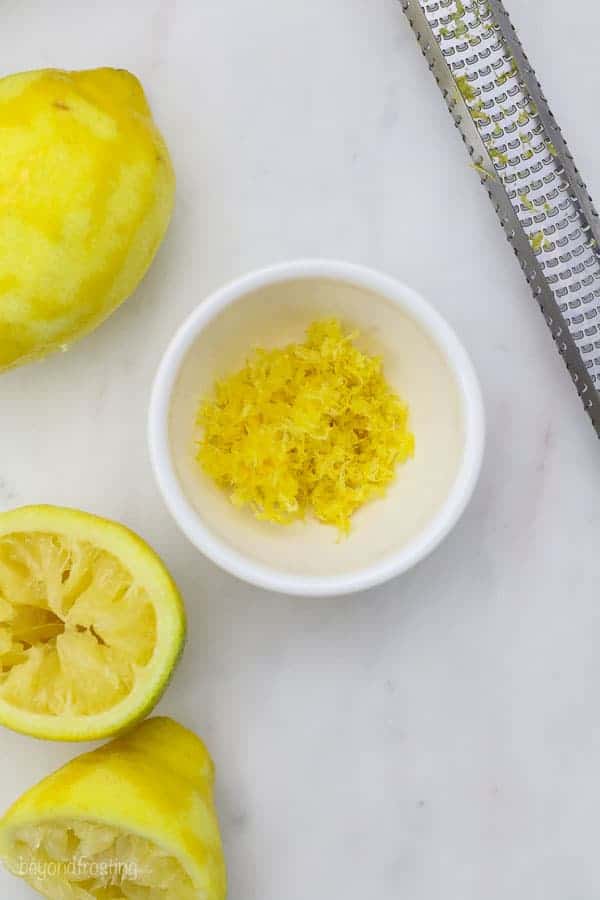 Adding the lemon curd really adds that punch of tangy lemon, but some have preferred a more subtle taste, in which case you can omit it all together.
If you don't love raspberries, I've also made this as a lemon blueberry cake and lemon blackberry cake as well. You really can't go wrong with any of these options.
You'll fall in love with this cake after the first bite.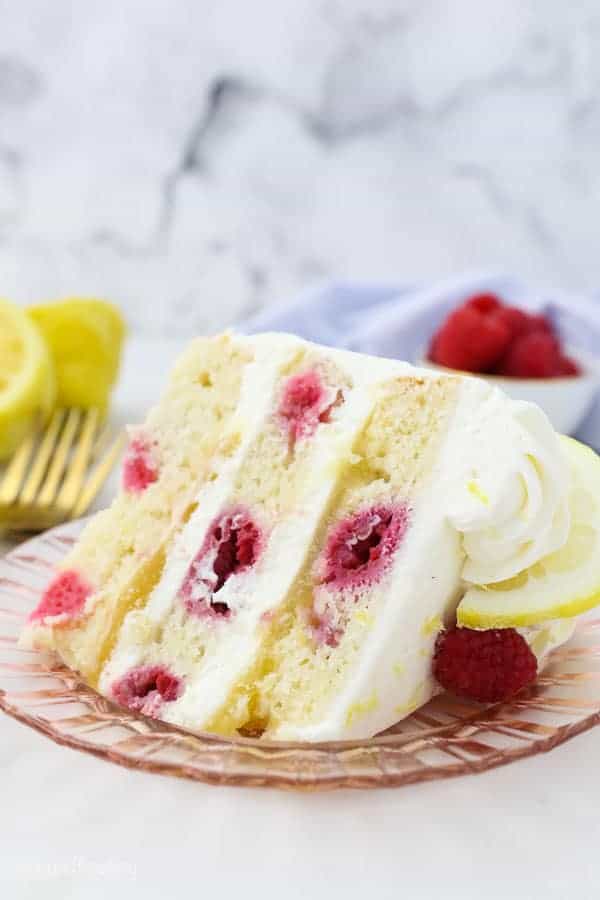 Mascarpone whipped cream frosting
This frosting is such a gift. It's a thicker like a mousse and more stable whipped cream. It's so perfect because it's not overly sweet like a frosting so it doesn't overpower the layers in the cake.
I have a whole tutorial specifically for the mascarpone whipped cream including a step-by-step video and detailed instructions. Starting with very cold ingredients will definitely help you if you've never made this frosting before.
I recommend placing a metal mixer and the whisk in the freezer for 5-10 minutes prior to starting. Also keeping your ingredients refrigerated up until you're ready to use them.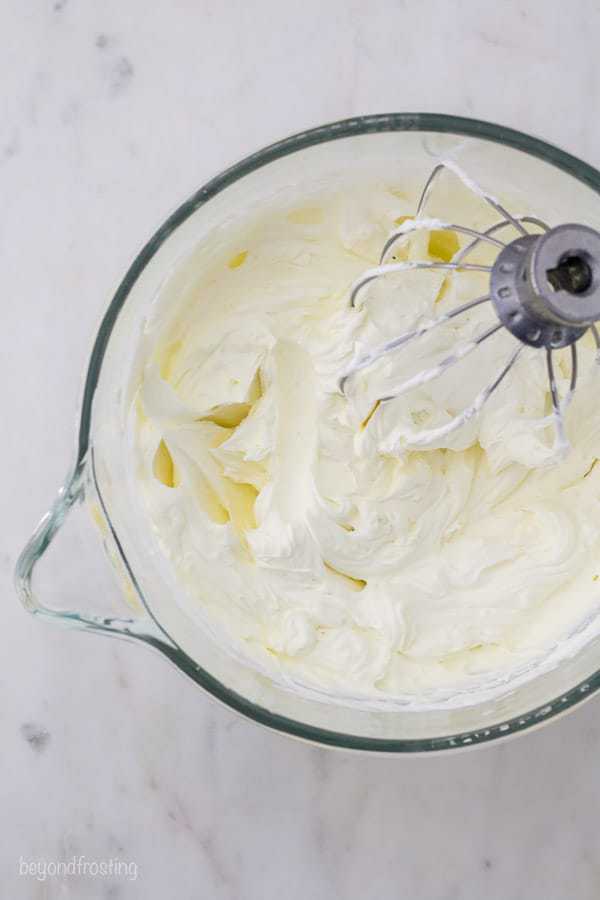 Even though it's a stable whipped cream, it's still a whipped cream. So, try your best not to handle it too much. Use it right away and keep your bowl in the fridge when you're not working with it. Do not plan on making this ahead of time, you should prepare and use it right away for the best results.
If you find that your frosting is wilting too quickly, it's likely that you did not whip it longer enough. You can try and continue mixing it again and maybe adding a touch more powdered sugar.
Helpful tips to bake this cake
Toss the berries in flour prior to adding to the batter. This helps absorb some of the moister and hold them in place in the batter.
For the layers of cake, I use three 8-inch baking pans. The cake makes about 5 ½ cups of batter, so approximately 1 2/3 cups of batter per pan.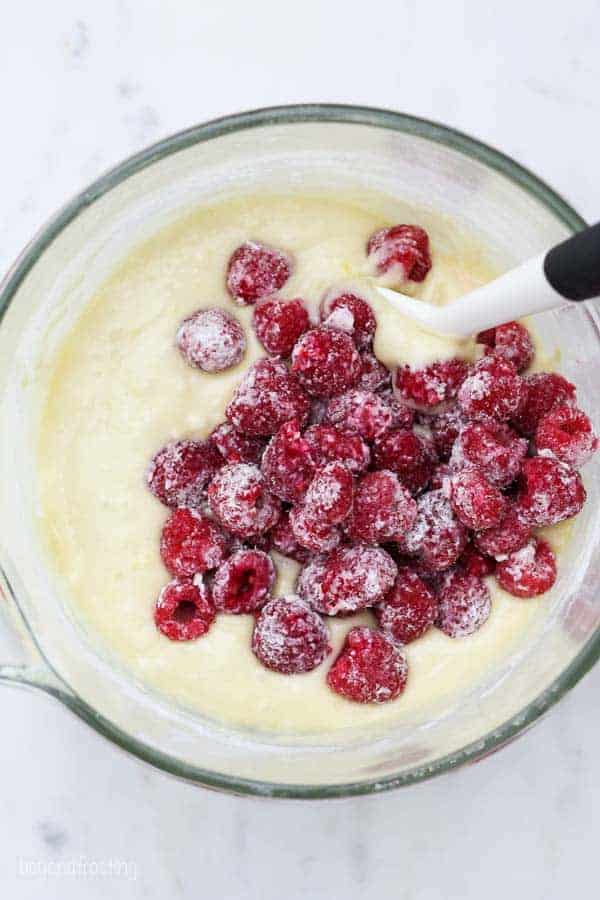 The cake layers may not bake evenly, but that's okay. You'll want to torte them so they're nice and even. I prefer to use a cake leveler since the cake is very moist, it's harder to use a knife.
It's important that you line the bottom of the pan with parchment paper or 8-inch silicone baking liners.This will ensure you can easily remove the cakes from the pan
I also like to use bake-even stripes to help my cakes bake flatter. They prevent the edges of the cake from baking too quickly which forces the batter of the cake in the middle to pool up and dome.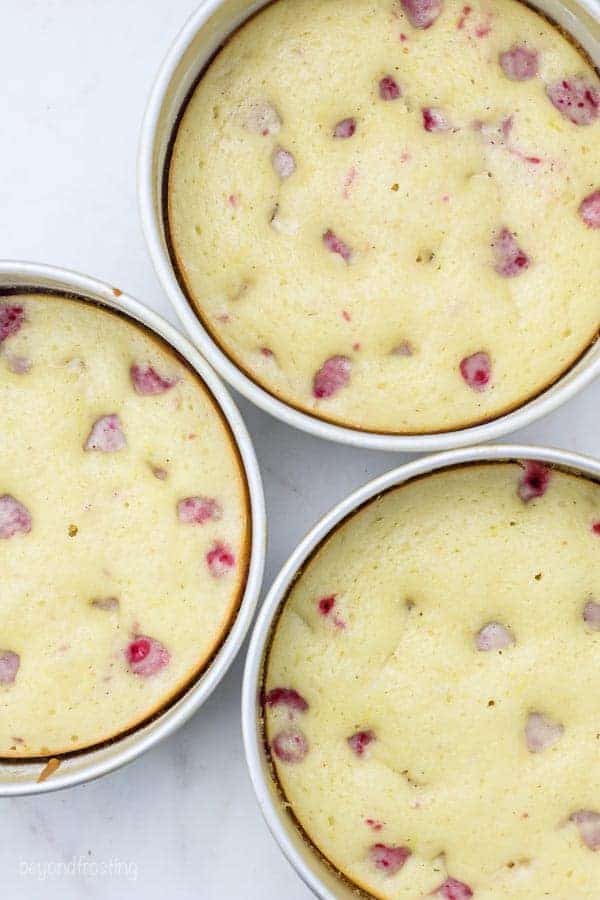 Building the layers
If your layers are not all the same thickness, place your thickest and flattest layer on the bottom.
First, I pipe a layer of the mascarpone whipped cream and I used my angled spatula to make sure it's nice and even. Using a piping bag helps to ensure an even distribution of frosting.
Then spread a layer of lemon curd (about half the jar). Don't spread the lemon curd all the way to the edges.
Add the next layer of cake on top, and press it into layer below. Try your best to place it centered. Getting down on eye level with your cake and taking a look to make sure it's not tilting one way or the other.
Invert your top layer, so the actual bottom of the cake layer is on top, giving you a nice flat surface on the top of your cake.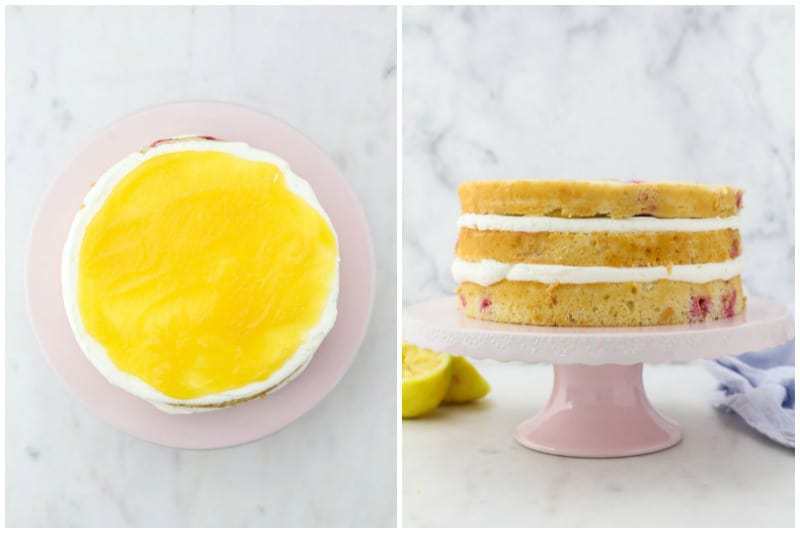 On the other versions of this cake, some have commented that their layers seem to be sliding one way or the other. This might be due to uneven cake layers, too much frosting in between the layers or the whipped cream is not stiff enough. To fix this, place 3-4 straws or dowels in your cake and refrigerate it prior to adding the final layer of frosting.
This is the perfect cake to make ahead of time since it has to be refrigerated anyway! Enjoy this Lemon Raspberry Cake for birthday, bridal or baby showers or just because you're craving cake! No excuse needed.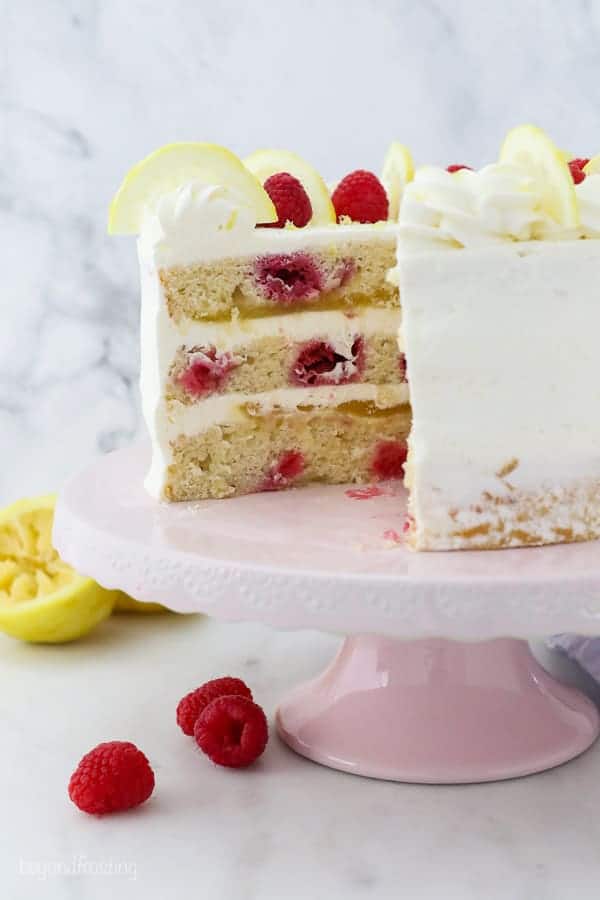 Follow Beyond Frosting:
Facebook | Twitter | Pinterest | Instagram
Print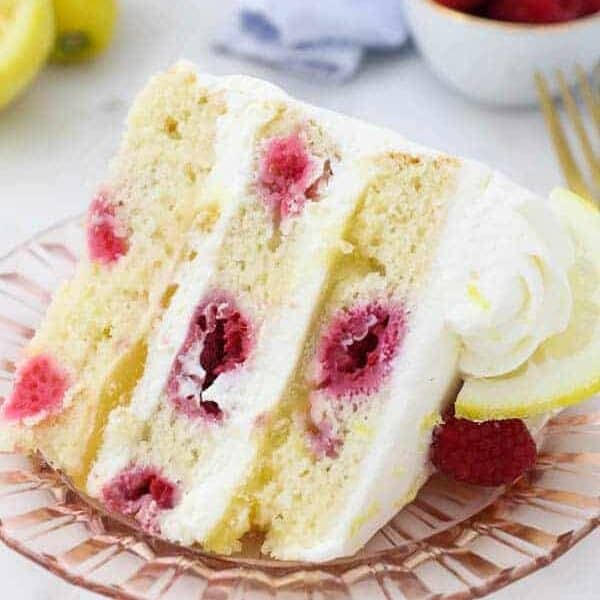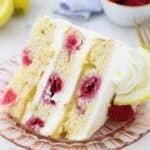 Lemon Raspberry Layer Cake
Author:

Prep Time:

30 minutes

Cook Time:

23 minutes

Total Time:

53 minutes

Yield:

10-12 slices
Description
Tangy Lemon Raspberry Cake is a moist lemon cake loaded with fresh tangy raspberries. In between each layer of cake is mascarpone whipped cream and a lemon curd. It's the perfect balance are sweetness with the tart raspberries and lemons. This cake is so refreshing, and you'll savor every bite.
Ingredients
For the cake:
2 cups

(

380g

) granulated sugar

½ cup

(118 ml) vegetable oil

3

large eggs

2

lemons- zested and juiced (see below)

1 teaspoon

(5ml) Lemon (or vanilla) extract

½ cup

(118 ml) light sour cream

2 ½ cups

(350 g) all-purpose flour

3 teaspoons

(11.2 g) baking powder

1 teaspoon

(5 g) salt

1 cup

buttermilk (236 ml) (or milk)

1/4 cup

(59ml) fresh lemon juice

9 ounces

raspberries

2 tablespoons

(

15.6g

) all-purpose flour
For the frosting:
2 ¼ cups

(532ml) heavy whipping cream

1 cup

(

130g

) powdered sugar

1 teaspoon

(5ml) Lemon (or vanilla) extract

16 ounces

mascarpone cheese, cold

1

jar (10 ounces) Lemon Curd
Instructions
For the cake: Preheat the oven to 350°F. Prepare three 8-inch round baking pans, line the bottom with parchment paper and grease the sides. Prepare your bake even stripes if desired.
In a large mixing bowl, combine the sugar, vegetable oil, eggs, and lemon extract. Beat on medium speed until the eggs and oil are well incorporated and the batter is lighter in color, about 2 minutes. Scrape down the bowl as needed.
Next, zest 2 lemons into the batter and then juice the lemons to get 1/4 cup of lemon juice. Add the lemon zest, lemon juice and sour cream to the batter beat until well combined.
Combine the dry ingredients in a separate bowl then add half the dry ingredients to the batter, beat on low speed while pouring in half of the buttermilk and mix just until the flour starts to incorporate.
Finally add the remaining dry ingredients and remaining buttermilk and beating until all of the ingredients are well combined.
Use a spatula to scrape down the sides of the bowl and stir the batter from the bottom to the top to ensure it's well mixed.
Toss the raspberries with 2 tablespoons of flour. Then gently fold the raspberries into the batter, saving a small handful to drop on top of the cake batter.
Divide the batter evenly between the three pan, about 1 2/3 cups of batter per pan. Drop the remaining raspberries on top. Bake at 350°F for 20-23 minutes. Rotate your pans in the oven halfway through baking.
Test the cake for doneness by inserting a toothpick into the center of the cake. If the toothpick comes out clean, you cake is done. Remove from the oven and allow to cool completely.
For the frosting: Place the mixing bowl and whisk attachment in the freezer for 5 to 10 minutes to chill.
Spoon the COLD mascarpone whipped cream into your bowl and beat on a medium-low speed (speed 3 on your stand mixer). Slowly pour in the heavy cream, allowing the mascarpone cheese to turn to a liquid consistency.
Then increase the mixing speed to high (speed 8-10) and beat it until soft peaks form.
Next, add the powdered sugar and vanilla extract, beating on low until sugar is incorporated. Then continue beating at a high speed until stiff peaks form.
To assemble the cake, use a cake leveler to cut the domes off the top of the cake. Place a dollop of frosting on your cake board and place the bottom layer of cake on top of that.
Place half of the whipped cream in a large piping bag fitted with a large open round tip, or simply cut off the end of the piping bag. Pipe a layer of frosting and spread evenly. Then spread half of the lemon curd over mascarpone filling.
Add the second layer of cake and repeat the above steps using all of the remaining lemon curd. Next, add the final layer of cake on top.
Use your piping bag to fill in any gaps between your layers and to create a crumb coat. Using an offset spatula or icing smoother, wipe away the excess frosting, leaving you just enough to coat the outside of the cake. Do not mix your crumb coating frosting back into your icing if it has cake debris in it.
Proceed to frost the top and sides of the cake using your offset spatula. Once the sides of the cake are covered, use you icing smoother to remove any excess frosting. You can take the end of your offset spatula and gently place them against the sides of the cake as your rotate your cake to add a little texture.
Use remaining frosting to pipe the florets on the top of the cake using an Ateco 809 tip (large open round). Garnish with lemon slices and leftover raspberries. This cake must be refrigerated.
Notes
To substitute the sour cream use a plain non Greek yogurt. Full fat sour cream will also work
To make homemade buttermilk use 1 tablespoons of lemon juice or vinegar and then add enough milk to make 1 cup. Allow to sit for 5-10 minutes and then stir.
See my detailed tutorial of the Mascarpone Whipped Cream
Make ahead and storage instructions: Once frosted, this cake can be made up to 2 days in advance and stored in the refrigerator in an airtight container such as a cake carrier. To make the layers ahead of time, cool completely, line the top and bottom with parchment paper and tightly wrap in plastic wrap.
Sub blueberries with raspberries or blackberries
I do not recommend making the frosting in advance and storing it separately. Make the frosting and frost the cake immediately. Then store in the refrigerator.
Frozen berries: Note that I have not tested this with frozen blueberries but it should work. Frozen berries may have more moisture than fresh. Toss in the batter when frozen and do not coat in flour
Category:

Cake

Method:

Baked

Cuisine:

American
Keywords: Lemon Cake Recipe, Lemon Raspberry Cake, Lemon Dessert