This post may contain affiliate sales links. Please see my full disclosure policy for details
Nana's Sausage bread is a pizza dough stuffed with spicy sausage, ricotta, parmesan and egg filling. Serve with a warm with pizza sauce. Perfect as an appetizer, for breakfast or on game day.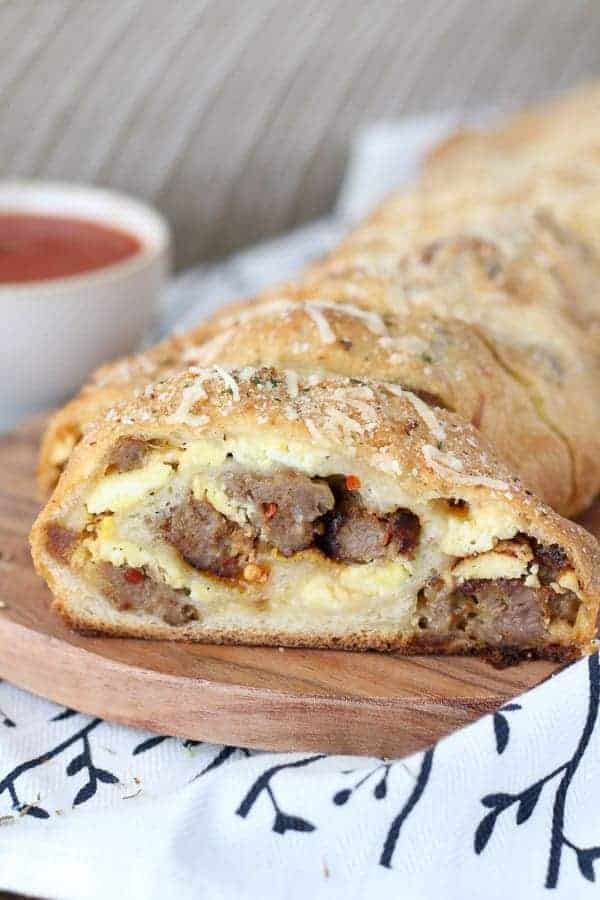 I've been wanting to share my Grandma's (Nana) Sausage Bread recipe with you for years. This was a staple in her house during the holidays when we were kids and it's also a recipe I wrote in my first "cookbook" of recipes that I took to college with me. I still use that cookbook today, it's filled with a few of my favorites.
When I texted my dad to tell him I was making the sausage bread, he told me to be sure to save some for him! It's been years since I made her sausage bread. The first time I made it on my own was one of the first Christmases I spent with my then boyfriend (now fiancé). Sausage and bread? He's on board.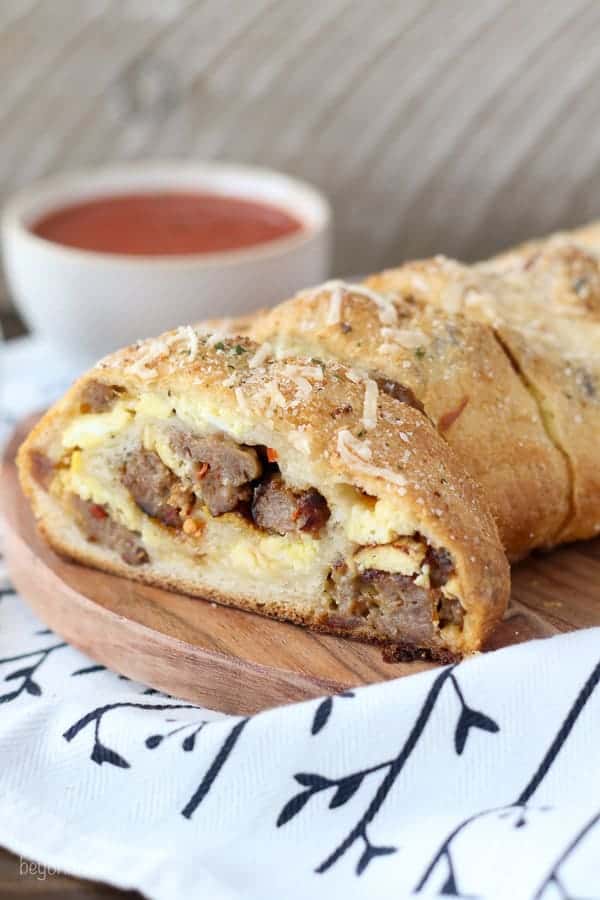 I've had to edit down Nana's original recipe because there was so much extra filling, I am certain that her recipe makes two loafs and that's way too much sausage bread for two people.
I've seen similar recipes that use a pre-made roll of French bread, which I tried as well, but I've found this recipe is much more successful when I use pre-made pizza crust because it's much easier to unroll the dough. You can certainly make homemade, but Nana always used a pre-made dough.
There are a few steps involved in making this recipe because you have to precook both the sausage and ricotta and egg filling but it all comes together in about 20 minutes and then it needs to bake. For the meat, I prefer to use a spicy ground sausage because it adds a lot more flavor than a mild sausage.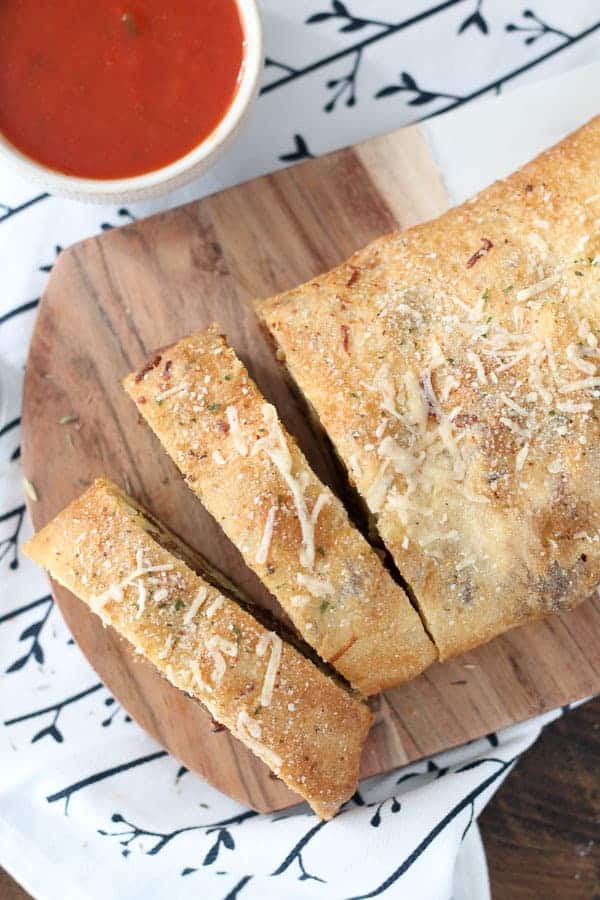 The second part of the filling is a mixture of parmesan and mozzarella cheese, eggs and ricotta which is cooked on the stovetop in a large skillet.
First, you need to cook the ricotta so that your filling isn't too watery. There's no secret here, the water will start to evaporate as it heats up. Then you'll add the eggs into the ricotta and cook it together until your eggs are fully cooked.
Finally, you'll add the shredded cheese. Nana's original recipe called for romano cheese but I decided to use parmesan instead for a different flavor.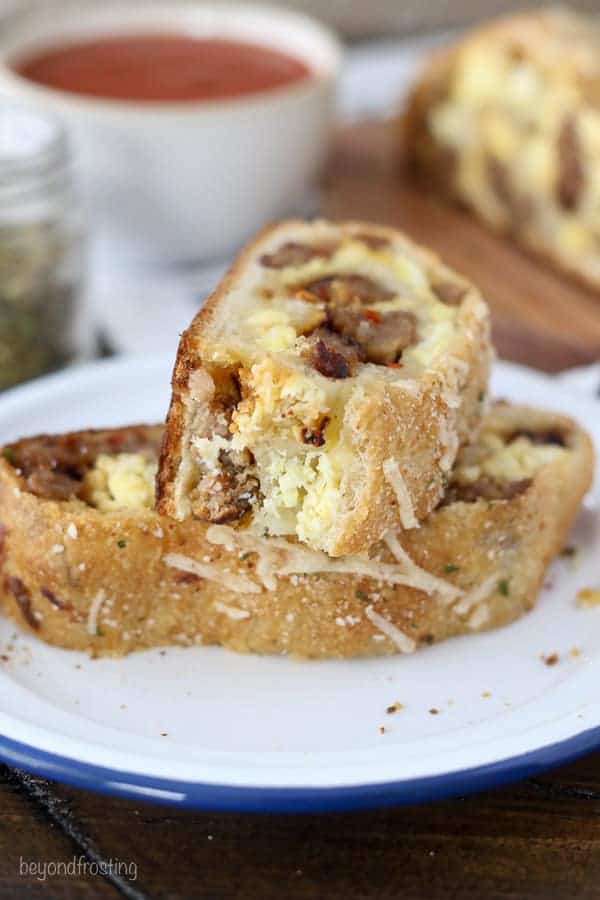 Once both of your fillings are prepared, then you roll out the pizza crust on your baking sheet. I'd suggest using parchment paper or a silicone baking mat because you won't be able to actually lift the bread up after it's rolled- it's way too heavy and you'll likely rip the dough.
You'll want to slide it onto your baking sheet, which is also much easier if you have a piece of parchment paper underneath. Ideally, this would also prevent the bottom of your bread from browning too quickly.
You might feel like you have a ton of filling but just roll with it, literally just keep rolling your dough up, and stuffing all the filling into the middle and edges of the bread. It might be a little thin on top, but it will bake up just fine.
Prior to baking, I brushed the top of the pizza dough with melted butter and sprinkled it with garlic salt. Then, right before I pulled it out of the oven, I added some more parmesan cheese. This is the perfect way to top off the sausage bread.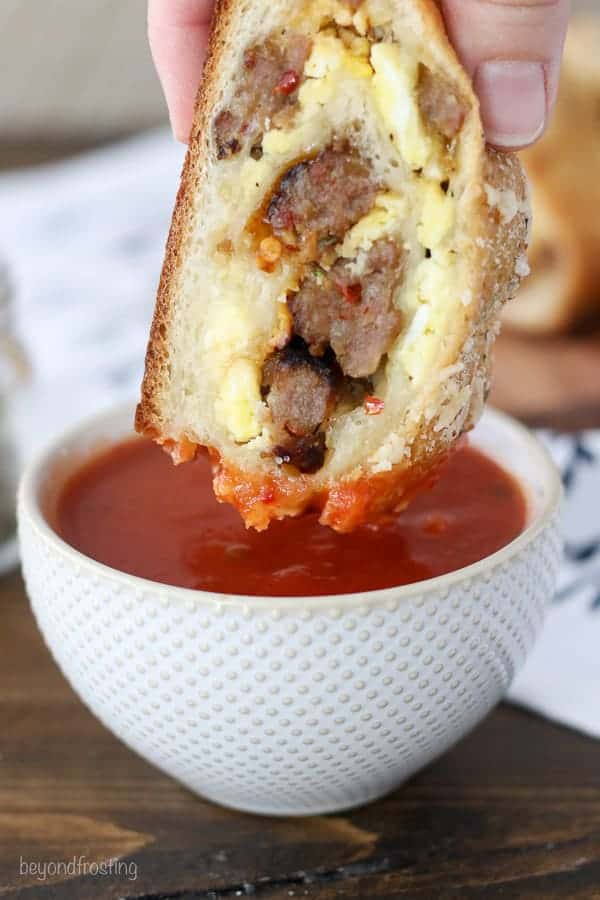 Once this is in the oven the top of the sausage bread tends to bake a little bit quicker than the middle, so I'd suggest covering it with aluminum foil as it starts to brown on top. I also suggest baking this on the middle or top rack to prevent the bottom from burning.
Once it's out of the oven you can allow it to set for 15-20 minutes but this bread is best served warm and fresh. While it doesn't need any sort of dipping sauce, you might consider serving it with some pizza or spaghetti sauce.
Nana's sausage bread will definitely be a tradition I will carry on. We lost Nana this past October and despite years of dementia, she never lost her humor or her sass.
Commonly asked questions:
What kinds of sausage should I use for sausage bread?
I think the sausage adds so much flavor to this recipe. So I used a spicy ground sausage instead of mild ground sausage. Any type of ground sausage will work though. The idea is the break apart the sausage when it's cooking so it's crumbly and can be sprinkled into the filling.
When should I serve this sausage bread?
It is best served warm. We always enjoyed this as part of a holiday brunch. However, it can be served as an appetizer, or for breakfast. It can also be a great dish to serve on game day.
How to reheat sausage bread:
It is best to reheat this bread in an oven that's been preheated to 400°F. While the oven is preheating, take your dough out of the fridge. Heat for 10-15 minutes until the filling is warm. You can cover with foil to help prevent the crust from cooking again.
Follow Beyond Frosting:
Facebook | Twitter | Pinterest | Instagram
Print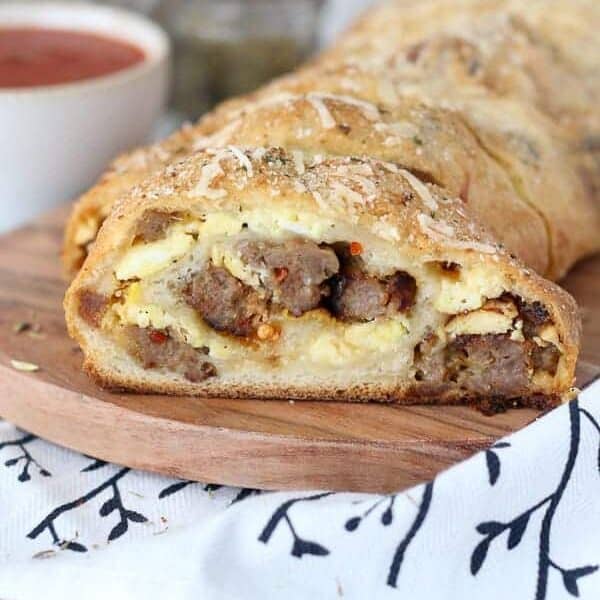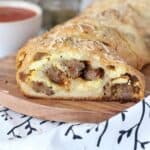 Nana's Sausage Bread
Author:

Prep Time:

20 minutes

Cook Time:

30 minutes

Total Time:

50 minutes

Yield:

12 slices
Description
Nana's Sausage bread is a pizza dough stuffed with spicy sausage, ricotta, parmesan and egg filling. Serve with a warm with pizza sauce. Perfect for parties or even breakfast!
Ingredients
1

loaf refrigerated pizza dough (

13.8oz

)

1

lb ground spicy Italian sausage

8 ounces

ricotta cheese, drained

4

large eggs, scrambled

2 cups

mozzarella cheese

½ cup

shredded parmesan cheese
Salt and Pepper

1 tablespoons

butter, melted
Garlic Salt
Instructions
Preheat the oven to 375°F.
Roll the pizza dough flat onto parchment paper or a silicone baking mat. Use a rolling pin to thin the dough out, especially near the edges. The dough should group about 1.5x the original size.
Cook the sausage in a large skillet over medium-high heat until browned and slightly crispy on the edges, chopping into smaller pieces as it cooks. Drain excess grease and set aside to cool.
Drain the ricotta and cook in a large skillet over medium-high heat, allowing the excess water to evaporate.
As the ricotta is cooking, add the scrambled eggs, mixing with the ricotta and continue heating until the eggs are cooked and season with salt and pepper.
Finally, add the mozzarella and parmesan cheese and stir until the cheese is melted. Spread the mixture over the pizza dough and then sprinkle with the cooked sausage.
Starting on the outside edge, fold the edge of the pizza dough over and start to roll the dough into a log, using your hands to keep the roll tight.
Transfer the parchment paper with the pizza dough onto a baking sheet . Brush the top of the dough with the melted butter and sprinkle with garlic salt.
Bake at 375° for 30-35 minutes. After 20 minutes, your dough will start to brown. Cover with aluminum foil. About 2-3 minutes prior to pulling out of the oven, sprinkle the top with about 1 tablespoons of parmesan cheese.
Allow to cool for 15 minutes before slicing. Serve warm. This goes great with pizza or spaghetti sauce.
Category:

Breakfast

Method:

Baked

Cuisine:

American
You might also like:
Spicy Cheddar Chorizo Cornbred Muffins