This post may contain affiliate sales links. Please see my full disclosure policy for details
This No-Bake Banana Split Pie is layers of cheesecake, banana puddings, fresh bananas, whipped cream and sprinkles. This pie is topped with sprinkles, nuts and more berries just like a banana split!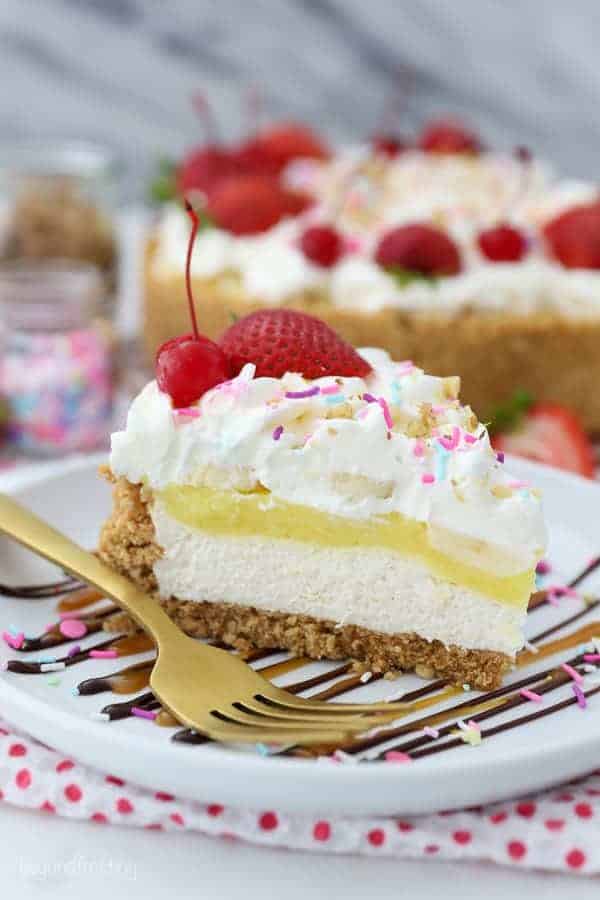 Summer is the season of no-bake desserts, and the best time to indulge yourself with a double scoop of ice cream. I've married the two together for this No-Bake Banana Split Pie.
There are a number of ways I could have prepared this dessert, but I just love the idea of a pie that doesn't require an oven.
This No-Bake Banana Split Pie is filled with a simple no-bake vanilla cheesecake with cream cheese and whipped cream. Then, there's a layer of banana pudding and fresh sliced bananas and it's topped with whipped cream.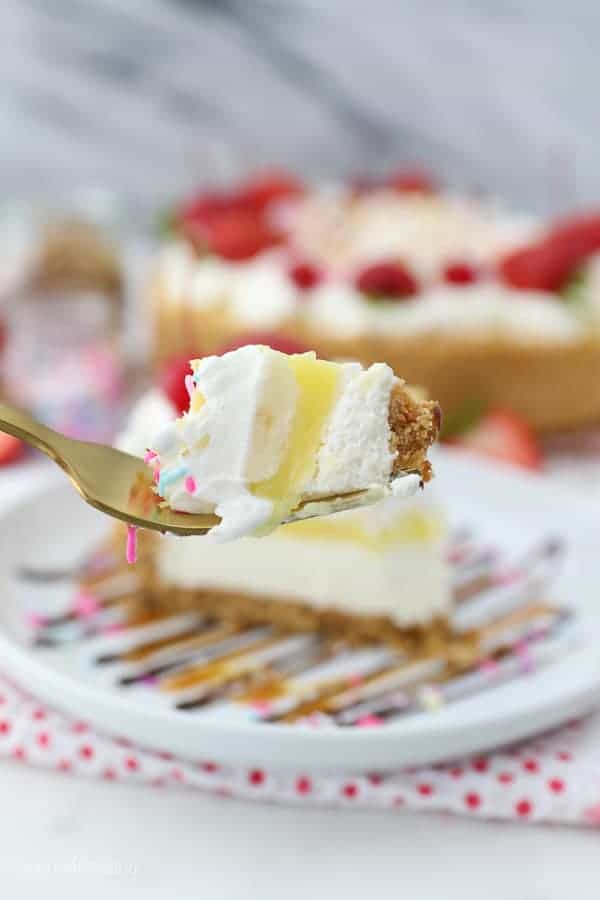 It's all about the layers here.
It has some of the best parts of a banana split, with the addition of waffle cones, which I used for the crust. That's right a WAFFLE CONE CRUST!
After making my Drumstick Cake, I knew I wanted to make more waffle cone desserts.
If you'd rather have a cookie crust or a graham cracker crust, that will work just fine. Before you begin, be sure to visit my step-by-step guide for how to make a crust in a springform pan.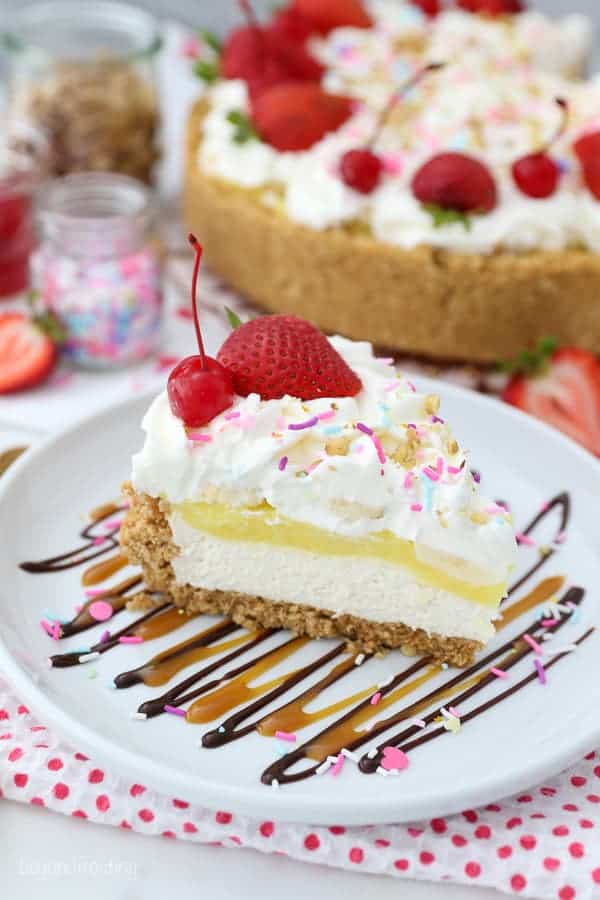 Let's talk toppings- is that not the best part of the banana split?
The possibilities are endless here. You can use fresh berries or a jar of berry toppings like strawberry or pineapple. You could also add these as layers in your banana split pie instead of putting them on top.
Maraschino cherries are optional, more for looks. Personally, I don't like to eat them, but they are so pretty!
You should most definitely include sprinkles, nuts and sauces like hot fudge or caramel.
How you decorate or serve your toppings is up to you. I'd love a "toppings bar" if I was serving this to family and friends. Serve them a slice and let them add their own toppings, or you can decorate it with your toppings like I have done here.
I do recommend adding the sauces last and prior to serving. You can drizzle over top of your slice of pie.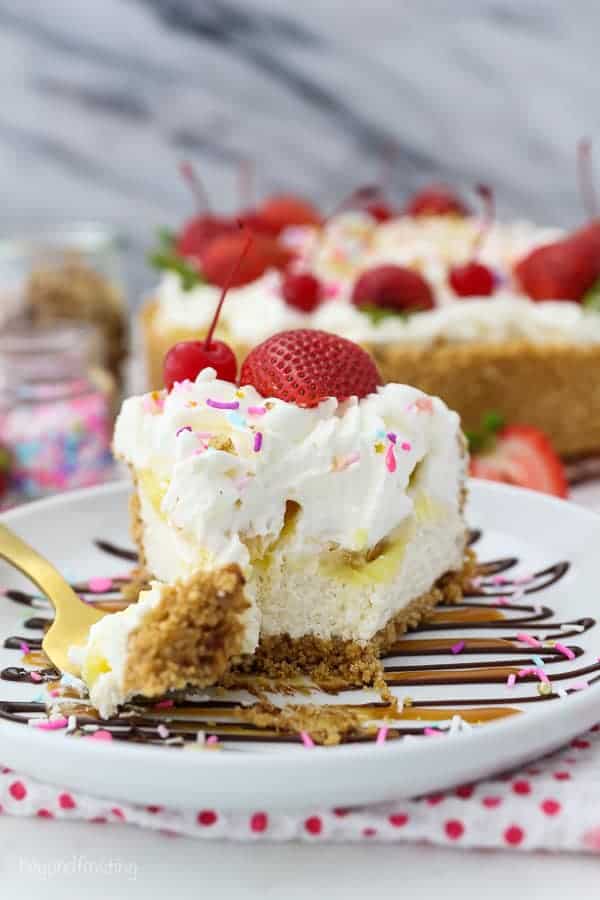 I love all the flavors that come together in the dessert, and I also love that you can customize it in so many ways- just like a banana split. You might even consider a different flavor of pudding or adding some cocoa powder to the cheesecake layer to make a chocolate cheesecake.
If you don't feel like making this in a springform pan, you can use a 9-inch square baking dish or a pie plate as well. The pie plate will make it more difficult to slice into the pie.
Is anyone else craving a No-Bake Banana Split Pie right now? Anyone?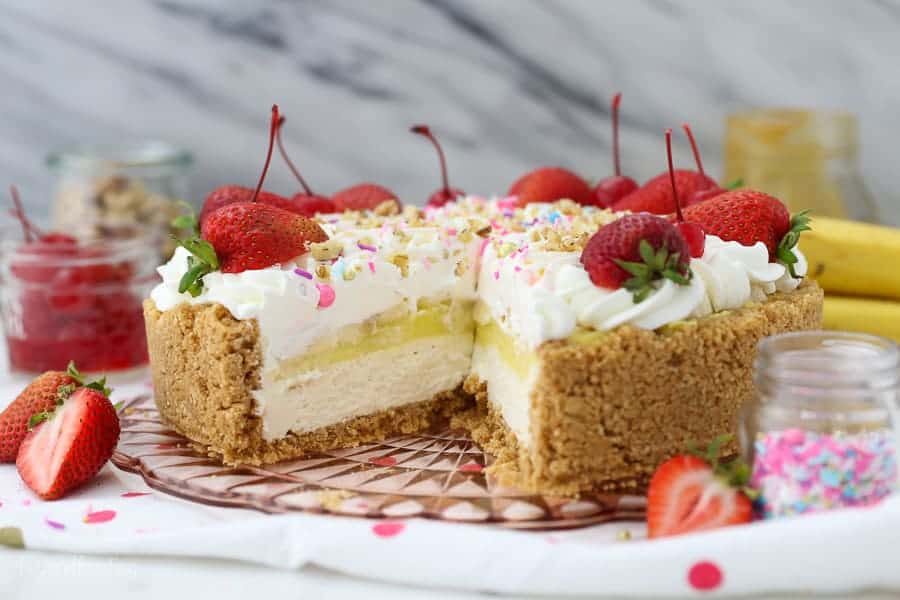 Follow Beyond Frosting:
Facebook | Twitter | Pinterest | Instagram
If you love no-bake recipes, be sure to check out my cookbook, No-Bake Treats!
More Banana Split Desserts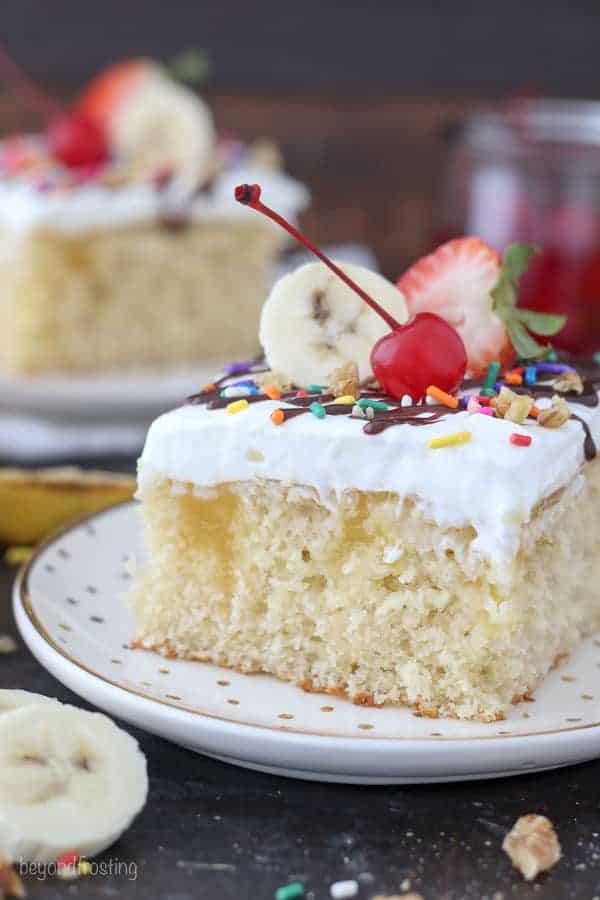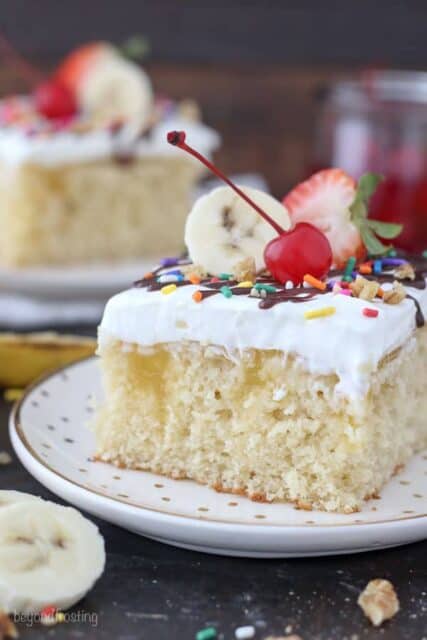 Banana Split S'mores Ice Cream Bars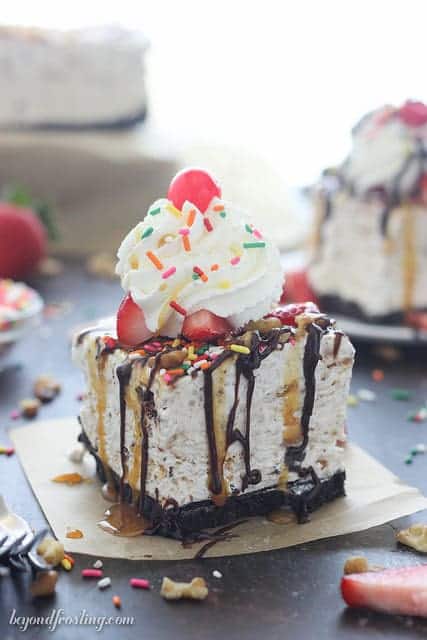 ba