This post may contain affiliate sales links. Please see my full disclosure policy for details
This Drumstick Cake Recipe is a showstopper! Layers of moist vanilla cake with fudgey chocolate ganache and chopped peanuts. It's covered in a waffle cone frosting and garnished with chocolate ganache and mini sugar cones.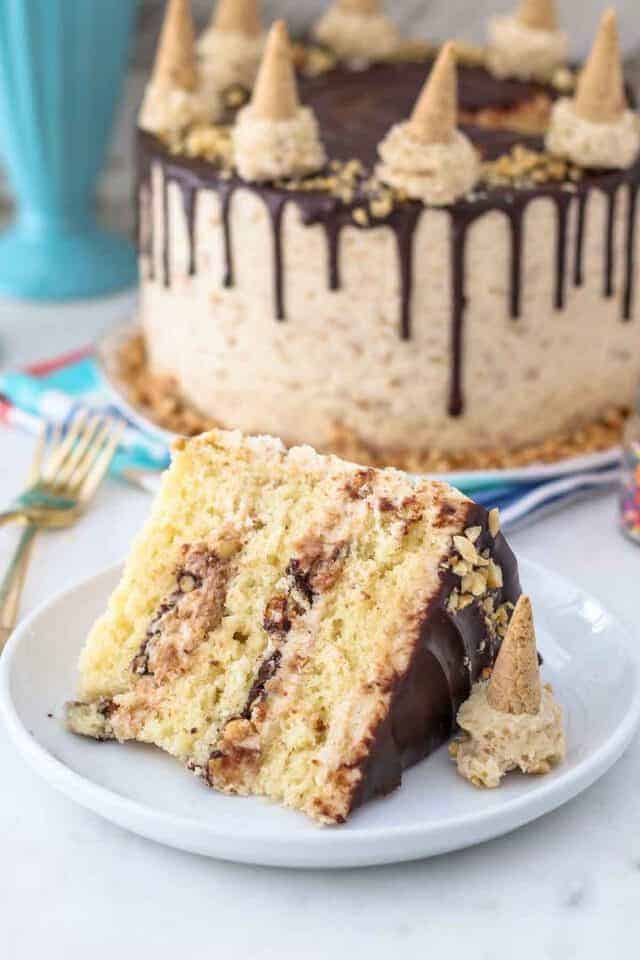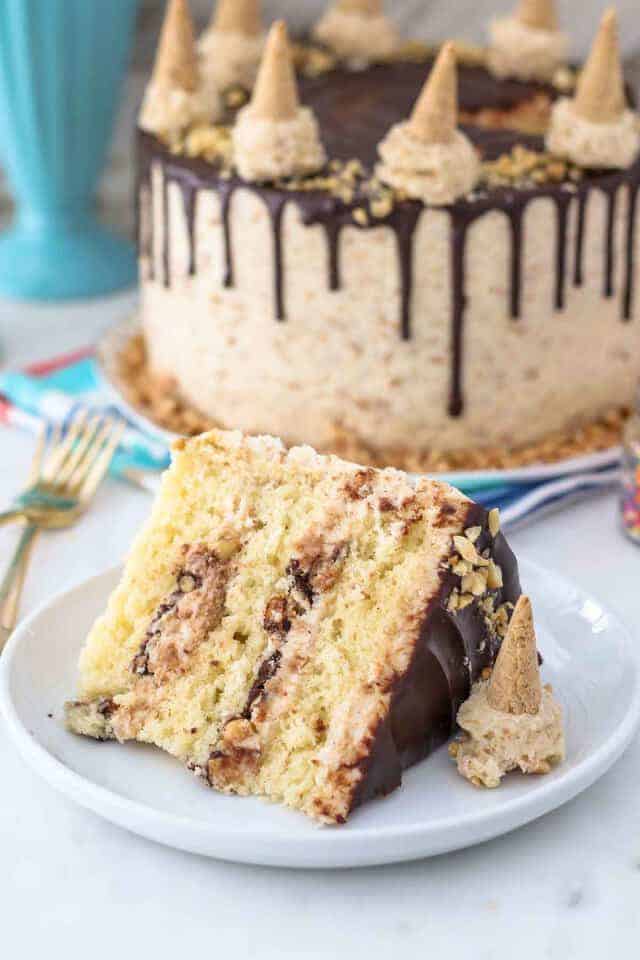 Ice cream feels like a such treat to me, and I don't partake very often, but there's something very nostalgic about.
Whenever I think about ice cream cones, I picture us sitting at the picnic table in the backyard on a hot summer evening with ice cream dripping down our sticky hands and faces.
Do ya'll remember Drumsticks? The crispy waffle cones with vanilla ice cream and covered in a chocolate shells with salty peanuts? Oh, a better yet, when you get to the bottom of the cone, there's a layer of chocolate fudge inside!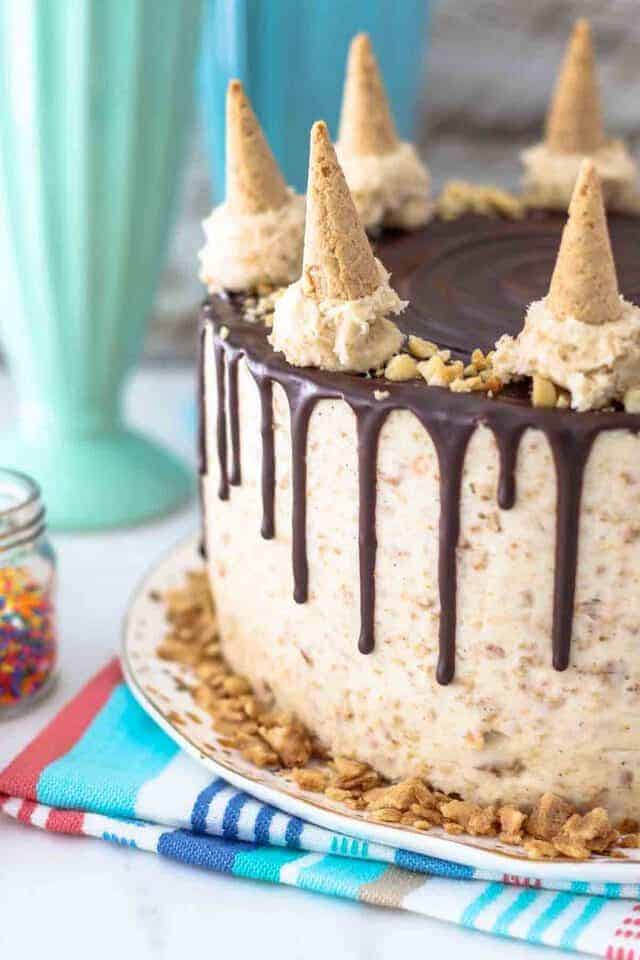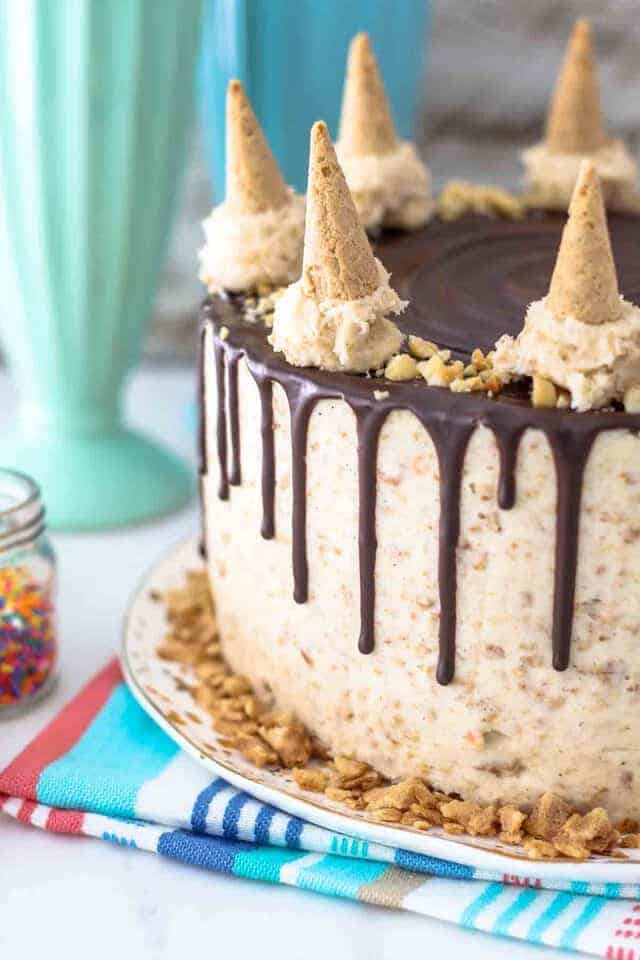 That is exactly what inspired this Drumstick Cake Recipe, and while it isn't an ice cream cake, it's filled with all the flavors you'd expect in a Drumstick.
What's in the cake? It's a moist vanilla cake with layers of chocolate ganache fudge and salty peanuts and it's covered in a waffle cone frosting. Yes, I said WAFFLE CONE FROSTING! It's finished off with chocolate ganache drizzle and more crunchy peanuts.
Those little mini ice cream cones on top are my FAVORITE part. It's made with a scoop of frosting and the bottom of part of a waffle cone.
It might seem like this cake is a bit of work, but just take it one step at a time, it's easier than you think! Let's go over it step by step.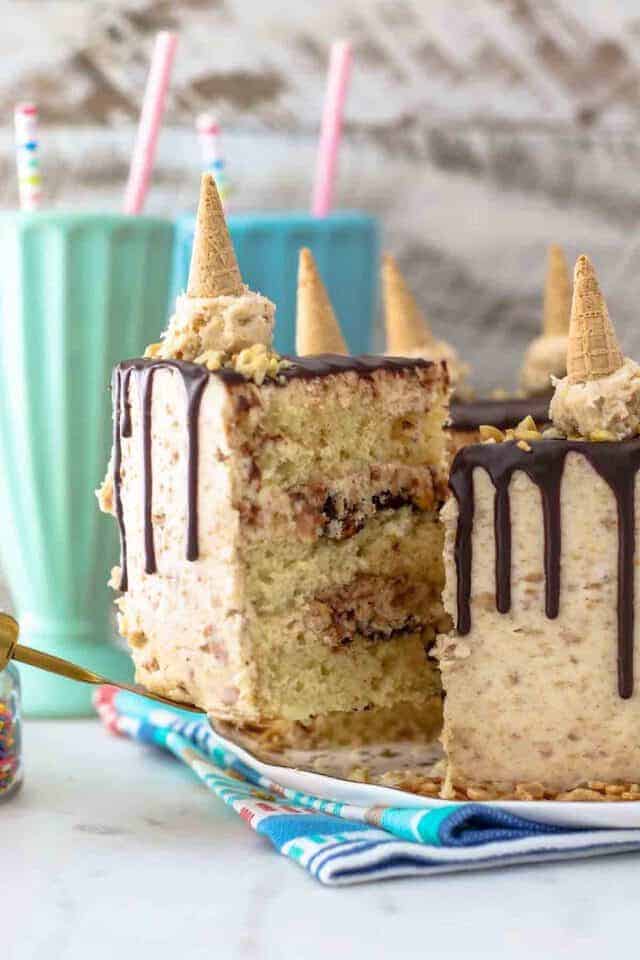 How to make the Vanilla Cake
The Moist Vanilla Layer Cake, is broken down step by step in that post. It's an easy, oil-based vanilla cake, a little bit dense and full of vanilla flavor.
The only change I made for this cake is using vanilla bean paste instead of vanilla extract and I added an extra tablespoon to amp up the vanilla flavor even more. If you don't have the vanilla bean paste, that's totally fine, a quality vanilla extract will work just as well.
This is a very stable cake and easy to handle, so it's perfect for layer cakes. Personally, I like to use bake even stripes so that my cake bakes up nice and flat on top.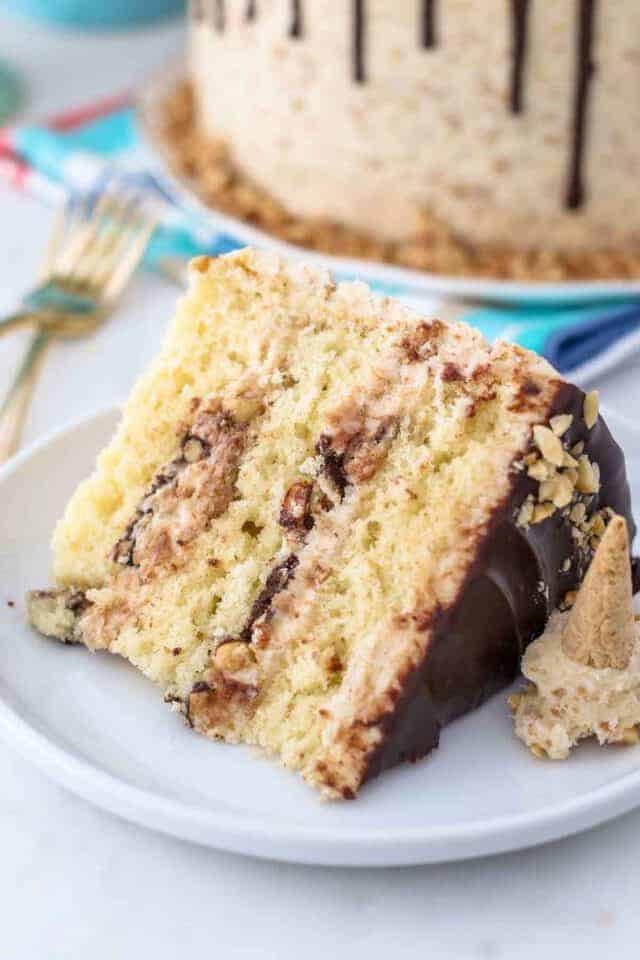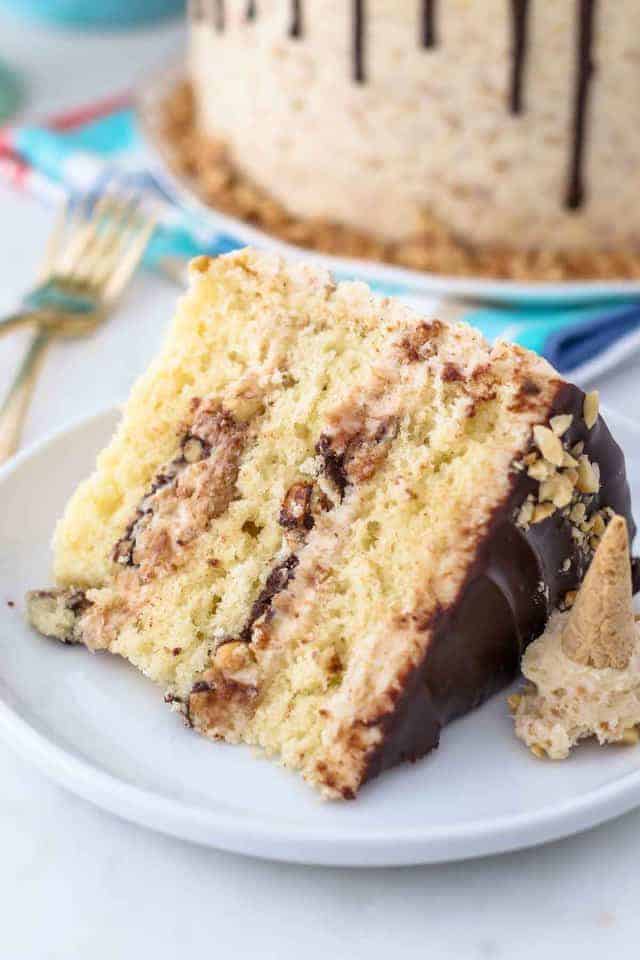 Tips for making to make the Waffle Cone Frosting
Next, let's talk about the Waffle Cone frosting. I still can't get over it. It's based on my perfect vanilla frosting but I mixed in crushed waffle cones. It's whipped and fluffy with a little bit of texture from the cones.
All my frosting recipes start with COLD butter. I am a firm believer that this makes for the best frosting because it allows you to control the consistency of your frosting.
For the waffle cones, I used true waffle cones (not sugar cones). They're not quite as sweet, and less crunchy that sugar cones. These should be grounded into a fine crumb. Initially I made the frosting a little chunkier, but those pieces get soft and chewy and that's not what we're looking for in this frosting. So be sure to use your food processor and grind the cones into a fine crumb. It will also make it easier to spread and pipe this frosting.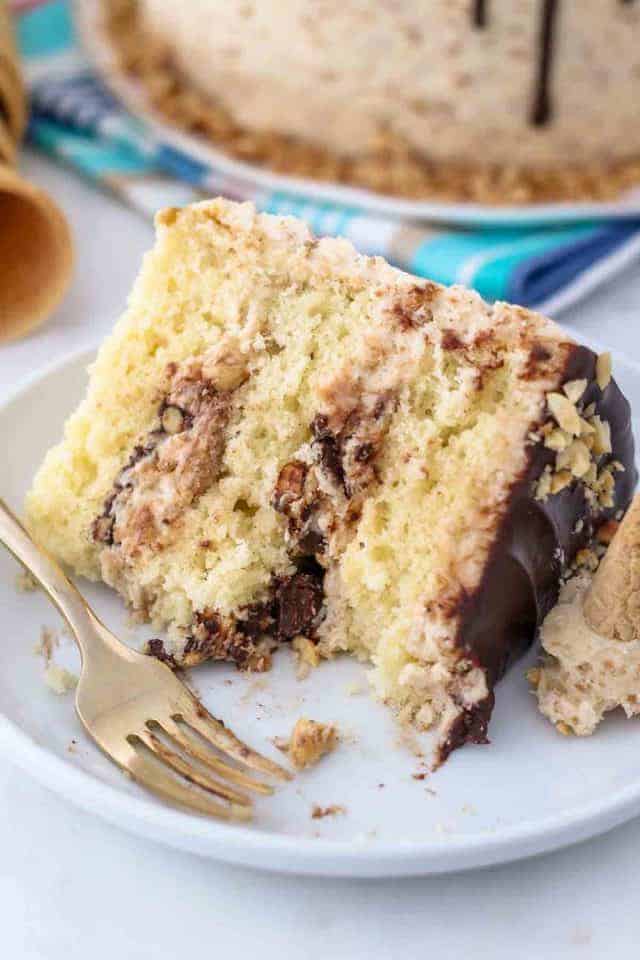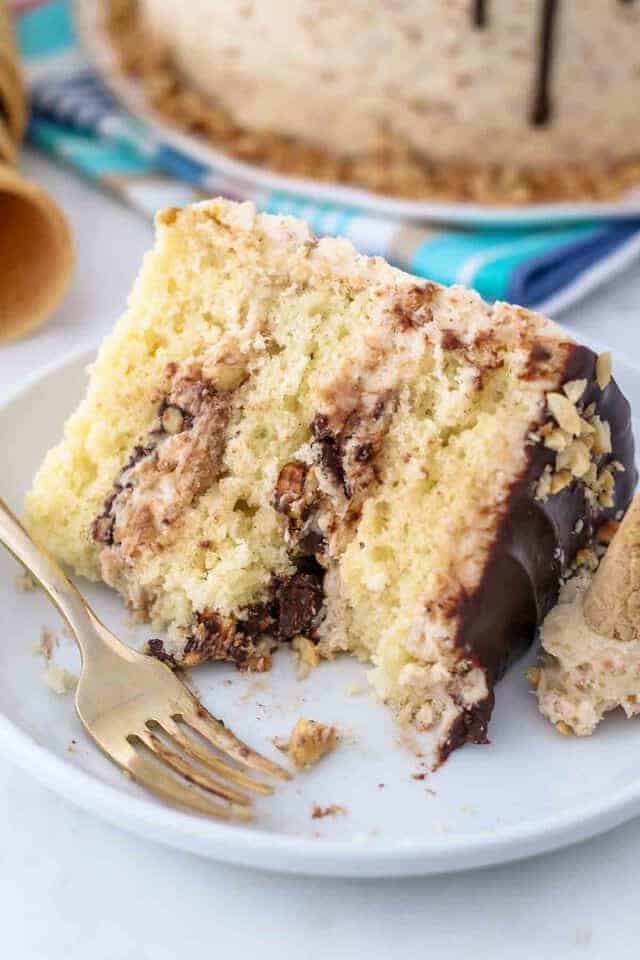 Tips for assembling this cake
Once you have the frosting and the cake prepared, it's time to assemble.
For the filling, I made a 1:1 ratio of chocolate ganache. That's 1:1 chocolate to heavy cream. At first it creates a thin chocolate-glaze like texture, but as it cools, it thickens. It goes on the cake as a liquid ganache, but once you slice into this cake the next day, it stiffens up, yet still it's still a soft enough to cut through. It reminds me of the fudge you get in the bottom of the Drumstick cone.
It's important that you pipe a thick dam of frosting around the outside edge to hold all the ganache in the middle. Then sprinkle some crushed peanuts on top of your ganache! The crunchy peanuts in the middle offer a nice texture and a hint of salt in this sweet cake.
Next, you'll add a thin layer of frosting over the ganache. You won't be able to really spread the frosting over the ganache, so that's why I recommend using a piping bag. You'll be able to use your offset spatula to gently spread the frosting on top, but don't press down too hard.
Just be sure you have a nice even surface before placing your next layer of cake on top of that. It's okay if you pick up some of ganache in your frosting as you try to even out the layers.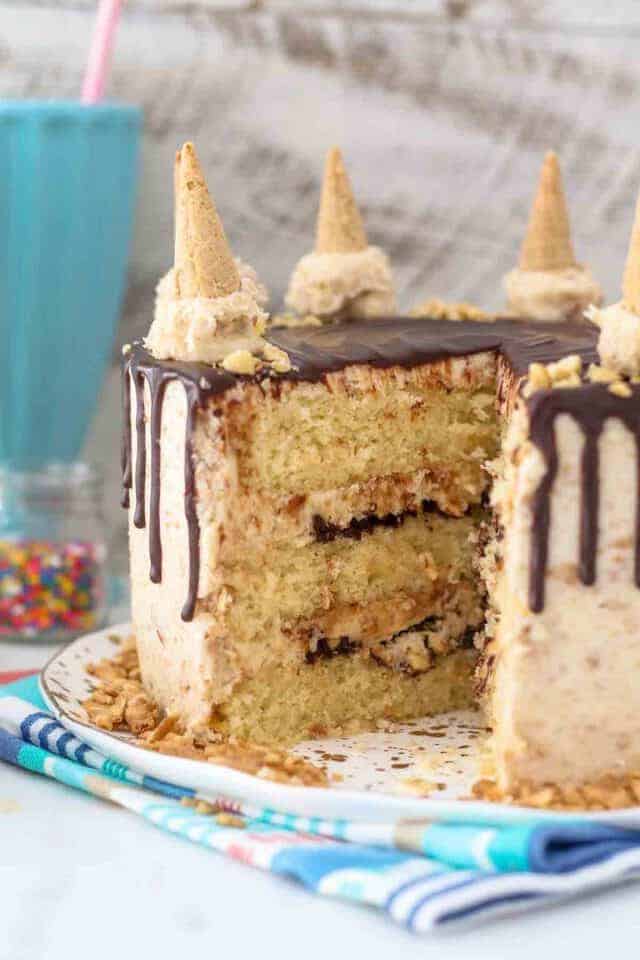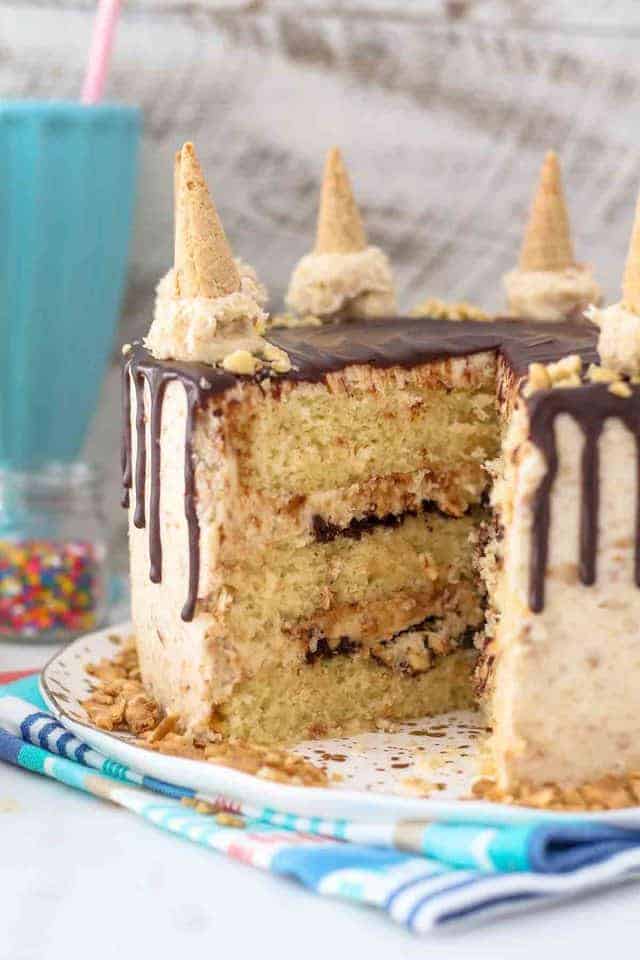 Tips for decorating the cake
Once you have a finished crumb coat, it's time to add the final layer of frosting.
My new favorite cake tool is an acrylic cake disc, which is placed on top of the cake as you're frosting and helps to achieve those nice, flat and even sides. I used a 8.25 inch size. This is also why my frosting recipes usually have a higher yield because I like a lot of frosting on my cakes.
Apply a thin layer of frosting to the top of the cake, and then place your acrylic disc centered on top. Use the disc as a guide add the frosting to the sides of the cake, and then use a cake scraper, pressed up against the sides of your cake to remove extra frosting.
Then place the cake in refrigerator for 15-20 minutes. Using a sharp knife, gently rotate your cake with the knife pressed under the disc to help remove it. Here is. Great video from Cake by Courtney on how to use this tool.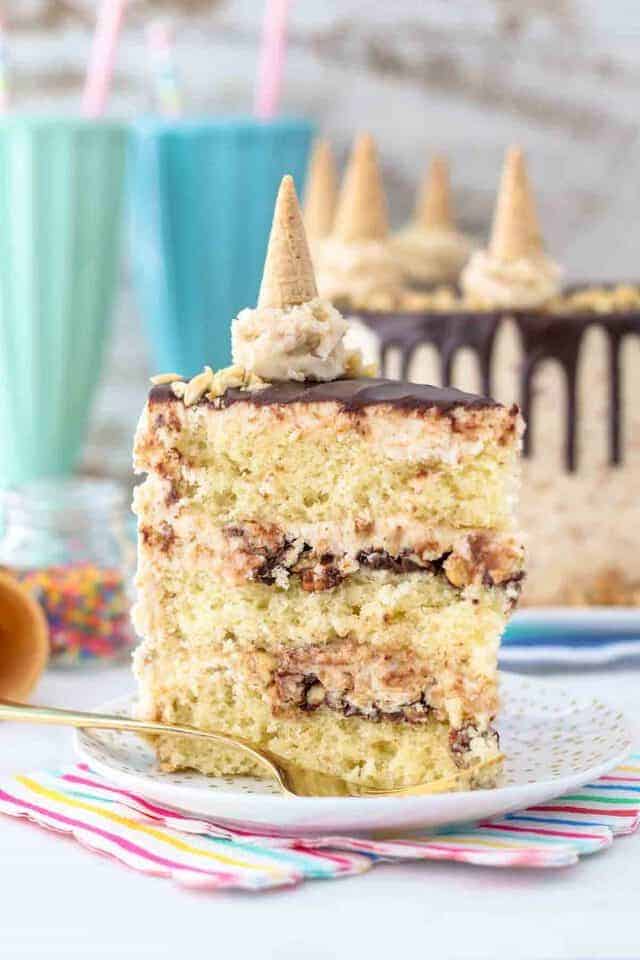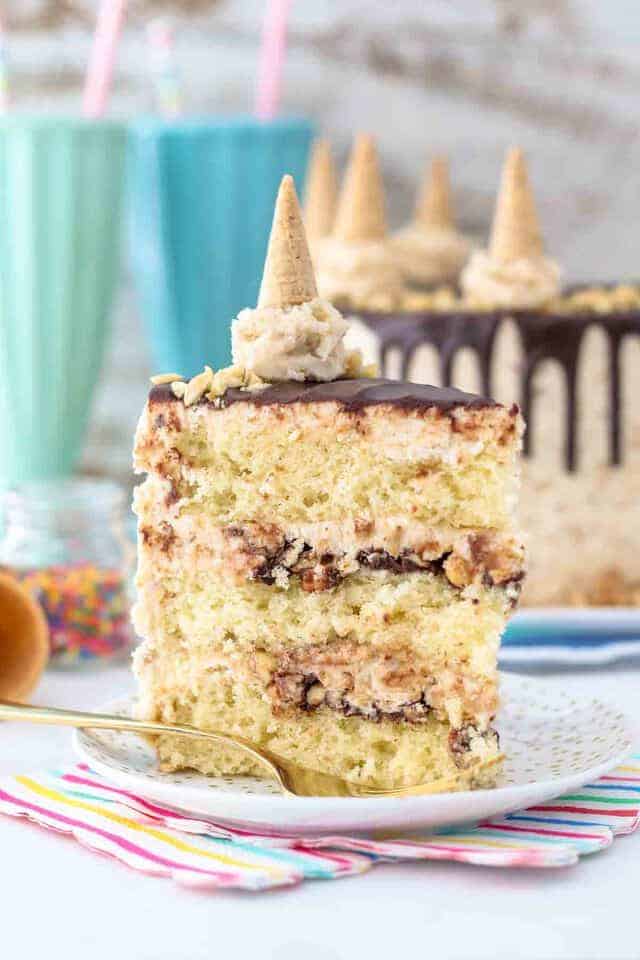 To add the final ganache glaze, you'll make a thinner ganache that you did before. It's a 3:1 heavy cream to chocolate. Your cake needs to be cold when you do the ganache drizzle because it will help stop the ganache from dripping down the sides of the cake.
The ganache should also be cooled before you apply the drip. I like to drizzle the ganache on the side of a glass to see how far it will fall down the glass, if it's too fast, the ganache is probably too hot still.
If you'd like to add the decorations, these are super easy. You'll need a box of sugar cones, your leftover frosting a small cookie scoop (about ½ tablespoon size). Use your cookie scoop and place 8 scoops of frosting on top of the ganache- be sure the ganache is completely set before adding the frosting on top.
Then use a serrated knife to cut the bottoms off the cone and place on top of the scoops of frosting. It's so adorable!
When you're ready, slice yourself a nice fat slice of this Drumstick cake, pull up a chair and a fork and get to work.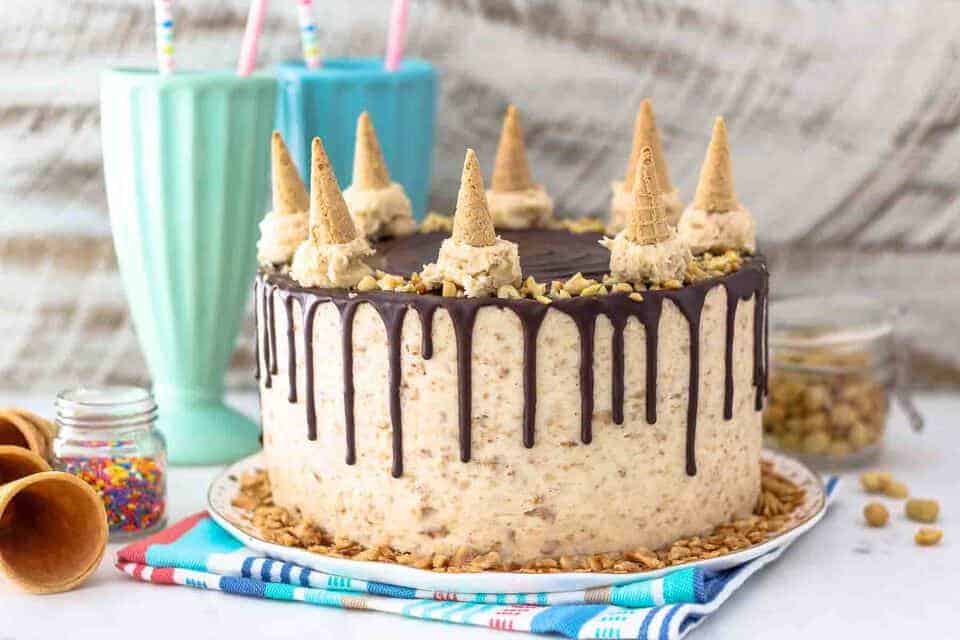 Follow Beyond Frosting:
Facebook | Twitter | Pinterest | Instagram | Bloglovin
If you love no-bake recipes, be sure to check out my cookbook, No-Bake Treats!