This post may contain affiliate sales links. Please see my full disclosure policy for details
This Peanut Butter Chocolate Mousse Pie is absolutely mouthwatering. The buttery Oreo crust is filled with a light and fluffy chocolate mousse followed by an easy, silky, peanut butter mousse.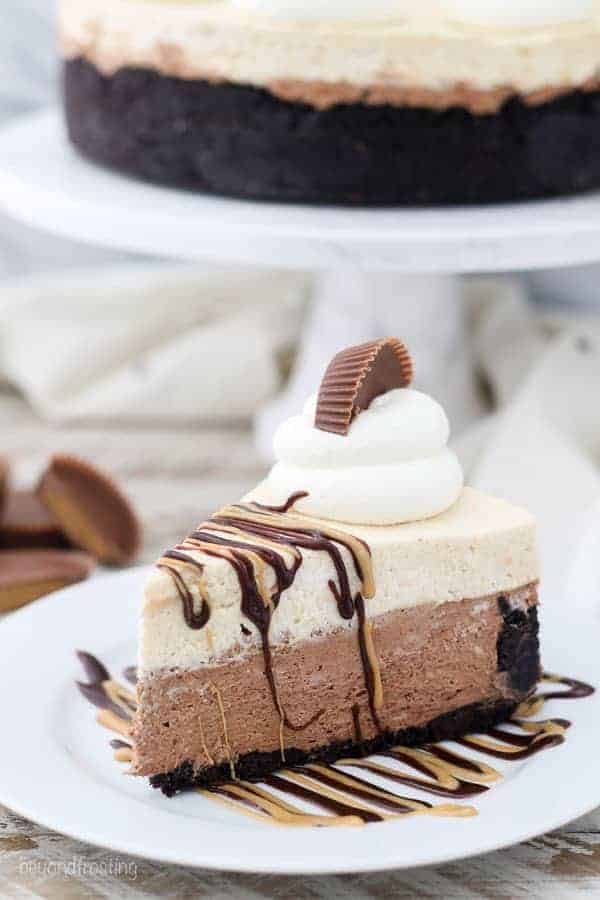 I've been thinking about this dessert for a few weeks now. I have made quite a few of these no-bake mousse pies and it was only a matter of time before a chocolate and peanut butter one came to life.
Whenever there's peanut butter, chocolate and Reese's involved, you know it's going to be good.
This double layer Peanut Butter Chocolate Mousse Pie starts with a buttery Oreo crust. It's filled with a light and fluffy chocolate mousse and layered with a mouthwatering peanut butter mousse, topped off with whipped cream and Reese's Peanut Butter Cups then drizzled with hot fudge and more peanut butter.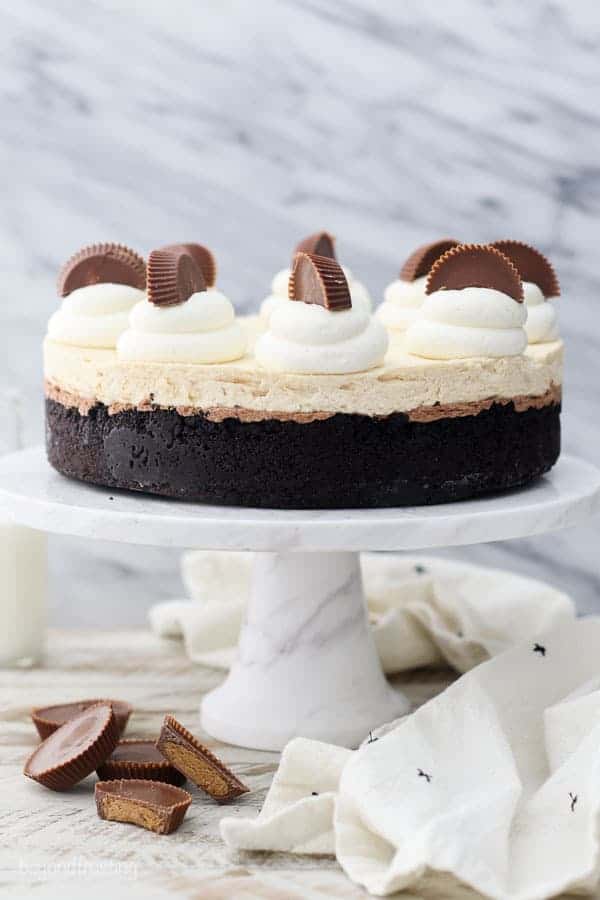 When I took my first bite, I was slightly concerned this would be super rich and sweet, like what you would expect with my No-Bake Reese's Peanut Butter Cup Cheesecake, but it wasn't that way at all.
This easy peanut butter mousse is made with cream cheese, melted Reese's Peanut Butter Chips and whipped cream, but it's super light and fluffy and just melts in your mouth because there's a high ratio of whipped cream to peanut butter chips. Don't you just love no-bake desserts?
I never worry about the chocolate mousse being too rich, there's no such thing.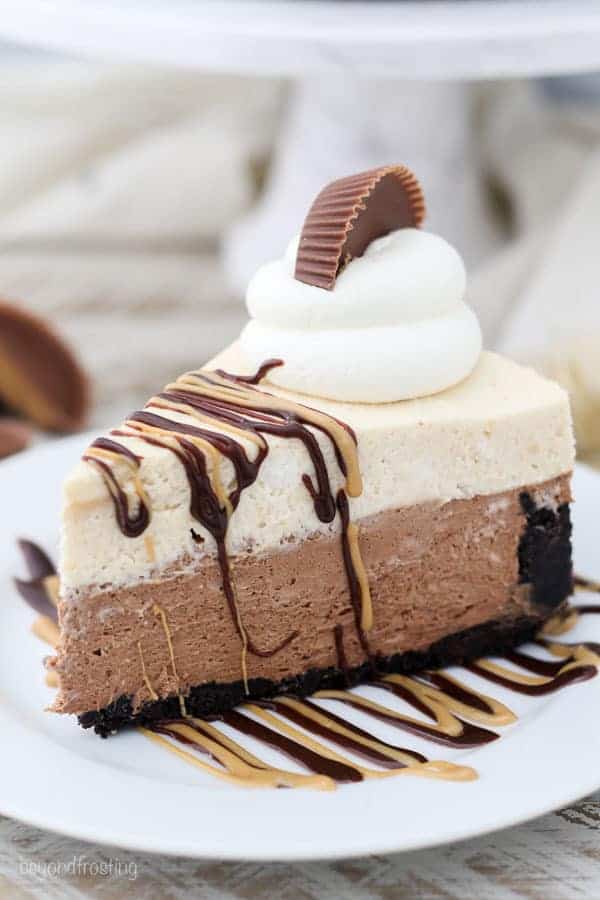 To prepare each layer of mousse, the steps are the same. First prepare the whipped cream. You can make one big batch and then split it up between each mousse, about 2 ½ cups for each. The whipped cream is thickened with powdered sugar and gelatin which helps stabilize the mousse.
Then you beat together the cream cheese with the sugar and vanilla. Again, you can prepare these together. You don't need to worry about softening the cream cheese in the microwave, you'll just beat it for a few extra minutes until it's light and fluffy, which is helpful when you combine it together with the melted chocolate.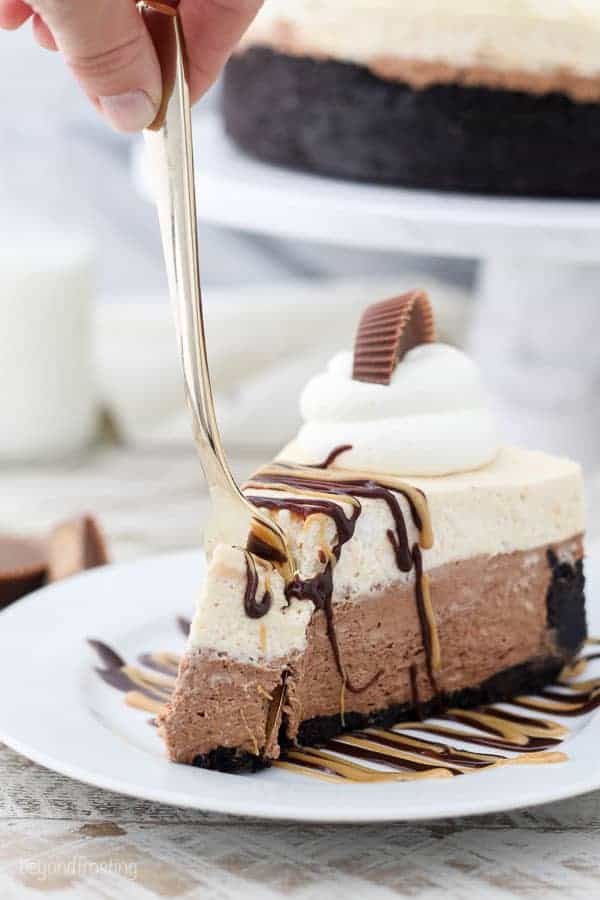 How to make the peanut butter mousse
Next, to make the peanut butter mousse, melt the Reese's Peanut Butter Chips together with 2 tablespoons of heavy whipping cream.
I recommend microwaving at 50% power to prevent it from seizing or getting too hot. Stir every 30 seconds or so until the chips are melted and smooth.
Then you stir the cream cheese together with the melted peanut butter cups and stir very well until the two are combined.
Finally, fold in about 2 ½ cups of the prepared whipped cream and mix slowly until the whipped cream is completely mixed in.
The peanut butter mousse is layered on top of the chocolate mousse. The chocolate mousse is prepared the exact same way.
Throw this baby in the fridge for a few hours and go ahead and lick the bowl clean, I sure did.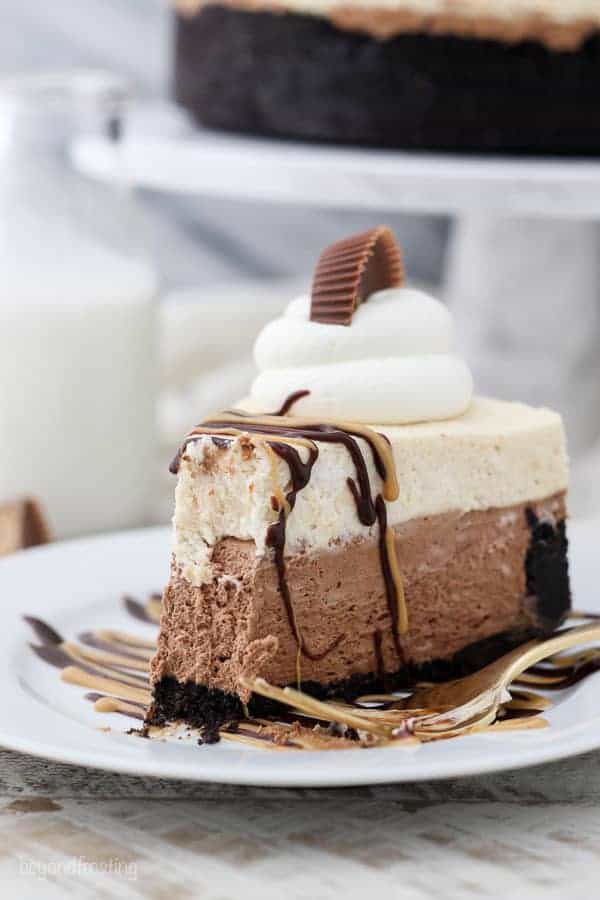 I prefer to decorate my desserts right before serving so that I can remove the sides of my springform pan. Since this is a nice and tall dessert, you might want to use parchment paper or a cake collar to line the inside edge of your pan and it makes it that much easier to remove the sides.
To garnish this peanut butter chocolate mousse pie, I topped with whipped cream, Reese's Peanut Butter Cups and drizzled it with hot fudge and melted peanut butter. You can either drizzle it over the whole pie before slicing or drizzle it over each slice like I did here.
I'd be lying if I didn't tell you I ate this slice for breakfast on Sunday, but it was so so worth it.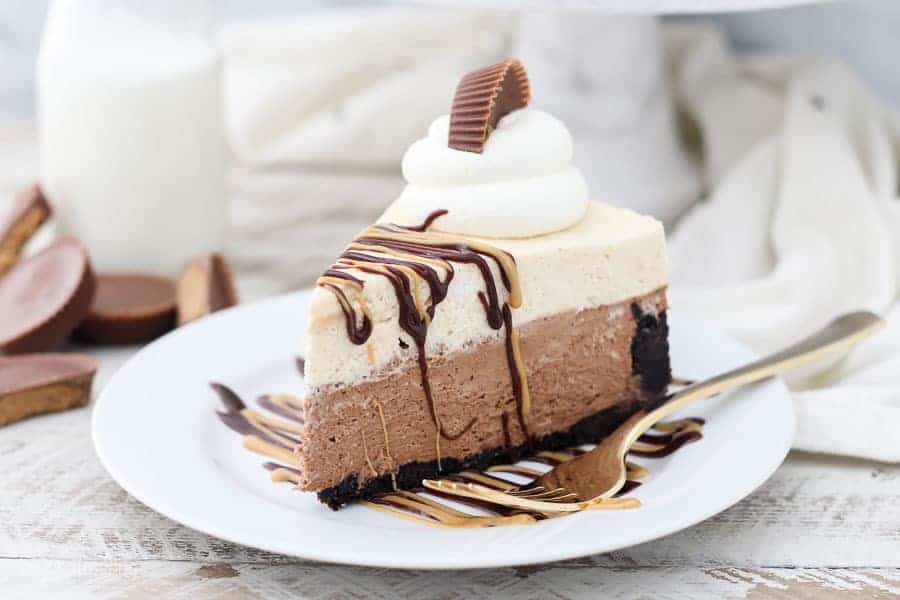 Follow Beyond Frosting:
Facebook | Twitter | Pinterest | Instagram
If you love no-bake recipes, be sure to check out my cookbook, No-Bake Treats!
You might also like: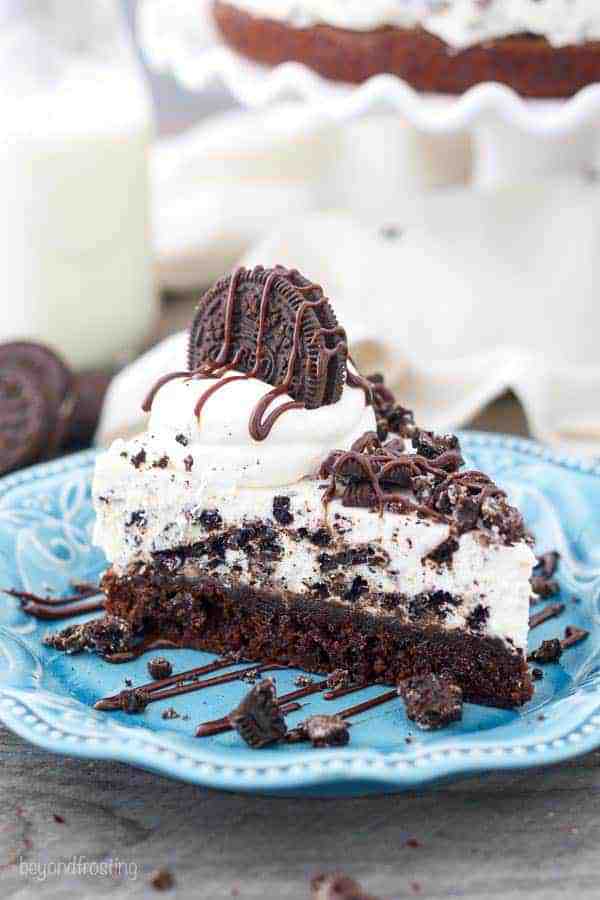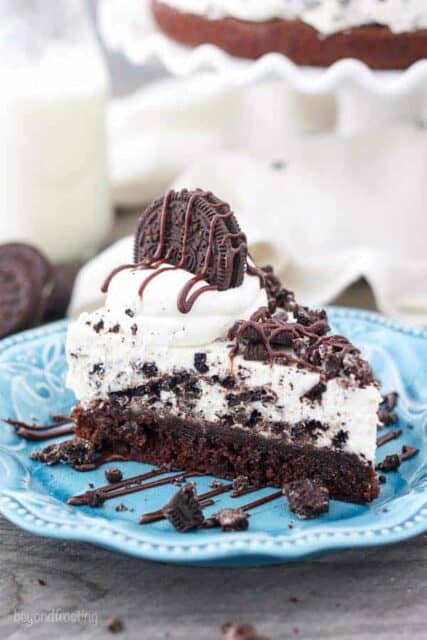 Peanut Butter Brownie Mousse Pie