This post may contain affiliate sales links. Please see my full disclosure policy for details
This homemade Chocolate Pie Recipe is made completely from scratch using a homemade dark chocolate pudding and homemade whipped cream topping. This no bake chocolate pie is perfect for holidays and sharing with friends.
If you love chocolate pie recipes as much as I do, you should also try this German Chocolate Pie Recipe and my Peanut Butter Chocolate Mousse Pie Recipe.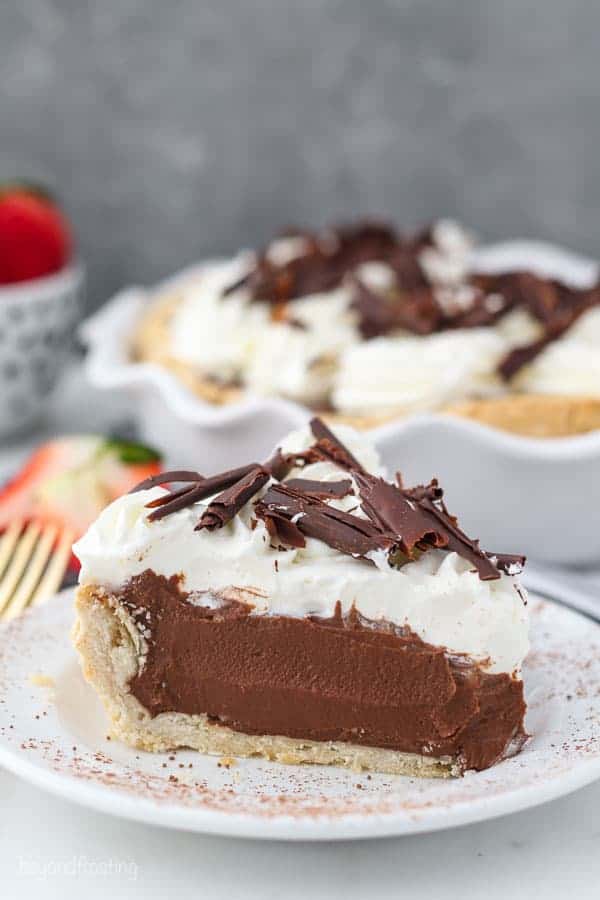 This Homemade Chocolate Pie Is One Of My Favorites
This Chocolate Pie Recipe has been a labor of love. It's a rich, dark chocolate pudding topped with whipped cream and chocolate shavings. The thick chocolate pudding just melts away in your mouth, and with a bite of the crust and the whipped cream on top- it's simply the best.
I've made quite a few homemade pudding recipes in the past, especially when I wrote my cookbook. It's a great make ahead, no-bake dessert. When I envisioned what my perfect Chocolate Pie Recipe would be, it was different than anything else I've made before.
You'll Be Surprised At How Easy This Chocolate Pie Recipe Is To Make
This chocolate pudding is made without egg yolks and without gelatin so it's SUPER easy. Only 7 basic ingredients are needed. It's cooked on the stovetop and made with dark chocolate, then poured into a blind- baked pie crust.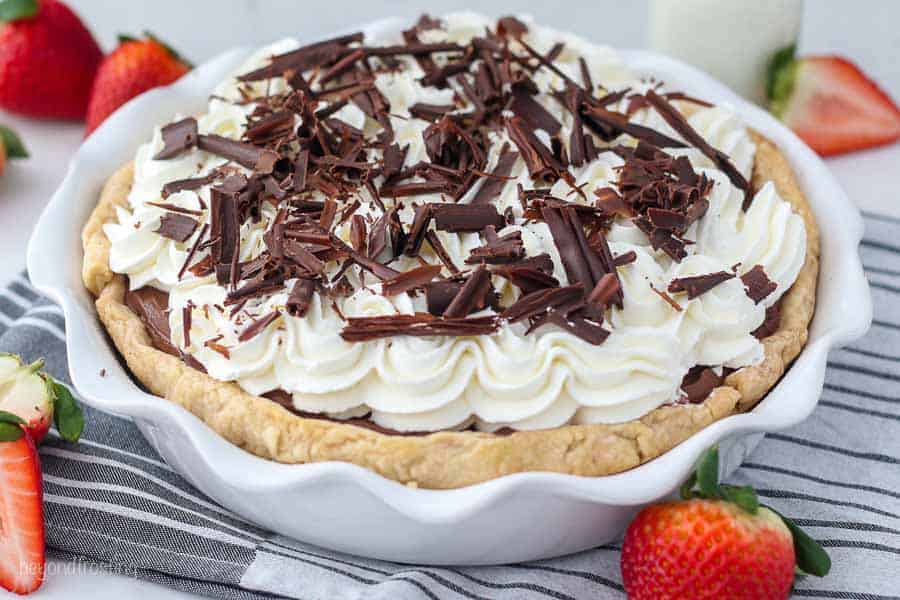 The tricky part in developing this recipe was adjusting the dry ingredients so that the pudding would be thicker and stable, but not grainy. I hate grainy pudding.
I wanted the flavor to come to life with the melted chocolate, and not to be reliant on cocoa powder for the chocolate flavor. Lastly, there also had to be enough filling to fill the pie dish to the top. No sad, half-filled pies over here!
I've lost count of how many times I made this through the past year, but I went through a similar experience with my Cabernet Chocolate Pudding as well.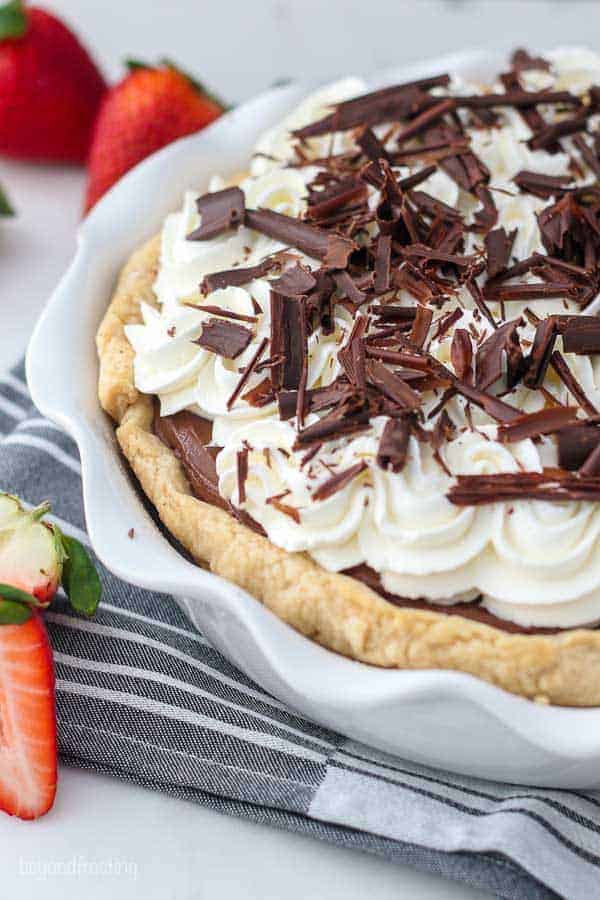 Let me tell you a brief synopsis of the events that culminated once I finally nailed the recipe and it was time to shoot it. It was less than ideal but I was determined to make it happen, tears and all.
dropped and broke my favorite teal ceramic pie plate and had to toss the first pie in the garbage
got extremely angry at Amazon for delaying the delivering of my new pie plate without proper communication
got a speeding ticket as I was rushing to Crate and Barrel late Friday night before they closed (it's not close to my house)
gracefully sprinted across the parking lot with only 2 minutes to spare, because you know I wasn't leaving empty handed after all that. Purchased 2 pie plates (just in case)
oh, and then Amazon delivered my package at 8am Saturday morning instead- which I am returning, out of principle. Someone's gotta pay for that ticket.
So anyway, I know you probably don't care but I really just wanted this Chocolate Pie to be perfect for you, which included this white ruffled edge pie plate. Food bloggers are a special breed y'all.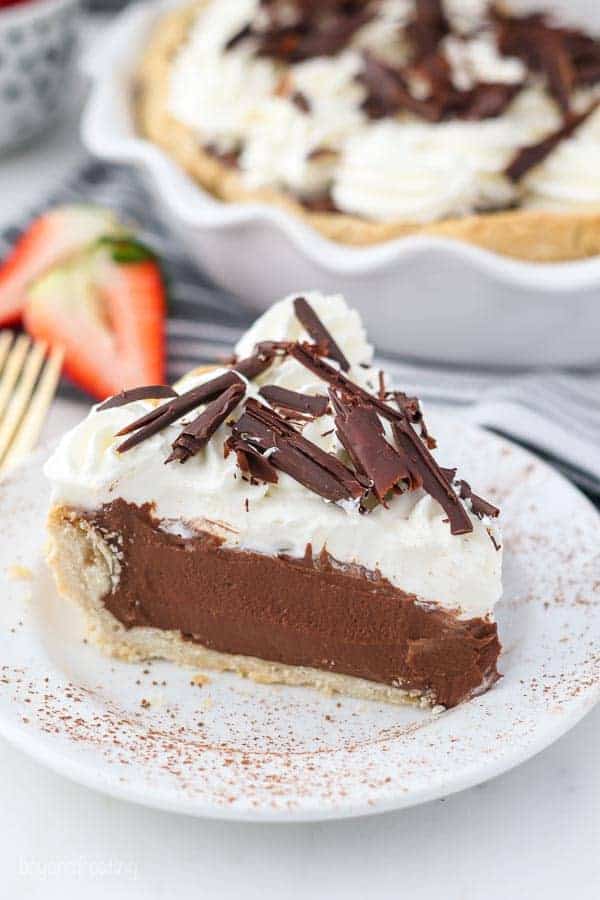 If you've never made a chocolate pie or even a homemade pudding before, don't worry. I will walk you through the step and as well as offer my tips to make the best chocolate pudding. There's no need to be intimidated!
How To Make This Homemade Chocolate Pie Recipe
You need a 9-inch pie crust, prepared and fully baked. I have a favorite pie crust recipe, but it's almost too delicate for blind baking, so I use the standard Criso pie crust instead. Crisco has a higher melting temperature, so for pies that require blind baking, it helps prevent the pie crust from shrinking as much.
To blind bake your pie, fill it with pie weights and bake at 400 degrees for 15 minutes or so, remove the pie weights and continue baking until the crust is fully cooked, another 15 or so minutes. The Pie weights help prevent the crust from shrinking
For more tips on how to blind bake a pie crust, see Sally's blog. I even use her dough stripe method and it changed the way my crusts bake!
Cool your pie crust completely before filling.
Next, we need to make the chocolate pudding. Detailed steps can be found below.
Once the pudding is ready, pour it in your baked pie crust and refrigerate it until it sets and its completely cooled.
Top with homemade whipped cream and chocolate shavings.
Devour. The end.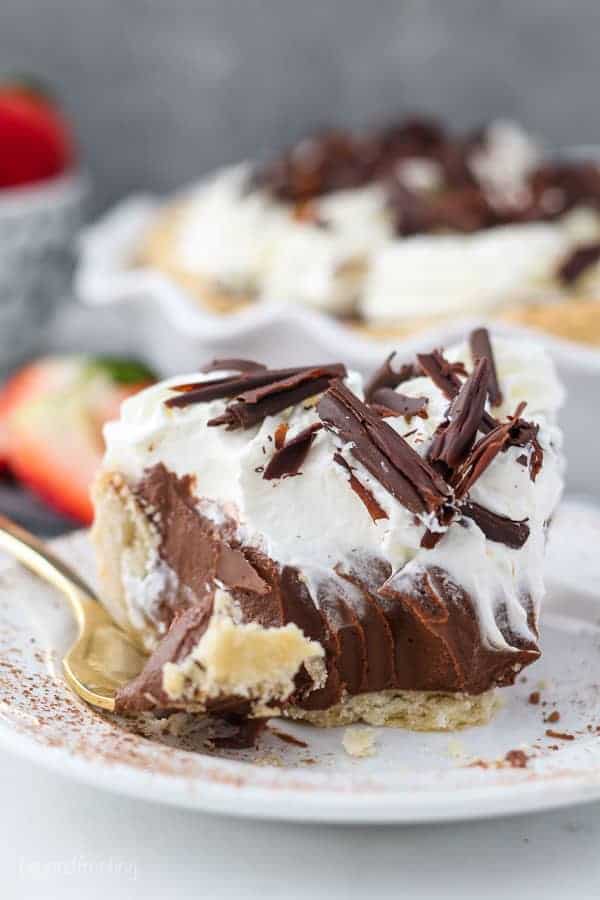 How To Make Homemade Chocolate Pudding
Chop the chocolate ahead of time and have your sieve and bowl ready to go. Once the milk starts to bubble, things move very quickly.
Start by combining the dry ingredients in a saucepan and whisk over medium heat for about 2 minutes. Do not turn your stovetop up too high, you don't want to burn the milk
Slowly add the milk while whisking the dry ingredients into the milk. Use your whisk to dig into the bottom edges of your saucepan to remove any lumps of flour from the sides.
Cook over medium heat, whisking constantly until the mixture starts to bubble and thicken, approximately 10-15 minutes. It shouldn't be boiling, but just starting to bubble and coat the edges of the saucepan. Then immediately start adding your chopped chocolate.
Continue whisking until the chocolate has melted. Then return the pudding to a slow boil. Once it starts to bubble, cook for another 2-5 minutes. It won't take long after the chocolate is melted.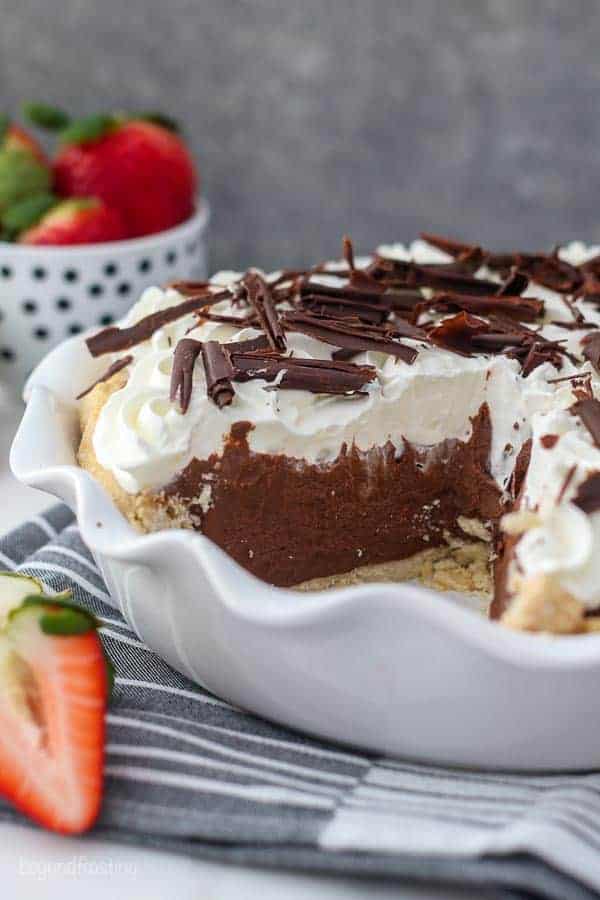 Remove the pudding from the heat and whisk in the vanilla extract and butter and stir until the butter is completely melted.
Then immediately strain the pudding through a fine sieve, to catch any lumps of flour that did not dissolve. Rinse you sieve and repeat two more times.
Immediately cover the surface of the pudding with plastic wrap and poke a couple of holes in the top with a toothpick. This will prevent the skin from forming on top of your pudding.
Then allow your pudding to cool for about an hour on the counter before transferring to the cooled pie crust. Cover again with plastic wrap and refrigerate it for 3-4 hours until the pudding is firm.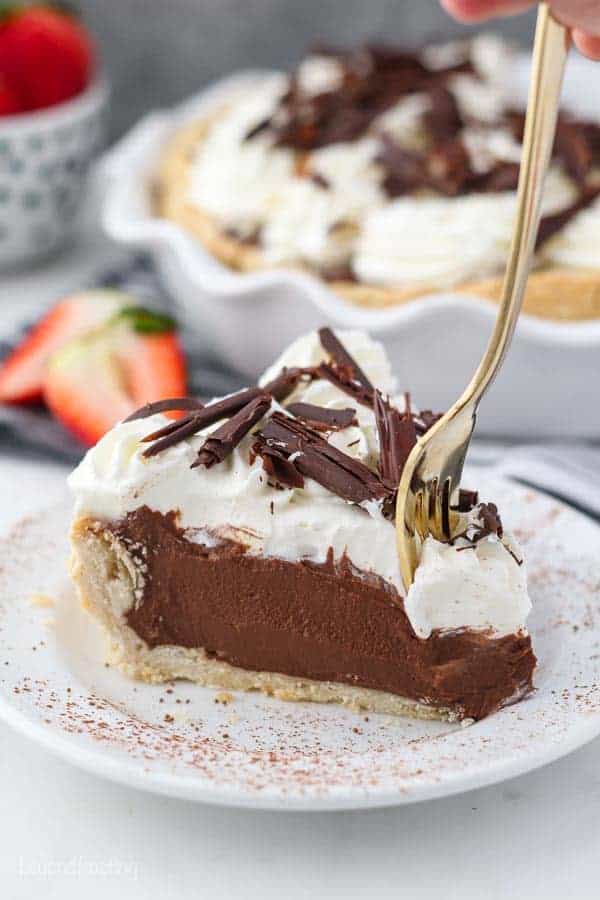 Tips For Making Chocolate Pudding For Pie
Use a high-quality dark chocolate bar. It melts down smoother and less oily than chocolate chips. All the flavor is coming from your chocolate, so you want to get good chocolate. I often use Ghirardelli 60% Cocoa chocolate as it's readily available. I like the dark chocolate because it's a little less sweet than milk chocolate. I've also tested this recipe with Baker's Chocolate Semi Sweet baking bar, a standard Hershey's Bar and Chocolate Chips.
If you prefer a less stronger chocolate taste, I'd recommend using a Hershey's Milk Chocolate Bar
Do not skip the steps of straining the pudding through the sieve. It's important to catch the lumps of dry ingredients that did not dissolve. I do the straining 3 times, rinsing the sieve in between. Once into my bowl, once back into the saucepan and then finally in the bowl. Do not scrape the bottom of your saucepan, those clumps that are sticking to the bottom are no good.
Cool the pudding before pouring it in your pie crust so it does not make the crust soggy as it cools.

How Do I Stop A Skin From Forming On Top Of My Pudding?
Right when you pour the pudding into your bowl (after you've strained it), place a piece of plastic wrap directly on the surface of the pudding. Use a toothpick to poke a few holes, allowing some of the air and condensation to escape. Once you pour the pudding into the crust, cover again with plastic wrap.
How Long Does Homemade Pudding Take To Set?
You'll need a few hours. I let it sit on the counter for about an hour until it partially cooled then I refrigerate for 2-4 hours.
Can This Chocolate Pie Be Made Ahead Of Time?
Yes! It keeps very well in the refrigerator, although I suggest adding the whipped cream right before serving.
You can make the pudding even the day before you make the crust and then pour the pudding into your crust when it's ready. The pudding will be thick and "set", but it will still spread with a spatula.
Why Didn't My Chocolate Pudding Didn't Set In My Pie?
I have received several comments or emails from people who have made this recipe and their pudding did not set, even after chilling overnight.
I've tried to recreate the issue, but I cannot seem to do that. If cooked properly, following the specified ingredients, you should not have an issue. It's important that the pudding is thickened at two stages, once when the dry ingredients are incorporating into the milk and again after the chocolate is added. Each time the mixture should be bubbling and thick. You'll also notice in the first stage that the mixture is starting to coat the outside of your saucepan.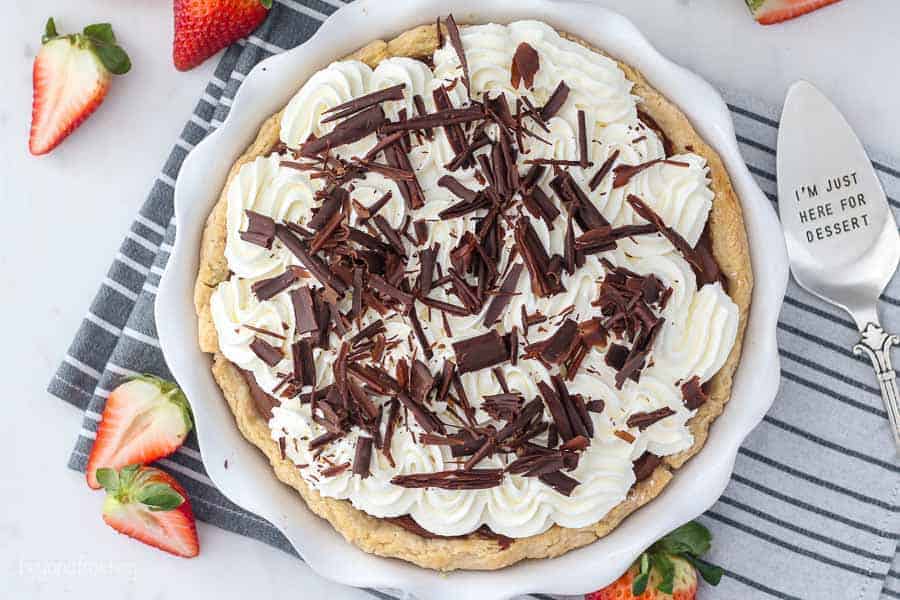 Your friends will be seriously impressed with your dessert, even if you have an ugly pie crust like mine. Pie crust is my arch nemesis.
Follow Beyond Frosting:
Facebook | Twitter | Pinterest | Instagram | Bloglovin
If you love no-bake recipes, be sure to check out my cookbook, No-Bake Treats!
Print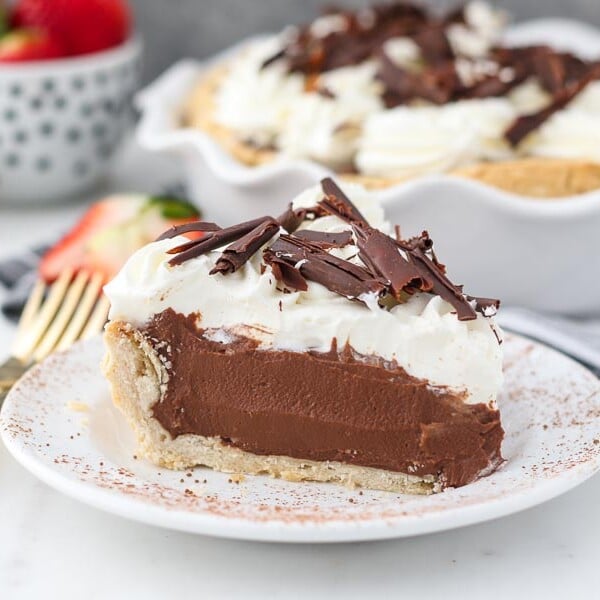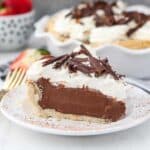 Chocolate Pie Recipe
Author:

Prep Time:

4 hours

Cook Time:

30 minutes

Total Time:

4 hours 30 minutes

Yield:

8 slices
Description
This homemade Chocolate Pie Recipe is made completely from scratch using a homemade dark chocolate pudding and homemade whipped cream topping!
Ingredients
1

deep dish pie crust, prepared and blind baked
For the chocolate pudding:
1/2 cup

(95g) granulated sugar

4 tablespoon

s (31g) all-purpose flour

1 tablespoon

(7g) cocoa powder

3 1/2 cup

s (828ml) whole milk

12 ounce

s dark chocolate, chopped

1 tablespoon

(14g) butter

1 teaspoon

(5g) pure vanilla extract
For the whipped cream
1 1/2 cup

s (355ml) heavy whipping cream

3/4 cup

(98g) powdered sugar
For the chocolate shavings (optional)
2 ounce

s dark chocolate

1/2 tablespoon

(21g) Crisco shortening
Instructions
Prepare your favorite 9-inch pie crust and blind bake it. Cool completely.
For the chocolate pudding: 
Prepare all the ingredients prior to starting. In a medium saucepan, combine the flour, sugar, and cocoa powder and whisk together. Heat for 2 minutes on medium to medium-low heat, whisking occasionally.
Next, slowly whisk in the milk, pressing the whisk into the bottom edges of the saucepan to break up any clumps.
Continue whisking the pudding until it starts to thicken and lightly bubble, approximately 10-15 minutes. The mixture will start to coat the outside of the pan as it thickens. Ensure it's thicken before moving onto the next step.
Then slowly add the chopped chocolate and continue whisking until the chocolate is completely incorporated. Cook for 2-5 minutes, ensuring the pudding is bubbling and thick, stirring occasionally.
Remove the pudding from the heat and whisk in the vanilla extract and butter and whisk until the butter is melted and combined.
Strain the pudding through a fine sieve, three times, rinsing the sieve in between each time.
Pour the pudding into a heat proof bowl and cover with clear plastic wrap (placing directly on the surface of the pudding), then poke a few holes in the plastic wrap with a toothpick.
Allow the pudding to cool on the counter for at least 1 hour before refrigerating.
Refrigerate 2-4 hours until the pudding has cooled and is firm. Pour in the prepared pie crust. Prepare the whipped cream prior to serving.
For the whipped cream:
Chill a mixing bowl in the freezer for 10 minutes. Pour the heavy whipping cream into the chilled bowl.
Use an electric mixer to beat the heavy cream on high speed until the cream starts to thicken.
Slowly add the powdered sugar and continue beating on high speed until stiff peaks form. Spread over top of the pudding. Top with chocolate shavings (optional) or dust with cocoa powder.
For the chocolate shavings:
Combine chocolate and shortening in a heat-proof bowl. Microwave at 50% power in 30 second increments until the chocolate is melted and stir until completely smooth.
Using an offset spatula to thinly spread the chocolate over a flat surface, such as a cookie sheet. Refrigerate until the chocolate is firm.
Equipment
Notes
Be sure that the milk & dry ingredients have thickened and are bubbling prior to adding the chocolate. After adding the chocolate, it should be stirred & melted, and continue cooking for another few minutes until it's bubbling and thick.
After the pudding has cooled on the counter for 1 hour, it can be transferred to the refrigerator to cool completely or poured into the cooled, baked pie crust and then refrigerate another 2-4 hours until the pudding is firm
If the pudding is completely set and cold, it can be spread in the cooled, baked pie crust
Pour the hot pudding into the pie crust could result is a more soggy crust
I suggest adding the whipped cream right before serving.
Calorie counts are estimated, including a standard butter & flour pie crust, as well as the whipped cream topping
Category:

Pie

Method:

Refrigerator

Cuisine:

American
Keywords: chocolate pie recipe, easy chocolate pie recipe, the best chocolate pie recipe, chocolate pudding pie recipe, homemade chocolate pie, recipes for chocolate pie, recipe for homemade chocolate pie
Recipe Card powered by
More Pie Recipes You Might Like: