This post may contain affiliate sales links. Please see my full disclosure policy for details
These easy 4 Ingredient Peanut Clusters are a perfect no-bake candy for Christmas. They're made with mix of chocolate chips, butterscotch chips, creamy peanut butter, and roasted peanuts. This easy sweet treat makes the perfect homemade holiday gift!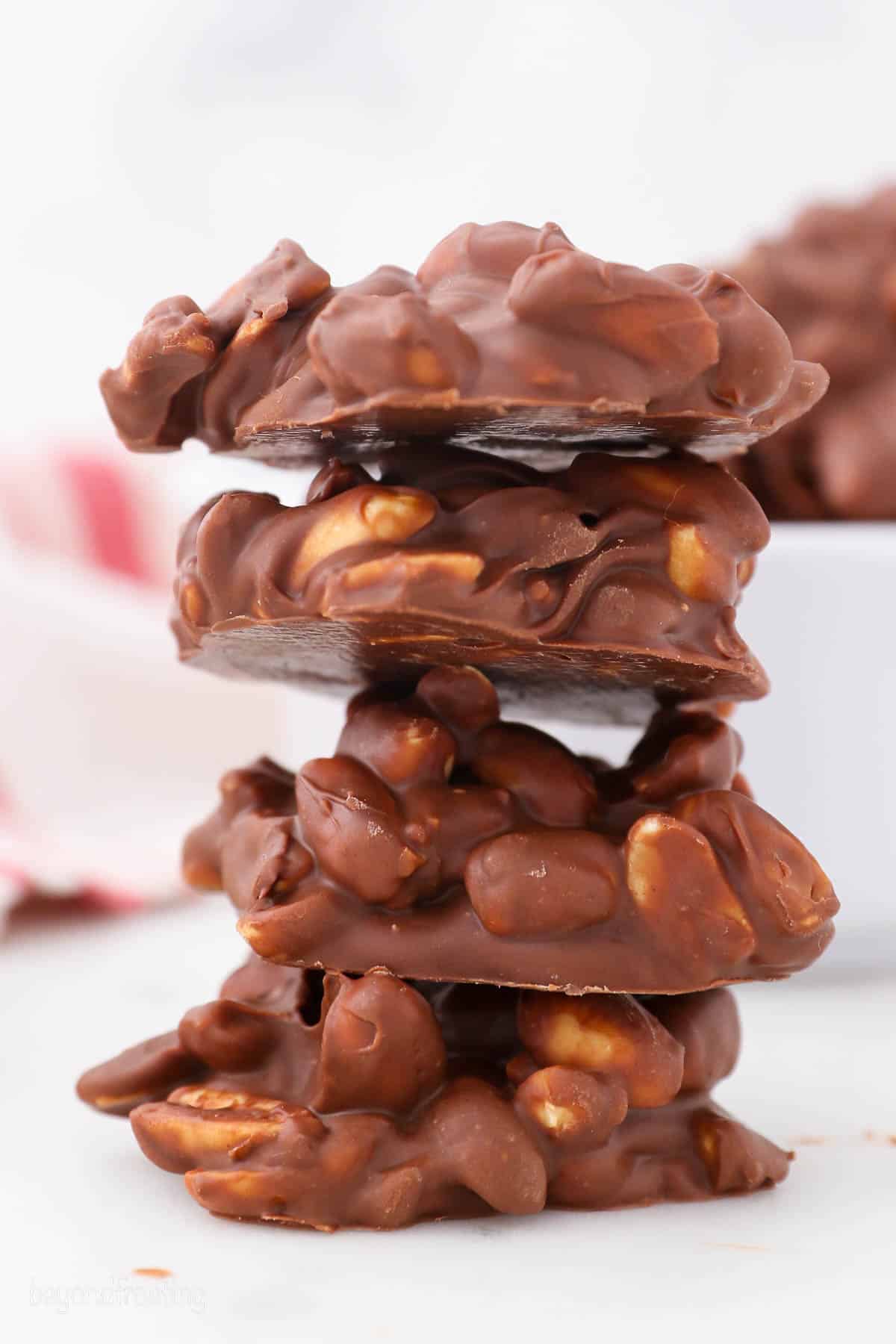 Easy Peanut Cluster Recipe
These no-bake Christmas candies were a staple part of our cookie collection growing up, probably because it makes a big batch, so they were great for cookie exchanges! This is also one of my mom's favorite Christmas recipes and I sent her home with the whole batch.
This recipe couldn't be easier. All you need to do is melt the baking chips with peanut butter, then stir in the peanuts. If you don't love peanuts, you can also make them with Almond. My mom always made them on the stovetop, but you could easily make them in the crockpot as well.
Would you call these cookies or candies? Technically I guess they're candy, but I just always considered them to be Christmas cookies because that is when we made them.
What are Peanut Clusters?
Peanut clusters are literally clusters of peanuts. They're mixed up with melted chocolate and peanut butter, then dropped on a baking sheet to harden. They're like drop cookies, but they're no-bake and they're made with just four super simple ingredients!
Why You'll Love Them
There are three main reasons that I love this peanut cluster recipe:
It's so quick to make. Less than 30x xsz of hands-on time is needed.
It makes a huge batch. This recipe makes a large batch, so they go a long way. It can also easily be scaled for a smaller batch.
You only need 4 ingredients. This one speaks for itself.
They're a crowd favorite. Serve these at your next holiday party and just watch how fast they disappear!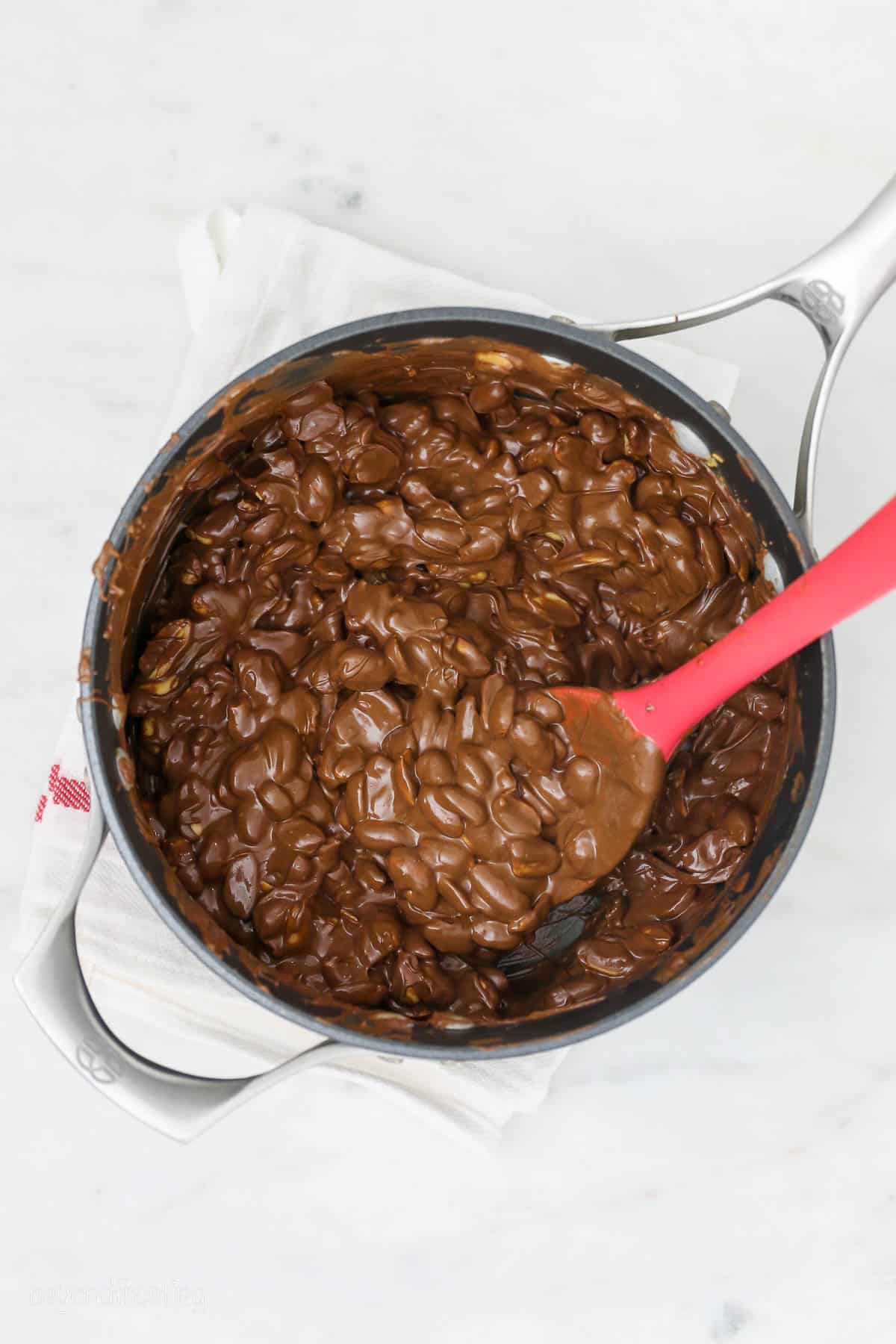 What You'll Need
Baking Chips – a combination of semi-sweet or dark chocolate and butterscotch chips creates the perfect rich flavor.
Peanut Butter – use creamy peanut butter like Jif or Skippy. Avoid using an all-natural peanut butter
Peanuts – unsalted, roasted peanuts are my favorite.
How to Make Peanut Clusters
Melt the baking chips: In a saucepan, combine the baking chips with the peanut butter. Heat on the stove, stirring occasionally, until melted and smooth.
Add the nuts: Add in the peanuts and stir to combine.
Portion and let harden: Drop the peanuts into clusters on a lined baking sheet, then allow to harden at room temperature.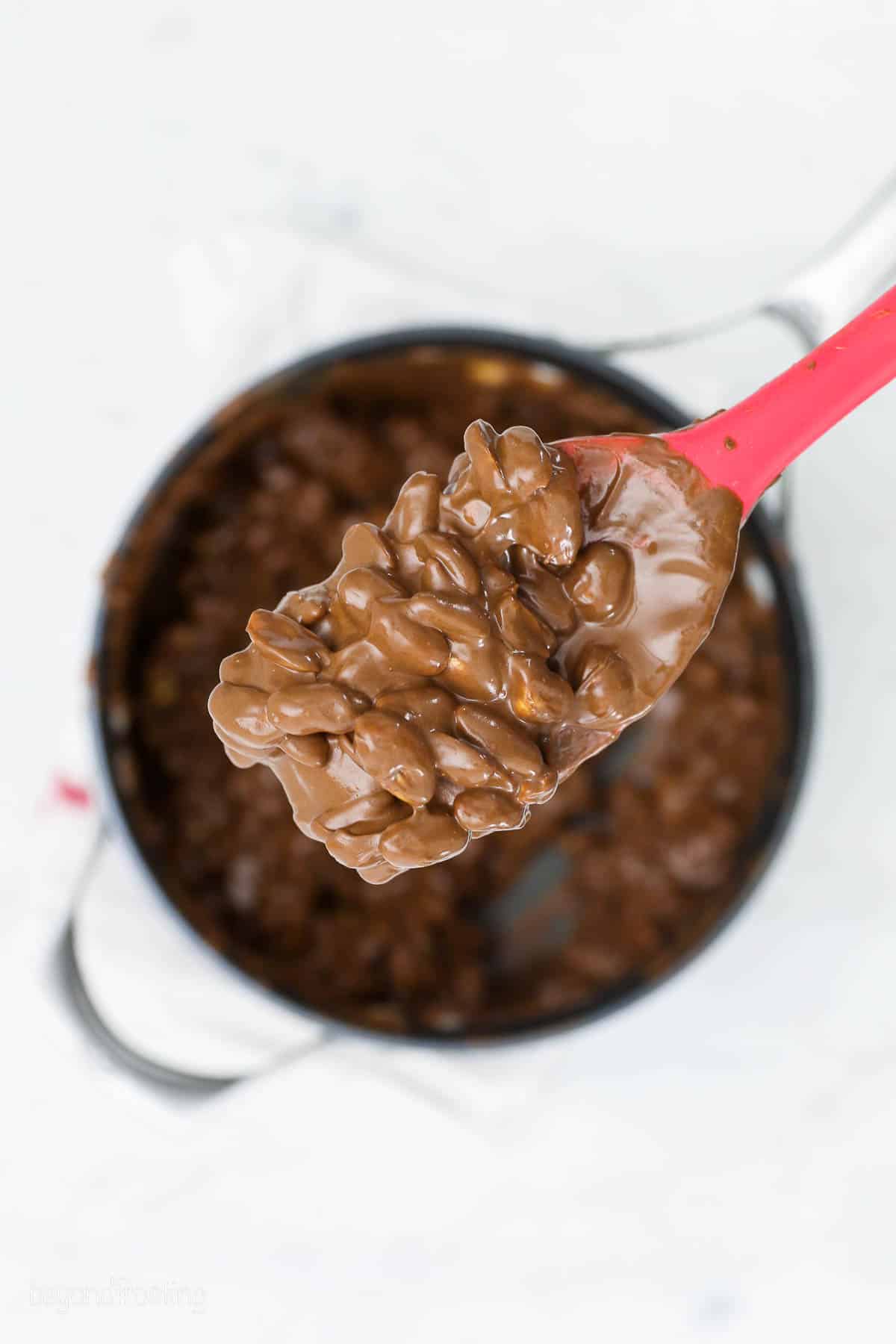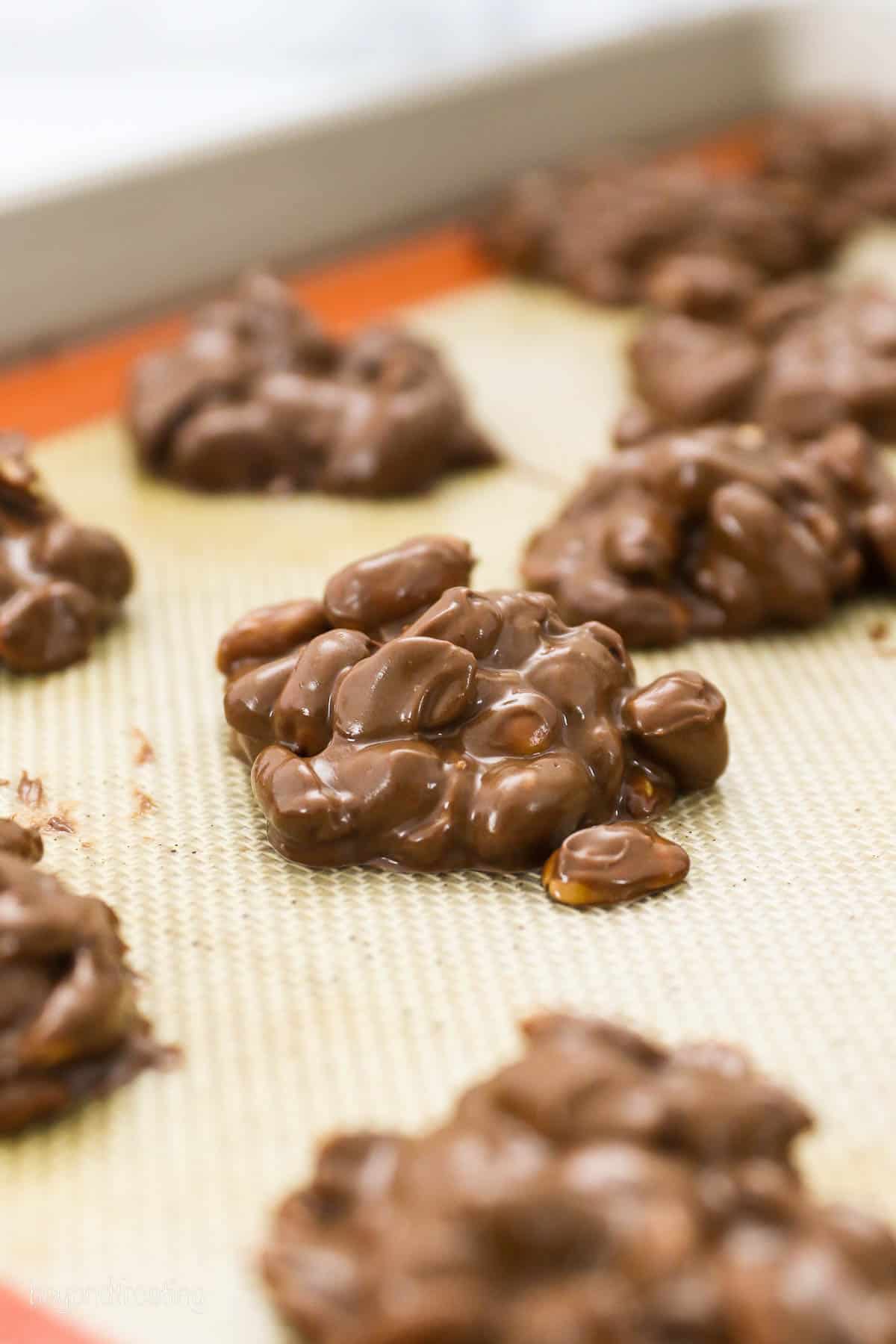 Can I Make Peanut Clusters in a Crockpot?
You certainly can, the advantage being that you don't have to watch over or stir the chocolate as it melted. 4 ingredient crockpot peanut clusters is more of a walk away and forget for a little while recipe.
To make these peanut clusters in the crockpot, add everything to the crockpot, cover it, then let it cook on low for 1.5-2 hours. Stir it every once in a while just to make sure the chocolate doesn't burn. Once everything is melted, portion the mixture out and let it set!
Recipe Tips
Melt slow, stir frequently. I know it can be tempting to crank the heat up in the hopes that the chocolate will melt faster, but trust me. All that's going to do is burn it! Stir frequently on medium-low heat so everything goes smoothly.
Line the pan. Whether you use parchment paper or a silicone baking mat, lining the pan will make it so much easier to remove the peanut clusters once they've set and can make clean up a breeze.
Gift them! Pile a few of them in festive cookie tins or cellophane bags tied with pretty ribbons. They make the perfect festive gift for friends, family, neighbors, etc.
If you're gifting the clusters or serving them at a party, you could try portioning them out into cupcake liners instead of just dropping the clusters onto a baking sheet.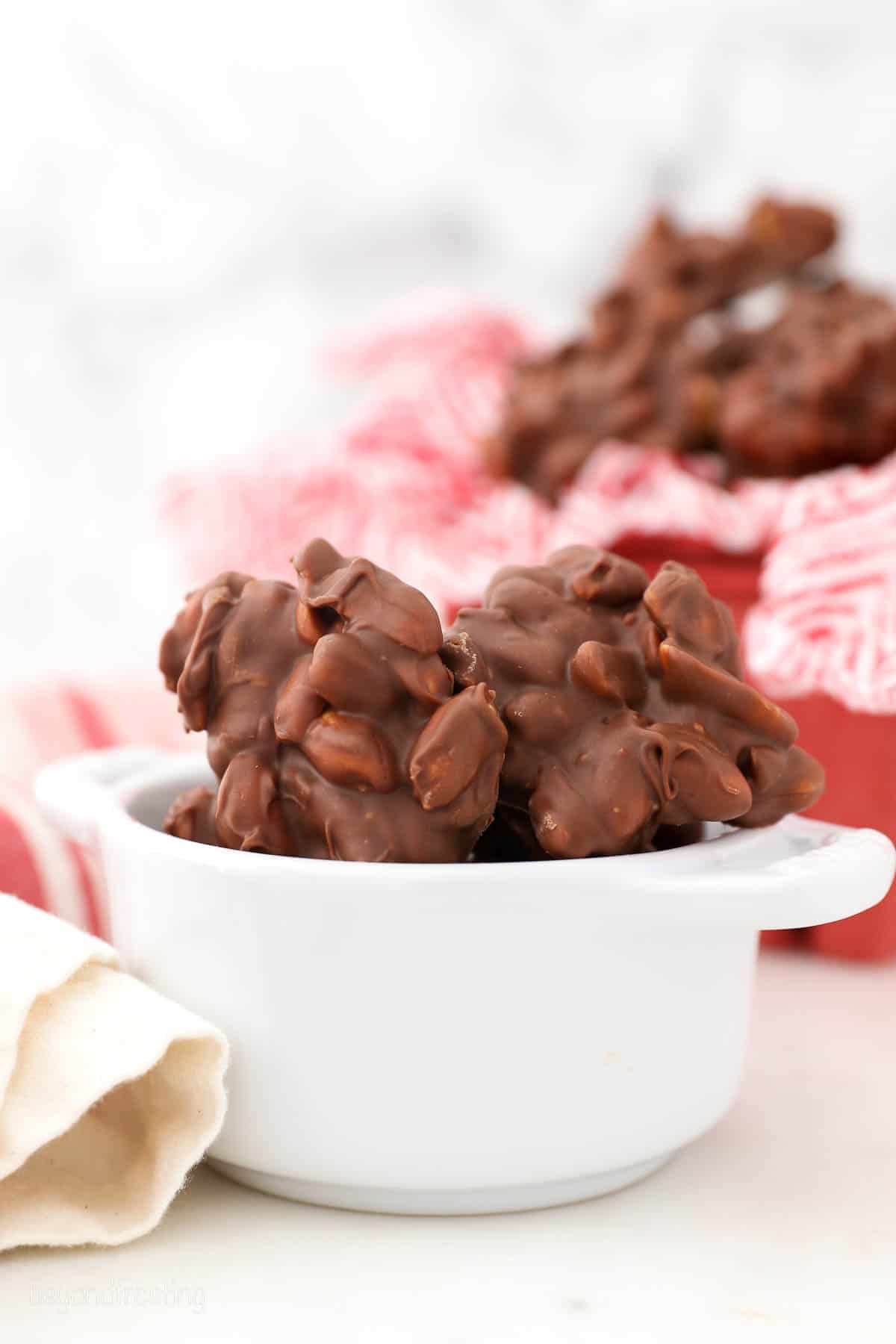 Frequently Asked Questions
What type of peanuts can I use?
Growing up, we always made these with Spanish peanuts. Now, Spanish peanuts are a little bit harder to come by, so I usually just use some roasted, unsalted peanuts. Salted peanuts may work as well, but your treats will definitely be, well, saltier!
Can I use a different type of nut?
Certainly! This recipe would work great with almonds or pecans as well. Keep in mind that those nuts are larger than peanuts, so expect the overall yield to be less.
Can I use something other than butterscotch?
I don't see why not! I've always loved to make them with butterscotch, but more chocolate or peanut butter chips would also be delicious.
How long does it for them to set?
It can take up to a couple of hours for the peanut clusters to set up. Keep in mind that this does depend on the conditions and temperature of your kitchen, so double check that the clusters are hardened before you grab one. Otherwise you may end up with a big mess of chocolate on your hands! If you need to speed up the process, toss the tray in the fridge.
How to Store and Freeze
Once the peanut clusters are completely set, they can be stored either at room temperature or in the fridge up to 2 weeks. I prefer to keep them in the fridge so the chocolate doesn't melt. To store them, line them in an airtight container with pieces of parchment or wax paper between each layer.
To freeze them, let them harden completely, then transfer them to an airtight container with pieces of parchment or wax paper between each layer if you're stacking them. They will last in the freezer for up to 3 months.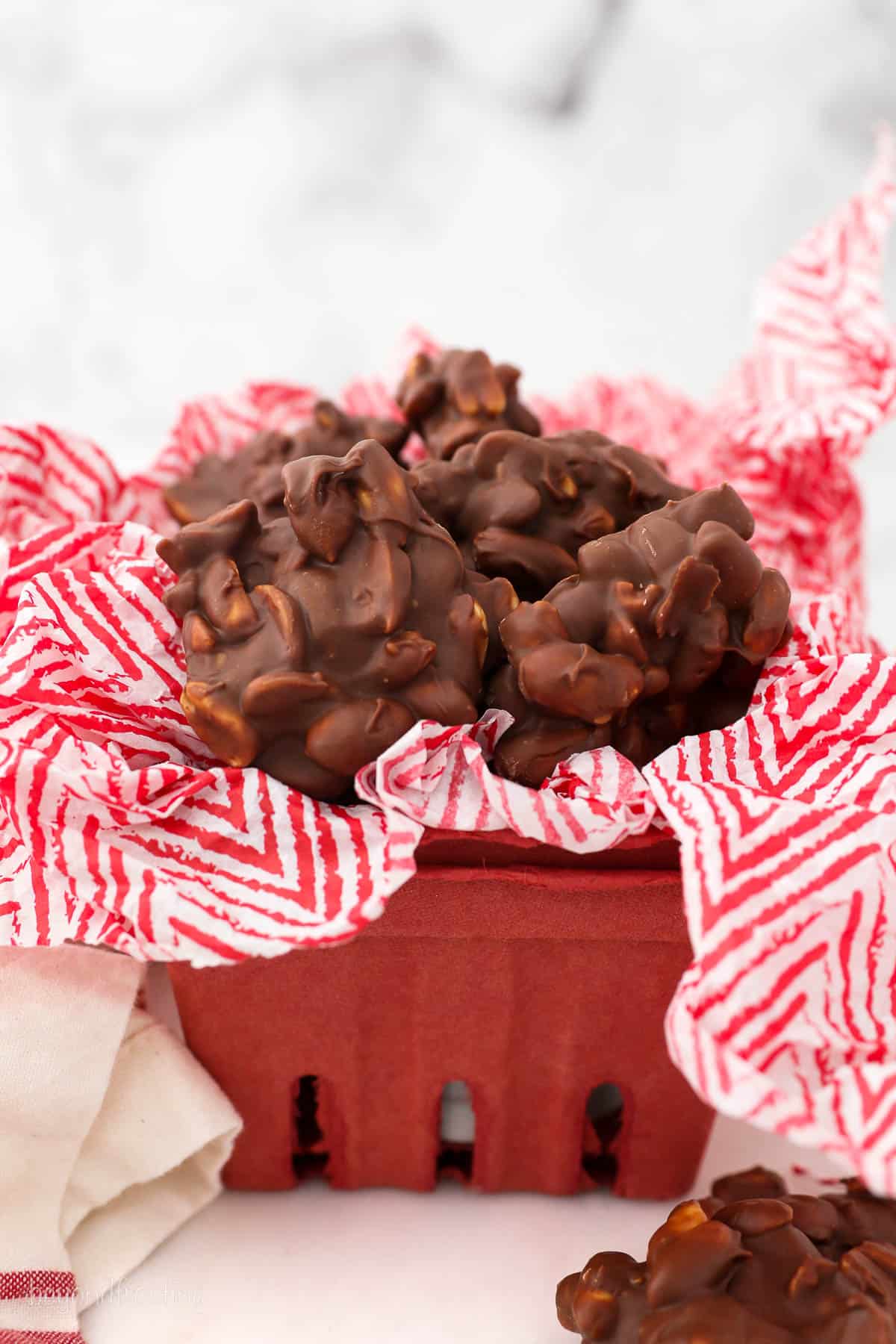 Print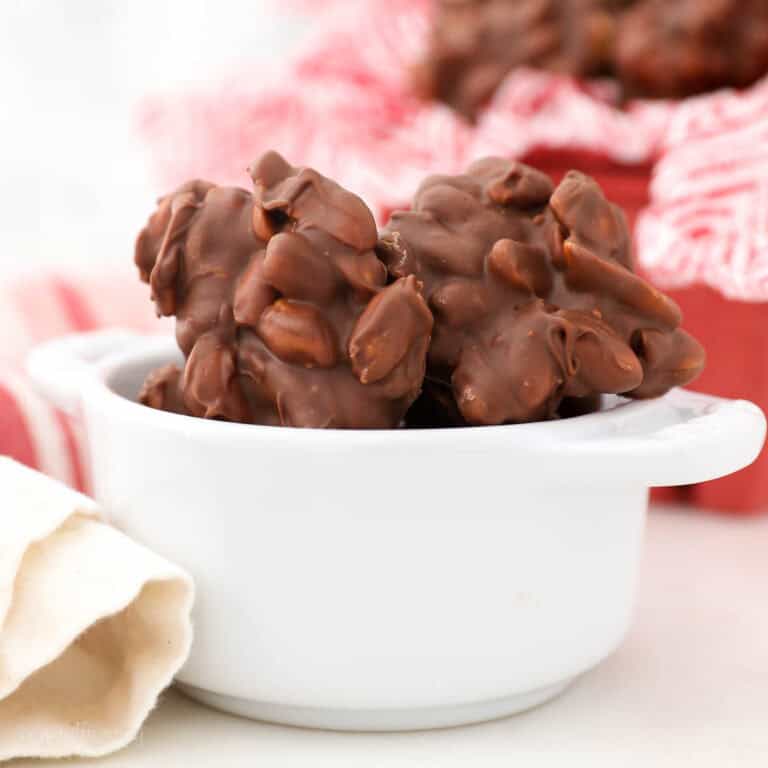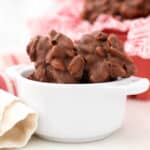 Easy Peanut Clusters
Author:

Prep Time:

2 hours

Cook Time:

15 Minutes

Total Time:

2 hours 15 minutes

Yield:

40-48 cookies
Description
These EASY 4 ingredient Peanut Clusters are a perfect no-bake candy you can serve for the holidays. Peanut Clusters are made with chocolate chips, butterscotch, some creamy peanut butter and peanuts. Sometimes referred to as crockpot candy, these candies are NO-FAIL.
Ingredients
12 ounces

chocolate chips (semi-sweet or dark chocolate)

12 ounces

butterscotch chips

2 tablespoons

creamy peanut butter

4 cups

unsalted or roasted peanuts
Instructions
In a medium saucepan, combine the chocolate and butterscotch chips together with the peanut butter. Heat over medium to medium-low heat, stirring occasionally until the chocolate is fully melted and smooth.
Add the peanuts and stir together until the peanuts are well combined.
Using 2 spoons, drop the peanuts into clusters on a baking sheet lined with parchment paper or a silicone mat. Allow the chocolate to harden at room temperature (this can take a couple hours).
Notes
Storing: Once completely set, store in an airtight container with parchment paper between each layer. These can be stored at room temperature, but I prefer to store them in the refrigerator.
Freezing: Be sure the chocolate is completely set first, than freeze in an airtight container with a piece of parchment paper between the layers. Note that freezing these may cause slightly discoloration or potentially cracking of the chocolate if the chocolate is not properly set.
Total yield will depend on how large or small you make the clusters
Substitute peanuts for almonds or pecans, but as these are larger, the yield may be smaller.
Category:

Candy

Method:

No-Bake

Cuisine:

American
Keywords: Cookie, Christmas Cookies, Peanut Cluster, Crockpot Candy, Candy, No-Bake Candy