This post may contain affiliate sales links. Please see my full disclosure policy for details
Classic Peanut Butter Buckeyes are an easy homemade Christmas candy! These no-bake chocolate and peanut butter balls always make an appearance around the holidays.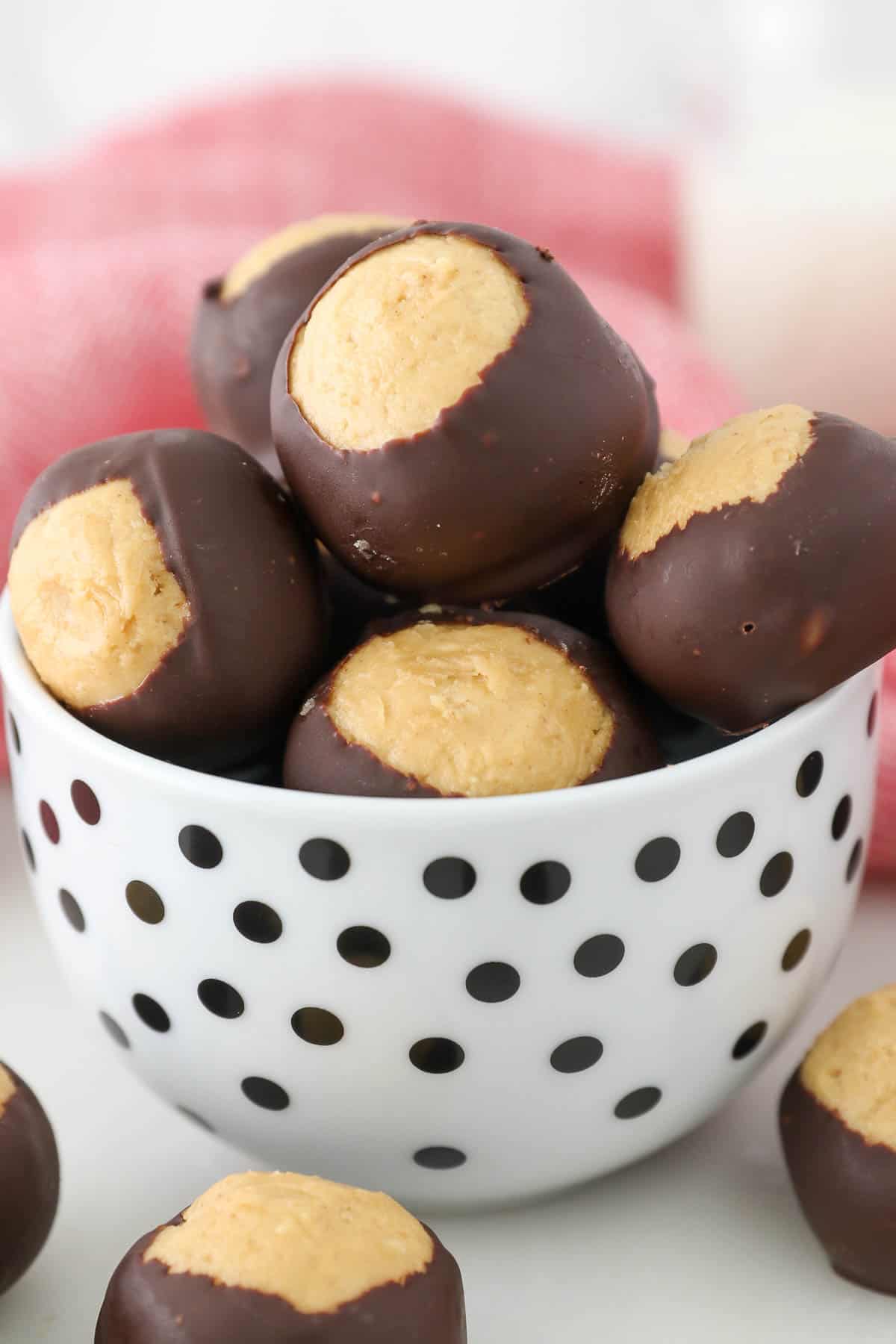 Easy Homemade Buckeye Candy
I don't know about you, but at our house, no Christmas dessert spread is complete without a bowlful of peanut butter buckeyes!
This is a classic homemade confection that we absolutely love, these chocolate peanut butter balls are a fixture during the holidays. They're also wildly simple to make, so it's no wonder they're a favorite for so many of you too. I have a similar version that uses rice krispies, and is fully dipped in chocolate. So if you love buckeyes too, try these Krispie Peanut Butter Balls.
If you've never made buckeyes before, you're in for a literal treat! And if you're a longstanding buckeye candy lover, this recipe is definitely one you'll want to save for this year's dessert platter. They're also a great option to make ahead of time.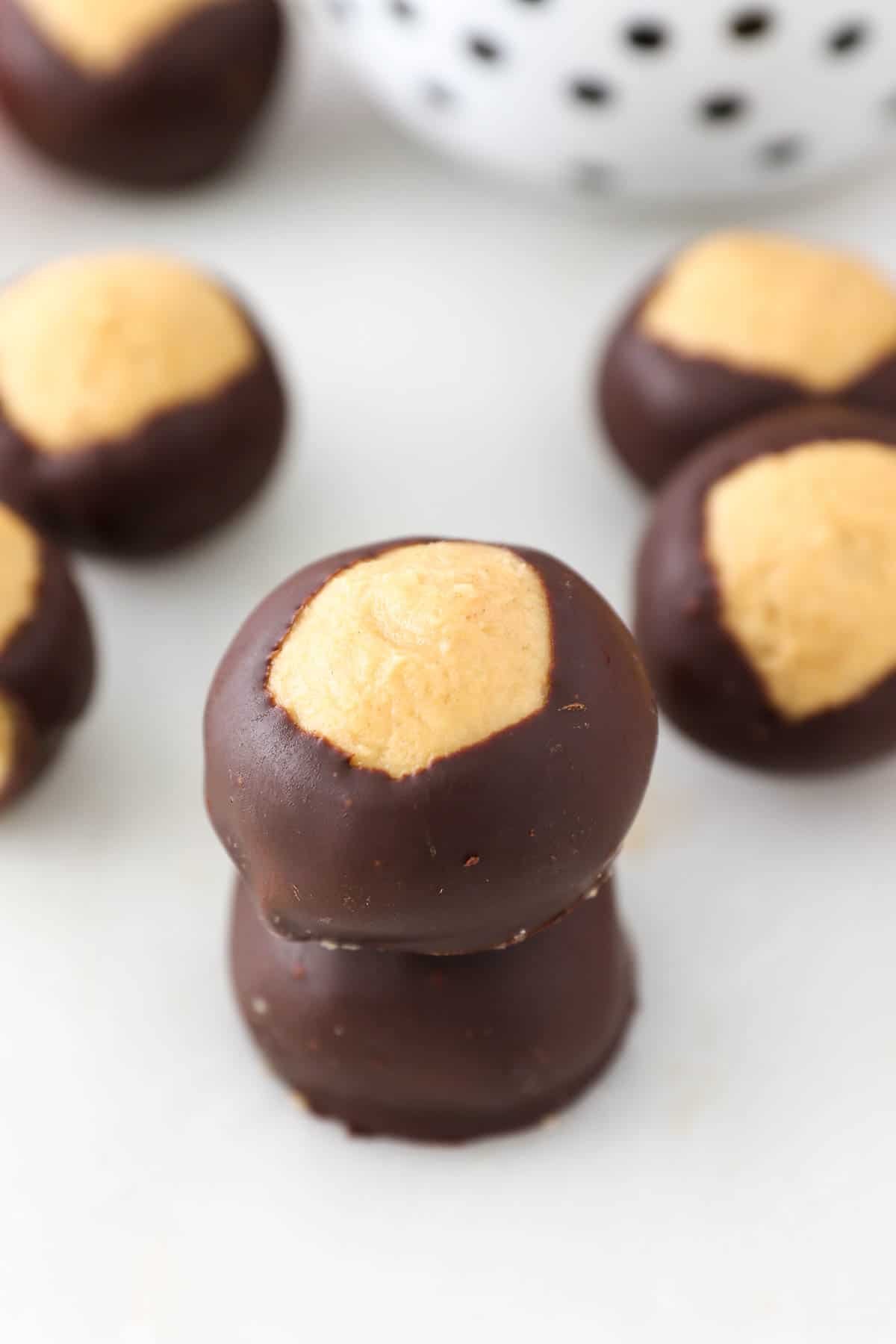 What Do Buckeyes Taste Like?
Peanut butter buckeyes are the ultimate retro chocolate and peanut butter dessert. They taste like a Reese's Peanut Butter Cup, maybe a bit fudgier, and look like a chocolate truffle.
First, you're hit with the sweet smoothness of the chocolate shell, followed by the rich, sugary peanut butter filling. I make my buckeyes with dark chocolate, too, for extra cocoa flavor!
Why Are They Called Buckeyes?
Fun fact: Buckeyes get their name from their resemblance to the buckeye nut, which is native to Ohio.
Buckeye Ingredients
Buckeyes are easy to make with basic ingredients. Below is a quick overview of what you'll need, with the full details further on in the recipe card located at the bottom of this post.
Creamy Peanut Butter – peanut butter should be at room temperature, and be sure to avoid using natural peanut butter which tends to be oilier.
Powdered Sugar – Also called confectioner's sugar. I highly recommend sifting the powdered sugar through a mesh sieve beforehand, to remove any clumps.
Dark Chocolate – You can use chocolate that comes in bars or chocolate chips. Feel free to use milk chocolate if you prefer.
Coconut Oil – Alternatively, use shortening. When melted with the dark chocolate, coconut oil helps the chocolate coating harden up again after the peanut butter balls have been dipped. It also gives the chocolate a nice lustrous shine.
How to Make Peanut Butter Buckeyes
There isn't much prep involved in making buckeyes. And, of course, zero baking! But they do call for a bit of chilling time. These peanut butter balls are perfect to make ahead in the days before you're expecting a holiday crowd. Let's get started:
Step 1: Make the Peanut Butter Fudge: Beat together butter and peanut butter, then add powdered sugar and vanilla. Continue to mix until smooth.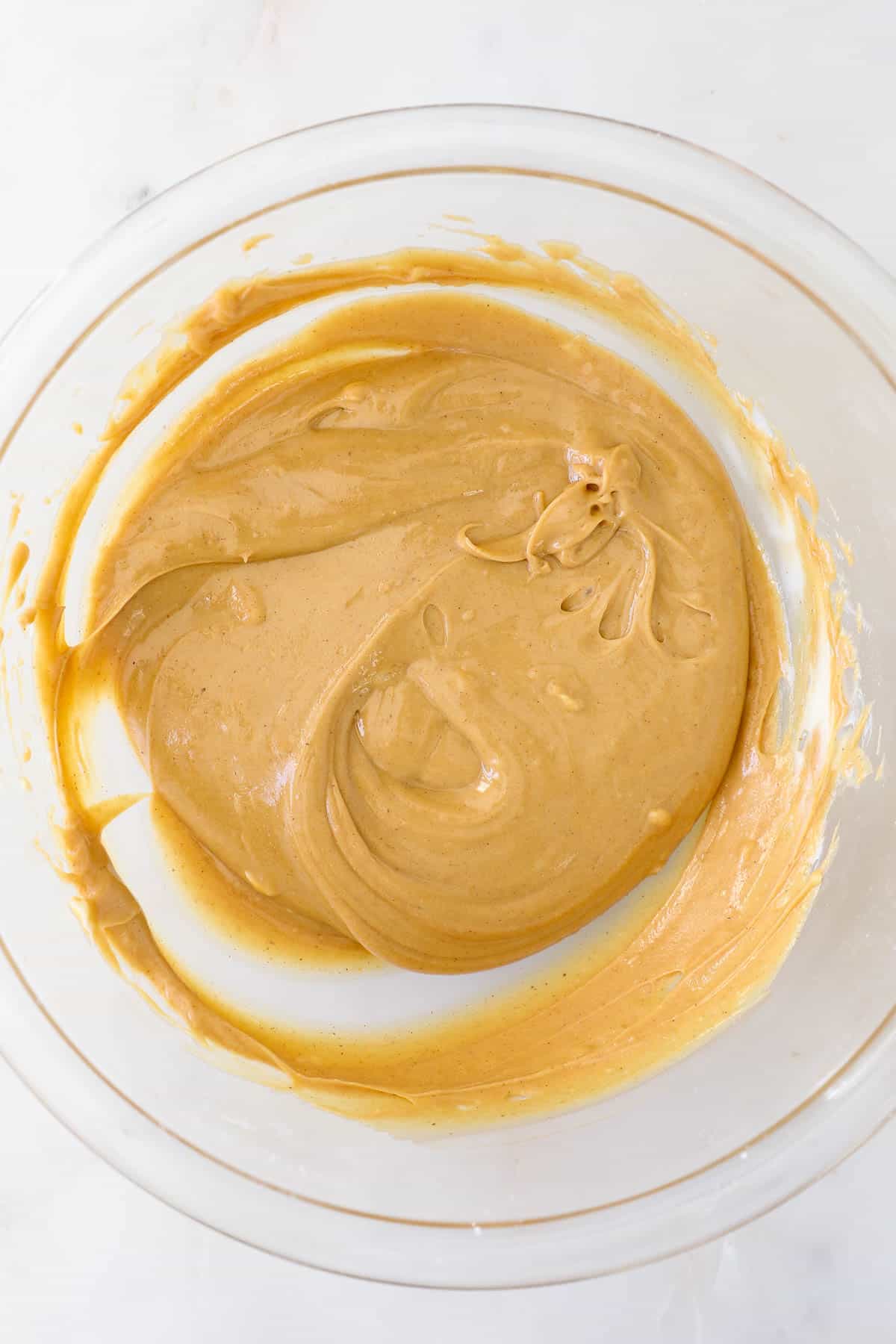 Step 2: Scoop. I like to use a small cookie scoop to portion even-sized peanut butter balls onto a baking sheet. Next, pop the whole sheet into the fridge to set. The freezer will also work to speed up the process a bit. After the peanut butter scoops have chilled, take them out and use your hands to roll and smooth them into balls.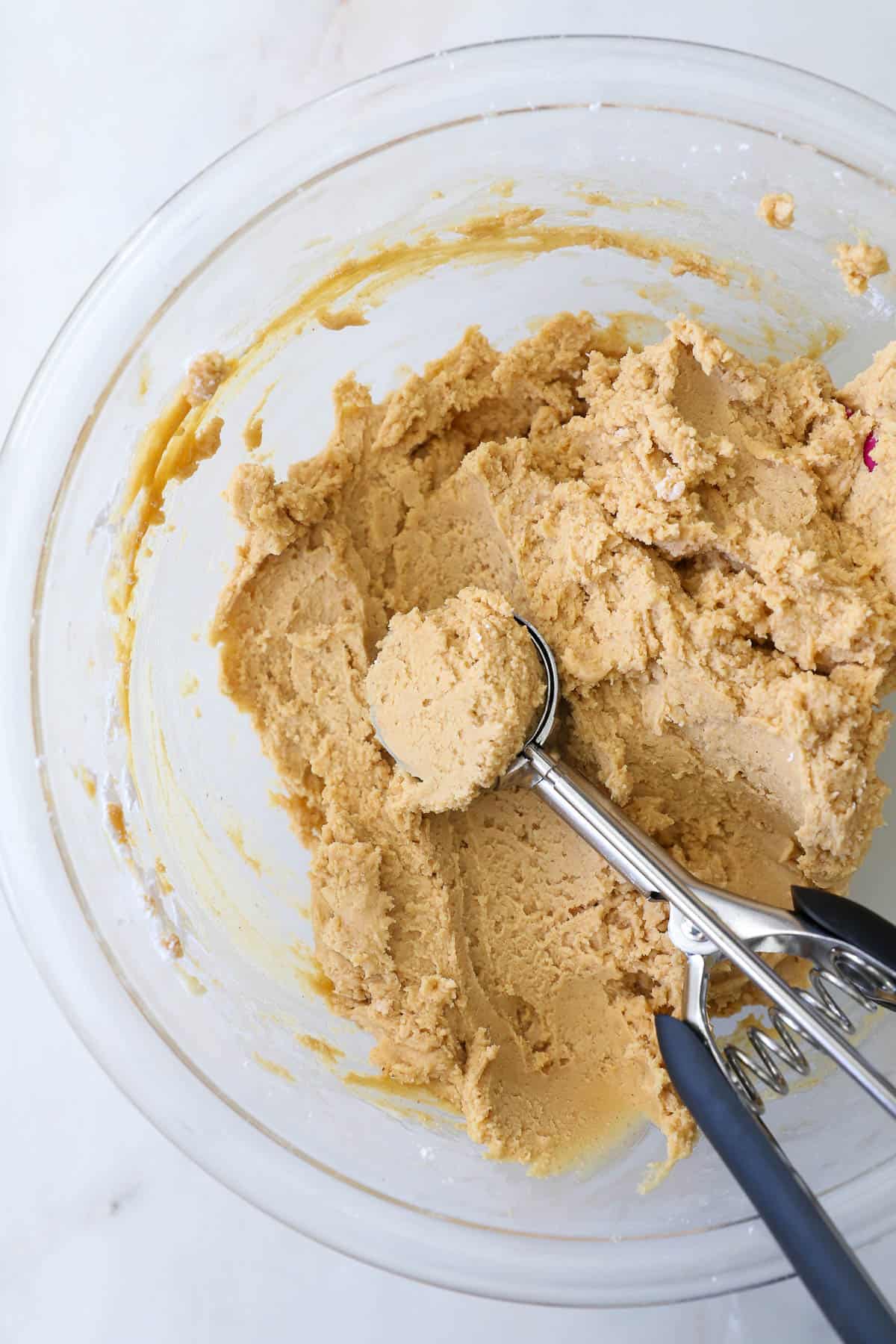 Step 3: Melt the Chocolate. Return the baking sheet with the peanut butter balls to the freezer for 10 minutes. Meanwhile, prepare the dark chocolate coating by microwaving the chocolate with coconut oil until melted.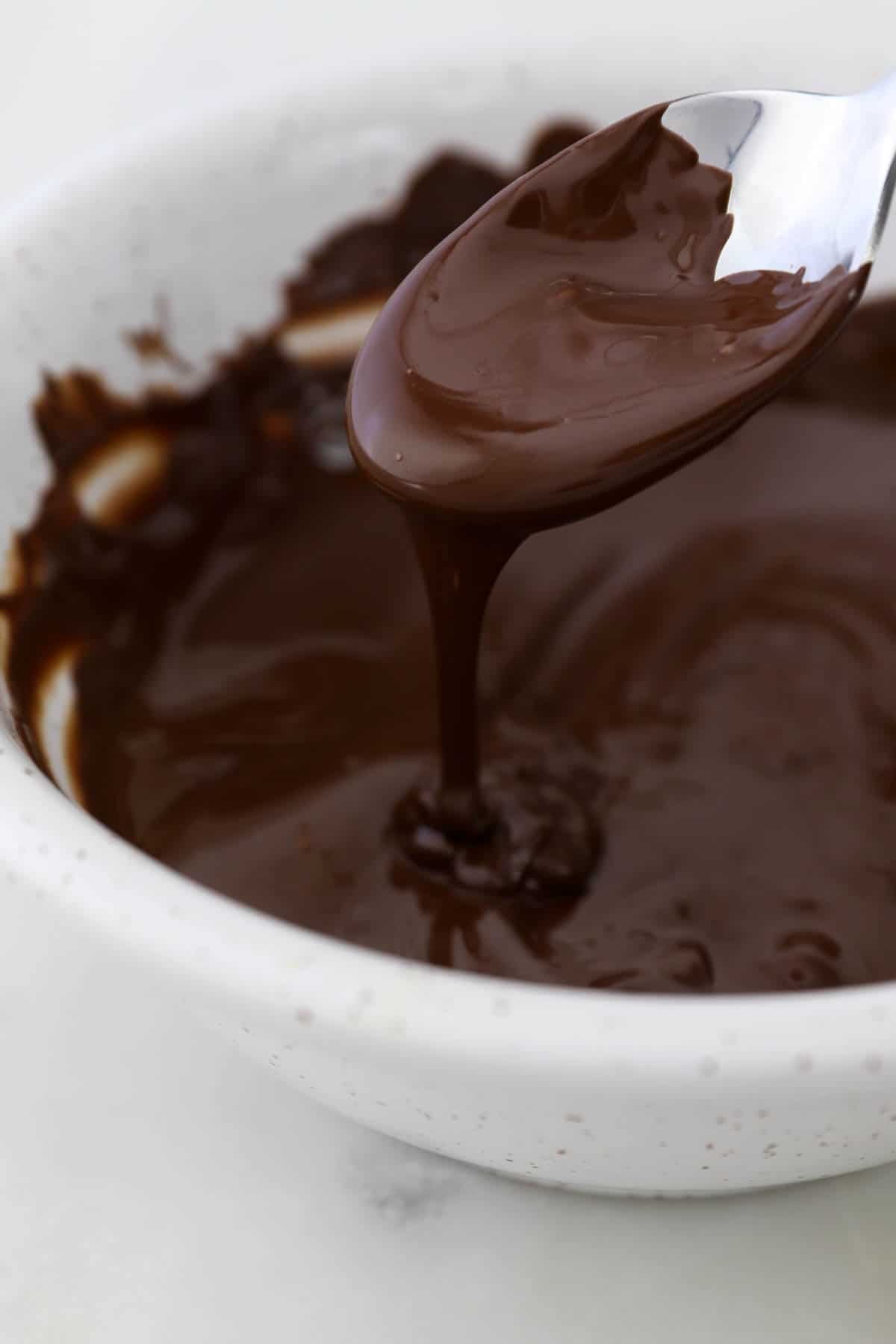 Step 4: Dip the Peanut Butter Balls. Next, work in batches and dip the chilled peanut butter balls into the melted chocolate. I find this is easiest to do using toothpicks stuck into the top of the fudge so that the top ¼ of the peanut butter ball stays uncoated. Transfer the dipped buckeyes to a separate baking sheet lined with parchment paper to set.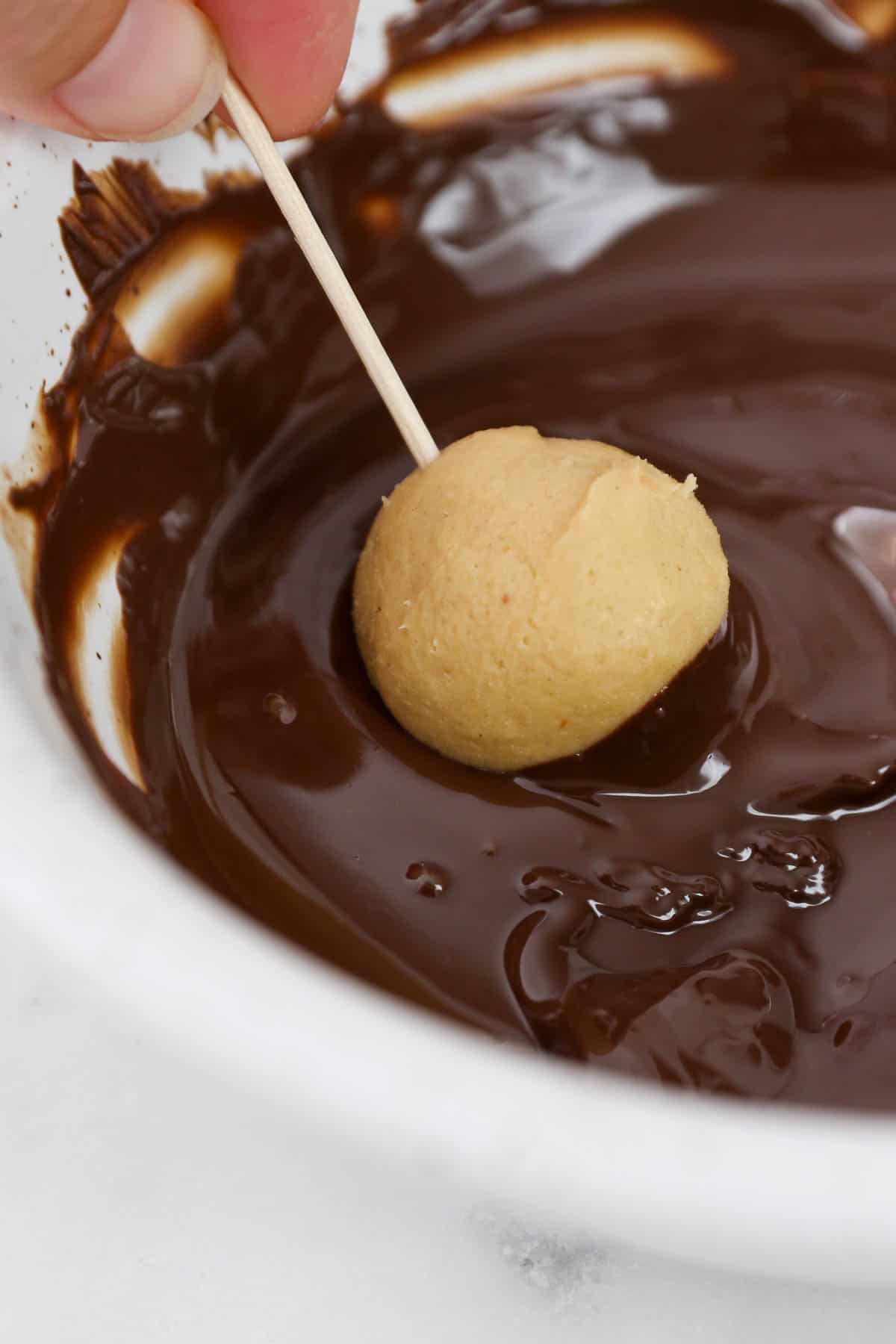 Step 5: Chill. Once they're dipped and the chocolate has hardened, you can remove the toothpicks. I'll use my fingertip to smooth away the hole left at the top of the buckeyes, before returning them to the fridge. Leave them to chill right up until you're ready to serve them.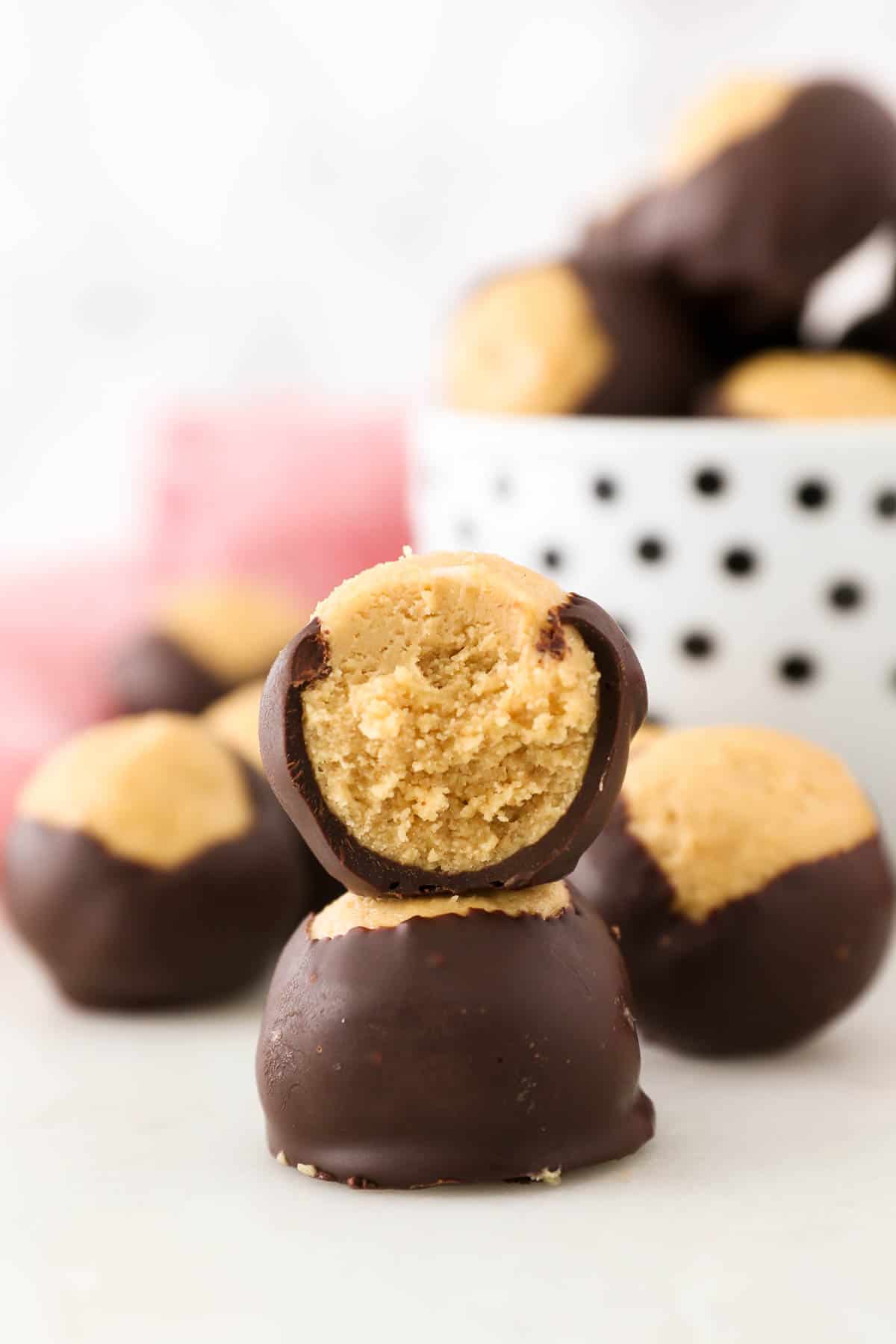 Recipe Notes
Here are some helpful tips to keep in mind when making these classic no-bake treats:
Use creamy peanut butter. Think shelf-stable brands like Jif or Skippy. Natural peanut butter does not work with buckeye recipes – there's way too much oil!
If you're using coconut oil, make sure to use refined coconut oil (this is the neutral-flavored kind).
Work in batches. When dipping the peanut butter balls, take out 3-4 balls at a time, and leave the rest in the fridge until you're ready to dip them.
Why are my peanut butter balls so sticky? This could be because you didn't add enough powdered sugar to the peanut butter mixture, the wrong type of peanut butter is used or your peanut butter balls weren't given enough time to chill and firm up in the fridge. Make sure that you chill them long enough, as they're much easier to work with!
Don't forget the parchment paper! Or use a silicone baking mat to keep the dipped peanut butter balls from sticking to the baking tray. Make sure the chocolate is completely set before removing the buckeyes from the tray, and use a flat-edge spatula if needed.
Add sprinkles and garnishes before the chocolate has set. If you'd like to decorate your buckeyes with sprinkles, add them right after you dip the balls in chocolate.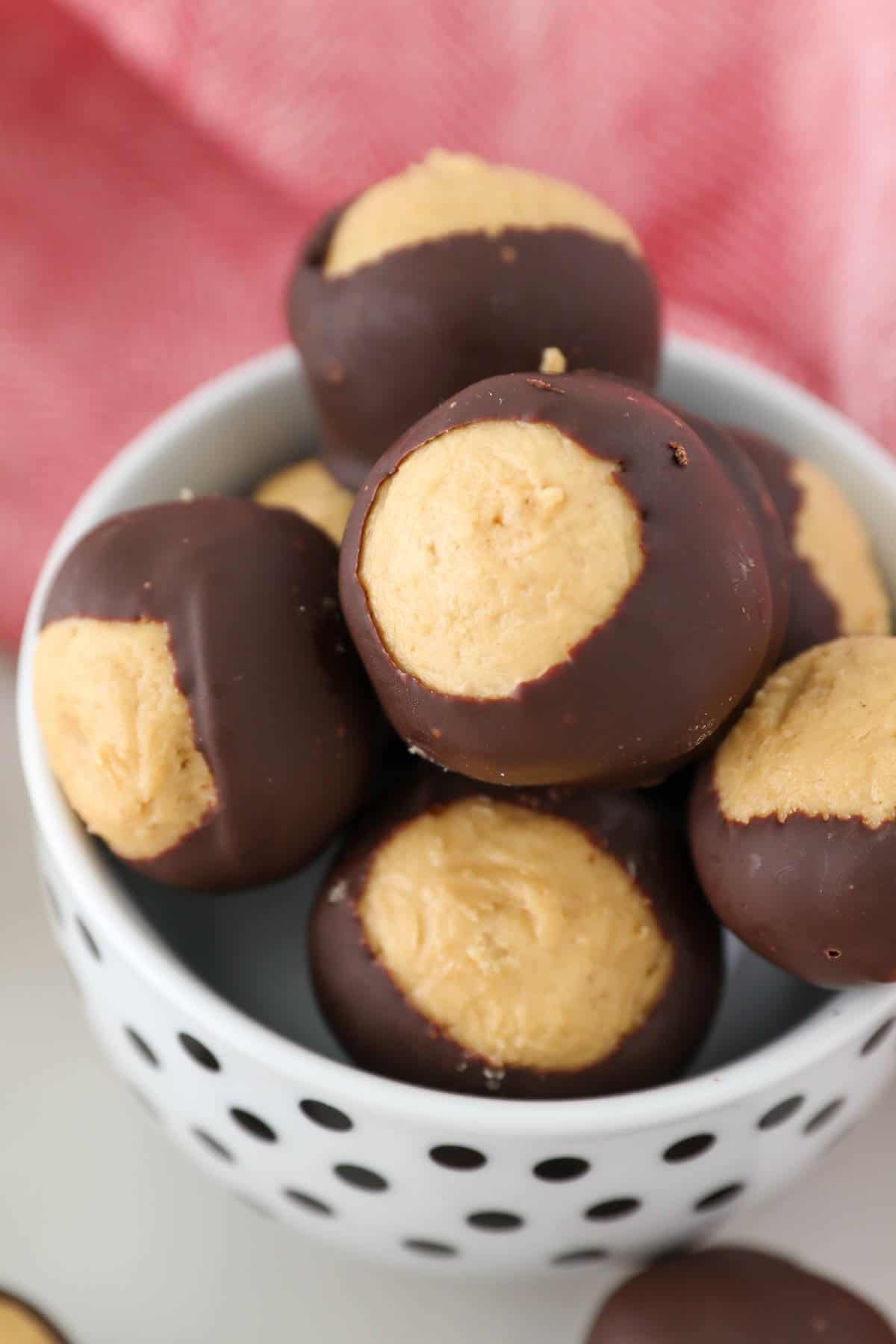 Do Buckeyes Need to Be Refrigerated?
Yes. Buckeyes are best kept refrigerated, as they'll start to soften up the longer they're at room temperature. Store them airtight to ensure they stay fresh. Properly stored, buckeyes will keep for up to 1 month in the fridge!
Can I Freeze These?
Absolutely! After they're set, pre-freeze the buckeyes on a baking sheet, then transfer the frozen candies to an airtight container or freezer bag to store. You can keep them frozen for up to 3 months, and defrost them in the fridge.
Print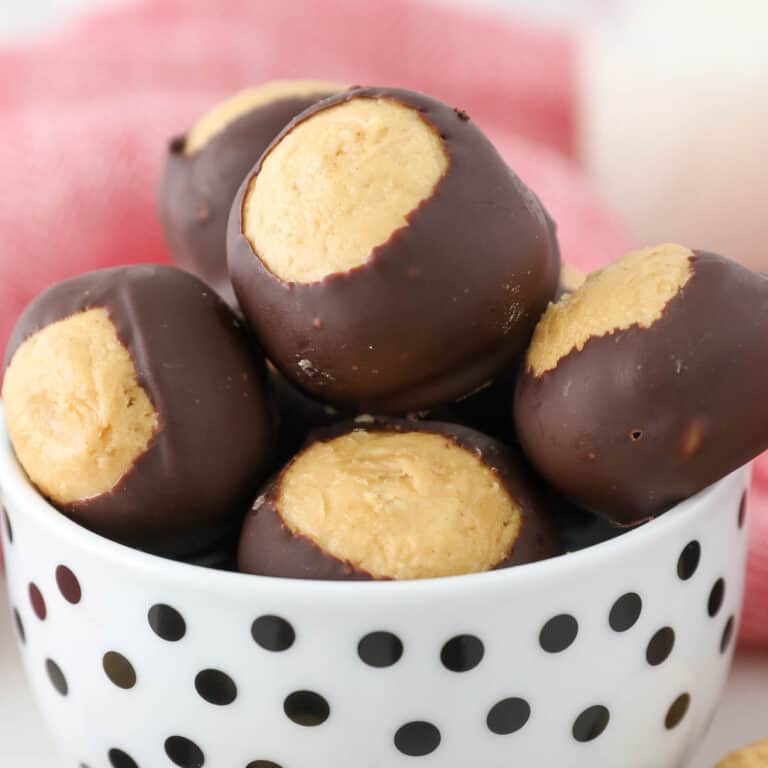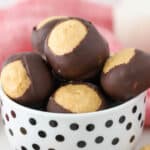 Peanut Butter Buckeyes
Author:

Prep Time:

15 minutes

Chilling Time:

3 hours

Total Time:

3 hours 15 minutes

Yield:

30 buckeyes
Description
Homemade Peanut Butter Buckeyes are a classic no-bake dessert! These smooth and fudgy chocolate and peanut butter balls always make an appearance around the holidays.
Ingredients
6 tablespoons

(

85g

) unsalted butter, at room temperature

1 cup

(

264g

) creamy peanut butter

2 1/2 cups

(

325g

) powdered sugar, sifted

2 teaspoon

(10ml) pure vanilla extract

8 ounces

(

226g

) dark chocolate bar (

1 ¼ cups

chocolate chips)

1 teaspoon

coconut oil or shortening
Instructions
Line a baking sheet with parchment paper.
In a medium-sized mixing bowl combine the butter and peanut butter and beat until completely smooth and free of lumps.
Add the powdered sugar and vanilla extract and beat until well combined.
Use a small size cookie scoop and portion the balls on the baking sheet. Refrigerate for 2-3 or freeze for 30 minutes.
Remove them from the refrigerator and roll the between your hands to form a ball. When you are ready to start dipping, pop the tray in the freezer for 10 minutes to harden. Prepare a second tray lined with parchment paper or a silicone mat.
In a microwave-safe bowl, melt the chocolate and coconut oil at 50% power in 30-second intervals; stir after each interval and continue until the chocolate is melted and smooth. Reduce time in the microwave as needed so the chocolate does not burn.
Work in small batches (3-4 at a time) and keep the remaining peanut butter balls in the freezer until ready. Stick a toothpick into the top of each one. Holding the toothpick, dip each buckeye ball into the melted chocolate about ¾ of the way. Place on the prepared tray and allow the chocolate to set before removing the toothpick. Smooth over the top of the buckeye using your fingertip or a knife. Return the buckeyes to the refrigerator to reset.
Notes
Storage: These are best kept stored in the refrigerator. After 15 minutes or so at room temperature, the buckeyes will begin to soften. They will keep in an airtight container in the refrigerator for up to a month.
Freezing: Once set, pre-freeze the buckeyes on a baking sheet, then transfer the frozen candies to an airtight container or freezer bag to store. You can keep them frozen for up to 3 months, and defrost them in the fridge.
To remove the Buckeyes from the parchment paper, wait until the chocolate and peanut butter is reset, cold, and firm. A flat-edge angled spatula can be helpful, as well as ensuring you're using parchment paper or a silicone mat.
Category:

Dessert

Method:

No-bake

Cuisine:

American
Keywords: buckeyes candy, buckeye balls, no bake desserts
More No-Bake Holiday Desserts