This post may contain affiliate sales links. Please see my full disclosure policy for details
Little bits of Pumpkin Pie Heaven! These Pumpkin Cream Pie Cookie Cups are a graham cracker crust with a pumpkin spice pudding cookie. Topped with a pumpkin mousse and fresh whipped cream.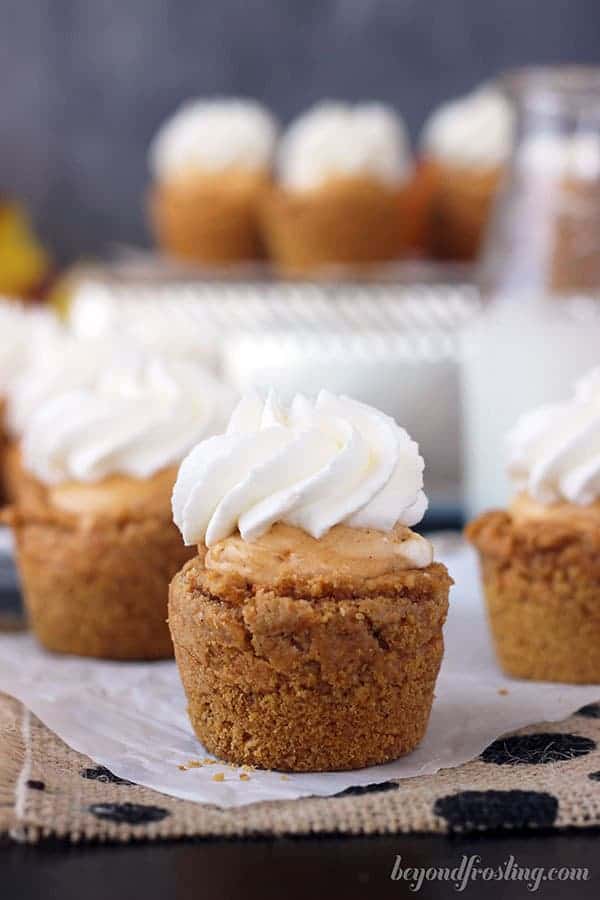 As October approaches, I find myself getting more and more excited. September has seriously been FLYING by. Last weekend was so jam packed, I woke up wishing Sunday would last forever. If it did though, I probably would have eaten through the entire batch of these Pumpkin Cream Pie Cookie Cups.
I FINALLY found Pumpkin Spice pudding mix. I have been on the prowl for literally weeks. I can only seem to find it at Walmart, so against my better judgment, I have been stopping by about once a week in search of the pudding. I have a long list of desserts I have been wanting to make as soon as I found it.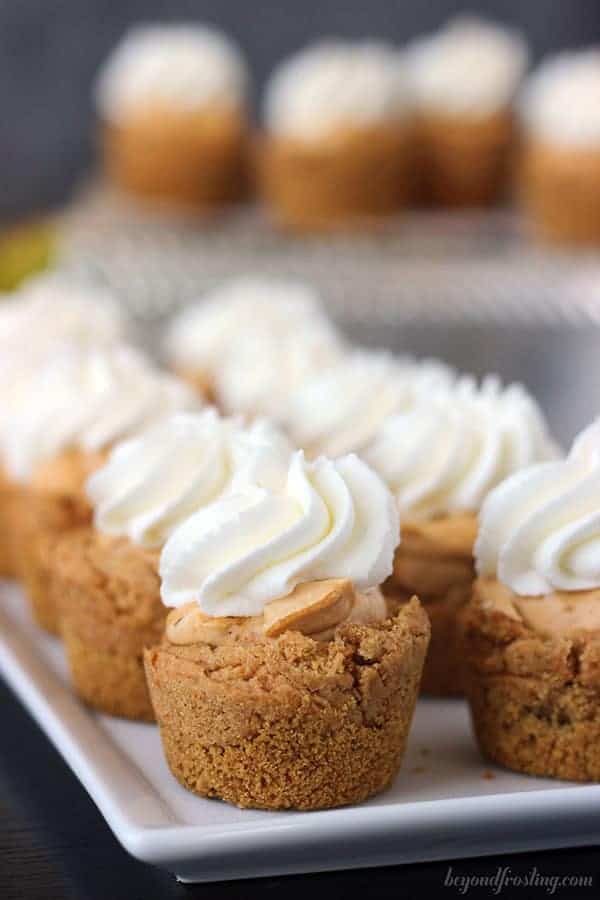 A few people have messaged me saying that they can't find pumpkin spice pudding. So as an alternative, you can try using vanilla pudding, and adding 1-2 teaspoons of pumpkin pie spice along with 1 teaspoon of cinnamon.
These Pumpkin Cream Pie Cookie Cups were inspired by my coconut version that I made a couple months ago. The coconut filling was literally to die for. The pumpkin version is no different.
It's difficult to see from the photos, but these cookies start with graham cracker crust. Do you usually make your pumpkin pies with a graham cracker crust? I do only if I am making a non-traditional pumpkin pie. Then, it is stacked with a pumpkin spice pudding cookie. Finally, it is filled with a pumpkin spice mouse and topped with fresh whipped cream.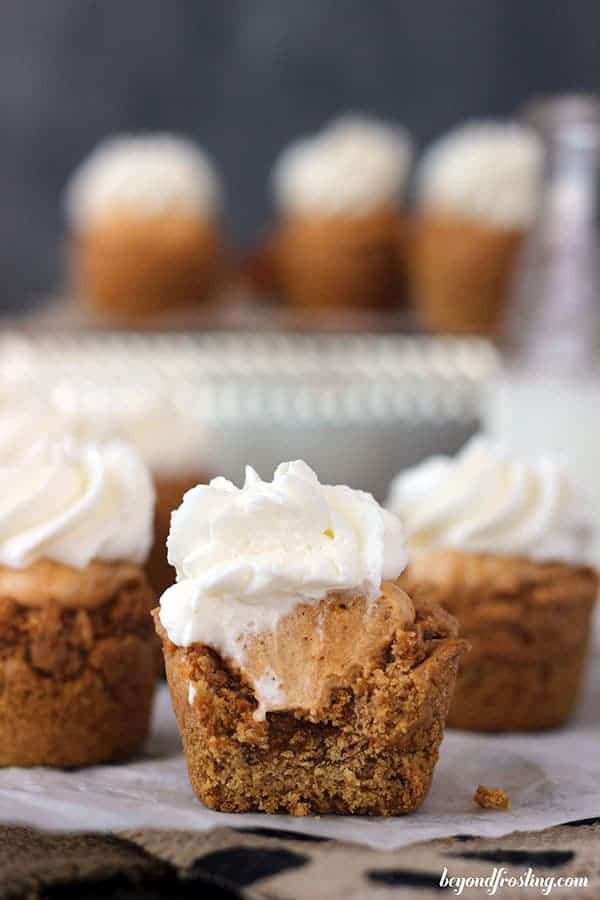 For this recipe, I used the medium cookie scoop. It was the perfect size for these cookie cups. Now I do have a deep dish mini muffin pan, which helps me make these deep dish cookie. Therefore, I was able to use a FULL scoop of cookie dough. If you have a regular sized mini muffin pan, I would reduce the amount of graham cracker crust and reduce the dough slightly.
The mousse is made with pumpkin spice pudding and homemade whipped cream. Now if you don't feel like making the whipped cream, you can of course use Cool Whip, but really people, it's worth the extra few minutes to make a batch. Plus, this recipe is topped with fresh whipped cream, so when you make a batch, you use half for the mousse and save the other half for the topping.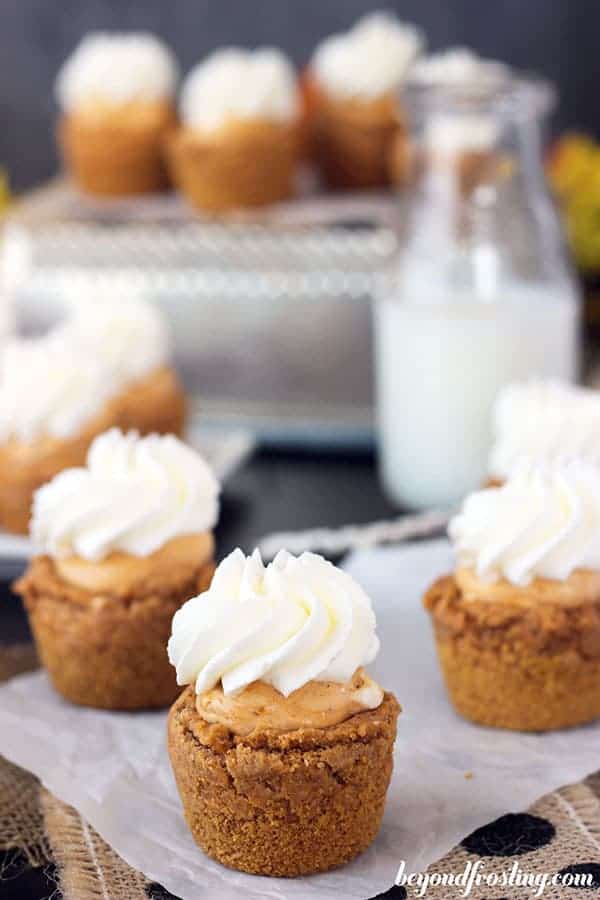 After you add the mousse and whipped cream, you will have to refrigerate these cookie cups. Also, you will notice that I used half the amount of milk required for the pudding. This helps keep it a bit thicker, which makes for a better mousse!
Now get to the kitchen and make these STAT!
Follow Beyond Frosting:
Facebook | Twitter | Pinterest | Instagram
If you love no-bake recipes, be sure to check out my cookbook, No-Bake Treats!
Print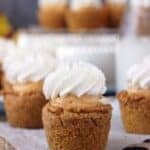 Pumpkin Cream Pie Cookie Cups
Prep Time:

20 mins

Cook Time:

12 mins

Total Time:

32 minutes

Yield:

24-28 Cookie Cups
Description
A graham cracker base with a pumpkin spice pudding cups. Filled with pumpkin spice mousse and fresh whipped cream.
Ingredients
For the cookie
1/2 cup

unsalted butter, softened

3/4 cups

granulated sugar

2

large eggs

1 teaspoon

vanilla extract

2 1/4 cups

all-purpose flour

1

pkg Instant pumpkin spice pudding (

3.4 oz

)

1 teaspoon

baking powder

1 teaspoon

salt

1 teaspoon

cinnamon

1 teaspoon

pumpkin pie spice (optional)
For the crust
1 cup

graham cracker crumbs

4 tablespoons

unsalted butter
For the mousse
1 1/2 cups

heavy whipping cream

6 tablespoons

powdered sugar

6 tablespoons

instant pumpkin spice pudding mix

3/4 cups

milk
Instructions
Preheat oven to 350° F. Grease a mini muffin pan with cookie spray or Crisco.
Allow butter to come to room temperature for about 30 minutes. Combine butter and sugar in your stand mixer and beat on medium speed until light and fluffy.
Add egg and vanilla extract. Beat into butter and sugar until thoroughly mixed.
In a medium sized bowl, combine flour, dry pudding mix, baking powder, salt, cinnamon and pumpkin pie spice. Stir to combine. Set aside.
Slowly add dry ingredients into batter and beat on a low speed until dough starts to form. If dough is a little dry, add 1 tablespoon of milk. Set dough aside.
Use a food processor to grind graham crackers into a fine crumb.
Melt butter in a microwave-safe bowl until melted. Combine melted butter with graham cracker crumbs and stir until there are no dry crumbs lefts.
Spoon 1 tablespoon of graham crackers into the bottom of the mini muffin pan. Press down with a spoon or tart shaper.
Drop 1-1.5 tablespoons of dough into the greased mini muffin pan on top of the graham crackers. Bake at 350°F for 12-14 minutes.
Remove cookies from oven and allow to cool for at least 5 minutes. Use a tart shaper or the back of a spoon to gently push down the middle of the cookies. Allow to cool for another 30 minutes in the pan. You may need to run a knife around the edge of the cookies to help release them from the pan. Cool completely.
Put bowl and whisk in the freezer for 15 minutes until completely cold. Whip heavy cream on medium high speed for several minutes until bubbly.
Add powdered sugar and beat on medium high until stiff peaks form. Refrigerate whipped cream.
Combine instant pumpkin spice pudding mix with milk. Whisk until powder dissolves. Refrigerate until pudding is firm.
Take 1 cup of the whipped cream and fold into pudding until mixed. Do not mix vigorously as it will deflate the whipped cream. Refrigerate until you are ready to assemble cookies.
To assemble the cookies, put pumpkin mouse in a Ziploc bag. Cut the tip off the end of the bag and gently fill the middle of the cookie cup with mousse. Divide between cookie cups.
Top mousse with a dollop of the leftover whipped cream.
Cookies must be refrigerated in an air tight container after the mousse has been added.
Notes
Notes: Cookies must be refrigerated after adding mousse. As an alternative to pumpkin spice pudding, you can try using vanilla pudding, and adding 1-2 teaspoons of pumpkin pie spice along with 1 teaspoon of cinnamon.
Recipes from my friends:
Pumpkin Pie Tacos from Lauren's Latest
Pumpkin Snickerdoodles from High Heels and Grills
Pumpkin Pie Oreos from Half Baked Harvest
Other recipes you might like: