This post may contain affiliate sales links. Please see my full disclosure policy for details
This Strawberry Margarita Layer Cake is a homemade tequila and lime infused moist cake recipe with a strawberry Swiss meringue buttercream.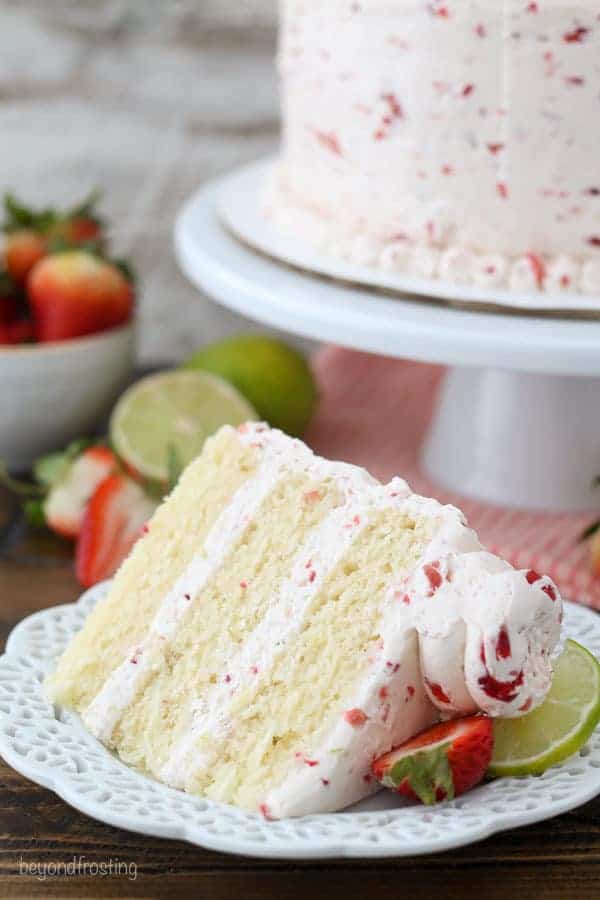 What a busy weekend! My dad was visiting from the east coast and we went to work on house projects. I am the first to admit that I am not really a "handy" person per say. I am not so much a do-it-yourselfer, I am more like a wannabe, HA!
My current office has carpet on the floor, and after a lot of debate, I decided to try and install a gym type foam floor. To do so, that meant laying down plastic over my carpet, installing boards for a flat surface and then placing the large foam mats over top.
Well silly me didn't order the foam in time, so all we could do this weekend was get the plastic and wood floor down.
Don't get me wrong, it ended up being a way bigger project than I initially thought, and we haven't even done the foam yet!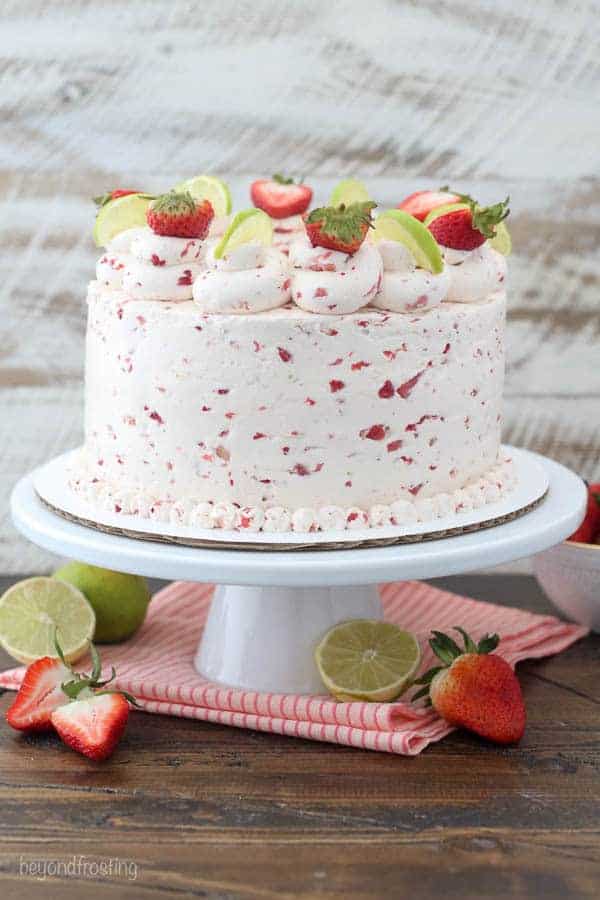 I better stock up on my wine because it looks like I still have a lot of work ahead of me.
The best part about my dad visiting was getting to share all my desserts with him. I froze some cookies from a shoot last weekend and saved a few slices of some leftover cheesecake. He just loves desserts!
At the end of the weekend, I have baked 6 cake recipes and we did a taste test for a cake recipe I am working on. It was really nice to have him participate and give his feedback. In true fatherly fashioned, he questioned my how and whys to each different batch I made.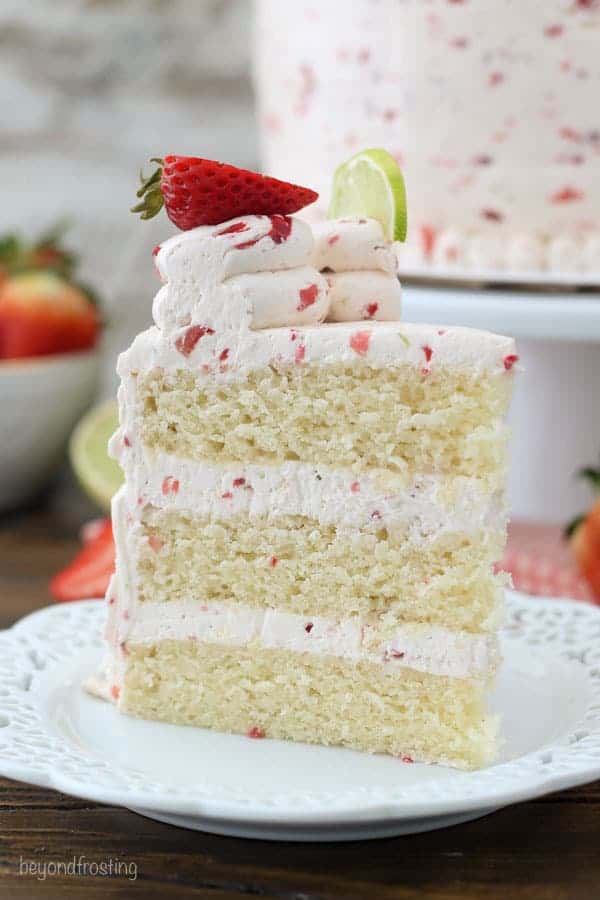 Although he didn't have a chance to try this Strawberry Margarita Layer Cake, but I am sure he would have loved this one too.
This is a homemade tequila and lime infused cake recipe with a strawberry Swiss meringue buttercream.
The cake is just prefect. It's dense, moist and full of flavor, you can smell the tequila in this cake! It's a variation on my moist vanilla cake recipe, which readers just rave about.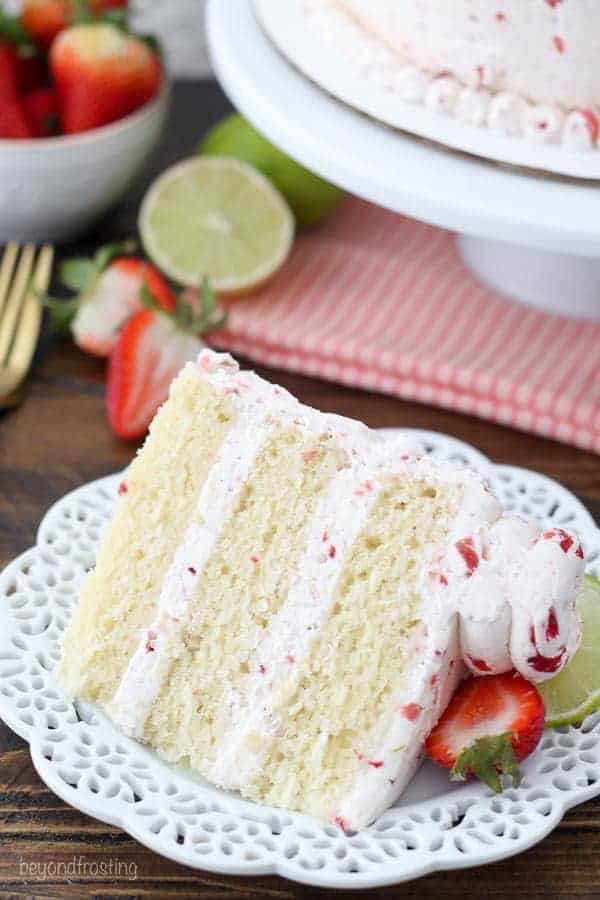 I love using this cake recipe for layer cakes because the cake has a nice structure and it's easy to handle.
There's also plenty of lime in this cake. First, you'll zest two limes and add that zest directly into the batter. Then juice those limes as well. The lime juice is added together with the tequila. You want to make sure you have a good zester. I used to hate zesting fruit until I had one I loved.
Since this cake is very dense and spongy, it won't rise very much, especially if you use bake even stripes. So, don't worry, you didn't do anything wrong!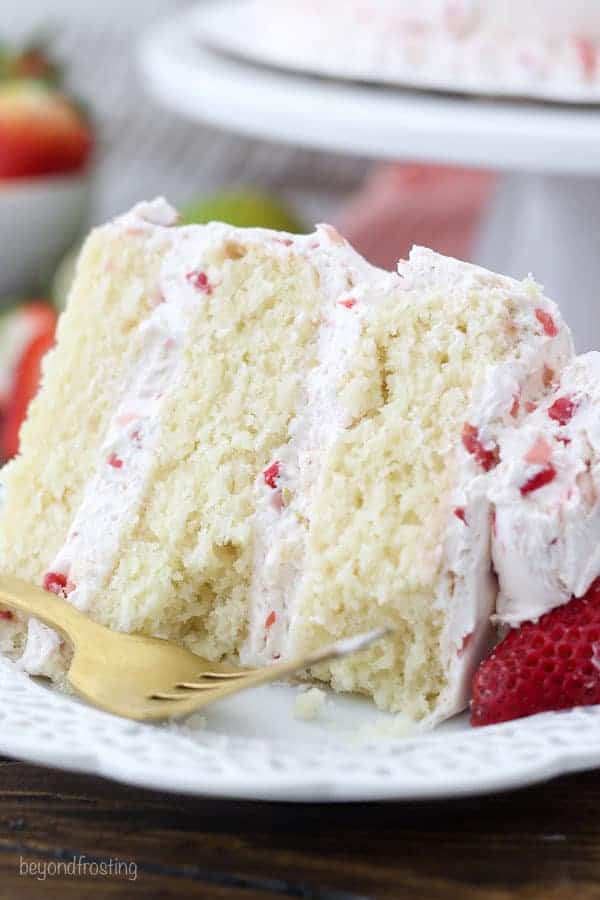 Let's talk about this strawberry Swiss Meringue Buttercream. This is not a new frosting for me. I've used it to top cupcakes and even chocolate cookies before. It's a favorite of mine.
Swiss Meringue Buttercream is quite different from American buttercream. It's made using egg whites, granulated sugar and lots of butter. It's not a very sweet flavor, but it has a buttery, velvet finish.
This frosting is flavored with fresh strawberries. I roughly puree the strawberries so it's a little saucy but still has small chunks of strawberries in there.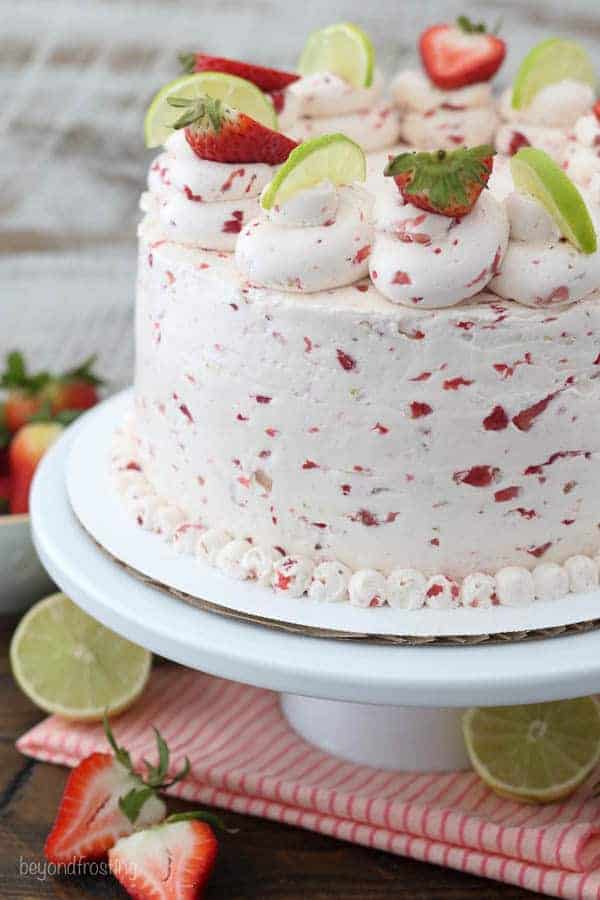 This frosting can seem intimidating because it involves tempering the egg whites and sugar. The key to being successful with this frosting, is reading through some tip and tricks I have for Swiss Meringue Buttercream.
There is a lot of time spent mixing this frosting because of the amount of eggs and butter in this recipe. First the egg white are whipped until soft peaks form and then once the butter is added, it takes several more minutes until the butter is well incorporated.
Be sure to start with room temperature butter so that it is easily incorporated to the frosting. You'll definitely need to use unsalted butter, otherwise there would be way too much salt in this recipe!
This frosting is very easy to work with because it's so light and airy. You'll probably have leftover frosting, but I am a strong believer in having leftover frosting instead of not enough! To garnish this cake, I used fresh strawberries and lime wedges. It's so pretty!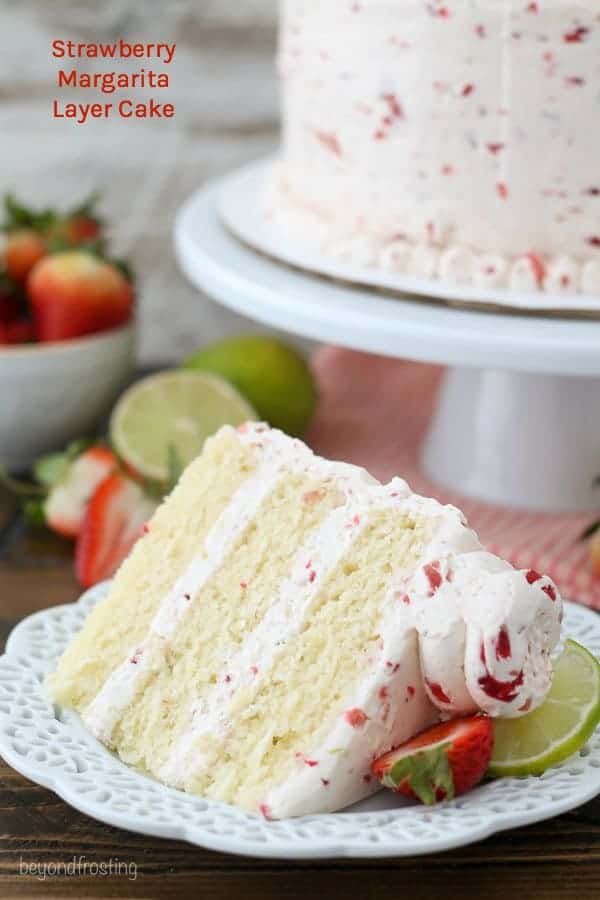 Follow Beyond Frosting:
Facebook | Twitter | Pinterest | Instagram
If you love no-bake recipes, be sure to check out my cookbook, No-Bake Treats!
Print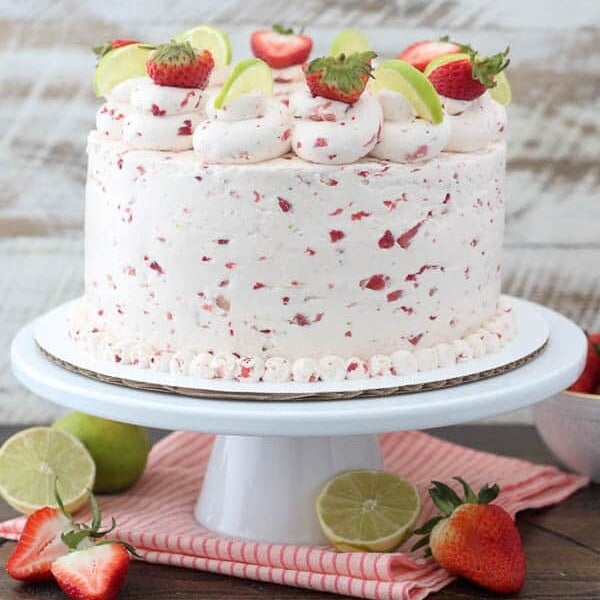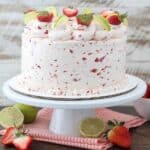 Strawberry Margarita Layer Cake
Author:

Prep Time:

60 minutes

Cook Time:

23 minutes

Total Time:

1 hour 23 minutes

Yield:

12 slices
Description
This Strawberry Margarita Layer Cake is a homemade tequila and lime infused moist cake recipe with a strawberry Swiss meringue buttercream.
Ingredients
For the cake:
2 cups

(

380g

) granulated sugar

½ cup

(

118

ml) vegetable oil

3

large eggs

2 teaspoons

(

9.8

ml) vanilla extract

½ cup

(

118

ml) light sour cream

2

large limes, zested

2 ½ cups

(

350 g

) all-purpose flour

3 teaspoons

(

11.2 g

) baking powder

1 teaspoon

(

5 g

) salt

¼ cup

fresh lime juice (about

2

limes)

½ cup

white tequila (

118

ml)

½ cup

milk (

118

ml)- I use nonfat
For the frosting:
2 cups

strawberries (

10.6 oz

), chopped and roughly pureed

3 cups

(

24 oz

) unsalted butter

2 ½ cups

(

479 g

) granulated sugar

10

egg whites

2

limes, zested
Instructions
For the cake: Preheat the oven to 350°F. Prepare 3 8-inch round baking pans, line the bottom with parchment paper and grease the sides. Prepare your bake even stripes if desired.
In a large mixing bowl, combine the sugar, vegetable oil, eggs and vanilla extract. Beat on medium speed until the eggs and oil are well incorporated and the batter is lighter in color, about 2 minutes. Scrape down the bowl as needed.
Next mix in the sour cream and lime zest and beat until well combined.
Combine the dry ingredients in a separate bowl. Add half the dry ingredients and beat on low speed while pouring in the lime juice and tequila. Mix just until the flour starts to incorporate.
Finally add the remaining dry ingredients, mixing on low speed while pouring in the milk and beating until all of the ingredients are well combined. Use a spatula to scrape down the sides of the bowl and stir the batter from the bottom to the top to ensure it's well mixed.
Divide the batter evenly between the three pan, about 1 2/3 cups of batter per pan. Bake at 350°F for 20-23 minutes. Rotate your pans in the oven halfway through baking.
Test the cake for doneness by inserting a toothpick into the center of the cake. If the toothpick comes out clean, you cake is done. Remove from the oven and allow to cool completely.
For the frosting: Rinse and chop strawberries into smaller pieces, about the size of a dime. Roughly puree in a food processor to create some juice, but leaving some smaller chunks of strawberries. Set aside.
Combine the sugar and egg whites in your stainless steel mixer bowl (or any heat proof bowl). Attached your candy thermometer to the side of the bowl.
Set your bowl over top of a pot with water, just enough to cover the bottom of the pot. You do not want the water to boil and touch the bottom of your mixing bowl. Heat the water on medium to medium-low heat.
Combine the sugar and egg whites and stir (using your greaseproof spatula) constantly until the mixture reaches 140°-150° F. This is the most important part; you do not want to egg whites to cook. When it reaches 140° F, the sugar should be dissolved in the egg whites. You can test this by placing a drop on your fingertips and rubbing them together. The mixture should be completely smooth. Remove from heat.
Place the mixing bowl on your stand mixer. Using the wire whisk attachment, beat the egg whites. Start on low and increase the speed to medium after 2 minutes.
Beat for another 3-5 minutes on medium speed. At this point, your frosting should have turned white as the egg whites are whipped and the body of the meringue starts to form.
After 5 minutes, increase the speed to high. You will notice that as you increase the speed, the body of your meringue will also increase. It will start to look glossy as the peaks begin to form. Beat for another 5-8 minutes.
After about 12-15 minutes the bottom of your mixing bowl should be cooled completely. Your SMB should look kind of like whipped cream. Scrape down all sides and bottom of the bowl.
Turn your mixer down to medium-low. Slowly add your butter, about 1 tablespoon at a time, ensuring it is mixed well after each addition. Once you have added all your butter. Mix for another minute and scrape down the sides of the bowl.
Switch to the paddle attachment and continue beating on medium to allow all the air bubbles to escape. In about 3-5 minutes the frosting should be smooth. If you frosting appears to be curdled, just keep beating.
Lastly, pour in the strawberry puree and lime zest and beat for another minute or two until they are well combined in the frosting.
To assemble the cake, use a cake leveler to cut the domes off the top of the cake if you have domes. Place a dollop of frosting on your cake board and place the bottom layer of cake on top of that.
Place about 2 cups of frosting in a large piping bag fitted with a large open round tip, or simply cut off the end of the piping bag. Pipe a layer of frosting on top of the cake, starting at the outside edge and working your way into the middle. Spread evenly with an offset spatula. Repeat with the second layer of cake and then place your third layer on top.
Use your piping bag to fill in any gaps between your layers and to create a crumb coat. Using an offset spatula or icing smoother, wipe away the excess frosting, leaving you just enough to coat the outside of the cake. Do not mix your crumb coating frosting back into your icing if it has cake debris in it.
Proceed to frost the top and sides of the cake using your offset spatula. Once the sides of the cake are covered, use you icing smoother to remove any excess frosting.
Use remaining frosting to pipe the florets on the top of the cake using an large open round piping tip. Garnish with leftover strawberries and slices of lime.
Category:

Cake

Method:

Baked

Cuisine:

American
Keywords: Strawberry Cake, Margarita Cake, Strawberry Swiss Meringue Buttercream, Strawberry Layer Cake
You might also like: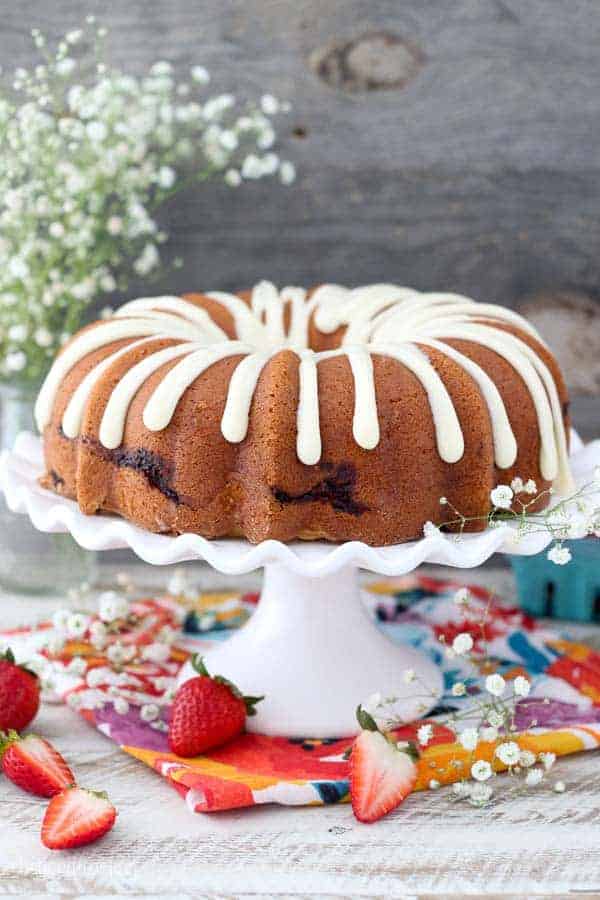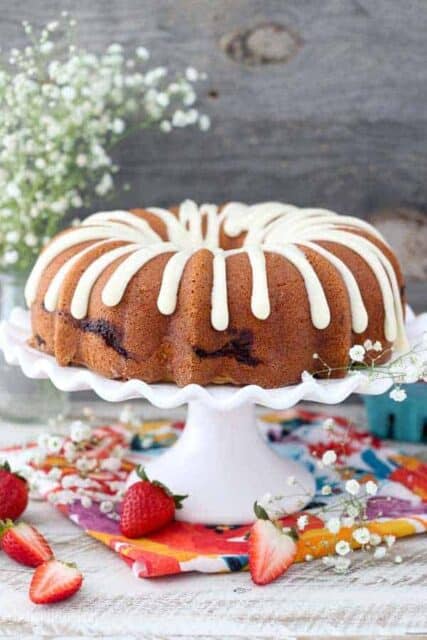 Strawberry Mascarpone Layer Cake