This post may contain affiliate sales links. Please see my full disclosure policy for details
Don't wait for Valentine's day to make these Chocolate Covered Strawberry Cookies. They are so dreamy. They are soft, packed with chocolate flavor and slightly taste like chocolate cake too! These cookies start with a chocolate cake mix cookie, then they are layered with a Strawberry Swiss Meringue Buttercream and topped with a chocolate covered strawberry.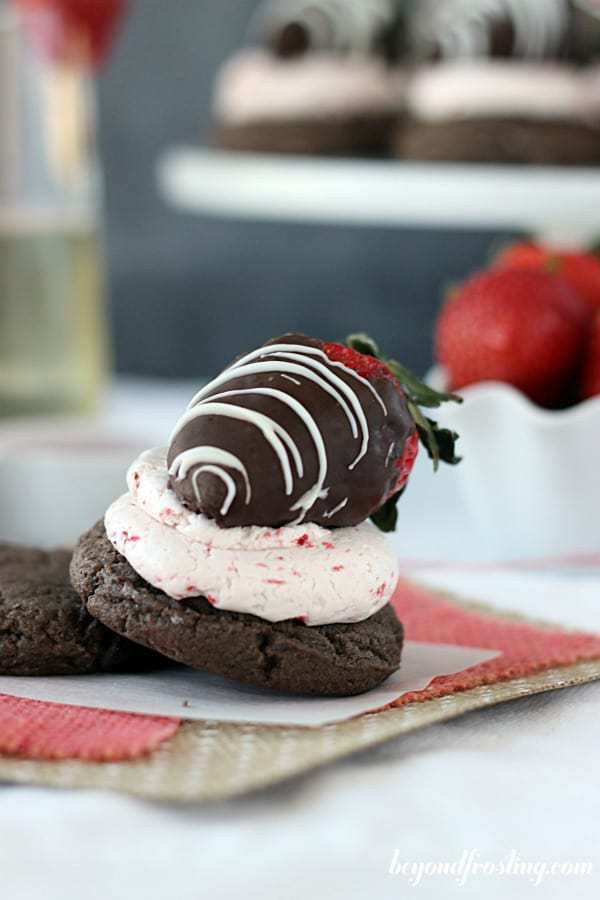 I am pretty sure I am the last person on the planet to discover cake mix cookies. Like, where have you been all my life? I first made a cake mix cookie when I made these Key Lime Cheesecake Cookie Cups, but I have never actually made a non-cookie cup version of a cake mix cookie until I made these.
Chocolate Covered Strawberry Cookies start with a chocolate cake mix cookie, then they are layered with a Strawberry Swiss Meringue Buttercream and topped with a chocolate covered strawberry. I could not think of a better dessert to keep all to myself.
They are freaking dreamy. They are soft, packed with chocolate flavor and slightly taste like chocolate cake too!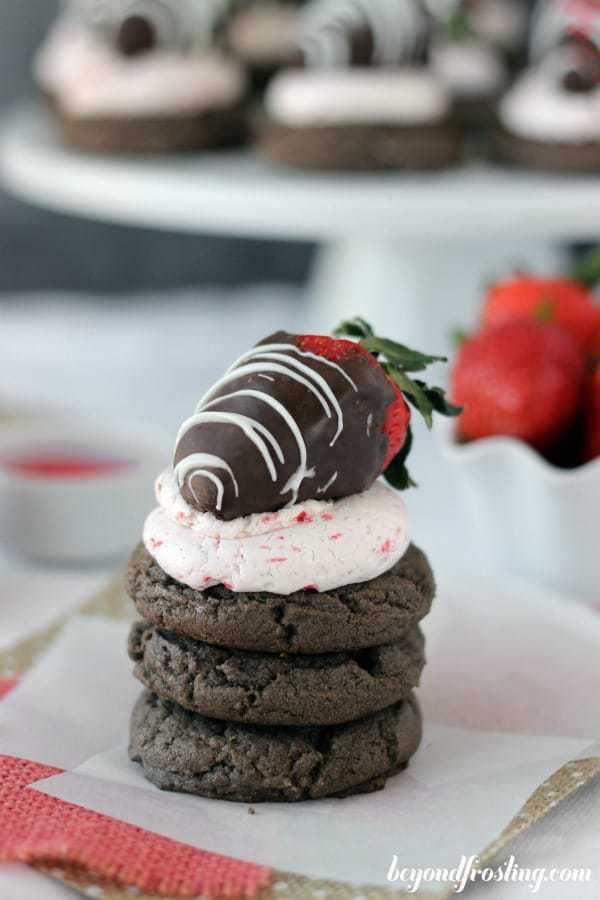 I am a huge fan of chocolate covered strawberries. My boyfriend husband usually gets me a box for Valentines day, and lucky for me, I don't have to share with anyone. However, they're actually SUPER easy to make at home!
Let me teach you how to make these special cookies. Take it step by step and allow yourself a little bit of time to make the frosting and for the strawberries to set.
Chocolate Covered Strawberries
I made the chocolate covered strawberries the night before I made these cookies. I kept them covered in tin foil at room temperature. Whenever I have put them in the fridge, they usually end up with condensation which is not great when you're placing them on top of cookies or cakes.
The strawberries are so easy to make.
It will be way easier if you use melting candy like Candiquik or Ghirardelli Chocolate Wafers. The chocolate melts to the perfect consistency for dipping, they are made for this purpose!
If you're not able to buy melting chocolate, you can still use melted chocolate chips, and use Crisco or oil to help thin it out. Combine the Crisco (or oil) with the chocolate chips before melting. This helps the chocolate set faster but also it makes the consistency thinner and easier to work with when dipping fruit.
Hold the strawberries by the stem and dip them into the melted chocolate. Tap off the excess chocolate on the side of the bowl
Lay out on parchment paper or a Silpat (silicone baking mat) to dry. I prefer the silicone mat myself, nothing sticks to it!
I usually move the strawberries around slightly after the first 15 minutes so that the bottom doesn't stick and become messy when I try to remove it.
You can cover the strawberries with sprinkles, crushed cookies or more chocolate glaze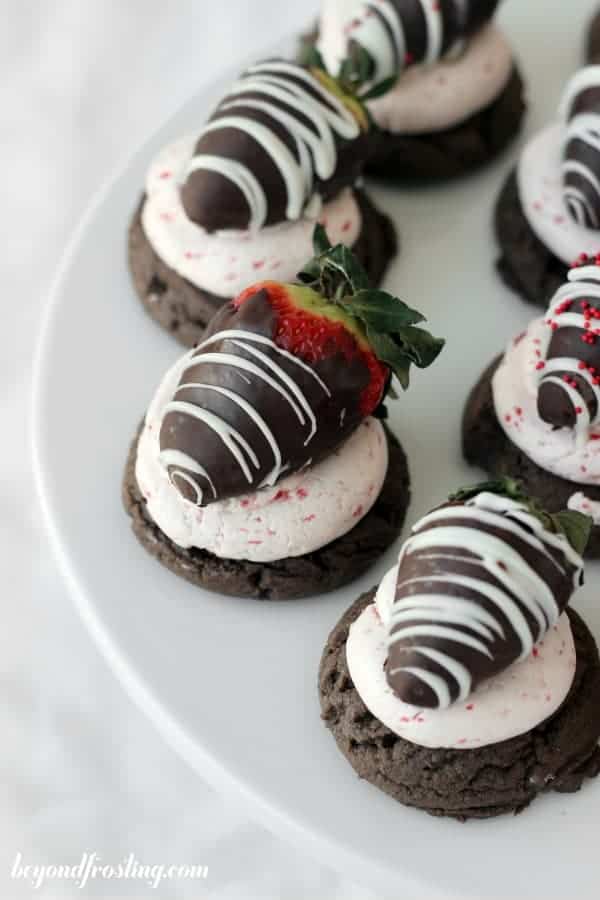 Strawberry Swiss Meringue Buttercream
For the frosting, I made a fresh strawberry Swiss Meringue buttercream. This is definitely one of my most favorite frosting recipes to make. It's silky smooth with a subtle strawberry flavor. This recipe uses a fresh strawberry puree, which elevates both the taste and texture of this frosting.
If you've never made a Swiss Meringue Buttercream before you should know that it takes a little bit of work. However, I have a great tutorial for making Swiss Meringue buttercream. I highly recommend reading that post before you start because it packed with tip and notes so you will be successful.e
I love Swiss meringue buttercream because it is much less sweet than your typical frosting made with powered sugar. This type of frosting uses granulated sugar that is heated together on the stovetop with egg whites. Then it is whipped at a high speed to form a meringue-like texture at which time you add the butter. The frosting is further whipped to become the lightest frosting you will ever eat.
Here's a sneak peek at a couple steps during the process of making the frosting.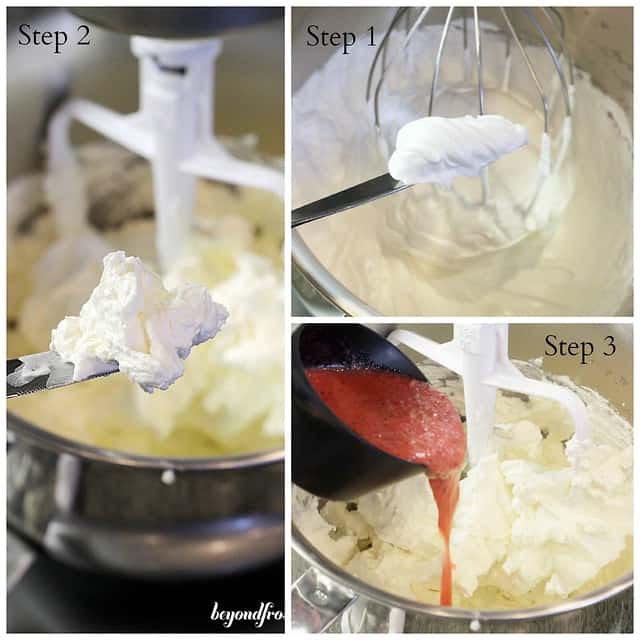 Did I mention it's silky smooth?
I've used this Strawberry frosting for a few recipes on my site including my Strawberry Margarita Cake and the cupcake version of these cookies- Chocolate Covered Strawberry Cupcakes!
Assembling the Cookies
Once your cookies are baked and cooled, and your frosting is ready to go, you can essentially start making these cookies. It's best to have the strawberries already prepared so you can stick them into the soft frosting.
To assemble the cookies, I piped the strawberry buttercream on top of the cupcakes using a wide, open circle tip (Ateco 808 or 809), but the piping tip is really not required. You could easily spread this frosting with a knife or a simply by using a piping bag with the tip cut off.
Place a strawberry on top of the frosting and gently press them down.
Feel free to keep these cookies all for yourself, but it's also a pretty good way to impress your favorite person whether it's for Valentine's Day or not!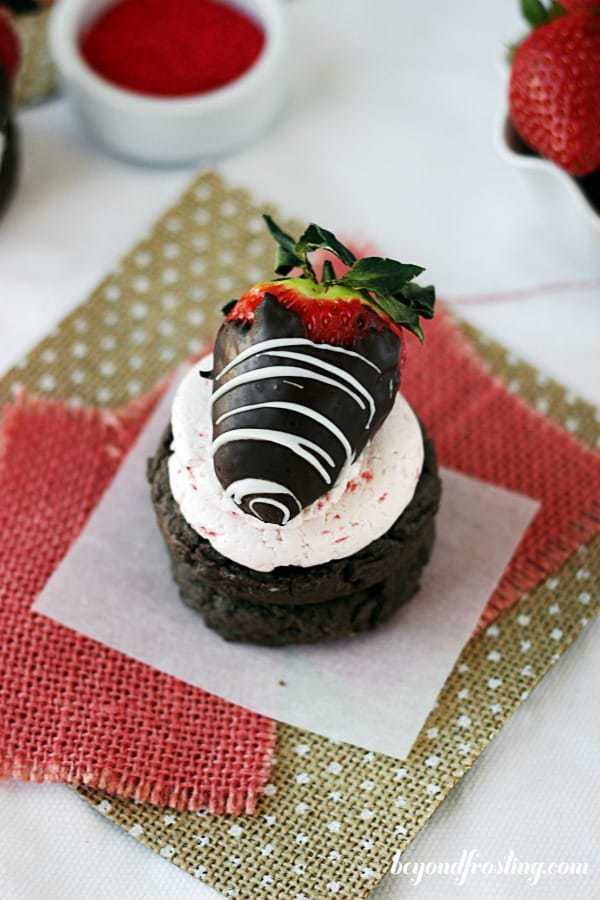 More Strawberry Desserts
Follow Beyond Frosting:
Facebook | Twitter | Pinterest | Instagram
If you love no-bake recipes, be sure to check out my cookbook, No-Bake Treats!
Print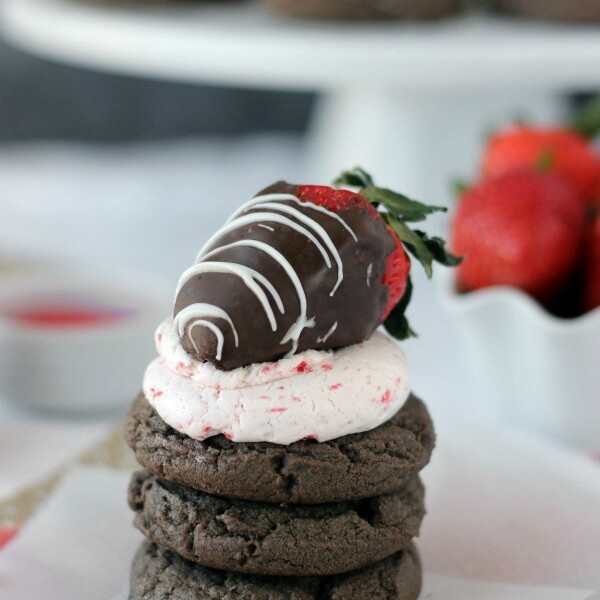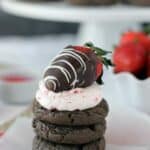 Chocolate Covered Strawberry Cookies
Author:

Prep Time:

40 minutes

Cook Time:

10 minutes

Total Time:

50 minutes

Yield:

24 Cookies
Description
These cookies start with a chocolate cake mix cookie, then they are layered with a Strawberry Swiss Meringue Buttercream and topped with a chocolate covered strawberry.
Ingredients
1 2/3 cups

all-purpose flour

1 cup

chocolate cake mix (powder)

2 tablespoons

cup dark chocolate cocoa powder

1 teaspoon

baking powder

½ teaspoon

salt

¾ cup

unsalted butter, softened

1 cup

granulated sugar

1

large Egg

2 teaspoon

pure vanilla extract
For the frosting
2 cups

unsalted butter at room temperature

5

large eggs whites

1 cup

plus 2 tablespoons granulated sugar

¾ cups

strawberry puree
For the strawberries
24

Strawberries

10 ounces

Chocolate (see notes)
Instructions
For the cookies: Pre-heat oven to 350° F.
In a separate bowl, combine flour, cake mix, baking powder, salt and cocoa powder. Stir and set aside.
Soften butter in the microwave for 15 seconds. Combined softened butter and sugar in a mixing bowl. Beat on medium speed until light and fluffy, 2-3 minutes.
Add the egg and vanilla extract and beat until well combined.
Reduce mixer to low speed and slowly add dry ingredients. Once combine, increase speed to medium high and beat for 1-2 minutes until soft dough forms.
Spoon 2 tbsp of cookie dough onto a lined baking sheet. Bake at 350° F for 10-12 minutes. Allow the cookies to cool on the pan for several minutes before transferring to a wire rack and cool completely.
For the frosting: Puree strawberries using a food processor. Set aside.
Combine the sugar and egg whites in a heatproof bowl with candy thermometer attached.
Set the bowl over top of a saucepan with 1 ¼ cups water covering the bottom. Place over medium heat.
Stir constantly with a whisk until the mixture reaches 140°- 160° F . The sugar should be dissolved in the egg whites. You can test this by placing a drop on your finger tips and rubbing them together. The mixture should be completely smooth.
Immediately place the mixing bowl on your stand. Using the wire whisk attachment, beat the eggs white on low for 2 minutes then increase to medium high.
Beat for another 5-7 minutes. At this point, your frosting should have turned white and the body of the meringue starts to form. Increase the mixing speed to high. It will start to look glossy as the peaks begin to form. Beat for another 3-5 minutes until the bottom of your bowl is cool to the touch and your meringue has stiff peaks.
Turn your mixer down to medium-low. Slowly add your butter, 1 tbsp at a time. As you add more butter, the frosting might appear to have curdled and lost its body, that's ok. Scrape down the sides of the bowl.
Switch to the paddle attachment, add the vanilla extract and then slowly drizzle in the strawberry puree and continue beating on medium-high speed until your frosting start to have stiff peaks. Beat for about 3-5 minutes.
Serve the same day or you can refrigerate in an air-tight container for up to 3 days. If refrigerated, you will need to bring it to room temperature (about 4 hours) and remix using the paddle attachment for about 5 minutes.
For the strawberries: Wash strawberries and thoroughly dry with a paper towel.
In a microwave-safe dish, melt chocolate in 30 second increments, stirring after each 30 seconds. Repeat until chocolate is melted.
Use two toothpick and stick it in the end of your strawberry. Dip strawberry into chocolate and swirl to coat the strawberry. Lift up and shake off extra chocolate.
Place on parchment paper or non-stick baking sheet and allow chocolate to harden.
To assemble the cookies, pipe frosting onto top of cooled cookie and place a chocolate covered strawberry on top. Keep covered at room temperature. Consume within two days.
Notes
Be sure to read my tutorial for how to make Swiss Meringue Buttercream before attempting this recipe.
For the frosting, make sure you have unsalted butter
For the chocolate coating on the strawberries, it's best to use a chocolate made for candy dipping such as Ghirardelli Melting Wafers, Candiquick, or Almond Bark.
Prepare the strawberries the night before, store at room temperature wrapped in foil or plastic wrap.
Category:

Cookies

Method:

Baked

Cuisine:

American
Keywords: Chocolate Cake Mix Cookies, Chocolate Cookies, Chocolate covered strawberries
Recipes from my friends:
Strawberry and White Chocolate Cake Mix Cookies from Mom on Timeout
Chocolate Covered Cherry Fudge from Something Swanky
Chocolate Covered Strawberry Pie from The Gunny Sack