This post may contain affiliate sales links. Please see my full disclosure policy for details
This Easy Taco Salad with Ground Beef is a quick and healthy weeknight dinner, with your favorite Tex-Mex ingredients and flavors. Customize the add-ins and toppings for a meal the entire family will devour.
An Easy Weeknight Dinner Everyone Loves!
When it comes to dinner during the week, my goal is always to find something that's easy (and quick) to make, at least semi-healthy AND approved by the entire family. Recipes that fit into all three of those categories aren't always the easiest to find, so when something is a hit, I tend to make it over and over again.
This Easy Taco Salad is a perfect example. We grew up eating taco salad as a frequent family dinner. It's a fully customizable twist on ground beef tacos that not only gets inhaled the second it hits the table but also makes great leftovers for lunch the next day.
My go-to taco salad recipe is made with ground beef, shredded lettuce, cheese (of course), and a variety of vegetables and Tex-Mex ingredients like black beans and fire-roasted corn. Then I top it with sour cream, salsa or my easy guacamole.
What I love is that all the toppings and add-ins for the salad are completely optional, so this is easy to customize to your family's tastes. It's even fun to create a taco salad bar where you just place all the ingredients on the table and everyone gets to build their own. This is especially great for picky eaters.
You can also easily adjust this to meet your dietary needs too – it's easy to turn it gluten-free, low-carb or even keto. Just omit ingredients as necessary. I'll often load my salad up with some additional veggies, just to get that extra serving in.
This recipe makes a whopping 6 taco salads, perfect for a big family or dinner plus lunch for a few days. However, you can easily adjust that by the amount of ground beef you cook and the veggies you chop up. I do recommend making enough for leftovers though – taco salad can make an easy no-fuss lunch!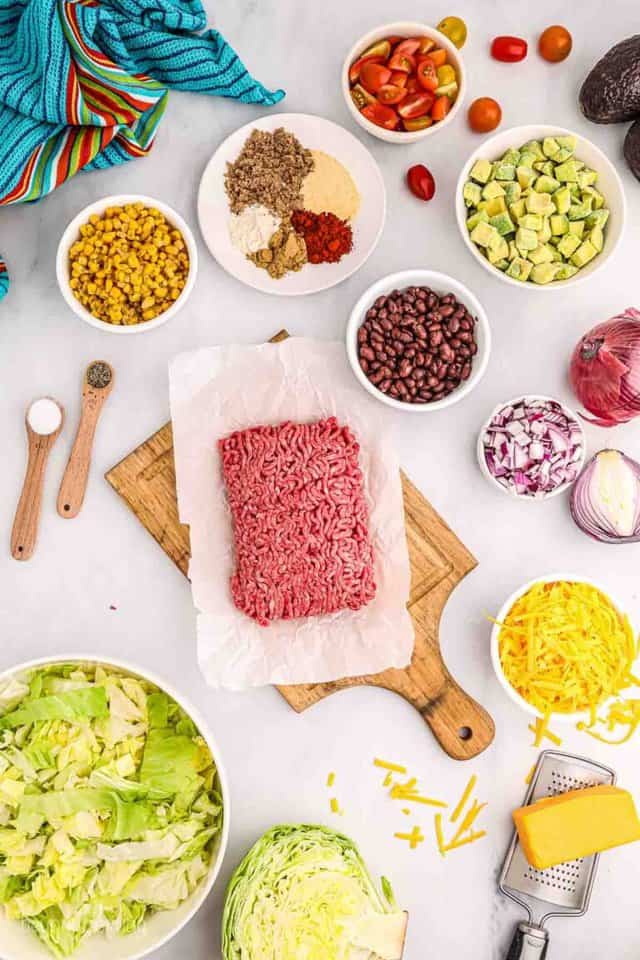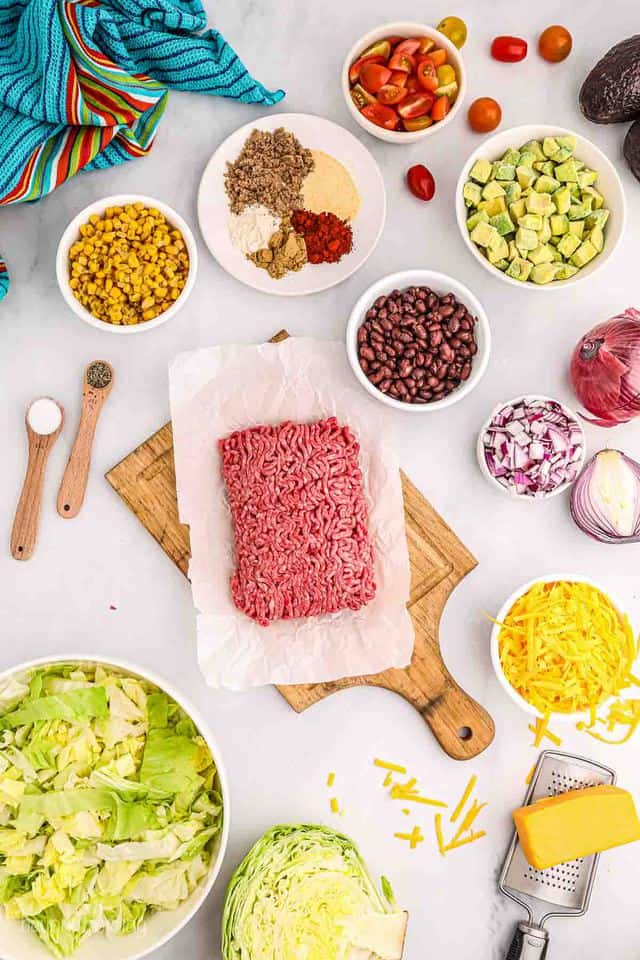 What You'll Need
I like to season my ground beef myself, instead of using a generic taco seasoning package, so I've included the ingredients for the best homemade taco seasoning, as well as the salad add-ins and some optional toppings. The great thing about this recipe is how customizable it is, so feel free to add or omit ingredients as desired.
For the Beef:
Ground beef – Opt for lean ground beef if you can, to avoid too much excess fat.
Brown sugar – Adds a hint of sweetness to balance out the other taco seasonings.
Seasonings – I use a combination of ground cumin, ancho chili powder, onion powder and garlic powder to make my homemade taco seasoning for ground beef.
For the Salad:
Lettuce – Romaine and iceberg are both good options.
Cheddar cheese – You can also substitute a three cheese or taco blend.
Tomatoes – I like to use halved cherry tomatoes.
Red onion – Omit or add on the side if needed.
Corn – We love to use fire roasted corn.
Black beans – A little Tex-Mex flair.
Avocado – Sliced or chopped. I like Hass avocados.
Salt and pepper – Just a pinch of each.
Optional Toppings:
Tortilla strips – You can also use tortilla chips for a little crunch.
Salsa – Salsa can be an easy way to add some spice and it also doubles as a dressing.
Sour cream – Adds a nice, creamy texture.
Guacamole – Sometimes I'll ditch the avocado slices for a spoonful of homemade guacamole on top. (Or add both!)
How to Make Taco Salad
Preparing this easy taco salad is super easy and takes about the same amount of time as cooking your favorite tacos, with less work!
Prepare the beef. Brown the beef until there's no pink remaining, then drain excess fat and add in the spices. Add water and continue simmering until the water has cooked off and the beef is coated in the seasonings.
Assemble the salad. Layer the salad, beginning with the lettuce, then adding the other desired ingredients. Season with salt and pepper.
Garnish and serve. Top the salad with ground beef and desired toppings. Serve immediately.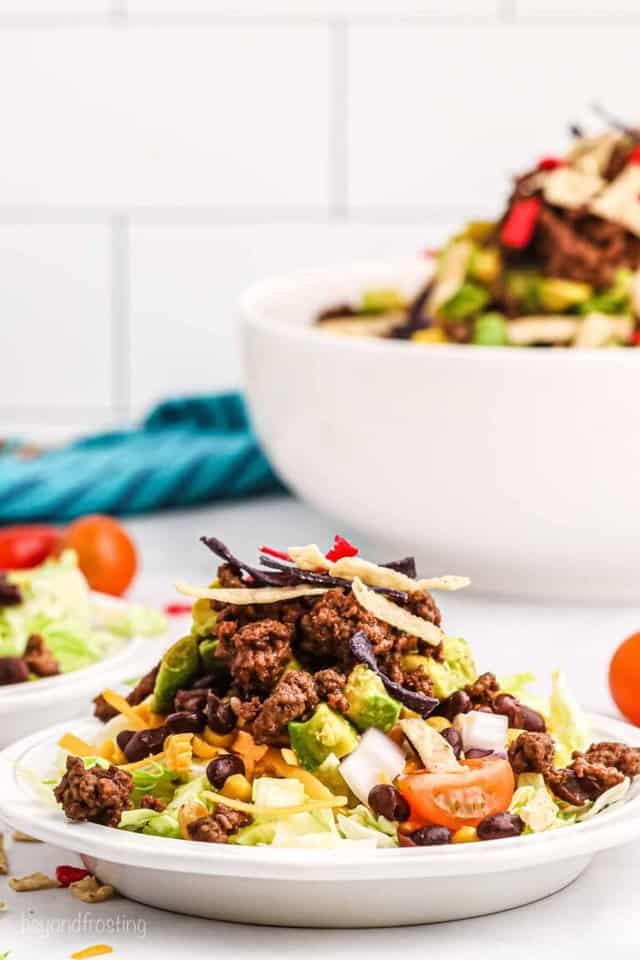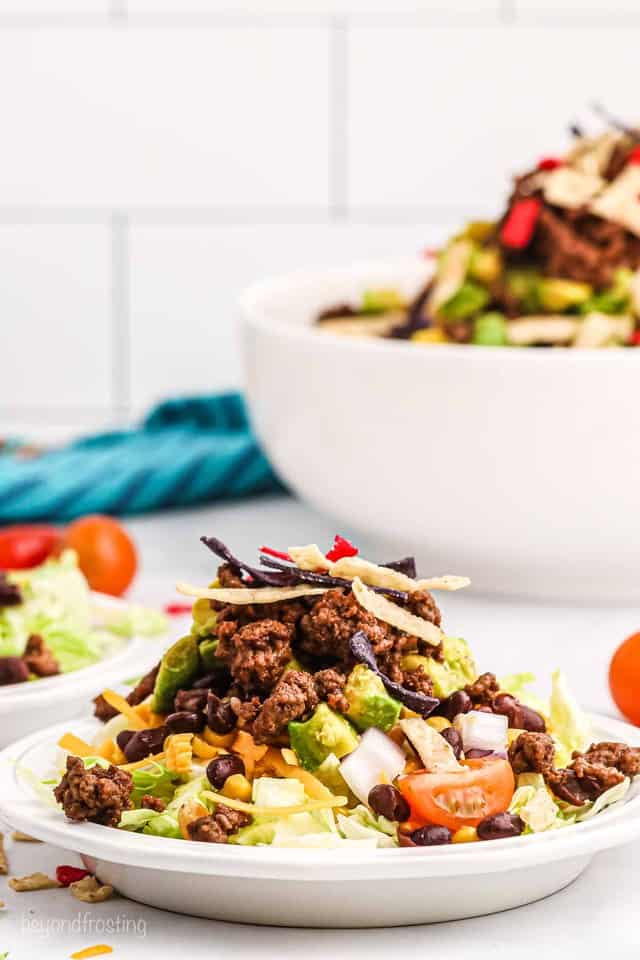 Tips for Success
It's all but impossible to go wrong with this healthy taco salad – but there are a few ways to make it even better. Here are a few of my tips, after making it for my family many times!
Allow everyone to add their preferred toppings. If you're serving a big group or even just a few picky eaters, this will save you a lot of time and "but I don't like this!". Just make the salad with the ingredients you know everyone likes and then allow them to any additional toppings themselves.
Use ground turkey for a lighter option to ground beef. If you're focused on making a healthy taco salad, consider swapping the ground beef for ground turkey. Turkey meat is much more lean than beef and will help cut fat and calories.
Salsa, sour cream and guacamole make great dressing replacements. There's no need to make any special dressing for this salad. I find that salsa, sour cream and guac all work as a creamy dressing for this.
Prep the veggies while the ground beef is cooking. To keep your time in the kitchen minimal, focus on prepping and cutting all of the other ingredients while the ground meat is cooking.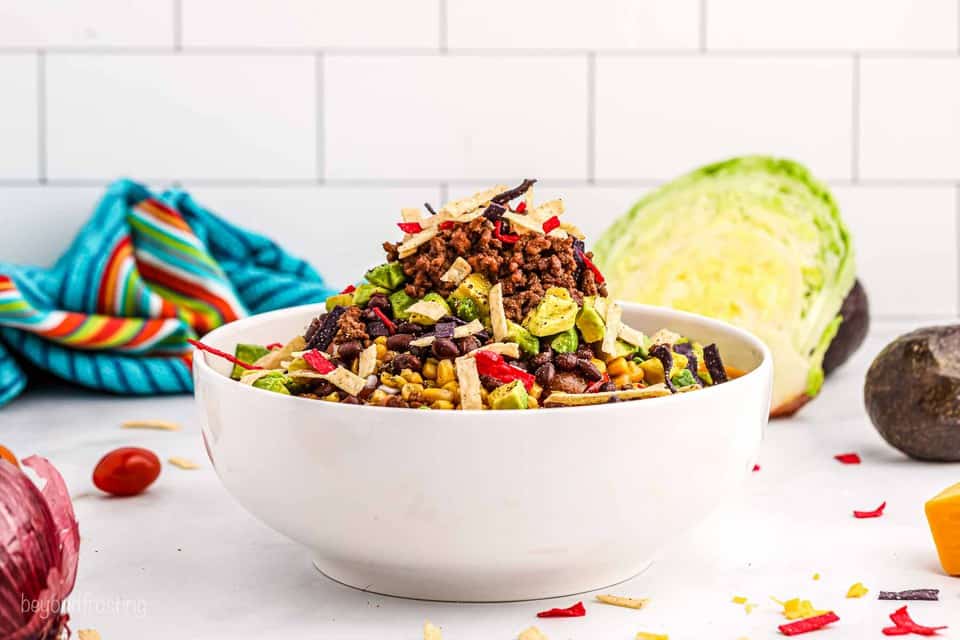 Serving Suggestions
The best part about taco salad is that everything you need to serve is right there in the bowl!
You can either prepare one large salad to serve everyone from or allow each person to build their own salad. The build-your-own is a great option for large groups or picky eaters who may only want a few toppings. Each person can also customize their salad according to dietary preference, like no dairy or low carb too.
Can I eat this warm or cold?
Taco salad can be enjoyed warm or cold! We love it fresh as soon as the beef is done cooking, but it also makes for great leftovers if stored properly. While you can reheat the leftover beef if you store it separately, I usually don't, mostly for the sake of convenience.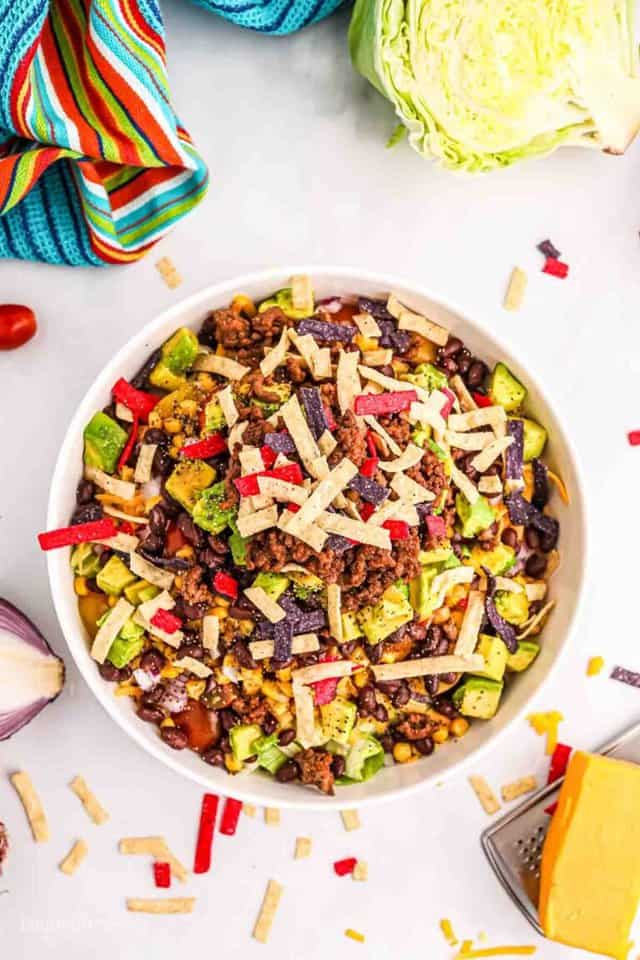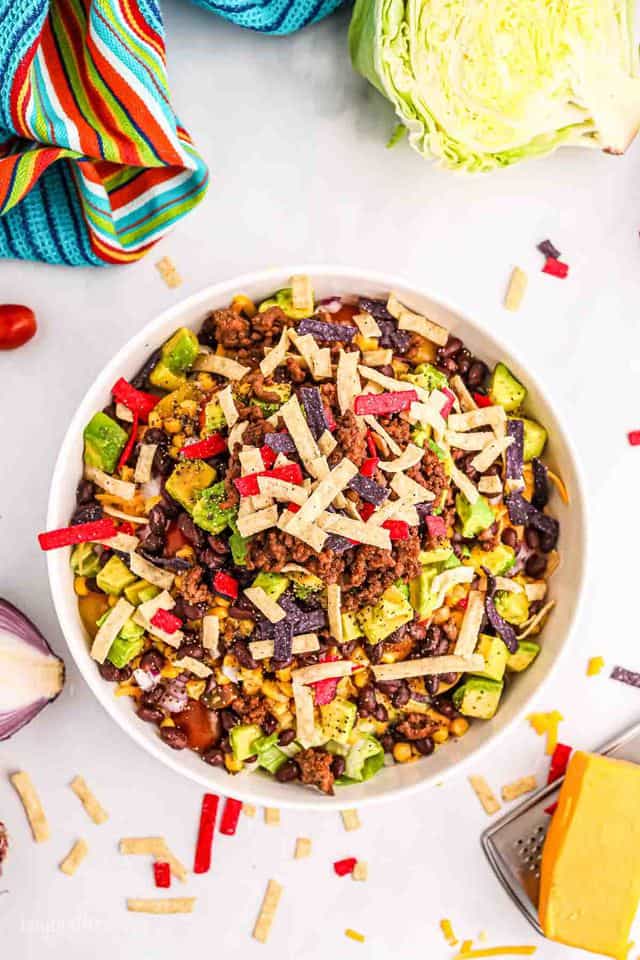 How to Store Leftover Taco Salad
If you intend to have leftovers of the salad, only add the ground beef to the salad that you will be consuming that meal. Once mixed all together, the salad does not keep well and may only last a day in the fridge.
If you'll be serving in smaller portions or plan on meal-prepping taco salad, I recommend portioning everything out ahead of time. Store the veggies and meats in separate airtight containers, then mix together and add the toppings (sour cream, salsa, tortilla chips, etc) when serving.
Leftover taco meat will last up to 4 days in the fridge, as will most of the other ingredients. Some, like avocado, will not last as long and should be added later.
Can I Freeze Taco Meat?
Yes, taco meat can be frozen. Allow the seasoned ground beef to cool completely, then store in an airtight, freezer-safe container (or ziploc) for up to 3 months.
Thaw in the fridge and reheat on the stovetop before serving. You may need to add a spoonful of water to prevent it from drying out on the stove.
Print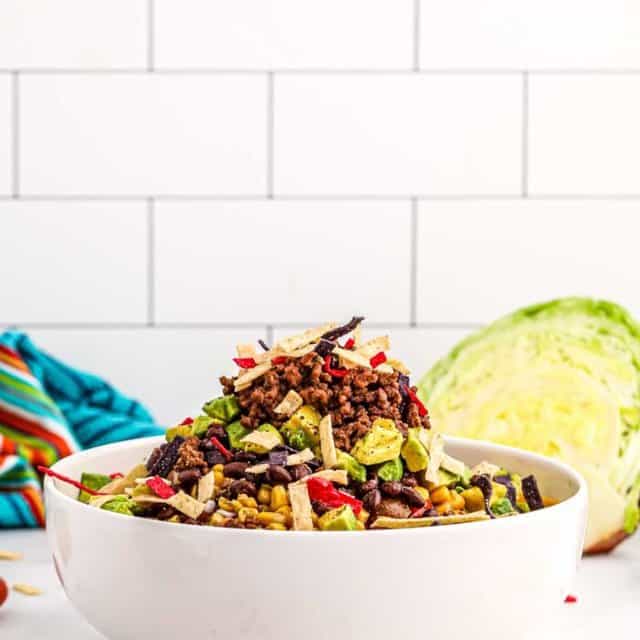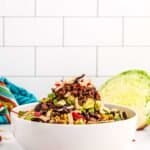 Easy Taco Salad
Author:

Prep Time:

10 minutes

Cook Time:

35 minutes

Total Time:

45 minutes

Yield:

6 servings
Description
This Easy Taco Salad with Ground Beef is a quick and healthy weeknight dinner, with your favorite Tex-Mex ingredients and flavors. Customize the add-ins and toppings for a meal the entire family will devour.
Ingredients
For the beef:
1

pound ground beef

1 tablespoon

brown sugar

1 teaspoon

ground cumin

1 teaspoon

ancho chili powder

1 teaspoon

onion powder

1 teaspoon

garlic powder
For the salad:
1

head of lettuce (romaine or iceberg), chopped

1 cup

shredded cheddar cheese

1 cup

cherry tomatoes, halved

½

medium red onion, diced

1

can (15 oz) corn, drained (try a fire roasted corn!)

1

can (15oz) black beans, rinsed & drained

1

large avocado, diced

½ teaspoon

salt

½ teaspoon

ground black pepper
Toppings (optional)
Tortilla Strips
Sour cream
Salsa
Instructions
In a large skillet, brown the ground beef over medium-high heat until fill cooked, with no pink remaining. Drain any excess fat. Add the spices: chili powder, cumin, ancho chili powder, onion powder, and garlic powder. Stir to coat and season all of the ground beef, add ½ cup of water and continue cooking for a few more minutes until the water has cooked off.
Begin layering the salad in a large serving bowl, starting with the chopped lettuce. Then add the cheese, tomatoes, onion, corn, beans, and avocado before seasoning with salt and pepper.
Top with the ground beef and tortilla strips. Drizzle with sour cream and serve immediately.
Category:

Dinner

Method:

Stovetop

Cuisine:

Tex-Mex
Keywords: tex mex salad, fiesta taco salad, ground beef salad
More Easy Salad Recipes: