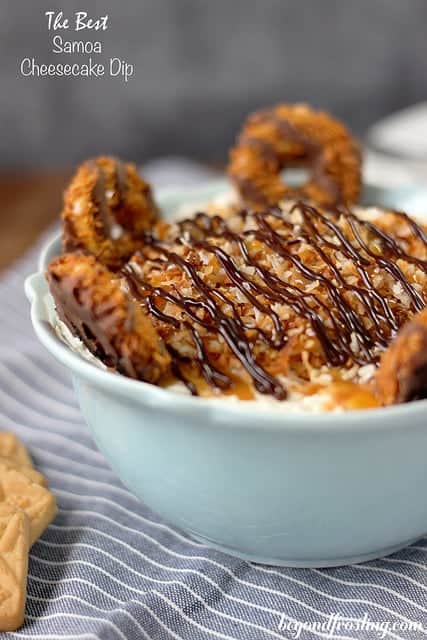 It's been a week full of samoa treats around here. First up was the Sinful Samoa Cake and then came the Samoa Icebox Cake. We are going to finish off the week with The Best Samoa Cheesecake Dip. 
This dip recipe will serve a crowd, and that is exactly why the layers are so important in this dip. Call it a sweet version of a seven layer dip. It's got caramel, fudge sauce, toasted coconut, cream cheese, Cool Whip, samoa cookies and shortbread cookies. As you build the dip, you build the layers so no one is bummed when you get to the bottom of the bowl. There is still all those yummy layers left!
Dessert dips are so easy to throw together, even in a pinch. The reason this dip is so good is because it is made with a caramel cream cheese! All my desserts this week have centered around the amazingness that is cream cheese blended with heavy cream and caramel to create a light and fluffy base for the desserts.
Like I mentioned earlier this week, I wish I could purchase Toasted Coconut
 at the store. Turns out that you can in fact but most things on Amazon. I only wish I knew this earlier! Making toasted coconut at home is super easy, but I don't always want to turn on the oven. You heat up your oven to 400°F and spread the coconut on a sheet pan. You just need to bake it until lightly golden brown.
To build this dip, you should split the cheesecake filling into third. Build the layers with the cheesecake base, then top it with toasted coconut, fudge sauce and caramel. Repeat two times. If you have samoa cookies at home, you can also cut them up and mix them into the dip. OR you can take shortbread cookie and grind it into a fine crumb. You can add this to your layers. I used the shortbread cookies as my dippers.
The best thing about this dip is that it can be enjoyed all year round! You don't have to wait till your local Girl Scouts come around. You're welcome.
Keep up with all the happenings. Follow Beyond Frosting:
Facebook | Twitter | Pinterest | Instagram | Bloglovin | Google+
Don't miss a thing, subscribe at the end of this post!
Print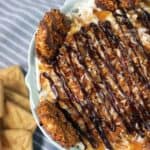 The Best Samoa Cheesecake Dip
---
Description
This Samoa Cheesecake Dip is one of the best dessert dips!! Call it a sweet version of a seven layer dip. It's got caramel, fudge sauce, toasted coconut, cream cheese, Cool Whip, samoa cookies and shortbread cookies.
---
Ingredients
1 ½ C Coconut, toasted
8oz Cream cheese, softened
¼ C Caramel
1 tbsp Heavy whipping cream
8 oz Cool Whip, thawed
Hot Fudge sauce (Hershey's or other)
Caramel sauce (Hershey's or other)
Shortbread Cookies
---
Instructions
Preheat oven to 400°F. Toast coconut until lightly brown 10-15 minutes. It is best to toast on a baking sheet line with parchment paper. Allow to cool.
Allow cream cheese to soften to room temperature or microwave for 15 seconds. Don't forget to remove the wrapper! Beat cream cheese on medium-high speed until light and fluffy. Scrap down the sides of the bowl.
Add heavy whipping cream and caramel. Start at a low speed until the heavy cream is incorporated and then increase speed to medium high. Whip for 2-3 minutes until smooth.
Empty Cool Whip into mixer and beat into cream cheese.
To build the dip, divide the cream cheese mixture into three parts. Pour 1/3 of the mixture in the bottom of your dip.
Heat the hot fudge sauce for 30 seconds in the microwave, and stir.
Top the bottom layer with 1/3 of your toasted coconut and drizzle with fudge and caramel sauce.
Repeat layers of cheesecake, toasted coconut, hot fudge and caramel sauce.
Either serve immediately or keep refrigerated.
Serve with shortbread cookies.
Optional: Cut up samoa cookies and mix into cream cheese while it is still in the mixer. Add a layer of shortbread cookies into your dip by grinding the shortbread cookies into a fine crumb. Add as a layer in your dip.
Notes
Please watch coconut carefully- baking (toasting) times will always vary depending on the quality and moisture in the coconut.
 This post does contain affiliate links. That means if you purchase something from this post, I earn a small commission. The money earned from affiliate links helps support the cost of running this blog. Thanks for your support! 
Recipes from my friends:
Samoa Popcorn from Something Swanky
Samoa Muddy Buddies from Your Cup of Cake
Samoa Pretzel Sticks from Life Love and Sugar
Other recipes you might like:
Caramel Frosted Samoa Stuffed Brownies