This post may contain affiliate sales links. Please see my full disclosure policy for details
This to-die-for Coconut Cream Pie has a dreamy homemade, sweet coconut custard filling and it's topped with plenty of whipped cream.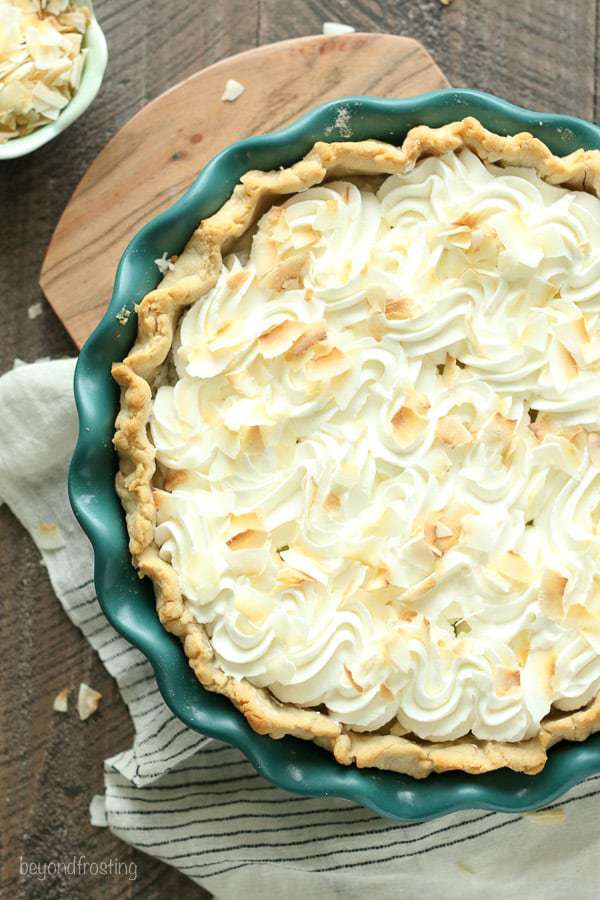 Today my neighbor asking me if I was still "batching it", and I looked at him with a confused look on my face. "What's that mean?" I asked. Is your fiancé still out of town, you living the bachelor life? HA! I laughed and replied, oh yes, yes I am. Finally tomorrow he is coming home! He's been down in Southern California for the last 2 weeks and it feels like it's been craaaawling by.
Since he has been out of town, I've had to suddenly go back to cooking for myself and doing my own laundry again, and let me tell you once you haven't had to do that for a while, you don't miss it! I forgot how annoying it is to cook for one person, especially after you've been working all day.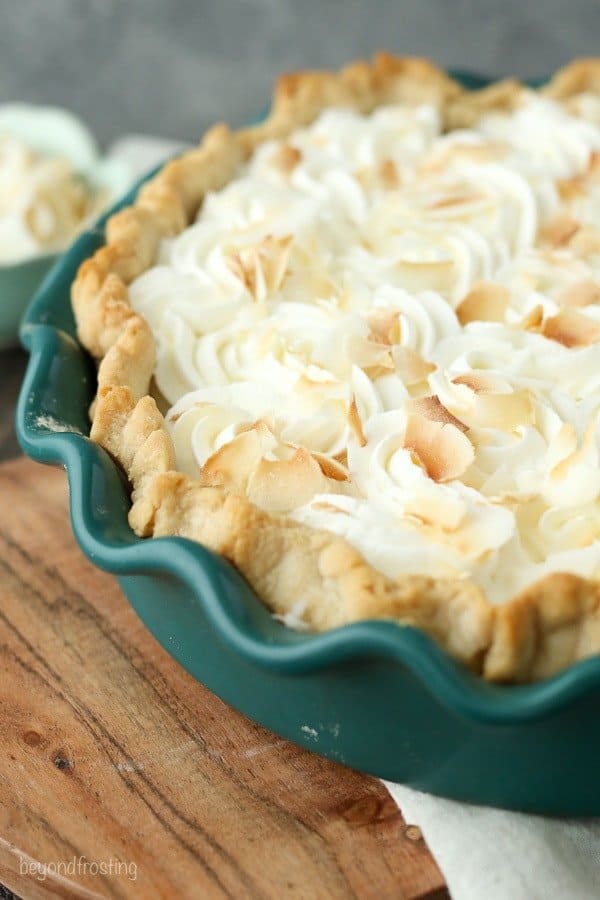 This past week I did a consultation with someone who I am going to be start doing some personal training with. He challenged me to keep a food journal. It's crazy how you think twice about what you're eating when you have to report it back to someone. Not that I eat poorly, but there is a whole other guilt factor going on when someone is monitoring what you eat.
I also had to explain to him why sometimes I eat a slice of pie for breakfast, because I definitely ate an entire slice of this pie on a Sunday morning with a second cup of coffee.
This dreamy pie is filled with a homemade, sweet coconut custard filling and it's topped with plenty of whipped cream.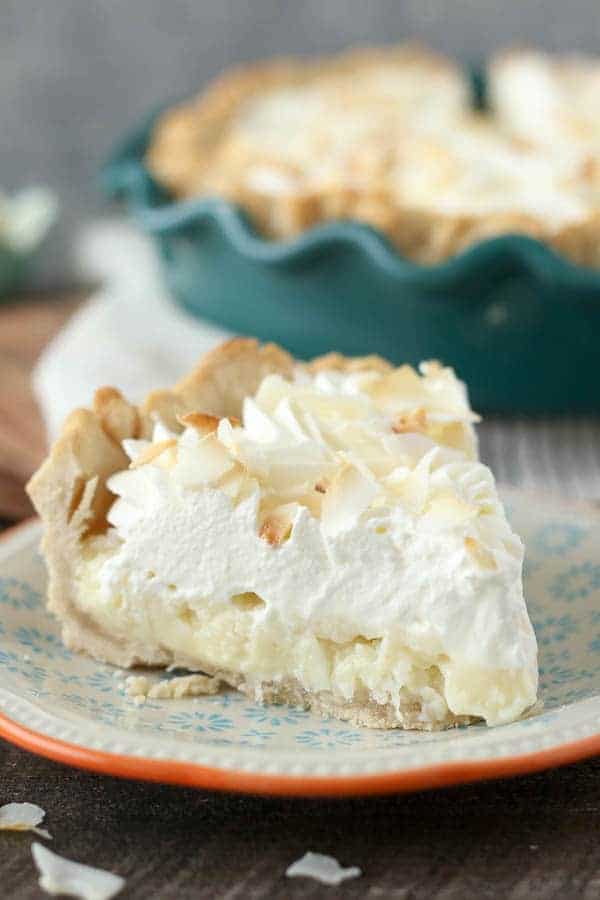 There is a reason I called this "to-die-for" Coconut Cream Pie. I remember the first time I truly fell in love with coconut cream pie. It was about 2 ½ years ago when my then boyfriend and I were in Seattle for the first time. We stopped by Dalhia's Bakery by Tom Douglas. Before heading to Seattle I had done some dessert research and heard this was the best-ever coconut cream pie. It sure lived up to it's name, I went back twice that weekend.
This pie has a filling similar that I used in my cookbook, No-Bake Treats. Which, by the way is 11 months old today. Almost 1 year! So I thought it was the perfect time to celebrate with pie.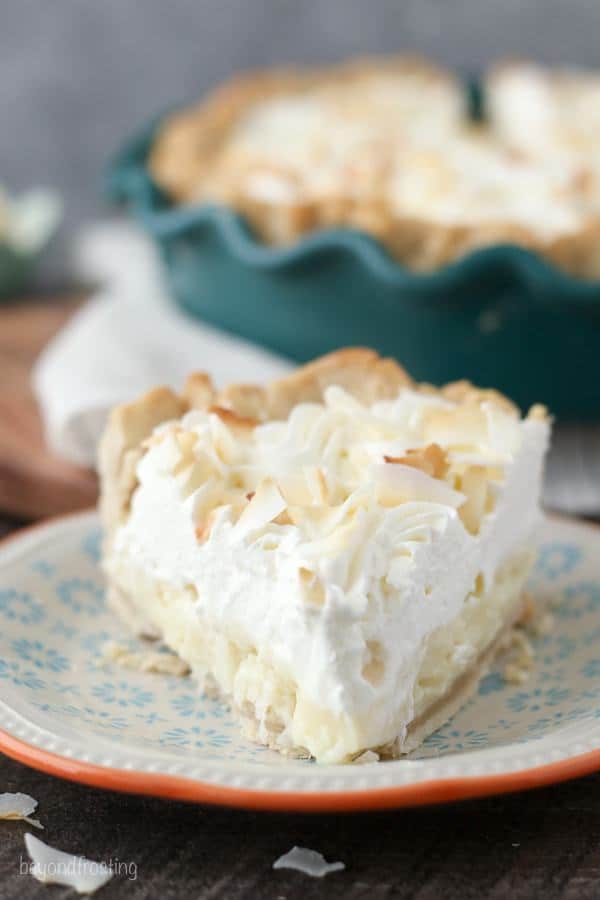 First you need a recipe for a single pie crust and it needs to be blind baked. I have a go-to recipe, but I will be the first to admit that I am no pie crust expert. In fact, I wanted to throw this crust through the window, because every time I tried to put it in the pan, it cracked and fell apart, I think it was too thick.
When you are blind baking a pie crust, it is really important that you use pie weights or something to weigh down the crust. I have a mixture of rice and dry beans, and I line the crust with parchment paper. If you don't use something to weight down the crust, then the crust will shrink into the pan.
I also suggest that you take a fork and poke holes in the bottom of the crust so it can breath while it bakes. If your crust is browning too fast, you can put a piece of tin foil on top and finish baking it. For now, I am just going to own my ugly crust because it stills tastes good!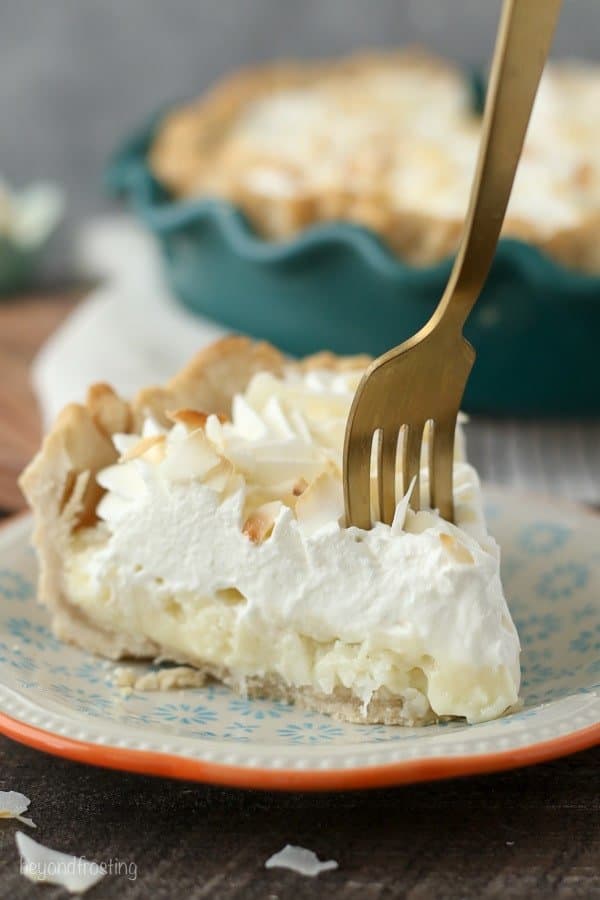 When it comes to the topping, I selected a traditional whipped cream. Normally I make my whipped cream with powdered sugar, and it's a bit on the sweeter side. Since the filling of this pie is so sweet, I decided to do something different with the whipped cream. I used a touch of cornstarch instead to thicken and stabilize it. It is actually a very nice compliment to the filling, they really balance each other out.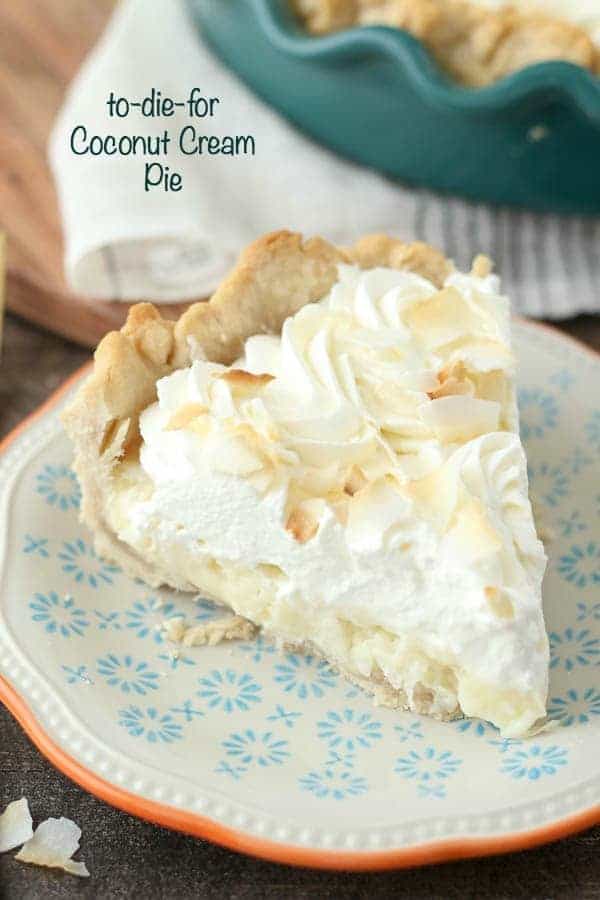 Follow Beyond Frosting:
Facebook | Twitter | Pinterest | Instagram
Print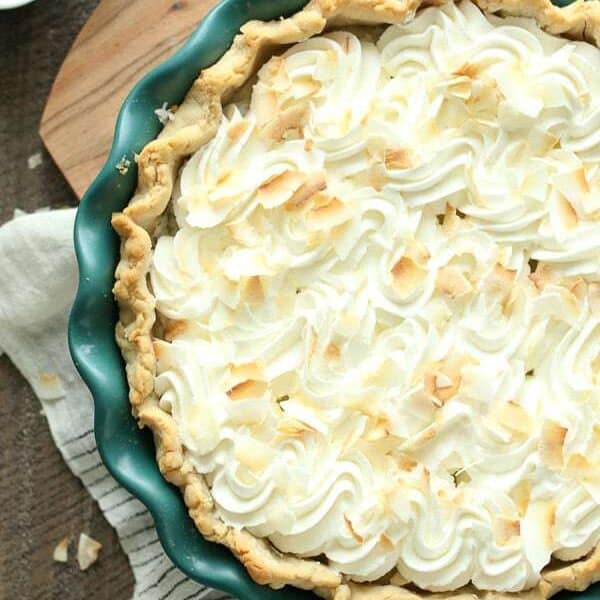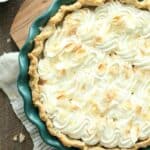 To Die For Coconut Cream Pie
Author:

Prep Time:

2 hours

Total Time:

2 hours

Yield:

8 slices
Description
This to-die-for Coconut Cream Pie has a dreamy homemade, sweet coconut custard filling and it's topped with plenty of whipped cream. It sits in a classic flaky pie crust.
Ingredients
For the filling:
2

large egg yolks, slightly beaten

2/3 cups

granulated sugar

¼ cup

all-purpose flour

2 cup

heavy whipping cream

1

can (14 oz) sweetened condensed milk

1 teaspoon

coconut extract

1 cup

sweetened coconut
For the topping:
1 ¾

 cups heavy whipping cream

2

–

3

tablespoons corn starch
Toasted coconut for garnish
Instructions
Prepare a 9-inch pie crust and blind bake according to the instructions. Be sure to poke hole the bottom of the crust with a fork and bake with pie weights or dry beans to prevent the crust from shrinking. Cool the crust completely.
For the filling: In a small bowl gently whisk 2 egg yolks and set aside.
In a medium-sized saucepan, combine the flour, granulated sugar, flour, heavy cream,  sweetened condensed milk and coconut extract.
Heat over medium-low heat. Start by continuously stirring to dissolve the dry ingredients into the wet ingredients until the filling is warm to the touch but not boiling.
Take about ¼ cup of the pudding and whisk into the egg yolks to temper the egg yolks. Pour the egg yolks back into the pudding and whisk to combine.
Continue stirring until the pudding starts to bubble lightly and thicken. Pour the pudding through a fine sieve into a medium-sized bowl. The pudding will be thick but you can use a whisk or spatula to help push it through the sieve. Optional: strain a second time through the sieve, washing in between.
Prior to pouring the pudding into the pie crust, stir in 1 cup sweetened coconut. Then pour the filling into the baked pie crust. Cover the top of the pudding with saran wrap, gently pressing onto the surface of the pudding. Refrigerate 2-4 hours until it's completely cold.
For the topping: Prepare the whipped cream. Place a metal mixing bowl in the freezer for 5-10 minutes. Pour the heavy whipping cream into the chilled bowl and use an electric mixer to beat the heavy cream on medium-high speed until the cream thickens. Slowly add the corn starch and continue beating on high speed until stiff peaks form.
Remove the saran wrap and spread the whipped cream over the pudding or use a large piping tip to decorate the pie. Garnish with toasted coconut. This pie must be refrigerated.
Category:

Pie

Method:

Baked

Cuisine:

American
Keywords: Coconut Pie, Coconut Cream Pie, Pie
Recipe Card powered by
You might also like:
Old Fashioned Coconut Custard Pie