This homemade Mocha cake is a dense and moist coffee flavored cake with a decadent Kahlua Coffee Frosting. This mocha cake is for true coffee lovers with an intense coffee flavor.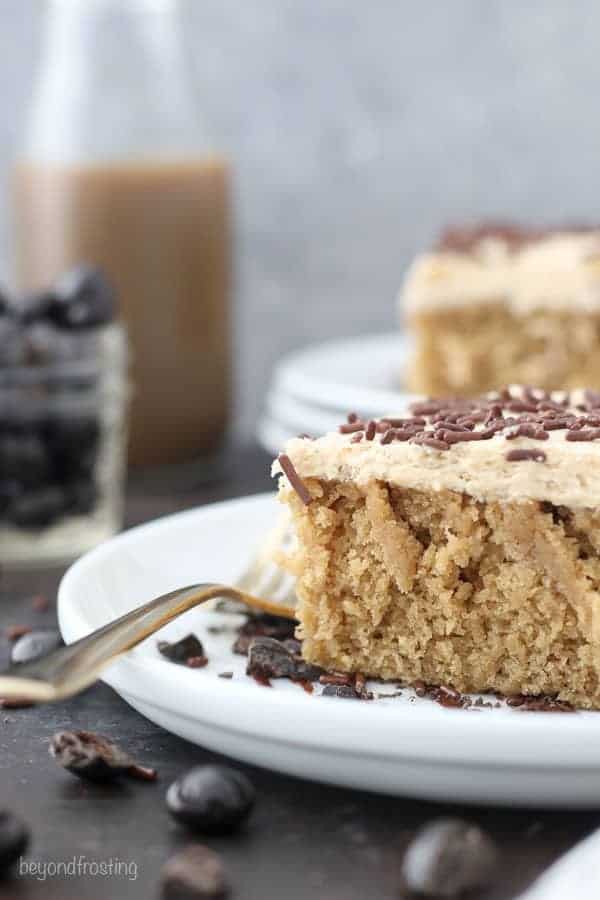 If you saw the teaser I posted on Instagram this weekend, then you already know how much I love this cake.
This was actually a reader recommendation. After making my Moist Vanilla Cake, Abbie asked me what I would do to make this cake mocha flavored.
After exchanging a few emails back and forth I started to get kind of excited by the idea and decided to try it for myself.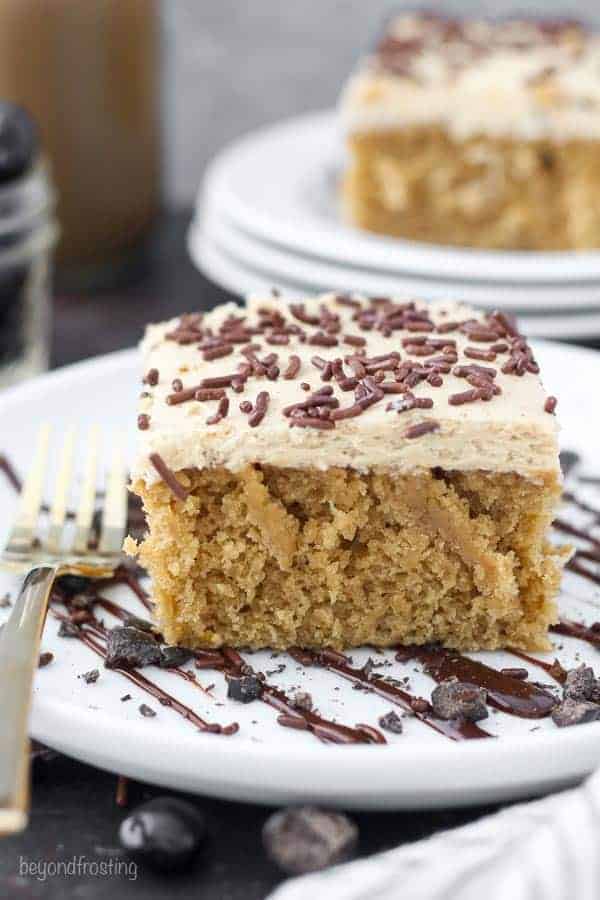 This Mocha cake is a dense and moist coffee flavored cake with a decadent Kahlua Coffee Frosting.
Once I had tasted the cake batter, I knew this was going to be good.  It reminded me of melted coffee ice cream. Once I pulled it out of the oven, it was hard to even wait 5 minutes for this thing to cool before I went in with my fork…..a few times.
I wanted to be sure this cake had a distinct coffee flavor because of you're going to have a mocha cake it needs to taste that way.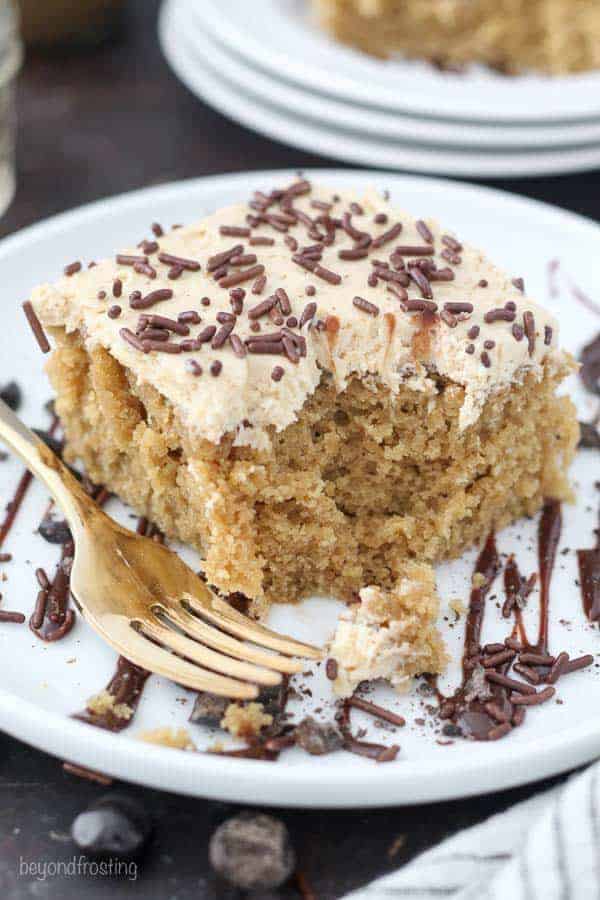 I adapted my vanilla cake recipe and instead of milk, I used coffee. Then, I added a tablespoon of espresso powder. This combination worked out to be exactly what I wanted.
For the coffee, I happened to have iced coffee in my fridge because that's what I drink regularly. If you need to make coffee, I suggest something strongly brewed.
Additionally, I know espresso powder isn't always a common household ingredient. You can also use a finely ground coffee.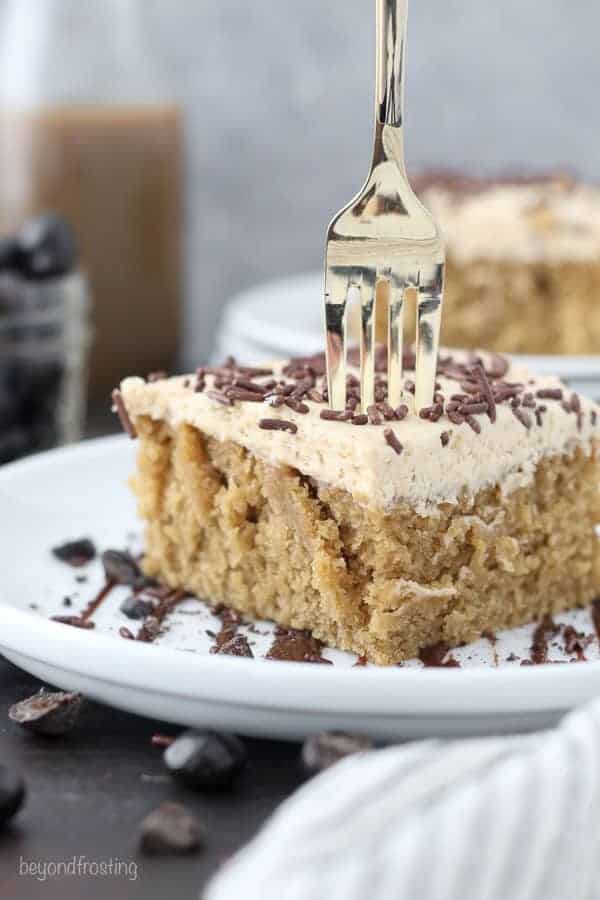 I debated back and forth over the type of frosting I should put on this cake. At first, I thought chocolate would be good, then I thought a coffee flavored frosting would be good to. It's true, both would be delicious.
I decided on a Kahlua Frosting with a touch of espresso powder. WOW. This one is good. I actually thought it was better the next morning than it was straight out of the mixer. This allows the espresso and Kahlua flavors to absorb into the whole frosting.
I definitely had more than a few bites of this cake, but it was SO worth it. Coffee, Kahlua and cake. What's not to love?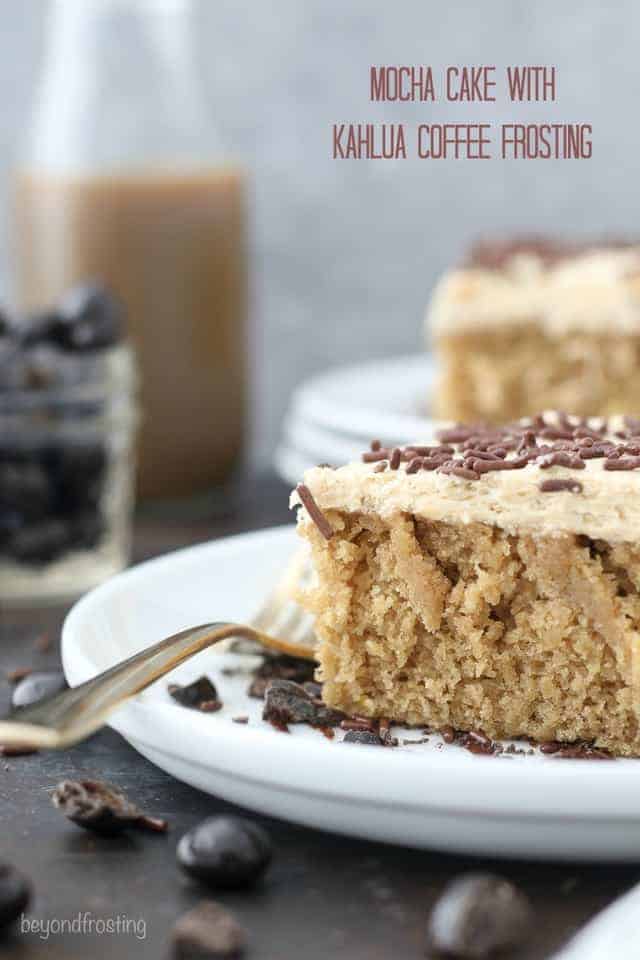 Follow Beyond Frosting:
Facebook | Twitter | Pinterest | Instagram | Bloglovin | Google+
If you love no-bake recipes, be sure to check out my cookbook, No-Bake Treats!
Don't miss a thing, subscribe to get recipes delivered to your inbox!
Print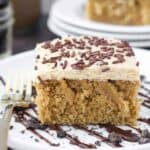 Mocha Cake with Kahlua Coffee Buttercream
---
Description
This homemade Mocha cake is a dense and moist coffee flavored cake with a decadent Kahlua Coffee Frosting. This mocha cake is for true coffee lovers with an intense coffee flavor.
---
Ingredients
For the cake:
2 cups granulated sugar
½ cup vegetable oil
3 large eggs
1 tablespoon vanilla extract
½ cup light sour cream
2 ½ cups all-purpose flour
1 tablespoon espresso powder (or finely ground coffee)
3 teaspoons baking powder
1 teaspoon salt
1 ¼ cups strong brewed coffee, cooled
For the frosting:
1 cups (2 sticks) unsalted butter
4 cups powdered sugar
1 teaspoon espresso powder
3 tablespoons Kahlua
1 ½ tablespoons heavy whipping cream
1 teaspoon vanilla extract
Pinch of salt
---
Instructions
For the cake: Preheat the oven to 350°F.
In a large mixing bowl, combine the sugar, vegetable oil, eggs and vanilla extract. Beat on medium speed until the eggs and oil are well incorporated and the batter is lighter in color, about 2 minutes. Scrape down the bowl as needed.
Next mix in the sour cream and beat until well combined.
Add half the flour followed by the espresso powder, baking powder and salt, and beat on low speed while pouring in half of the coffee and mix just until the flour starts to incorporate.
Finally add the remaining flour, mixing on low speed while pouring in the remaining coffee and beating until all of the ingredients are well combined.
Use a spatula to scrape down the sides of the bowl and stir the batter from the bottom to the top to ensure it's well mixed.
Pour the batter in a 9-inch by 13-inch pan and bake at 350°F for 28-32 minutes, keeping a careful eye on the baking during the last few minutes. Remove from the oven and allow to cool completely.
Test the cake for doneness by inserting a toothpick into the center of the cake. If the toothpick comes out clean, you cake is done.
For the frosting: Cut the butter into pieces. Using the paddle attachment, whip butter for 3-5 minutes, scraping down the bowl occasionally. Beat until the butter looks light in color.
Add 2 cups of powdered sugar and espresso powder and mix on low speed until incorporated into butter.
Next, add the Kahlua and vanilla extract and beat until well combined.
Finally, add the last two cups of powdered sugar and the heavy cream. Beat on low speed until the sugar is incorporated then increase speed to medium-high and beat for 3 minutes to whip the frosting. Spread over cooled cake.
You might also like: