This post may contain affiliate sales links. Please see my full disclosure policy for details
This chocolate mocha cake is a moist chocolate layer cake with a coffee kick! It's an easy dessert made from three layers of homemade chocolate cake infused with brewed espresso and frosted with dreamy mocha buttercream.
If you love coffee desserts like this decadent mocha cake, try my mocha almond fudge cake, next!
Moist and Fluffy Chocolate Mocha Cake
I'm a tad obsessed with my chocolate cake recipe, and I love espresso. So you can imagine just how crazy I am about this Chocolate Mocha Cake. It's a rich and fudgy chocolate cake flavored with espresso, layered with creamy mocha buttercream frosting. Every bite is heavenly.
Coffee is already a baker's secret for bringing out the chocolatey flavor in cakes and baked goods. Usually, the effect is subtle and you don't actually taste the coffee.
Today, we're going all out. Coffee flavor infuses every chocolatey inch of this indulgent homemade layer cake, and the frosting is soft and creamy, like a gourmet mochaccino. Basically, irresistible.
Why You'll Love This Chocolate Cake Recipe
What's not to love about a moist coffee-flavored cake smothered in coffee buttercream? This chocolate mocha cake is:
Easy to make. The batter comes together in minutes and the finished layer cake is easy to assemble.
Ultra-moist. Fresh-brewed coffee, along with a handful of key ingredients, makes the chocolate cake insanely flavorful, moist, and fluffy.
Filled with espresso flavor. The cake is rich and chocolatey, and not overly sweet, with hints of coffee flavoring throughout. It pairs perfectly with the sweet and dreamy mocha frosting. It's the ultimate dessert for coffee lovers!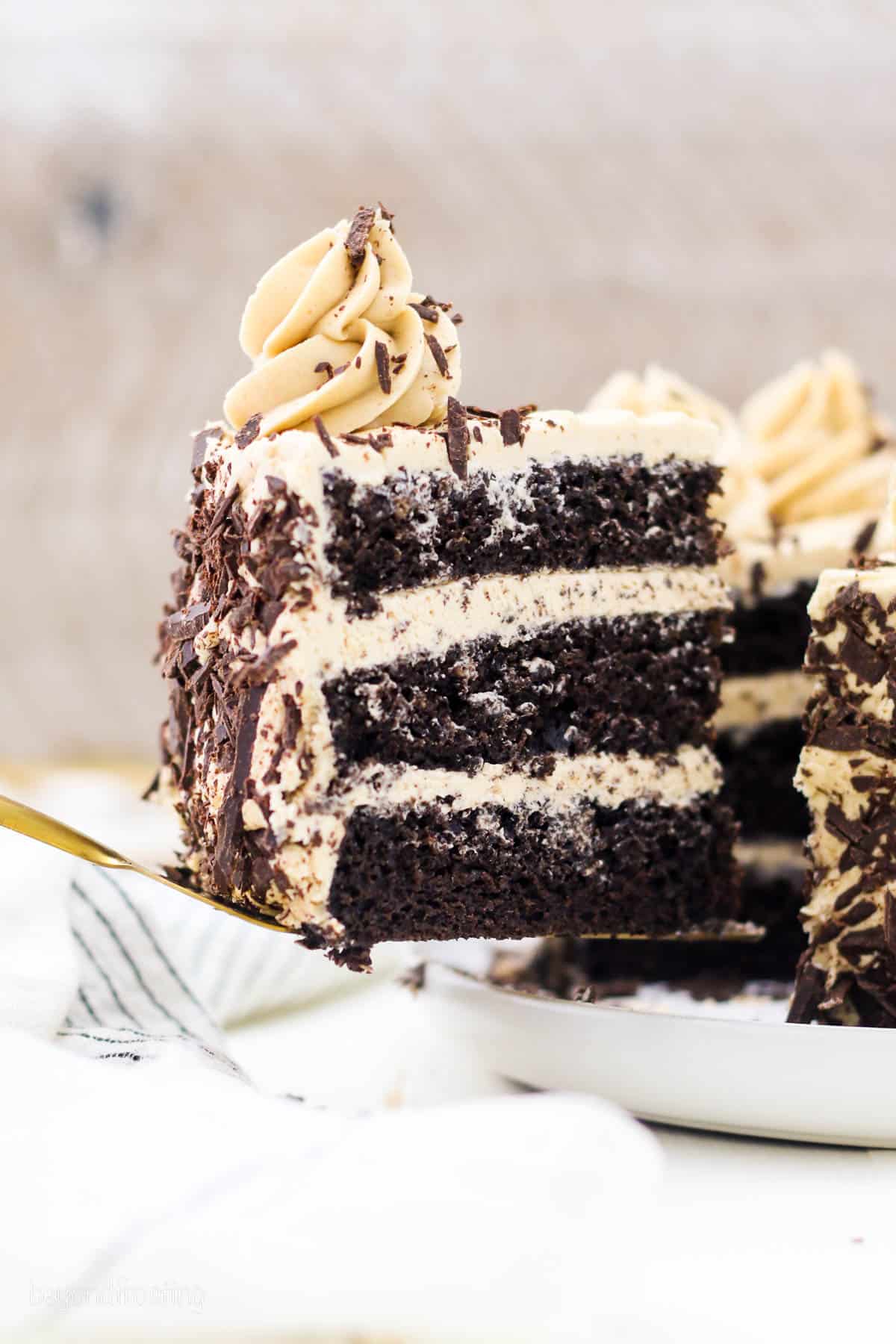 Key Ingredients Needed
Below you'll find an overview of the key ingredients that make this mocha cake a success. Be sure to scroll to the recipe card below the post for the full recipe details.
Oil – Almost all of my cake recipes trade butter for vegetable oil (or similar oil, like canola). Doing so gives the cake a moist, soft, and tender crumb.
Sour Cream – This cake stays ultra-moist for days when stored properly, in part due to the sour cream in the recipe. Don't skip it! If you don't have sour cream, use plain Greek yogurt instead.
Cocoa Powder – I recommend a natural cocoa powder, like Hershey's special dark cocoa powder. Dark cocoa yields a rich and fudgy, dark chocolate cake. Regular cocoa powder will also work, though the color won't be quite as dark.
Espresso Powder – Powdered espresso brings a burst of coffee flavor to the cake as well as the frosting. Fine-ground coffee can also be substituted. The mocha flavor isn't very strong without it, so I don't recommend leaving it out.
Brewed Coffee – Another key ingredient that builds up the flavor of this cake. Adding freshly brewed coffee to the cake batter enhances both the chocolate and coffee flavors. It also makes the mocha flavor pop in the frosting. See below for details.
What's the Best Coffee to Use for This Cake?
The best coffee to use for baking is freshly brewed instant espresso (not the granules). It can be as strong as you'd like. You can also use instant coffee, however, I'd recommend making an extra-strong batch as the flavor isn't quite as intense as espresso.
Make sure that your wet ingredients are well combined before adding hot coffee to the batter (or risk a scrambled egg situation). Meanwhile, the brewed espresso that you use in the frosting should be cooled completely before use.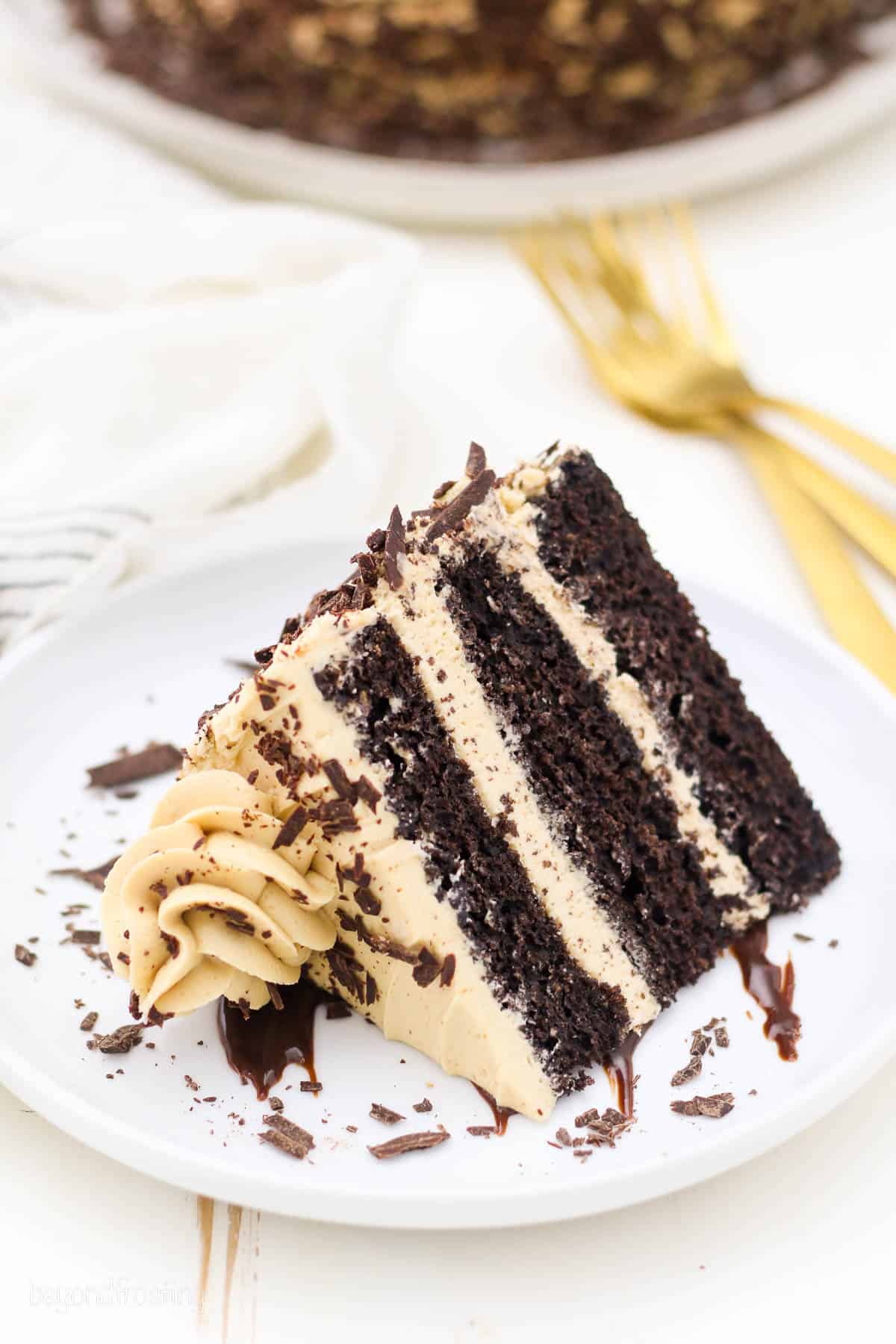 How to Make a Mocha Cake
First, you'll prepare the decadent chocolate cake layers. Since this is an oil-based cake, it's quick to come together. Have your cake layers ready and in the oven in just 10 minutes:
Prepare the pans. While the oven preheats to 350ºF, get three 8-inch round cake pans lined, greased, and floured.
Mix the batter. Cream together the wet ingredients (apart from the coffee for now), followed by the sour cream. Next, sift the dry ingredients into a separate bowl before adding them to the wet batter. Alternate adding half the dry ingredients with half of the brewed coffee until combined.
Bake. Divide your chocolate cake batter evenly between your three prepared pans. Bake at 350ºF for 20-24 minutes, then take the cakes out and let them cool before frosting.
Prepare the Frosting
Once your cake is baked and cooled, you'll whip up a perfect mocha frosting:
Prepare the espresso. First, dissolve 1 tablespoon of espresso powder in 2 tablespoons heavy cream that's been heated in the microwave for about 30 seconds, then allow it to cool. I usually pop it into the freezer to speed things along.
Whip the butter for the frosting. Make sure your butter is cold from the fridge before you start. Cut the butter into cubes and then give it a good whip with your stand mixer for several minutes, until it's light, fluffy and super spreadable.
Combine. Next, add the powdered sugar 2-3 cups at a time, alternating with the brewed espresso, heavy cream, vanilla and salt. Ensure that the powdered sugar is fully combined before adding more. Finally, beat in additional espresso powder on its own before giving the frosting a good final whip.
Assemble the Cake
Assembling a layer cake is quite easy. If needed, I have a tutorial on how to make a layer cake that walks you through it, with many helpful tips. Here's how to assemble and frost this 3-layer mocha cake:
Level the cakes. Sometimes a cake will rise higher in the middle than at the edges while it bakes, creating a "dome". Before layering the cakes, you'll want to use a serrated knife or a cake leveler to trim off any domes.
Start with the first cake layer. Place your first chocolate cake layer onto a plate or cake board and use a piping bag to pipe a thick layer of mocha frosting over top. Even it out using an offset spatula.
Repeat. Place the second layer over the first, and repeat the frosting process. Finally, add the third and final layer to the cake.
Frost the cake. Use your offset spatula to create a crumb coat, and then pipe frosting over the outside of the cake using a large open-round tip or cake icer tip (see how to use piping tips). Smooth out the frosting using your spatula, or an icing smoother if you have one.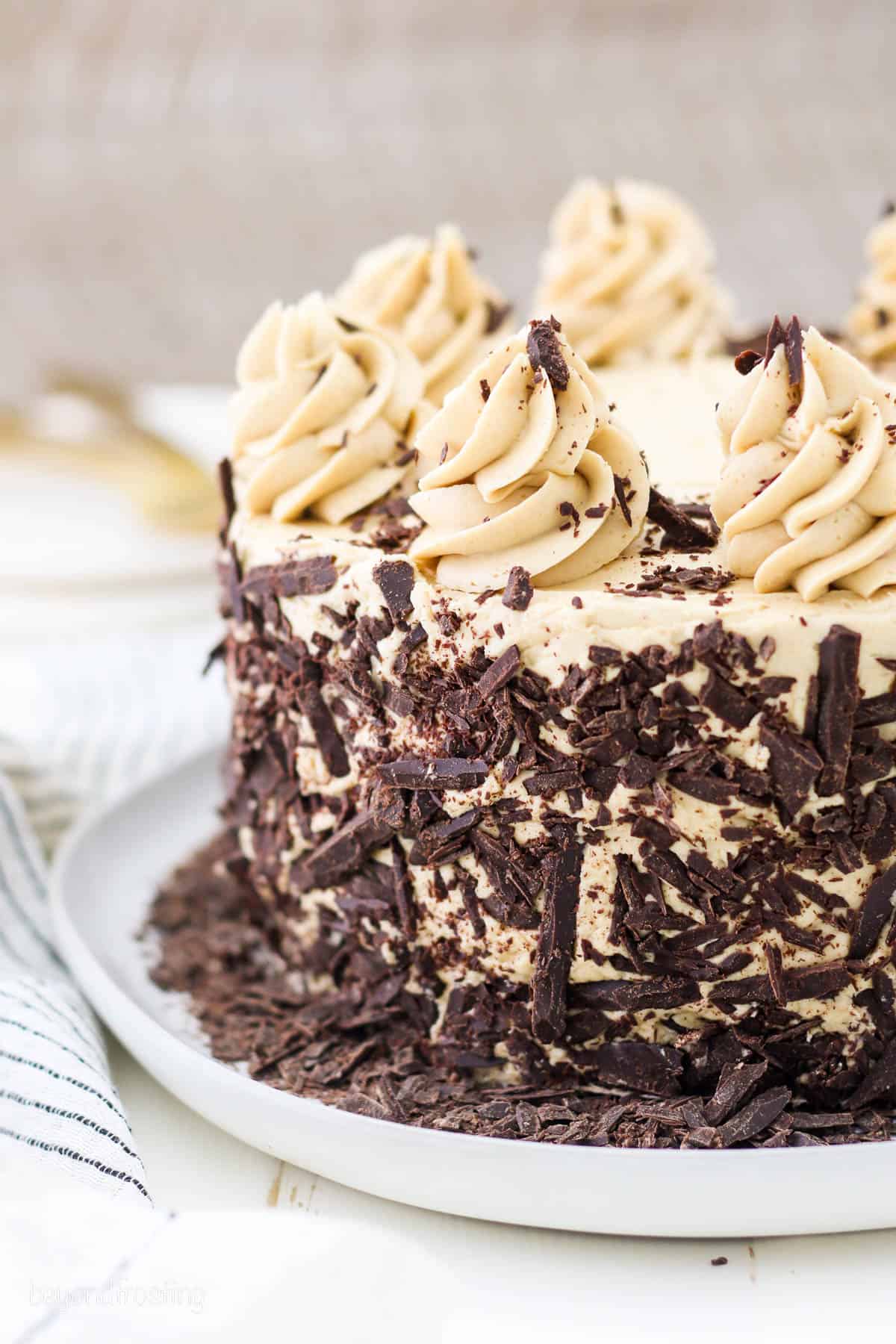 How to Decorate a Chocolate Mocha Cake
Once this mocha cake is frosted, I like to chop up dark chocolate, or use shaved chocolate, and press it into the frosting as a garnish. Afterward, I'll use a piping bag filled with any leftover frosting to pipe rosettes over the cake, followed by a sprinkle of more chocolate as you see in the photos.
If you're new to decorating cakes, check out my tutorial on how to use a piping bag for easy tips and tricks. Another fun decorating idea would be to add a drip of chocolate ganache, as I do in my chocolate drip cake recipe.
I love the contrast of dark chocolate and mocha frosting in this chocolate mocha cake. Total bliss! If you'd like to try a different frosting with this cake, chocolate Swiss meringue buttercream is a great option. For a lighter frosting, try chocolate whipped cream.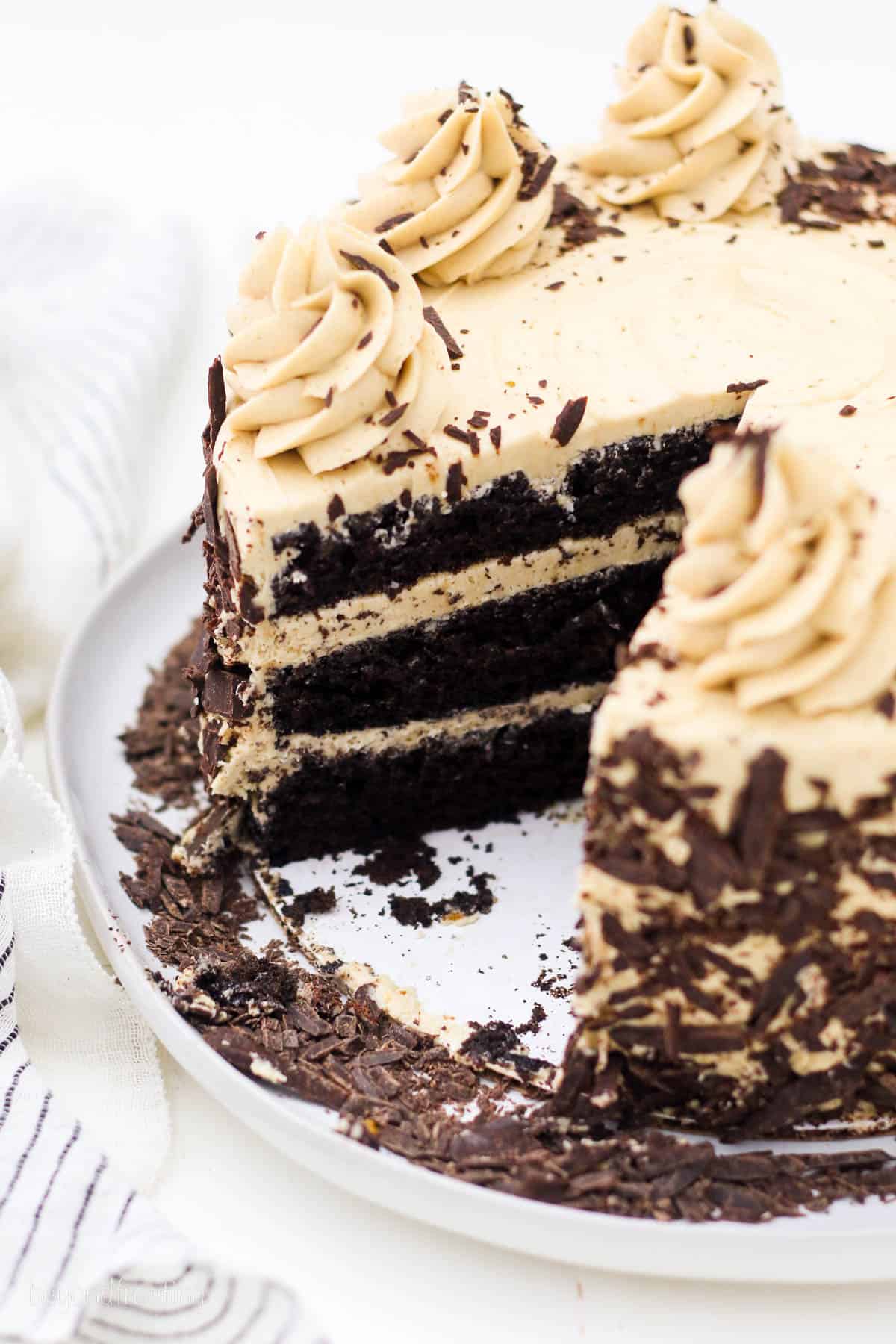 Recipe Tips
The idea of a frosted layer cake can be intimidating, but I promise you're going to ace this mocha cake and LOVE it. Below are some final tips for the best mocha cake along with some easy recipe variations:
Don't over-mix the batter. Overly mixing the batter will result in dense, tough cakes rather than moist and fluffy ones. Only mix the ingredients until they're just combined.
To prevent the cakes from doming too much, use bake-even strips. Bake-even strips help keep the outside of the cake from baking too quickly, resulting in flatter cake tops (and less wasted cake!). You can find them online and in most baking and craft stores.
Use up leftover brewed espresso and add even more moisture to the cakes by brushing any extra coffee over the cakes before you assemble them.
If your frosting is too thick, add a bit more heavy cream a little at a time to help thin it out. If the frosting is too thin, add powdered sugar one spoonful at a time until you get the right consistency.
For a fun frosting variation, spike your mocha frosting with Kahlua. I first tried this with my mocha cake with Kahlua buttercream. It's a delicious adult twist!
Common Questions
Why add coffee to chocolate cake?
Adding coffee to baked goods like chocolate cakes and cupcakes is a neat trick to intensify the chocolate flavor. When used in small amounts, the cake will taste fudgier without actually tasting like coffee. Adding extra coffee to this chocolate cake is what creates a mocha flavor.
Can I use regular coffee or espresso?
Instant coffee is best for baking, as it dissolves completely and has a more straightforward flavor. However, in a pinch, you can substitute strong brewed regular coffee.
Which cocoa powder should I use?
I recommend using natural cocoa powder in this recipe. Hershey's, Ghirardelli, and Guittard are all good brands.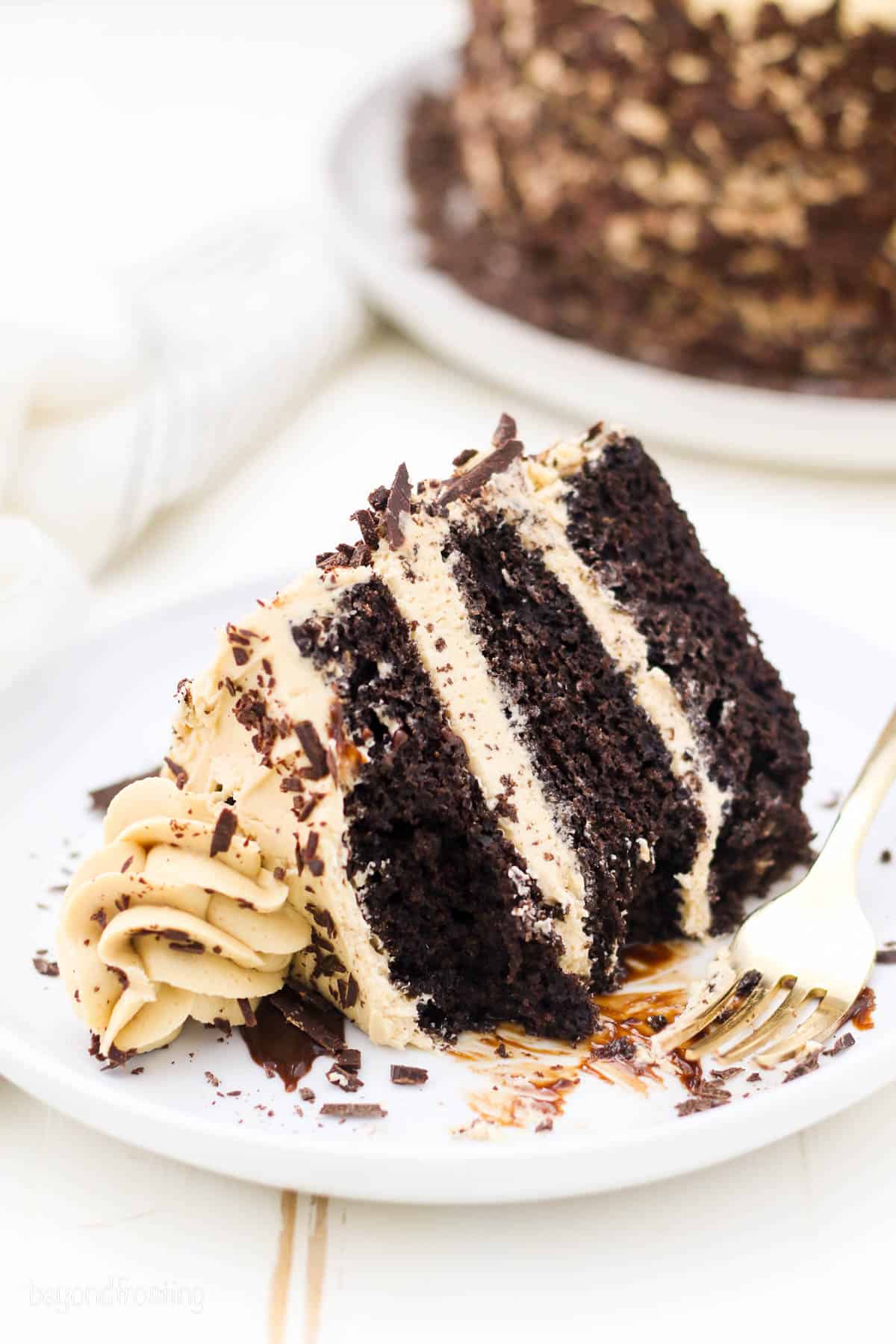 How to Store
Store your frosted chocolate mocha cake airtight at room temperature (a cake carrier always comes in handy). I only recommend storing cakes in the fridge if your kitchen is particularly warm, or if you live in a hot climate. If you've refrigerated your cake, remember to take it out ahead of serving so that it comes to room temperature.
Can I Freeze Mocha Cake?
I am not a fan of freezing assembled, frosted cakes. However, the individual chocolate cake layers freeze well. Once the cakes have cooled completely, double-wrap them in plastic wrap and store them frozen for up to 3 months. Defrost in the fridge before assembling and decorating the cake.
Print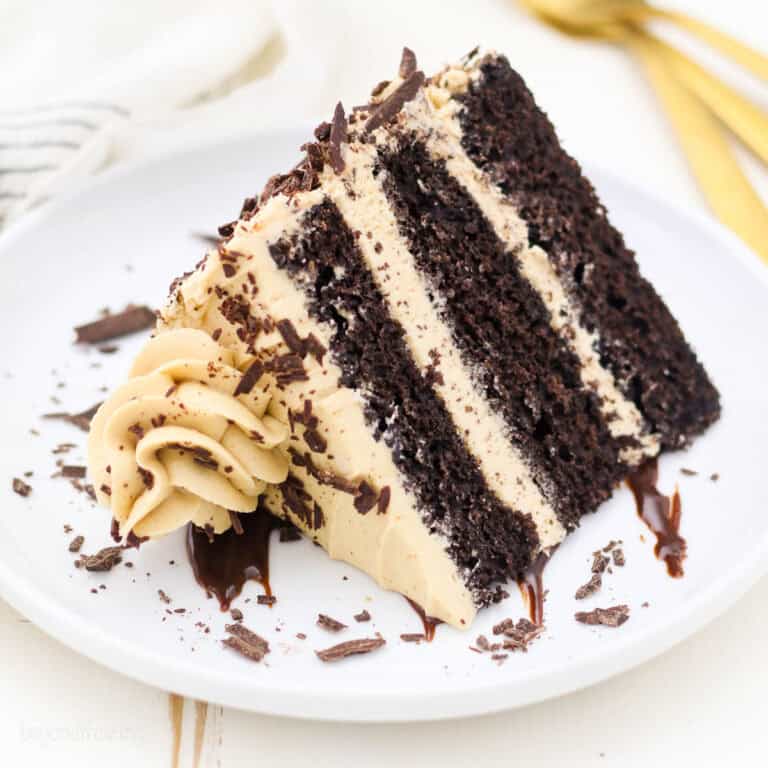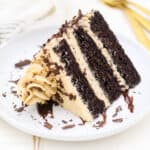 Chocolate Mocha Cake
Author:

Prep Time:

60 minutes

Cook Time:

20 minutes

Total Time:

1 hour and 20 minutes

Yield:

10-12 servings
Description
This chocolate mocha cake recipe is a moist chocolate layer cake with a coffee kick! Made from coffee-infused cake frosted inside and out with espresso buttercream.
Ingredients
For the Cake:
1 ½ cups

(

285g

) granulated sugar

½ cup

(

118

ml) vegetable oil

3

large eggs, at room temperature

1 tablespoon

(

15

ml) pure vanilla extract

½ cup

(

118

ml) sour cream, at room temperature

2 cups

(

280g

) all-purpose flour, sifted

½ cup

(

40 g

) cocoa powder, sifted

1 tablespoon

(

5g

) instant espresso powder (optional)

2 ½ teaspoons

(

9 g

) baking powder

½ teaspoon

(

2 g

) baking soda

1 teaspoon

(

5 g

) salt

1

¼ cup

(

296

ml) hot brewed coffee
For the Frosting:
3 tablespoon

(45ml) heavy whipping cream, divided

2 1/2 tablespoons

(

38g

) instant espresso powder, divided

2 cups

(

459g

) unsalted Butter, cold

8 cups

(

1041g

) powdered sugar

2 teaspoons

(10ml) pure vanilla extract

1/4 teaspoon

salt

4

–

6

ounces (113-1

70g

) dark chocolate, chopped (optional)
Instructions
For the Cake:
Preheat the oven to 350°F. Prepare three 8-inch round baking pans, line the bottom with parchment paper, and grease the sides. Prepare your bake even stripes if desired.
In a large mixing bowl, combine the sugar, vegetable oil, eggs, and vanilla extract. Beat on medium speed until the eggs and oil are well incorporated and the batter is lighter in color. Next mix in the sour cream and beat until well combined.
In a separate bowl, sift together the dry ingredients. Add half the dry ingredients to the wet ingredients, followed by half of the coffee, and mix until the flour is just incorporated at a low speed. Then add the remaining dry ingredients and coffee. Beat until all of the ingredients are well combined. Use a spatula to scrape down the sides of the bowl and stir the batter from the bottom to the top to ensure it's well mixed.
Divide the batter evenly between the three pans, about 1 2/3 cups of batter per pan. Bake at 350°F for 20-24 minutes. Test the cake for doneness by inserting a toothpick into the center of the cake. If the toothpick comes out clean, the cake is done. Remove from the oven and allow to cool completely.
For the Frosting:
Microwave 2 tablespoons of heavy whipping cream for 30 seconds to warm, then dissolve 1 tablespoon of instant espresso into the cream. Place in the freezer to quickly cool it down and ensure it's chilled before adding it to the frosting.
Cut the cold butter into tablespoon-size pieces. Using the paddle attachment, whip the butter for 5-7 minutes, scraping down the bowl occasionally until the butter is whipped and easily spreadable.
Add 3 cups of powdered sugar, salt and the vanilla extract and beat at a medium-high speed until well combined, then beat for another 1-2 minutes.
Next, add 3 more cups of powdered sugar with heavy cream and espresso mixture plus the remaining 1 1/2 tbsp espresso powder. Beat on low speed until sugar is incorporated.
Add the remaining 2 cups powdered sugar with the remaining 1 tablespoon heavy cream, beating until combine then Increase speed to medium-high and beat for another couple of minutes. Use immediately or store.
To Assemble
Level the cake layers if needed. Place a dollop of frosting on your cake board and place the bottom layer of cake on top of that. Place half of the frosting in a large piping bag, then cut off the end of the piping bag. Pipe the first layer of frosting, pipe in circles working outside edge to the middle. Spread evenly with an offset spatula.
Add the second layer of cake and add the remaining frosting. Place the third layer of cake on top, and invert the top layer.
Use the piping bag to fill in any gaps between the layers and to create a crumb coat. Using an offset spatula or icing smoother, wipe away the excess frosting, leaving you just enough to coat the outside of the cake. With the remaining frosting, pipe the frosting along the outside edge of the cake using a large open round tip, or a cake icer tip. Then use an offset spatula to smooth the edges. Save leftover frosting to pipe the rosettes on top of the cake.
Chop the dark chocolate into thin and small pieces and gently press it into the sides of the cake and sprinkle on top.
Notes
For a two-layer cake: This recipe makes enough batter to fill three 8-inch round pans or two 9-inch round pans. If you're making two layers instead, you'll need to adjust the baking time to 28-32 minutes. 9-inch cakes tend to dome a bit more than the smaller pan sizes.
Category:

Dessert

Method:

Baked

Cuisine:

American
Keywords: mocha cake, mocha cake recipe, chocolate cake
More Coffee Desserts to Try
This recipe originally appeared on Food Fanatic.