This post may contain affiliate sales links. Please see my full disclosure policy for details
Warm and soft cinnamon apples mingle with sweet dried cranberries in this irresistible Cranberry Apple Pie filling! It's paired with a buttery homemade crust and a crispy oatmeal streusel topping for the ultimate holiday treat.
Easy Cranberry Apple Pie with Cinnamon Streusel
This is not your average apple pie, my friends. It's a one-of-a-kind dessert that's full of festive flavors and mouthwatering textures. The filling is studded with sweet craisins to compliment the tartness of the apples, and it's topped with a crunchy oatmeal streusel made with walnuts, brown sugar and cinnamon.
With that nutty streusel topping in place of a second crust, this pie feels a little more like an apple crisp. This is great for me, since I tend to prefer the texture of a crisp over that of a traditional apple pie. If you share that preference, you're going to be incorporating this topping into all of your future apple pies! And more often than not, you'll want to whip up this amazing cranberry version.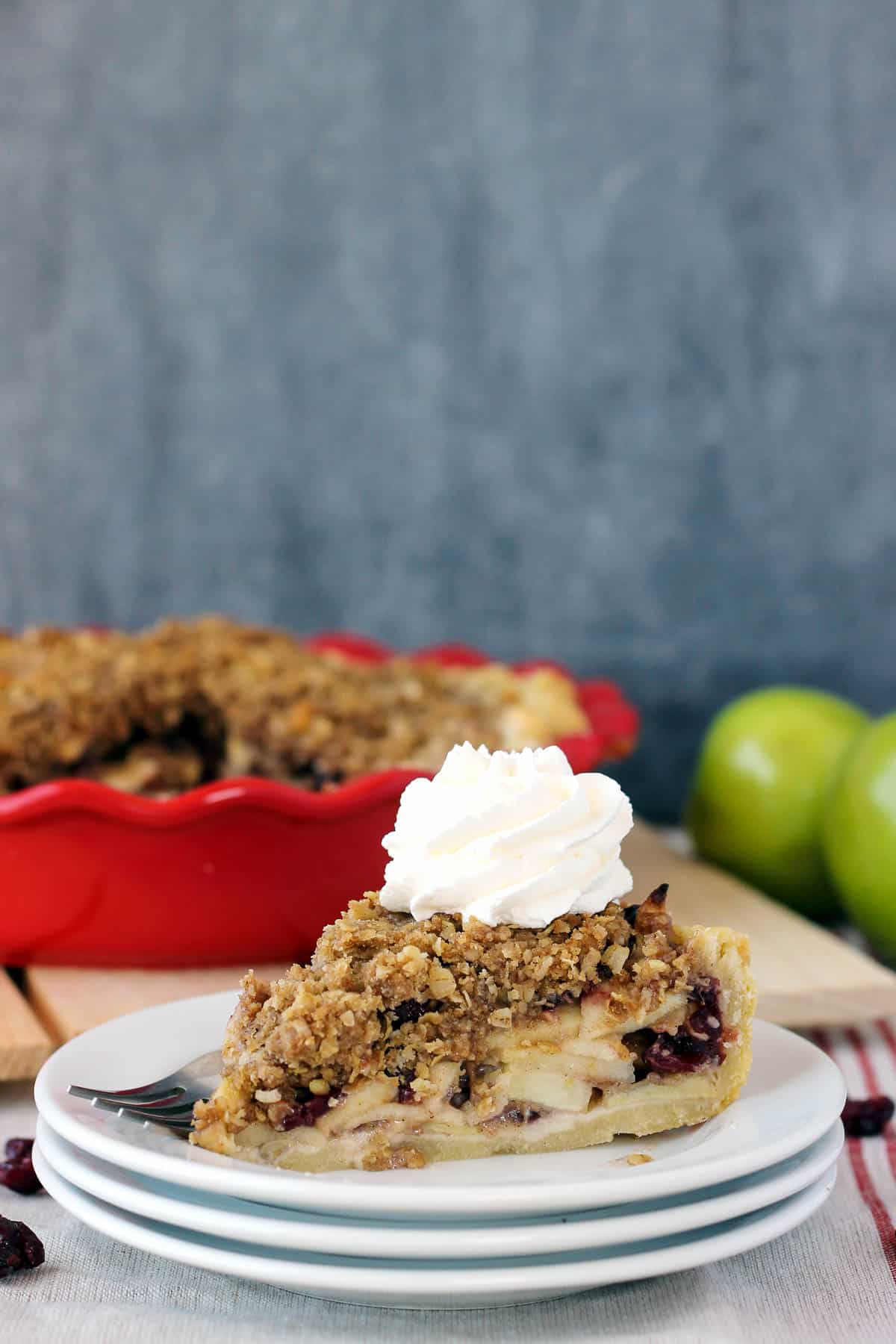 What You'll Need
First thing's first, you'll need to whip up one of these Homemade Pie Crusts. If you're gluten-free, make this version instead. Each recipe produces two incredibly flaky butter crusts. You can choose to make only one or make them both and save one for later! Now let's get into what you'll need for the filling and the topping.
For the Cranberry Apple Pie Filling
Apples: Sliced. I use medium-sized apples for this recipe.
Dried Cranberries: If preferred, you can use fresh cranberries – just be sure to rinse them off and dry them thoroughly.
Walnuts: Chopped into pieces of your desired size.
Lemon Juice: Freshly squeezed from about 1 lemon.
All-Purpose Flour: Use 1:1 gluten-free flour if necessary.
Brown Sugar: Light and dark brown sugar both work well in this pie filling.
Maple Syrup: For a little added sweetness and flavor.
Cinnamon: You can't have apple pie without some cinnamon!
Nutmeg: To supplement the cinnamon, adding even more holiday-spirited goodness.
For the Cinnamon Streusel Topping
Oatmeal: Old-fashioned oats and quick oats are both good options, though I don't recommend using steel-cut oats. You can use gluten-free oats in you're making a gluten-free pie.
Flour
Brown Sugar
Walnuts: Chopped.
Cinnamon
Butter: Unsalted and cold.
The Best Apples for Apple Pie
I'm a firm believer that Granny Smith Apples are the ultimate variety for apple pie. They're firm and tart, which prevents them from getting soggy and keeps them from tasting too sweet in the filling. Similar types that work well include Honey Crisp and Gala. You could also use a combination of different apples if you'd like.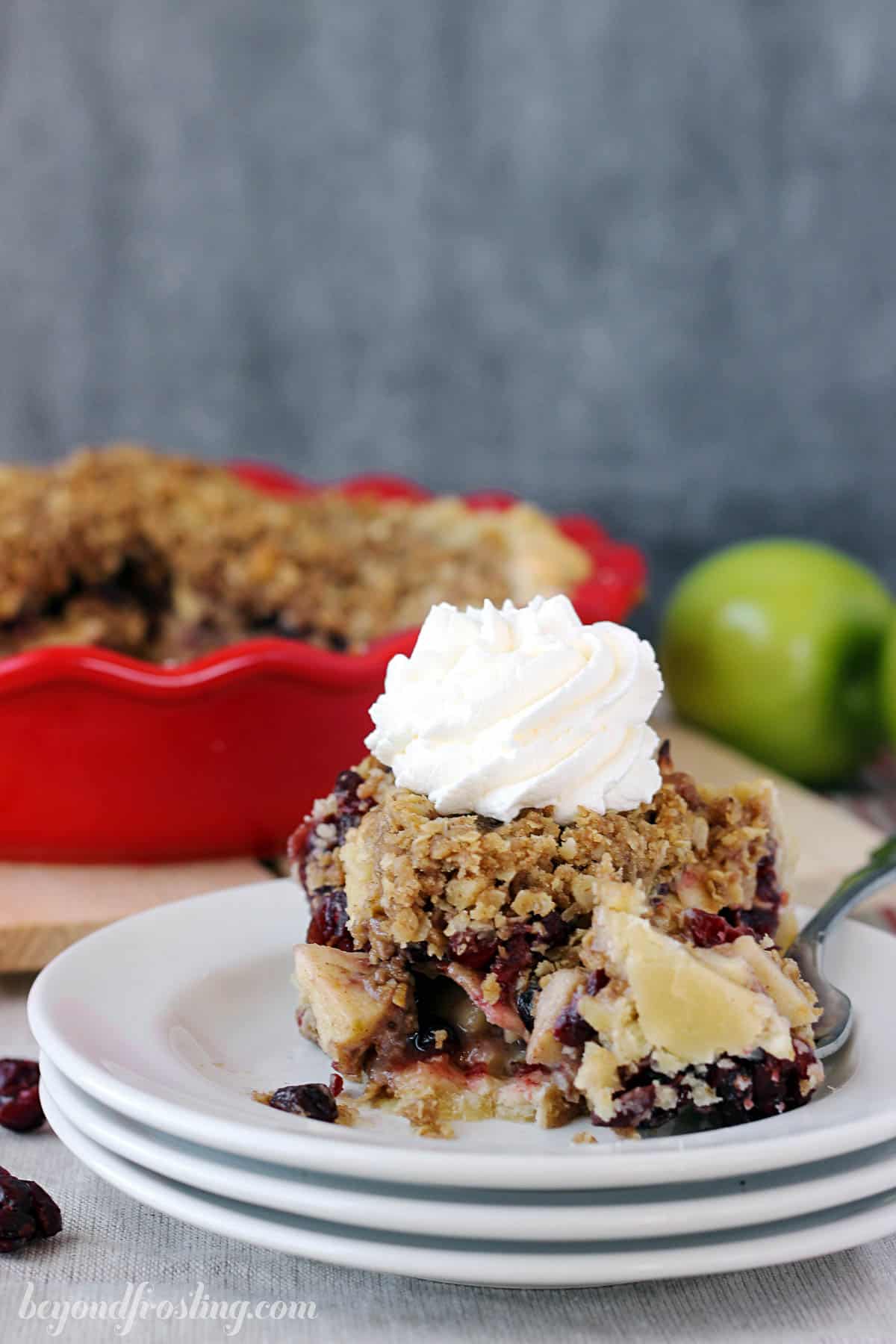 How to Make Cranberry Apple Pie
This recipe is so simple, we don't even have to break it down between the filling and the topping! Just follow the detailed run-through below.
Make Crust: Prepare one of the pie crusts linked in the ingredients section above. Place your crust into a pie plate.
Heat Oven: Preheat the oven to 350°F.
Slice Apples: Peel the apples and slice them into thin strips.
Add Craisins & Lemon Juice: Combine the prepared apples and the dried cranberries in a medium-sized bowl. Squeeze the lemon juice over the mixture and toss to coat all of the apples.
Add Remaining Filling Ingredients: Add the flour, brown sugar, maple syrup, cinnamon and nutmeg. Gently toss to coat the apples and cranberries.
Pour into Pie Crust: Pour the apple cranberry filling into the prepared pie crust.
Make Streusel: Combine the flour, brown sugar and cinnamon in a small bowl. Cut the cold butter into smaller chunks. Use a pastry cutter or two forks to press the butter into the dry ingredients to create a crumbly mixture. Then use your hands to work the oats into the mixture.
Add to Pie & Bake: Pour the streusel on top of the pie filling and bake for 35-40 minutes. If the crust is browning too quickly, tent a piece of tin foil overtop the pie (or use a pie shield if you have one).
Let Cool: Remove your pie from the oven and allow it to cool for at least 20 minutes before cutting into it.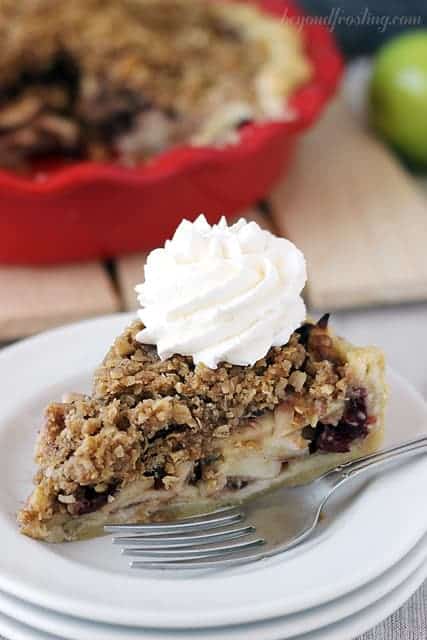 Tips for Success
Be sure to check out these helpful tips and tricks before you start making your pie. Happy baking!
Chill the Crust Until the Filling is Ready: I recommend keeping the crust in the fridge while you prepare your apple pie filling. If it goes into the oven cold, it's going to hold it's shape better. This is especially important if you've crimped the edges.
Save Time with a Pre-Made Pie Crust: You always have the option of using a store-bought pie crust if you'd like to cut down on prep time. But I promise that the homemade ones are more than worth the effort!
Peel the Apples & Slice them Evenly: Don't forget to peel your apples and cut them into thin, even slices. Peeling them prevents loose apple skin from affecting the texture of your filling, and cutting them thinly and evenly ensures they'll get nice and soft throughout.
Use Cold Butter: Cold butter is imperative for that crumbly topping texture. If it's too warm, the streusel will clump up.
Cool Before Cutting: Allowing your cranberry apple pie to cool before cutting into it helps the filling thicken. This makes it easier to cut clean slices. I prefer cooling my pie all the way to room temperature, but if you want to serve yours warm, that's totally up to you.
Serving Suggestions
Speaking of serving up this sumptuous pie, I have a few ideas for how to do so. Get ready for your mouth to water!
Pair with Vanilla Ice Cream: Apple pie and vanilla ice cream are a dynamic duo that never gets old. The crispy streusel topping on this cranberry-studded pie only adds to the yumminess!
Top with Homemade Whipped Cream: A generous dollop of this Fluffy Whipped Cream tastes amazing on top of a slice of this pie. You could also go with this Cinnamon Maple version for added flavor.
Serve with Caramel Sauce: I like to drizzle some caramel sauce over this pie when I'm in the mood for a little extra sweetness. You have to try it out for yourself!
How to Store and Reheat Homemade Pie
This cranberry pie can be stored (well covered) at room temperature for up to two days. This makes it great for preparing in advance. If you'd like to hold onto those leftovers for longer, transfer them to the fridge for up to 2 more days.
You can enjoy your pie at room temperature or warm up individual slices in the microwave. To reheat an entire pie, place it in a 350°F oven for about 15 minutes.
Can i freeze This?
Absolutely! This pie freezes well for up to 3 months. Wrap the entire pie in 2 layers of plastic wrap and 1 layer of aluminum foil. If you're storing individual slices, wrap them in plastic wrap and keep them in a freezer-safe container. Thaw out frozen pie in the fridge before reheating it.
Print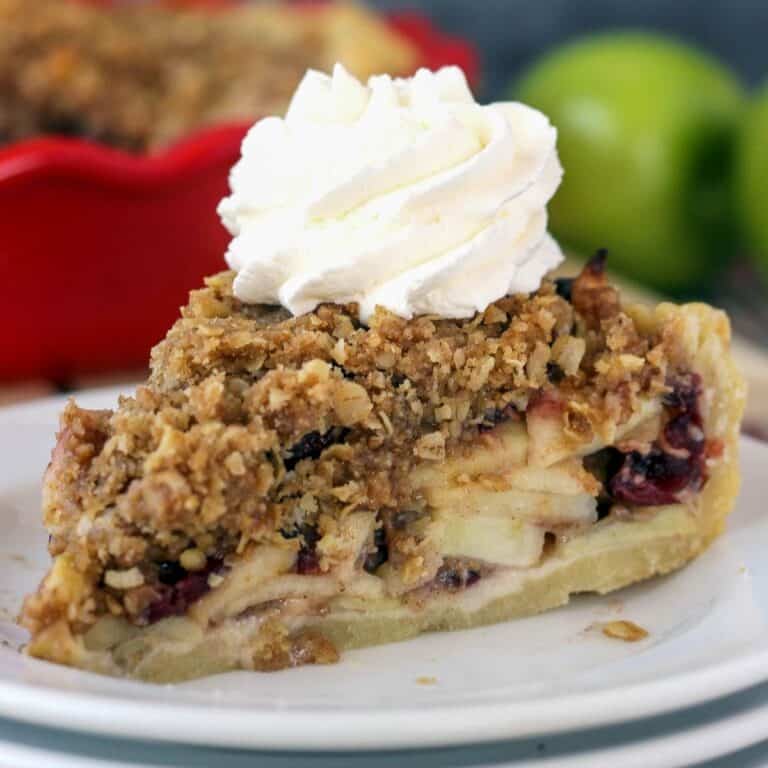 Cranberry Apple Pie
Author:

Prep Time:

30 minutes

Cook Time:

45 minutes

Total Time:

1 hour 15 minutes

Yield:

8 slices
Description
Warm and soft cinnamon apples mingle with sweet dried cranberries in this irresistible Cranberry Apple Pie filling! It's paired with a buttery homemade crust and a crispy oatmeal streusel topping for the ultimate holiday treat.
Ingredients
For the Filling
5

–

6

Medium apples, sliced

1 cup

(

160g

) dried cranberries

1/2 cup

(

56g

) chopped walnuts
Juice of

1

lemon

1/2 cup

(

70g

) all-purpose flour

1/2 cup

(

110g

) light brown sugar, packed

2 tablespoons

(30ml) maple syrup

1 teaspoon

(

2.5g

) ground cinnamon

1/2 teaspoon

ground nutmeg
For the Streusel
2/3 cup

(

54g

) rolled oats

1/3 cup

(

47g

) all-purpose flour

1/4 cup

(

55g

) light brown sugar, packed

1/4 cup

(

28g

) chopped walnuts

1 teaspoon

(

2.5g

) ground cinnamon

6 tablespoons

(

85g

) unsalted butter, cold
Instructions
Preheat oven to 350°F.
Prepare your favorite pie crust. If the recipes make two crusts, freeze one for next time. Place pie crust in pie plate.
Peel and slice the apples about 1/8" thick and toss with the lemon juice. Combine sliced apples and cranberries in a medium size bowl. Squeeze lemon juice over apples and toss to coat the apples.
Combine the dry ingredients and gently toss. Then drizzle the maple syrup over top. Pour the filling into the prepared pie crust.
Dice the butter into small pieces and combine with the flour, sugar, and cinnamon. Use a pastry cutter or two forks and press the butter into the dry ingredients until it resembles a crumbly mixture and the butter is broken down into smaller pieces.
Next add the rolled oats and cut it into the flour mixture. Once it's roughly combined, use your hands to start pressing the mixture into larger pieces and place on top of the apple filling.
Bake for 45-50 minutes at 350°F. If the crust is browning too fast, put a piece of tin foil over the top of the pie or use a pie sheild. Remove from oven and allow to cool before cutting.
Category:

Dessert

Method:

Oven

Cuisine:

American
Keywords: homemade apple pie filling, cranberry apple pie, how to make apple pie filling
More Crave-Worthy Pie Recipes
You seriously have to try the delicious pies below. You'll be happy you did!