This post may contain affiliate sales links. Please see my full disclosure policy for details
Chocolate Swiss Meringue Buttercream is a creamy chocolate buttercream with silky finish. It's a perfectly elegant frosting for cakes and cupcakes and less sweet than American buttercream. Read through my all tips and watch the step-by-step video recipe.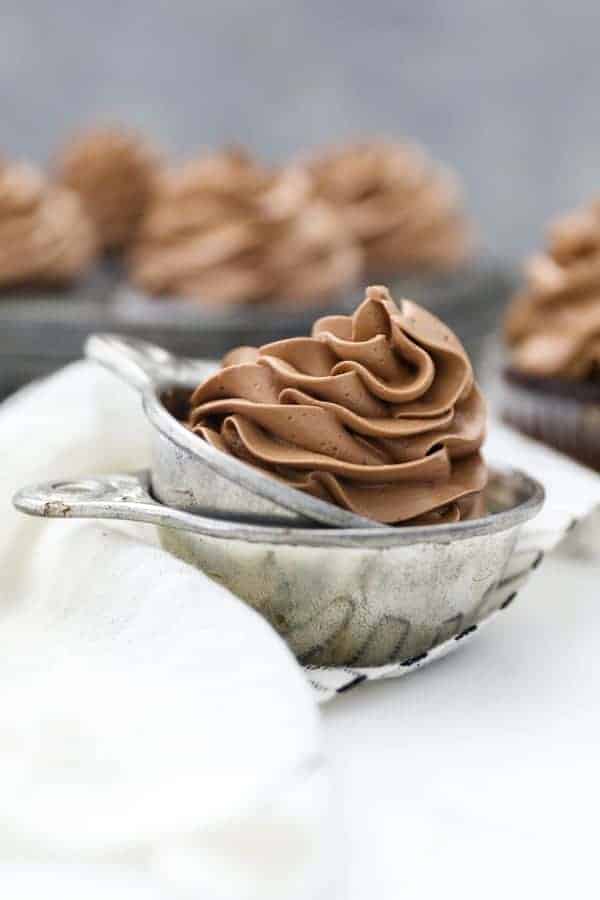 Have you ever tried Swiss Meringue Buttercream? If so, have you ever added chocolate to the recipe? If not, I insist you give it a try!
This silky-smooth Chocolate Swiss Meringue Buttercream made with egg whites, sugar, butter and melted chocolate.
The flavor is subtle. It's not overly chocolate, and it's not overly sweet. It has more of a velvet buttery finish. Not quite as light as whipped cream but it's very airy.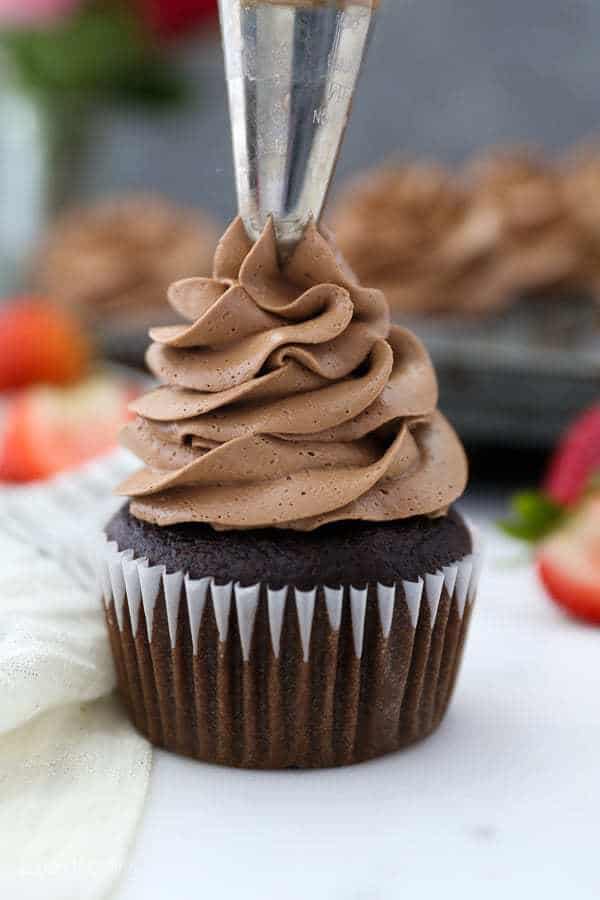 A lot of people don't like American buttercream because they say it's too sweet and sugary. I always recommend Swiss meringue as an alternative.
It's actually a very versatile buttercream because with the base, you can flavor it with almost any extract, emulsion or zest. I also like to add fresh fruit or fruit purees.
Personally, I love this frosting because it doesn't overpower.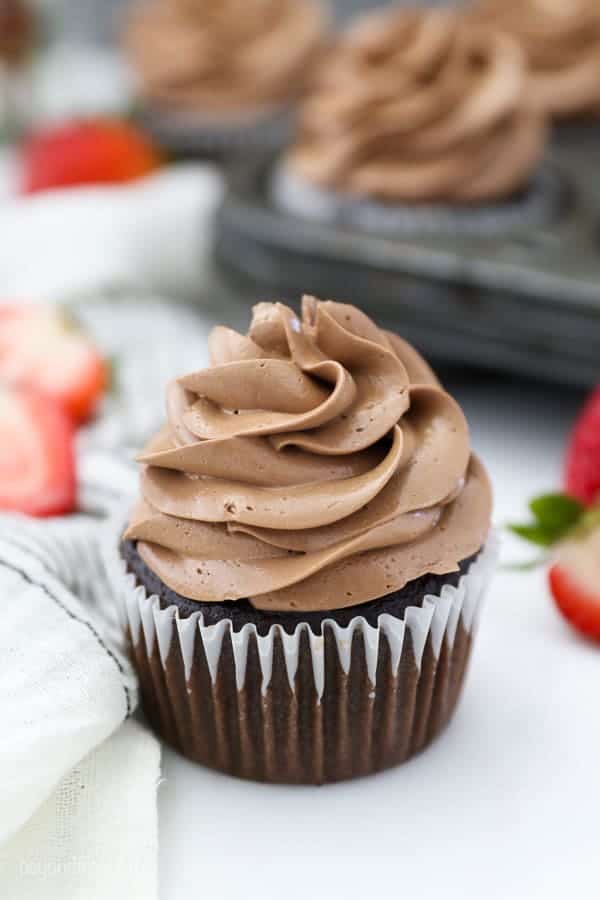 If you a true chocolate lover like my husband, who always tells me to add more cocoa powder to my chocolate frosting, even when I tell him it's more than enough, you probably won't like this frosting. As I mentioned before, the chocolate flavor is subtle because I used melted chocolate instead of cocoa powder.
This recipe is made with dark chocolate, which I prefer because it's a little less sweet. However, milk chocolate will work, as will white chocolate.
You'll want to get a high-quality chocolate, and I recommend getting a chocolate bar because they melt down better than chocolate chips. Chocolate chips have a coating on them, and when melted they tend to be a little gummier and glossy.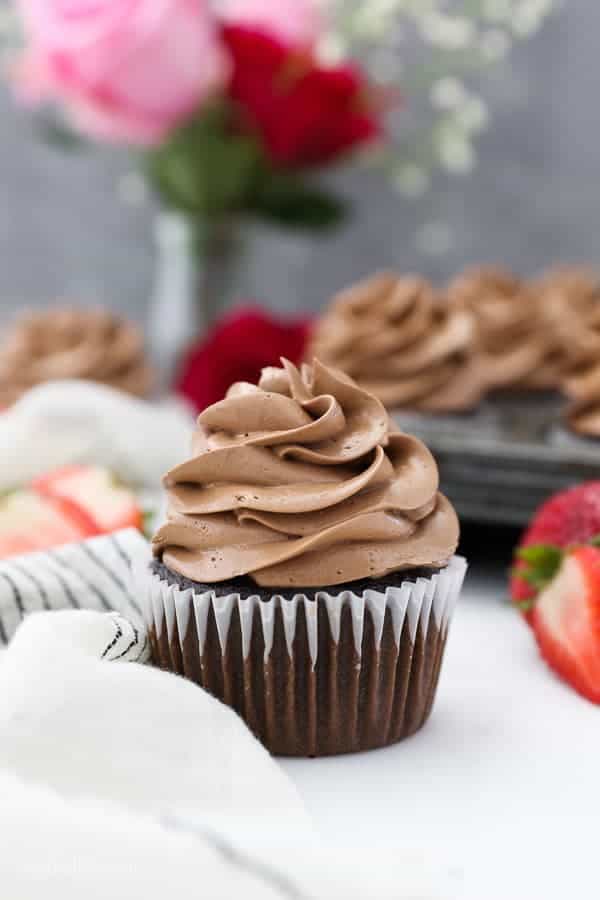 Most people are intimidated by Swiss Meringue because it involves heating egg whites and sugar, whipping it into a meringue and then breaking it back down with butter.
I'm here to tell you the process is EASY. It just takes some patience and coordination. I have a complete guide for how to make Swiss Meringue Buttercream, but I want to share to a few helpful tips for you here.
Tips for making Chocolate Swiss Meringue Buttercream
Plan ahead, your butter and egg whites must be at room temperature to properly incorporate into the Meringue.
Crack your eggs whites in a small dish and then add them to a larger bowl. This way if a yolk breaks, you aren't wasting them all.
The utensils have to be grease-free, so I use only metal utensils. If you must use rubber, make sure they are only for meringue. I have rubber spatulas which I only use when I have meringue base frosting like royal icing.
Use a candy thermometer, I bought mine at target for $10 and it has been well worth the investment.
Use a bar of chocolate instead of chocolate chips. It's easier to melt and when melted, has a better consistency. Allow your chocolate to cool completely before adding it to the buttercream.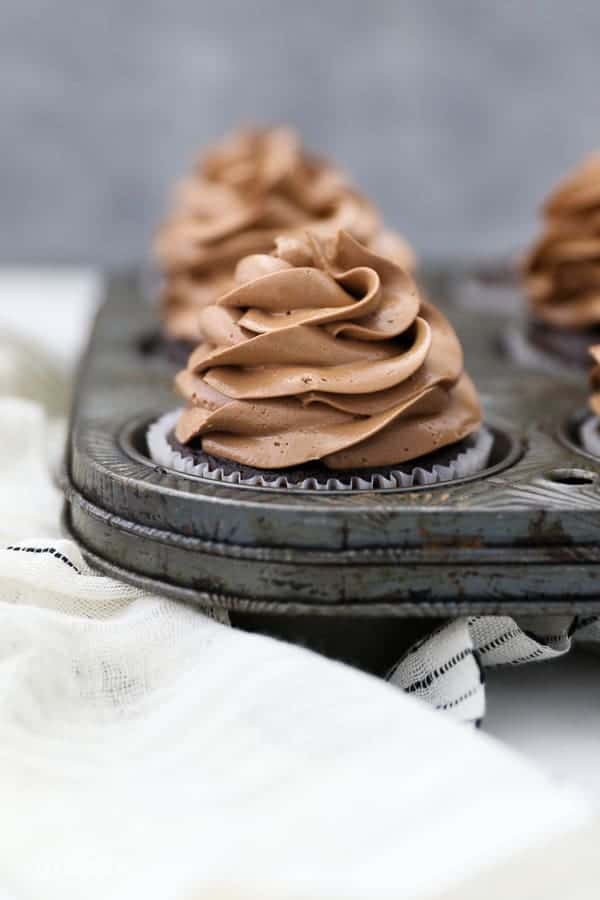 Always use unsalted butter! This allows you to control how much salted is in your frosting. I once made the mistake of using salted butter and the frosting was WAY to salty, I think I ended up throwing it out and starting over.
Use lemon juice or vinegar to wipe off all utensils and bowls to remove any lingering oil and grease.
Make sure you use just enough water to cover the bottom of your pot, I suggest about 1 ¼ cups for a medium-sized pot. You do not want your bowl to touch the boiling water.
To see if your sugar is fully dissolved, you can drizzle some of the egg whites in your fingers and rub them together, it should be completely smooth. But be careful, it's pretty warm!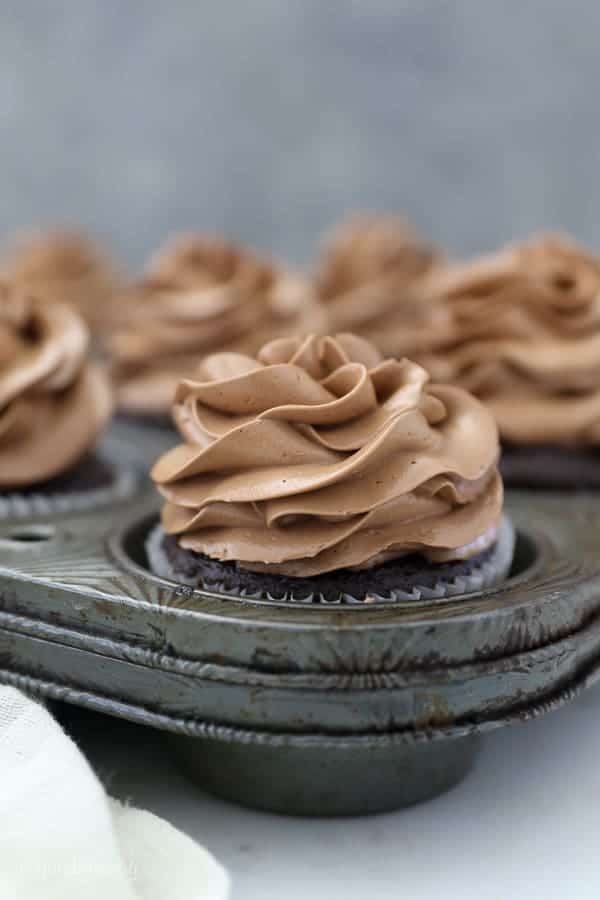 Follow Beyond Frosting:
Facebook | Twitter | Pinterest | Instagram
If you love no-bake recipes, be sure to check out my cookbook, No-Bake Treats!
Print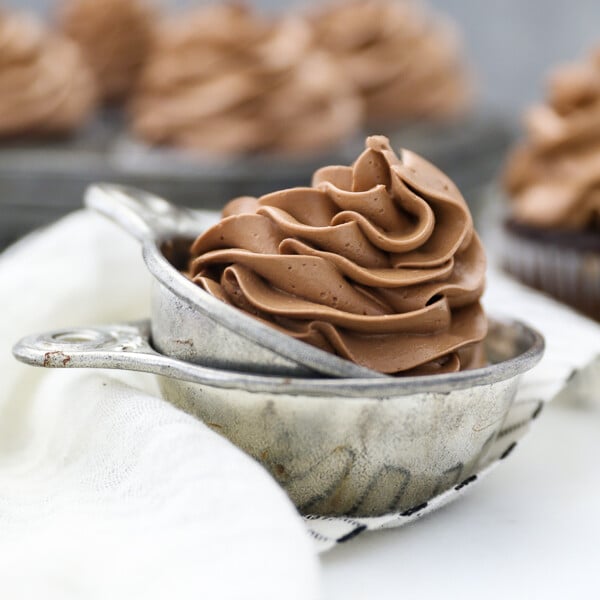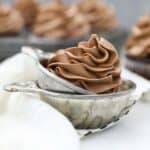 Chocolate Swiss Meringue Buttercream
Author:

Prep Time:

30 minutes

Cook Time:

12 minutes

Total Time:

42 minutes

Yield:

4 cups- 24 cupcakes
Description
Easy to make, this rich chocolate frosting is silky and light in texture and less sweet than American buttercream.
Ingredients
For the frosting
5

large egg whites

1 1/4 cup

s (

237.5

g) granulated sugar

1 1/2 cup

s (12

oz

) unsalted butter, at room temperature

2 teaspoons

(10ml) vanilla extract

6 ounce

s (

226g

) dark chocolate, melted
Instructions
Wipe down the inside of your stainless-steel bowl with vinegar to remove any grease. Combine sugar and egg whites in the bowl with candy thermometer attached.
Set the bowl over top of a pot with 1 ¼ cups water covering the bottom. Place over medium heat.
Stir constantly with a whisk until the mixture reaches 140°-160° The sugar should be dissolved in the egg whites. You can test this by placing a drop on your finger tips and rubbing them together. The mixture should be completely smooth.
In a microwave-safe bowl, microwave the chocolate 50% power in 30-second increments, stirring each time until the chocolate is melted and smooth. Set aside to cool.
Immediately place the mixing bowl on your stand. Using the wire whisk attachment, beat the egg whites on low for 2 minutes then increase to medium high.
Beat for another 5 minutes. At this point, your frosting should have turned white and the body of the meringue starts to form. Increase the mixing speed to high. It will start to look glossy as the peaks begin to form. Beat for another 5-8 minutes until the bottom of your bowl is cool to the touch and your meringue has stiff peaks.
Turn your mixer down to medium-low. Slowly add your butter, 1 tbsp at a time. As you add more butter, the frosting might appear to have curdled and lost its body, that's ok. Scrape down the sides of the bowl.
Switch to the paddle attachment, add the vanilla extract and continue beating on medium-high speed until your frosting starts to form. Slowly drizzle in the chocolate and continue beating until stiff peaks form, about 3-5 minutes.
Equipment
Notes
To frost a 3 layer 8-inch cake, double this recipe
Category:

Frosting

Method:

Stand Mixer

Cuisine:

American
Keywords: Swiss Meringue Buttercream, chocolate frosting, swiss meringue frosting, SMBC
Recipes that use Chocolate Swiss Meringue Buttercream