This post may contain affiliate sales links. Please see my full disclosure policy for details
Spend 3 perfect days exploring Banff National Park. Weather you're an outdoor enthusiast, looking to hit the latest food spots or seeking a relaxing weekend in the mountains, there's something in Banff for everyone.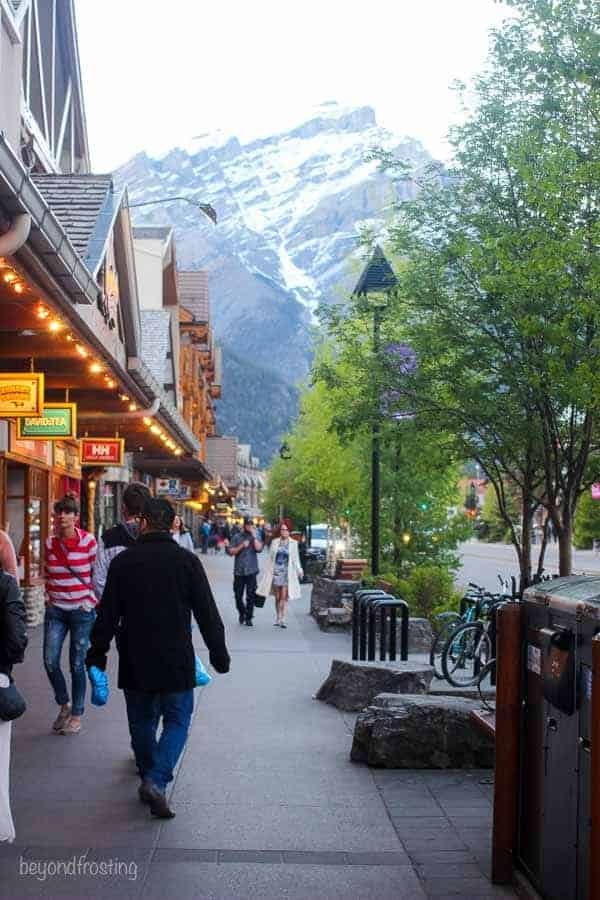 There's no doubt about it, Banff is a bucket list destination. Whether you're an outdoor enthusiast or someone looking for a more relaxing vacation, there's plenty to do and see in Banff.
We spent 3 quick days driving up and down Banff National Park exploring as much as we could during our trip. There's so much to do and see, 3 days is not nearly enough, but if you only have a few day in the area, there's a few things you must see and do!
Our original intention for our trip to Banff was centered around scoping out spots for a wedding venue. After our visit, we decided Banff was not a place we could get married, but we fell head over heels in love with the area, and definitely want to go back and visit, especially in the winter.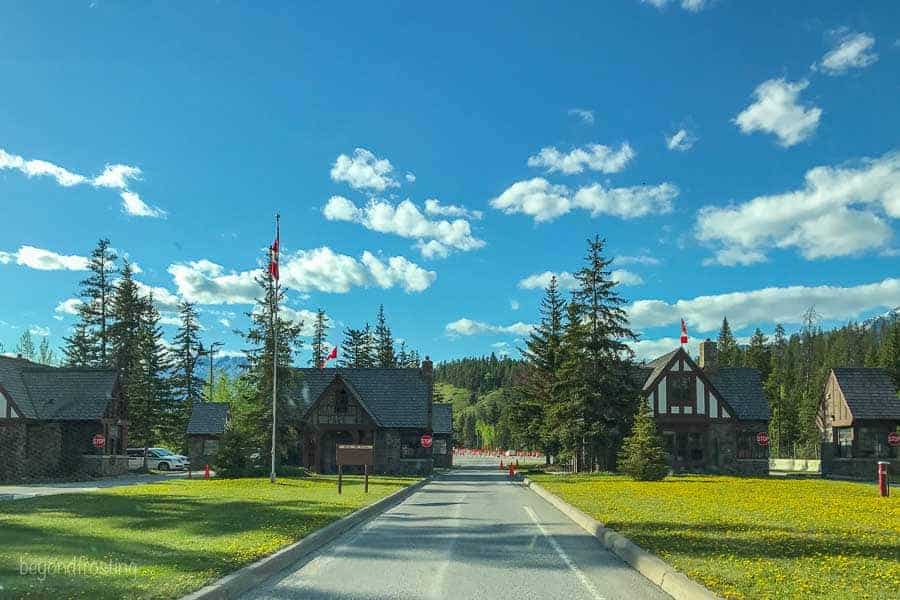 Banff is a very popular tourist destination about 1 ½ hours outside Calgary in the Canadian Rockies. I can see how it gets SO busy during the winter and summer months because it offers endless options for outdoor activities.
We went over Memorial Day weekend which was just perfect. The mountains were still covered with snow, offering the most stunning views, but the weather was genuinely lovely and it wasn't too deep into the high tourist season.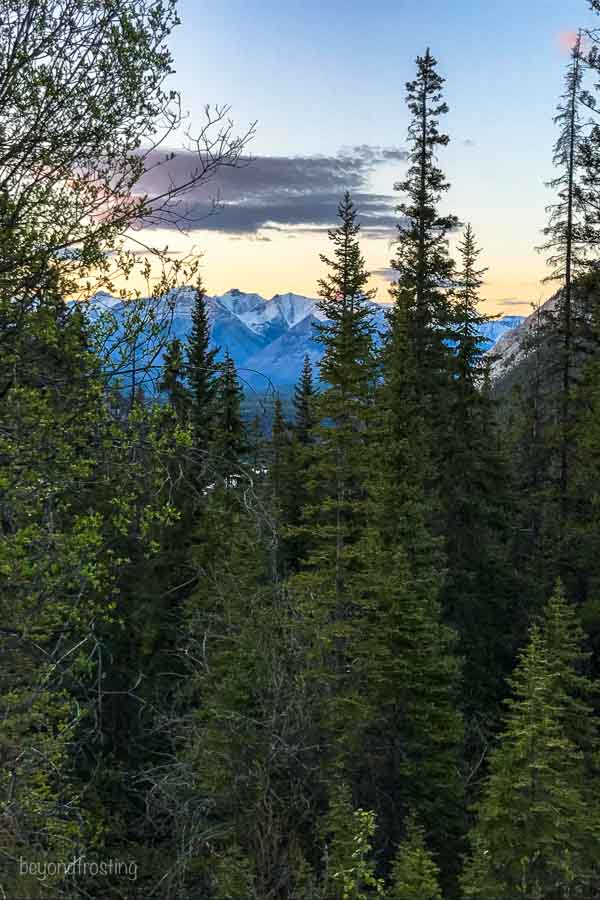 I didn't do a whole lot of planning for this trip outside of wedding sites we needed to visit While spontaneous is not a word I would use to describe myself, on the rare occasion that I am, it tends to be produce some of my favorite memories.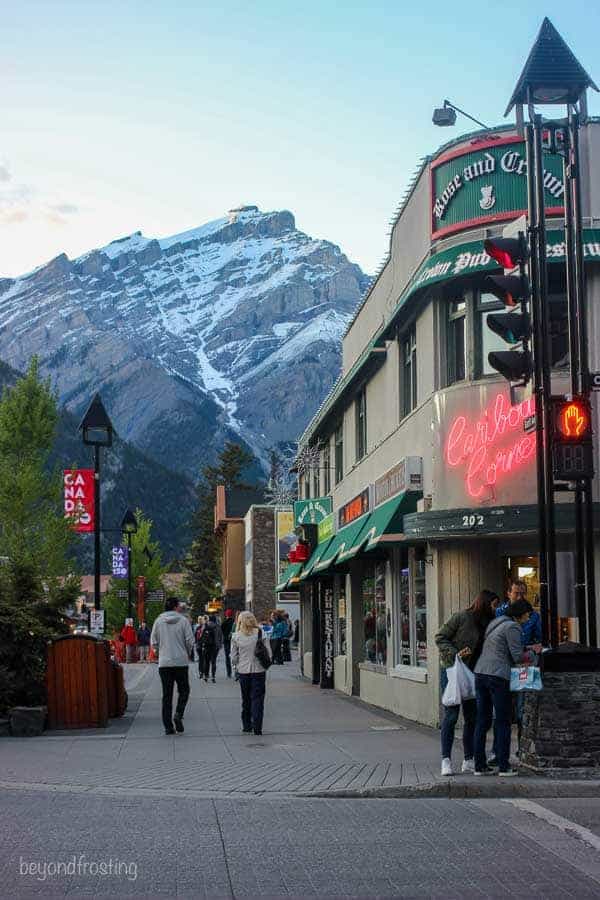 Our trip started at the Rimrock Resort, which offers some of the best views in of the Banff valley. It's just outside of town, on top of a mountain. When we first pulled up to the hotel, there were several deer enjoying their dinner across the street.
The hotel is gorgeous inside with a cozy lobby offering floor to ceiling windows, which means there's not a bad seat in the place. It's very charming, with a vintage sort of look and feel, and it also felt like maybe I was in a foreign country based on the interior décor.
The rooms were more modern than the lobby area would lead you to believe and it was very comfy. Since we arrived in the early evening, and we were checking out the next day, we opted not to upgrade to a room with a view. However, I could see how it would be worth it!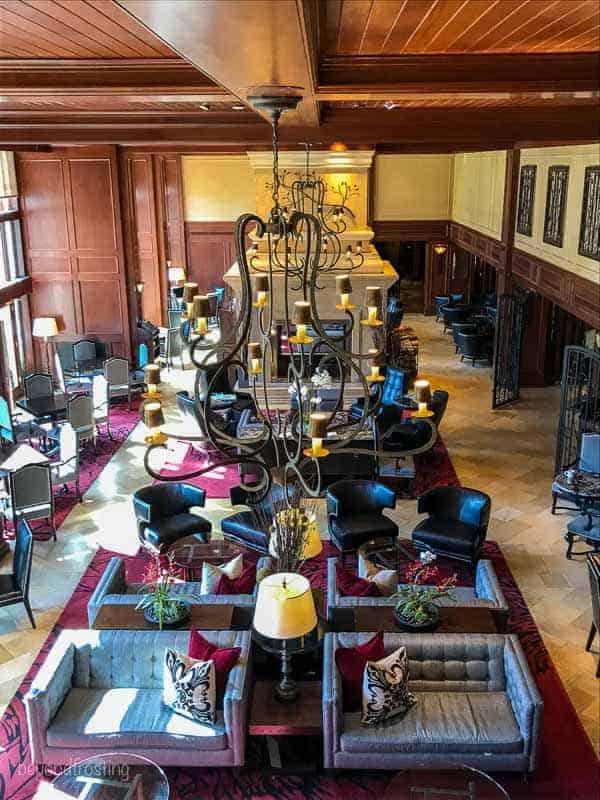 We immediately dropped of our stuff and headed into town. We walked around the town and explored the different shops while we tried to find a place to eat. I had heard so many great things about the food scene there.
We decided on a little restaurant called The Block. The restaurant was quite small, with about 6- seats at the bar and a few outdoor tables. Cocktails are definitely a speciality here.
We opted to sit at the bar and ordered a couple of drinks and a few plates to share. The first up was some pork and kimchi pot stickers, followed by fried chicken, croquettes and finally chimichurri flank steak with fries. Everything was pretty amazing, but my favorite was the fried chicken. Also can we talk about how all the fries are served with gravy? The best.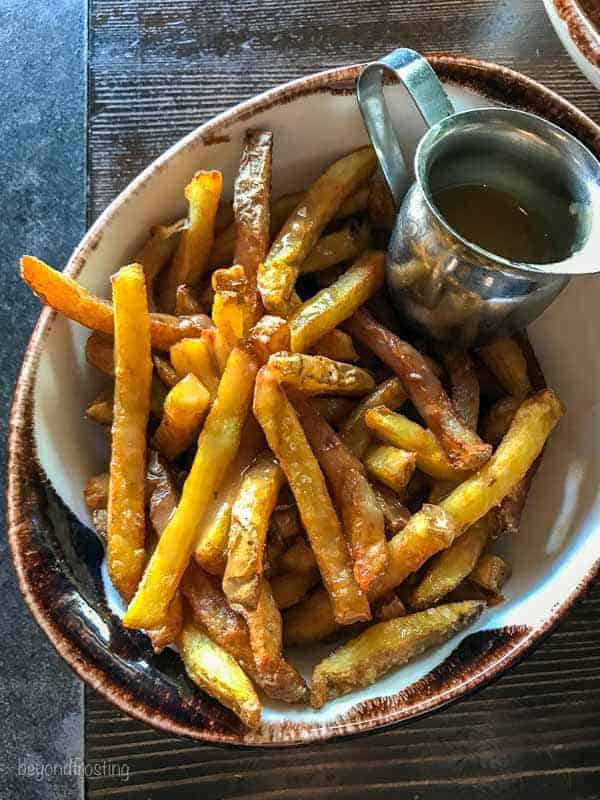 The next morning started off with a visit to Wildflower Bakery, which is rumored to have the best coffee in town. This bakery is super cute and located in the heart of downtown. Their bread looked amazing!
We then headed to the Fairmont Banff, which is pretty much a castle set among the most picturesque mountains. The patio overlooked the valley with flowing rivers and snow caped peaks. I can see why this is such a popular place to stay.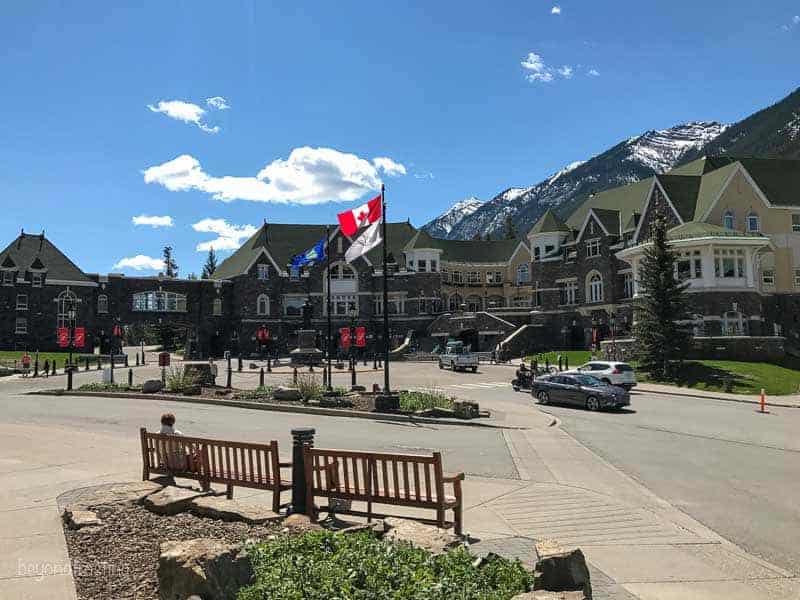 The hotel is massive and even includes a small bowling alley. This is a very popular tourist stop, so if you're looking for a quiet and relaxing place to stay, I might not suggest this hotel. However, it is totally worth a visit to just walk around the grounds.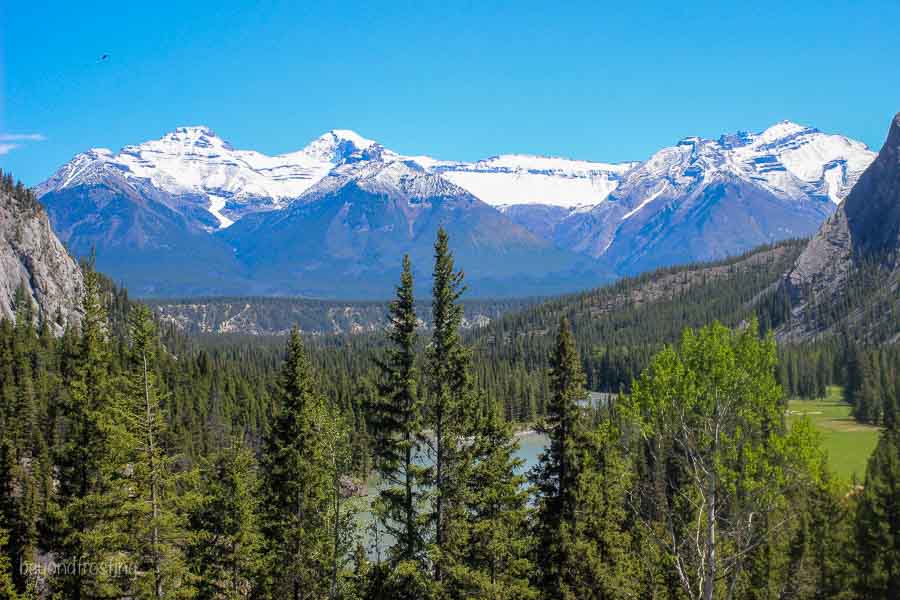 The next few hours were spent exploring, where we found ourselves at a little spot across the river called Surprise Corner. We climbed through the forest to get some good views of the waterfall and the river, and it looks back at the Fairmont hotel. It's hard to take a bad photo here. Parking is limited but you can make the hike up there from town.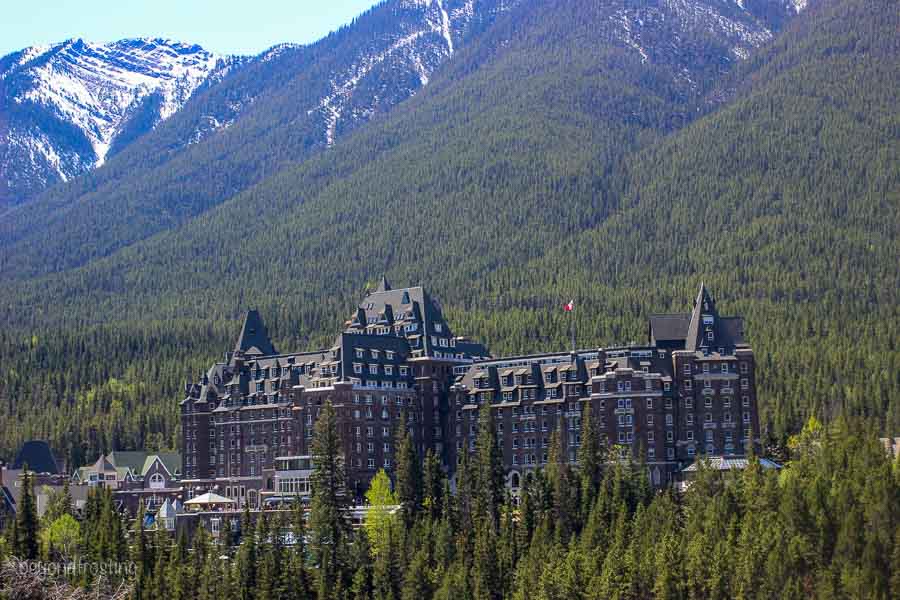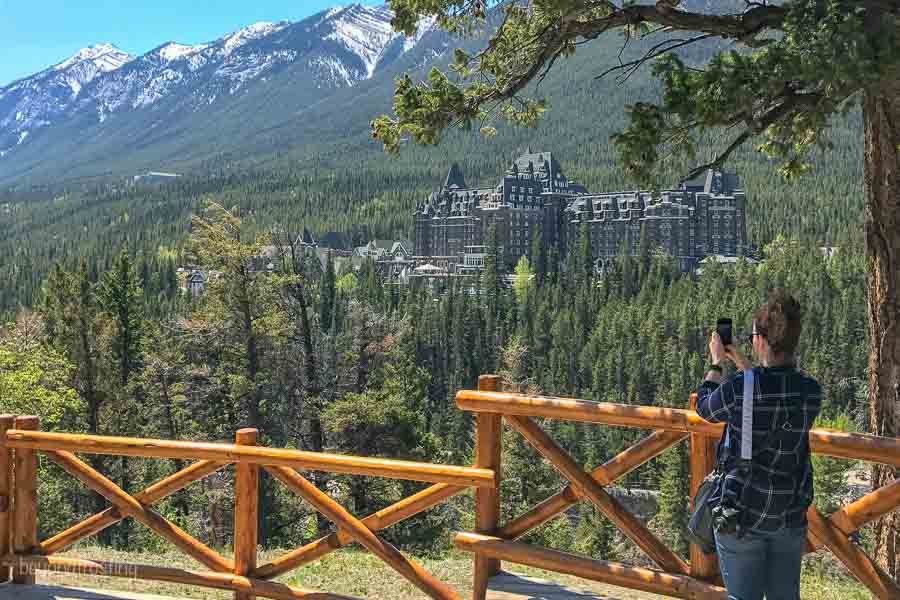 For lunch we stopped at Park Distillery. We tried to eat here the night before, but it was a 2 hour wait. You can take a free tour of the distillery, but reservations are recommended. This was one of our favorite meals on the trip. Burgers, fries, croquettes and signature cocktails were on order. I also got a frozen s'more, which they toasted at the table.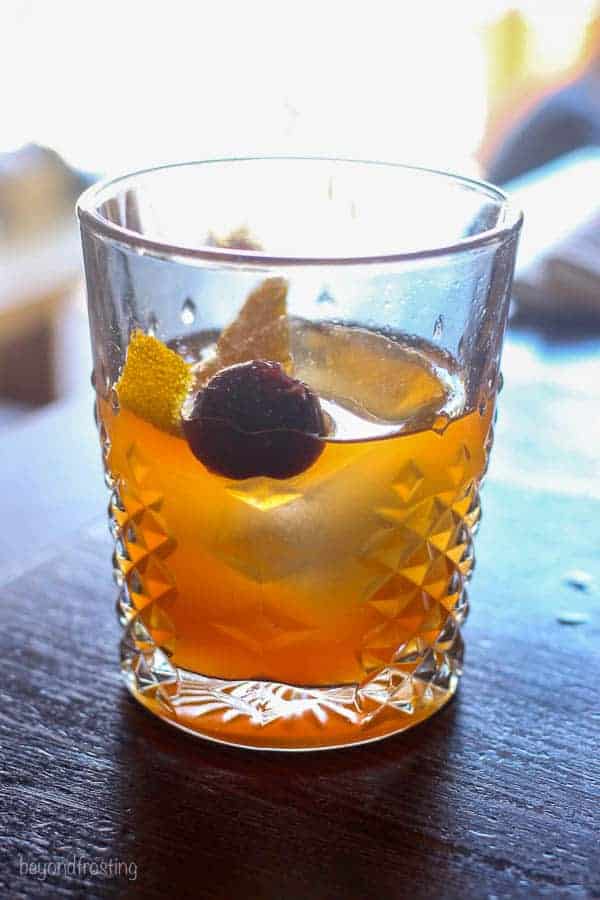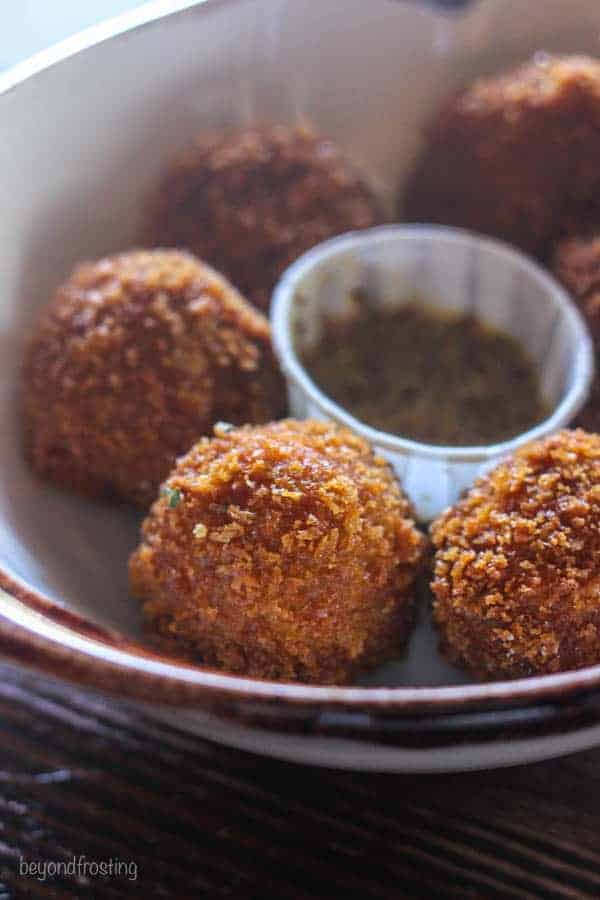 That afternoon we drove around outside of town and stopped at Lake Minnewanka, Sunshine Village and Mount Norquay. We were definitely interested in seeing the mountain, but it was nice to get up higher above town and really taking in the beauty of the valley.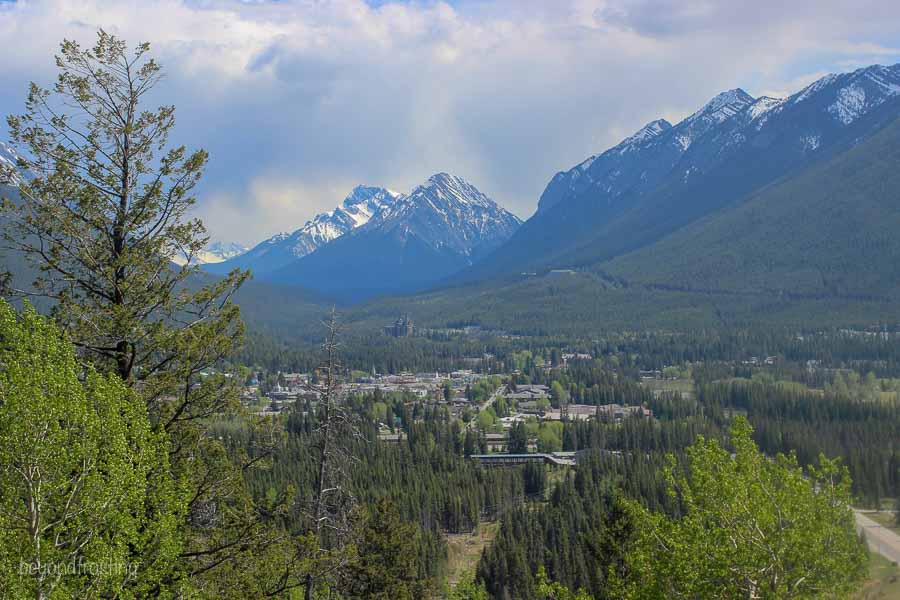 Allow yourself some time to hang out on the rocks at Lake Minnewanka. It's surrounded by steep mountain peaks.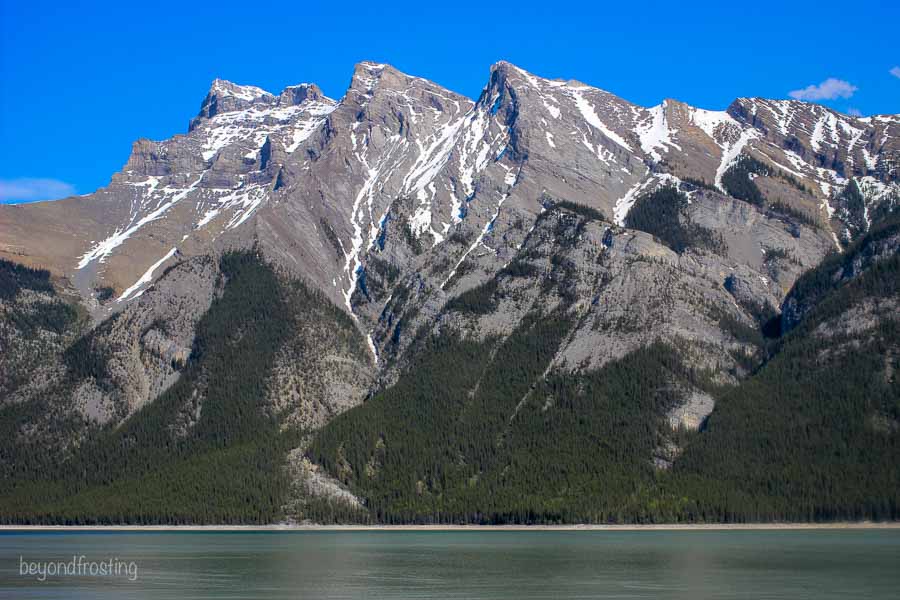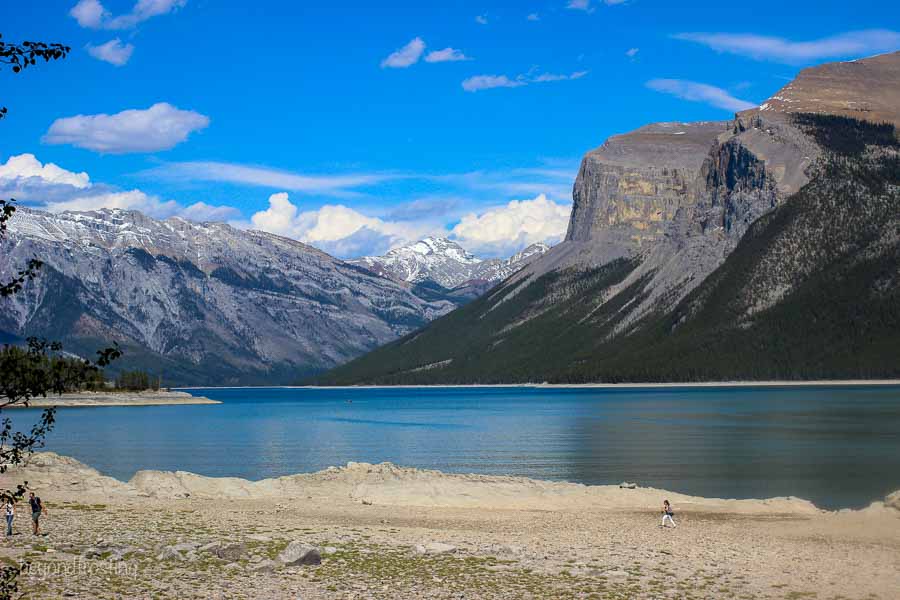 The second night we stayed at Buffalo Mountain Lodge. It's much more rustic than Rim Rock, so if you're looking for that classic cabin vibe, this is probably your spot. Think fire place in your room, cozy plaid and rustic décor.
Buffalo Mountain lodge is also a bit outside of town as well but they did have a shuttle. We ate dinner at the lodge which was quite good and it was nice to have that option after a busy day.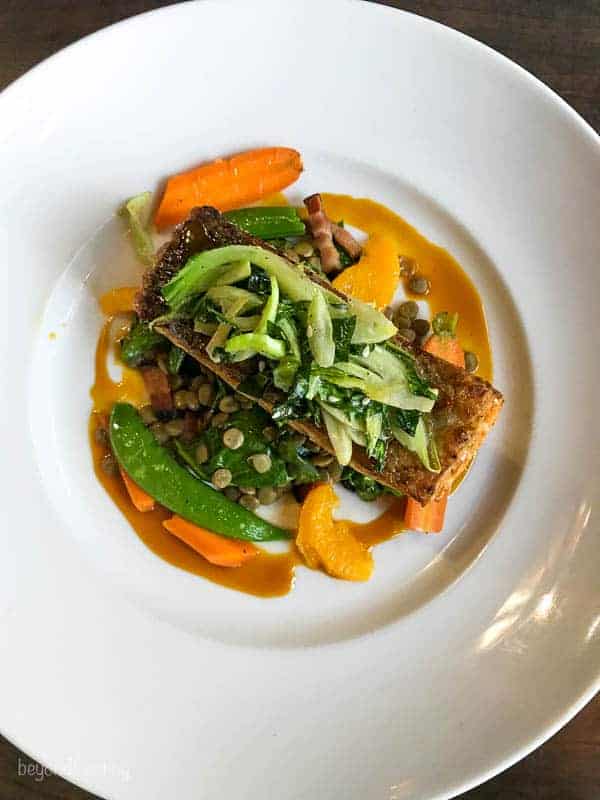 On our second day we headed out to Lake Louise, it's about an hour drive from Banff. I had seen so many pictures of the turquoise water fed by the surrounding glaciers, it is definitely a bucket list experience.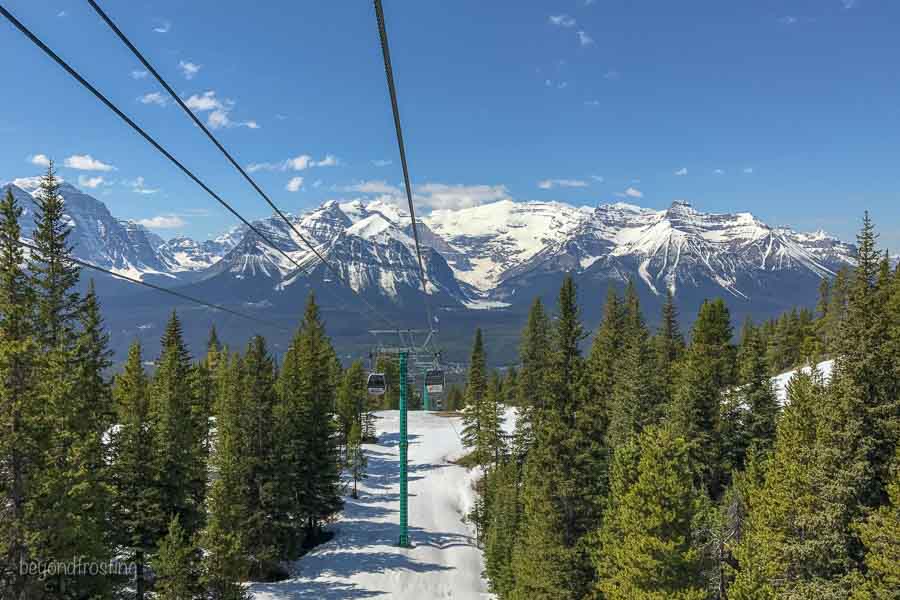 The first thing we did was head to Lake Louise ski area and took the Gondola to the top of the mountain. While there was still plenty of snow left, they weren't open for skiing. From the top of the mountain you could see the Fairmont Chateau Lake Louise in the distance.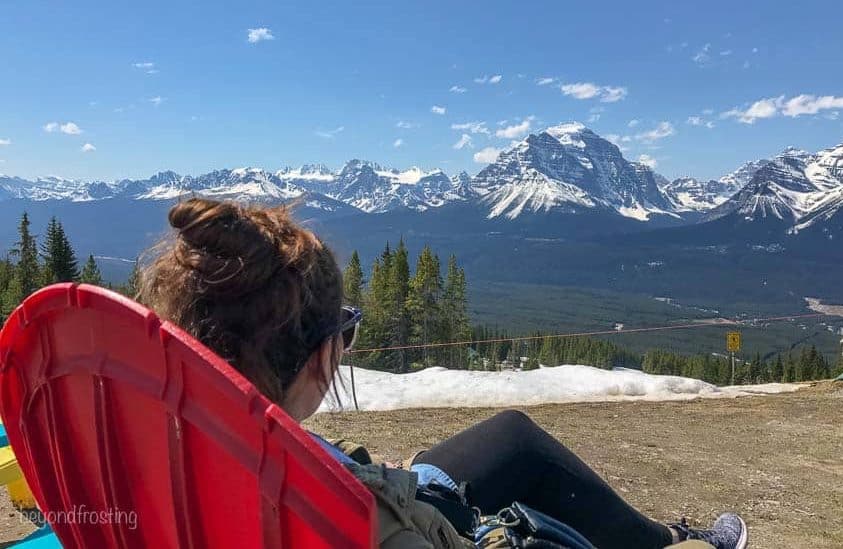 We arrived early at the Fairmont, so we were lucky to get parking. It does get very very busy here as well. It was nearing lunch time, so we decided to try and eat at one of the restaurants before the rush.
The hotel does have restaurants that are reserved for guests only, but them recommended we head downstairs to one of the cafes and we were able to score a table on the patio overlooking the lake.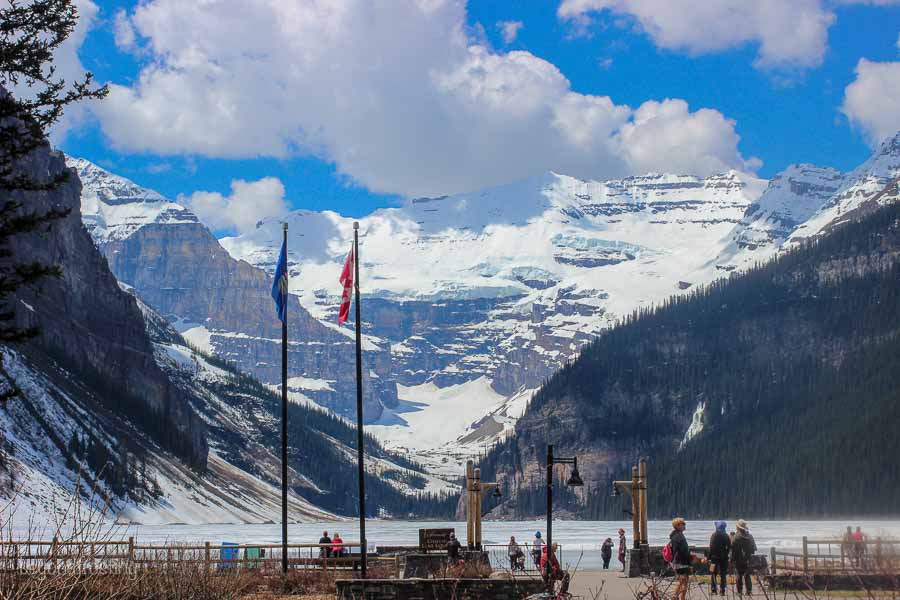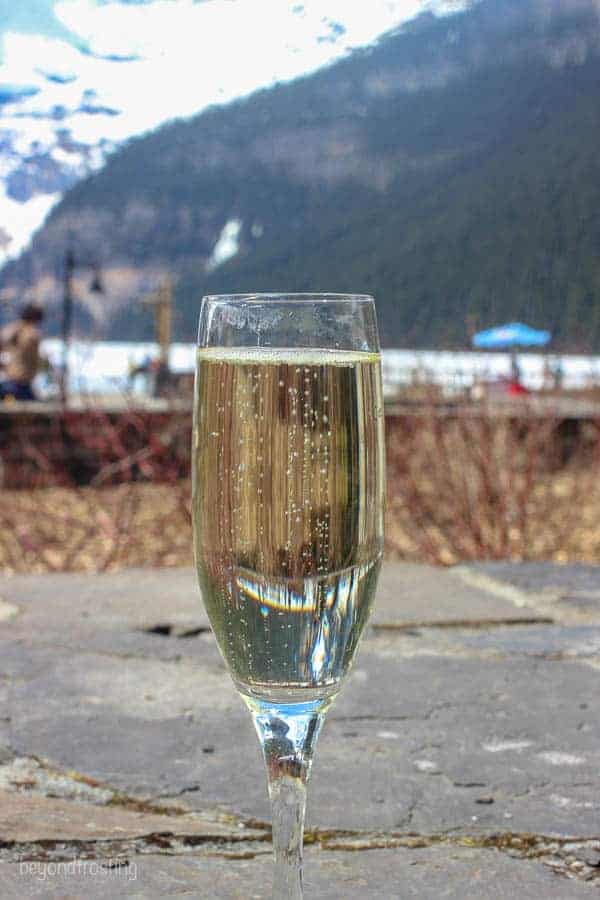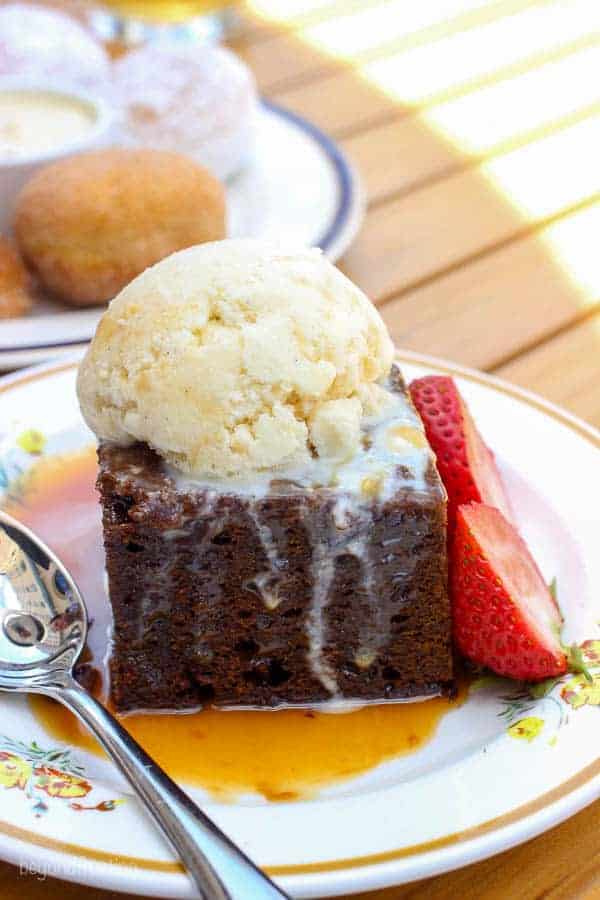 It was by far one of my favorite memories of the trip. I could have sat there all day.
After lunch we started to walk around the lake. At that time it was still mostly frozen over and the trails were covered with snow, so we couldn't go too far with the shoes we had. Next time, I'll be more prepared to do some hiking in the area.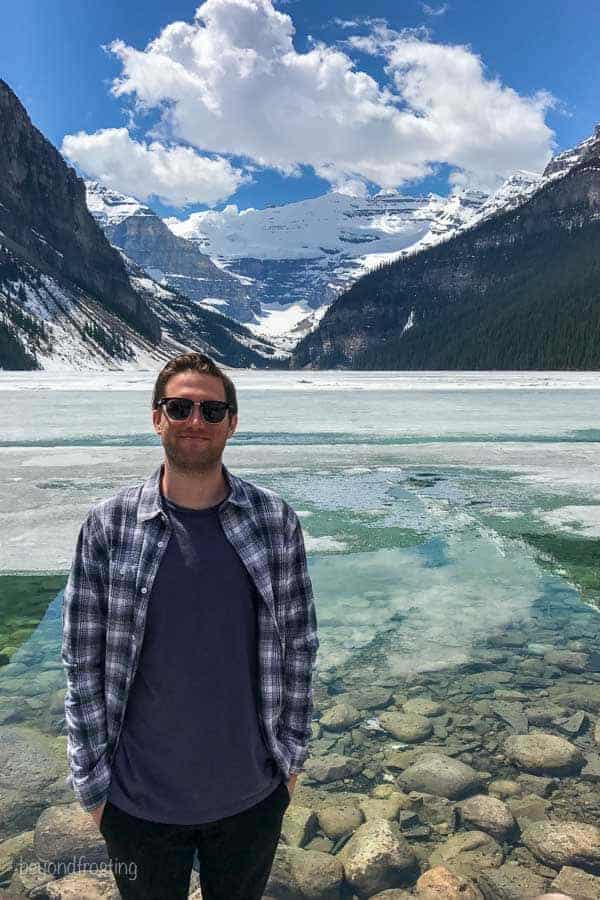 For our last day, we headed back towards Calgary and stayed in Canmore at the Solara Resort and Spa. This was more of a condo than a hotel with a full living room and kitchen. We loved it.
We spent our last night doing what we do best, eating. The locals recommended The Iron Goat and we indulged ourselves in pizza and beers. As with most restaurants in the area, the views were spectacular.
During the 3 days we spent in Banff, we packed in as much as we possible could, but you could spend a week here and not even begin to scratch the surface. We didn't have much time to explore any of the hiking and biking in the area, so that just means that we'll have to go back. Om the agenda for the next visit is Moraine lake for sure!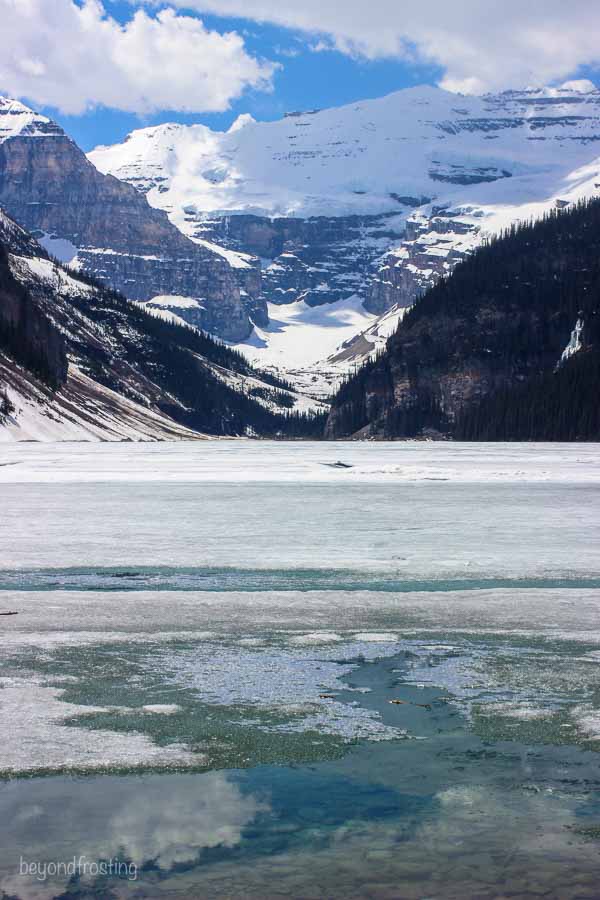 Follow Beyond Frosting:
Facebook | Twitter | Pinterest | Instagram | Bloglovin
If you love no-bake recipes, be sure to check out my cookbook, No-Bake Treats!