This post may contain affiliate sales links. Please see my full disclosure policy for details
These apple pie cream pie cookies are a soft-baked cake mix cookie filled with a spiced moussed, apple pie filling and topped with whipped cream.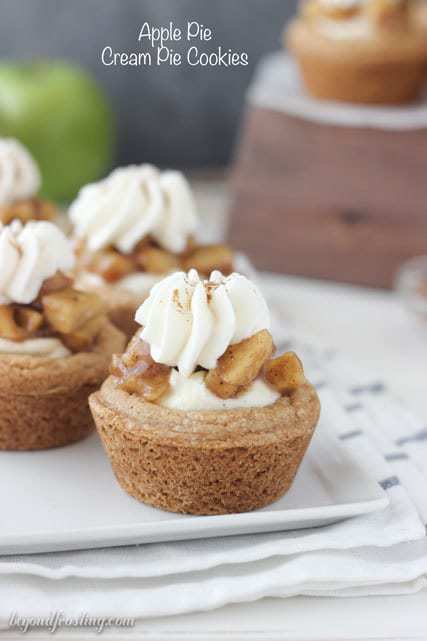 Yesterday, my boyfriend and I celebrated our 4 year anniversary. I'd love to say we did something special, but we were both so busy at work we didn't really have time to think about it. Right when we were walking out the door to go to a last-minute dinner, I got a phone call reminding me I was supposed to be at my physical therapy appointment. So dinner plans were off. He ordered a pizza and I came home with a 12 pack of Pacifico and a bag of MnMs and we called it a night. #reallife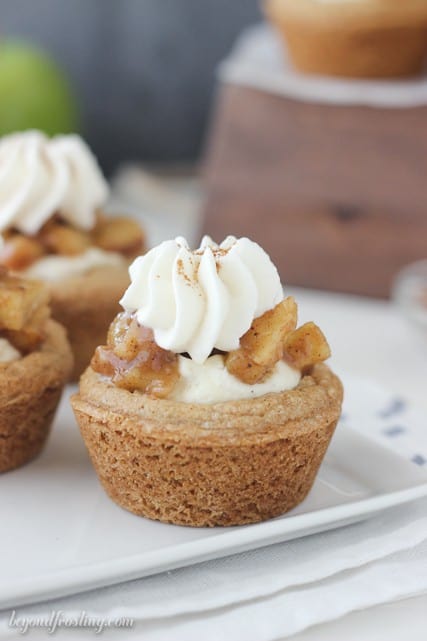 I always want to make us some special dessert for our anniversary or birthdays etc, but then we end up with a lot of leftovers which is not good for either one of us. Plus, unless it's chocolate cake, rice krispies treats or some sort of cookies, he probably isn't into it. Seriously, the man has better restraint on desserts than anyone!
If I had made a batch of these Apple Pie Cream Pie Bars, he likely wouldn't even try them, despite how awesome they are. I wish I had that kind of restraint because I was popping these into my mouth left and right.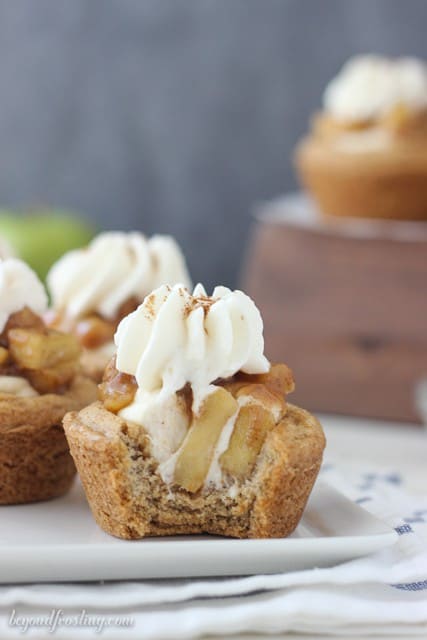 Truth be told, I made the original recipe for these last fall and never got around to post them. I think it was for the better though because now that I have a trillion cream pie cookie cups on my blog, I have perfected the formula.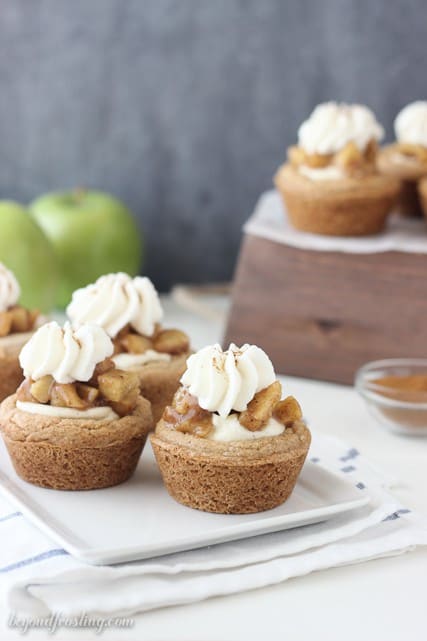 I decided these were best made as a large cookie cup, so I made them in a regular sizes muffin pan instead of a mini muffin pan. Doing so allows more room for awesome things like the spiced mousse filling and a big old scoop of apple pie filling. Any good cream pie cookie also needs to be topped with some whipped cream. Ya feel me?
If you're looking for a way to change up your apple pie game, give these cookie cups a try. You won't be sorry!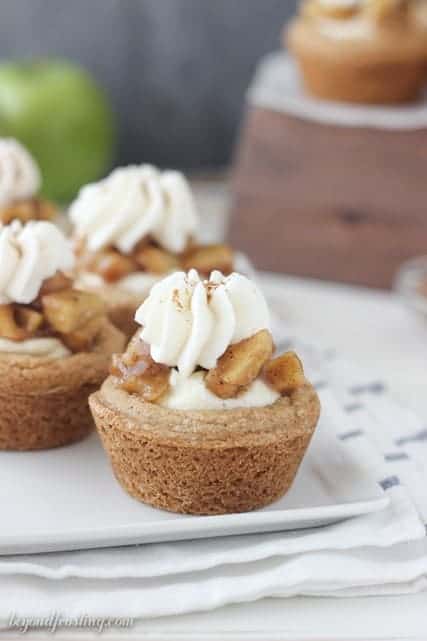 Keep up with all the happenings. Follow Beyond Frosting:
Facebook | Twitter | Pinterest | Instagram
Print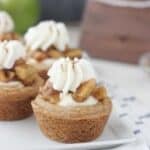 Apple Pie Cream Pie Cookie Cups
Author:

Prep Time:

20 mins

Cook Time:

18 mins

Total Time:

38 minutes

Yield:

24 cookies
Description
These apple pie cream pie cookies are a soft-baked cake mix cookie filled with a spiced moussed, apple pie filling and topped with whipped cream.
Ingredients
For the cookies
¾ cup

unsalted butter

1 cup

granulated Sugar

1

Large Egg

2 teaspoon

pure vanilla extract

1 2/3 cups

all-purpose flour

1 cup

vanilla cake mix

1 tablespoon

ground cinnamon

1 teaspoon

baking soda

½ teaspoon

salt

¼ teaspoon

nutmeg
For the mousse filling:
2 cups

heavy whipping cream

1 ¼ cups

powdered sugar

1

package (3.4 oz) instant vanilla pudding mix

2 teaspoons

ground cinnamon

1 teaspoon

apple pie spice

¾ cup

milk
For the apple filling
2

Medium apples, sliced

1 tablespoon

lemon juice

1 tablespoon

maple syrup

2 tablespoons

light brown sugar

1 tablespoon

all-purpose flour

1 teaspoon

ground cinnamon
Instructions
Preheat oven to 350° F. Grease a mini muffin pan with cookie spray or Crisco.
Allow butter to come to room temperature for about 30 minutes. Combine butter and sugar in your stand mixer and beat on medium speed until light and fluffy.
Add egg and vanilla extract. Beat into butter and sugar until thoroughly mixed.
In a medium sized bowl, combine flour, cake mix, cinnamon, baking soda and salt. Stir to mix. Slowly add dry ingredients into batter and beat on a low speed until dough starts to form.
Drop three tablespoons of dough into the greased muffin pan. Bake at 350°F for 18-20 minutes.
Remove cookies from oven and allow to cool for at least 5 minutes. Use a tart shaper or the back of a spoon to gently push down the middle of the cookies. Allow to cool completely in the pan. Gently twist to release cookies from pan.
Prepare apple pie filling according to the recipe below.
For the mousse: Combine pudding mix with cinnamon, apple pie spice and milk and until powder dissolves. Refrigerate until pudding is firm.
Put mixing bowl and whisk in the freezer for 15 minutes until completely cold. Whip heavy cream on medium high speed for several minutes until bubbly.
Add powdered sugar and beat on medium high until stiff peaks form.
Take 1 cup of the whipped cream and fold into pudding until mixed. Do not mix vigorously as it will deflate the whipped cream. Set aside remaining whipped cream and refrigerate until you are ready to assemble cookies.
For the apple filling: Slice apples into small pieces and squeeze a lemon over top and stir to combine.
Add brown sugar, flour, maple syrup and cinnamon over top of apples. Stir to mix ingredients.
Heat apples on the stove over medium heat for 15-20 minutes until soft. Stir occasionally. You want the apples to be soft. Set aside and allow to cool, refrigerating if necessary.
To assemble the cookies: Place mousse in a Ziploc bag and cut the corner of the bag. Fill each cookie cup with mousse.
Spoon about 1 tablespoon of apple pie filling on top of filling and pipe whipped cream on top. Garnish with a sprinkle of cinnamon. Cookies must stay refrigerated.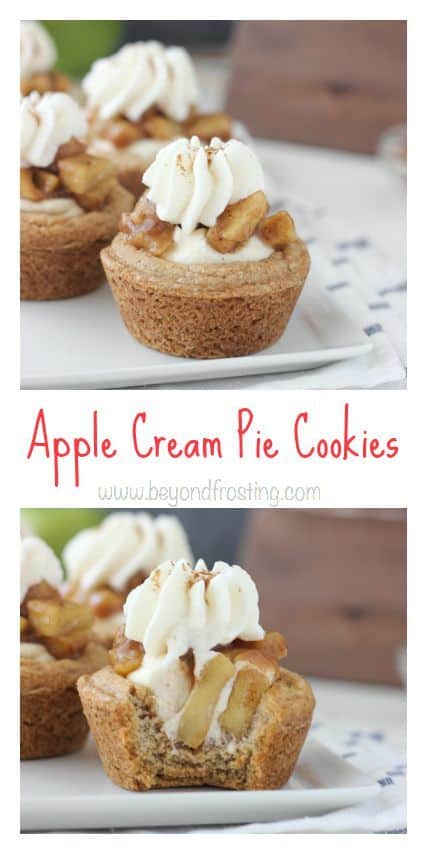 Other recipes you might like: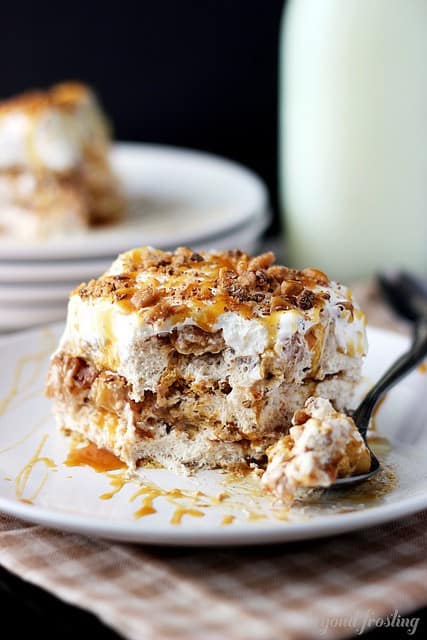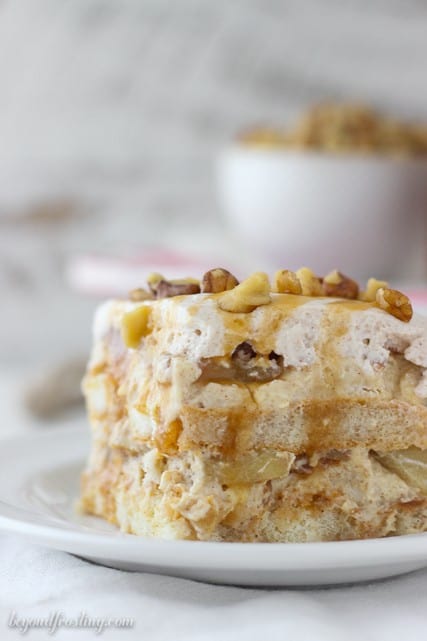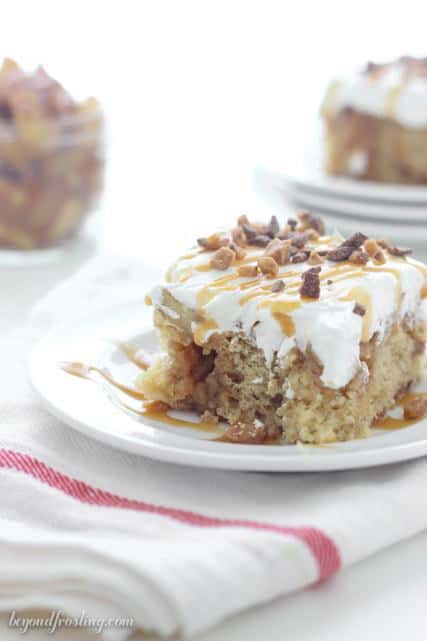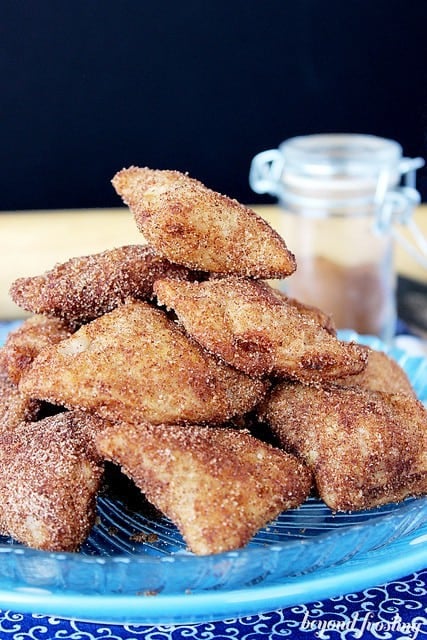 Other recipes you might like:
Baked Crumble Apple Crisps by Grandbaby Cakes
Caramel Apple Cookie Cups from Life Love and Sugar
Apple Pie Pinwheels from Heather's Fresh Press