This post may contain affiliate sales links. Please see my full disclosure policy for details
This post is sponsored by Lucky Leaf, however all opinions expressed are my own.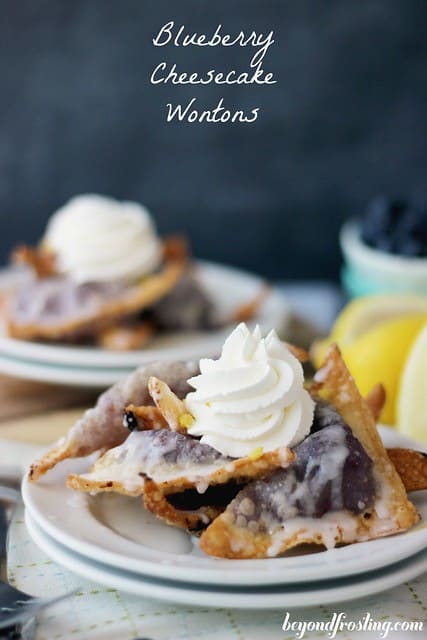 I know that spring hasn't quite "sprung" everywhere yet, but it has been in the low 80's here all week. I must admit, I am enjoying it. I got myself a pedicure and put on flip flops for the first time in months! The warm weather has me baking all kinds of spring recipes just for you!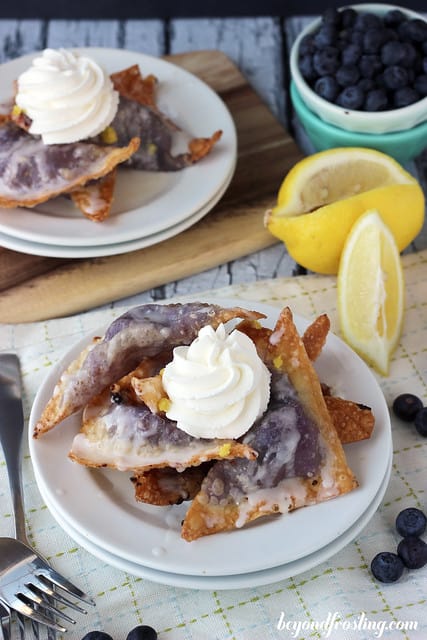 Let's talk about these Blueberry Pie Cheesecake Wontons. There are only three ingredients needed to make the actual wontons: Lucky Leaf Blueberry Pie Filling, mascarpone cheese and wonton wrappers. The pie filling makes this recipe a breeze. You don't have to cook the blueberries or boil them down with sugar to make your pie filling.
I first tried this recipe with pie crust, but was unsuccessful. The mascarpone cheese is a little too heavy for the pie crust and they easily feel apart. The wonton wrappers were much more successful, plus I love the crunch that is adds.

One of my favorite parts of this dessert is the sweet lemon glaze. It can be drizzled over the wontons or used as a dipping sauce. The glaze comes together quickly with a little bit of powdered sugar, fresh lemon juice and a touch of milk. Lemon is an amazing citrus that pairs well with sweet berries. But duh, you already knew that! I have been adding lemon left and right to all my desserts lately.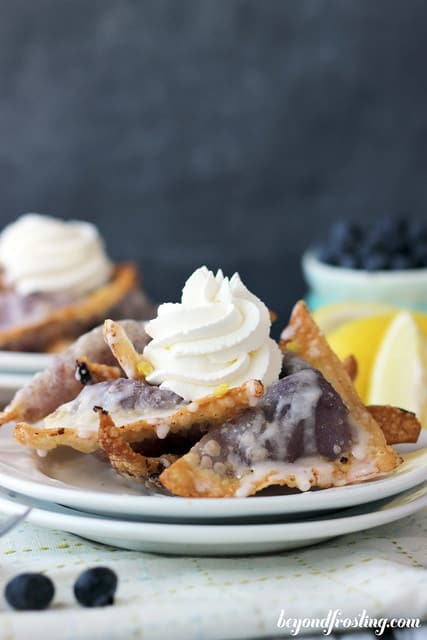 There are a couple of key steps in making these wontons. Spoon the mascarpone cheese directly onto the wonton wrapper, followed by a drop of pie filling. In order to close the wontons, take you finger and brush the egg wash along the edges. Fold the wonton over in half and use your fingers push the edges together. It is important to make sure they are securely sealed. If the filling falls out in the oil, it will bubble aggressively.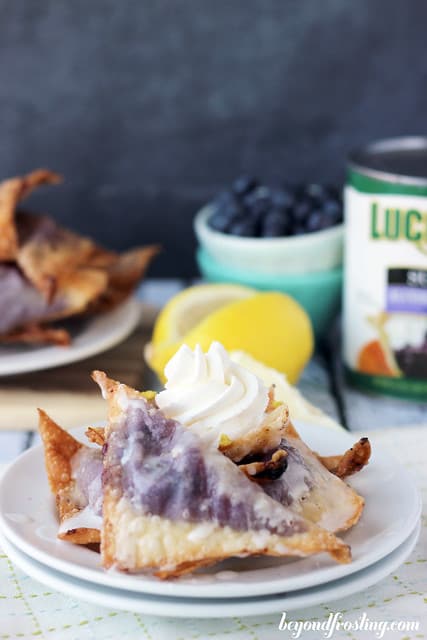 Whenever you are deep frying, remember to use extreme caution, only one finger was burned in the making of the recipe. You will also greatly benefit from a long pair of tongs. I had a hard time finding wonton wrappers at first, so I checked with the store employee. I found them near to Tofu! You will only need about half of the bag of this recipe. If blueberry isn't your thing, substitute your favorite fruit pie filling.
Print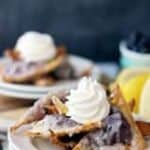 Blueberry Cheesecake Wontons
Prep Time:

20 minutes

Cook Time:

2 minutes

Total Time:

22 minutes

Yield:

36+ Wontons
Description
A dessert wonton filled with blueberry and mascarpone, topped with a fresh lemon glaze.
Ingredients
Vegetable oil (24 oz)

1

Large egg, beaten

1

can Lucky Leaf Blueberry Pie filling (

21 oz

)

1

container Mascarpone cheese (

8oz

)

1

pkg Wonton wrappers (

14 oz

)
For the glaze
1 1/2

C Powdered sugar
Juice from

one

lemon

1 tbsp

milk
Instructions
Use a medium sized sauce pan to heat oil to 365°F. If you have a candy thermometer, that is best, but not necessary. Preheat for at least 10 minutes on medium heat. Whenever you are deep frying, remember to use extreme caution as the oil is very hot.
In a separate bowl, beat egg with a fork.
Lay wonton wrapper flat.
Take a knife and spread 1 teaspoon of mascarpone cheese and smear across the middle of the wonton wrapper.
Spoon a tablespoon of blueberry pie filling on top of the cheese.
Take your finger, dip it in the egg wash and run your finger along two sides of the wonton wrapper.
Fold wonton wrapper into a triangle and firmly press down edges to seal.
Drop wonton into (3 at a time) into the vegetable oil. Fry for 30-45 seconds per side until the wonton turns light brown. Flip and fry the other side for 30 seconds or so.
Remove from oil with tongs and place on a plate layered with paper towels to allow to cool.
For the glaze
In a small bowl, combine powdered sugar, lemon juice and milk. Whisk until smooth. Drizzle glaze over wontons.
You can top these wontons with whipped cream or lemon zest.