This post may contain affiliate sales links. Please see my full disclosure policy for details
Ditch the cake mix because this homemade Yellow Cake Recipe is better than the boxed cake mix in your pantry. This classic birthday cake combination has a spongy yellow cake with a decadent and fudgy chocolate buttercream. With an easy list of ingredients and a few simple steps, you can impress your friends with their favorite homemade cake.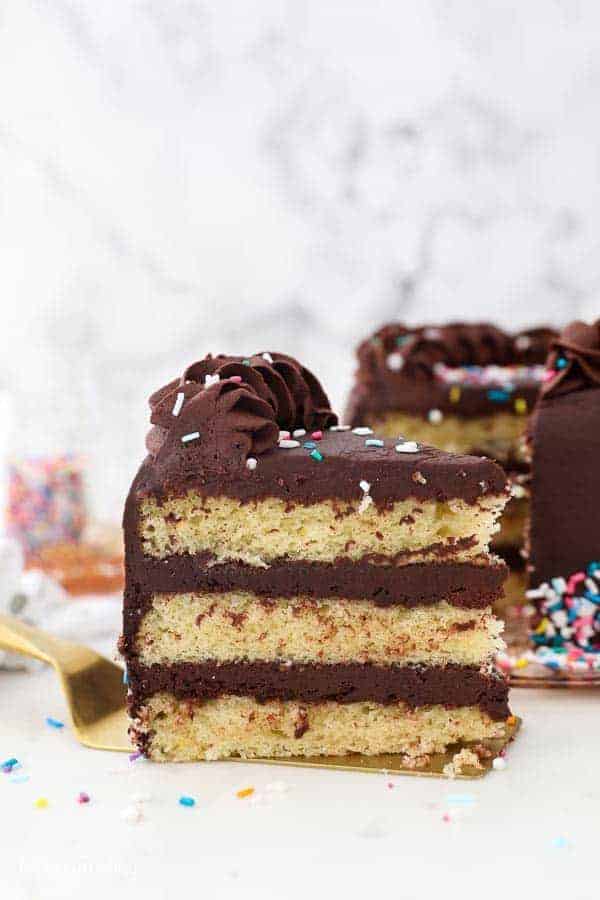 Over the last couple years, I've spent hours in my kitchen testing and perfecting cake recipes. I'm not a professionally trained baker, I am a girl who has always loved dessert and is really picky when it comes to cakes and cupcakes.
I want you to fall in love with homemade cake recipes the same way I did and still do.
I am no stranger to cake mixes. In the early years of my blog I posted dozens and dozens of recipes using cake mix. It's a great starting point. Heck, it's also great if you're in a time crunch!
But once I learned how to make my own cakes from scratch using simple ingredients, I was hooked on homemade cakes.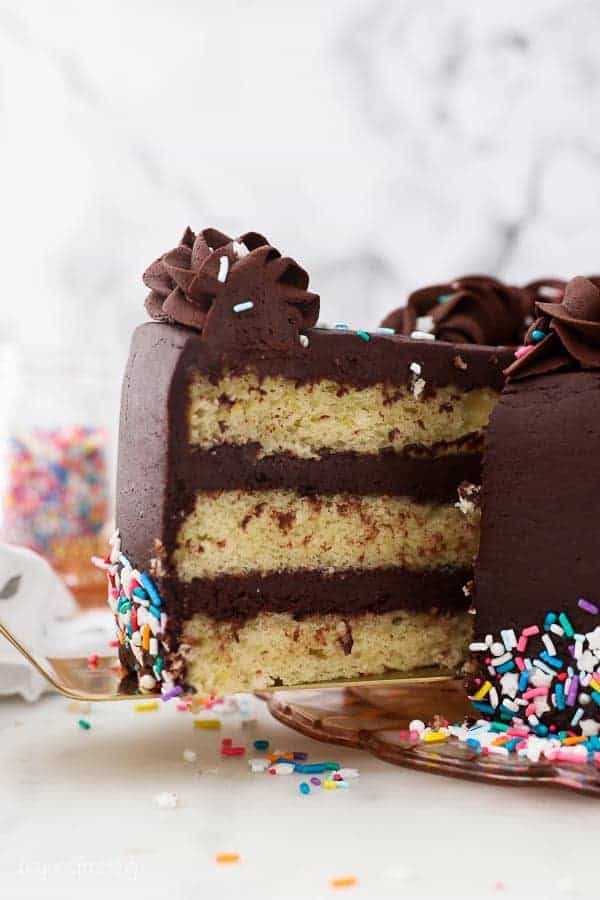 You'll find nearly all my cake recipes (so far anyway) are oil-based recipes. This mean you don't have to worry about the butter being at the proper temperature or if you creamed together the butter and sugar well enough to produce a good cake.
This makes my recipes very approachable.
It's been challenging at times, making recipes over and over again with the smallest of tweaks, trying to find just the right combination of ingredients to make the perfect cakes.
Plus "perfect" cakes are so subjective- I should know! Ha!
Last year I published my Moist Yellow Cake Recipe with a very bold assertion that it's better than cake mix. I stand by that statement. So much so that I even made additional variations of the base recipe to see if I could find another one I liked better. I have yet to like one better than this recipe.
After testing that yellow cake recipe over and over again, and doing the ultimate taste test (which you can read more about in that post in case you're interested), I decided that I didn't like the yellow cake mixes at all.
In comparison, the cake mix was extremely artificial tasting and I can honestly say I've never made that statement until I was tasting them side by side.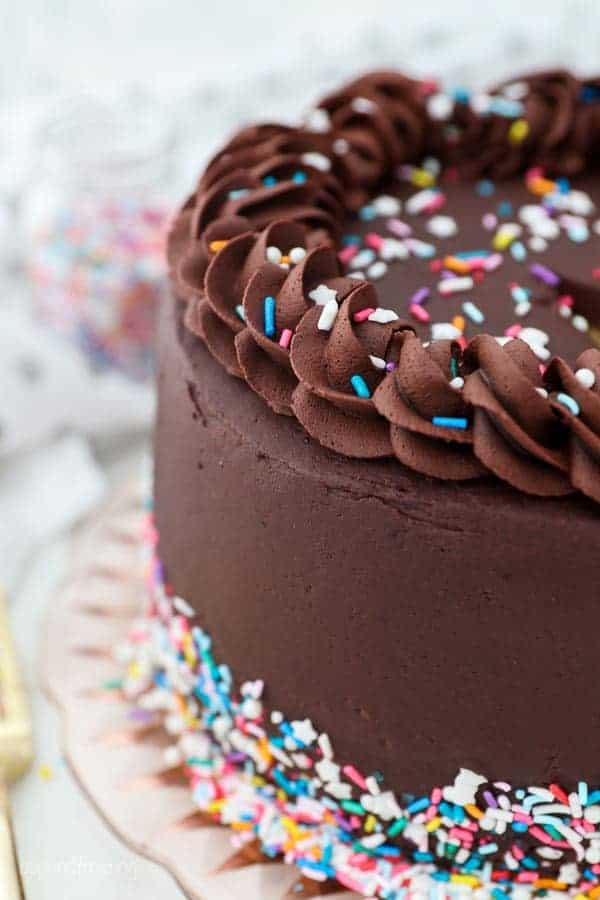 While I was initially looking for that ultimate light and fluffy cake mix texture, it's not where I landed on the final recipe and I'm not mad about it at all.
The texture of yellow cake seems to be the hardest to achieve. It's a delicate balance between ending up like tasting like dry cornbread or just lacking any real flavor at all.
Yellow cake is not white or vanilla cake. It has an eggier taste and consistency because new flash- it's supposed to have more eggs. It's usually made with a combination of eggs and egg yolks.
With any cake recipe, I like to make sure it's easily adaptable for you and that's why I'm posting the layer cake version of my yellow cake. This recipe can be made as a 9×13-inch cake or as yellow cupcakes. The only adjustments needed are for the frosting.
Let's break down the important components of this cake
Buttermilk does wonders for cake. It's tangy flavor adds depth.
Eggs and eggs yolks: I mentioned before yellow cake is usually a combination of the two. Adding additional egg yolks adds tenderness to the cake because of the additional fat in the yolks. Save the extra egg whites for breakfast.
Sour Cream: love it or hate, sour cream is a game changer for baked goods. It keeps cakes moist and adds tenderness.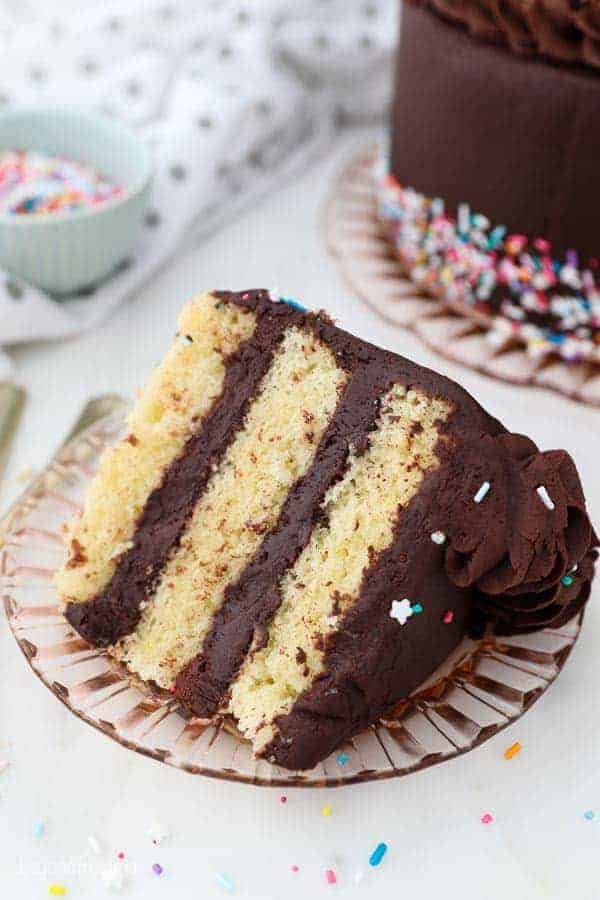 Rich Chocolate Frosting
I have a LOT to say about frosting in general and if you are also passionate about frosting, then you can read the 2000 words I wrote about how to make buttercream.
Chocolate frosting is a heated topic in our house. My husband always wants more and more cocoa powder, as in more chocolate flavor in his frosting, while sometimes I think it's already "good enough".
So, when I make a cake and he loves the frosting as is, I know I've done my job.
For the sheet cake and cupcakes, I made a chocolate fudge frosting which uses a combination of melted chocolate and cocoa powder. It's a little thicker and not as easy to spread, so for the layer cake, I made a large batch of my favorite chocolate frosting.
This cake would also be suuuuper yummy with my chocolate cream cheese frosting as well- I just might have to try that.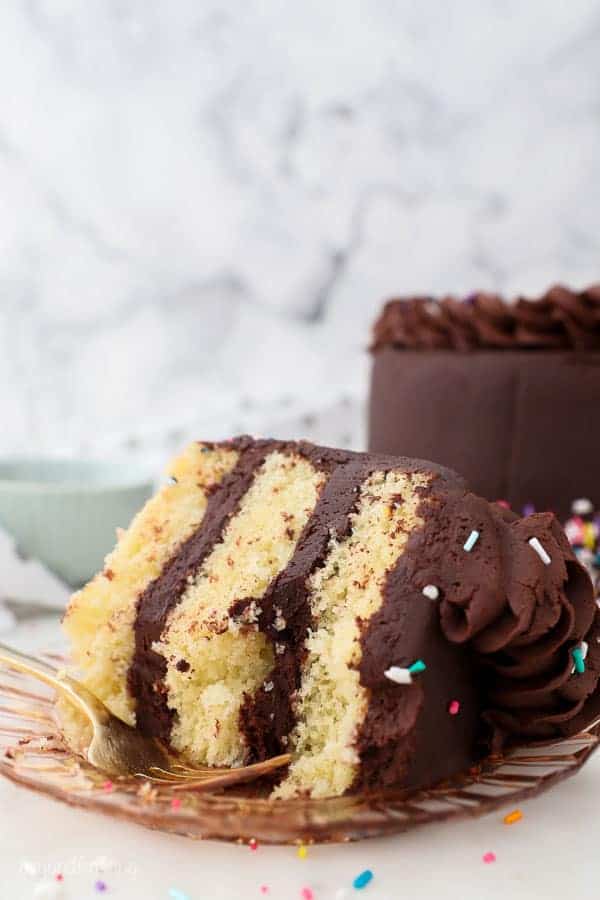 A few tips you might find helpful for this frosting
Nearly all my frosting recipes start with COLD butter, which allows you to control the consistency and prevent weeping or wilting buttercream.
However, it's really important that you spend the time beating the butter for 5-7 minutes at a high speed, (scraping down the bowl occasionally) before adding any additional ingredients. The consistency should be truly whipped and fluffy, like the most spreadable butter you've ever had as this is the base of your frosting.
Cut the cold butter into cubes about 1 tablespoon in size first, this makes it easier for the mixer to handle.
Once you start adding the cocoa powder and powdered sugar (2 cups at a time), make sure to continue to beat the frosting for a couple minutes at a high speed before adding more powdered sugar. Again, this helps prevent you ending up with a frosting that is too stiff to work with.
This is a very large batch of frosting for this recipe, and if you have a 5-quart mixer or smaller, I recommend doing it in 2 batches.
The heavy whipping cream adds creaminess, helps cut the sweetness and helps to fluff up the frosting. If you don't have any on hand, you can use milk.
After this frosting has "set" the consistency is more like fudge as opposed to light and whipped.
If your frosting starts to set as you're working, just go ahead and rewhip it for a minute or two.
You're probably going to have leftover frosting, especially if you don't fill in between the layers as much as I do. But it's a real shame to run out of frosting. Refrigerate leftover frosting for 1 week or freeze for up to one month in an airtight container.
What type of cocoa powder should I use?
The two primary cocoa powders I recommend are Rodelle Dutch Processed Cocoa Powder and Hershey's Special Dark. Personally, I love dark chocolate and that how I like my frosting recipes.
Any high-quality cocoa powder will work just fine, but as there's a lot of cocoa powder in the frosting, you want to use the good stuff!

Tips for baking layers cakes
Generously grease and flour your pans, or even better line with parchment paper or silicone baking mats
Bake times are suggested and will be adjusted according to YOUR oven and the type of pans you're using.
Not all layers will bake for the same amount of time, usually due to inconsistently filling the pans. Measure out the liquid batter with a measuring cup for the most consistent results.
Using bake even strips help to produce a flatter cake meaning less cake wastage when torting the layers (making them nice and flat for stacking).
Can I make this as a 2-layer cake instead of 3?
Yes, for two 8-inch layers, bake for 32-35 minutes. Baking times will vary due to how full the pans are, type of pans used and true oven temperature. I recommend reducing the frosting by at least 1/3 or in half if you don't want a ton of frosting leftover.
Can I make this as 9-inch layers?
For a two layer 9-inch cake, the baking time is around 30 minutes. Baking times will vary due to how full the pans are, type of pans used and true oven temperature. I I recommend reducing the frosting by at least 1/3 or in half if you don't want a ton of frosting leftover.
Can I freeze this cake?
If you need to prepare the cake layers in advance, you can freeze them. Allow them to cool completely. Place a piece of parchment paper on top (to prevent sticking) and then tightly wrap them twice in plastic wrap. Make sure you freeze them on a flat surface and even better if you can place a cake board layer between them.
How to store this cake
I have a couple of cake carriers myself with a locking cover to seal in moisture and store on my counter top (note I do not live in a hot or humid environment). If this isn't an option for you, you can always slice up the cake and store in airtight containers.
Otherwise I suggest using a cake box, and if you need to store for more than a day, consider wrapping the cake box twice in plastic wrap to lock in freshness.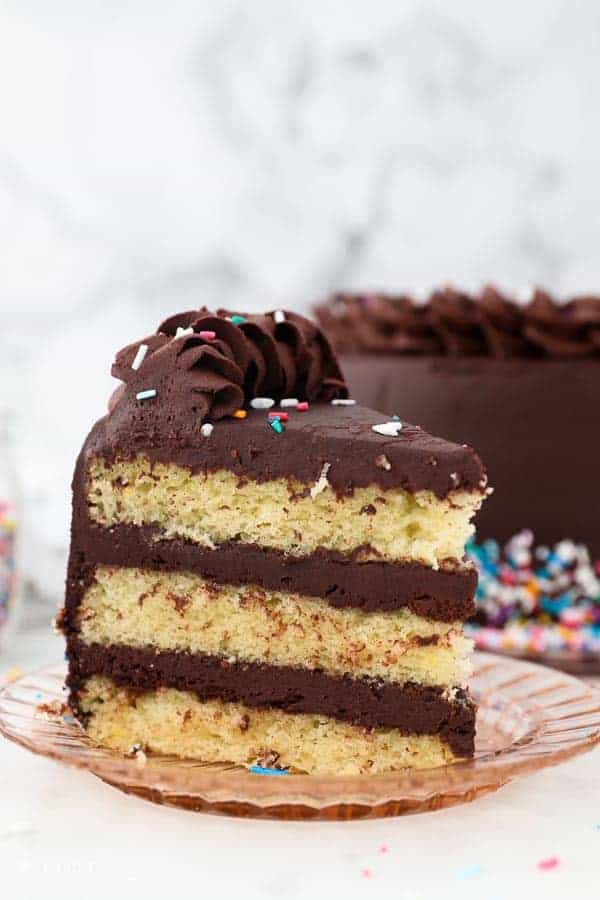 What can I substitute for the sour cream?
If you don't have sour cream, you can use a nonfat Greek yogurt.
My recipe calls for light sour cream, but you can also use reduced-fat or full-fat sour cream if that's all you have on hand.
What can I substitute for the buttermilk?
You can make a homemade buttermilk simply by adding 1 tablespoon of lemon juice or white vinegar to a 1 cup measure and filling the rest of the cup with milk. Allow it to sit for at least 5 minutes until it starts to appear curdled. Then stir it before adding it to the cake batter.
If you truly can't make it, then use regular milk, but it's worth it to use buttermilk.
I hope that you'll give this Yellow Cake Recipe a try, and if you're not ready to tackle a layer cake, remember that you can make it at as a 9×13-inch single layer cake or even as cupcakes.
More layer cake recipes:
Follow Beyond Frosting:
Facebook | Twitter | Pinterest | Instagram
Print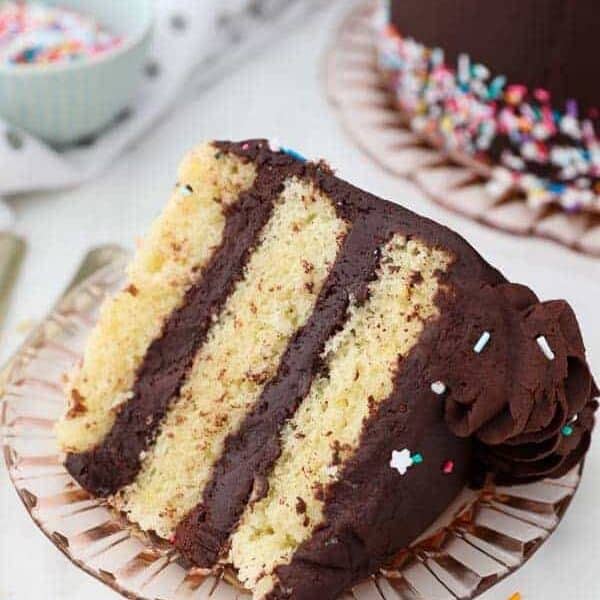 Yellow Cake with Chocolate Frosting
Author:

Prep Time:

45 minutes

Cook Time:

24 minutes

Total Time:

1 hour 9 minutes

Yield:

12 slices
Description
Ditch the cake mix because this homemade Yellow Cake Recipe is better than the boxed cake mix in your pantry. This classic birthday cake combination has a spongy yellow cake with a decadent and fudgy chocolate buttercream.
Ingredients
For the cake:
2 cup

s (

380g

) granulated sugar

½ cup

(

118

ml) vegetable oil

2

large eggs

2

egg yolks

2 teaspoons

(10ml) vanilla extract

¼ cup

(

59g

) light sour cream

2 cups

(

280g

) all-purpose flour

3 teaspoons

(

11.2

g) baking powder

1 teaspoon

(

5g

) salt

1 ¼ cup

(295ml) buttermilk
For the frosting
3 cups

(

680g

) unsalted butter, cold

1 ½ cup

(

167g

) cocoa powder

8 cups

(

1041g

)) powdered sugar

1 tablespoon

(15ml) pure vanilla extract

4 tablespoons

(60ml) heavy whipping cream
Pinch of salt
Instructions
For the cake: Preheat the oven to 350°F. Prepare 3 8-inch round baking pans, line the bottom with parchment paper and grease the sides. Prepare your bake even stripes if desired.
In a large mixing bowl, combine the sugar, vegetable oil, eggs, egg yolks and vanilla extract. Beat on medium speed until the eggs and oil are well incorporated and the batter is lighter in color, about 2 minutes. Scrape down the bowl as needed.
Next mix in the sour cream and beat until well combined.
Add half the flour followed by the baking powder and salt, and beat on low speed while pouring in half of the buttermilk and mix just until the flour starts to incorporate.
Finally add the remaining flour, mixing on low speed while pouring in the remaining buttermilk and beating until all of the ingredients are well combined.
Use a spatula to scrape down the sides of the bowl and stir the batter from the bottom to the top to ensure it's well mixed.
Divide the batter evenly between the three pans, about 1 2/3 cups of batter per pan. Bake at 350°F for 23-25 minutes. Rotate your pans in the oven halfway through baking.
Test the cake for doneness by inserting a toothpick into the center of the cake. If the toothpick comes out clean, your cake is done. Cool completely. Remove from the oven and allow to cool completely.
For the frosting: Cut the butter into pieces (about 1 tablespoon in size). Using the paddle attachment, whip butter for 5-7 minutes, scraping down the bowl occasionally. Beat until butter is really light and fluffy. Next, beat the cocoa powder into the butter until well mixed.
Alternate adding 2 cups of powdered sugar at a time with the liquid ingredients: vanilla extract & heavy cream. Ensure the powdered sugar is well combined, and whip for 1-2 minutes before adding more powdered sugar.
Finally, add the pinch of salt, increase the speed to medium-high and beat for another 2-3 minutes to whip additional air into the frosting.
To assemble this cake: level off your cakes by removing any domes. Place a dollop of frosting on your cake board and place the bottom layer of cake over that.
Using a large piping bag that is half filled, pipe the first layer of frosting, pipe in circles working outside edge to the middle. Spread evenly with an offset spatula. Add the second layer of cake and repeat. Place the third layer of cake on top.
Use you offset spatula to press any excess frosting onto the edges of the cake. To finish, pipe the frosting along the outside edge of the cake using a large open round tip or a cake icer tip. Then use an offset spatula or icing smoother to create a smooth edge.
Decorate the top with a 1M piping tip and sprinkles. You'll need about 2 cups of frosting for the boarder on top of the cake.
Notes
Notes about the cake:
If you don't have sour cream, you can use a nonfat Greek yogurt. This recipe calls for light sour cream, but you can also use reduced-fat or full-fat sour cream if that's all you have on hand.
If you don't have buttermilk, you can make a homemade buttermilk simply by adding 1 tablespoon of lemon juice or white vinegar to a 1 cup measure and filling the rest of the cup with milk. Allow it to sit for at least 5 minutes until it starts to appear curdled. Then stir it before adding it to the cake batter.
For a two layer 8-inch cake, bake for 33-35 minutes
For two 9-inch cakes, they baked from 28-32 minutes but note the edges may have a little more "crust" or the centers may dome a bit more
To make a 9-x13-inch cake, check out the Moist Yellow Cake Recipe
To make this into cupcake, see my Yellow Cupcake Recipe
Notes about the frosting
This is a large batch of chocolate frosting as you can see there are thick layers of frosting between each cake layer plus plenty to decorate the top. With a regular 5qt stand mixer, you might consider breaking it up into two batches. Leftover frosting can be refrigerated for 1 week or stored in the freezer for 1 month in an airtight container.
The frosting will eventually set to a fudge-like consistency
The two primary cocoa powders I recommend are Rodelle Dutch Processed Cocoa Powder and Hershey's Special Dark. However, any cocoa powder will work
8 cups of powdered sugar is equal to 1- 2lb bag
If you don't have heavy cream you can use milk
Category:

Cake

Method:

Baked

Cuisine:

American
Keywords: Yellow Cake, Birthday Cake, Yellow Cake with Chocolate Frosting