This post may contain affiliate sales links. Please see my full disclosure policy for details
This Chocolate Strawberry Cake is a moist chocolate layer cake with a strawberry filling and it's covered in a chocolate Swiss meringue buttercream. Garnish with chocolate covered strawberries if desired.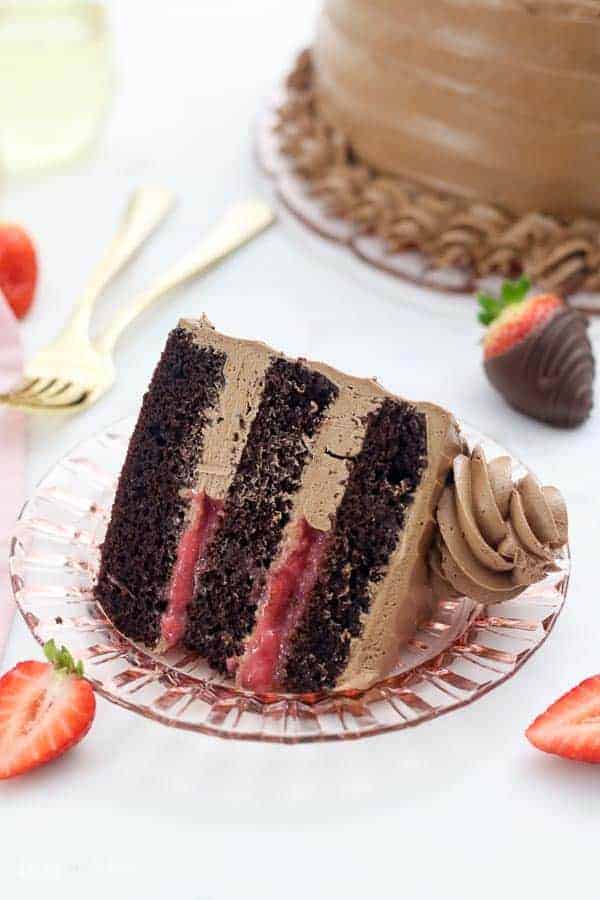 Right before we left for our honeymoon I went on a rampage making allll the chocolate cakes and in one weekend I had 3 different chocolate cakes in my house. Maaaybe not the best idea right before you leave for a 2-week vacation, but can you blame me?
This Chocolate Strawberry Cake is layers of moist chocolate cake with a fresh strawberry filling and finished with a chocolate Swiss meringue buttercream. Plus there's some chocolate covered strawberries on top to!
The chocolate Swiss meringue buttercream is what dreams are made of. It's silky, not too sweet but it's just the lightest, mot airy frosting,
With Valentine's day approaching, I knew I wanted to make something with chocolate covered strawberries. My husband usually orders these for my for Valentine's day because he knows they're my favorite treat. They feel like the healthiest chocolate option, am I right?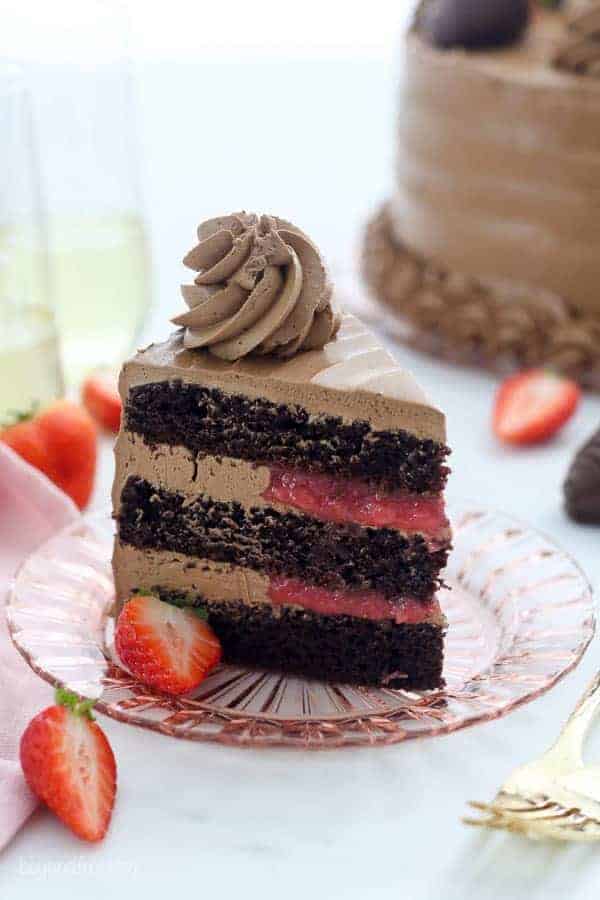 To be honest you don't really need the strawberries on top but why would you not just make them anyway since you have to get strawberries for the filling?
I always make extra so I have some to eat. I only put 4 of them on the cake, but you could certainly add more. Below I give a brief explanation about how to make chocolate covered strawberries.
Okay so you've seen the chocolate cake recipe before. It's a 3 layer 8-inch cake made with simple ingredients. It's fluffy and amazing and it's super moist because I add sour cream to the batter. It will become your go-to chocolate cake recipe.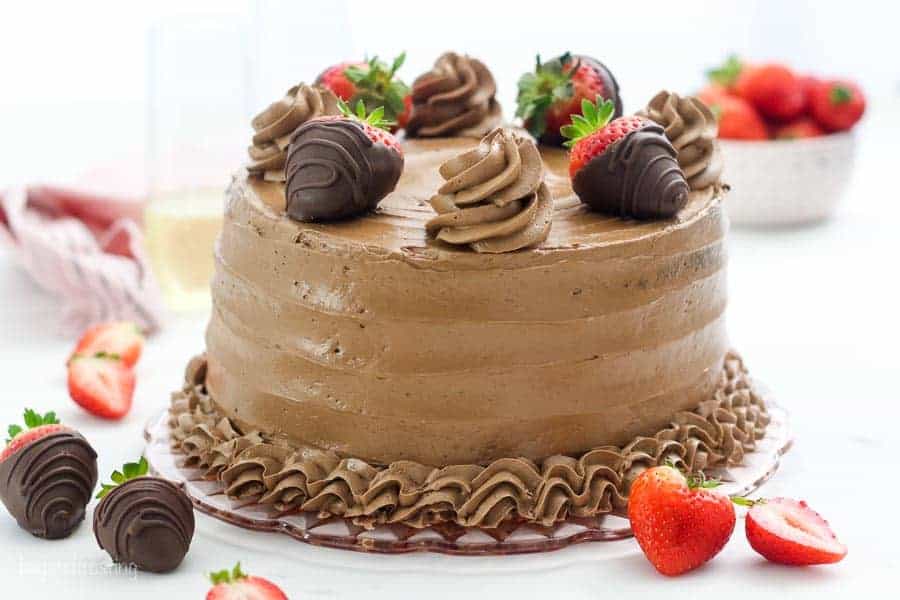 You've also seen the strawberry filling before. I've made a few variations of it, but most notably for the Strawberry Mascarpone Cake.
The filling is also quite easy to make but it can be sometimes feel like it's not thick enough. Maybe it didn't boil long enough or maybe your strawberries were a little more wet, and thus need additional flour. It's okay to add additional flour if the sauce isn't thickening, but this can only be done while it's still hot.
When it's time to add the filling to your cake, you will first make a dam around the outside edge with the frosting, so that the filling doesn't seep out the sides of your cake.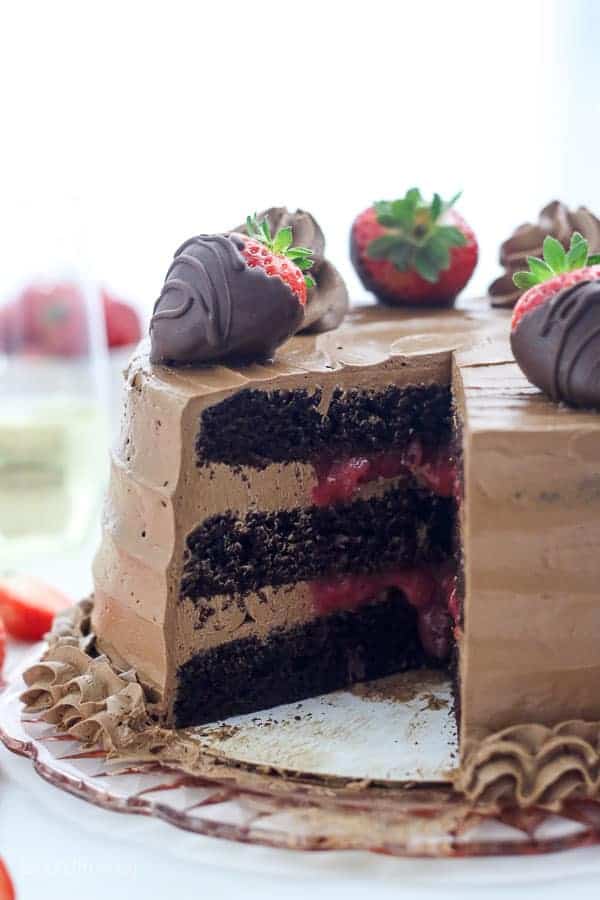 I went a little heavy with my dam, which is why it looks like there's so much filling in the middle of the cake. You probably don't need to be quite as cautious.
The strawberry filling is pretty sweet, but it's a perfect balance because the cake isn't overly sweet nor is the frosting. The best bites are the ones that have all 3 elements!
Now there are quite a few steps to making this cake, but I like to do it in stages. I make the cake and the strawberry filling first. Then I make the frosting the next day and assemble. The results are WORTH IT!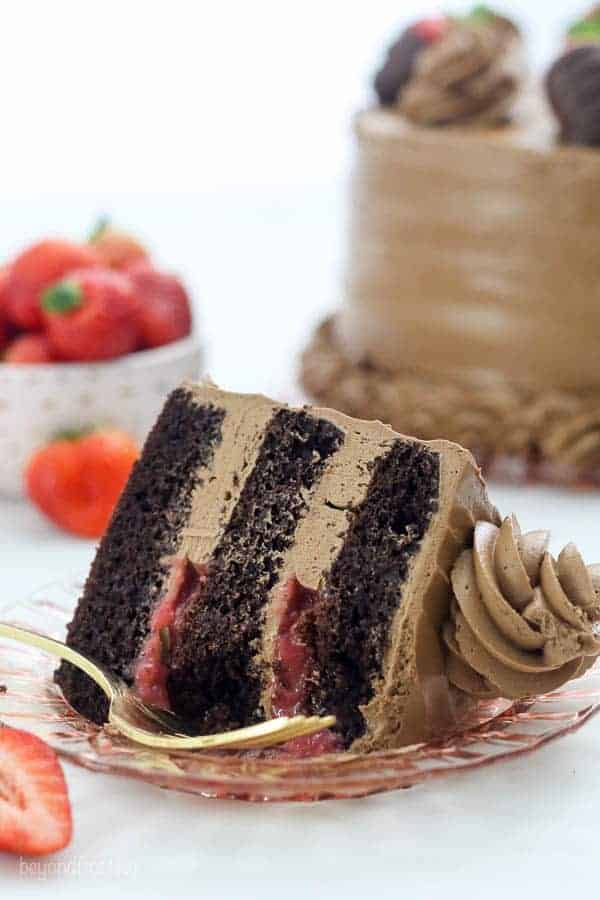 How to make chocolate covered strawberries
Wash and thoroughly dry the chocolate covered strawberries before you begin
For the chocolate, use chocolate wafers that are meant for candy making. My favorite are from Ghirardelli.
I like to use a wide but shallow dish like a Pyrex measuring cup (1 cup size)
Hold the green tip of the strawberry and dip and swirl it in the melted chocolate. Gently tap it on the edges of the glass and wipe the bottom along the edge to remove excess chocolate
Place on a piece of parchment paper to dry.
Drizzle with leftover chocolate.
Store at room temperature in an airtight container for up to 3 days
6 ounces of melted chocolate will make 18 strawberries. 4 ounces is probably enough for 12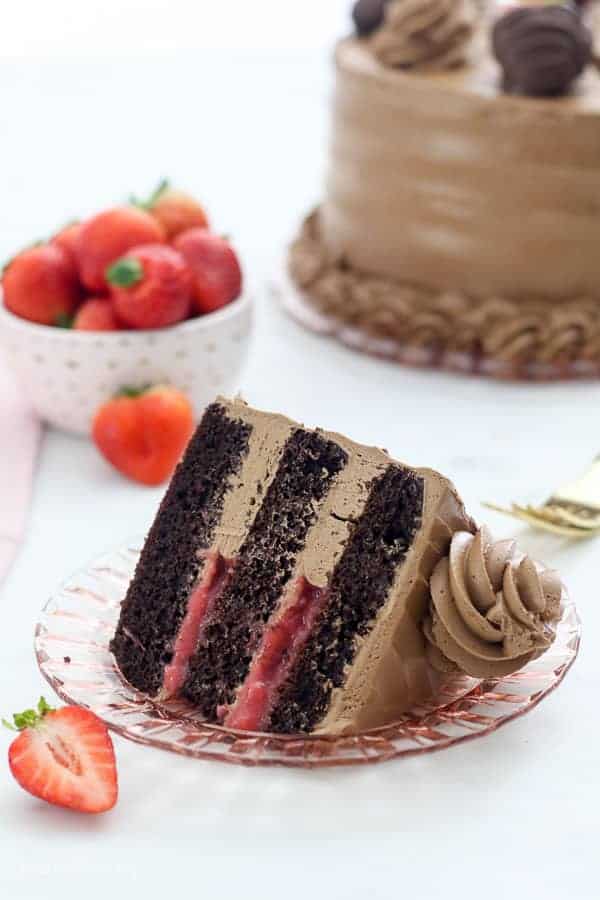 How to make the strawberry filling:
First, I cut the strawberries into small pieces and then I gently puree them with a food processor.
Sprinkle the sugar and flour over the strawberries and add some lemon juice.
Cook the strawberries over medium heat until they thicken. It's important to add just the right amount of flour. Too little flour, and the puree will be too thin, but too much flour might make it a little too thick for you.
So, use your best judgement, and start with one tablespoon of flour and if your puree doesn't thicken, you can add some additional flour, up to one additional tablespoon.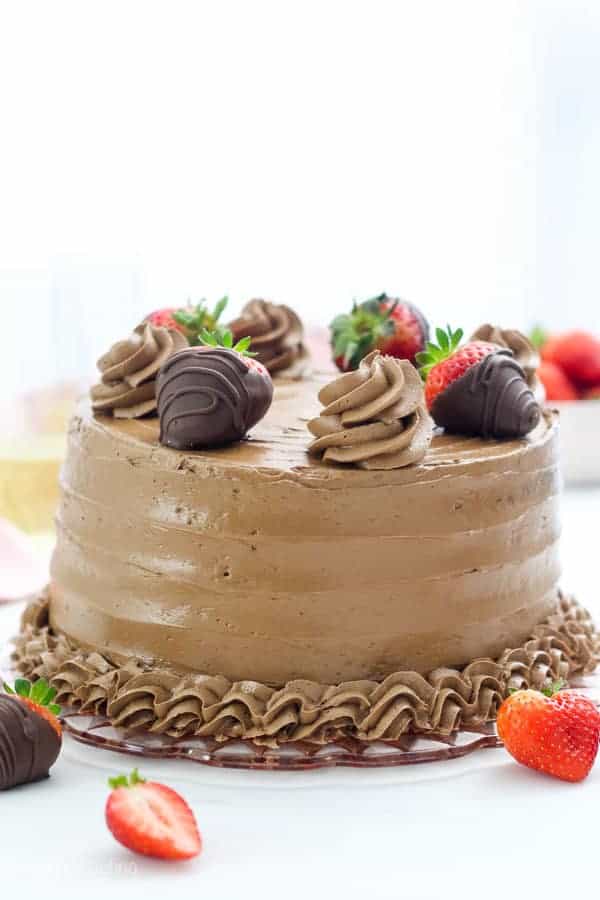 Tips for making chocolate Swiss meringue buttercream
I have an entire post dedicated to how to make Swiss meringue buttercream, and it's worth the read if this is your first time making this frosting.
I find it's best to use a high-quality chocolate bar (like Ghirardelli or Lindt) for this frosting. The flavor of this frosting is entirely from your chocolate. While I prefer dark chocolate, milk chocolate would work fine to. I've never made it with chocolate chips simply because chocolate chips are coated to prevent them from melting at high temperatures and often it produces a more oily consistency when melted.
Melt the chocolate after you start to beat your egg whites in the mixer, this will allow time for it to cool. I recommend microwaving it at 50% power, so it does not burn or sieze.
I always recommend using a candy thermometer when heating the egg whites. You can buy them at Target for $10. You need to cook the egg whites and sugar to 140°F – 160°F and the candy thermometer is of course helpful for that.
As the butter is added, the meringue starts to lose its shape and it will start to look curdled. That's okay! Once all the butter has been added, switch to the paddle attachment.
Continue beating the frosting and it will eventually come back together and into a silky-smooth texture. As this is happening, you'll add the cooled, melted chocolate.
If you feel that your buttercream is too runny, throw it in the refrigerator for 15-20 minutes and then rewhip it with the paddle attachment.
You'll have more than enough frosting to make this cake. This cake should not be refrigerated. Since the frosting has a high butter content, it will harden to a solid state if left in the refrigerator.
You don't need a special occasion to make this Chocolate Strawberry Cake, just a little bit of an appetite!
Follow Beyond Frosting:
Facebook | Twitter | Pinterest | Instagram
If you love no-bake recipes, be sure to check out my cookbook, No-Bake Treats!
Print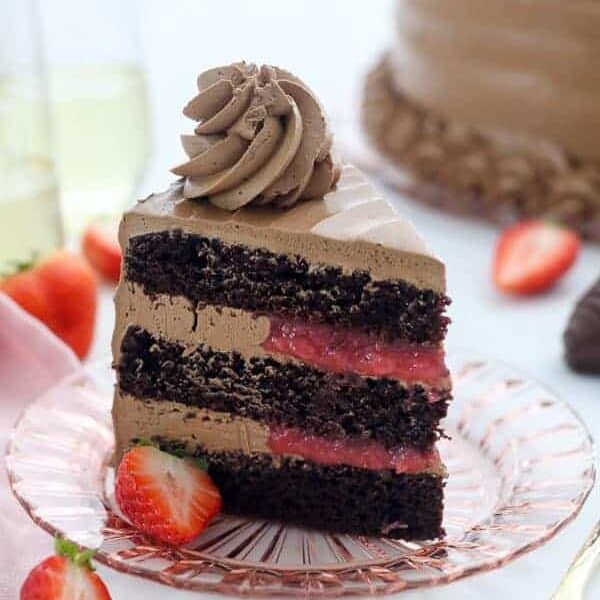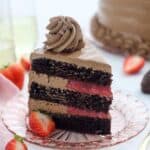 Chocolate Strawberry Cake
Author:

Prep Time:

45 minutes

Cook Time:

22 minutes

Total Time:

1 hour 7 minutes

Yield:

12 slices
Description
This Chocolate Strawberry Cake is a moist chocolate layer cake with a strawberry filling and it's covered in a chocolate Swiss meringue buttercream. Garnish with chocolate covered strawberries.
Ingredients
For the cake:
1 ½ cups

(

285g

) granulated sugar

½ cup

(

118

ml) vegetable oil

3

large eggs

1 tablespoon

(

15

ml) pure vanilla extract

½ cup

(

118

ml) light sour cream

2 cups

(

280g

) all-purpose flour

½ cup

(

55 g

) cocoa powder

1 tablespoon

(

5g

) espresso powder (optional)

2 ½ teaspoons

(

9 g

) baking powder

½ teaspoon

(

2 g

) baking soda

1 teaspoon

(

5 g

) salt

1 ¼ cup

(

355

ml) brewed coffee
For the Strawberry filling:
2 cups

(

303g

) strawberries, pureed

1 tablespoon

(

15

ml) lemon juice

2 tablespoons

(

24g

) granulated sugar

1 tablespoon

flour (

8g

), sifted
For the frosting
10

large egg whites

2 ½ cups

(

475 g

) granulated sugar

3 cups

(

24 oz

) unsalted butter, at room temperature

1 tablespoon

(15ml) vanilla extract (or vanilla bean paste)

12 ounces

(

452 g

) dark chocolate, melted
Instructions
For the cake: Preheat the oven to 350°F. Prepare 3 8-inch round baking pans, line the bottom with parchment paper and grease the sides. Prepare your bake even stripes if desired.
In a large mixing bowl, combine the sugar, vegetable oil, eggs and vanilla extract. Beat on medium speed until the eggs and oil are well incorporated and the batter is lighter in color. Next mix in the sour cream and beat until well combined.
In a separate bowl, sift together the dry ingredients. Alternate half the dry ingredients followed by half of the coffee and mix just until the flour starts to incorporate. Repeat with remaining ingredients.
Use a spatula to scrape down the sides of the bowl and stir the batter from the bottom to the top to ensure it's well mixed.
Divide the batter evenly between the three pans, about 1 2/3 cups of batter per pan. Bake at 350°F for 20-24 minutes. Rotate your pans in the oven halfway through baking.
Test the cake for doneness by inserting a toothpick into the center of the cake. If the toothpick comes out clean, your cake is done. Remove from the oven and allow to cool completely.
For the filling: Chop and puree the strawberries using an immersion blender or food processor.
In a medium-sized sauce pan, combine pureed strawberries, lemon juice sugar and flour stir well. Cook over medium-high heat until mixture starts to boil, stirring frequently.
Reduce heat and simmer for another 5 minutes, stirring occasionally until the strawberry puree starts to thicken. If the puree seems to thin, add up to 1 tablespoon of additional flour.
Allow the puree to cool completely, refrigerating to help speed up the process.
For the frosting: Wipe down the inside of your stainless-steel bowl with vinegar to remove any grease. Combine sugar and egg whites in the bowl with candy thermometer attached.
Set the bowl over top of a pot with 1 ¼ cups water covering the bottom. Place over medium heat.
Stir constantly with a whisk until the mixture reaches 140°-160° The sugar should be dissolved in the egg whites. You can test this by placing a drop on your finger tips and rubbing them together. The mixture should be completely smooth.
In a microwave-safe bowl, microwave the chocolate 50% power in 30-second increments, stirring each time until the chocolate is melted and smooth. Set aside to cool.
Immediately place the mixing bowl on your stand. Using the wire whisk attachment, beat the eggs white on low for 2 minutes than increase to medium high.
Beat for another 5 minutes. At this point, your frosting should have turned white and the body of the meringue starts to form. Increase the mixing speed to high. It will start to look glossy as the peaks begin to form. Beat for another 5-8 minutes until the bottom of your bowl is cool to the touch and your meringue has stiff peaks.
Turn your mixer down to medium-low. Slowly add your butter, 1 tbsp at a time. As you add more butter, the frosting might appear to have curdled and lost its body, that's ok. Scrape down the sides of the bowl.
Switch to the paddle attachment, add the vanilla extract and continue beating on medium-high speed until your frosting starts to form. Slowly drizzle in the chocolate and continue beating until stiff peaks form, about 3-5 minutes.
To assemble this cake: level off your cakes by removing any domes. Place a dollop of frosting on your cake board and place the bottom layer of cake over that.
Pipe a thick boarder (a dam) along the outside edge of your cake. You may need to do this twice.
Spread half of the strawberry mixture over the cake, carefully filling the inside of the dam you created (so the sauce doesn't leak out the sides)
Pipe another thin layer of frosting over the strawberry sauce and spread evenly with your offset spatula.
Add the second layer of cake and repeat the above steps using all of the remaining strawberry sauce. Next, add the final layer of cake on top
Use your piping bag to fill in any gaps between your layers and to create a crumb coat. Using an offset spatula or icing smoother, wipe away the excess frosting, leaving you just enough to coat the outside of the cake. Do not mix your crumb coating frosting back into your icing if it has cake debris in it.
Proceed to frost the top and sides of the cake using your offset spatula. Run your spatula around the outside edge of the cake while turning the turntable to create the indent in the frosting.
Use remaining frosting to pipe the florets on the top of the cake using an Ateco 846 tip (large open star). Garnish with strawberries if desired.
Category:

Cake

Method:

Baked

Cuisine:

American
Keywords: Chocolate Cake Recipe, Chocolate Strawberry Cake, Chocolate Swiss Meringue Buttercream
Recipe Card powered by
You might also like: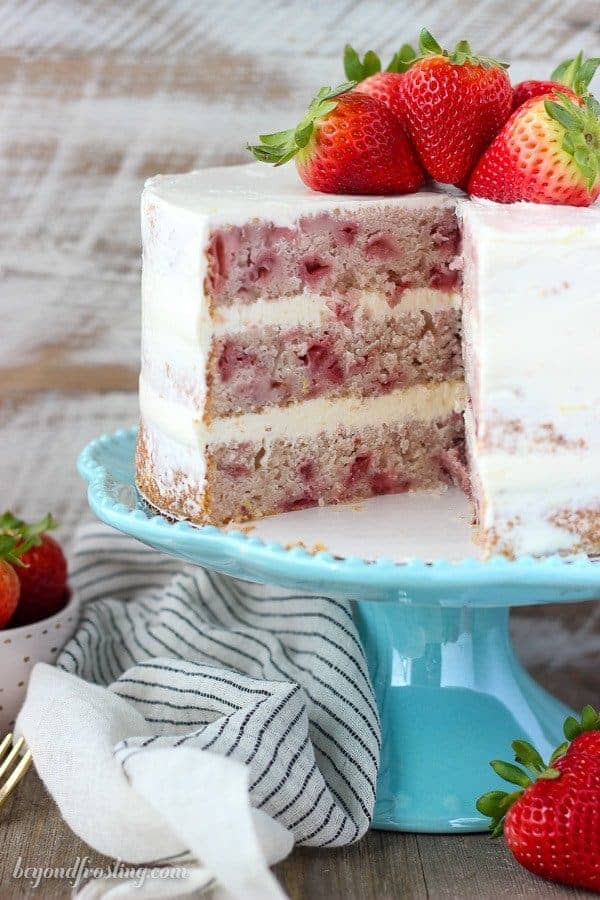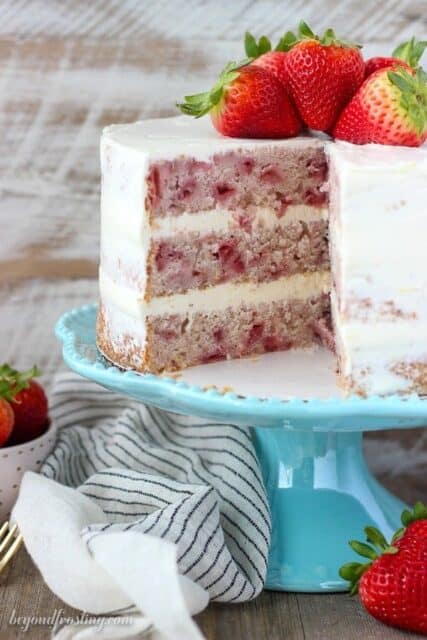 Strawberry Margarita Layer Cake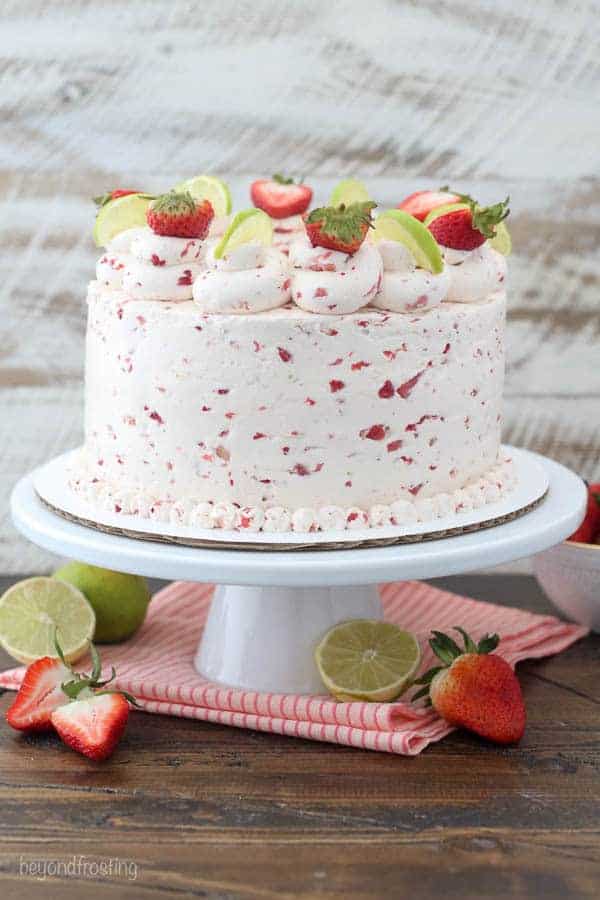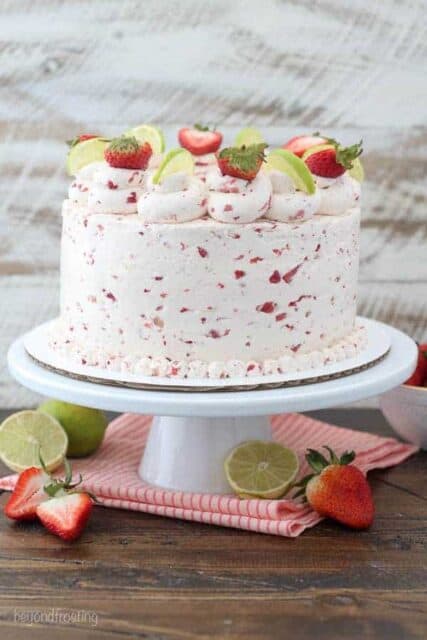 Chocolate Covered Strawberry Cupcakes