This post may contain affiliate sales links. Please see my full disclosure policy for details
This homemade buttermilk chocolate cake recipe is a moist, fluffy chocolate cake with a dark chocolate buttermilk frosting. If you're looking for a subtle chocolate cake with a rich finish, this is the cake for you!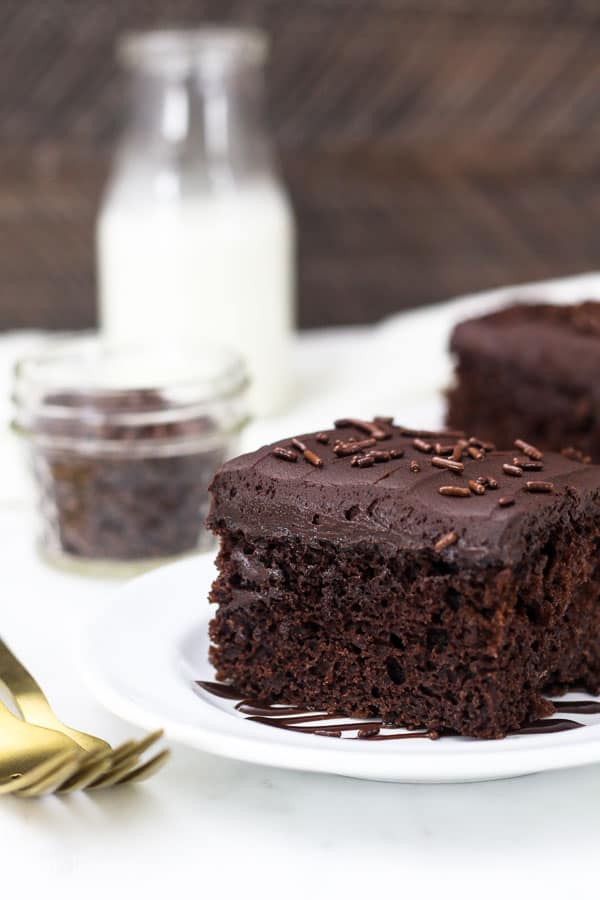 Have you ever met a chocolate cake recipe that you didn't like? Yeah me either.
Chocolate cake is a house favorite over here and my husband requests that for his birthday every year so it's important that my chocolate cakes taste amazing. We stopped cutting ourselves slices, and just eat straight from the pan.
I surprised him recently with this Buttermilk Chocolate Cake although I don't think I told him much about it, I just asked him to try it and he proceeded to eat the whole slice. That my friends is what we call a winner.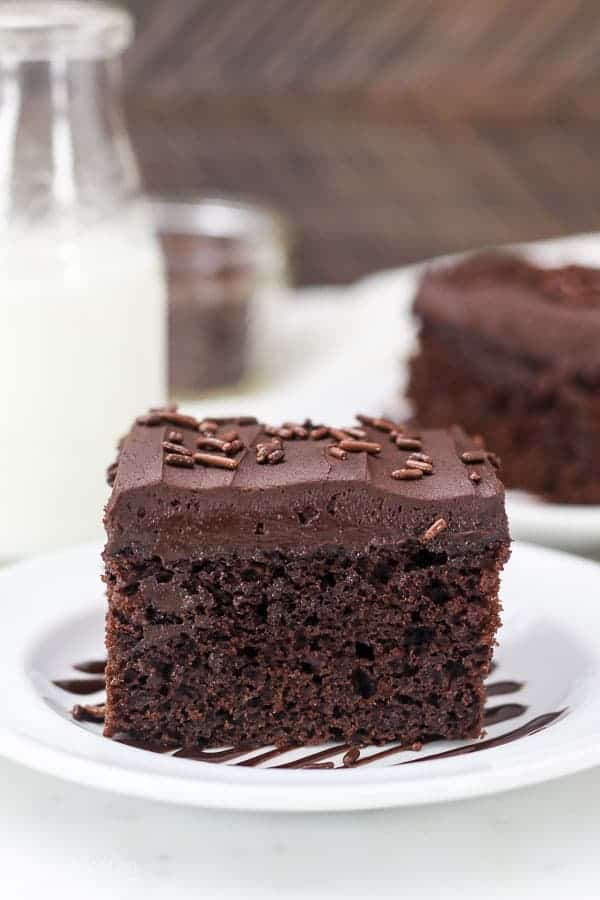 This homemade buttermilk chocolate cake recipe is a moist, fluffy chocolate cake with a dark chocolate buttermilk frosting and chocolate sprinkles on top.
How is this different than my super moist chocolate cake?
I've swapped out the unsweetened cocoa powder for Dutch processed cocoa powder
Adjusted the amounts of baking soda and baking powder
Swapped out the coffee for buttermilk
Topped it with the chocolate buttermilk frosting, which is to-die-for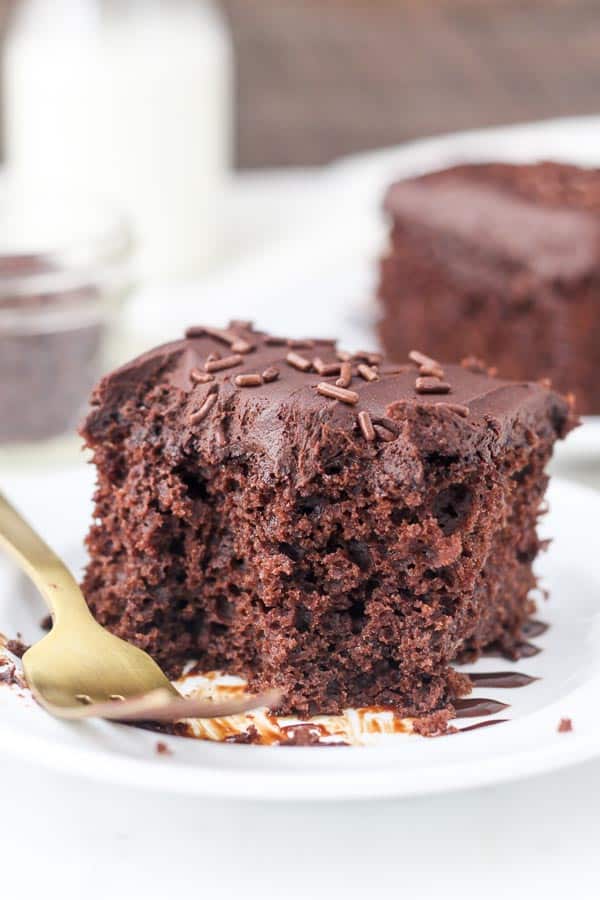 It's all about the combination of Dutch processed cocoa powder and buttermilk here. So, what is Dutch processed cocoa powder?
Dutch processed cocoa powder has been alkalized (meaning it has been treated with an alkalizing agent). My favorite brand to use is Rodelle. It's a high-quality product and it has one the highest levels of cocoa butter on market.
They're a partner of mine but prior to that, I've purchased their cocoa powder whenever a recipe called for Dutch processed.
Dutch processed cocoa powder tends to have a subtler chocolate flavor and it's usually darker in color. The subtle flavor is really perfect for this cake because when it's combined with the frosting, it not overly sweet but it just melts in your mouth.
When making a chocolate frosting, I usually call my husband over for a taste test. He often tells me, "it's not dark enough, add more chocolate". I laugh and insist he try it first because cocoa powder differs in color depending on the amount of cocoa butter and type of powder you're using.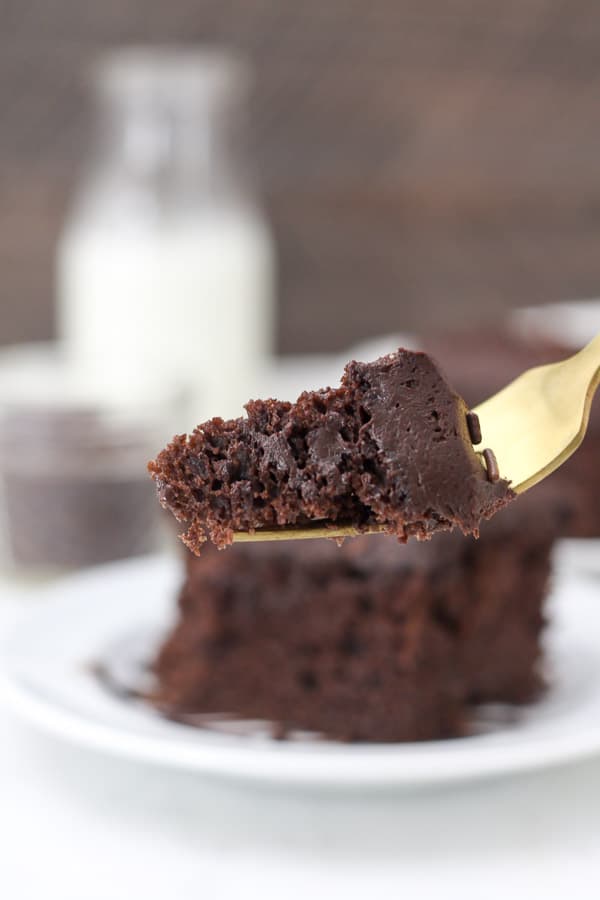 This cake recipe is super easy to make. It's an oil-based recipe and therefore you don't have to spend time waiting for the butter to soften or creaming it together with the sugar. Let's walk through the steps.
How to make buttermilk chocolate cake
Start by combining the granulated sugar with the eggs, oil, and vanilla extract.
Once that has been mixed, and the sour cream and mix until well combined.
In a separate bowl, combine the remaining dry ingredients. I always recommend sifting the cocoa powder and flour when making a chocolate cake. It helps to easily incorporate them into the wet ingredients.
Next, alternate adding the dry ingredients with the coffee and beat until everything is well combined. I definitely recommend giving the bowl a good scrape down.
Bake your cake for 18-22 minutes. The baking time will vary by type of pan used and true oven temperature. Cool the cake completely before adding the frosting.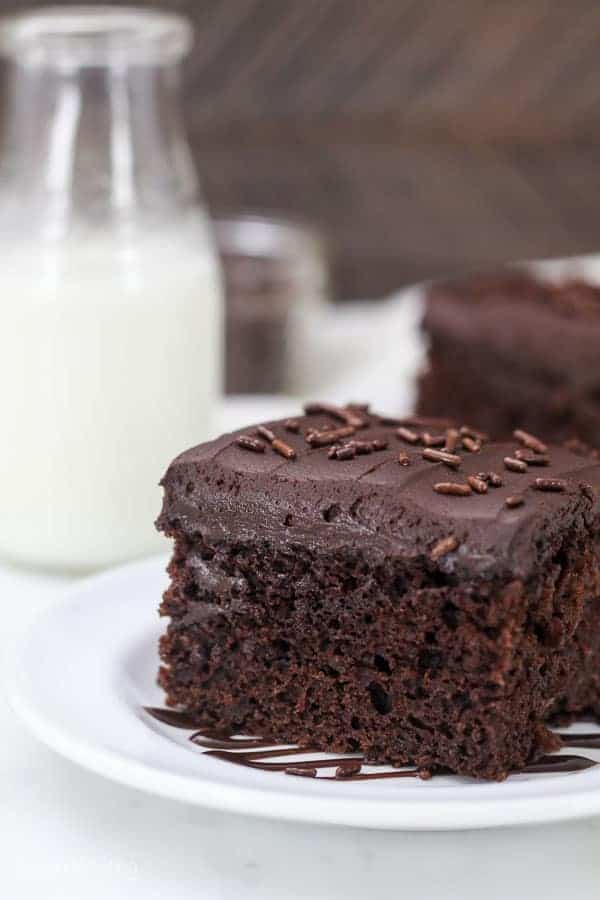 Do I have to use sour cream for this recipe?
The sour cream is used to help keep these nice and moist. If you don't have sour cream, I recommend using a nonfat Greek yogurt. I've also heard mayonnaise can be a good substitute, but I've never tried it.
I also use light sour cream because it's not quite as heavy. However, if you only have regular sour cream, that's okay to use too.
Can I use milk instead of buttermilk?
Yes, you can use regular milk instead of buttermilk. I always have nonfat milk in my fridge but any milk will work.
Buttermilk isn't a common ingredient that most people just have laying around in their house, but you can also make homemade buttermilk substitute with some lemon juice or vinegar. Once I hear about how to freeze buttermilk, it was a game changer for me.

I don't have Dutch processed cocoa powder, can I still make this recipe?
This recipe is intended to be made with dutch processed cocoa powder. If you'd like to make a chocolate cake recipe, you can still make my super moist chocolate cake recipe and just swap out the frosting recipe if you desire.
This Chocolate Buttermilk Cake Recipe is a light and fluffy chocolate cake perfect for birthdays or just your average Saturday night.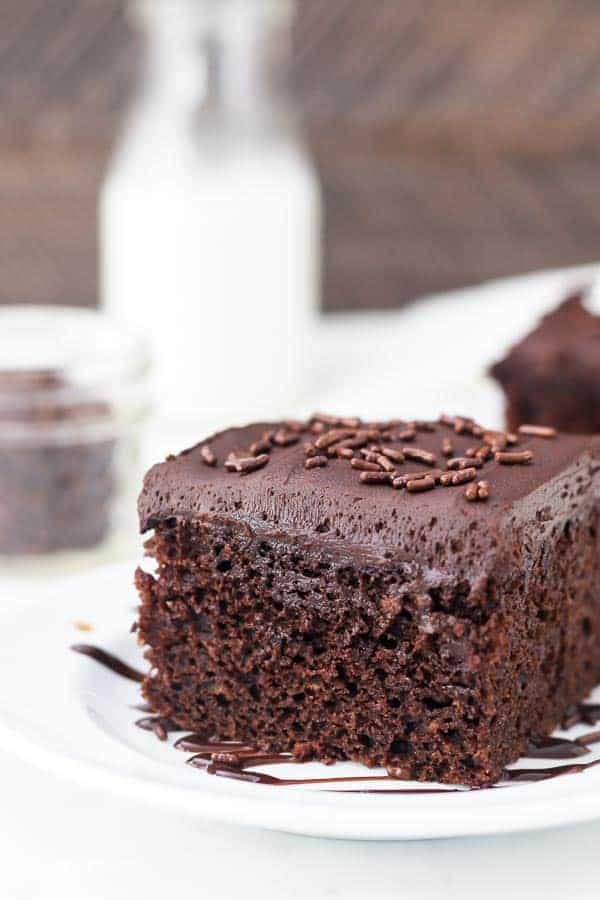 Follow Beyond Frosting:
Facebook | Twitter | Pinterest | Instagram | Bloglovin
If you love no-bake recipes, be sure to check out my cookbook, No-Bake Treats!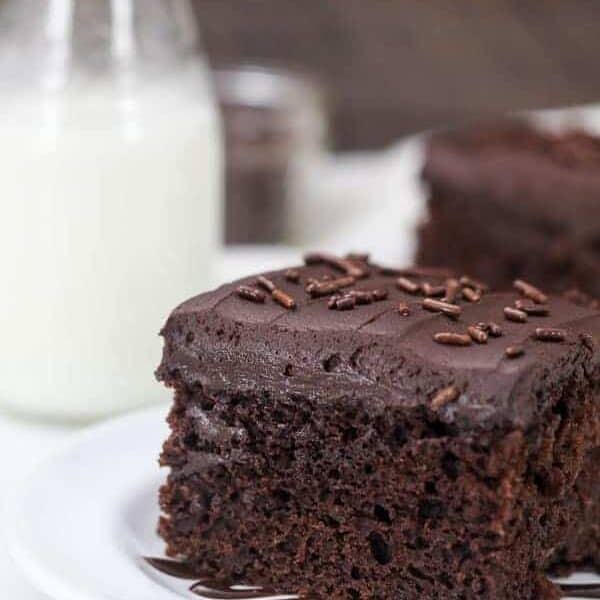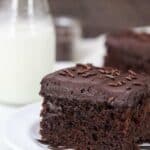 Buttermilk Chocolate Cake
Description
This homemade buttermilk chocolate cake recipe is a moist, fluffy chocolate cake with a dark chocolate buttermilk frosting.
Ingredients
For the cake:
1 ½ cups

granulated sugar (

285g

)

½ cup

vegetable oil (

118

ml)

3

large eggs

1 tablespoon

pure vanilla extract (

15

ml)

½ cup

light sour cream (

118

ml)

2 cups

all-purpose flour (

280g

)

½ cup

Dutch processed cocoa powder (

55 g

)

1 tablespoon

espresso powder or finely ground coffee (

5g

) (optional)

2 teaspoons

baking powder (

7g

)

1 teaspoon

baking soda (

4 g

)

1 teaspoon

salt (

5 g

)

1 ¼ cup

buttermilk (

296

ml)
For the frosting:
1 cup

unsalted butter (

226g

)

½ cup

cocoa powder (

55 g

)

2

–

3

cups powdered sugar (

260

–

347

g)

3 tablespoons

buttermilk (

44

ml)

2 teaspoons

pure vanilla extract (

10

ml)
Chocolate sprinkles for garnish
Instructions
For the cake: Preheat the oven to 350°F.
In a large mixing bowl, combine the sugar, vegetable oil, eggs and vanilla extract. Beat on medium speed until the eggs and oil are well incorporated and the batter is lighter in color.
Next mix in the sour cream and beat until well combined.
In a separate bowl, sift together the dry ingredients. Then add half the dry ingredients followed by half of the buttermilk and mix just until the flour starts to incorporate.
Finally add the remaining dry ingredients, mixing on low speed while pouring in the remaining buttermilk and beating until all of the ingredients are well combined.
Use a spatula to scrape down the sides of the bowl and stir the batter from the bottom to the top to ensure it's well mixed.
Pour the batter into a 9×13-inch pan and bake at 350°F for 26-28 minutes. Test the cake for doneness by inserting a toothpick into the center of the cake. If the toothpick comes out clean, your cake is done. Remove from the oven and allow to cool completely.
For the frosting: Cut the butter into pieces about 1 tablespoon size. Using the paddle attachment, whip butter for 3-5 minutes, scraping down the bowl occasionally. Beat until butter looks light in color and has more volume.
Next, add the cocoa powder and confectionary sugar, followed by two tablespoons of buttermilk and beat for 60-90 seconds until completely smooth.
Add the remaining buttermilk and vanilla extract and beat until desired consistency, at least 2 minutes.
Spread frosting over cooled cake and then cover with sprinkles. Keep in an airtight container.
Notes
If you don't have full fat sour cream, substitute lite sour cream or nonfat Greek yogurt.
This recipe can be made into 24 cupcakes. Baked for 14-16 minutes. The frosting recipe will be to be 1.5 times
Recipe Card powered by
You might also like: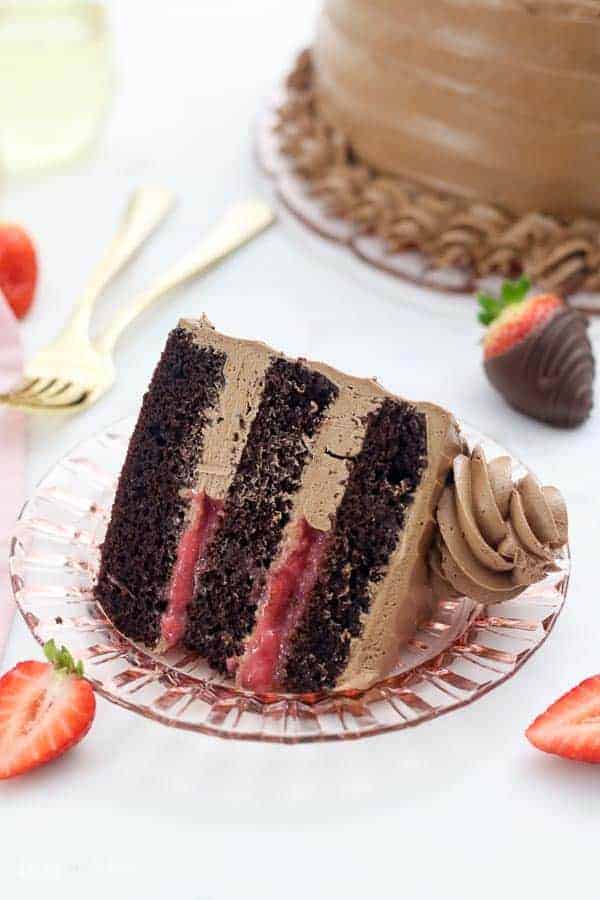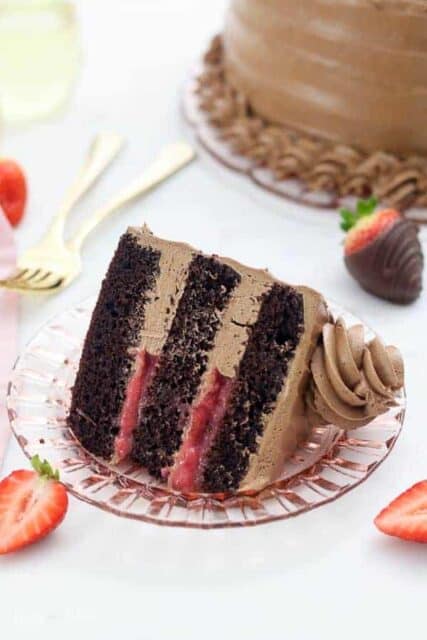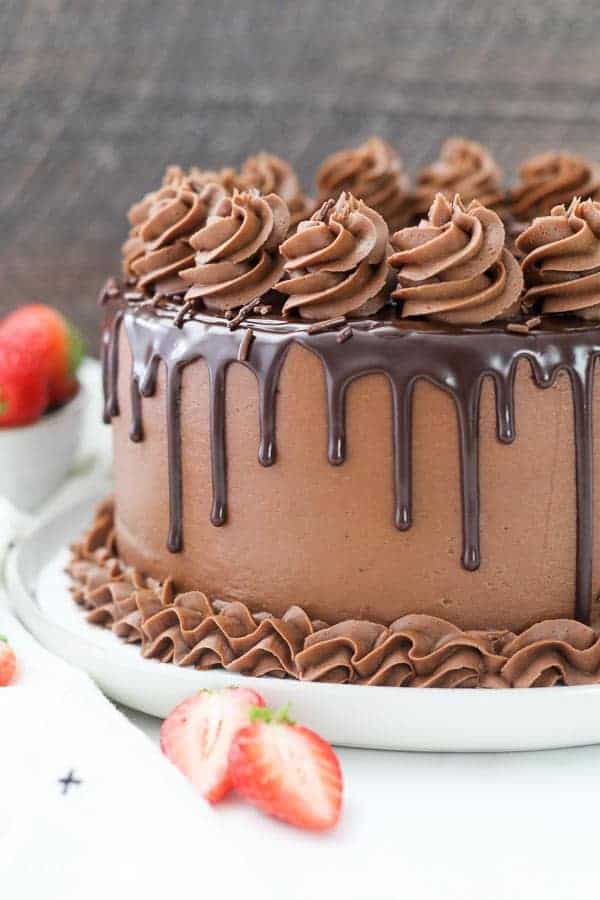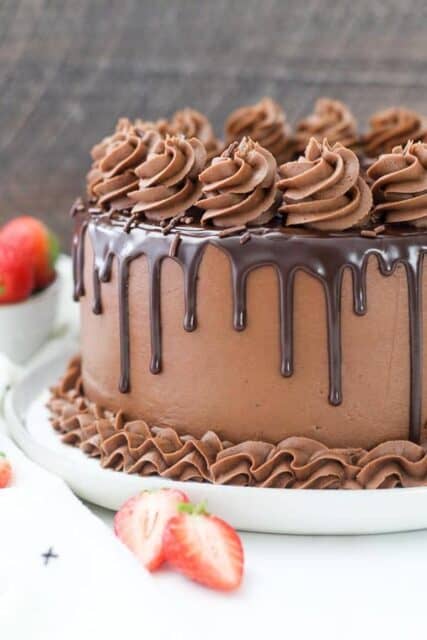 Sinful Triple Chocolate Poke Cake