This post may contain affiliate sales links. Please see my full disclosure policy for details
This mouthwatering Chocolate Peanut Butter Cake has three layers of moist chocolate cake with creamy peanut butter frosting, chocolate ganache, and peanut butter cups. It's decadent, sweet, a little salty, and so delicious!
Looking for more easy chocolate desserts? Try my favorite Moist Chocolate Cake.
An Easy Peanut Butter Chocolate Layer Cake
I've never met a chocolate and peanut butter dessert that I didn't like. The combination is just so undeniably mouthwatering. I mean, what's not to love about fudgy chocolate paired with salty-sweet peanut butter? If you're as obsessed with Reese's Peanut Butter Cups as I am, you'll know what I mean when I say it's the BEST.
This chocolate cake with peanut butter frosting is simple, yet so decadent. It's made from rich layers of my best-ever chocolate cake recipe, frosted inside and out with creamy homemade peanut butter buttercream. I top mine with a generous drizzle of chocolate ganache and chopped peanut butter cups. Go big or go home, as they say!
Peanut butter lovers, you're going to love this cake. The frosting is to die for! It's smooth and creamy, full of peanut butter flavor, and just melts away in your mouth.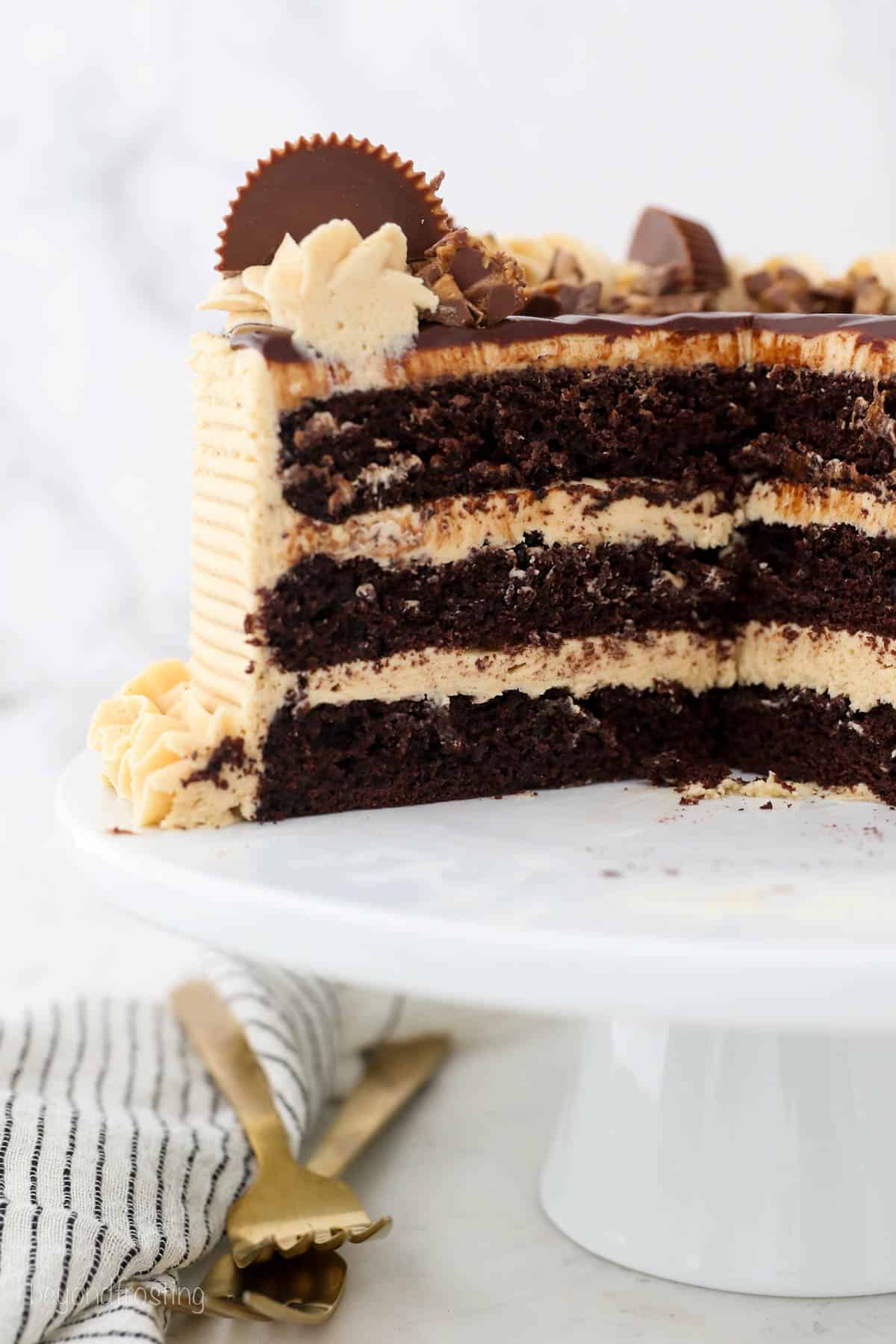 Key Ingredients
This is my absolute favorite, easy moist chocolate cake recipe. It's light and fluffy and it all comes together in about 10 minutes. Below is a short rundown of the key ingredients, with the full recipe available in the recipe card at the end of this post.
Oil – For a soft and tender cake, use oil in place of butter.
Sour Cream – Sour cream is essential for keeping this cake moist. You can also light sour cream or full-fat if you prefer. If you don't have sour cream, I recommend substituting it with plain Greek yogurt.
Cocoa Powder – I use Hershey's Special Dark Cocoa Powder in the cake
Espresso Powder and Brewed Coffee – Coffee does wonders to enhance the flavor of chocolate cake recipes. You don't even taste the coffee! Adding espresso powder is optional, however, and you can substitute brewed coffee for milk instead if needed.
For Frosting and Decorating
Peanut Butter – I recommend using shelf-stable, creamy peanut butter as opposed to natural peanut butter. Natural peanut butter won't combine properly with the frosting ingredients, as the oil tends to separate.
Heavy Whipping Cream – For the smoothest, creamiest frosting, use full-fat heavy whipping cream. You can also use whole milk in a pinch
Dark Chocolate – I recommend using a chocolate bar as opposed to chocolate chips. Choose your favorite flavor, but make sure it's high-quality chocolate.
Peanut Butter Cups – For garnishing the cake.
How to Make Chocolate Peanut Butter Cake
I make this cake using 8-inch round baking pans. The bottom and sides of the pans should be well greased and lightly floured before you start, to prevent sticking. With your pans ready and your oven preheating to 350ºF, here's how to prepare your chocolate cake:
Mix the wet ingredients. Combine the sugar, oil, eggs, and vanilla extract and beat them together until fluffy. Then, beat in sour cream until well combined.
Combine the dry ingredients. In a separate bowl, combine the remaining dry ingredients. I recommend sifting them to remove any clumps. Add the dry ingredients to the wet batter a little at a time, alternating with coffee until everything is mixed.
Bake. Divide the batter between your three prepared pans, it's about 1 2/3 cups per pan. Bake the cake layers at 350ºF for 20-24 minutes and then cool completely.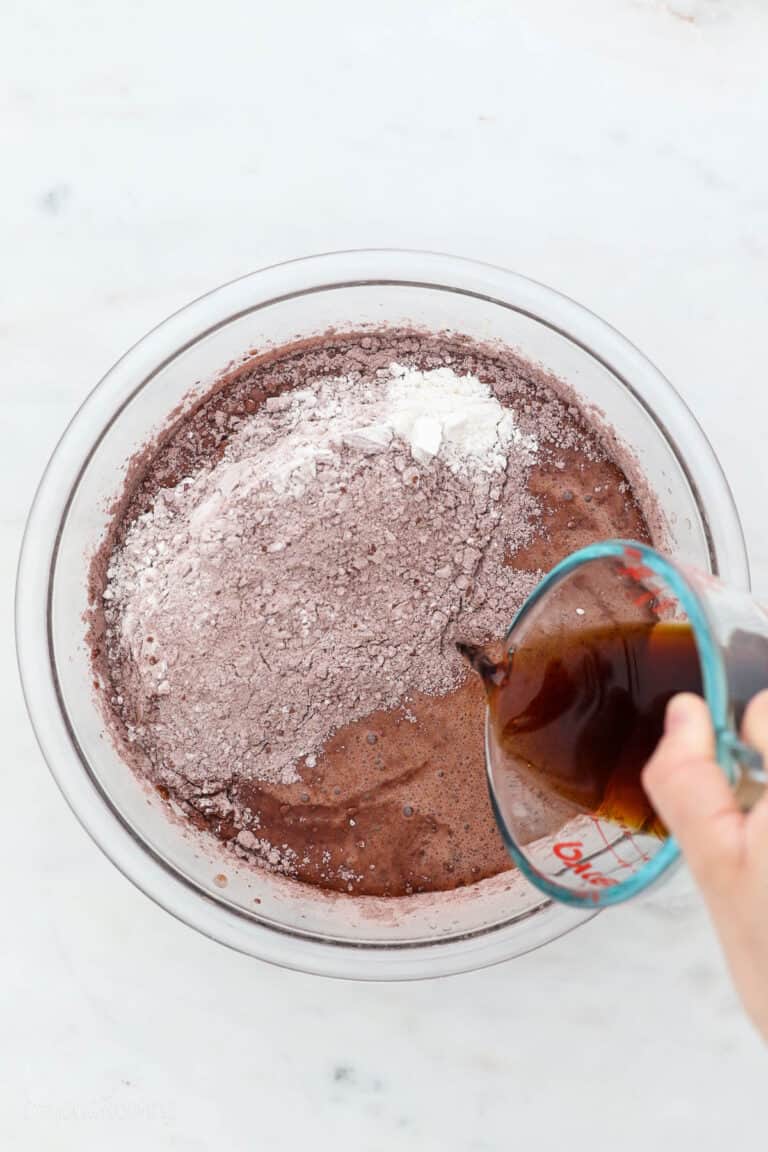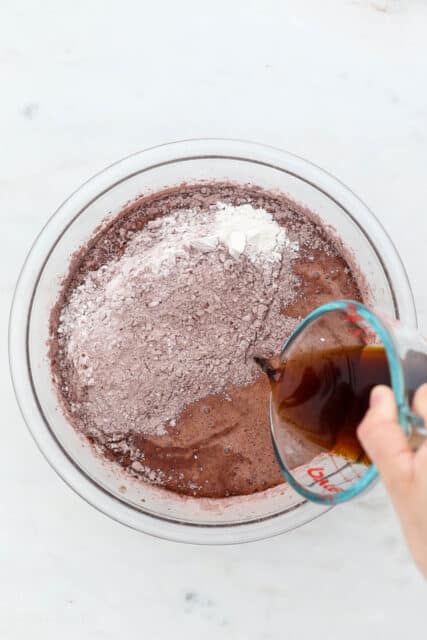 How to Make Creamy Peanut Butter Frosting
I use my smooth and creamy Peanut Butter Frosting that has the perfect balance of salty and sweet. My frosting recipes always start with COLD butter, as it allows better control of the consistency of the frosting. It takes a bit of additional whipping, but the exceptionally light and fluffy texture is more than worth it.
Start with butter and peanut butter. Add the cold, cubed butter to a mixing bowl and beat for several minutes, until fluffy and whipped. Next, add peanut butter, continuing to beat until smooth.
Add powdered sugar. Alternate adding powdered sugar to the peanut butter mixture followed by vanilla and heavy cream. Make sure that the powdered sugar is thoroughly mixed before adding more, as the frosting will combine more smoothly this way.
Whip. Once everything is combined, give the peanut butter frosting a good whip for another few minutes, to get it light and fluffy.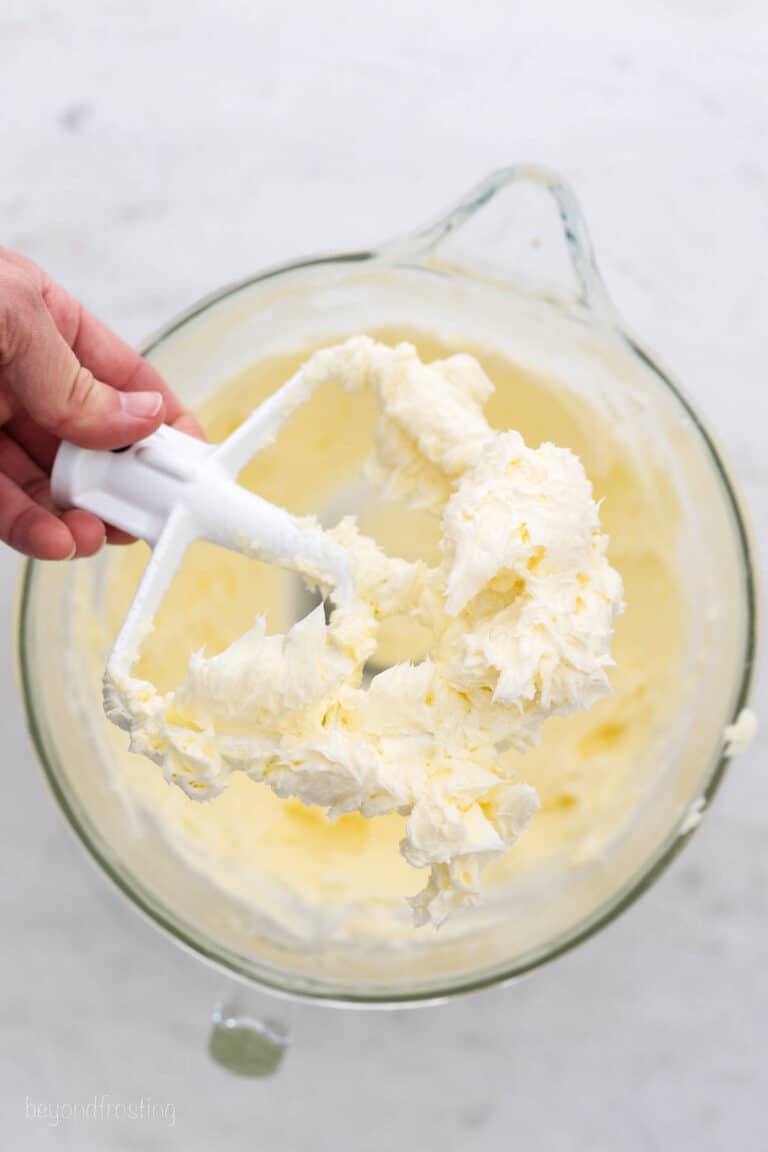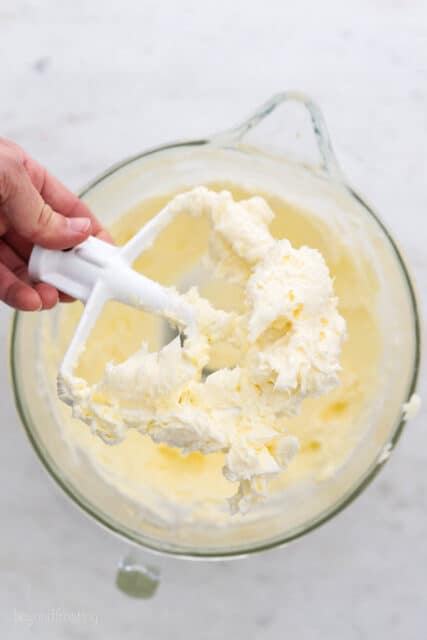 Assembling and Frosting a Layer Cake
If you're new to assembling layer cakes, don't worry. It's a lot easier than you might think. If you'd like a more in-depth how-to, I have a great tutorial for How to Make a Layer Cake that walks you through it. In the meantime, let's assemble and frost your chocolate peanut butter cake:
Start by leveling your cakes. If the centers of the cakes puffed up while they baked, use a bread knife to trim off the domes.
Frost the first layer. Start by placing the first cake layer onto a plate or cake board. I like to place it over a dollop of frosting, to help hold the cake in place. Next, pipe the frosting in a swirl from the outside edges to the middle of the cake layer. Spread the frosting around so that it's even.
Assemble. Top this first cake with the second cake layer, and repeat. After adding the third layer, use the remaining frosting to frost the top and sides of the cake.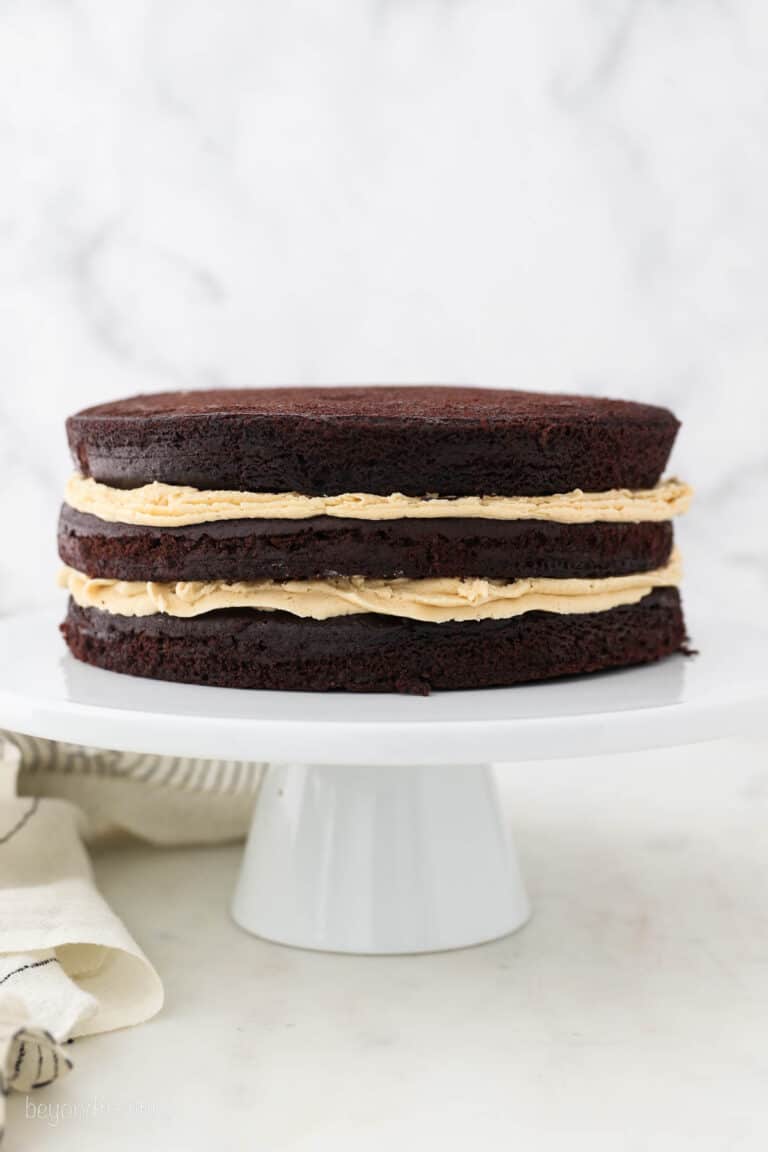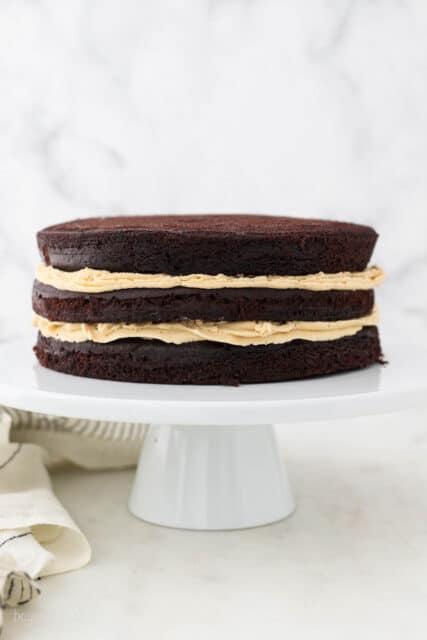 Once your cake is assembled and frosted, it's time to decorate. I garnish my peanut butter cake with a simple dark chocolate ganache. I'll also save a little frosting for decorating the top, plus peanut butter cups for extra garnish. Here's how to decorate a chocolate peanut butter layer cake:
Prepare the ganache. Combine dark chocolate with heavy whipping cream, heating it in increments until melted. Give it a stir, then let the ganache cool.
Drizzle. Drizzle the ganache over the top of the cake. Use a piping bag if you have one, otherwise, a plain old spoon will also work.
Decorate. You can be as simple or as fancy as you'd like. Leave the cake as is with just a ganache drizzle, or you can use a large piping tip and leftover frosting to pipe rosettes over top. I give my cake a sprinkle with chopped Reese's Cups – see below for more ideas!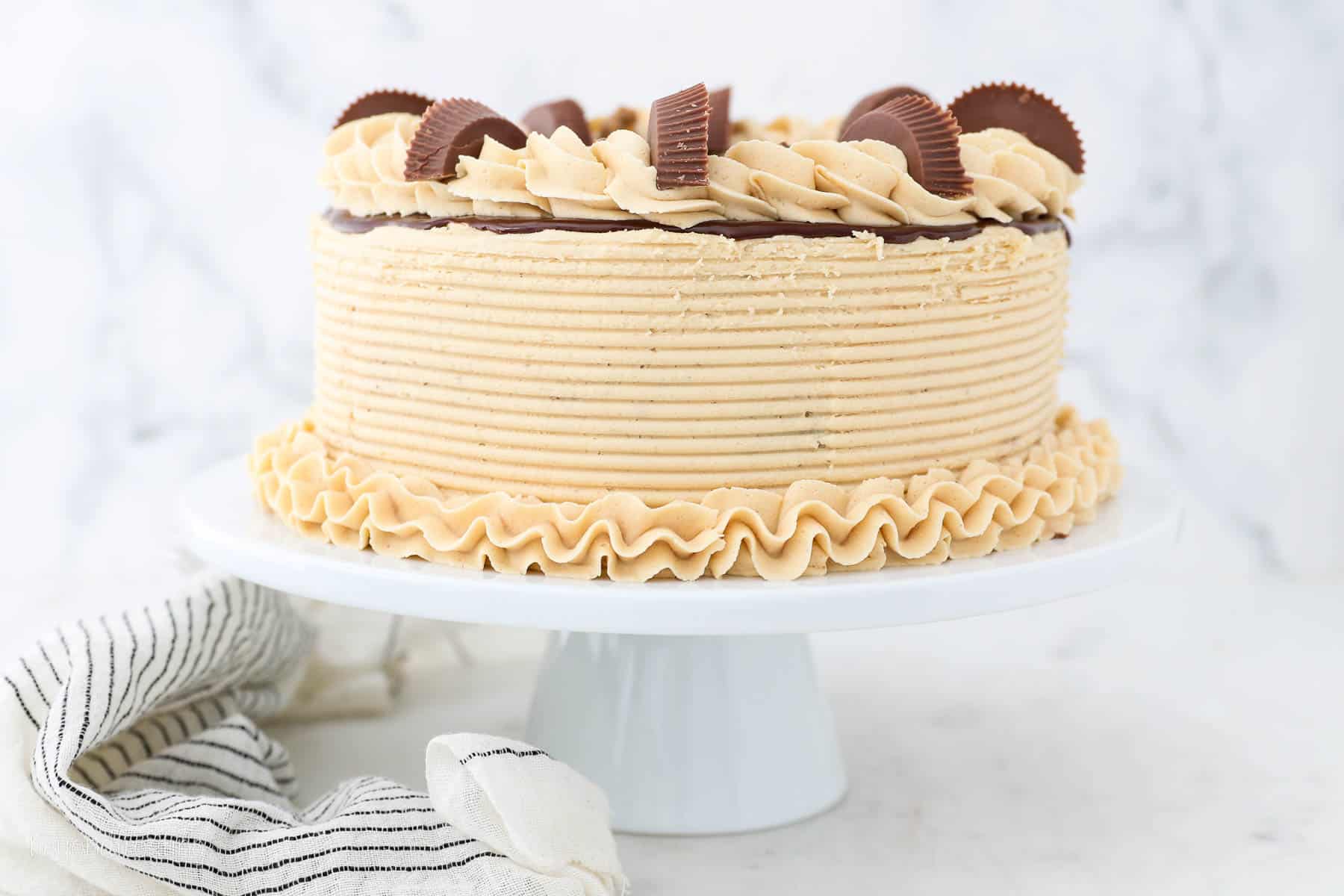 Tips for Success
Here are my tips for making the ultimate chocolate peanut butter cake, layers and all:
Rotate the pans. If you oven has hot spots, I recommend rotating the pans in the oven about halfway through baking so that the cakes bake more evenly.
Beat the frosting well. Follow the steps and take the time to beat the frosting at every stage, so that you end up with a soft and creamy frosting that's easy to pipe.
If your frosting is too thick, add more heavy cream one spoonful at a time. If it's too thin, add additional powdered sugar. If you find the frosting too sweet, you can add a pinch of salt to help balance the flavor.
Level and torte each cake layer. Starting with a flat surface is key for a layer cake's stability. Also, use a piping tip to add the frosting between the layers. This again ensures a flat, even layer of frosting.
Don't skip the crumb coat. A crumb coat is a thin layer of frosting added prior to the final frosting layer. The aim of a crumb coat is to pick up any loose crumbs so that they don't get mixed into the final layer of frosting. Use your piping bag to fill in any gaps between the cake layers.
Can I Make Another Size Cake?
Yes, you can make this recipe in different-sized pans. Just remember that baking times will vary due to how full the pans are, the type of pans you use, and the true oven temperature. Use the times below as guidelines, but make sure to check the cakes while they bake, too.
For an 8-inch cake with thicker layers, divide the batter evenly between two cake pans (approx. 2 1/4 cups of batter per pan). Bake at 350ºF for 25-30 minutes.
To make two 9-inch cakes, bake for 28-32 minutes.
If you use 6-inch cake pans, one recipe is enough to make four layers (about 1/3 cup of batter per pan). Bake for 22-28 minutes.
To make a sheet cake instead, add the batter to a 9×13-inch cake pan and bake for 26-28 minutes.
Another thing to keep in mind is that you'll need to adjust the amount of frosting depending on what size cake you choose.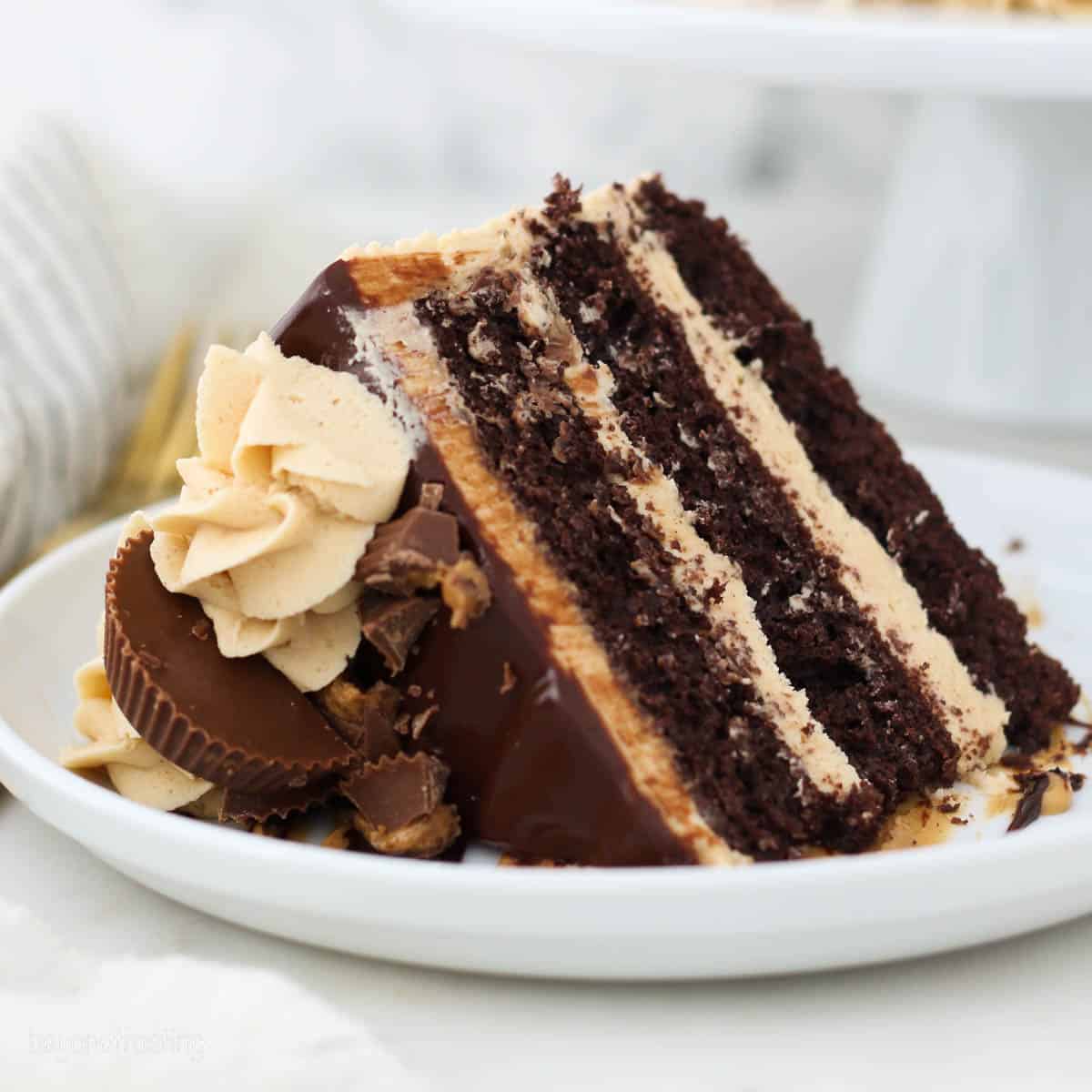 More Variations and Ways to Decorate
You can decorate this cake however you'd like! If you're curious about piping, check out my posts on How to Use a Piping Bag and How to Decorate With Piping Tips for more tips and inspiration.
If you're making this as a birthday cake or for the holidays, why not add your favorite colored sprinkles? Or, melt peanut butter in the microwave and drizzle it over the chocolate ganache. You can also add peanut butter chips on top, in addition to or in place of Reese's Peanut Butter Cups.
If you'd prefer to skip the peanut butter frosting (but why!?), use Chocolate Fudge Frosting or my Easy Chocolate Buttercream Frosting to make a full chocolate cake instead. You can still garnish the top of the cake with Reese's for a dose of peanut butter flavor.
How to Store a Frosted Cake
This chocolate peanut butter cake can be stored at room temperature for up to 3-4 days. The only time I wouldn't advise keeping it on the counter is if you live in a hot/humid environment.
However you store it, make sure that the cake is covered. I can't say enough good things about my cake carrier, which seals airtight and keeps homemade cakes that much fresher for longer. It's also a handy way to transport cakes if needed. Just place some grippy material (like the kind you would line a drawer with) on the bottom of the cake carrier to prevent the cake from sliding.
The peanut butter frosting can also be made up to 2 days ahead. Store it airtight in the fridge and give it a fresh whip right before you use it.
Can I Freeze Chocolate Layer Cake?
I don't usually recommend freezing a finished, frosted cake. Instead, I'll freeze the individual chocolate cake layers. After the cakes are completely cooled, double-wrap them in plastic wrap, with a layer of parchment paper lining the top and bottom of the cakes. Whenever you're ready to frost and serve, thaw the cakes completely and whip up the frosting.
Print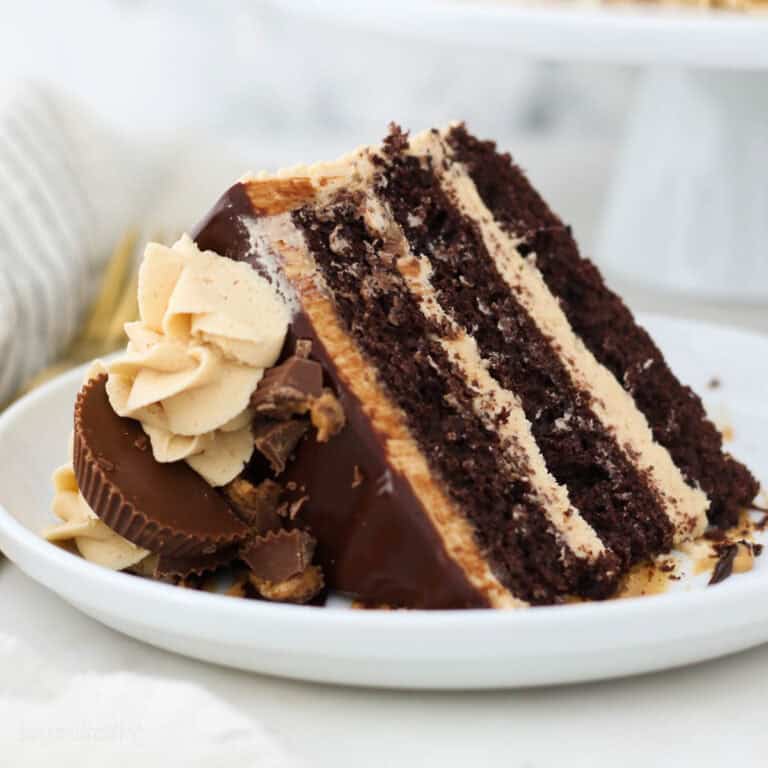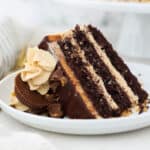 Chocolate Peanut Butter Cake Recipe
Author:

Prep Time:

30 minutes

Cook Time:

22 minutes

Total Time:

52 minutes

Yield:

12 slices
Description
This decadent Chocolate Peanut Butter Cake features three layers of moist chocolate cake with creamy peanut butter frosting and homemade chocolate ganache, topped with peanut butter cups.
Ingredients
For the cake:
1 ½ cups

(

285g

) granulated sugar

½ cup

(

118

ml) vegetable oil

3

large eggs, at room temperature

1 tablespoon

(

15

ml) pure vanilla extract

½ cup

(

118

ml) sour cream, at room temperature

2 cups

(

280g

) all-purpose flour, sifted

½ cup

(

40 g

) cocoa powder, sifted

1 tablespoon

(

5g

) espresso powder (optional)

2 ½ teaspoons

(

9 g

) baking powder

½ teaspoon

(

2 g

) baking soda

1 teaspoon

(

5 g

) salt

1 ¼ cup

(

296

ml) hot brewed coffee
For the frosting:
2 cups

(

454g

) unsalted butter

1

heaping cup (

180g

) peanut butter (up to

1 1/4 cup

)

7

–

8

cups (911-1

041g

) powdered sugar

4 tablespoons

(60ml) heavy whipping cream or milk

1 tablespoon

(15ml) pure vanilla extract
For the Ganache:
2 ounces

dark chocolate

6 tablespoons

(90ml) heavy whipping cream

6

–

8

Reese's peanut butter cups for garnish (optional)
Instructions
For the Cake:
Preheat the oven to 350°F. Prepare three 8-inch round baking pans, line the bottom with parchment paper, and grease the sides. Prepare your bake even stripes if desired.
In a large mixing bowl, combine the sugar, vegetable oil, eggs, and vanilla extract. Beat on medium speed until the eggs and oil are well incorporated and the batter is lighter in color. Next mix in the sour cream and beat until well combined.
In a separate bowl, sift together the dry ingredients. Add half the dry ingredients to the wet ingredients, followed by half of the coffee, and mix until the flour is just incorporated at a low speed. Then add the remaining dry ingredients and coffee. Beat until all of the ingredients are well combined. Use a spatula to scrape down the sides of the bowl and stir the batter from the bottom to the top to ensure it's well mixed.
Divide the batter evenly between the three pans, about 1 2/3 cups of batter per pan. Bake at 350°F for 20-24 minutes. Test the cake for doneness by inserting a toothpick into the center of the cake. If the toothpick comes out clean, the cake is done. Remove from the oven and allow to cool completely.
For the Frosting:
Cut the butter into pieces. Using the paddle attachment, whip butter for 3-4 minutes, scraping down the bowl occasionally. Beat until the butter looks light in color. Next, beat the peanut butter until well mixed.
Alternate adding 2-3 cups of powdered sugar at a time with the liquid ingredients: vanilla extract & heavy cream. Ensure all the powdered sugar is well combined and beat for 2-3 minutes before adding additional powdered sugar.
Once all ingredients have been added, whip for 3-4 minutes until the frosting is light and airy. If the frosting is too thick, add additional heavy whipping cream 1 tablespoon at a time. Add a pinch of salt if needed to cut the sweetness.
For the Chocolate Ganache:
In a microwave-safe bowl, combine the chocolate and heavy whipping cream. Melt the chocolate in the microwave at 50% power in 30-second increments and stir until completely combined. Allow to cool.
To Assemble this Cake:
Level the cake layers if needed. Place a dollop of frosting on your cake board and place the bottom layer of cake on top of that. Place half of the frosting in a large piping bag, then cut off the end of the piping bag. Pipe the first layer of frosting, pipe in circles working outside edge to the middle. Spread evenly with an offset spatula.
Add the second layer of cake and add the remaining frosting. Place the third layer of cake on top, and invert the top layer.
Use the piping bag to fill in any gaps between the layers and to create a crumb coat. Using an offset spatula or icing smoother, wipe away the excess frosting, leaving you just enough to coat the outside of the cake. With the remaining frosting, proceed to frost the top and sides of the cake using an offset spatula.
Use a spoon or piping bag to drizzle the ganache along the edges of the cake. Use a large piping bag to pipe the rosettes on top. Fill the piping bag with the remaining frosting, and pipe the border of the cake on the top and bottom. Garnish with chopped peanut butter cups.
Notes
Ingredient Substitutions
Cocoa powder: I prefer to use Hershey's Special Dark Cocoa Powder for the cake
Sour cream substitute: If you don't have sour cream, substitute plain or Greek yogurt.
Brewed coffee substitute: If you don't want to use coffee, you can use milk, but I do recommend heating it up.
Storing and Freezing
Storing this cake: This can be stored at room temperature unless you live in a hot and humid environment. I recommend a cake carrier, which seals the cake with an airtight lock.
Make ahead and freezing options: I don't usually freeze a finished, frosted cake. Instead, I'd recommend freezing the cake layers after they've completely cooled. Double wrap in plastic wrap, lining the top and bottom with parchment paper. Thaw the layers prior to frosting. The frosting can be made up to 2 days in advance, but I recommend whipping prior to using.
Category:

Cake

Method:

Baked

Cuisine:

American
Keywords: chocolate layer cake, peanut butter frosting, homemade chocolate cake
More Indulgent Layer Cakes to Try