This post may contain affiliate sales links. Please see my full disclosure policy for details
This Cake Batter Monster Cookie Cake is an cake batter oatmeal cookie with MnMs and sprinkles. It's topped with a little vanilla buttercream.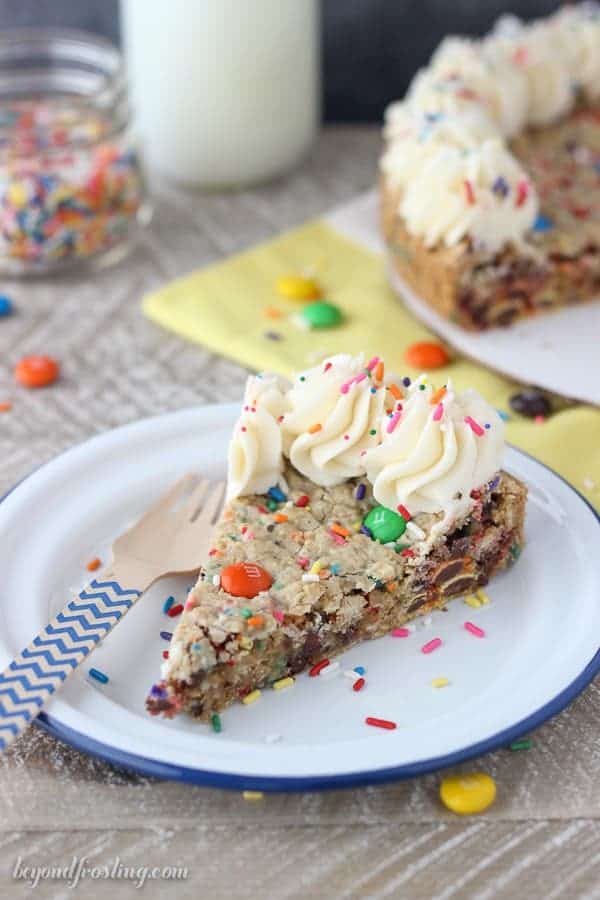 I won't bore you with my opinion of the super bowl, as I am not a fan of either team, but especially not the Broncos. I do really enjoy play offs and championships games, but I am not much of a regular football fan. Unless there is food involved of course. I cheated on my diet and had pizza yesterday. It was awesome. And now that the super bowl is over, we can return to normal Sunday nights which include the Walking Dead.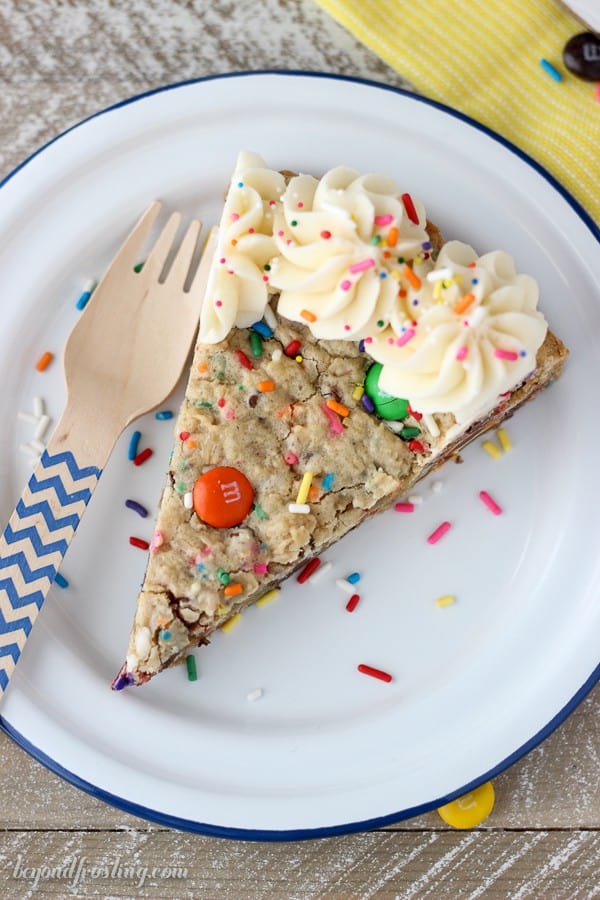 I do wish I had some of this Cake Batter Monster Cookie Cake yesterday to wash down the pizza with. It's a giant cookie cake this is filled with cake batter, MnMs and sprinkles. You might recognize this, because I've previously made this Cake Batter Monster Cookie Sandwiches. I've adjusted the recipe to fit for this cake.
There is plenty to love with this cake. First you've got the cake batter. I've used some dry cake mix in place of flour. Then I've mixed in chocolate chips and MnMs with a little bit of sprinkles. Every cake batter needs a hand full of sprinkles. And of course, no cake would be complete without a little bit of frosting.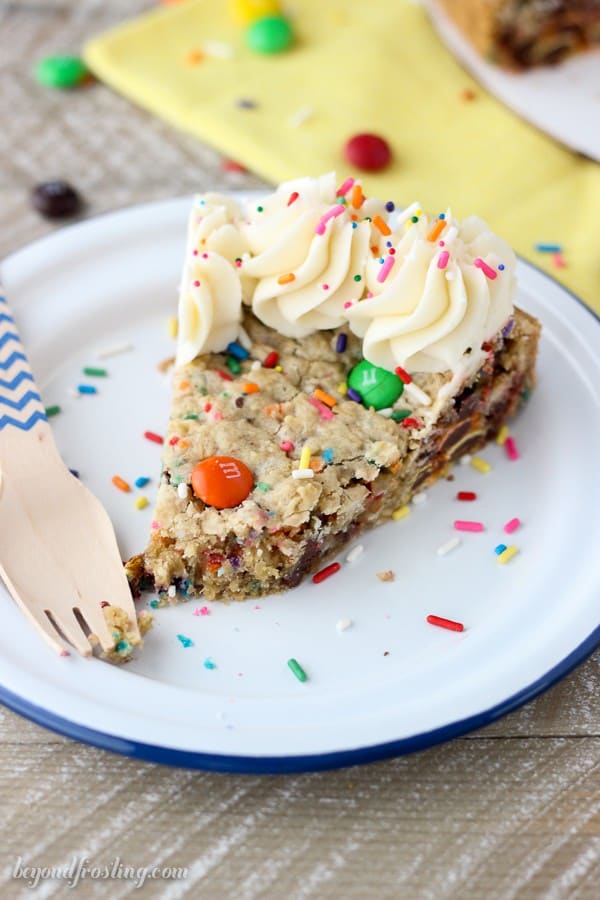 I prefer to bake cookie cakes in a 9-inch Springform Pan pan so that I can easily remove the edges. However, if you don't have a springform pan, you can easily use a 9-inch pan. I do suggest to line it with tin foil or parchment paper so you can remove the cookie cake. Of course, a bit of Crisco is good too.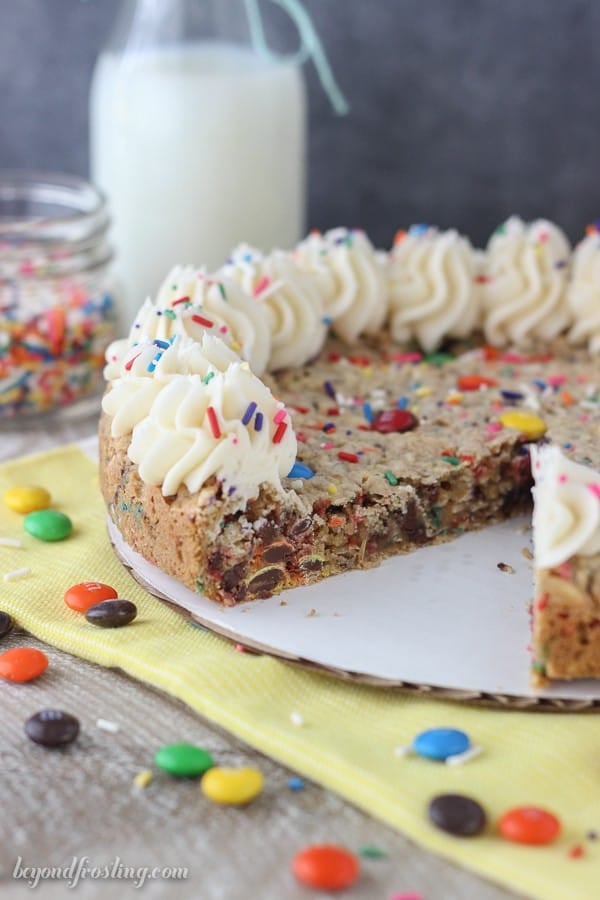 After three attempts to make this cake, I am able to tell you I have the perfect formula. I reduced the amount of batter, so that you don't have to over bake it. I also recommend coving the top with tin foil during the last 10 minutes of baking to prevent the edges from getting too brown. You can imagine what my coworkers must have been thinking when I showed up with 3 of these on Monday morning.
I will take any excuse to whip up a batch of cookie dough, but at least you don't have to feel guilty because one slice of this is better than a handful of cookies. At least that it what I tell myself.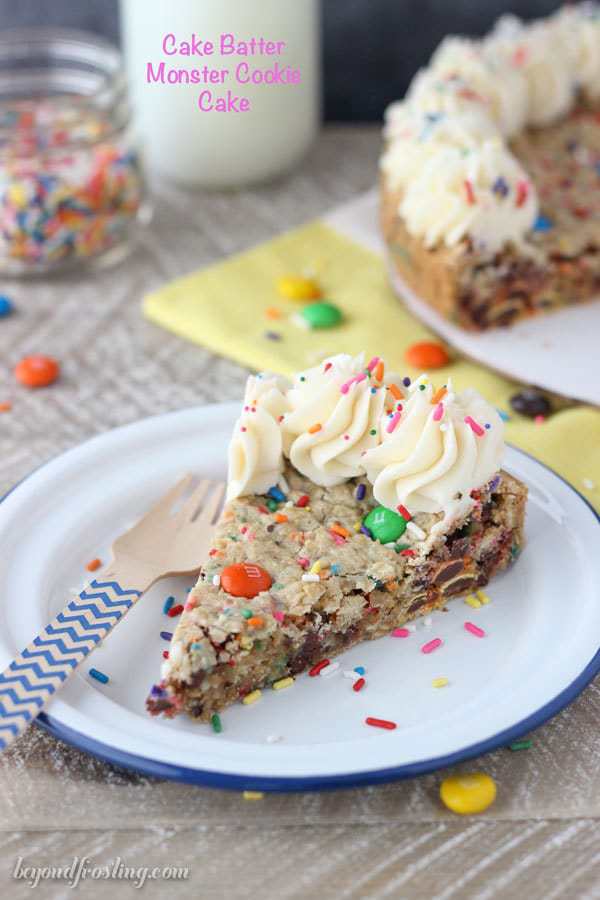 Print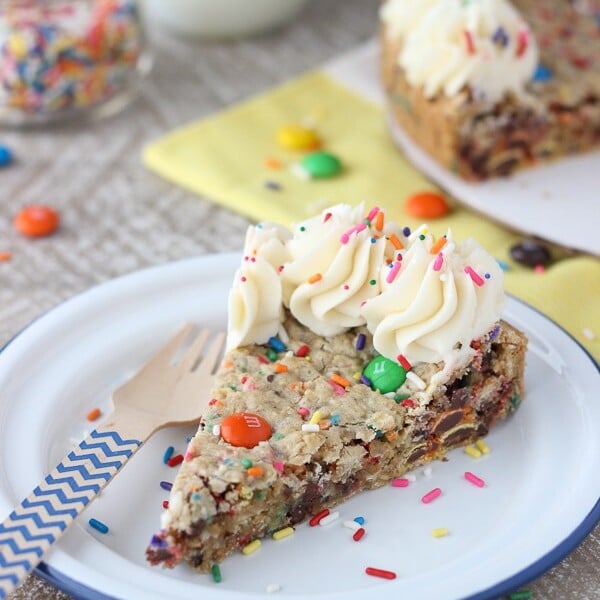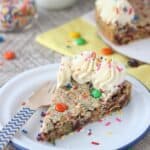 Cake Batter Monster Cookie Cake
Author:

Prep Time:

15 minutes

Cook Time:

35 minutes

Total Time:

50 minutes

Yield:

8-10 slices
Description
This Cake Batter Monster Cookie Cake is an cake batter oatmeal cookie with MnMs and sprinkles. It's topped with a little vanilla buttercream.
Ingredients
½

c unsalted butter

½

c sugar

6 tbsp

light brown sugar

1

large Eggs

2 tsp

vanilla extract

¾

c flour

½

c yellow cake mix, dry

1

c quick oats

½ tsp

salt

½ tsp

baking soda

¼

c mini chocolate chips

½

c MnMs candies

¼

C sprinkles
For the frosting

½

c unsalted butter

2

c powdered sugar

1 tsp

vanilla extract

1 tbsp

milk
Additional Sprinkles for garnish
Instructions
Preheat oven to 350° F.
Soften butter in the microwave 10-15 seconds. Combine butter with both light brown sugar and granulated sugar. Mix until smooth and mixture becomes fluffy.
Add egg and vanilla extract and beat until egg is thoroughly incorporated.
In a separate bowl, combine flour, dry cake mix, oats, salt and baking soda. Slowly add flour mixture to dough batter while mixing at a low speed.
Once all the flour has been added, increase speed to medium until dough forms. Add mini chocolate chips. MnMs and sprinkles and mix until combined.
Grease a 9-inch spring form pan with Crisco or cooking spray. Line the bottom of parchment paper or tin foil.
Bake for 32-35 minutes at 350°F. During the last 10 minutes, cover the cookie cake with tin foil. Remove from oven and allow to cool until removing the edge of the pan.
For the frosting
Allow butter to soften for about 30 minutes. Or soften in the microwave for 10-15 seconds.
Whip butter with a paddle attachment on medium speed until light and fluffy.
Slowly add powdered sugar 1 cup at a time. Frosting will become thick. After powdered sugar have been added, add 1 tablespoon of milk. Whip until smooth. Pipe onto edges of cake and garnish with additional sprinkles.
Category:

Cookies

Method:

Oven

Cuisine:

American
Keywords: Cookie Cake, Monster Cookies, M&M Cookie Cake