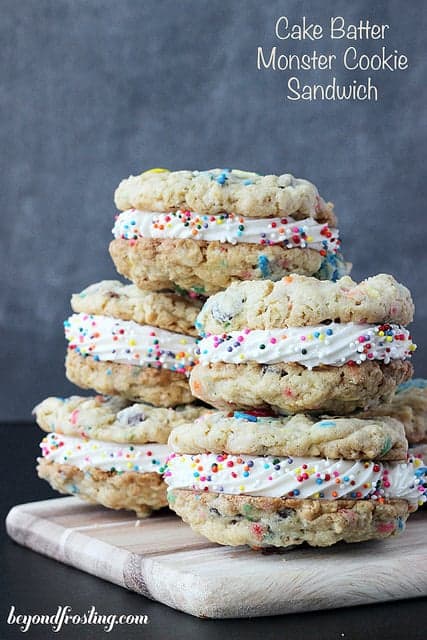 Here is what back-to-school means to me now: traffic. Lots and lots of disgusting morning track. Hey it's all relevant to where you live, and nothing compared to what I have endured before. But when my 15 minute drive turns into 30 minutes every morning it drives me crazy. Mostly because I am stuck on a 3 lane highway with no alternative route. Ok I'm done now. We can talk about desserts.
The reason I bring up back-to-school is because all this week I am featuring fun recipes to help ease the transition into the back to school routines. Desserts always help with persuasion right?
These Funfetti Monster Cookie Sandwiches are the most fun. I haven't done a monster cookie yet on my blog, but these are even better than a monster cookie. These oatmeal cookies are mixed with cake mix, sprinkles and cake batter flavored MnMs!
Since I like to go a little overboard with a lot of my desserts, I chose to make these into little cookie sandwiches and smothered them with vanilla frosting and more sprinkles. This is totally optional, but it's a good excuse for eating two cookies instead of one.
I love the idea of the funfetti monster cookies. Really, I could just eat the dough, but then you might be all, "eggs are unsafe" blah blah blah. Don't judge me. I did notice when I baked these how much better they baked on my Silpat instead of a parchment lined baking sheet. Look at the difference in the shape of the cookies. The one on my aluminum pan, lined with parchment paper were flat and runny. Now it does help a bit when you refrigerate the dough, but that is not a necessary step here. Bottom line, if you like baking cookies, these Silpats are well worth the small investment.
It's best to let the cookies cool completely before adding the frosting, or you might have quite the mess on your hands. Simply use a piping bag or ziplock bag and cut of the tip of the bag. Swirl the frosting on one side of the cookie. Place a second cookie on top and gently press down. Then you can roll the edges in more sprinkles. See it's tons of fun right? Yeah for sprinkles, MnMs and oatmeal cookies!
Keep up with all the happenings. Follow Beyond Frosting:
Facebook | Twitter | Pinterest | Instagram | 
 Don't forget to save your favorite recipes to your recipe box with the 

   button! You can create a meal plan and a shopping list all in the same place!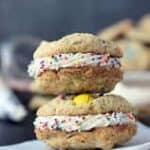 Cake Batter Monster Cookie Sandwiches
---
Prep Time:

15 minutes

Cook Time:

12 minutes

Total Time:

27 minutes

Yield:

16-18 sandwiches
Description
Creamy vanilla frosting sandwiched between two Cake Batter Monster Cookies. The cookies are filled with cake batter MnMs, sprinkles and cake mix.
---
Ingredients
1

C (2 sticks) Unsalted butter

1

C Sugar

3/4

C Brown sugar

2

Large Eggs

2 tsp

Vanilla extract

2 tsp

Butter extract

1 ½

C Flour

1

C Dry yellow cake mix

2

C Quick oats

1 tsp

Salt

1 tsp

Baking soda

1/2

C Mini chocolate chips

1

C Birthday Cake MnMs

3/4

C Sprinkles
For the frosting
1

C (2 sticks) Unsalted butter

4

C Powdered sugar

2 tsp

Vanilla extract

2 tbsp

Milk or heavy cream
Additional Sprinkles
---
Instructions
Preheat oven to 350° F.
Soften butter in the microwave 10-15 seconds. Combine butter with both light brown sugar and granulated sugar. Mix until smooth and mixture becomes fluffy.
Add egg and vanilla and butter extract and beat until egg is thoroughly incorporated.
In a separate bowl, combine flour, dry cake mix, oats, salt and baking soda. Slowly add flour mixture to dough batter while mixing at a low speed.
Once all the flour has been added, increase speed to medium until dough forms. Add sprinkles, MnMs and mini chocolate chips.
Spoon 2 tablespoons of dough onto a cookie sheet lined with a baking mat.
Bake for 12-14 minutes at 350°F. Remove from oven and allow to cool for several minutes before transferring to a wire rack to cool.
For the frosting
Allow butter to soften for about 30 minutes. Or soften in the microwave for 10-15 seconds.
Whip butter with a paddle attachment on medium speed until light and fluffy.
Slowly add powdered sugar 1 cup at a time. Frosting will become thick. After 2 cups of powdered sugar have been added, add 1 tablespoon of milk. Beat until smooth.
Add remaining powdered sugar, followed by remaining milk and vanilla extract. Whip until smooth.
To assemble the cookies, simply use a piping bag or Ziploc bag and cut of the tip of the bag. Swirl the frosting on one side of the cookie. Place a second cookie on top and gently press down. Then you can roll the edges in more sprinkles.
---
Recipe Card powered by
Recipes from my friends:
Funfetti Scones from Crazy for Crust
Funfetti Cake Batter Blondies from The Recipe Critic
Vanilla Funfetti Cake Roll from Shugary Sweets
Other recipes you might like: