This post may contain affiliate sales links. Please see my full disclosure policy for details
This Chocolate Banana Cream Pie Poke Cake is a moist banana cake filled with chocolate pudding and topped with sliced bananas and whipped cream. It is finished with crushed Nilla Wafers and drizzled with fudge.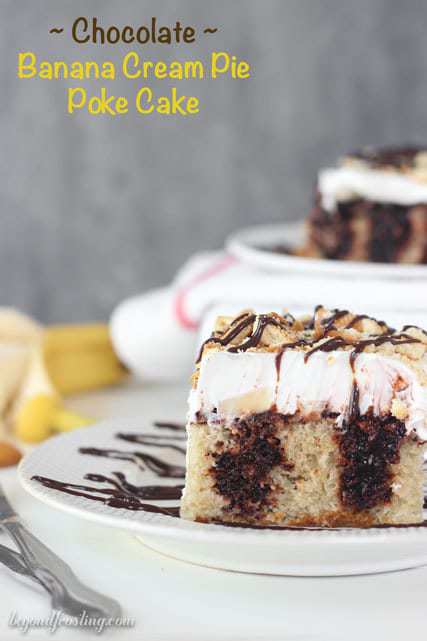 By now, I think you guys are familiar with my banana cream pie obsession? I know I have a lot of obsession over here, but just go with it, okay? I recently shared my Banana Cream Pie Popsicles, at which time I warned you that more banana cream recipes would be coming. When I was in NYC last week, I popped into Magnolia bakery and immediately saw the sign for banana pudding and I couldn't resist. It was jawdroppingly delicious, but more like a mousse than a pudding, which is also fine by me. Soooo, if you see a copycat recipe soon, you will know why.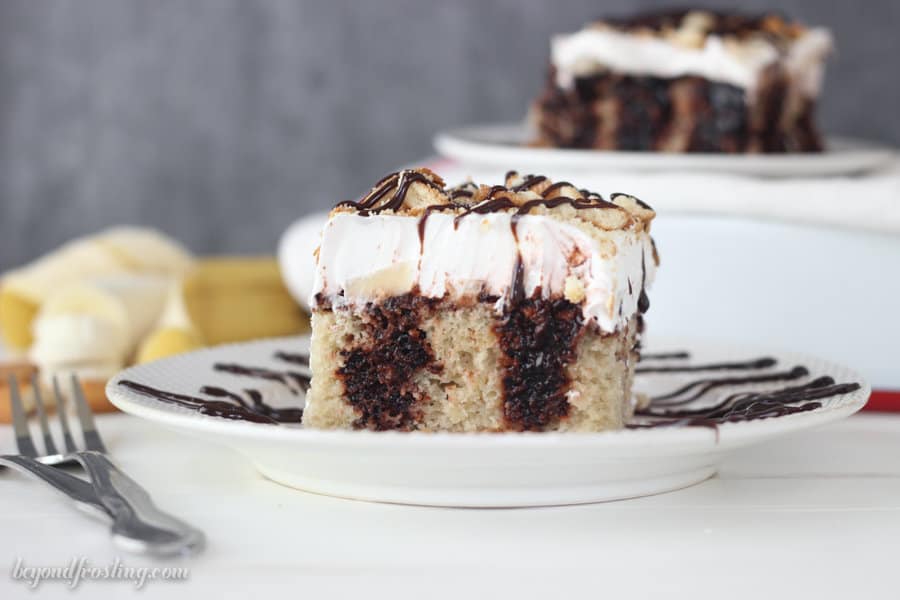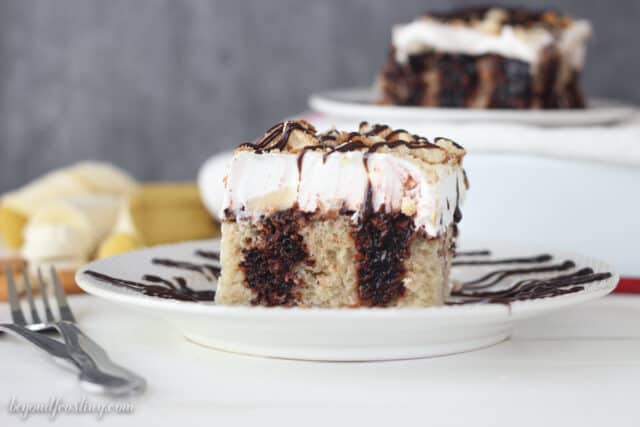 Anyway, back to this Chocolate Banana Cream Pie Poke Cake. I made this on a Thursday night, photographed it on Friday and immediately had to get rid of it in fear of eating the entire cake. You see those photos with the bite taken out of it? It was extremely difficult to not just keep going after the first bite. If you also see an empty plate in this photo, you can put two and two together.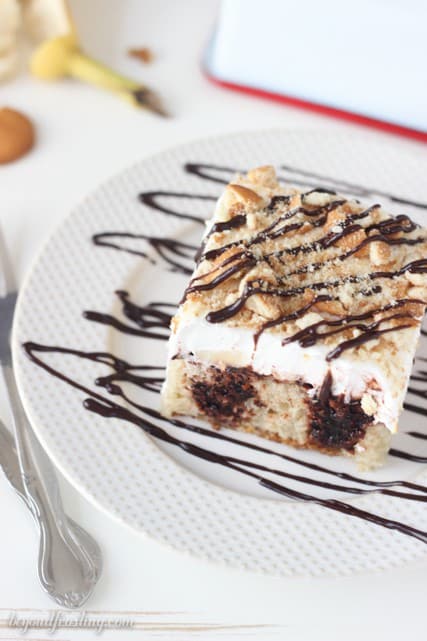 This is an easy banana cake soaked with dark chocolate pudding and topped with sliced bananas and a heavy dose of whipped cream. I have wanted to post a banana cream pie poke cake, but I know there are like a million recipes for it. The other day it suddenly dawned on me, that I could make a chocolate version of that cake and it would be equally as awesome.
I hope you aren't sick of poke cakes, because I just can't stop and I am not even sorry about it.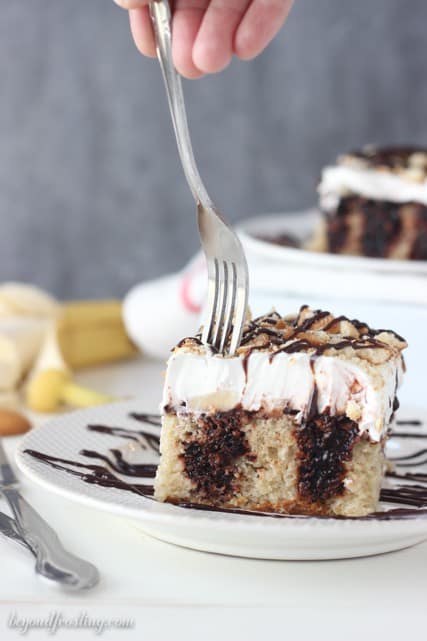 For the cake, all you need is a boxed cake mix and a few miscellaneous ingredients, including mashed bananas. I actually only slightly adapted this recipe from the book The Cake Mix Doctor. The original recipe called for water, I decided to use buttermilk instead, and I omitted the banana extract but used vanilla instead. Since this cake is a bit more dense than your traditional cake mix, it does not rise as high, which is totally fine for this cake.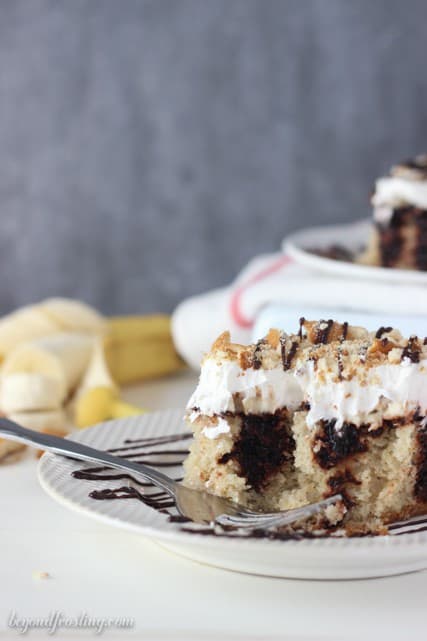 If you don't have buttermilk, which lets be real, who just has that laying around? You can try mixing 1 tablespoon of lemon juice into about 1 cup of milk. A long time ago, I discovered this post from Joy The Baker about buttermilk substitutes and I have been using it ever since. It is not AS good, but it works just fine!
I waited until the pudding was nice and firm before adding the sliced bananas and whipped cream. I sliced up 3 bananas, which was more than enough, but I don't think anyone would complain about more bananas. As always, if you don't want to make homemade whipped cream, you can use Cool Whip instead!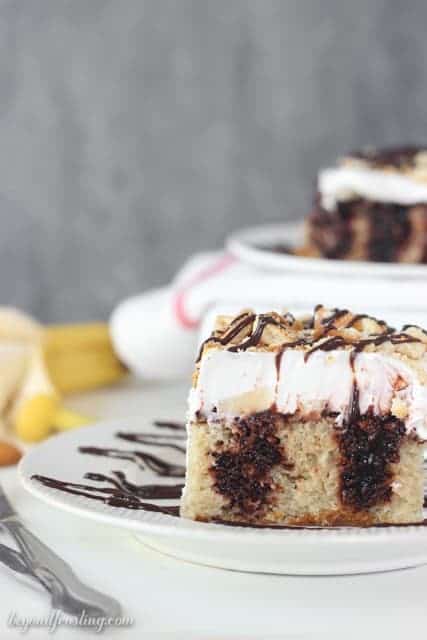 Keep up with all the happenings. Follow Beyond Frosting:
Facebook | Twitter | Pinterest | Instagram
Print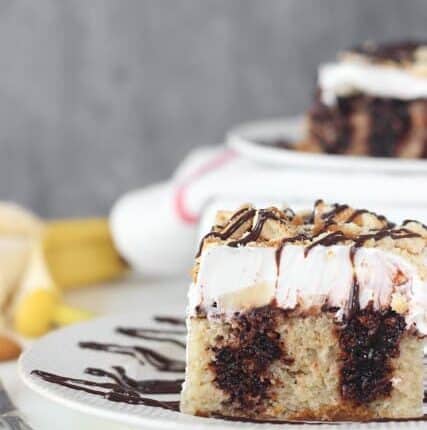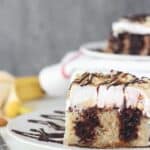 Chocolate Banana Cream Pie Poke Cake
Author:

Prep Time:

20 mins

Cook Time:

25 mins

Total Time:

45 minutes

Yield:

12-15 slices
Description
This Chocolate Banana Cream Pie Poke Cake is a moist banana cake filled with chocolate pudding and topped with sliced bananas and whipped cream. It is finished with crushed Nilla Wafers and drizzled with fudge.
Ingredients
1

box Vanilla cake mix (

15 oz

)

½

C Brown sugar

1

C Buttermilk (or milk)

½

C Vegetable oil

3

Large eggs

1 tbsp

Vanilla extract

1 tsp

Cinnamon

2

medium Bananas, smashed
For the topping

1

pkg Chocolate pudding (

3.4oz

)

1 ¾

C Milk

3

medium Bananas

1 ½

C Heavy whipping cream

1

C Powdered sugar

6

–

10

Nilla Wafers for topping
Chocolate hot fudge sauce for drizzle
Instructions
Preheat oven to 350°F.
Prepare cake by combining cake mix with brown sugar, buttermilk, vegetable oil, eggs, vanilla extract and cinnamon. Stir just until combine.
Smash bananas in a bowl and fold into cake mix. Pour cake mix into a 9-inch by 13-inch pan.
Bake cake for 24-28 minutes. Check for doneness by inserting a toothpick into the middle of the cake. If the toothpick comes out clean, your cake is done. Remove from oven and allow cooling for 10 minutes.
While the cake is still warm, take the end of a wooden spoon or another round object and poke holes all over the top of your cake. Allow to cool for another 20 minutes.
Prepare the pudding filling by combining chocolate pudding with milk and whisk until the pudding is dissolved. Pour pudding over top of cake, filling the holes. Refrigerate at least 10 minutes until the pudding is firm.
Once pudding has firmed and cake is cooled, slice bananas and place evenly over top of pudding.
Put your mixing bowl and wire whisk in the freezer to help it get very cold. This is optional, but something I usually do.
Beat heavy whipping cream on medium-high speed. Slowly added powdered sugar, increasing speed to high and beat until still peaks form.
Sprinkle with crushed Nilla Wafers or graham crackers and drizzle with hot fudge sauce if desired.
Notes
*Cool Whip can be substituted instead of whipped cream. Cake recipe slightly adapted from The Cake Mix Doctor.
Visit Beyond Frosting's profile on Pinterest.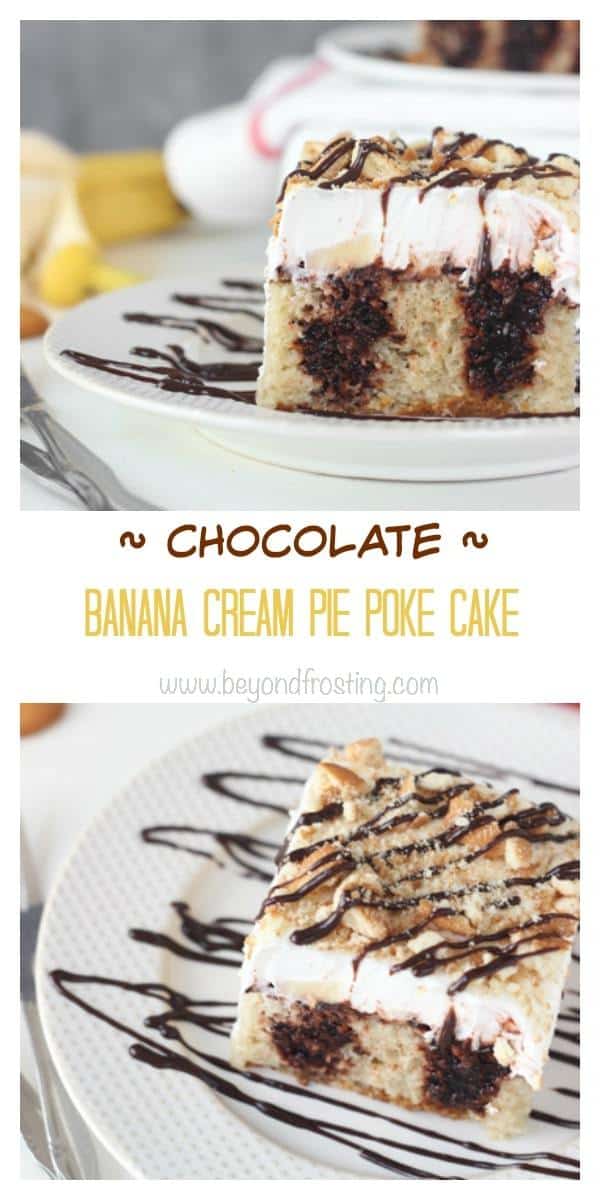 Other recipes you might like from Beyond Frosting:
Chocolate Banana Cream Pie Popsicles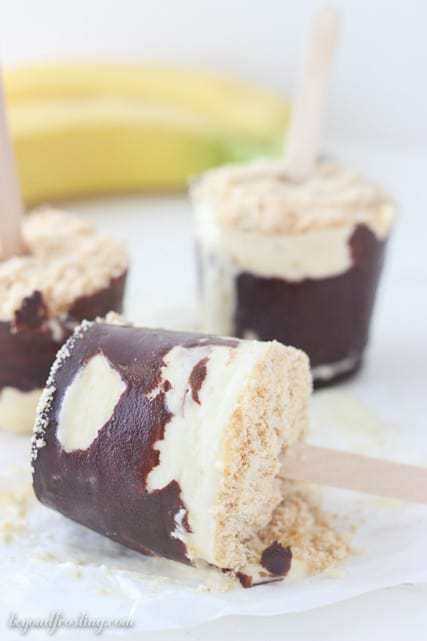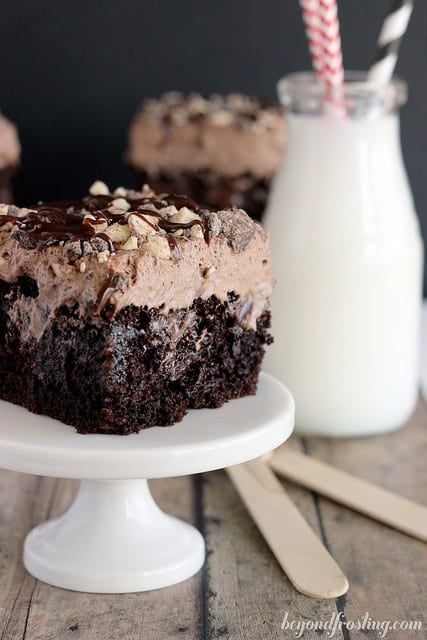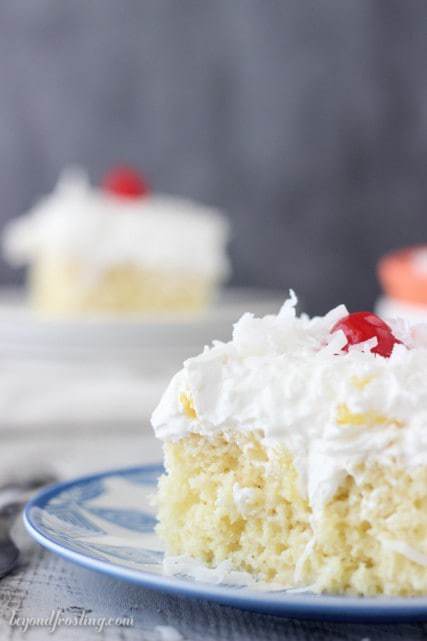 Peanut Butter Chocolate Poke Cake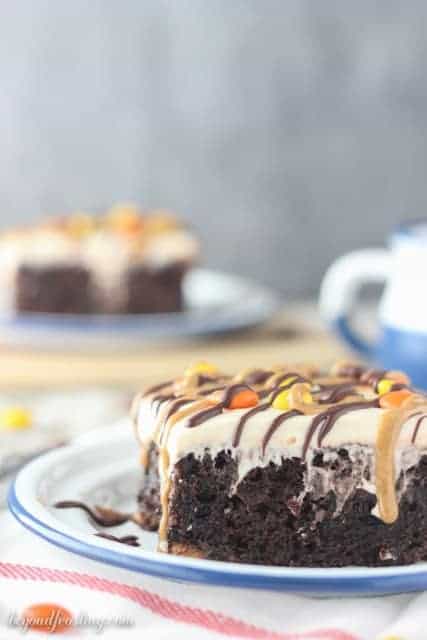 Banana Split S'mores Ice Cream Cake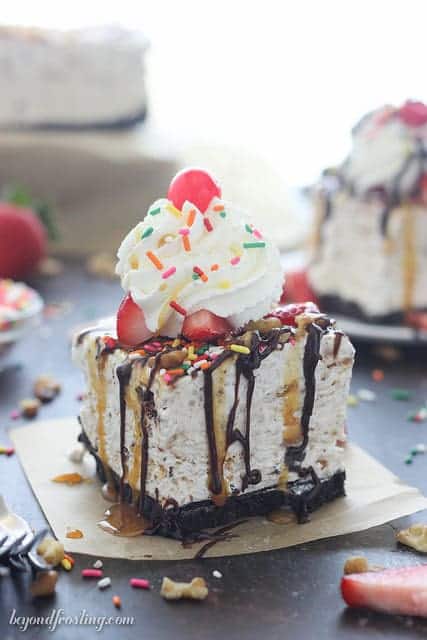 Other recipes I love:
Banana Pudding Icebox Cake from Life Love and Sugar
Banana Eclair Cake from Shugary Sweets
Banana Pudding Budnt Cake from Confessions of a Cookbook Queen