This post may contain affiliate sales links. Please see my full disclosure policy for details
This rich chocolate poke cake is loaded with Reese's, smothered in chocolate pudding and topped with peanut butter whipped cream and drizzled with peanut butter and chocolate. This cake is for serious peanut butter lovers!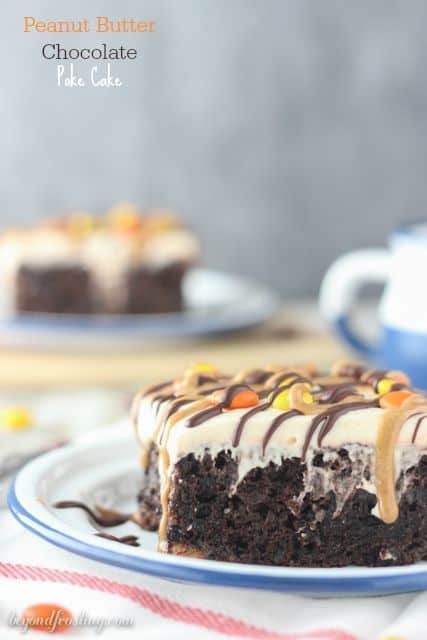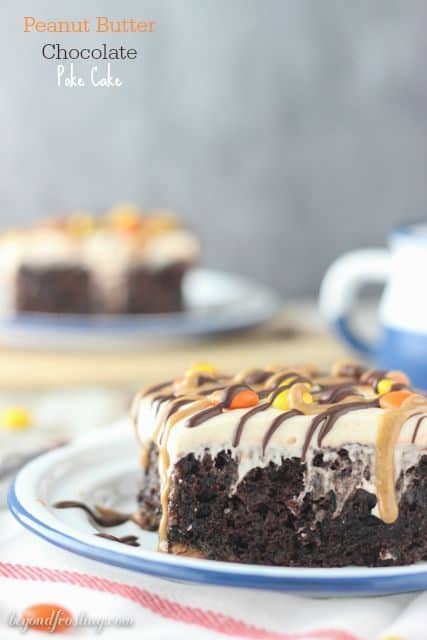 It is a good thing my dad is in town to help me taste test this recipe. I know it was a good one because he talked about it all weekend, "oh man, that cake was good". My dad is my dessert-loving family member. He always has ice cream in the freezer, loves to carry cookies or something to snack on when he is traveling and is known to make a pretty solid batch of brownies.
While he was here over the weekend, I did a lot of baking, and he did a lot of dishes. I think it is payback for all the dishes we had to do growing up. The man still does not own a dishwasher! So instead of loading my dishwasher, he washed a lot by hand. I kept reminding him that those could do in the dishwasher, and he just kept washing away. Every time I passed him a new bowl and spatula, he would always ask me if it was okay to lick the spoon. Yep! That's my dad.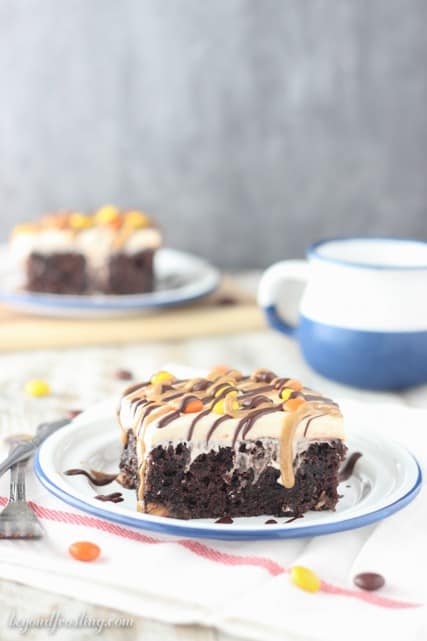 I passed him a slice of this Peanut Butter Chocolate Poke Cake and I am pretty sure he has never had anything like it. He told me he needed a second slice, just to be sure it was good. This is a rich chocolate poke cake baked with Reese's Pieces and then smothered in chocolate pudding. The topping is a new favorite of mine, it is a peanut butter whipped cream and it is unreal you guys! Then, if that wasn't enough, it is drizzled with more peanut butter, hot fudge and sprinkled with additional Reese's Pieces.
I was inspired to make this cake because you all love my Ultimate Peanut Butter Cup Cheesecake so much, I thought you might need some more peanut butter desserts. Am I right? That cheesecake is a bit indulgent, and it's hard to eat more than a small slice in one sitting. I am fairly certain this poke cake is a bit more balanced out with the chocolate.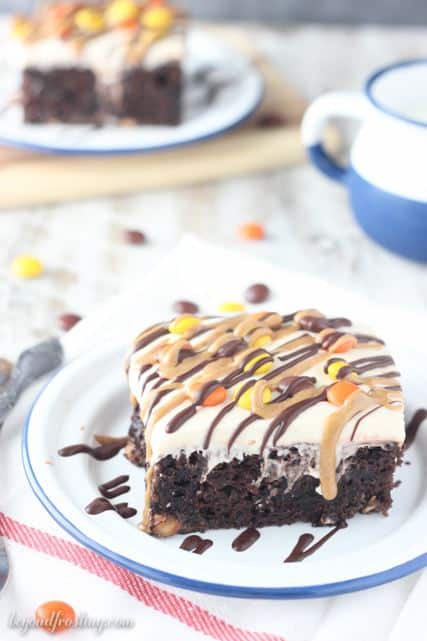 I waited until the last minute to drop the Reese's Pieces into the cake, because I didn't want them to all sink to the bottom. I poured the batter into the pan and then sprinkled with Reese's Pieces on top, then swirl them around a bit. They added a nice little surprise inside, that's for sure!
What Really motivated me to try the peanut butter whipped cream was a post from my friend Dorothy over at Crazy For Crust (she is also a huge peanut butter fan!). She did a post about the Perfect Whipped Cream with several variations, one of them being peanut butter. I knew I had to try it!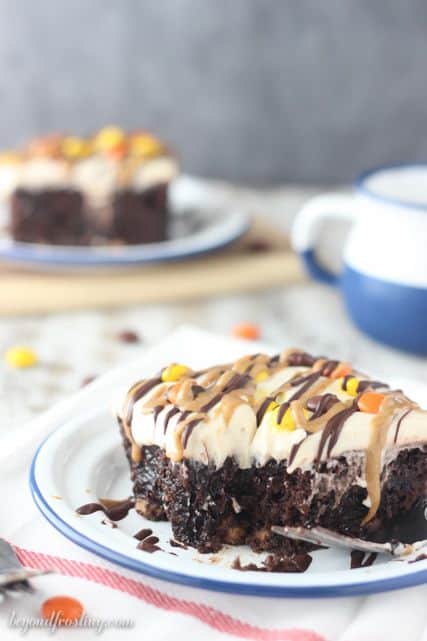 It took me a couple tries to get the ratio of peanut butter nailed down. The first two times, I had too much peanut butter and it didn't quite whip up. The third time, it was perfect. I started with 2 tablespoons of peanut butter and mixed in some heavy whipping cream to get a liquid consistency, and then added all the remaining whipping cream with powdered sugar and continued to beat until it formed a whipped cream with soft peaks. This is definitely a situation where you wanna lick the beater!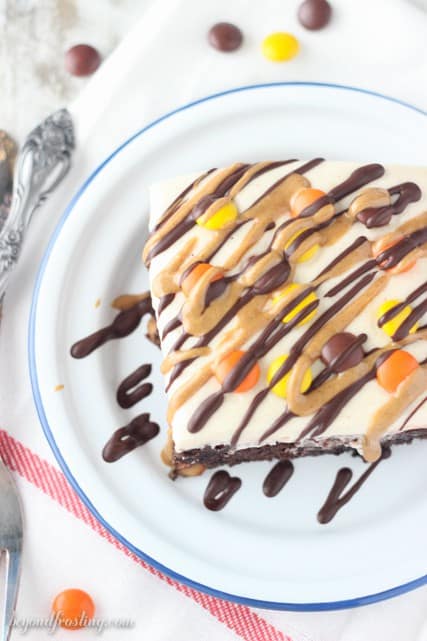 This cake is really all about the toppings. The peanut butter whipped cream is covered with Reese's Pieces, but you could certainly use Reese's Peanut Butter Cups as well. True peanut butter lovers will want to drizzle this cake with additional peanut butter. To do that, you simply need to microwave a spoonful of peanut butter to help it get softened to a pourable consistency, and just drizzle it over your cake. I also added some hot fudge sauce for the drizzle effect. If you don't know what the drizzle effect is, I do not suggest you Goggle it as it will not return really any useful information. It's kind of a made-up effect.
When it's not so dang hot, you will need to make this Peanut Butter Chocolate Poke Cake. It is life-changing.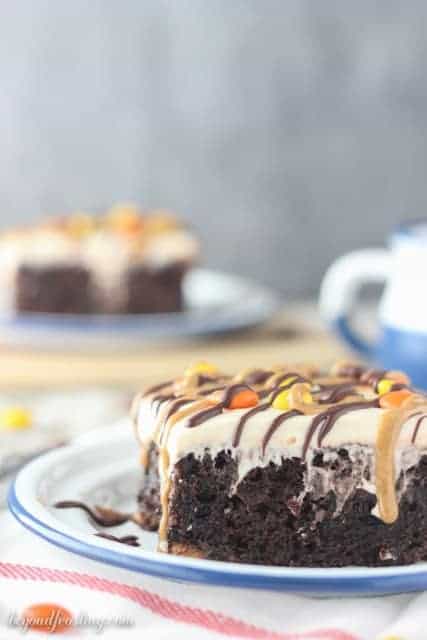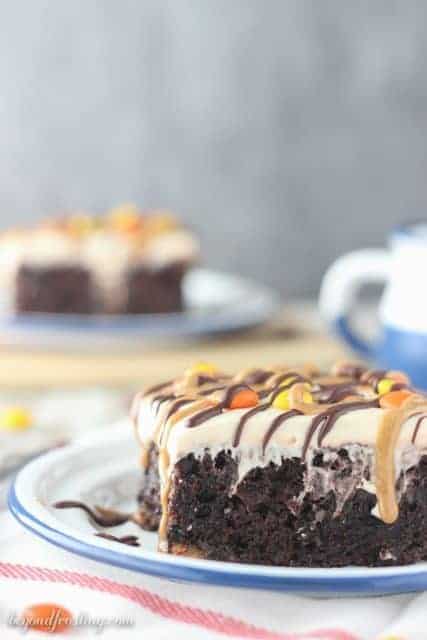 Keep up with all the happenings. Follow Beyond Frosting:
Facebook | Twitter | Pinterest | Instagram
Print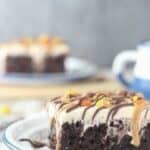 Peanut Butter Chocolate Poke Cake
Author:

Prep Time:

15 mins

Cook Time:

20 mins

Total Time:

35 minutes

Yield:

12-15 slices
Description
This rich chocolate poke cake is loaded with Reese's, smothered in chocolate pudding and topped with peanut butter whipped cream and drizzled with peanut butter and chocolate. This cake is for serious peanut butter lovers!
Ingredients
1

box Chocolate cake mix
Ingredients on the box (water, oil, eggs, etc)

½

C Reese's Pieces

1

pkg Chocolate pudding (

3.4 oz

)

1 ½

C Milk
For the whipped cream

2 tbsp

Peanut butter, smooth

1

C +

2 tbsp

Heavy whipped cream

1

C Powdered sugar
For the topping

3/4

C Reese's Pieces
Hot Fudge Sauce to drizzle

3 tbsp

Peanut butter, smooth
Instructions
Preheat oven to 350°F.
Prepare cake according to the instructions and ingredients listed on the box. Beat on medium speed until well combined. Pour batter into a 9 inch by 13 inch pan and sprinkle with Reese's Pieces. Swirl into batter with a knife.
Bake cake for 20-22 minutes. Check for doneness by inserting a toothpick into the middle of the cake. If the toothpick comes out clean, your cake is done. Remove from oven and allow to cool for 10 minutes.
While the cake is still warm, take the end of a wooden spoon or another round object and poke holes all over the top of your cake. Allow to cool for another 20 minutes.
Prepare the pudding filling by combining chocolate pudding with milk and whisk until the pudding is dissolved. Pour pudding over top of cake, filling the holes. Refrigerate at least 10 minutes until the pudding is firm.
Put your mixing bowl and wire whisk in the freezer to help it get very cold. This is optional, but something I usually do.
Combine peanut butter and 2 tablespoons of heavy cream and beat on medium speed until peanut butter is a liquid consistency and free of lumps. Scrape down the sides of the bowl.
Add remaining heavy whipping cream and beat on medium-high speed. Slowly added powdered sugar and beat until still peaks form. Spread over cooled cake.
Right before serving, sprinkle on remaining Reese'e Pieces. Microwave hot fudge sauce until warm and drizzle over top of cake.
To make the peanut butter drizzle, microwave 2-3 tablespoon of peanut butter for 30 seconds or until it reaches a pourable consistency. Drizzle over top of cake.
This cake must be refrigerated.
Notes
I always add the Reese's Pieces on top last because as they come back to room temperature, the coating will start to melt a bit.
Visit Beyond Frosting's profile on Pinterest.
Other recipes you might like from Beyond Frosting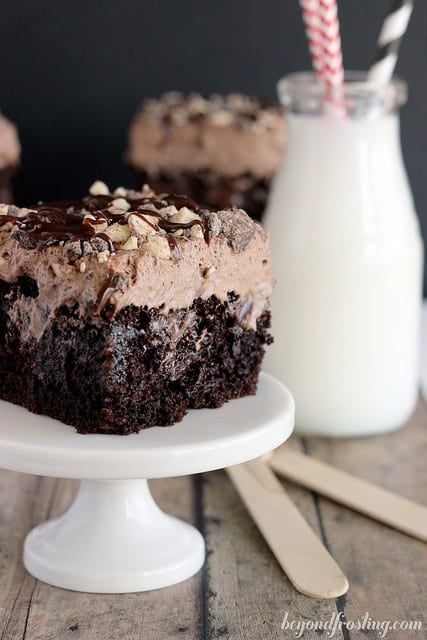 Ultimate Reese's Peanut Butter No-Bake Cheesecake