This post may contain affiliate sales links. Please see my full disclosure policy for details
These are the ultimate thick and chewy, bakery-style chocolate cookies filled with gooey chocolate chips and topped with flaky sea salt. Make giant fudgy chocolate cookies from scratch in an hour or less!
If you love my giant chocolate chip cookies recipe, prepare to wolf down this quick and easy double chocolate version!
These are giant soft-baked chocolate cookies loaded with gooey chocolate chips and sprinkled with flakey sea salt. They're ultra-moist and super fudgy, enough to satisfy even the fiercest chocolate cravings!
Break this cookie in half while it's still slightly warm, and you're greeted by a dense, brownie-like interior studded with decadent pockets of melted chocolate.
Each bite is an irresistible combination of chocolatey flavor amped up by crunchy bursts of mild sea salt, just like the gourmet double chocolate cookies you'll find in your local bakery. This recipe is seriously next-level!
Giant, thick, and chewy. With this recipe, I've super-sized my double chocolate chip cookies and made them even softer and chewier with additional egg yolks and brown sugar.
Fudgy flavor. These chocolate cookies are crisp at the edges with ooey-gooey, soft-baked centers. Every bite is bursting with melted chocolate chips and tons of fudgy flavor, enhanced by flaked sea salt.
Quick to make. There's no need to chill the dough for this recipe. Enjoy chewy chocolate cookies warm from the oven in under an hour.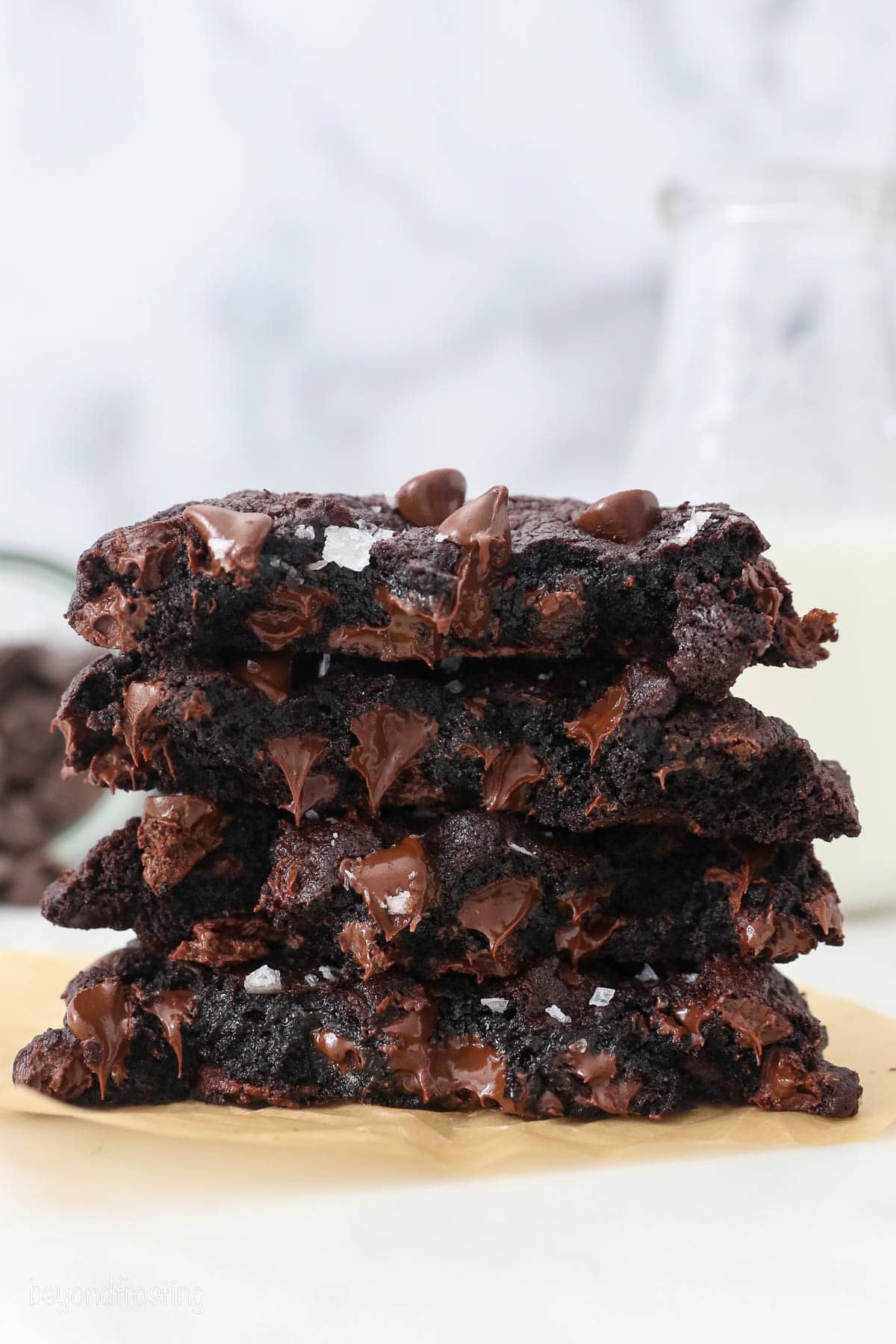 Key Ingredients
I've included notes on the key ingredients you'll need to make these chocolate cookies below. Don't forget to scroll to the recipe card below the post for the full recipe amounts and details.
Butter – Salted or unsalted, and softened before you start. If you're using salted butter, I recommend reducing the added salt to 1/2 teaspoon so that your cookies don't come out too salty (especially since we'll be sprinkling them with sea salt, too!).
Sugar – This chewy cookie recipe uses mostly brown sugar for moisture, along with white sugar.
Eggs– Two whole eggs and the addition of two egg yolks add richness and extra chewiness to these cookies.
Cocoa Powder – Hershey's Special Dark cocoa powder is my preferred cocoa powder for this recipe. It gives these cookies a darker, fudgier flavor and produces very consistent results. See below.
Chocolate Chips – Any type of chocolate will work here. I usually use semi-sweet chocolate chips, but dark chocolate, milk chocolate, or even white chocolate chips are also fine.
Flaked Sea Salt – A sprinkle of crunchy flaked sea salt, like Maldon Salt, does something seriously magical to these fudgy chocolate cookies. However, it won't work with regular table salt or coarse salt.
What's the Best Cocoa Powder for Cookies?
The best cocoa powder for cookies is unsweetened cocoa powder. I tested my chocolate cookies with Dutch-processed and natural unsweetened cocoa powder and both types worked fine.
I recommend Hershey's Special Dark for the best color and fudgiest flavor, but you can use whatever you have on hand. For more details on the different kinds of cocoa powder, see my post on natural vs. Dutch-processed cocoa powder.
I'm always trying to recreate the big, thick, chewy cookies I've seen in bakery windows. Before we dive into how to make the best jumbo chocolate cookies EVER, let's go over what sets these cookies apart:
More brown sugar. I've upped the amount of brown sugar in this recipe. It deepens the flavor and the extra moisture yields a much chewier cookie.
Extra egg yolk. The addition of egg yolks adds fat, which helps maintain moisture and adds to the richness and chewiness of these cookies.
Two scoops of cookie dough. Two big scoops of cookie dough stacked on top of one another is key. Double layers of dough mean that the cookies can spread as they bake while still producing an extra-thick cookie with a rich, fudgy center.
When I say that these cookies are giant, I mean giant. They're the size of my hand, and I'm not mad about it. This recipe is specifically designed to be this way, so baking these cookies with only one scoop of dough will not produce the same results as I described above. Double or nothing!
Chocolate lovers, start your engines. Now that you have your ingredients assembled, these wildly fudgy chocolate cookies are easy to make in just a few steps:
Combine the wet ingredients. Cream together your softened butter with both sugars, then incorporate the eggs, egg yolks, and vanilla.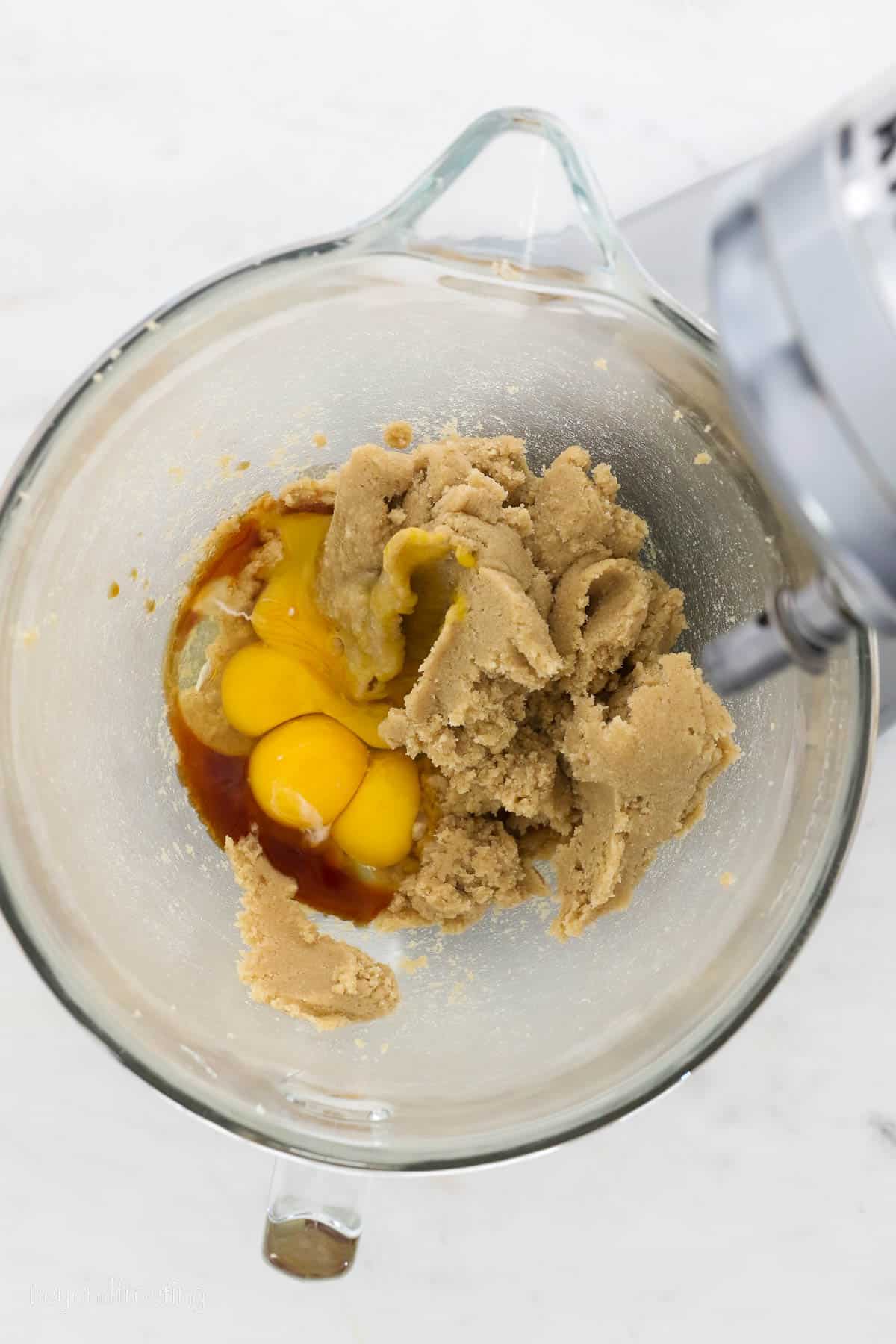 Add the dry ingredients. I recommend whisking in the cocoa powder first, separate from the other dry ingredients. This ensures that the cocoa is well incorporated without overmixing. Next, whisk the flour, baking soda, and salt together in a bowl, and add them to the wet ingredients.
Add the chocolate chips. The dough will thicken to a fudgy consistency. As the dough comes together, beat in the chocolate chips.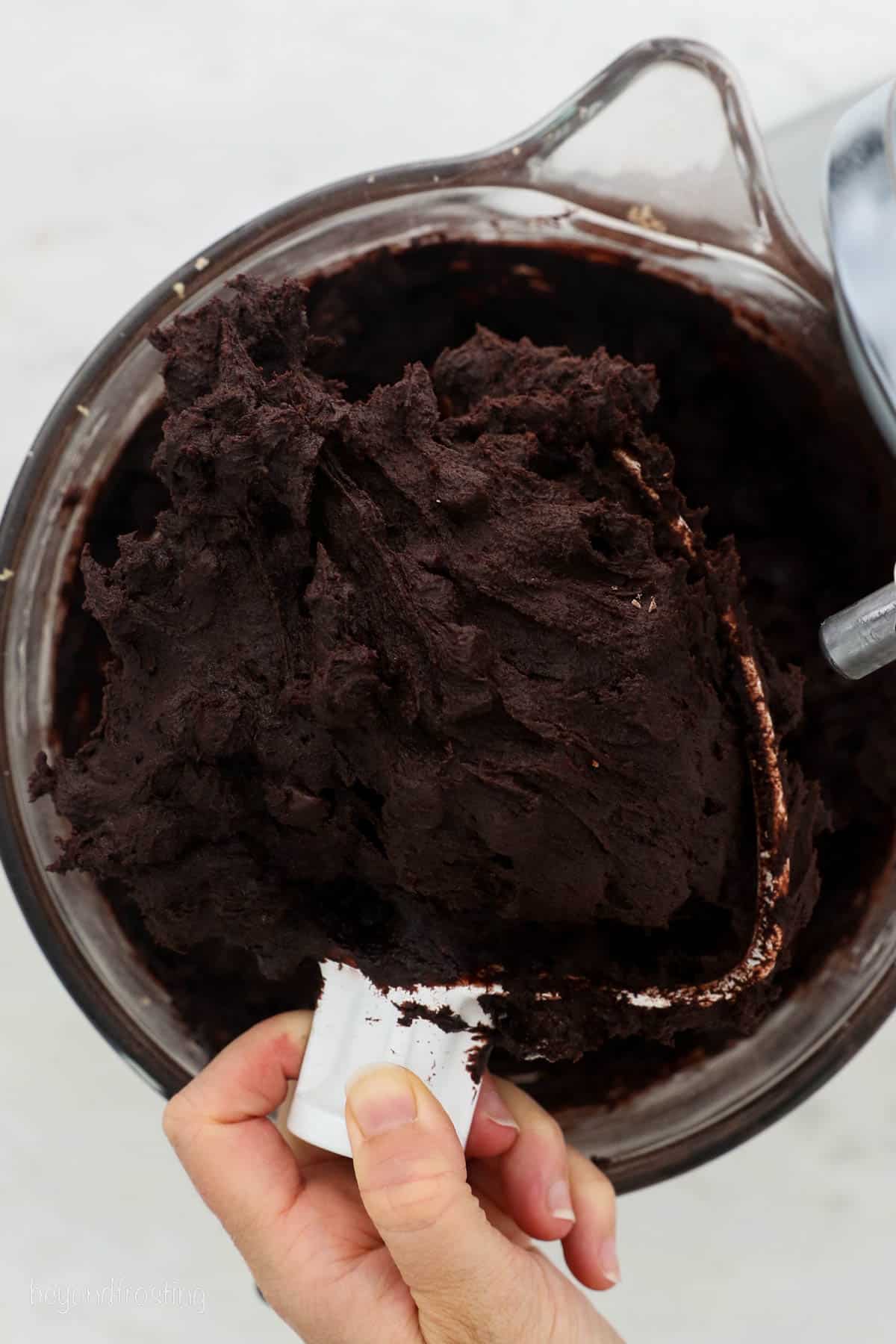 Scoop the dough. Using a large cookie scoop, place two scoops of dough onto a lined baking sheet, one on top of the other. Repeat with the remaining cookie dough, leaving about two inches between each stack of dough. Last but not least, sprinkle the tops of your cookies with flaky sea salt.
Bake. Bake your chocolate cookies at 350ºF for about 15 minutes. You want to pull these cookies out while they're still slightly underbaked in the middle. Afterward, leave the cookies to cool on the baking sheet for a few minutes before moving them to a wire rack.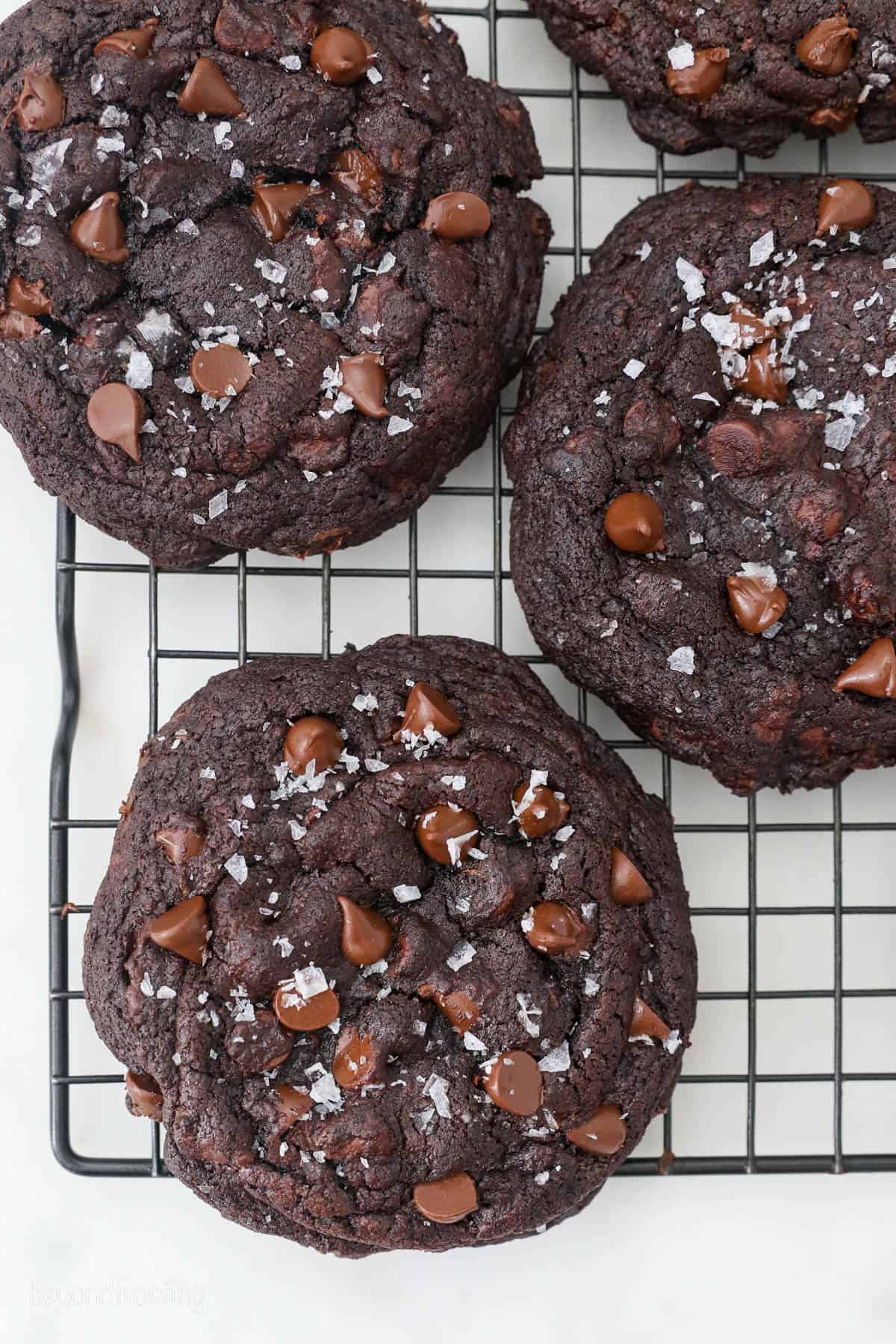 You don't need to be a professional baker to make amazing cookies, but a few key things make all the difference for bakery-style homemade cookies. Here are some final tips that I picked up while recipe testing:
Stack the cookie dough. This is the secret to big, thick, bakery-style chocolate cookies (see the section above for details). A single scoop just doesn't do this recipe justice!
Use a large cookie scoop when scooping the dough. This cookie dough is a bit sticky, and using a scoop helps minimize the mess and maintain the right size. There are 3 tablespoons of dough in a large cookie scoop, so each cookie is approximately 6 tablespoons of dough or 1/3 cup.
Line the cookie sheet. I highly recommend baking your chocolate cookies on parchment paper or a silicone baking mat. Lining the pan prevents over-spreading and also keeps the bottom of the cookies from burning.
Don't overbake. This is another "secret" to perfectly soft and chewy cookies. Take your cookies out of the oven when they're still underbaked in the center (but not shiny or gooey).
Fix cookies that have spread while baking. Right when the cookies come out of the oven, use a knife or spatula to gently press the edges of the cookie back toward the center.
Make picture-perfect cookies. To get that Pinterest-ready look, press additional chocolate chips into the tops of your freshly baked cookies. Don't forget the sea salt!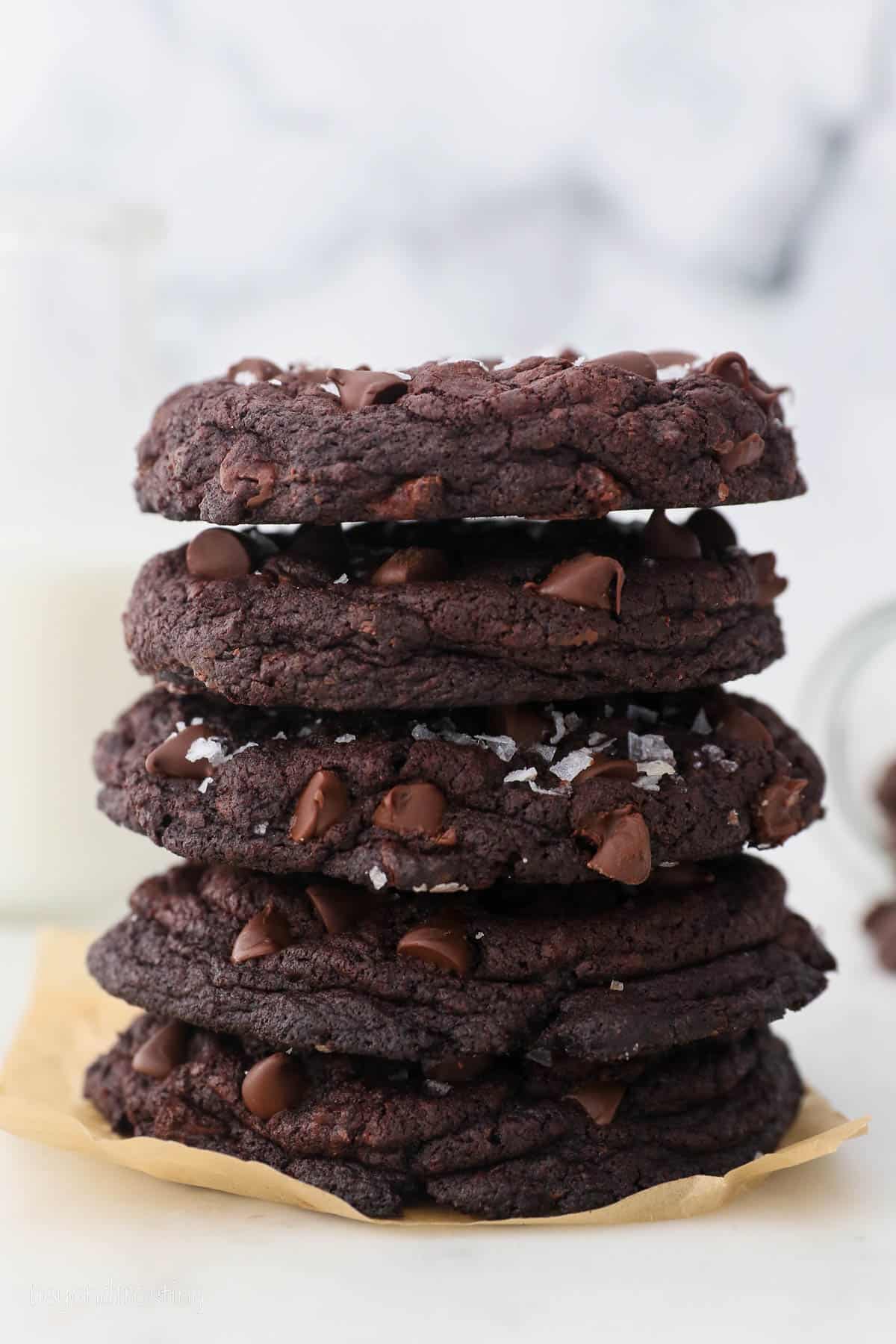 Variation Ideas
These cookies are pretty spectacular as they are, but you can always make them to your liking with different add-ins and flavors. Here are some ideas:
Add frosting. Take your double-chocolate cookies over the top and top them with chocolate fudge frosting. Tangy chocolate cream cheese frosting or peanut butter frosting would also be delicious.
Holiday cookies. For a festive holiday cookie twist, make these chocolate cookies with white chocolate chips and peppermint crunch (like a jumbo-sized variation of double chocolate peppermint cookies!).
Add nuts. Mix in chopped hazelnuts, pecans, walnuts, or peanuts to bring a tasty crunch to these fudgy chocolate cookies.
Flavor extracts. In place of or in addition to vanilla extract, add peppermint, orange, or coffee extract for a different flavor profile.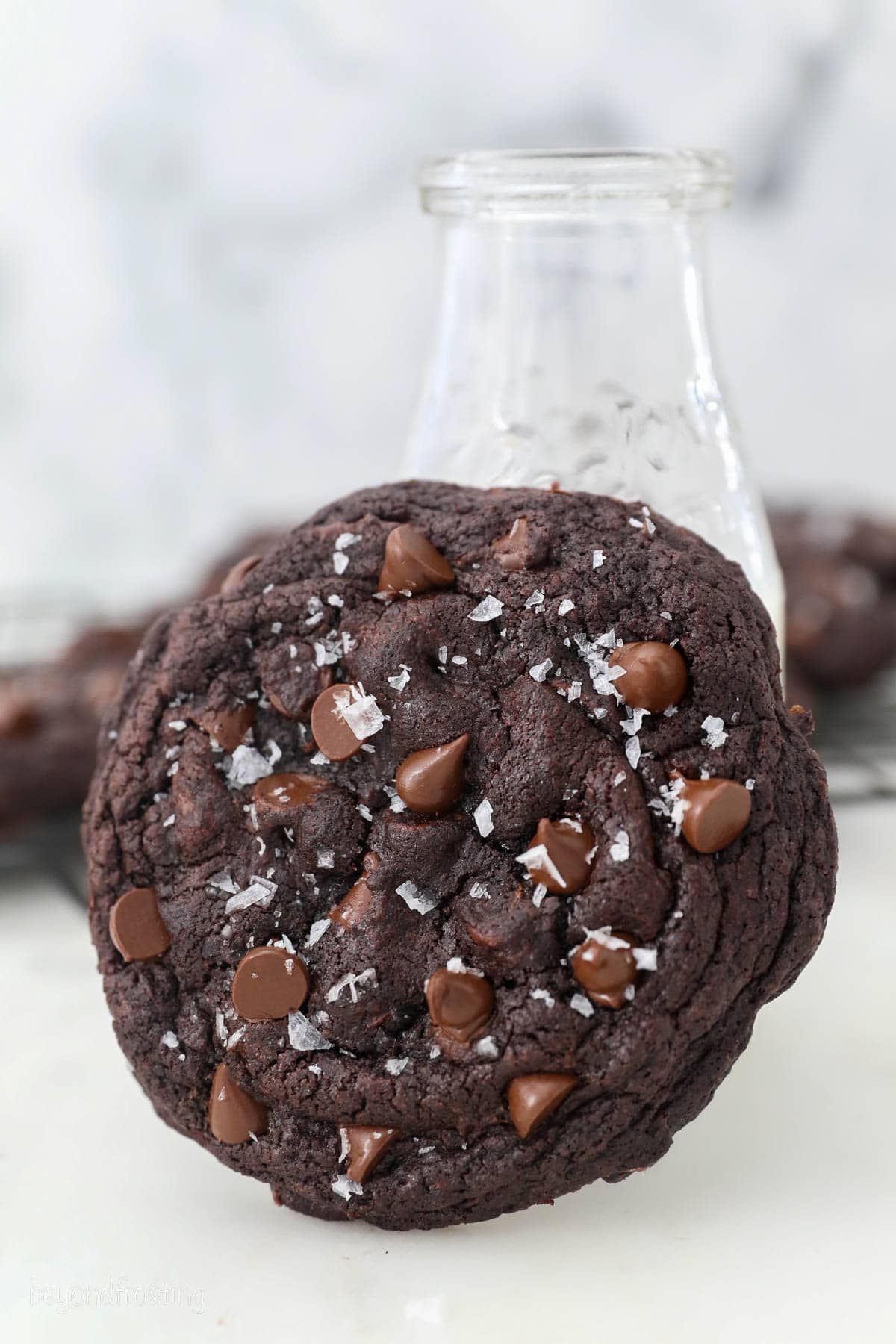 How to Store and Freeze
To Store. Allow the cookies to cool completely and then store them airtight. They'll keep at room temperature for a few days.
Freezer. Freeze the baked cookies in an airtight container or freezer bag for up to 2-3 months. Defrost the frozen chocolate cookies in the microwave for 15-20 seconds, or leave them to thaw at room temperature before serving.
Make-ahead. If you'd like to pre-freeze the chocolate cookie dough, I recommend freezing single scoops of dough. Thaw the dough to room temperature before stacking the dough scoops and baking as directed.
Print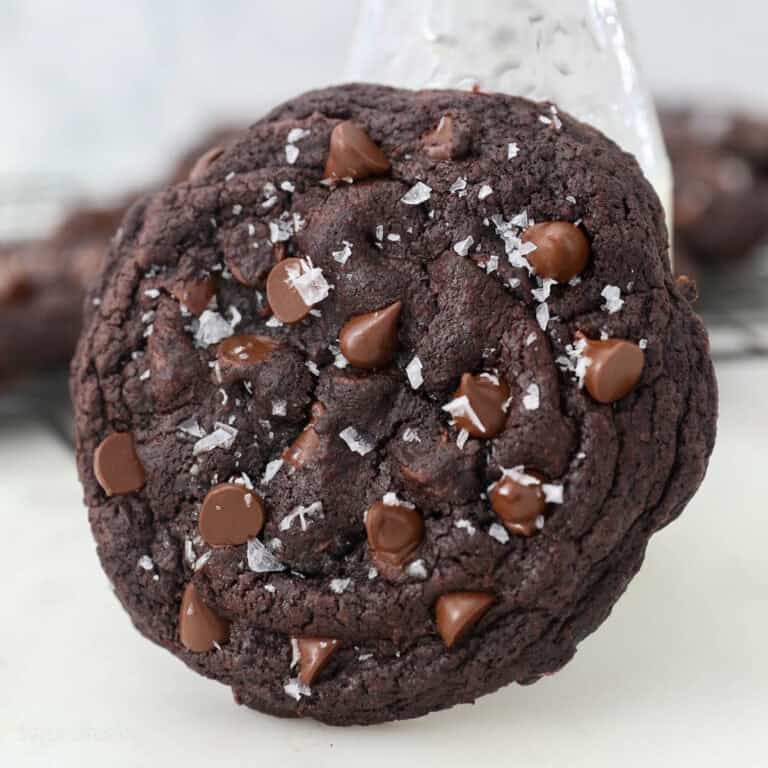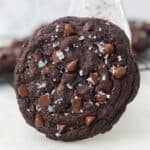 Author:

Prep Time:

30 minutes

Cook Time:

15 minutes

Total Time:

45 minutes

Yield:

10 cookies
Description
Make the best fudgy chocolate cookies! These giant, bakery-style cookies are extra thick, chewy, and filled with gooey chocolate chips, topped with a sprinkle of flaky sea salt.
Ingredients
1 cup

(226g) unsalted butter, softened

1 ½ cups

(330g) packed light brown sugar

½ cup

(95g) granulated sugar

2

large egg

2

large egg yolk

1

tablespoon (15ml) pure vanilla extract

1 ½ cups

(210

g

) all-purpose flour

1 cup

(110

g

) Hershey's Special Dark Cocoa powder

1 teaspoon

(5g) salt

1 teaspoon

(4g) baking soda

1 ½ cups

(270g) semi-sweet chocolate chips
Instructions
Preheat the oven to 350° F. Allow the butter to soften for 20 minutes. Combine the butter with the brown and granulated sugar. Beat on medium speed until well combined, 2-3 minutes.
Next add the eggs, egg yolks and vanilla extract and continue beating until well incorporated.
Add the cocoa powder and beat until well combined.
In a separate bowl, combine the remaining dry ingredients: flour, salt and baking soda. Stir to combine and slowly add the dry ingredients into the dough, mixing on low speed until dough starts to form. As the dough thickens, add the chocolate chips. Beat until incorporated.
Line a baking sheet with parchment paper or use a silicone baking sheet. Using a large cookie scoop, place two scoops of the dough, one stacked on top of the other, and place on baking sheet, 2 inches apart. Sprinkle with flaky sea salt.
Bake for 15-16 minutes. The center of the cookies should be slightly under baked but not too gooey. Allow to cool on the baking sheet for 10 minutes before transferring to a wire rack to cool.
Notes
Cocoa powder: My preferred cocoa powder is Hershey's special dark. A Dutch-processed cocoa powder is my next favorite option, but natural unsweetened cocoa powder will also work.
Butter: I've made this recipe with both salted and unsalted butter. Either will work. If using salted butter, reduce the added salt to 1/2 teaspoon.
This cookie recipe is designed to be large and thick, so don't skip the step of stacking the cookie dough. A single scoop of dough will not yield the same results.
Right when you pull these from the oven, place a few chocolate chips on top of the cookie for extra chocolate
Storing and freezing the cookies: These are best stored in an airtight container once completely cooled. You can also freeze these baked cookies in an airtight container. Microwave the frozen cookies for approximately 15-20 seconds to thaw or allow them to sit at room temperature.
Make-ahead: If you would like to pre-freeze the dough, I would recommend freezing single scoops of dough, thawing to room temperature, and then proceeding to stack the dough prior to baking.
Category:

Cookies

Method:

Baked

Cuisine:

American
Keywords: chocolate cookies, chocolate cookie recipe, double chocolate cookies