This post may contain affiliate sales links. Please see my full disclosure policy for details
These are the best chocolate cutout sugar cookies, and they're so easy to make! My recipe for chocolate sugar cookies makes the perfect cutout cookies for every occasion. Just add frosting!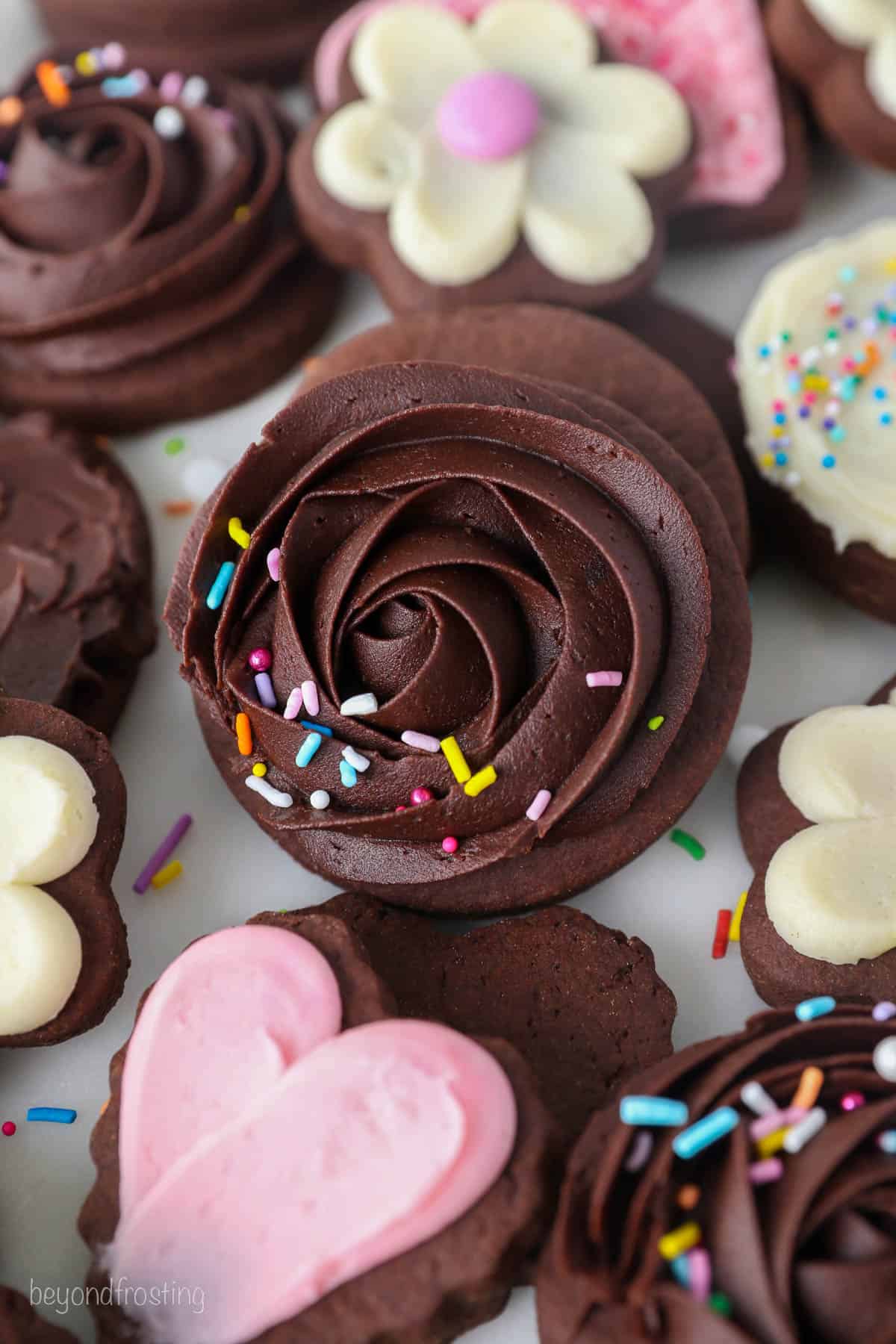 These soft chocolate sugar cookies are based on my all-time favorite cut out sugar cookies recipe. Cutout cookies are always associated with Christmas, but there's no need to wait until the holidays to enjoy these.
The cookie itself is not overly sweet or fudgy, but it's nice and soft. Once it's paired with chocolate frosting, the flavors absolutely SHINE! Decorate your chocolate sugar cookies for Valentine's Day, Halloween, or frost a batch just because. They're so easy to make, you don't have to ask me twice.
Quick to prep. The dough comes together in minutes, and the chilling time is quick. Your cookies are ready for the oven within the hour!
Rich chocolate flavor. Natural unsweetened cocoa powder does the trick for perfect chocolate sugar cookies. They're not too sweet, not too dry, and all-around delicious.
Holds a shape. You don't have to worry about these spreading!
Perfect for frosting. I love doubling up on chocolate with chocolate frosting piped or spread over chocolate cookies. But you can decorate these cookies however you'd like! See further in the post for more ideas.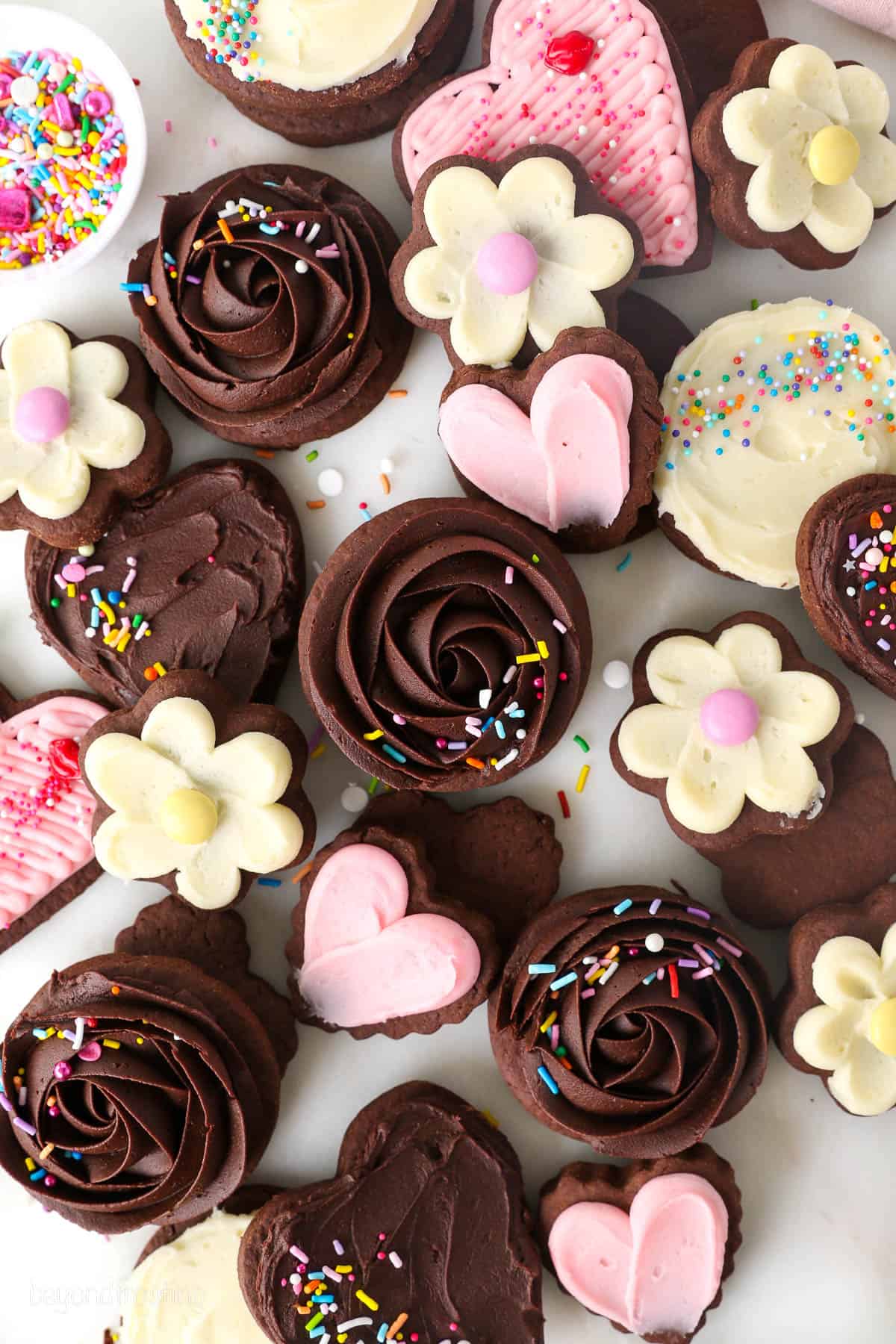 Key Ingredients
Aside from your typical cookie-baking ingredients (flour, sugar, egg, etc.), there are a few ingredients that play a key role in the outcome of these cookies. I include notes on these below. Make sure that you scroll to the recipe card for the full recipe details.
Butter – I recommend unsalted. If you use salted butter, consider leaving out any added salt that comes later on in the recipe.
Baking Soda and Milk – Dissolving baking soda in milk before adding it to the other ingredients helps to kickstart the leavening process. This gives sugar cookies a soft texture.
Cocoa Powder – Don't forget to sift your cocoa powder and flour beforehand! Different cocoa powders will have a different effect on the outcome of your chocolate sugar cookies, see below for details.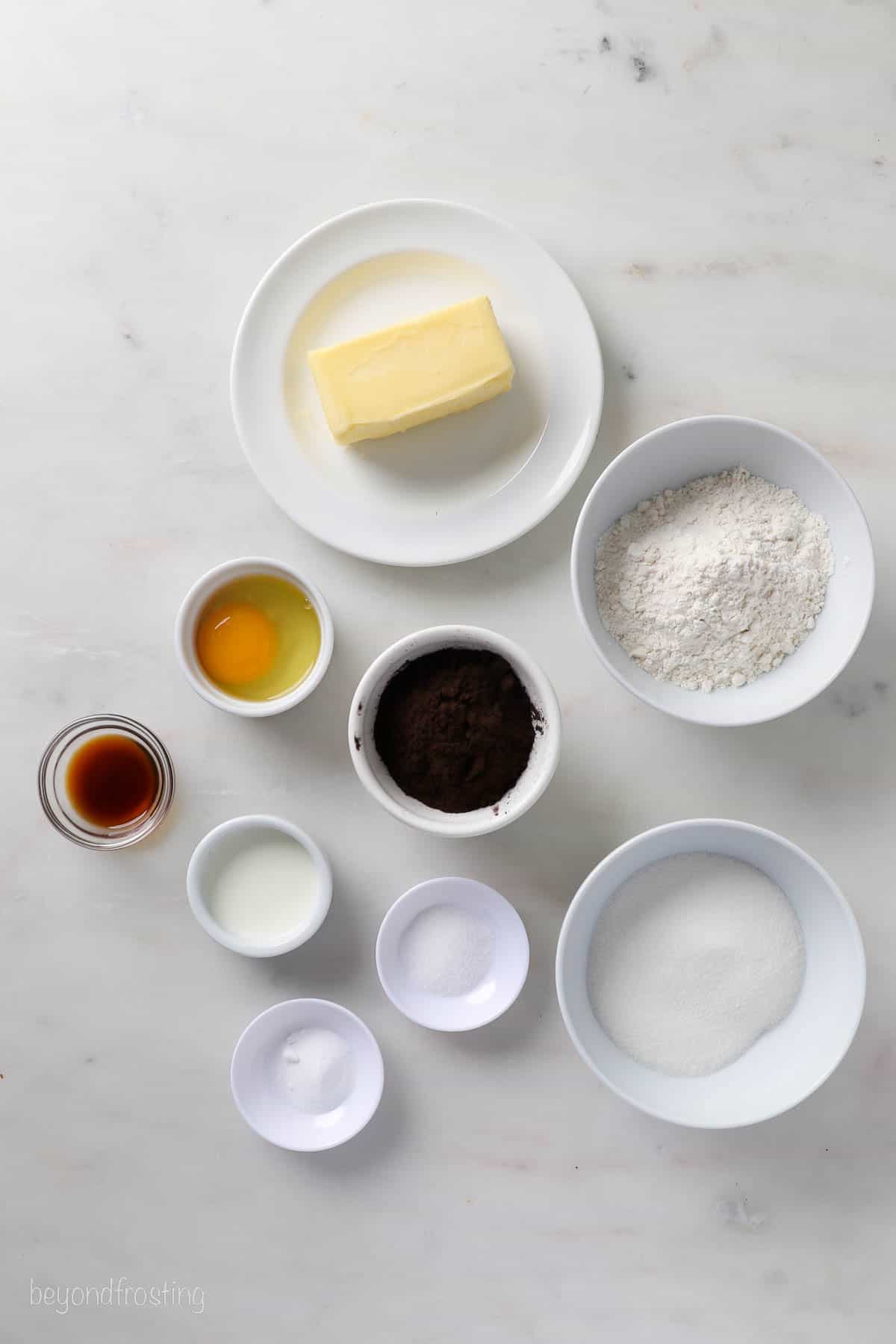 What Type of Cocoa Powder Is Best for Chocolate Sugar Cookies?
Not all cocoa powders are created equal, and different types of cocoa will yield different results when baking. I tested this recipe with 3 kinds of cocoa powder: natural unsweetened cocoa powder (similar to Hershey's), as well as Rodelle Baking Cocoa, and Black Cocoa Powder, which are both Dutch-processed cocoa powders. Each produced a different result in both the color and taste of these chocolate cookies:
Natural Unsweetened Cocoa – This is my go-to. The cookies don't turn out overly dry, with a distinct yet mild chocolate flavor.
Dutch Processed Cocoa (Rodelle Baking Cocoa) – Technically, this is a higher-quality cocoa powder. The flavor is delicious but the texture of the cookies is drier. I was surprised!
Black Cocoa Powder – Another Dutch-processed cocoa powder. This one gave the cookies a lighter, finer crumb with a deep, dark color (the darker heart cookies pictured). This would be a great option for Halloween cookies.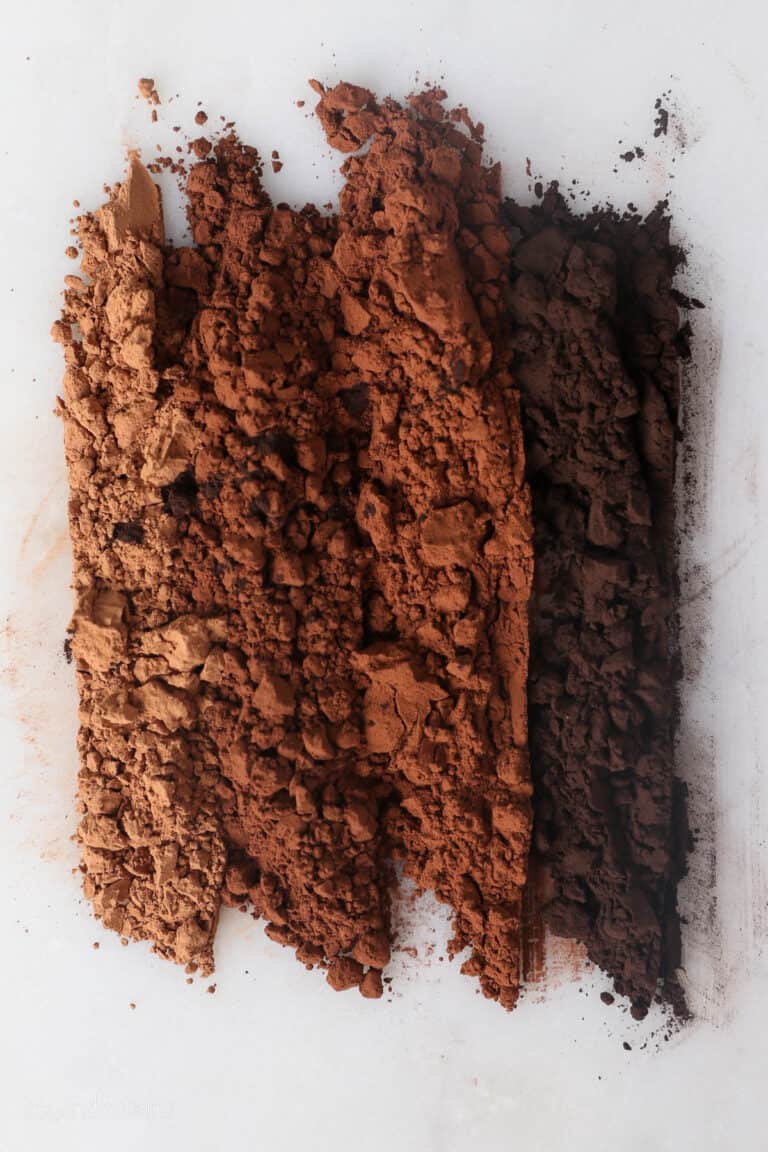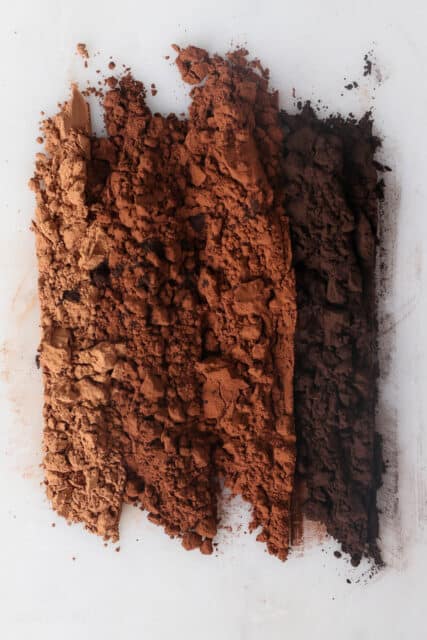 With your ingredients ready to go, it's time to bake some perfect chocolate cutout cookies! The dough comes together super quick:
Combine the wet ingredients. First, cream together the butter and sugar. In a small bowl, dissolve the baking soda into milk, then add this to the butter along with vanilla and one egg. Beat to combine.
Add the dry ingredients. Next, sift the flour, cocoa powder, and salt into a separate bowl. Gradually add the dry ingredients to the wet ingredients, followed by a couple of spoonfuls of milk, and mix to form a stiff dough.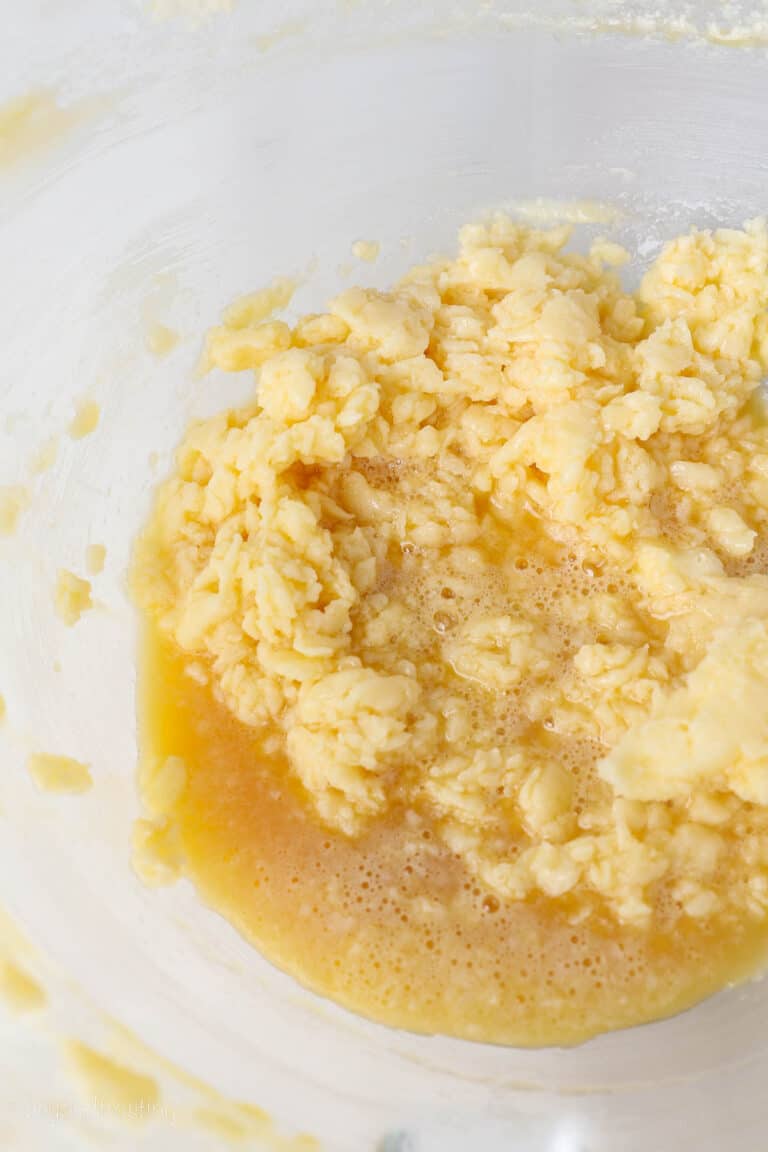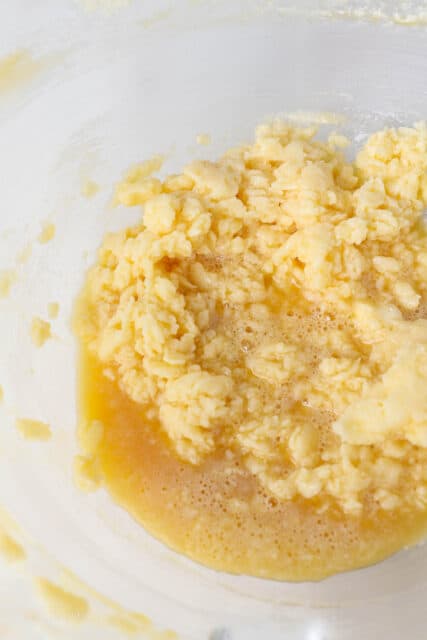 Chill. Divide the chocolate cookie dough into two balls, then flatten them and wrap them tightly in plastic. Place the dough into the fridge or freezer to chill (15 minutes in the freezer, 30 minutes in the fridge).
Cut out the dough. Afterward, preheat the oven to 350ºF while you roll out the dough on a floured surface. I usually aim for about ¼" thick. Then, using a cookie cutter of your choice, cut out the dough and place the cut-out cookies onto a lined baking sheet.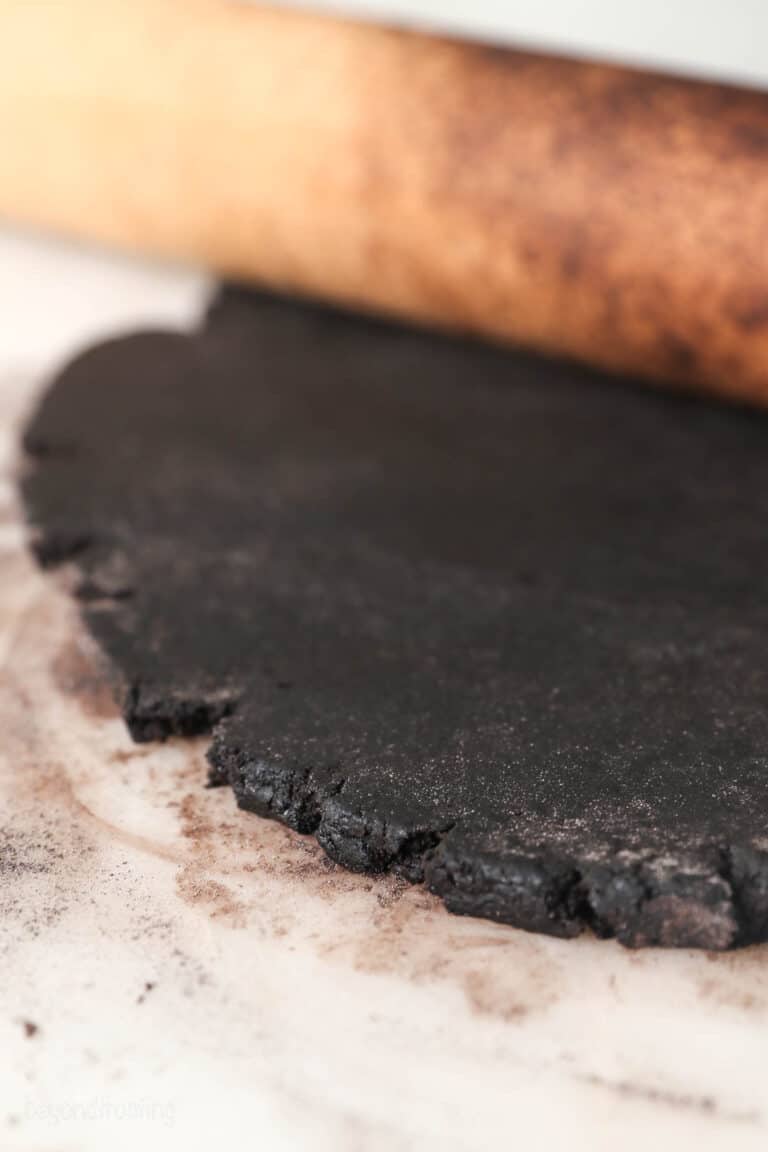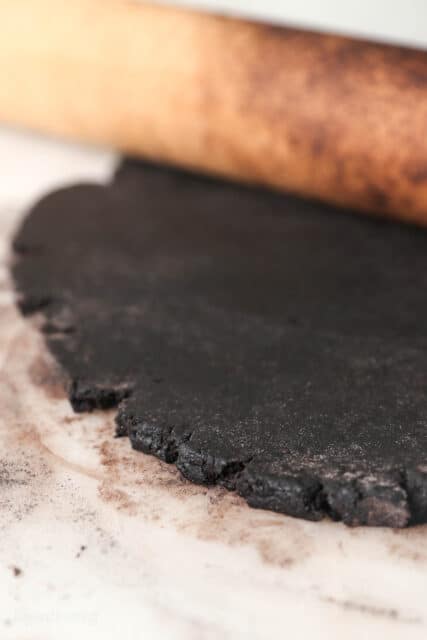 Bake. Bake your sugar cookies at 350ºF for 8-9 minutes. Once the cookies are out of the oven, leave them to cool on the baking sheet for another 5 minutes, before transferring them to a wire rack. Wait until your cookies have cooled completely, then it's time to decorate!
Certainly! You can prepare and refrigerate the chocolate cookie dough up to 3 days in advance. Simply follow the recipe as directed right up until you wrap the dough and chill it.
Alternatively, freeze the wrapped dough for up to 3 months, and defrost it before rolling it out and baking. This is super helpful to get a head start on your holiday baking! See further on for details on storing and freezing the cookies once they're baked.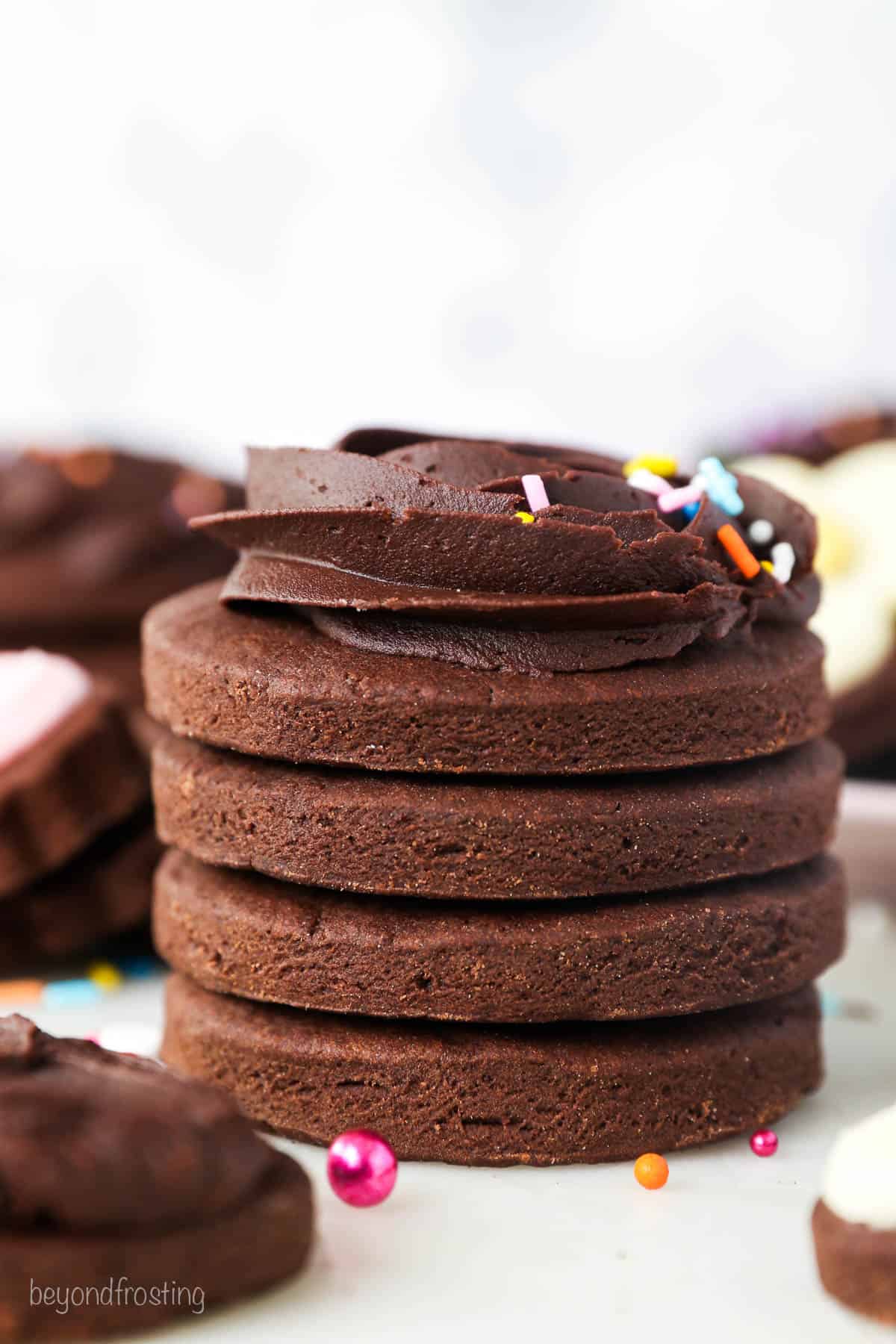 Below are my last-minute tips for the best chocolate cutout sugar cookies:
How to prevent cookies that spread. The butter should be at room temperature but not too soft or starting to melt. If the cookies are still spreading, try rechilling them after you cut them out.
Roll the cookies to your desired thickness. I like a fluffy, thick sugar cookie, so I roll out the dough to roughly ¼" thick. Feel free to roll the dough out more if you prefer a thinner cookie. Just remember to adjust the baking time accordingly (thinner cookies will call for a shorter baking time).
Be careful to not overbake the cookies. Overbaked sugar cookies are dry and crumbly. For soft, perfectly baked cookies, make sure to take them out when they're just set in the center.

Add frosting. There are also endless ways that you can frost and decorate your chocolate cutout sugar cookies. See below for ideas!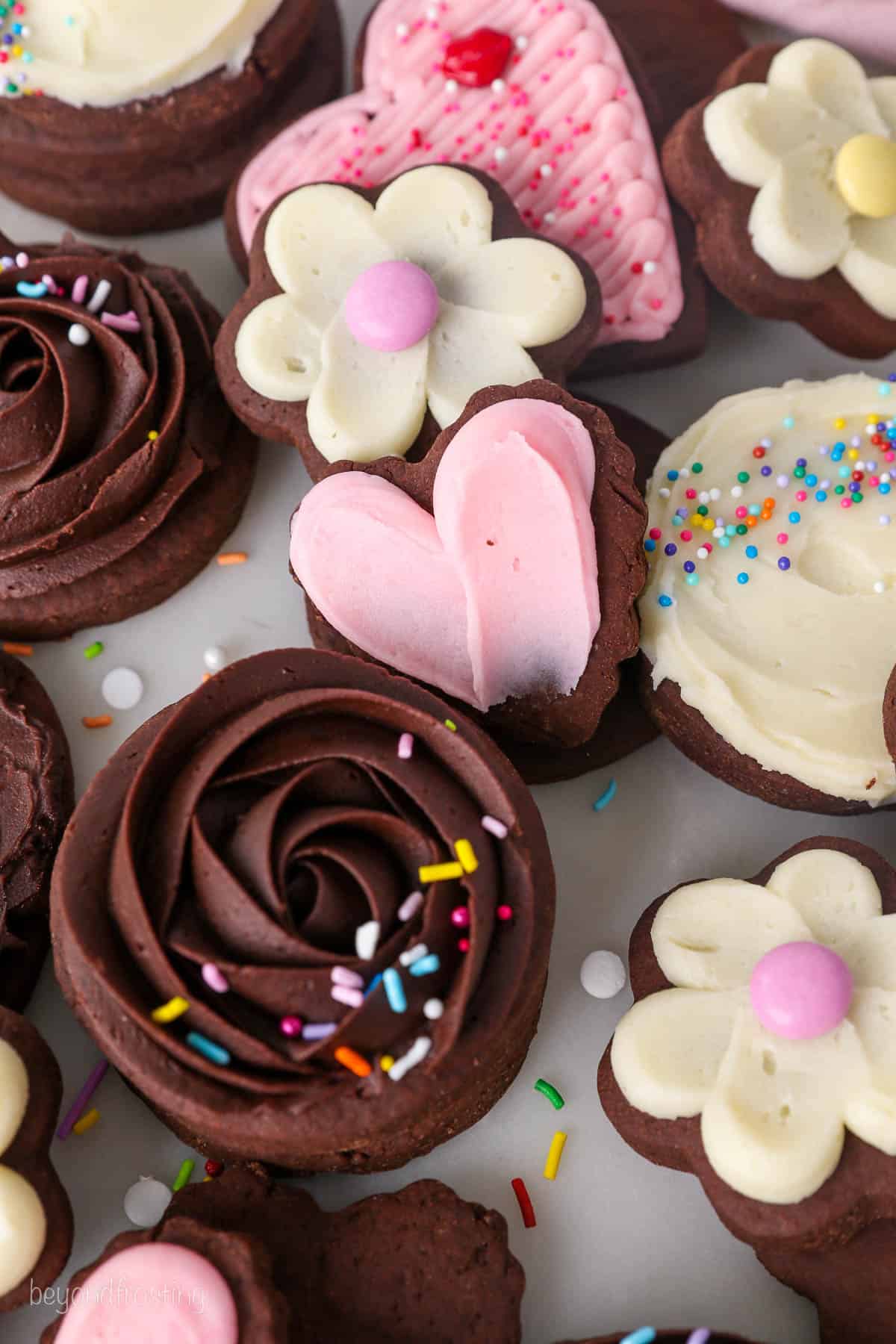 Frosting and Decorating Ideas
I frost my chocolate cutout cookies with a combination of my favorite chocolate buttercream and perfect vanilla frosting. To get the piped look and designs that you see in these photos, you'll need a piping bag with piping tips. I go over all the details in my tutorials on how to use a piping bag and how to use piping tips.
I'm a huge fan of frosting my holiday cookies with buttercream. If you're looking for some festive inspiration, check out my guide on how to decorate sugar cookies! These chocolate sugar cookies are perfect for any holiday, from Christmas to Valentine's Day. It's often as simple as coloring the buttercream to suit the occasion.
Of course, if you'd like, you can always decorate these with my easy homemade sugar cookie icing.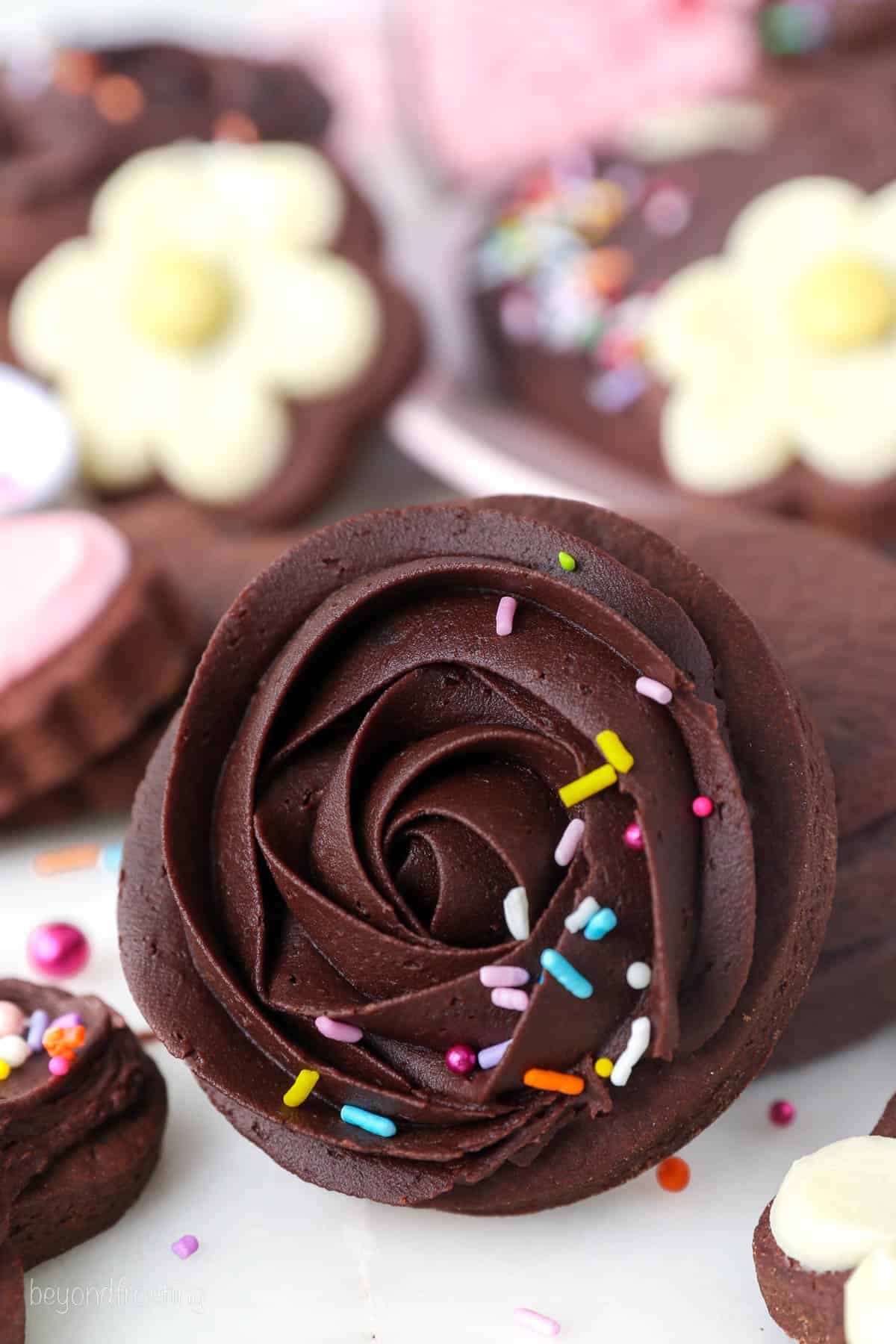 To Store: Frosted or unfrosted chocolate cutout sugar cookies will stay fresh when stored airtight at room temperature for up to 3 days. I recommend storing frosted cookies in a single layer, to prevent the frosting from smudging.
Freezing Cookie Dough: Prepare the cookie dough as instructed and seperate into 2 or 3 flattened discs (similar to pie crust). Tightly wrap it twice with plastic wrap and freeze for up to one month.
Freezing Baked Cookies: Cookies and be frozen either frosted or unfrosted, but my preference to to freeze sugar cookies before they're frosted. Wait until the cookies have cooled completely, then store them airtight and freeze them for up to 3 months.
Freezing Frosted Cookies:Thaw the cookies in the fridge before frosting and/or serving. To freeze frosted cookies, you must first freeze them on a cookie sheet in a single layer, and once frozen you can stack them in an airtight container with parchment paper inbetween. Tha on the counter on a cookie sheet, in a single layer.
Print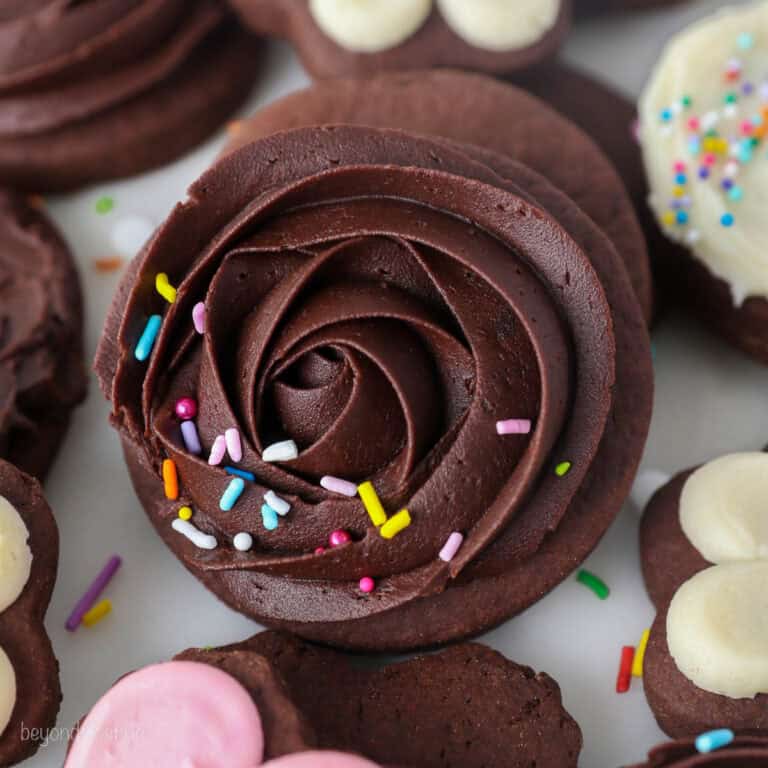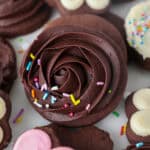 Author:

Prep Time:

1 hour

Cook Time:

8-9 minutes

Total Time:

35 minute

Yield:

24 cookies
Description
Make the best chocolate cutout sugar cookies for every occasion! These easy cutout cookies are perfect for frosting and decorating.
Ingredients
1/2 cup

(

113g

) unsalted butter

1/2 cup

(

95g

) granulated sugar

1/2 tsp

baking soda

4 tablespoons

(60ml) milk, divided

1 teaspoon

(5ml) vanilla extract

1

large egg, beaten

1 ¾ cups

(

210g

) all-purpose flour, sifted

¾ cups

(

60g

) natural unsweetened cocoa powder, sifted

½ teaspoon

salt
Instructions
Beat the butter and sugar on medium-high speed until the sugar is dissolved and creamy.
In a small glass dish, dissolve the baking soda in 2 tablespoons of milk. Add the baking soda/milk, vanilla, and egg to the butter. Beat until all ingredients are well incorporated.
In a separate bowl, sift together the flour, cocoa powder, and salt. Slowly add the dry ingredients to the wet ingredients. As the dough thickens, add the remaining 2 tablespoons of milk and mix until a stiff dough forms.
Form 2 softball size balls of dough. Flatten and wrap tightly in plastic wrap then chill in the freezer for at least 15 minutes or in the refrigerator for at least 30 minutes or up to 3 days.
Preheat oven to 350°F.
Remove the dough from the fridge, and roll the dough out on a surface dusted with a mix of half flour and half cocoa powder. Roll dough about ¼" thick. Use a cookie cutter to cut the shapes and transfer them to a baking sheet lined with parchment paper or a baking mat.
Bake at 350° for 8-9 minutes. Allow to cool for 5 minutes before transferring to a wire rack to cool completely. Decorate once cooled.
Notes
Storing
Baked Cookies: Frosted or unfrosted cookies can be stored in an airtight container for 3 days.
Freezing dough: unbaked cookie dough will freeze well for 1 month.
Freezing baked cookies: Cool completely and freeze in an airtight container for up to 3 months.
Freezing frosted cookies: First flash freeze in a single layer until the frosting is frozen. Then they can be stacked with layers of parchment paper. Thaw in a single layer to prevent damage to the frosting.
Category:

Cookies

Method:

Oven

Cuisine:

American
Keywords: chocolate sugar cookies, chocolate cut out cookies, chocolate cookies
More Easy Sugar Cookie Recipes