This post may contain affiliate sales links. Please see my full disclosure policy for details
These soft and chewy Double Chocolate Chip Cookies are loaded with chocolate flavor! Finished with a touch of flakey sea salt, if you're a chocolate cookie lover this is the cookie recipe of your dreams!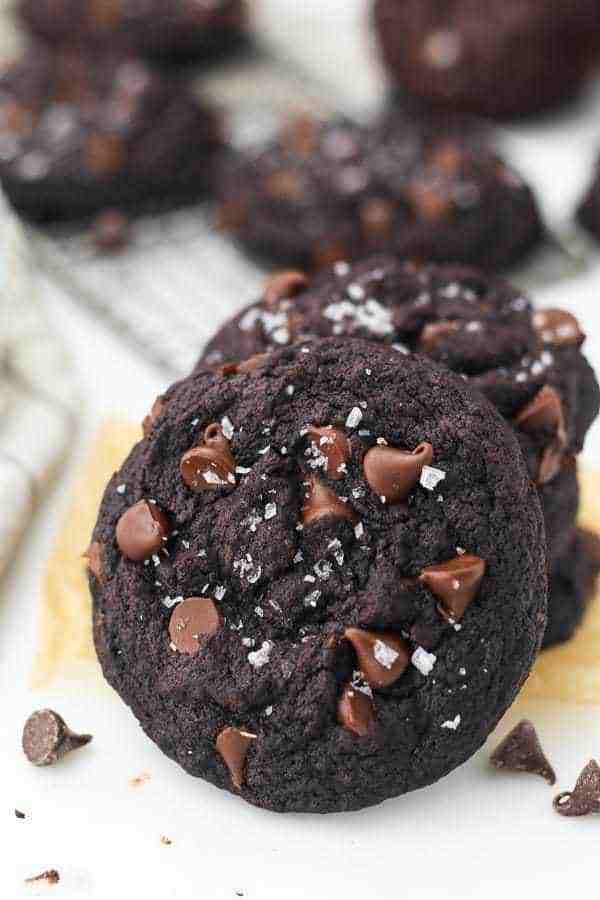 The Best Double Chocolate Chip Cookies Ever
I've been dyyyyying to share the recipe for these Double Chocolate Chip Cookies with you!!
Through my travels, I've been tasting similar cookies from every bakery I visit. I was trying to determine what my favorite part of the cookie was and what I wanted to do with it. We finally found one in Vancouver BC that we loved. It was chocolate truffle with sea salt and it was perfection.
What Makes these Chocolate Cookies So Good?
This Double Chocolate Chip Cookie is fudgy in the middle (definitely a requirement), loaded with melty chocolate chips (yaaas gurl!) and finished with a flakey sea salt (don't skip this step).
I'm kinda of obsessed.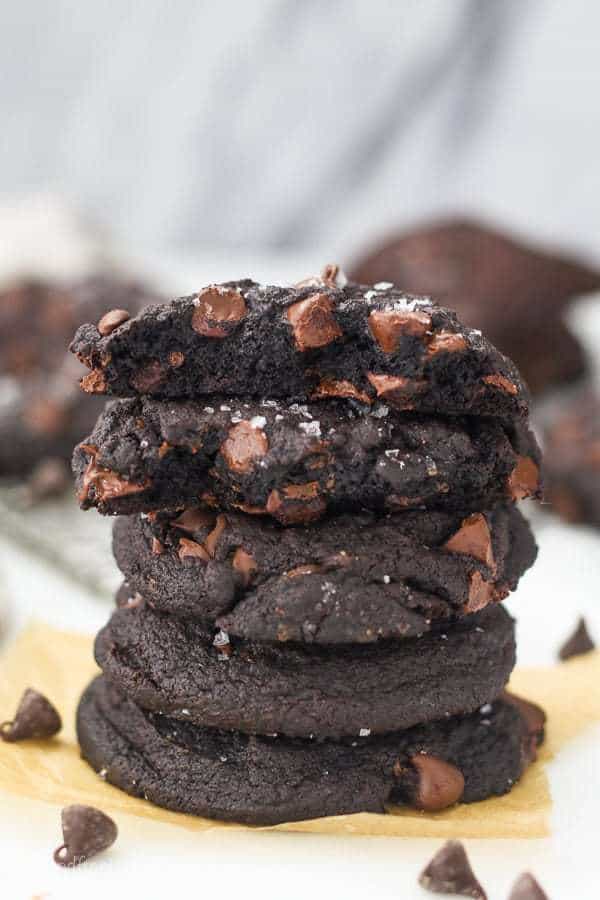 I've made these about a dozen times in the last few weeks (and my freezer is full of all my trials- and I've been eating them straight out of the freezer), trying different combinations of cocoa powder and varying the amounts of white and brown sugar.
The base recipe started with my soft and chewy chocolate chip cookies. I started by swapping out some of the flour for cocoa powder. Honestly, I was so excited after the 1st trial run, but I knew I needed to try it a few more ways to be sure that there wasn't something better out there.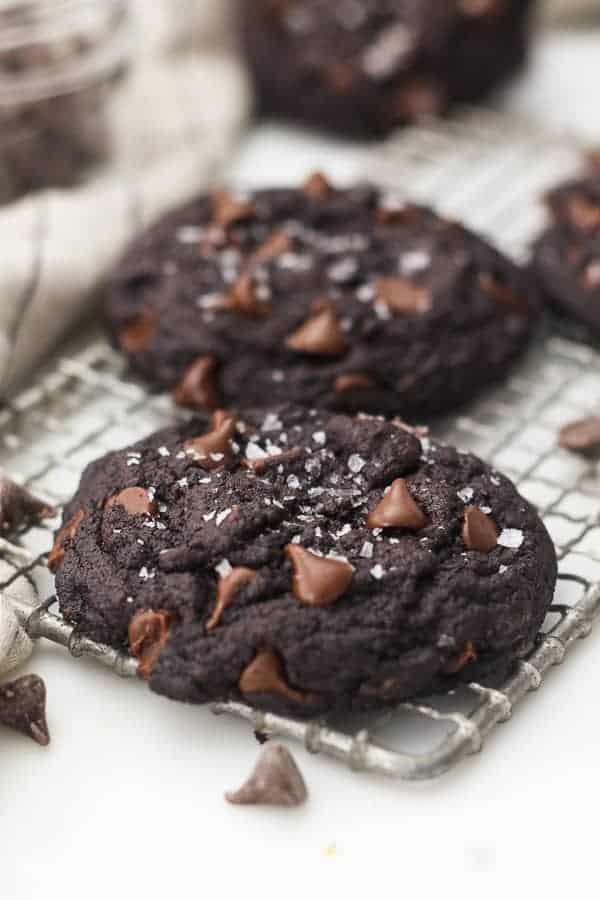 After all my recipe testing, I still decided the original variation was the best. There's more brown sugar than white, ensuring a tender and chewy cookie. There's still melted butter, which also helps to make cookie chewier- and it's MUCH easier than creaming butter and sugar.
It's best to melt the butter and then allow to it cool for at least 5 minutes before adding the sugar. If you immediately start adding all your ingredients, the butter will be too hot, and it will melt your chocolate.
Chocolate chips are essential to these Double Chocolate Chip Cookies. I recommend using either semi-sweet or unsweetened dark chocolate chips.
Chocolate chips are the easiest, but if you'd prefer you can also use chopped chocolate. However, the chopped chocolate will melt quite a bit more than the chocolate chips and your cookies may spread more.
I like to mix ¾ cups of chocolate chips into the cookies, and then keep a handful set side to place on top of the scoops of cookie dough before it goes into the oven. Then sprinkle them with a nice flakey sea salt. It's also essential.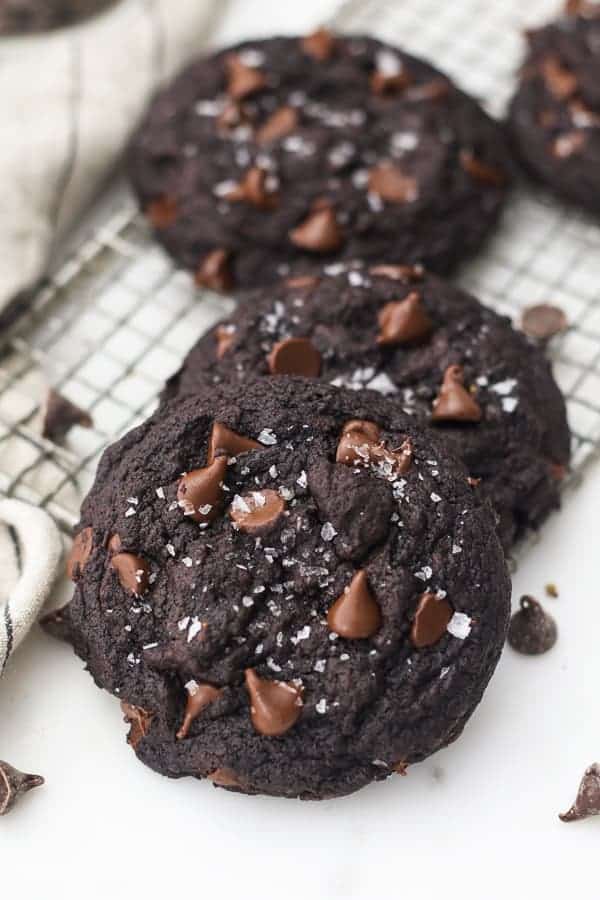 What type of cocoa powder can I use for these chocolate cookies?
Let's talk about the cocoa powder, because I feel like it's an important part of the recipe.
I tested this recipe with 3 different cocoa powders: Hershey's Special Dark, Hershey's Unsweetened Cocoa Powder, and Rodelle Dutch processed cocoa powder.
The Hershey's Special Dark cocoa powder is my preferred cocoa powder for this recipe. It's dark color lends to a more fudgy and rich flavor. It produces very consistent results.
The Dutch processed cocoa powder is my next favorite option. The cookie still has a nice shape and the high-quality cocoa powder also has a deep, rich flavor. No alterations to the recipe are needed.
The unsweetened cocoa powder was my least favorite of the three. I found that this batch spread the most, and the chocolate flavor was not quite as intense. While I know this is the most common cocoa powder available, I definitely think you need to try and find the special dark cocoa powder. Note the color will be much lighters with unsweetened cocoa powder.
The recipe does work using any 3 of these options for the cocoa powder.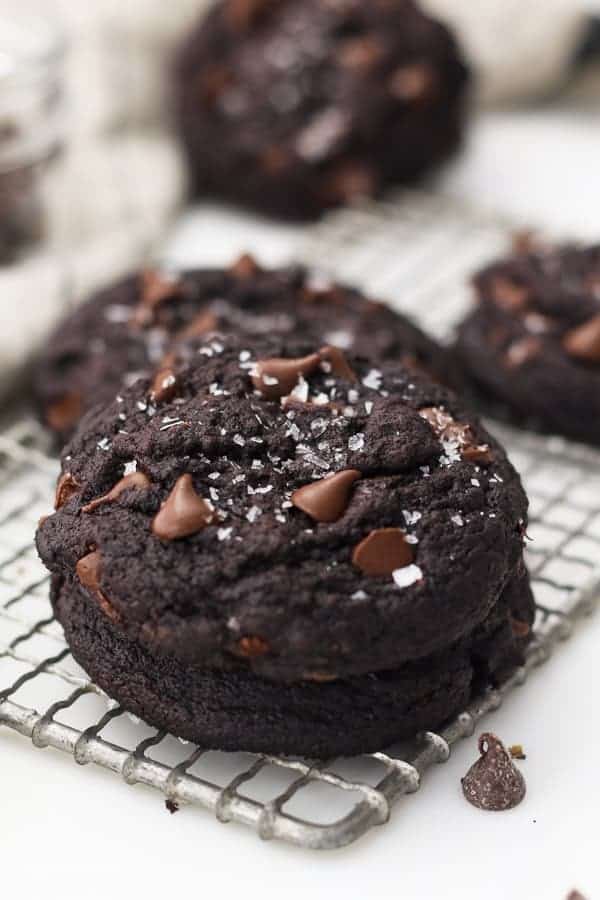 My favorite tips for a thick, soft and gooey cookie is to take them out before they're fully baked and let them finish baking on the sheet. Right when they come out of the oven, take the flat edge of a knife, spatula or angled spatula, and press the edges of the cookie back towards the center of the cookie. You are reshaping the cookie but also getting some of the bulk back into the center of the cookie.
This Double Chocolate Chip Cookie recipe can easily be doubled for a larger batch. As written, it makes 10-12 large cookies when using a large cookie scoop. They freeze well and still stay nice and soft!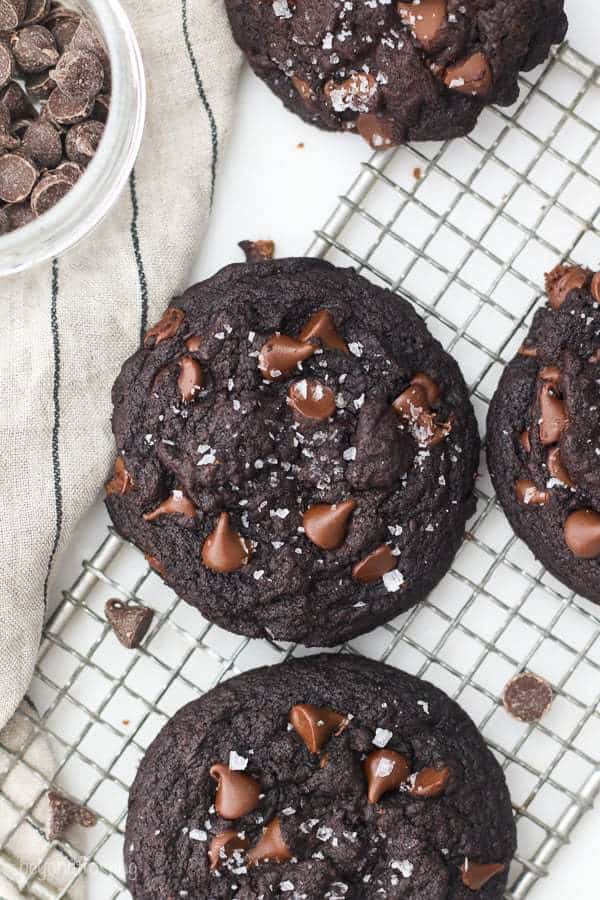 Follow Beyond Frosting:
Facebook | Twitter | Pinterest | Instagram
If you love no-bake recipes, be sure to check out my cookbook, No-Bake Treats!
Print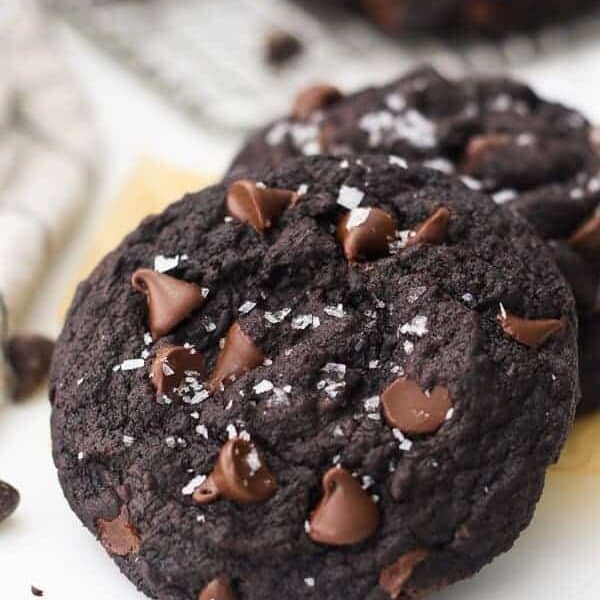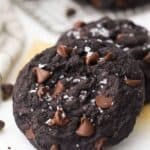 Double Chocolate Chip Cookies
Author:

Prep Time:

15 minutes

Cook Time:

9-10 minutes

Total Time:

15 minute

Yield:

10 large cookies
Description
These soft baked, chewy Double Chocolate Chip Cookies are so fudgy, loaded with chocolate flavor and finished with a touch of flakey sea salt. If you love chocolate cookies, this is an EASY recipe for you!
Ingredients
½ cup

(

113g

) melted butter

½ cup

(

110g

) packed light brown sugar

¼ cup

 (

48g

) granulated sugar

1

 large egg

2 teaspoon

s (10ml) pure vanilla extract

¾ cup

(

105g

) all-purpose flour

½ cup

(

55g

) Hershey's Special Dark Cocoa powder

½ teaspoon

 salt

½ teaspoon

 baking soda

¾ cup

 (

135g

) chocolate chips
Flaky sea salt (optional)
Instructions
Preheat the oven to 350° F. Melt the butter in a microwave-safe bowl for 30-45 seconds. Allow to cool for a few minutes. Combine the melted butter with the brown and granulated sugar. Beat on medium speed until well combined, 2-3 minutes.
Next add the egg and vanilla extract and continue beating until well incorporated.
In a separate bowl, combine the flour, cocoa powder, salt and baking soda. Stir to combine and slowly add the dry ingredients into the dough, mixing on low speed until dough starts to form.
Before the dough thickens, add the chocolate chips. Beat until incorporated.
Line a baking sheet with parchment paper or use a silicone baking sheet. Scoop the dough using a large cookie scoop and place on baking sheet, 2 inches apart. Sprinkle with flaky sea salt.
Bake for 9-11 minutes. The center of the cookies should be slightly under baked but not too gooey. Allow to cool on the baking sheet for 10 minutes before transferring to a wire rack to cool.
Keywords: Chocolate Chip Cookies, Double Chocolate Chip Cookies, easy chocolate cookies
Recipe Card powered by
You might also like:
Chewy Oatmeal Chocolate Chip Cookies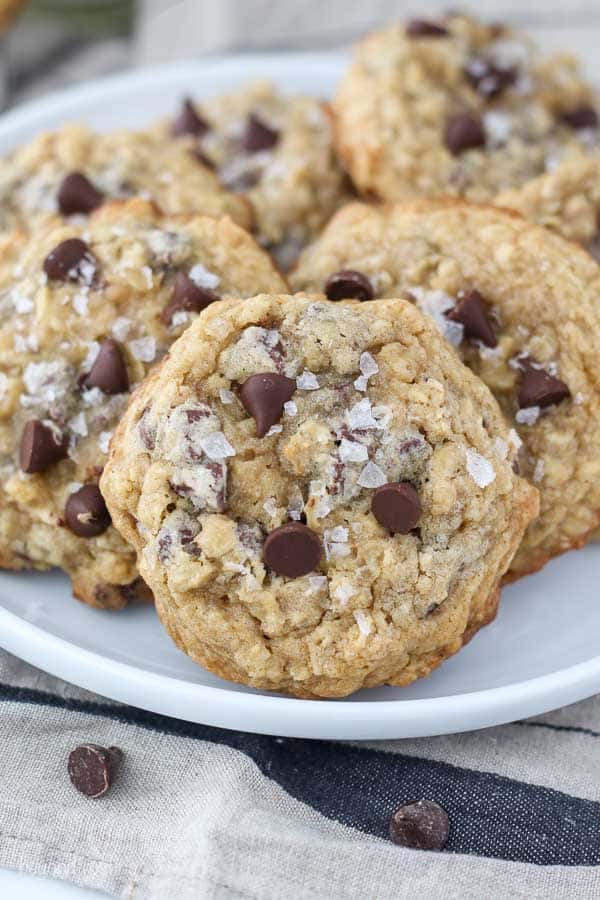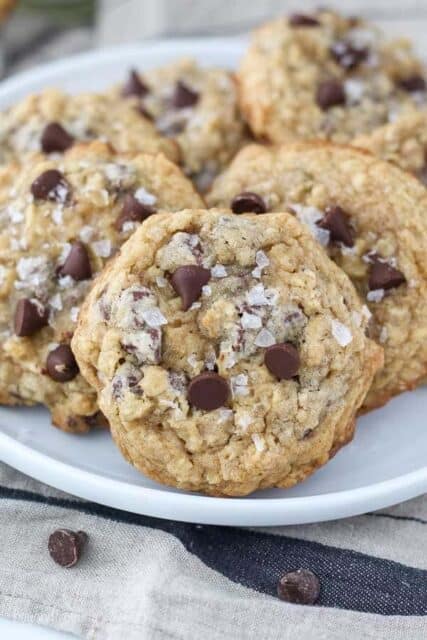 Baileys Chocolate Mousse Cookie Cup