These fudgy, soft baked Chocolate Peanut Butter Cookies are loaded with peanut butter cups and peanut butter chips. If you love chocolate and peanut butter, you have to try this easy cookie recipe.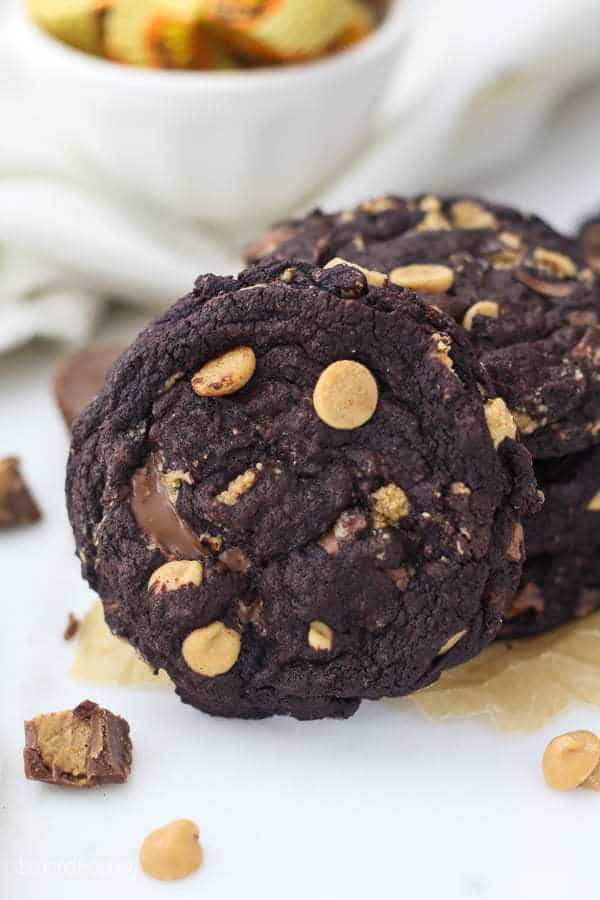 My favorite recipes to develop besides cakes are definitely cookies. I have dozens and dozens of cookie recipes on my website and I've spent the better part of the year perfecting my chocolate chip and oatmeal cookie recipes. Once I was done with those, I moved on to double chocolate chip cookies.
Don't mind me drooling over these Chocolate Peanut Butter Cookies. Rich, dark chocolate cookies loaded with Reese's peanut butter cups and peanut butter chips.
The classic chocolate and peanut butter combination will have you swooning after one bite. Literally. The cookies are so soft and fudgy I can hardly handle it.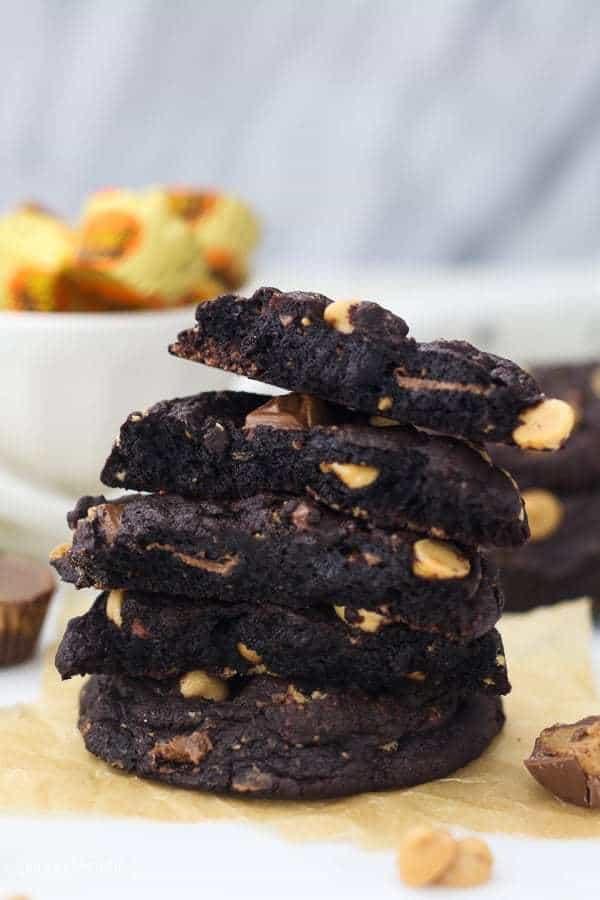 I don't know about you, but I can't resist a peanut butter cup! There's something about that salty peanut butter filling that gets me every time. Especially the seasonal ones which are always the freshest and have even more peanut butter filling.
Let me just take a moment to say that the inside out peanut butter cups are not the same and cannot be called actual peanut butter cups. No thank you.
For these cookies, it's best to use the mini (fun size) peanut butter cups and then cut them into quarters to mix into the cookie dough. This ensures the chunks aren't too large. For a little extra peanut butter flavor, I've also added some peanut butter chips.
The base of this recipe is from my Double Chocolate Chip Cookies, a fudgy, soft baked and chewy chocolate cookie with a touch of salt.
It's a very adaptable recipe, and I've got plenty of variations to share with you.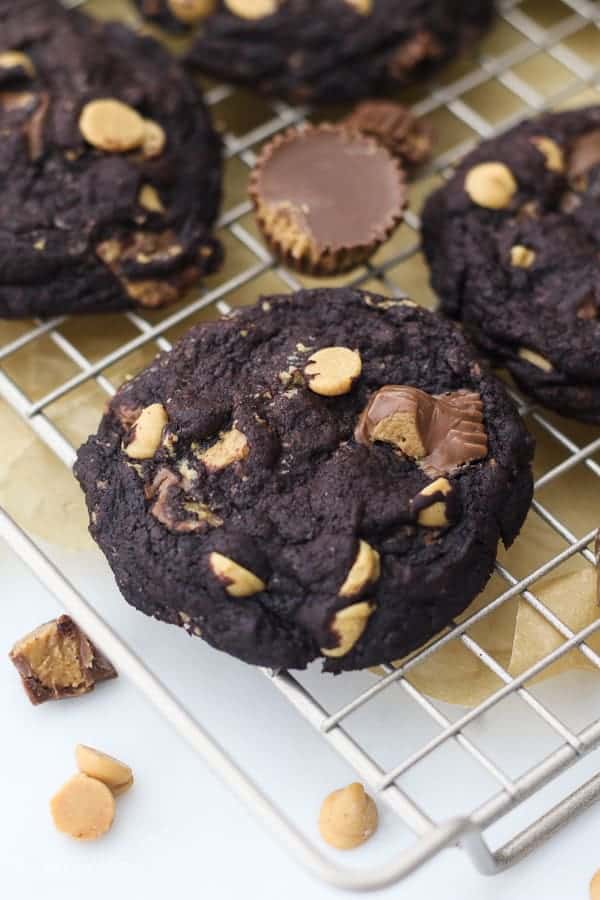 These Chocolate Peanut Butter Cookies are very simple to make. It has all your standard cookie ingredients but calls for more brown sugar than white which helps keep these cookies nice and chewy.
It also has melted butter, which adds to the chewiness of these cookies. Since the butter is melted and does not have to be creamed with the sugar, it makes this recipe pretty quick to prepare.
I recommend allowing the melted butter to cool for at least 5 minutes before adding the sugar.
When you scoop the dough onto your cookie sheet, be sure that your dough is stiff enough to hold its shape, meaning it won't wilt or spread once you drop it onto your cookie sheet.
Sometimes when using melted butter, the dough needs a few extra minutes to rest before baking. You don't need to refrigerate it or anything like that, it just needs to stiffen up a bit.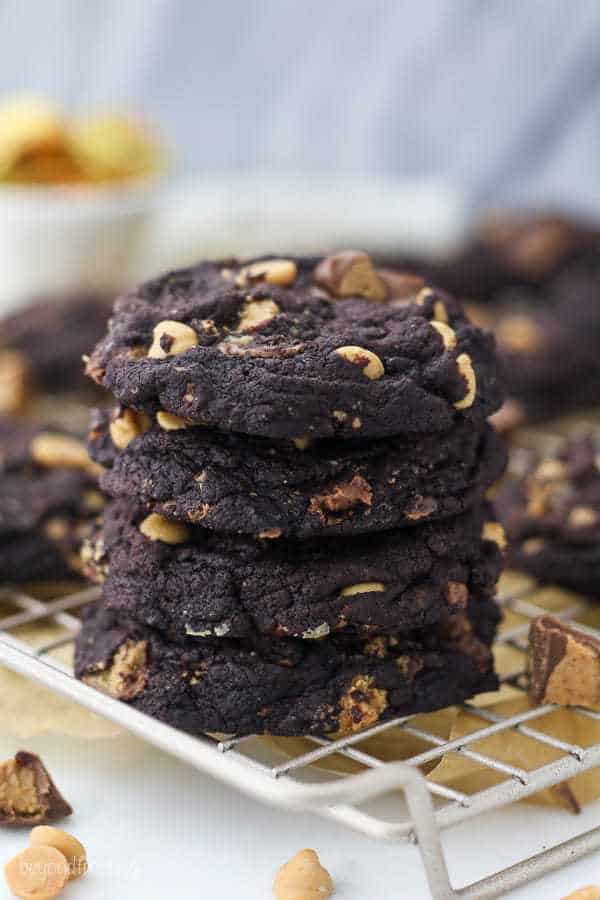 My two favorite tools for baking cookies include my large cookie scoop and Silpat baking mats. The cookie scoop ensures your cookies are all around the same size, so the baking time will be consistent.
The silicone baking mats prevent the bottom of the cookies from burning. If you don't have a silicone mat, a piece of parchment paper works too.
These cookies can be made ahead of time and kept frozen, but just a fair warning, they won't last long. I've been eating them straight from the freezer since I made them.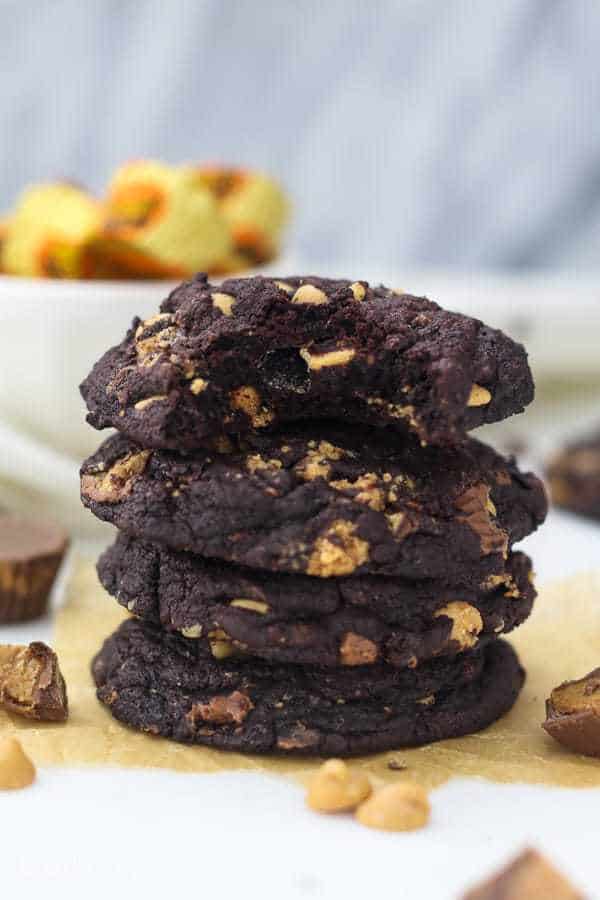 I love this cookie recipe because it's so adaptable. If you don't love a Chocolate Peanut Butter Cookie, feel free to swap it out for your favorite mix ins.
Follow Beyond Frosting:
Facebook | Twitter | Pinterest | Instagram
If you love no-bake recipes, be sure to check out my cookbook, No-Bake Treats!
Print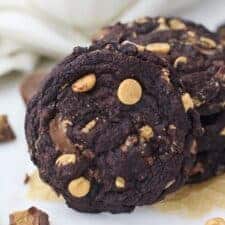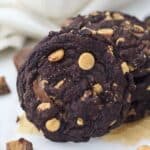 Chocolate Peanut Butter Cookies
---
---
---
---
Recipe Card powered by
You might also like: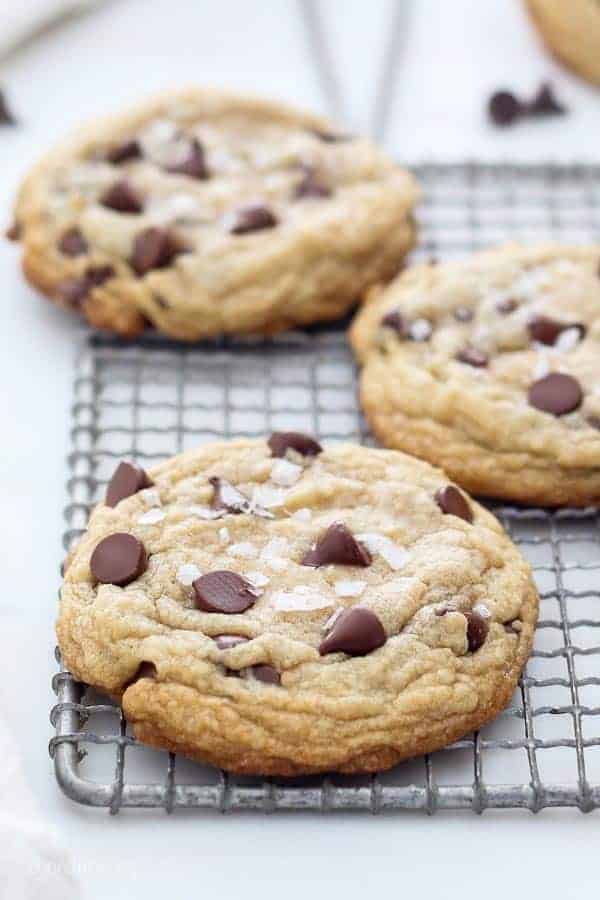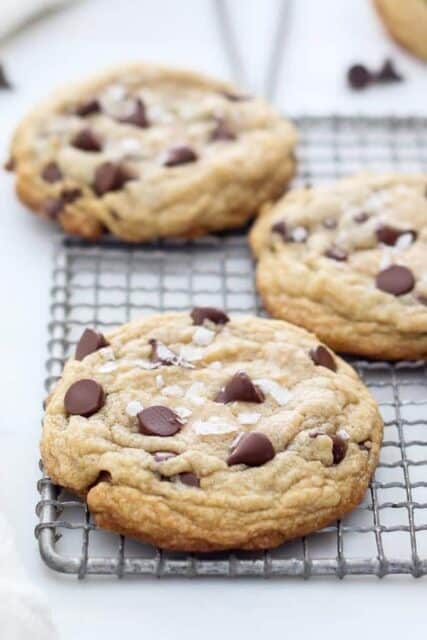 Chewy Oatmeal Chocolate Chip Cookie