This post may contain affiliate sales links. Please see my full disclosure policy for details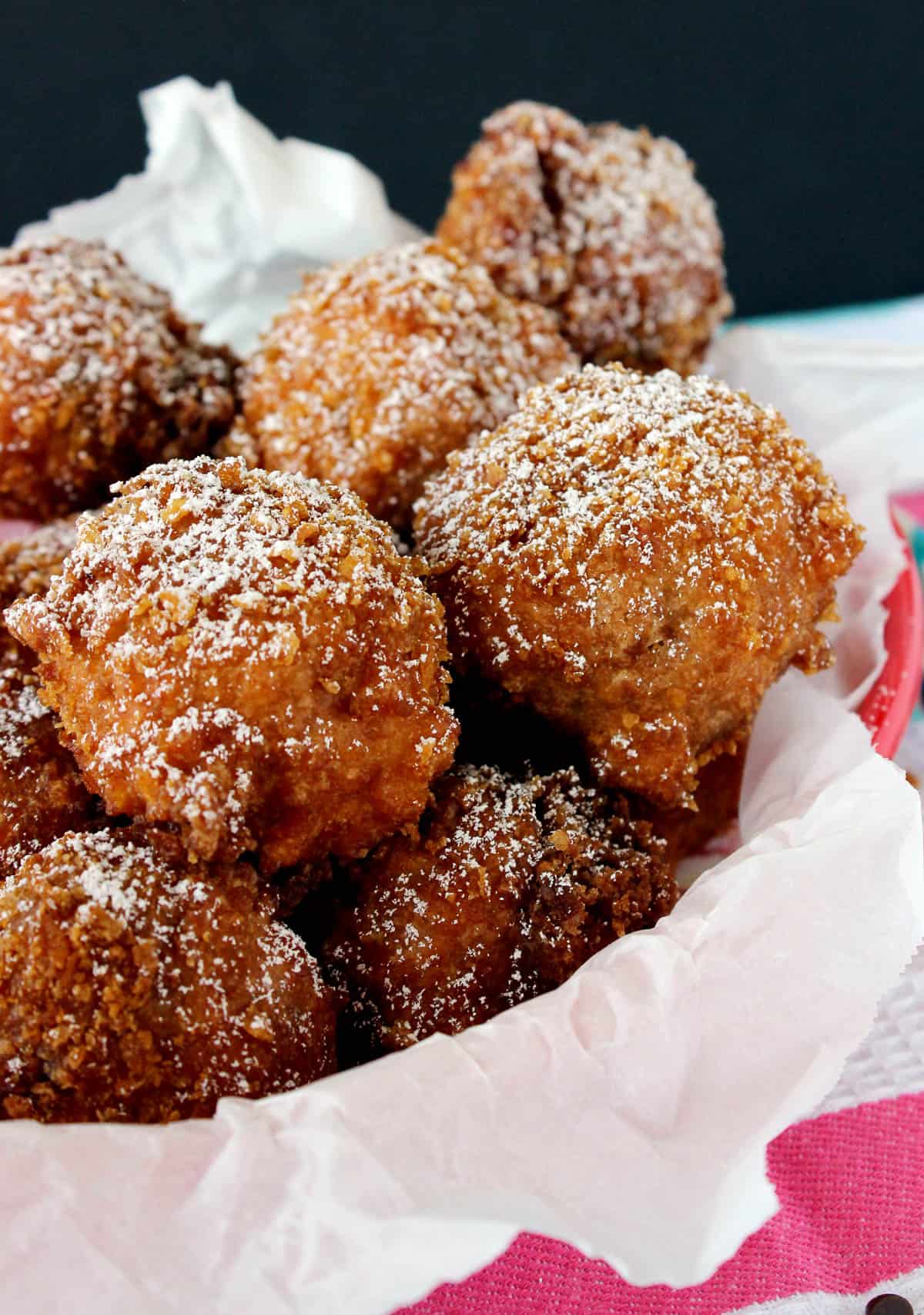 I would like to dedicate this post to Hayley from The Domestic Rebel . Thanks to Hayley, I was introduced to Torchy's Tacos in Austin, Texas. Besides having some amazing tacos, they also have deep-fried cookie dough. Having a limited experience will deep-fried desserts, I was overcome with joy as I bit into the soft chocolaty center. Their deep-fried cookie dough was crisp on the outside and soft in the middle with melted chocolate chips. I set out to recreate this deep-fried deliciousness at home.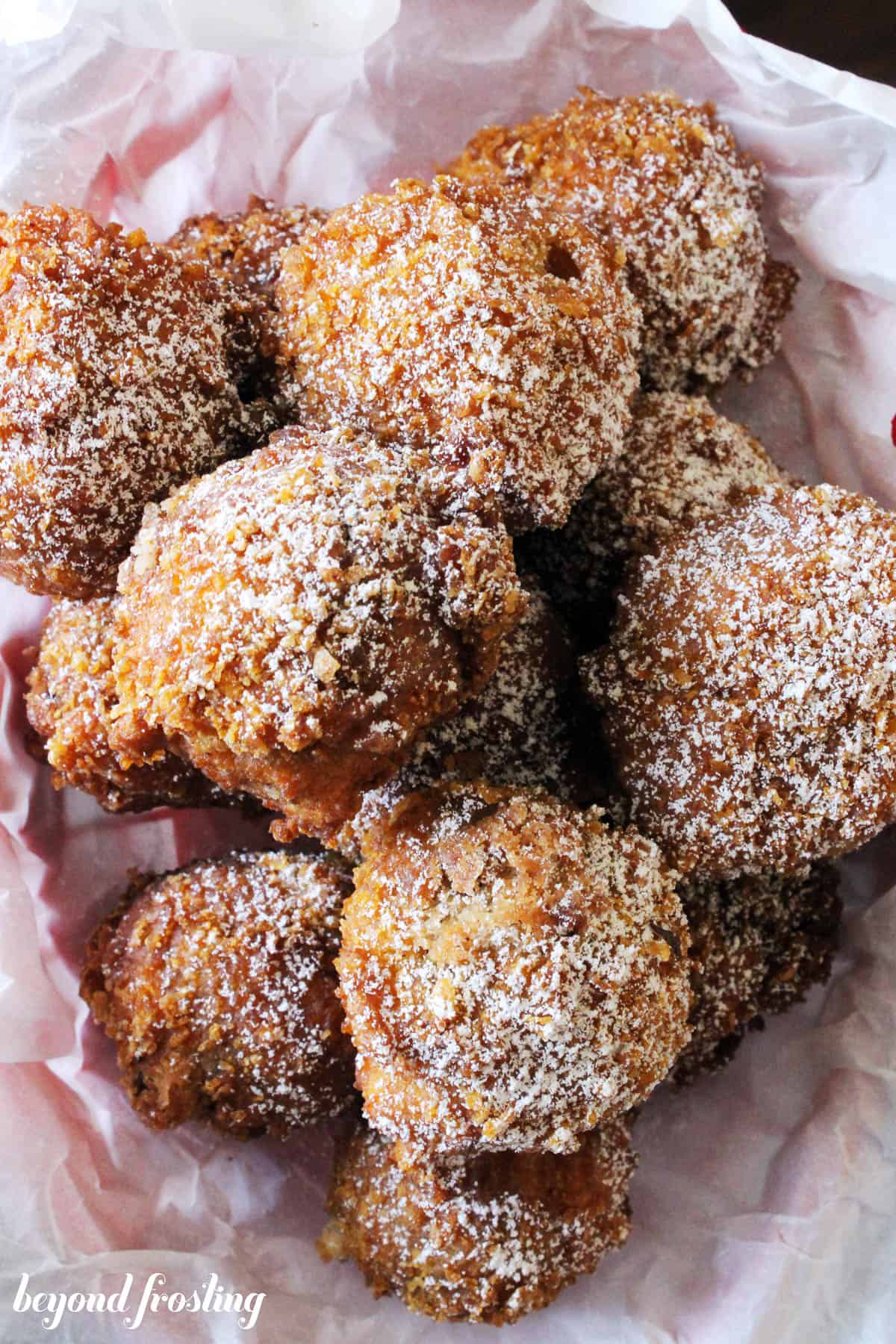 Besides being a little messy, this was pretty fun. Plus, it gave us an excuse to make homemade chicken fingers with the deep fryer (Thanks Jef!). I had some helpers with my deep-fried dough and we had a great time.
Edible cookie dough is kind of amazing. I coated my cookie dough with a mixture of egg, pancake mix and crushed corn flakes. The corn flakes give the outside a crunchy layer without dominating the cookie dough flavor.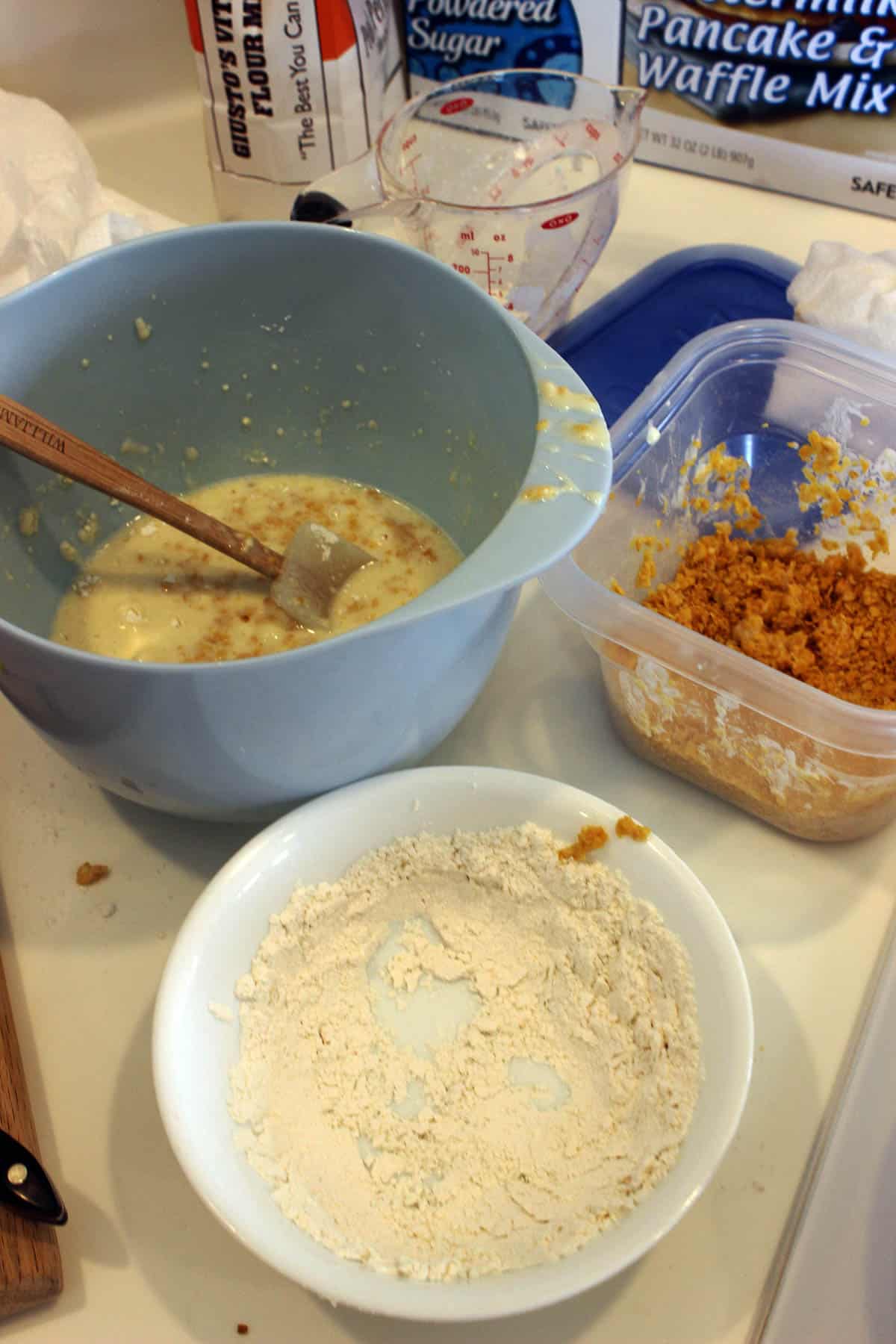 I made my dough just before I was ready to deep fry. At first I thought it would be better to deep fry when the dough was cold, however the dough gets too dry. Plus you want the centers to heat up and the chocolate to melt; therefore I think it's best to make the dough just before you are ready.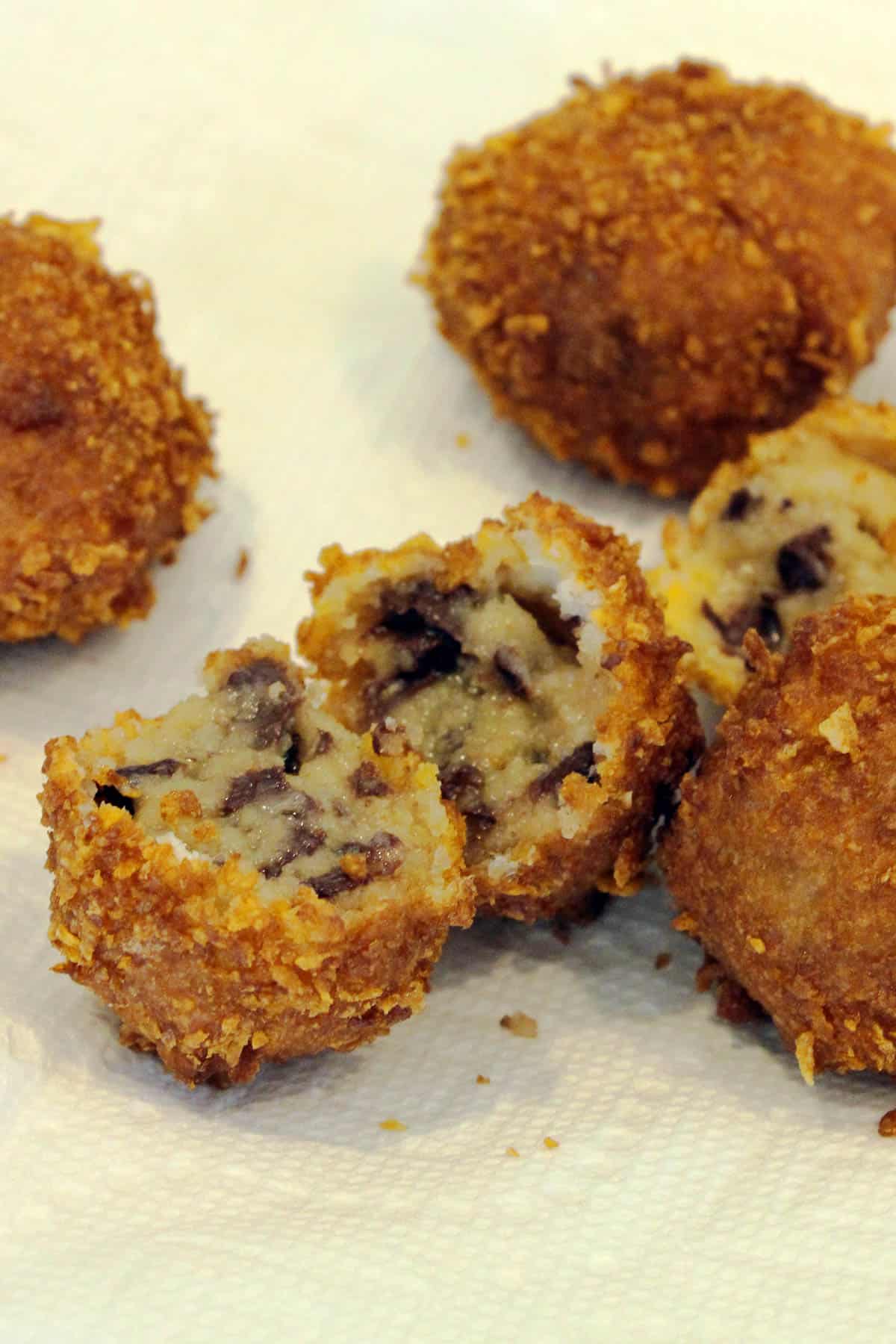 I happened to use a deep fryer for mine, but you could do this with a Dutch oven on the stovetop as well. Start by preparing the cookie dough.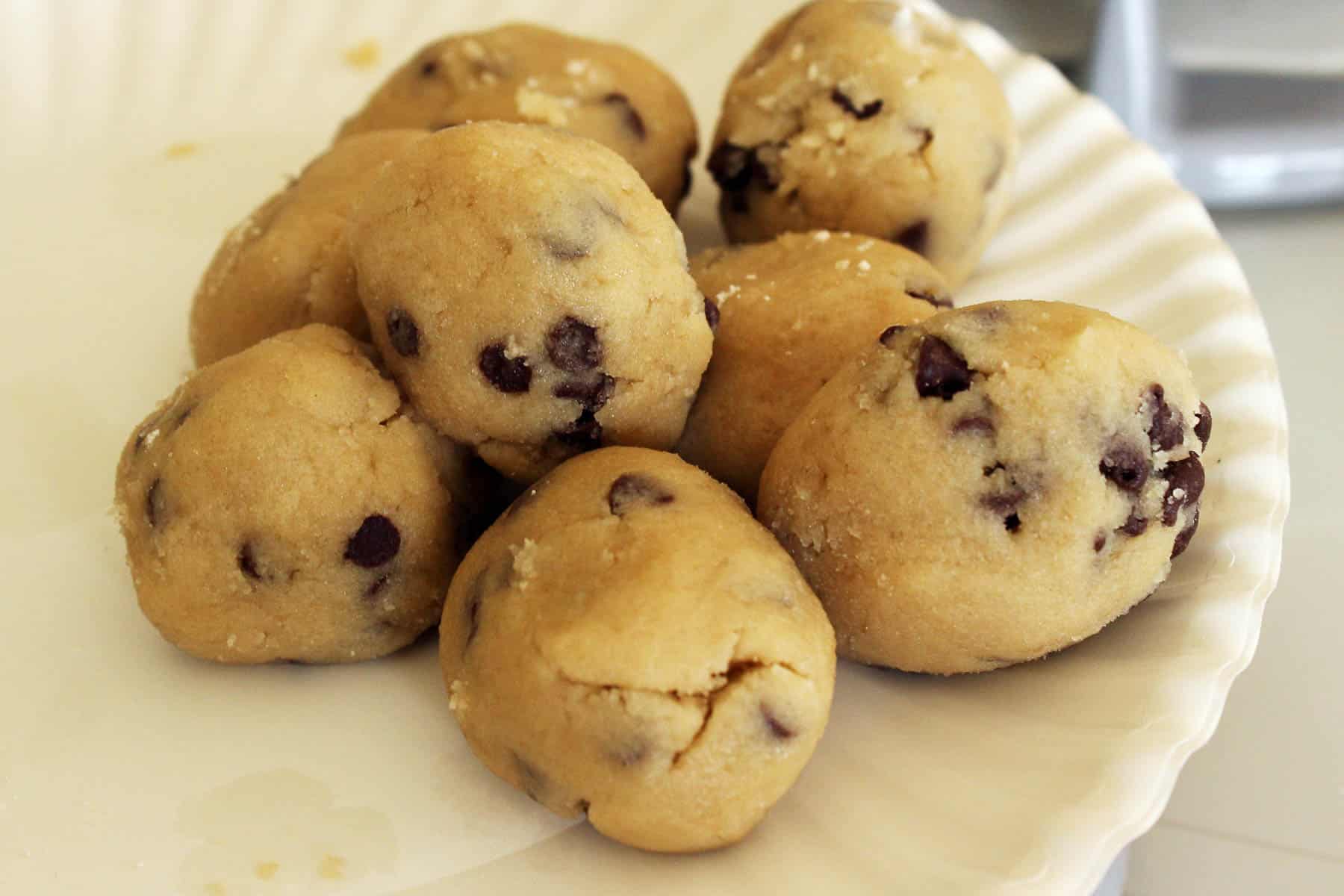 Use caution when deep-frying. Oil is extremely hot. Use tongs or spoons to lift dough balls out of deep fryer. I also recommend using oven mitts when handling deep-fry baskets.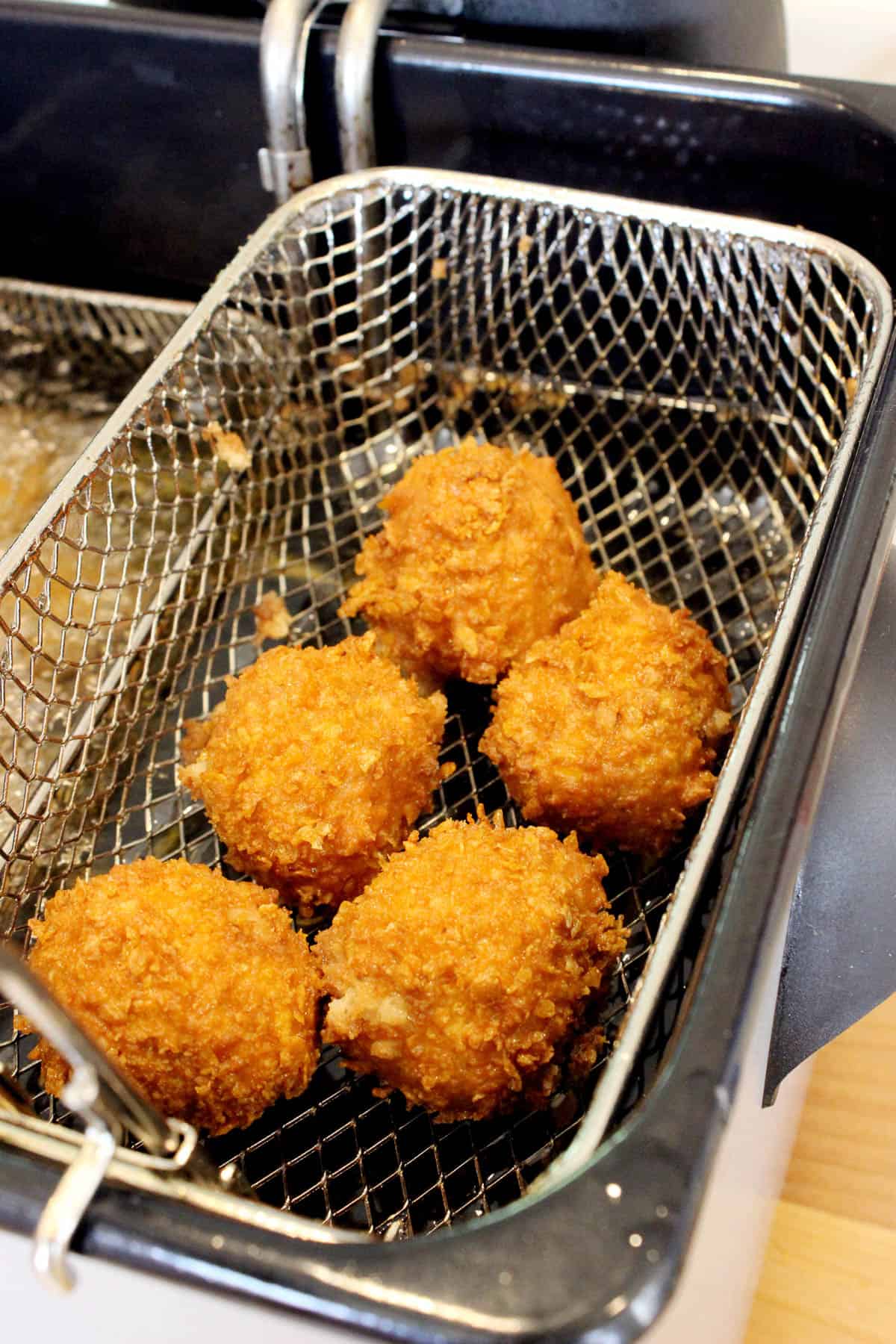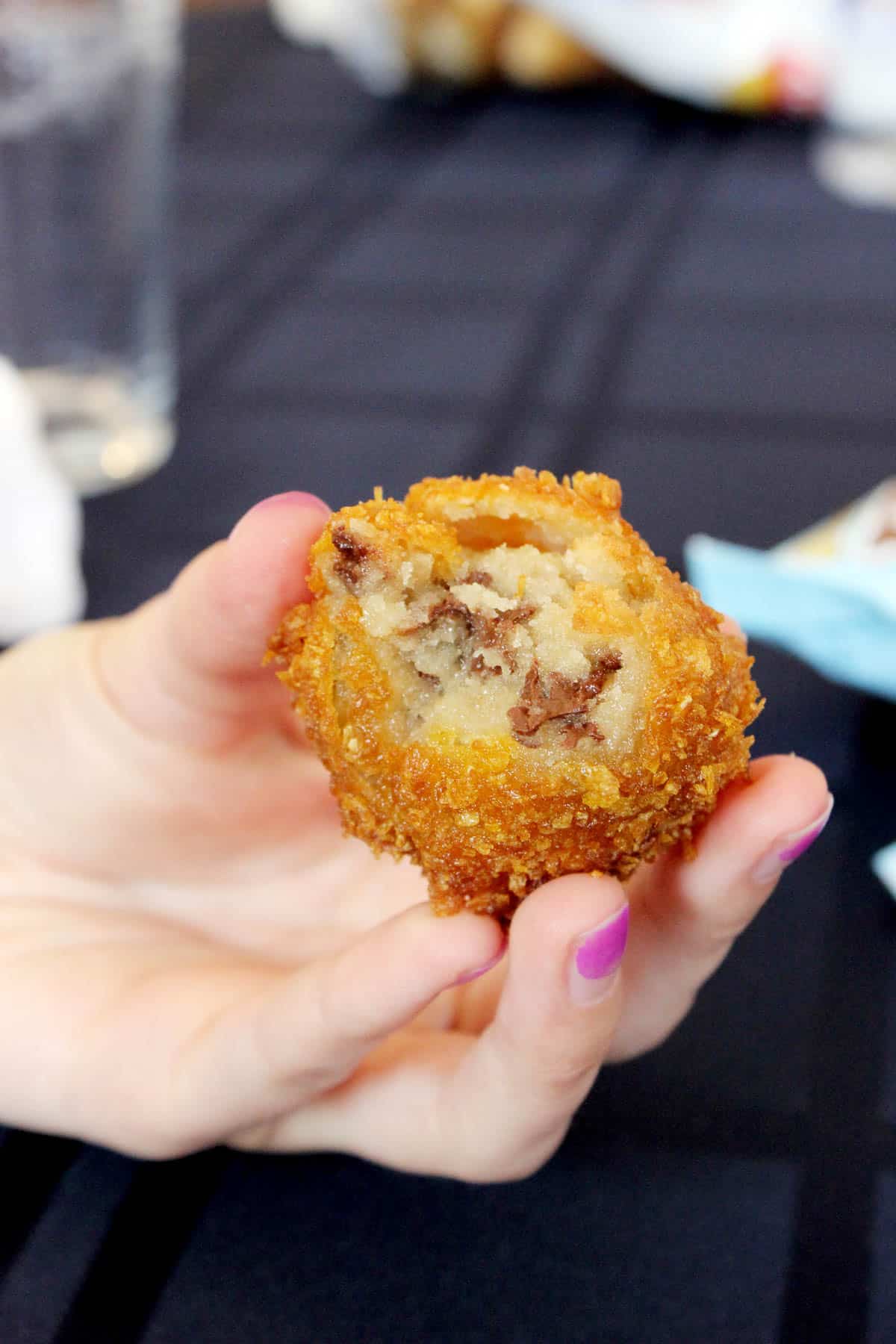 So now I am obsessed with deep-frying. It is WAY easier than making things on the stovetop. However, I am also more than willing to let other people do the work for me.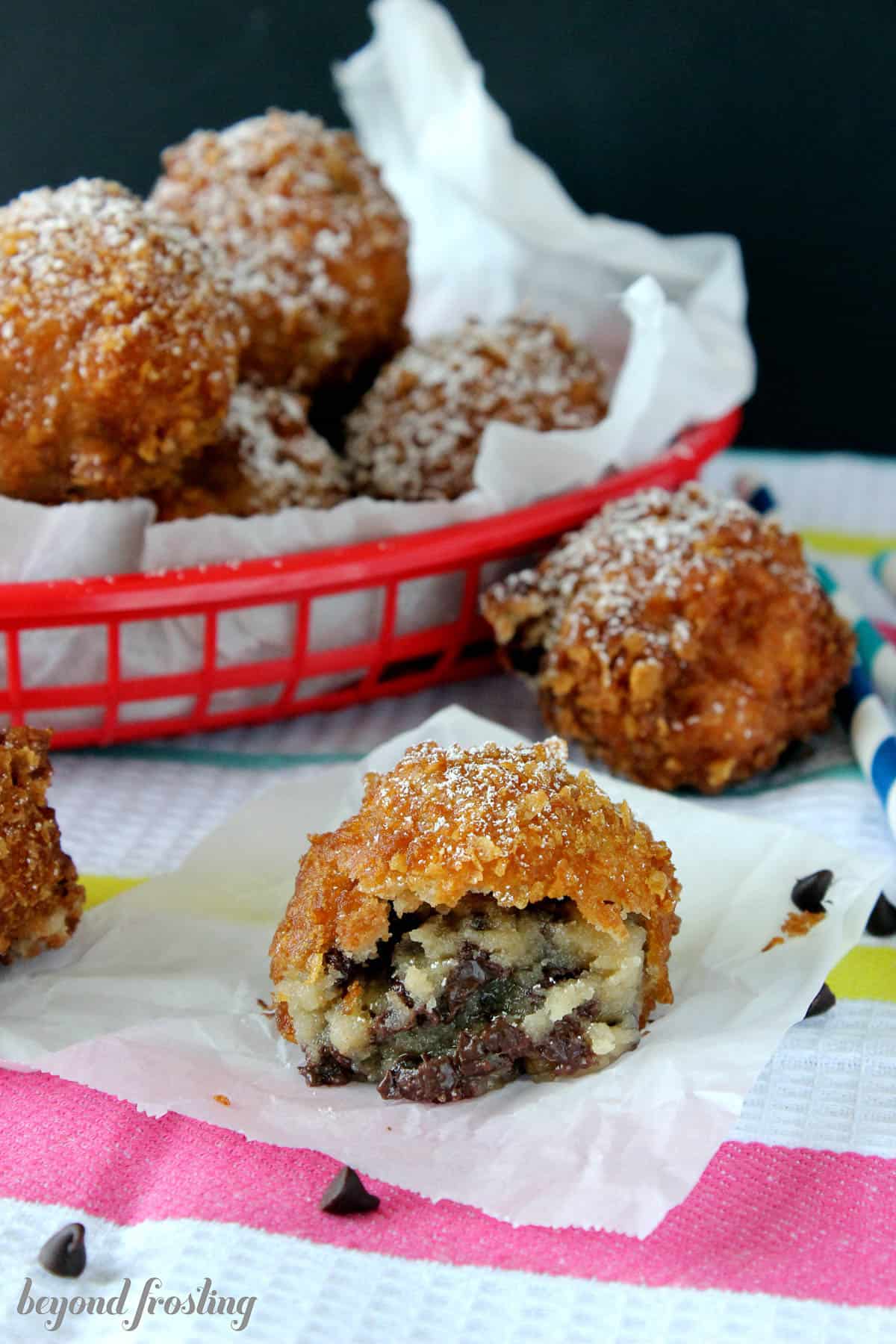 Print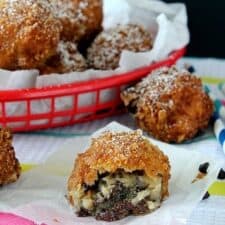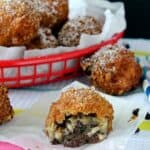 Deep-Fried Cookie Dough
Author:

Prep Time:

30 minutes

Cook Time:

2 minutes

Total Time:

32 minutes

Yield:

24 bites
Description
Soft and chewy edible cookie dough is given a crispy coating when deep-fried and topped with powdered sugar.
Ingredients
For the Cookie Dough:
1 ¼ cups

(

175g

) all-purpose flour, heat treated

½ cup

(

113g

) unsalted butter, softened

½ cup

(

95g

) granulated sugar

1/3 cup

(

73g

) light brown sugar, packed

¼ teaspoon

salt

3 tablespoons

(45ml) milk

1 tablespoon

(15ml) vanilla extract

½ cup

(

90g

) mini chocolate chip
For the Batter:
3

–

4

C Vegetable oil for frying

3

C Crushed Corn Flakes

1

Large egg

1

C Water

2

C Dry pancake mix

2

–

3

tbsp Powered sugar
Additional powdered sugar for dusting
Instructions
For the Cookie Dough:
Preheat the oven to 350°F. Bake the flour on a baking sheet lined with parchment paper for approximately 10 minutes, or until the temperature of the flour reaches 160°F. Stir the flour halfway through and allow it to cool completely. Sift the flour through a fine mesh sieve.
Soften the butter in the microwave for 20-30 seconds. In a large mixing bowl, combine the butter, granulated sugar and brown sugar and beat until creamy.
Add the heat-treated flour, salt, vanilla extract and 1 tablespoon of milk. Beat together until the dough starts to form. Add additional milk as needed until the dough reaches your desired consistency. Mix in the chocolate chips.
Roll dough into balls, about 1 1/2 tablespoons for each. Set aside.
For the Batter:
Preheat oil to 365°.
Use a food processor to crush Corn Flakes into small pieces. Set aside in a medium-sized bowl.
In a separate medium-sized bowl, beat the egg with a fork. Add water.
Add 1 cup of dry pancake mix and powdered sugar and whisk together until smooth.
In a third bowl, place the remaining dry pancake mix.
For Assembly:
Roll dough in dry pancake mix, then dip into the wet batter, and lastly, roll in Corn Flake crumbs.
Place dough ball in the oil and fry for one minute and 30 seconds.
Remove from the deep fryer and tap off excess oil and place on a paper towel to dry the dough ball and absorb the remaining oil. Allow them to cool for several minutes before eating.
Sprinkle with powdered sugar or drizzle with chocolate syrup.
Notes
Recipe adapted from Taylor Takes A Taste
Category:

Dessert

Method:

Fried

Cuisine:

American
Keywords: fried dough, edible cookie dough