This post may contain affiliate sales links. Please see my full disclosure policy for details
Decadent Chocolate Stout Cake is a dark chocolate cake spiked with chocolate stout beer. This homemade chocolate cake is rich, moist and easy to make!
If you like this chocolate stout cake recipe you'll also enjoy these Chocolate Guinness Stout Cupcakes with Maple Cream Cheese and Bacon and my Guinness Chocolate Cake.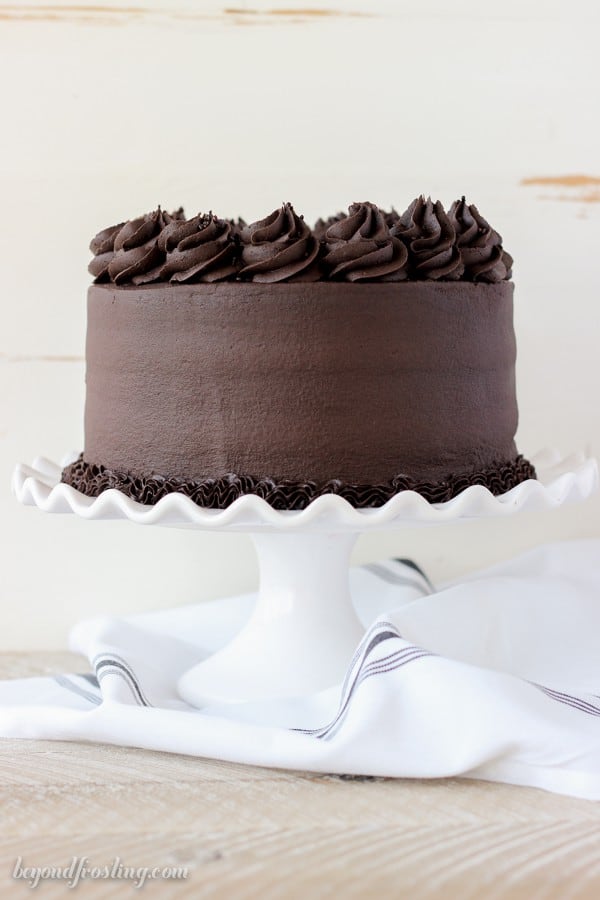 Chocolate Stout Cake Is One Of My Favorite Cake Recipes
Clearly you all love chocolate cake as much as I do. It was meant to be.
I have to tell you this Chocolate Stout Cake may be my most favorite chocolate cakes I've ever made. It's is a dark chocolate cake, spiked with chocolate stout beer and frosted with a dark chocolate frosting. The frosting is also spiked with a little bit of beer, because why NOT?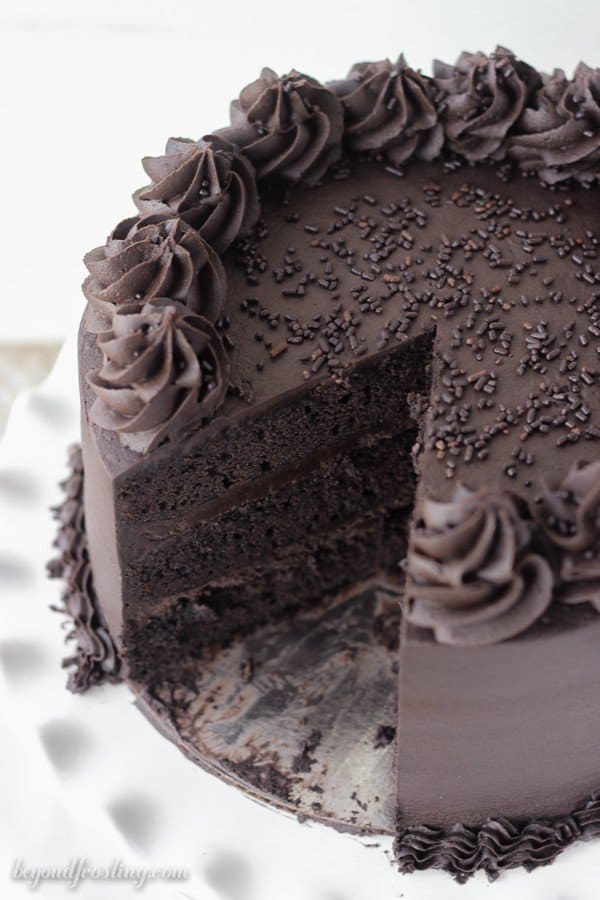 You Can Actually Taste The Chocolate Stout In This Cake
I wanted to eat every last bite of this cake and then lick the plate clean. Can you blame me? This is the type of cake that you just have to order after dinner, and feel guilty with every bite. But, you HAVE to finish it because it's THAT good. I have been told it's very rich. So I guess I would be okay with sharing the slice.
You can definitely note the beer flavor in this chocolate cake both in smell and taste. I hate when you taste a boozy dessert, but you can't really taste the booze at all. That's not the case here. If you can't find a chocolate stout, you cab substitute it for a Guinness stout.
This is a similar recipe that I made for my Guinness Chocolate Cake, only this one is a 3 layer cake with a hint of chocolate stout in the frosting.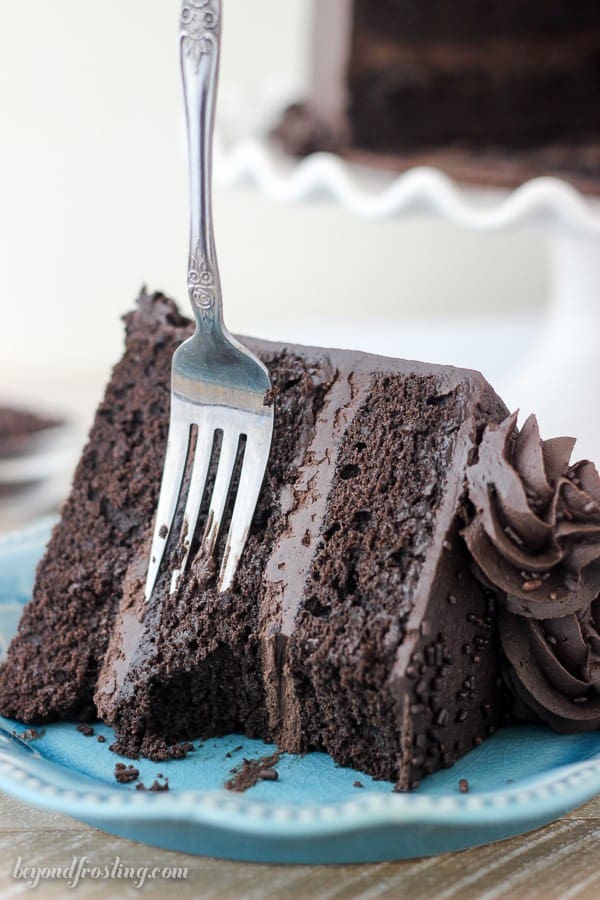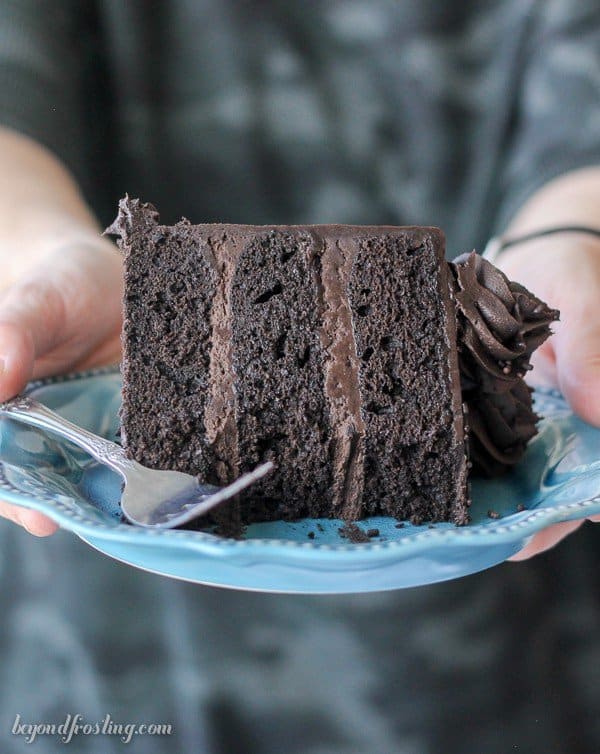 How To Make This Decadent Chocolate Stout Cake
I split this between three 8-inch cake pans. If you don't have three pans, you could certainly use two pans but you would need to adjust the baking times.
Layer cakes don't need to be intimidating! As long as you grease and flour the pans, I like to mix in half cocoa powder when flouring the pan so they don't come out with white edges. I also find it helpful to line the bottom of the pan with parchment paper or silicone baking mats.
Let's talk about the frosting for a minute. When you read through the ingredients, you might think, MAN that's a lot of butter. And it is. But stick with me here.
You've got 2 layers of frosting in the cake, plus the outside and then the decorative frosting on top. The one thing I hate the most is having to remake frosting because I ran out. So even if I end up with leftover frosting, it's not the end of the world.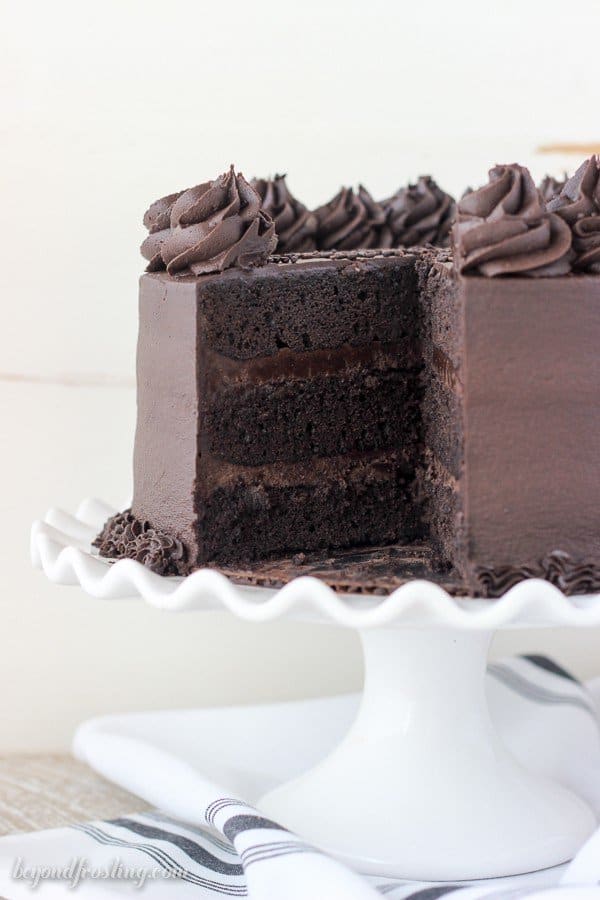 How To Make The Best Chocolate Frosting
The key to being successful with this much frosting is whipping the butter through various stages, and it starts before you add any of the dry ingredients to the butter. I like to whip the butter for at least 3 minutes until the butter is lighter in color and grows in volume.
As you add the cocoa powder and powdered sugar, you will be alternating it with the liquid ingredients which are vanilla extract, heavy cream and chocolate stout. Since there's so much powdered sugar, I recommend adding 2-3 cups at a time. Then be sure to spend a couple minutes whipping your frosting before adding the next round. This is the ket to getting a nice whipped texture that's easy to work with.
Everyone has been asking me how I got my frosting so dark. It is due to the Hershey's Special Dark Chocolate Cocoa Powder. You can find it alongside the other cocoa powder, or you can purchase online. If you can't find it, it's not a big deal. I also used it in the cake.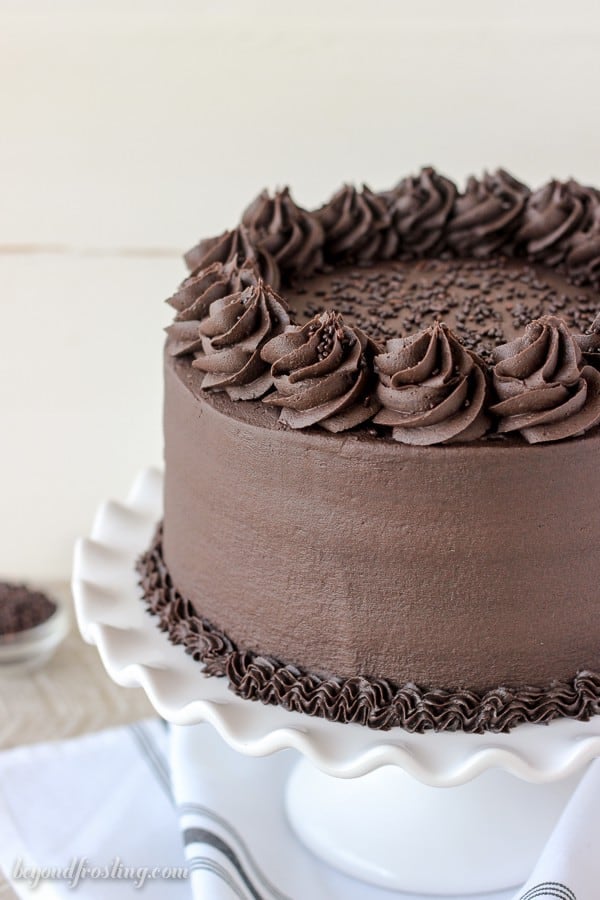 Tips For Making This Chocolate Stout Cake
I use large, 18-inch piping bags which make it less messy
To add the frosting between the layers, I use a piping bag fitting with a large open round tip, or I just snap off the end, about 1/2″ up. I work from the outside in, and then use an angled spatula to smooth it out and fill in the gaps.
Add a crumb coat to the outside and then refrigerate until it is slightly firm. This will help you when you add the final layering of frosting on top. Just don't mix the crumb coat frosting back into the bowl. Sometimes it has cake crumbs in it. Hence the term, crumb coat.
I use Viva paper towels and a Fondant Smoother to get those nice smooth edges. You can read more about it by reading my Valentine's Day Cake and also this post from my bestie Lindsay
To add the frosting on the outside, I use a large piping bag fitted with a Wilton #789 icing tip. Make sure the flat edge is facing out. Start at the bottom and work your way up.
For the decorative piping on top, I used an Ateco Tip #846 – Closed Star Tip. I love the large open star tips!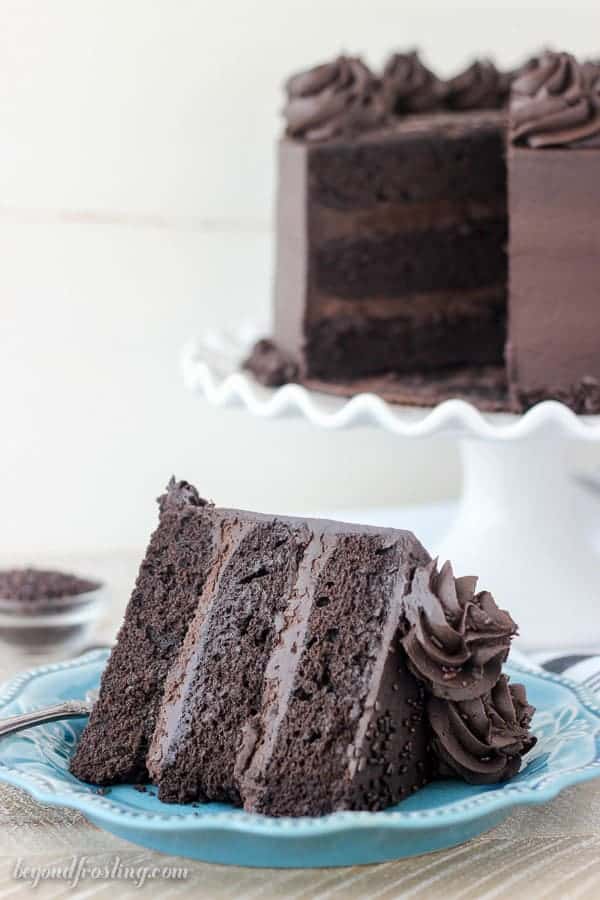 If it's one thing I know about cake, is that it is absolutely necessary to have this in your life. So step our of your comfort zone, put on your fat pants and get to work.
Follow Beyond Frosting:
Facebook | Twitter | Pinterest | Instagram | Bloglovin
If you love no-bake recipes, be sure to check out my cookbook, No-Bake Treats!
Print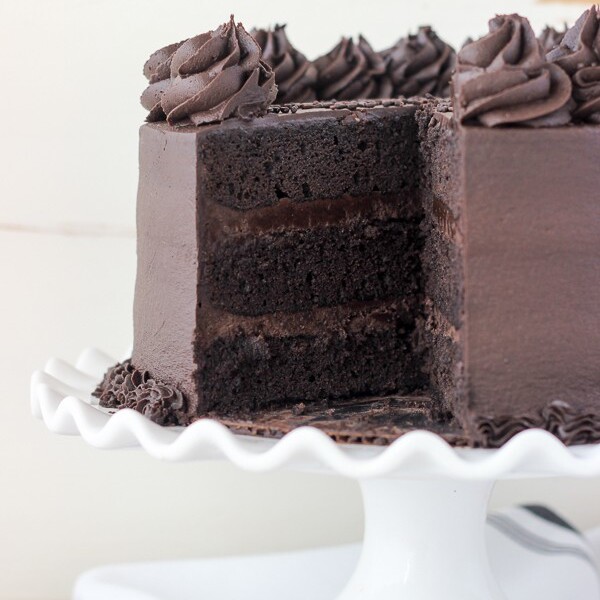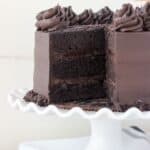 Decadant Chocolate Stout Cake
Author:

Prep Time:

90 mins

Cook Time:

20 mins

Total Time:

1 hour 50 minutes

Yield:

10-12 slices
Description
Decadent Chocolate Stout Cake is a dark chocolate cake spiked with chocolate stout beer. This homemade chocolate cake is rich, moist and easy to make!
Ingredients
For the cake:
1 ½ cup

s granulated sugar (

285g

)

½ cup

vegetable oil (

118

ml)

3

large eggs

1 tablespoon

pure vanilla extract (

15

ml)

3/4 cup

sour cream (

177

ml)

2 cup

s all-purpose flour (

280g

)

½ cup

cocoa powder (

55

g)

1 tablespoon

espresso powder (

5g

) (optional)

1 ½ teaspoon

s baking powder (5 g)

1 teaspoon

baking soda (

4

g)

1 teaspoon

salt (

5

g)

1 ¼ cup

Chocolate Stout or Guinness (

355

ml)
For the frosting
2 cup

(

4

sticks) unsalted butter, softened

1 cup

Hershey's Special dark chocolate cocoa powder, sifted

7

–

8

cups powdered sugar

2 teaspoons

vanilla extract

1 tablespoon

heavy whipping cream

2 tablespoons

chocolate stout
Pinch of salt
Instructions
For the cake:
Preheat the oven to 350°F. Prepare 3 8-inch round baking pans, line the bottom with parchment paper and grease the sides. Prepare your bake even stripes if desired.
In a large mixing bowl, combine the sugar, vegetable oil, eggs and vanilla extract. Beat on medium speed until the eggs and oil are well incorporated and the batter is lighter in color.
Next mix in the sour cream and beat until well combined.
In a separate bowl, sift together the dry ingredients. Then add half the dry ingredients followed by half of the Guinness and mix just until the flour starts to incorporate.
Finally, add the remaining dry ingredients, mixing on low speed while pouring in the remaining Guinness and beating until all of the ingredients are well combined.
Use a spatula to scrape down the sides of the bowl and stir the batter from the bottom to the top to ensure it's well mixed.
Divide the batter evenly between the three pans, about 1 2/3 cups of batter per pan. Bake at 350°F for 20-24 minutes. Rotate your pans in the oven halfway through baking.
Test the cake for doneness by inserting a toothpick into the center of the cake. If the toothpick comes out clean, your cake is done. Remove from the oven and allow to cool completely.
For the frosting: Please note this is a large batch and requires a large bowl. You might consider making this in two batches.
Cut the butter into pieces, about 1 tablespoon in size. Using the paddle attachment, whip butter for 3-4 minutes, scraping down the bowl occasionally. Beat until butter looks light in color. Next, beat the cocoa powder into the butter until well mixed.
Alternate adding 2-3 cups of powdered sugar at a time with the liquid ingredients: vanilla extract, heavy cream and stout. Add pinch of salt as needed. Ensure all the powdered sugar is well combined and beat for 2-3 minutes before adding additional powdered sugar.
Once all ingredients have been added, whip for 3-4 minutes until the frosting is light and airy. If the frosting is too thick, add additional heavy whipping cream 1 tablespoon at a time.
To assemble this cake:
Level off your cakes by removing any domes. Place a dollop of frosting on your cake board and place the bottom layer of cake over that.
Pipe the first layer of frosting, pipe in circles working outside edge to the middle. Spread evenly with an offset spatula. Add the second layer of cake and add the remaining frosting. Place the third layer of cake on top.
Proceed to add your crumb coat by adding a cup of frosting to the top of the cake and gently spread out to the edges and down the sides. Using an offset spatula or icing smoother, the wipe away excess frosting, leaving you just enough to coat the outside of the cake. Do not mix your crumb coating frosting back into your icing if it has cake debris in it. Refrigerate the cake for 15-20 minutes to allow the crumb coat the harden.
First, add about ½ cup of frosting to the top of the cake and create a nice, smooth top. Use your Viva paper towel and fondant smoother to create a flat even surface.
Put remaining frosting in a 18-inch piping bag fitted with a Wilton #789 icing tip. Pipe the outside edge of the cake working from the bottom to the top. Use your icing smoother or large offset spatula to smooth edges and remove excess frosting.
To pipe the rosettes on top, use a large piping bag fitted with a large open star tip, fill the piping bag with the remaining frosting and pipe the boarder of the cake. You can add a decorative boarder around the bottom edge. I used a tip #21 star tip.
Notes
Be sure to read through the tips and tricks in the blog post!
Category:

Cake

Method:

Oven

Cuisine:

American
Keywords: chocolate stout cake, homemade chocolate cake, chocolate guinness cake, guinness cake, chocolate cake recipe, decadent chocolate cake, best chocolate cake recipe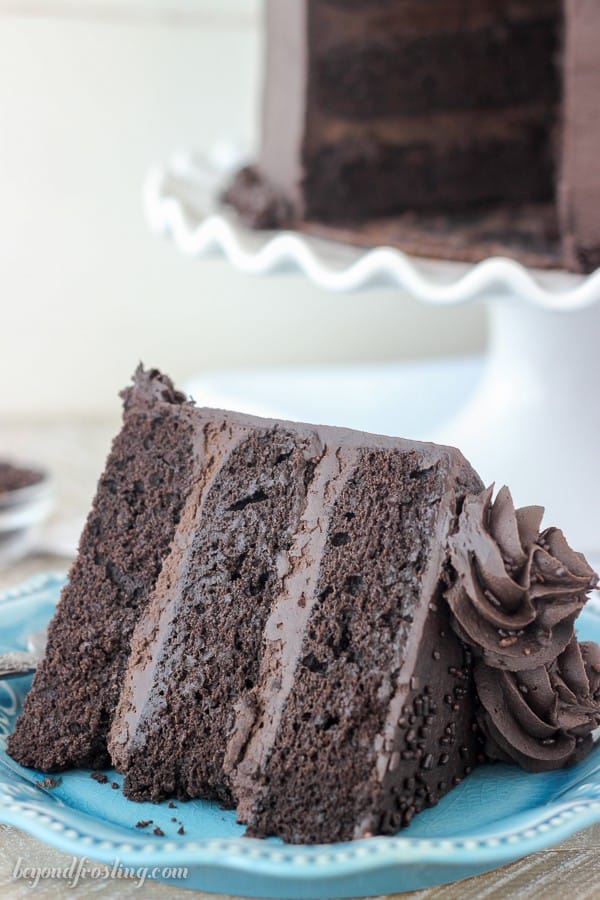 More Chocolate Cake Recipes You Might Like: