This post may contain affiliate sales links. Please see my full disclosure policy for details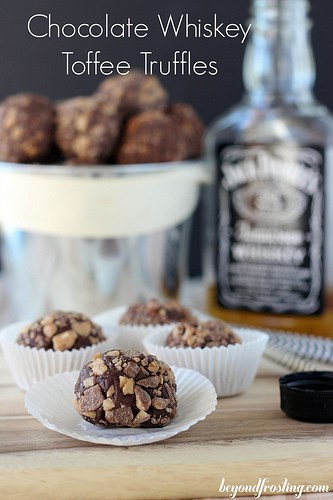 A couple days ago, I told you guys about a little mental block I was having on the mountain. I am happy to let you know that I faced my fears, went back and hit the handrail!! Tear free I might add. It took a lot of convincing for me to try it again, all I could think about was what could go wrong, again. I feel like my parents are probably cringing right now; they are constantly telling that I should probably start to take it easy. Well I only have a couple "good years" left and I might as well have fun doing it. It's good for me to push myself a little bit, because if I don't, then I am not doing myself any good either. I am just letting the time pass by and I feel like that is a lesson I can apply to multiple avenues in my life. Anyway, you're here for desserts and here I am boring you with my snowboards stories. It just literally all I do in the winter time.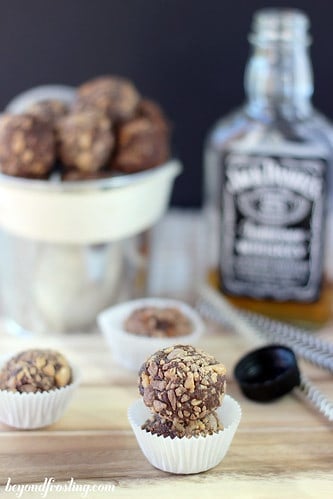 Can you believe we are halfway through January already? I have to admit, I haven't started on my workout plan yet, work for me just hasn't slowed down. I have however, cut back on my overtime hours. This has allowed me more time in the evening to focus on my blogging, which is what I really love! I did so much baking over Christmas, that it has enabled me to take the last couple of weekends off from baking. I think I needed it. I am ready to get back in the kitchen this weekend and get my hands dirty! Now if I can just stay ahead of my baking schedule, I will be all set!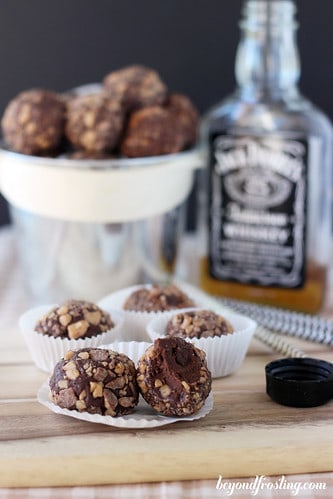 One of things I made over Christmas break were these Chocolate Whiskey Toffee Truffles. I figured with Valentine's day approaching, you might be looking for a decadent homemade treat to enjoy. These truffles should be your go-to homemade gift. They are SO SIMPLE! You heat the milk, let the chocolate melt, add your extracts and then let them re-harden and you're just about done. It is important to use a high quality chocolate when making truffles. I love these truffles because they stay soft in the middle, which is the perfect contrast to the crunchy toffee on the outside. Plus, you get the hint of whiskey flavor in the middle. Personally, I love a little infused chocolate!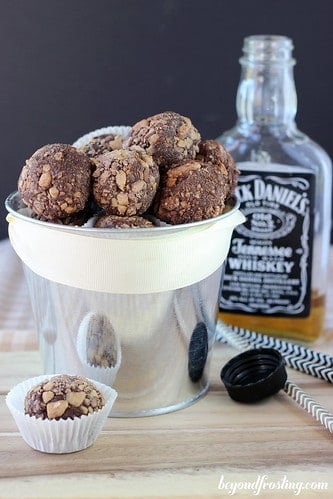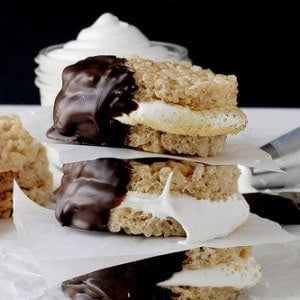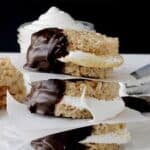 Chocolate Whiskey Toffee Truffles
Author:

Prep Time:

15 minutes

Total Time:

15 minutes

Yield:

24-26 truffles
Description
These truffles have a soft whiskey-infused center that is a wonderful contrast to the crunchy toffee coating.
Ingredients
1

C Heavy cream

2 tbsp

Butter

12 oz

Dark chocolate

1/4

C Whiskey

1

C Toffee bits
Instructions
In a small saucepan, heat heavy cream and butter over medium-low heat just until bubbling. Stir to prevent the cream from burning.
In a heatproof bowl, place dark chocolate chips in the bowl and pour heated heavy cream over top of the chocolate. Allow to sit for 10 minutes until the chocolate has melted slightly. Whisk until smooth. If the chocolate is not all melted, microwave the chocolate mixture in 15-20 second increments in the microwave.
Add whiskey and stir into melted chocolate
Allow mixture to cool and refrigerate until firm, overnight is best.
Place toffee bits in a shallow bowl or paper plate.
Scoop hardened chocolate with a melon baller or a tablespoon scoop. Roll into a smooth ball and roll in toffee bits. Keep refrigerated.
And if for some reason this doesn't work out for you, you can turn it into these Spike Chocolate Parfaits!