This post may contain affiliate sales links. Please see my full disclosure policy for details
Homemade vanilla ice cream loaded with chocolate zucchini cake and chocolate shavings. Summer time treats just got a makeover. I am totally in love with this Chocolate Zucchini Bread No-Churn Ice Cream.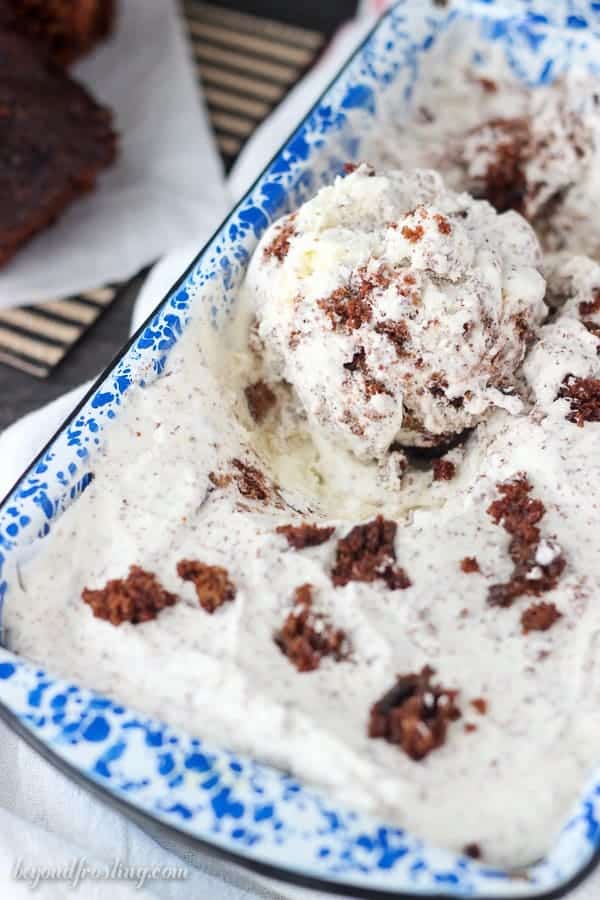 As excited as I am for cooler days, lots of pumpkin (hello that's what I did all weekend), I am not sure how I feel about summer ending. What happened to August?? I'll tell you what though; I am SO excited to do nothing over Labor Day weekend. After a few very hectic weeks, I am taking all 3 days off from all things work. So if you need me, make sure you come with cocktails in hand. You get my drift?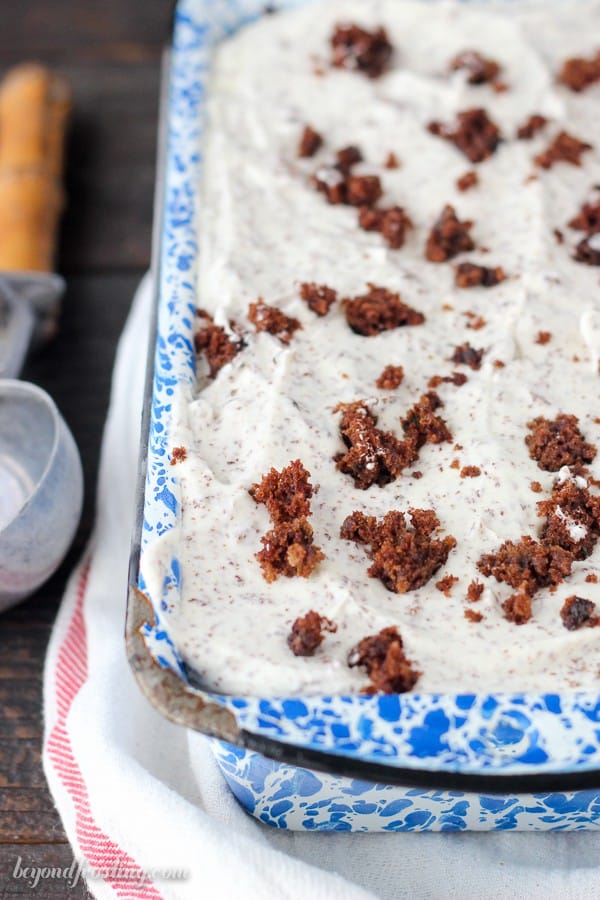 Before we close the door on summer, I've got a super fun recipe to share with you today. And you guys, there's vegetables in it. Zucchini to be exact. AND it's ice cream. That must make it healthy right? Right?
You guys, Chocolate Zucchini Bread No-Churn Ice Cream!!! Can you even believe it? I wish I could tell you I thought this up on my own, but I saw this flavor from one of my favorite ice cream places EVER. Salt and Straw, which is headquarters in Portland, Oregon but has recently been opening shops in LA as well.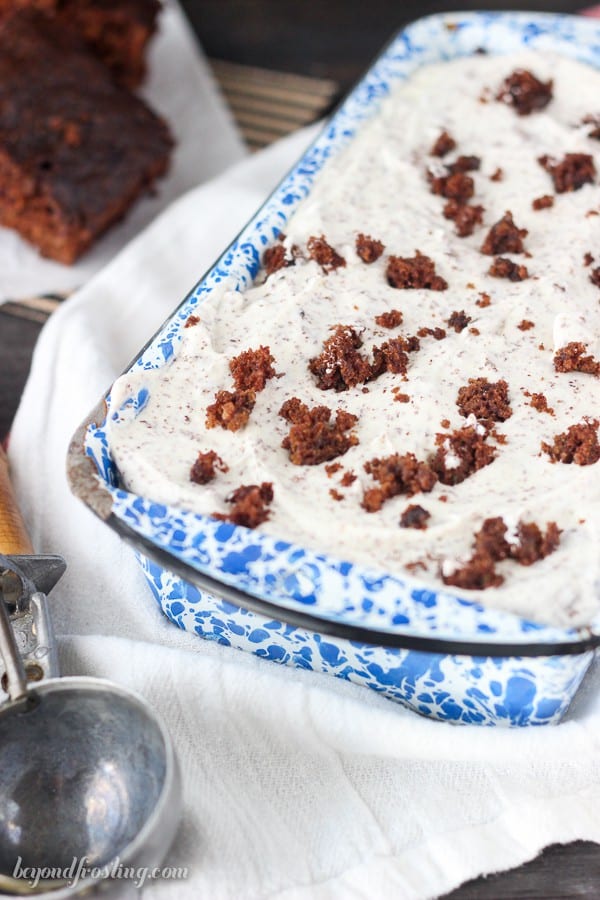 I stalk them on Instagram, because I seriously love their ice cream, and I saw one of the August seasonal flavors was Zucchini bread. They said it was part of their farmers market series. Other flavors included carrot cake batter batter (hello! YUM!) and caramel corn on the cob, not totally sure how I feel about that one. Sadly I didn't have a chance to try their zucchini bread ice cream, but I decided I would make my own instead.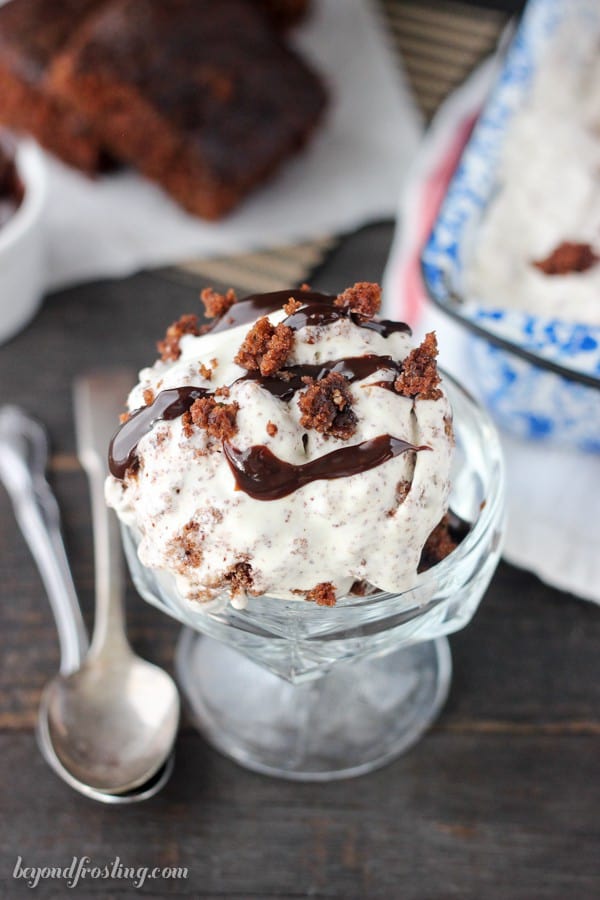 It's starts with an airy chocolate zucchini cake and it's just so perfect. I even had it for dinner last night. Seriously, who wants to make dinner when you've been baking all weekend? Not me! I used my dad's recipe, the same one I use in this zucchini bread recipe, but I cut it in half and added an extra egg white to make it a more cake-like texture.
Once you make the cake then you whip up a quick batch of no-churn ice cream that has only 3 ingredients: heavy cream, powdered sugar and sweetened condensed milk. Oh yeah, and chocolate shavings, so technically four ingredients.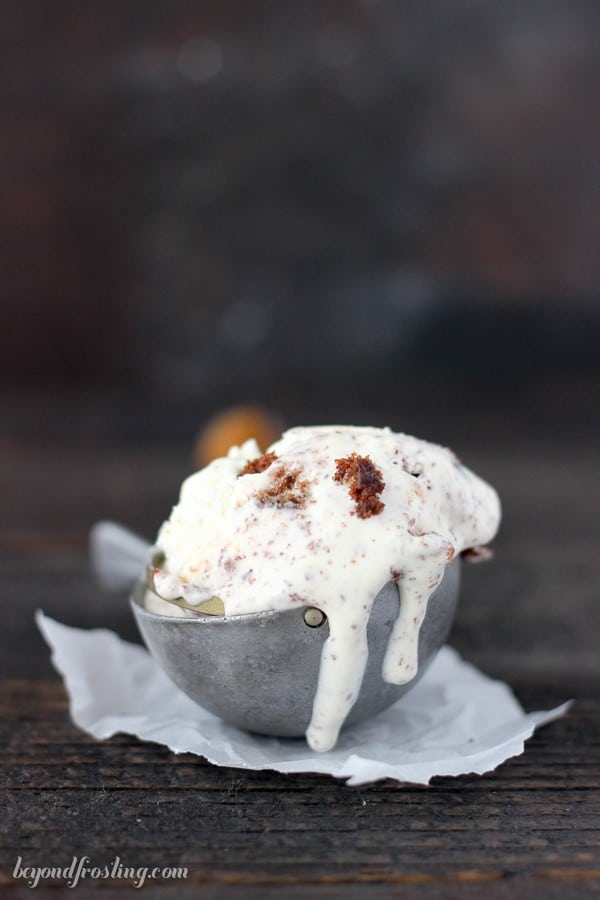 To make the ice cream, prepare a batch of homemade whipped cream (or Cool Whip if you insist) and then fold in a can of sweetened condensed milk. Then you break apart the zucchini bread and fold it into the ice cream batter. I used about 1/3 of the cake for the ice cream, so there was plenty of leftovers to enjoy for the next couple of days.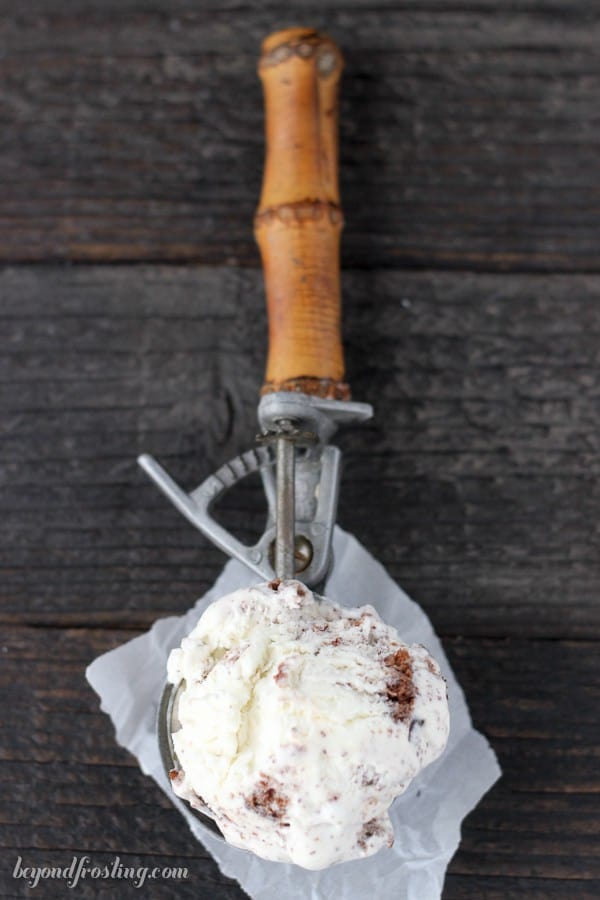 Since there is never enough chocolat, do yourself a favor. Chop up a chocolate bar and mix that in too. I actually zested the chocolate, but decided it was too fine. So next time, I will thinly chop up the chocolate instead. Mini chocolate chips would work too.
So let's all pretend we're eating vegetables (because really we are) and serve yourself an extra scoop.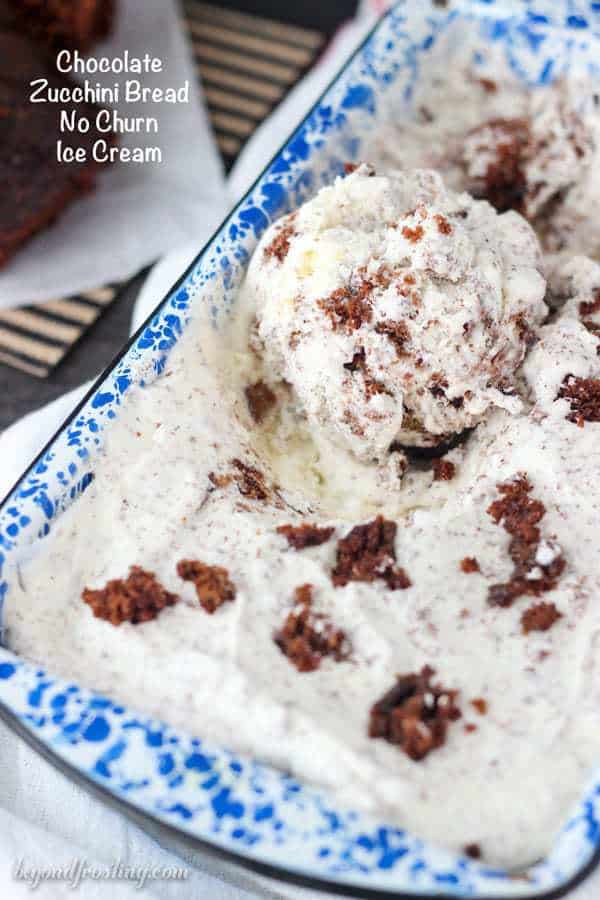 Keep up with all the happenings. Follow Beyond Frosting:
Facebook | Twitter | Pinterest | Instagram
If you love no-bake recipes, be sure to check out my cookbook, No-Bake Treats!
Print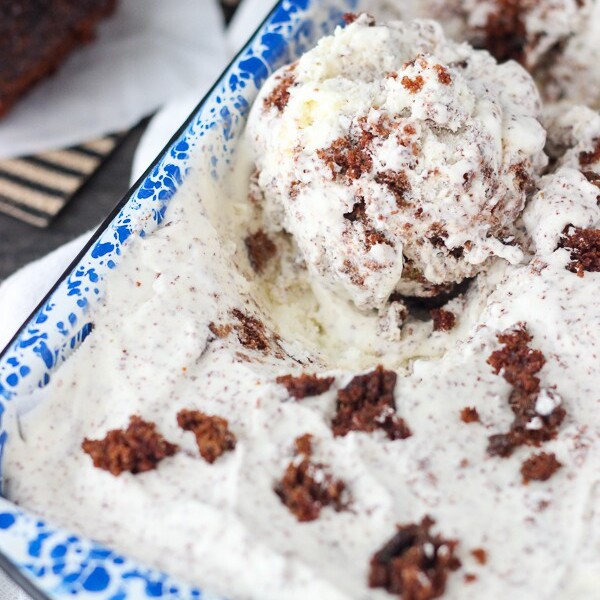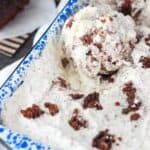 Chocolate Zucchini Bread No-Churn Ice cream
Author:

Prep Time:

25 mins

Cook Time:

15 mins

Total Time:

40 minutes

Yield:

4-5 cups
Description
Homemade vanilla ice cream loaded with chocolate zucchini cake and chocolate shavings. Summer time treats just got a makeover. I am totally in love with this Chocolate Zucchini Bread No-Churn Ice Cream.
Ingredients
For the Zucchini bread:

1 ¼ cup

(

1

small) zucchini

½ cup

vegetable oil

2

large eggs

1

large egg white

2 teaspoons

vanilla extract

1 cup

granulated sugar

¼ cup

cocoa powder

1 ¼ cup

all-purpose flour

2 teaspoons

cinnamon

½ teaspoons

salt

½ teaspoon

baking soda

¼ teaspoons

baking powder
For the ice cream:

1 pint

(

16 oz

) heavy whipping cream

½ cup

powdered sugar

1

can sweetened condensed milk

2 ounces

chocolate, shaved
Instructions
Preheat the oven to 350° F.
Chop the zucchini into one inch thick pieces and throw into a food processor. Pulse the zucchini into tiny pieces and set aside.
In a medium-sized mixing bowl, combine the vegetable oil, eggs, egg white, vanilla extract and granulated sugar. Whisk together until well combined.
Slowly add the cocoa powder and whisk into the batter.
In a separate small bowl, combine the flour, cinnamon, salt, baking soda and baking powder and whisk together. Slowly add the dry ingredients and mix slowly with a spatula until about half of the flour is incorporated. Add the zucchini pieces and mix only until the flour is blended, being careful not to over mix.
Pour the batter into a 9-inch pan and bake at 350°F and baking for 15 to 18 minutes. To see if the cake is done, stick a toothpick into the cake and if the toothpick comes out clean, the cake is done. Cool completely.
Once the cake is cooled, prepare the ice cream.
For the ice cream/; Place the metal mixing bowl and whisk in the freezer for about 10 minutes until it's nice and cold.
Pour the heavy whipping cream into the chilled bowl and use an
electric mixer to beat the heavy cream on medium-high speed until the cream gets thick and bubbly.
Slowly add the powdered sugar and continue beating at a high speed until stiff peaks form.
Pour the can of sweetened condensed into the whipped cream and slowly fold the milk into the whipped cream with a spatula.
Shave the chocolate into the batter and then break apart the zucchini bread directly into the batter. You'll use about 1/3 of the cake.
Pour the batter in a large bread loaf pan or freezer-safe container. In you want to, you can also layer in pieces of the zucchini bread as you pour the ice cream batter into the container.
Freeze for 4-6 hours before serving.
Visit Beyond Frosting's profile on Pinterest.
You might also like:
Fudgy Brownie Batter No-Churn Ice Cream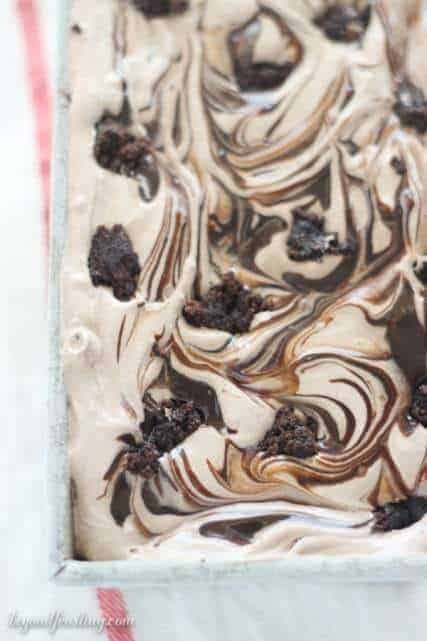 Gingerbread Cookie Ice Cream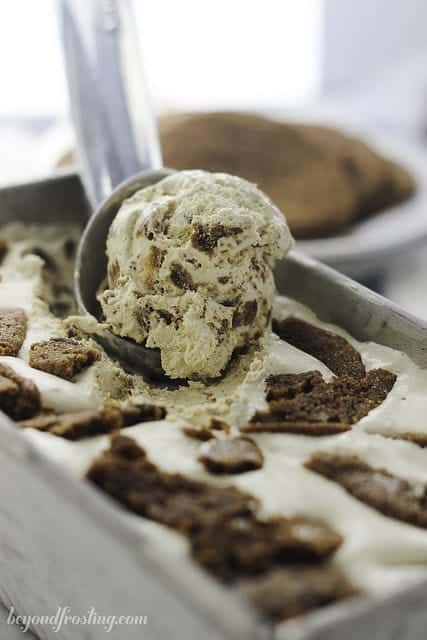 Oatmeal Cream Pie Ice Cream Pie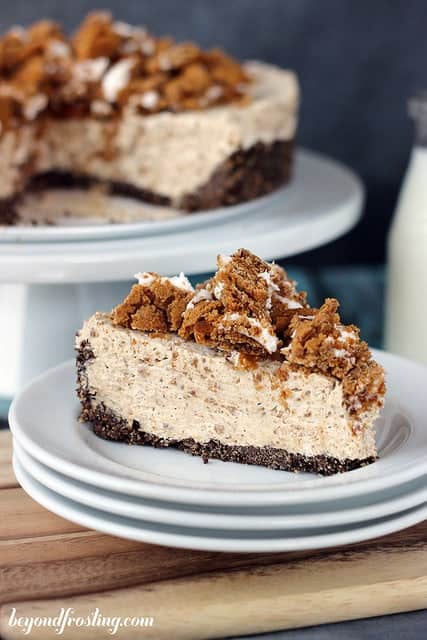 Recipes from my friends:
Chocolate Chip Zucchini Brownies
Double Chocolate Zucchini Cupcakes